Kia EV6 review: a fantastic family-focused EV
Striking design based on a great all-electric platform makes the EV6 a winner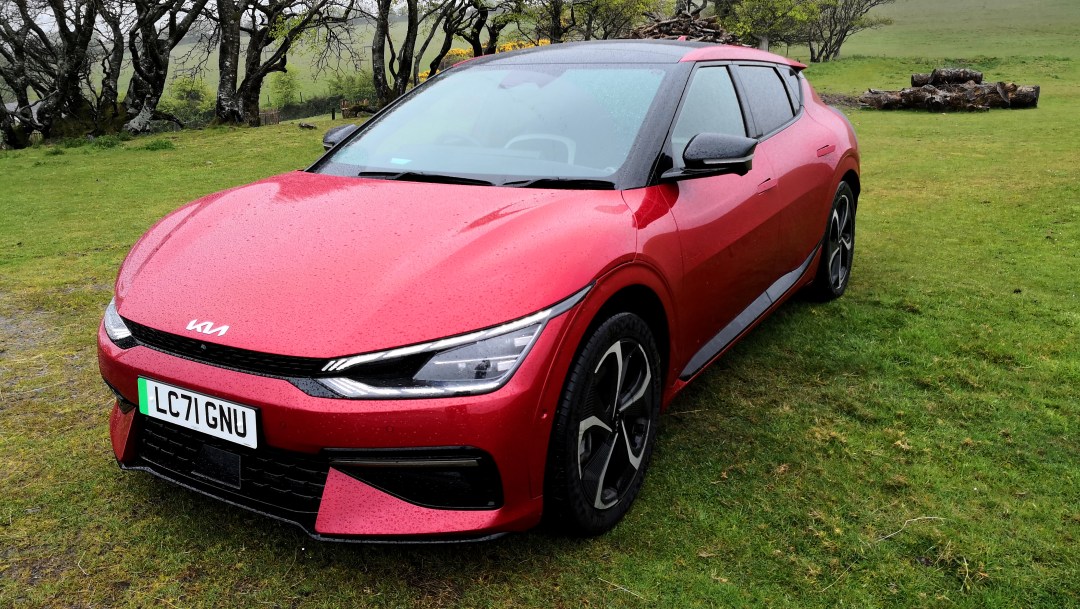 Gone are the days when people would snigger if you told them you'd been driving a Kia. In fact, Korean cars are some of the coolest looking things on the road currently. In the case of Kia, along with the looks, you get solid back-up from an efficient dealer network and the benefit of a long seven-year/100,000 mile warranty. On top of that, with the Kia EV6, or more specifically the Kia EV6 GT Line S 77.4kWh AWD model we've been driving, you get a whole lot more besides.
With an on-the-road price of £52,695 our delicious metallic red example, complimented by a two-tone interior complete with contrasting black suede and white vegan leather seats, even managed to turn a few heads. Not something expected from a Kia, right? The good thing is, there's not too many around currently either. A bit like the Hyundai Ioniq 5, which shares the same E-GMP platform, it's rare enough to make people take notice as you pass them. Based on our experience of the Kia EV6 though, we think there could soon be a lot more examples on the road. It's brilliant.
Styling
Let's start with the styling, which is great from pretty much any angle you care to look at it. The front end delivers the most striking look, with the dual LED headlights and Kia's much-improved badge making the car look like it means business. However, around the back the effect is just as impressive, with a dynamic taillight arrangement that looks neat in daylight but very cool after dark. There's a smart power tailgate too, offering access to the sizeable boot area and charging cables should you need them.
Sandwiched in-between, the doors feature recessed handles that pop out for entry, there are folding electric door mirrors and the colour is complemented by some black sill mouldings that enhance the shape of the sides. Up on top, there's a sunroof with tilting and sliding functionality. We made good use of that, both by having it full open to let the sun in, and partially closed to keep rain out, but light through. It's handy, especially in the back with the lower roofline making things feel less roomy than in the front, especially if you're rather tall.
The spoiler design that overhangs the rear window looks quite cool, but this does also accentuate the covered over feel out the back of the EV6. And, just like the Hyundai Ioniq 5, there's no rear wiper either. However, during our time with the car and in spells of rain, it didn't seem to be an issue, maybe because of that overhanging body part. Rounding out the cosmetics was a set of 20-inch alloys that blended shiny aluminium with gloss black lacquer to great effect. Put it all together and the Kia EV6 is a real looker.
The drive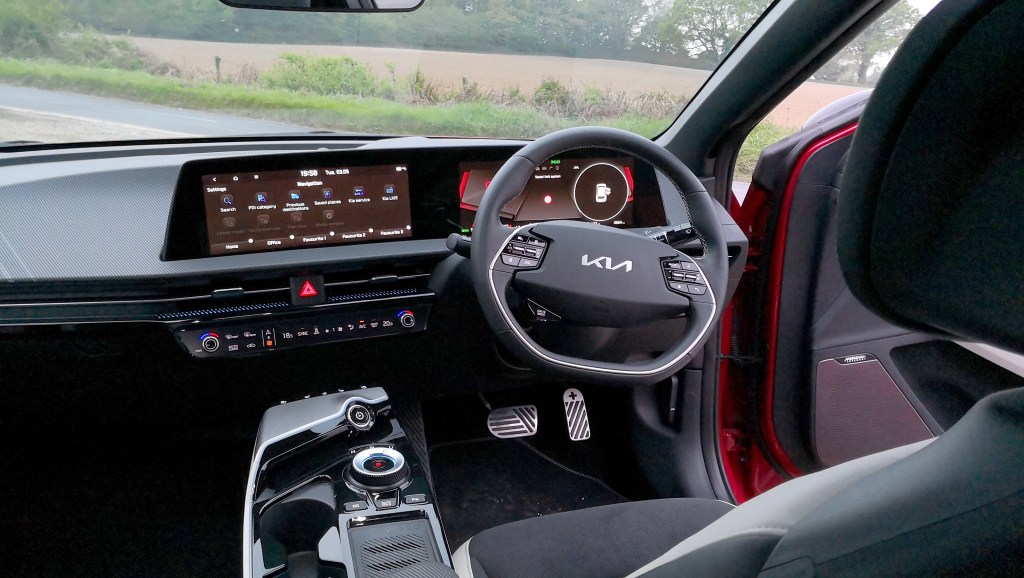 Getting a feel for the Kia EV6 is as much about discovering the delights of the interior as it is driving the car. Full marks have to go to Kia for making this a real experience, with this car having premium relaxation seats. What that gets you is the option of, well, putting them back and not going anywhere as you play with the many tech toys nestling inside the infotainment system. Alternatively, get the seat positioned to your liking and hit the road.
This being a GT Line S model it features a 77.4kWh battery and all-wheel-drive. You can select one of three drive modes too, using the tab at the base of the steering wheel. Eco is fine for when your battery level is getting too low for comfort while, at the other end of the performance spectrum, Sport gives the EV6 a beefier edge. Select it and your driver display turns red, suggesting thrills will follow. The car is definitely sprightlier in this mode, though battery usage is, unsurprisingly, more rapid.
For everyday driving, the Comfort mode works a treat. Again, because this is an all-wheel-drive example, the torque supplied to the wheels is instant and more than adequate. Just like the Hyundai Ioniq 5, this is quite a big car and rather heavy, so it's good fun through the corners too without being too unruly. You'll want to go a little bit careful with it though as the light steering can tend to catch you unawares if you're not fully used to its nuances.
Stopping is solid enough too, with vented discs all round. It makes sense to play around with the regenerative paddles on the steering column, so you can tap into the best the EV6's i-Pedal tech has to offer. This allows the now fairly commonplace practice of driving using one foot. It's good fun and adds another dimension to motoring in an EV.
Multiple driver aids can smooth your journey too, with all manner of options available. Some are really useful, but you may find others tend to detract a little from pushing the car more than the system might think is wise. Blind-spot collision avoidance assist and rear-cross traffic assist are two that we think work particularly well with the design of the EV6. Overall though, this is an easy car to drive, with only reversing into tight parking spaces proving occasionally tricky. You'll see how we got around this in our next section though.
The technology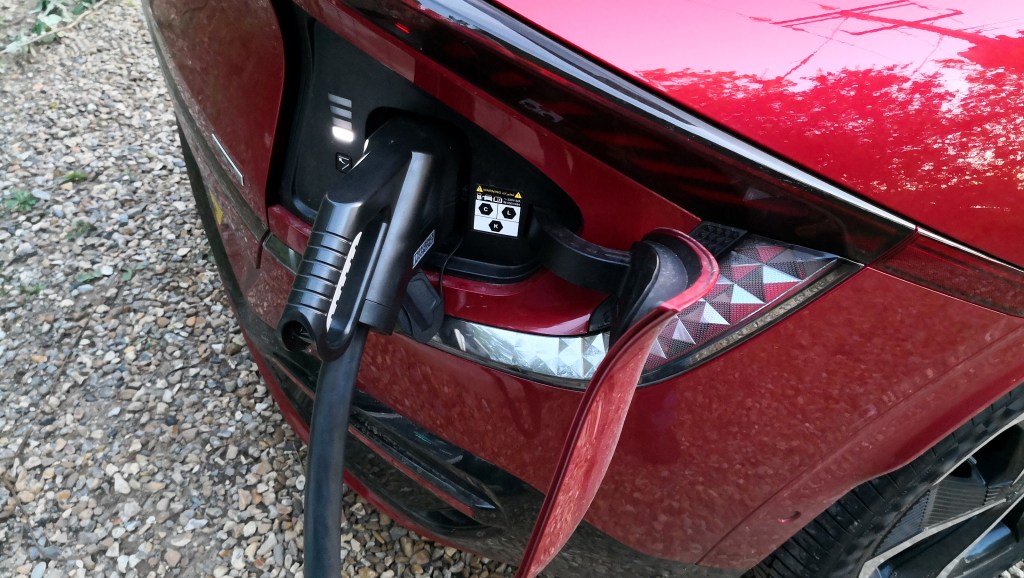 As you'd expect from a Korean carmaker, there is more than enough technology packed into the Kia EV6 to keep everyone happy. On the point of the parking mentioned above, we found the rear-view camera and parking assist mode really useful. Better yet, if you've studied the manual carefully enough you may feel confident enough to try the Remote Smart Park Assist (RSPA) parking option. You get out of the car and use the keyfob and its buttons to move the car in and out of tight spaces – with nobody behind the wheel.
This is a brilliant party trick, as is the automated parallel parking and suchlike. If you tire of those then there are a multitude of other tech goodies hiding behind the 12.3-inch touchscreen display. You get Apple CarPlay and Android Auto with voice control, wireless phone charging and a premium sound system courtesy of Meridian, with 14 speakers and Active Sound Design (ASD). We tried out a selection of music styles on this and it fared well, even when being pummelled by thrash metal.
Special mention should also go to the augmented reality head-up display. This is a great example of tech being used to really help enhance the driving experience. If you're slightly stressed out on roads that you don't know, the dynamically changing graphics projected on your windscreen can be a real boon. This is especially so on dark and rather precarious country roads, when the pulsing direction arrows get you around bends that turn out to be sharper than expected. Paranoia about being accidentally caught out by speed cameras can also be quelled by pulling in the services of the smart cruise control with its brilliant simplicity, via a one-touch button on the steering wheel.
Verdict
You know you've enjoyed a car when you really don't want to hand it back and the GT Line S 77.4kWh AWD EV6 was no exception. It just works and uses a proven platform that is great for dealing with the charging challenges provided by electric cars. The Kia EV6 is fast enough, super comfy and packs in tons of tech features. Indeed, the EV6's bible-sized manual will keep you busy for hours as you turn the page and find something else to put on your 'must try this one' list. Reading it makes a splash-and-dash session at a charging point evaporate in no time too.
Stuff Says…
A fantastic family-focused EV, with so many features and functions you'll be making excuses to go out for a drive on your own.
Good Stuff
Remote Smart Park Assist is amazing
Striking looks from any angle
Bad Stuff
Big and heavy
Low headroom in the back
Tech specs
| | |
| --- | --- |
| Range | Up to 300 miles (combined) |
| Dimensions | 4.69 metres long, 1.89 metres wide, 1.55 metres high |
| Battery charge time | 10-80% in 18 minutes on a 350kW charger |
| Cargo volume | 490 litres |