App of the Week – Zapd
Build a website in seconds with Zapd, Stuff's App of the Week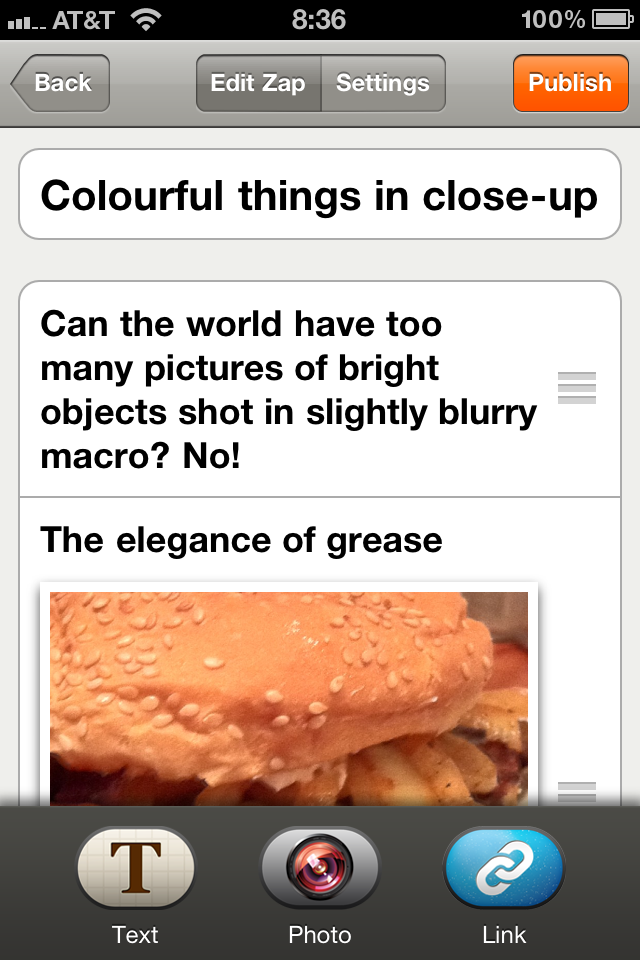 Price: Free
Platform: iOS
Apparently, even in 2011, not everyone is on Facebook. Or Twitter. Or Global Amphibian Blitz (you know, the social network for endangered frog lovers). When you want permanence, reliability and something that won't confuse your gran, nothing beats the reassuring clickableness of a real HTML website. Enter Zapd, the app lets you create a website on your iPhone for free, in less time than it takes to upload holiday snaps to Flickr.
It's a smart idea and neatly implemented, stripping out hand-coding and hosting hassles and replacing them with easy one-click templates and free hosting on Zapd servers. You start by selecting one of the 20 modern-ish design themes, then bang, you're in the layout page.
Write a title and intro and then Zapd gives you just three options – Text, Photo or Link. You simply click to type, grab a photo live or browse your Camera Roll. Links are entered and displayed with their www handle – you can't make your running text clickable. Nor can you add audio or video (update! Coming soon), or embed a YouTube vid (although you can insert a link). You can also set permanent links on one side to your webpage, Facebook and Twitter accounts.
Hit Publish and your website goes live in seconds on Zapd (with a URL something like http://3bty.zapd.co). You then get the chance to share it on Facebook or Twitter, or to your contacts via email.
To be honest, Zapd is more of a quick, easy blogging app than a genuine website generator. But for building 'drive-by' sites that look pretty good, are easy to navigate and are there forever (or at least as long as this start-up is around), Zapd is a welcome blast from the interweb's past.