The Google Pixel Fold is official; officially expensive
Book-style folding flagship borrows big from regular Pixel line-up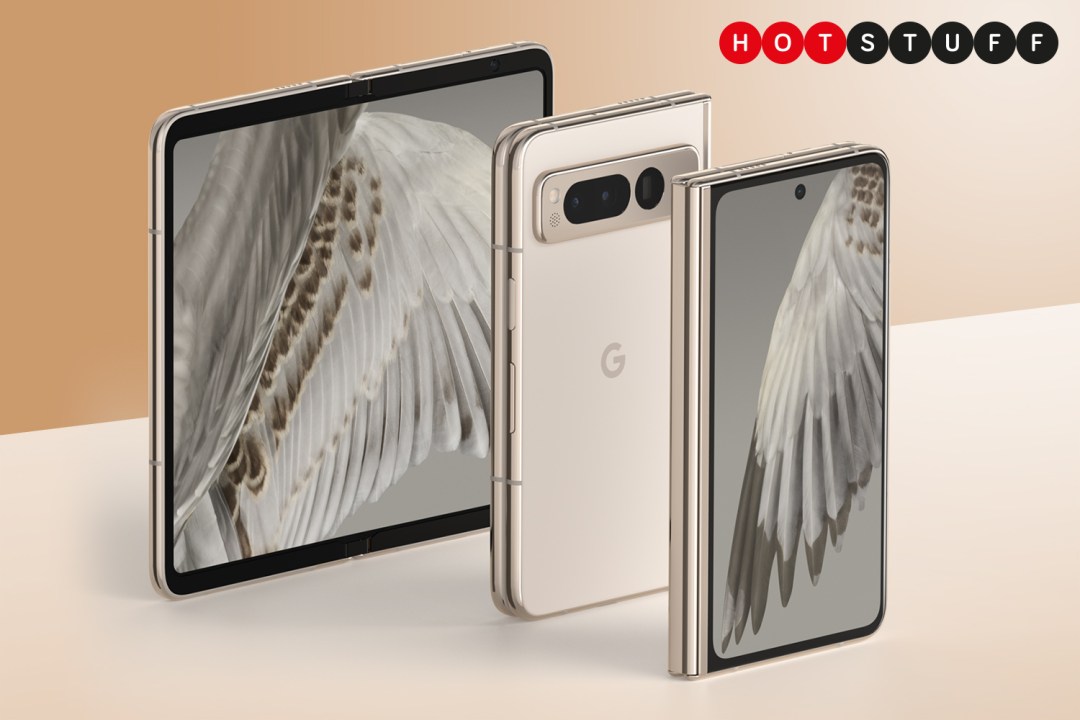 After having long been one of the most eagerly anticipated upcoming smartphones, Google has finally unveiled its first-ever foldable smartphone. The Pixel Fold goes on sale in June with a book-style layout, a trio of rear cameras and a wallet-busting $1799/£1749 starting price. It's packing the same silicon as the mainstream Pixel line-up, and will be one of the first in line for Android 14 when it launches later this year.
Clearly Google is aiming for a spot among the best folding phones on sale today, and based purely on specs its debut effort looks likely to succeed.
The Pixel Fold has a 5.8in, 2092×1080 OLED outer screen with an unusual 17.4:9 aspect ratio, which the firm says was picked to fit comfortably in your hands while folded. It maxes out at 120Hz for smooth scrolling, and supports familiar Pixel features like an always-on display that names any currently playing music tracks nearby. It's protected by Gorilla Glass Victus, and the device is IPX8 water resistant.
Unfurling the stainless steel hinge, which Google says is the most durable of any folding phone to date, reveals a 7.6in inner display with 2208×1840 resolution, stretched to a 6:5 aspect ratio. It also gets a 120Hz refresh rate, and its own always-on abilities. Protection is by ultra thin glass. Both screens support HDR, with the inner panel hitting a peak 1450nits and the outer display going even higher, at 1550 nits.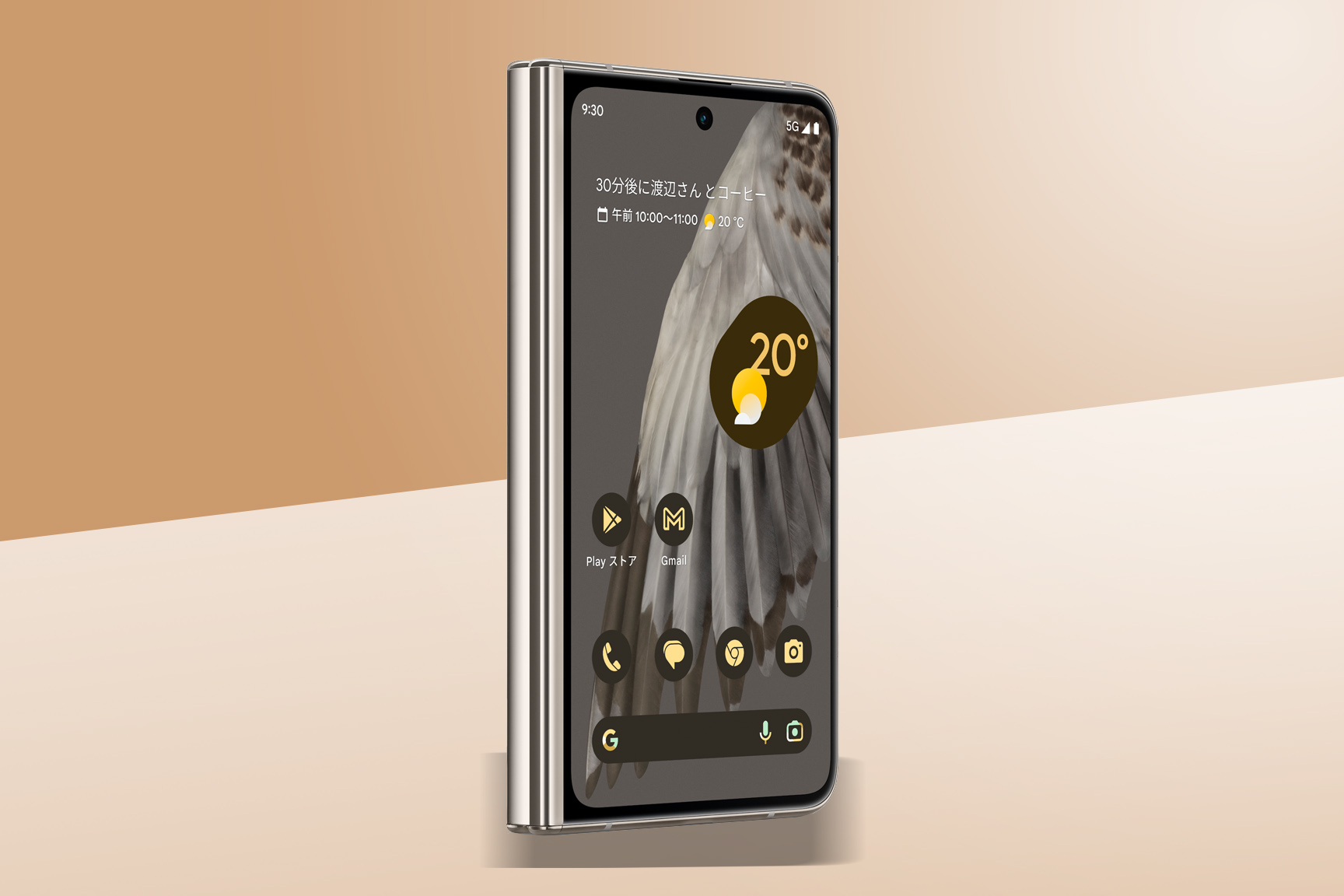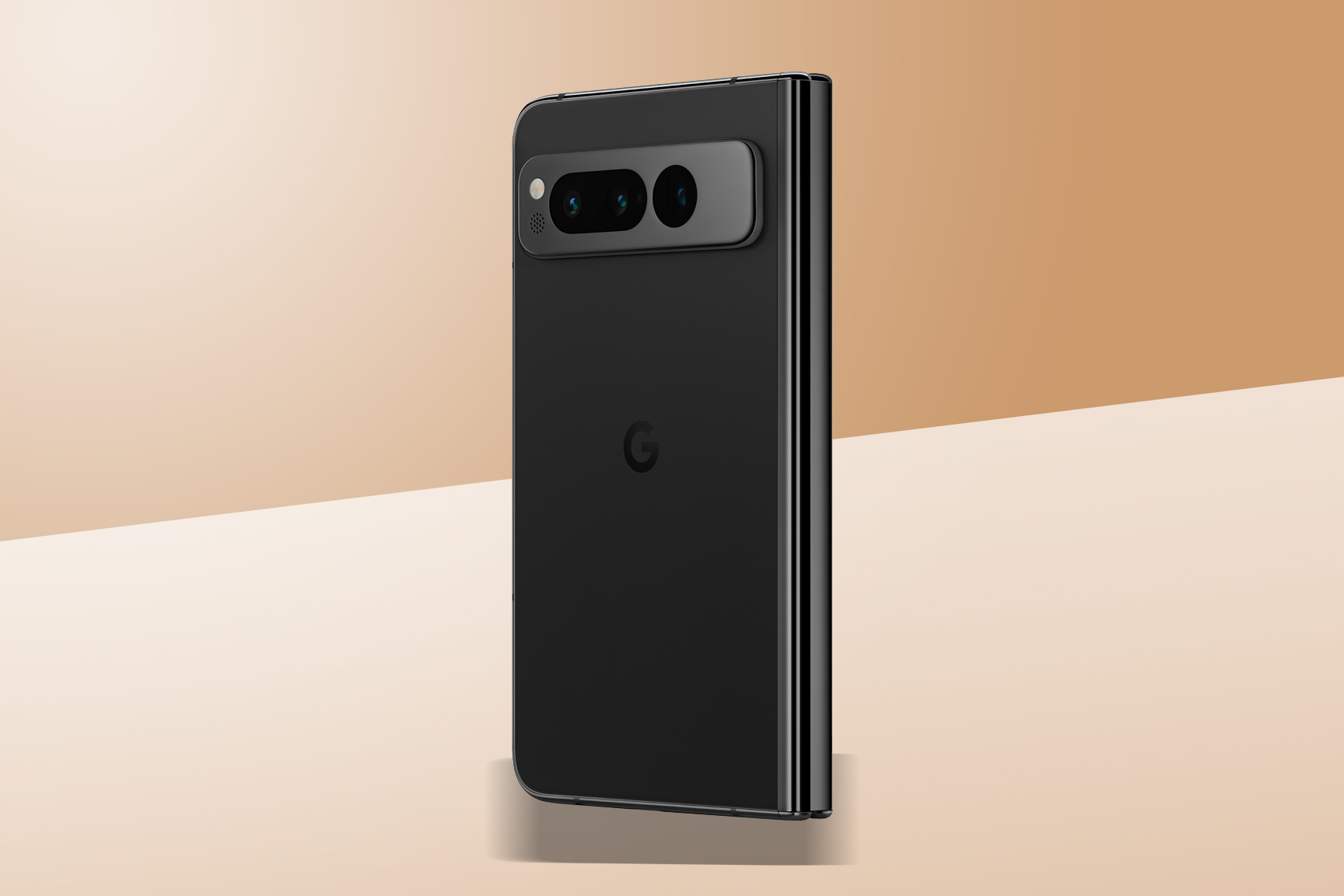 The Fold's design borrows heavily from the current Pixel line-up, including a distinctive camera bump at the rear. It's not quite a full shelf this time around, but it still makes room for three cameras: a 48MP, f/1.7 main snapper with optical image stabilisation, a 10.8MP, f/2.2 ultrawide with 120-degree field of view,and a 10.8MP, f/3.05 telephoto good for 5x optical zoom. Google's Super Res algorithmic zoom can then boost that figure up to 20x. Laser autofocus also makes an appearance.
There's also a 9.5MP, f/2.2 selfie cam on the front of the phone, along with an 8MP, f/2.0 camera built into the inner screen's bezel for video calling.
Power comes courtesy of a Tensor G2 CPU, built by Samsung to Google's specifications. The octa-core chip is paired with 12GB of RAM, and either 256 or 512GB of on-board storage depending on the market. It's a combination that felt plenty quick in the Google Pixel 7 Pro when we tested it last year, so should have no trouble keeping pace even with multiple apps running at once on that large inner screen.
The Pixel Fold will arrive with a version of Android 13 adapted for bigger screens and foldables, complete with dynamic Taskbar for quickly launching, swapping between and running multiple apps in split-screen mode. You'll be able to drag and drop between Google's own apps, such as Google Photos and Messages. An update to Android 14 will follow later in the year, bringing a dual screen interpreter mode that uses both inner and outer display to live translate conversations in multiple languages. Owners can expect five years of security patches, too.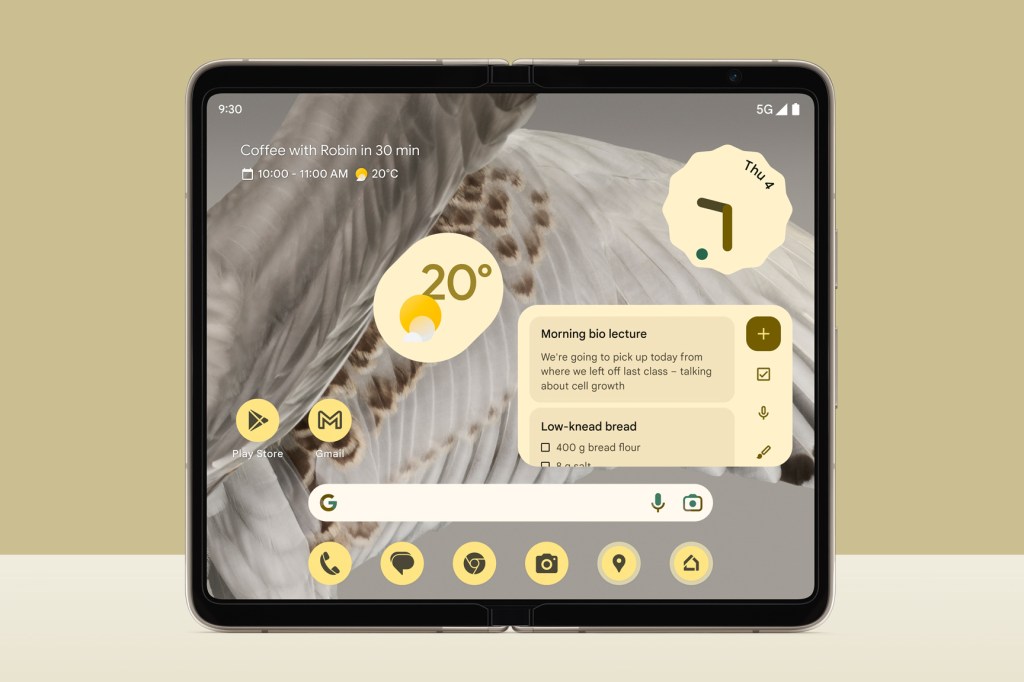 We'll have to wait until we get one in for testing to see if the 4821mAh battery is up to the task of keeping all that hardware juiced up. Google says "beyond 24 hours" is doable on a single charge. It's Qi approved for convenient wireless top-ups, and can manage 30W over any USB-PD 3.0 charger (there's not one bundled in the box).
The Pixel Fold will go on sale next month, with pre-orders opening today. Prices are set to start from $1749/£1749, putting it in direct competition with the Samsung Galaxy Z Fold 4.