Dyson's 360 Vis Nav is a complete reboot of its robot vacuum, claims six times the suction of others
Dyson's fourth attempt at a robot cleaner shows a new direction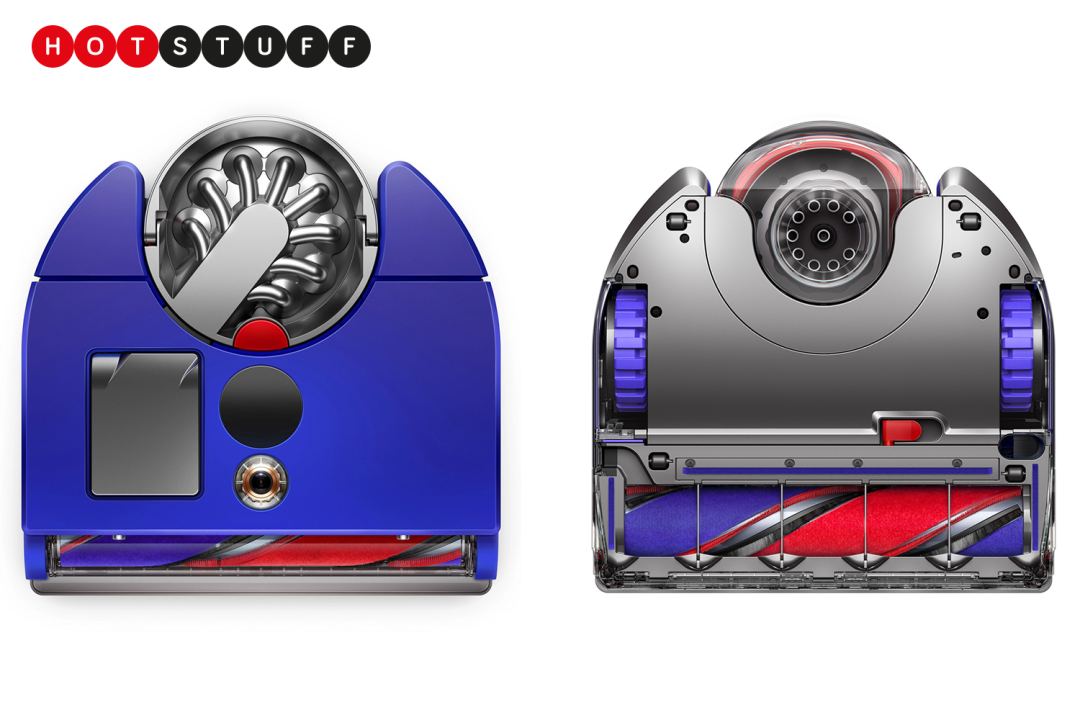 Dyson's radical redesign of its robot cleaner is the Dyson 360 Vis Nav and it'll be out later this year with wider availability than Dyson's older robots. Crucially, the company is promising that the performance of the 360 Vis Nav is finally able to be considered in the same league as its other cleaners.
The company claims 360 Vis Nav has six times the suction of other robots on the market thanks to the use of its Hyperdymium motor spinning up to 110,000rpm (so a little slower than in the Gen5 Detect, for example) and with 10 familiar cyclones. As with Dyson's stick vacs, there's a Piezo sensor to detect dust type and spin up the motor when needed.
The design, which appeared online via the FCC in the US way back in 2021, marks a radical move away from the circular design of the 360 Heurist and 360 Eye.
The D-shape of Dyson's fourth robot vac is not original (Neato's first D-shaped cleaner appeared in 2010, for example), but what is inside is the result of many years of development inside Dyson's robotics labs in the UK, Malaysia and Singapore, in particular at Dyson's new Centre for Robotics at Hullavington, UK.
The 360 Vis Nav has a 50 minute run-time and once again uses the Simultaneous Localisation and Mapping (SLAM) system with 360 degree vision (yep, hence the name) using a camera on top. Dyson's work in software is coming much more to the fore with this cleaner and you can now create and schedule zones in the app as well as use voice control.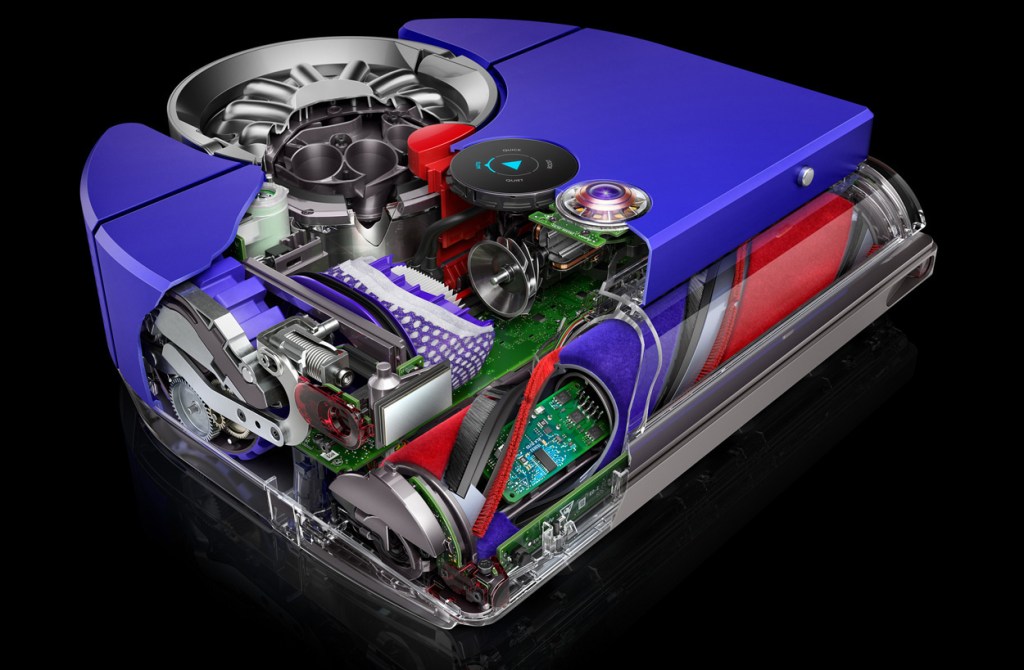 It also features a full-width triple-action brush bar designed to cope with multiple surfaces. There's soft 'Fluffy' nylon for large debris pick up on hard floors, anti-static carbon fibre filaments for fine dust pick up on hard floors and stiff nylon bristles to dig into carpets. Whole machine HEPA filtration ensures that dust down to 0.1 micron in size can be trapped. The filter is easily removed and washed and the one-touch dirt bin emptied without mess.
Suspension helps the robot climb up to 21mm while having a low profile to get under furniture up to 99mm in height. There's also been a lot of work to improve the edge-cleaning with this robot; sensors detect when the robot is at the edge of the room and suction is redirected through a side-actuator.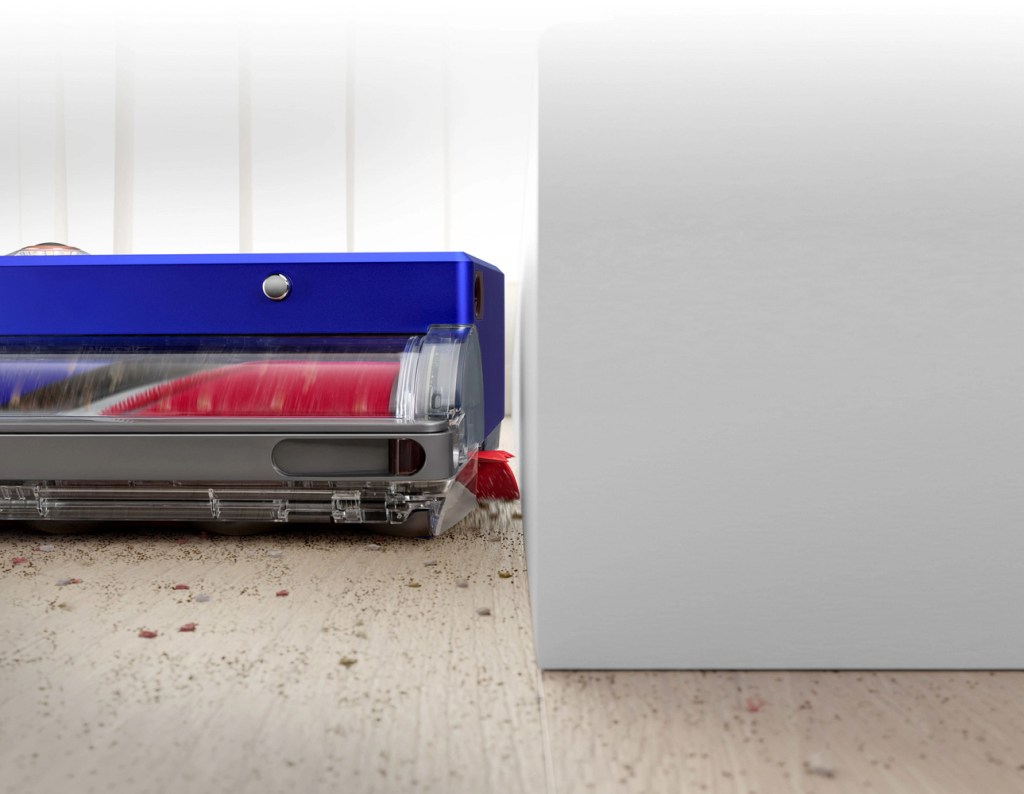 At Dyson's recent Future of Clean event in Singapore where we saw the cleaner in action, chief technology officer John Churchill told us what makes the 360 Vis Nav different than other robot cleaners. "This is a huge leap forward in terms of technology. This is a credible vacuum cleaner with the strongest suction – 65 Air Watts – as well as a huge amount of intelligence in the machine. [It's] really a breakthrough for us and testimony to many engineers' hard work to bring it to market.
"At the core, we have the Hyperdymium motor and our cyclone technology, giving us strong constant suction with HEPA level filtration. In addition to that we have a hugely complex navigation system including hardware advancements such as cameras and sensors, as well as Dyson developed software algorithms.
"The [biggest] thing for us is about making really credible products that really solve a problem or really work in the home. [It's not about] things that are gimmicks that just spin around give you the perception of clean, but actually not the depth of cleaning. Really for the first time you can have confidence that the robot that you're using has a depth of cleaning on both hard floors and carpeted areas picking up all those things that other robots would have left behind."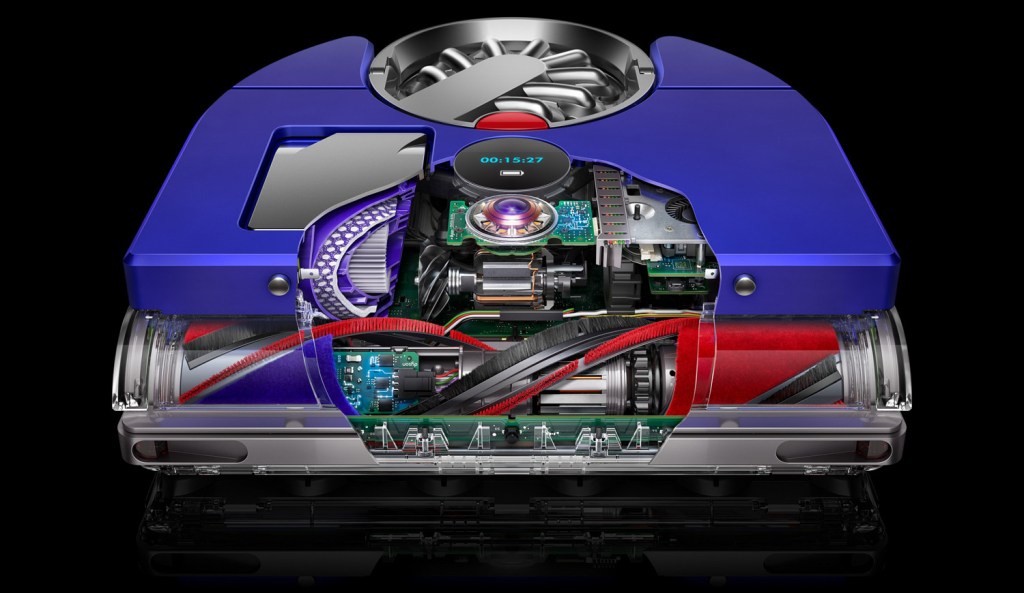 It's fair to say that Dyson will be hoping for a more universal success with the 360 Vis Nav. We're expecting it to be expensive, though, so watch this space. The company has had mixed success with its robots in the past – the 2015 360 Eye had limited availability, while it didn't sell the 2018 360 Heurist in the US. The company's first attempt at a robot vac, 2001's DC06, didn't make it to market because of its sheer heft, due to the number of sensors and batteries on board.