Sennheiser Ambeo Soundbar Plus brings shrunken standalone 7.1.4
Baby brother of our favourite all-in-one arrives with a separate sub in tow
When it comes to primo soundbars, the Sennheiser Ambeo rules the roost – even if it does command a price that'll make your bank manager wince. Happily you won't need to remortgage the house to afford its new baby brother, the Ambeo Soundbar Plus, which squeezes 7.1.4 sound into a more compact body, or the Ambeo Sub that lands alongside it.
Sennheiser is promising the same eerily effective 3D sound from a singe source as the OG Ambeo, which has been rebranded to the Ambeo Soundbar Max. It'll do that via three front-facing drivers, two upward-firing ones and a side-firing one at each side, plus a pair of woofers. That sounds like plenty, but the firm has managed to seriously shrink the system down so it's considerably smaller than the pricier original.
As before, the Ambeo Plus relies on self-calibration tech to read your room's acoustic characteristics and compensate on the fly, for convincing Dolby Atmos spacial audio. It also supports DTS:X and 360 Reality Audio. It's packing all the connectivity you'd expect, like Apple AirPlay 2, Spotify Connect, Tidal Connect and Chromecast, along with Google Assistant, Alexa and Apple Siri integration. No word on physical connections just yet, but we're sure you can expect at least one HDMI 2.1 passthrough.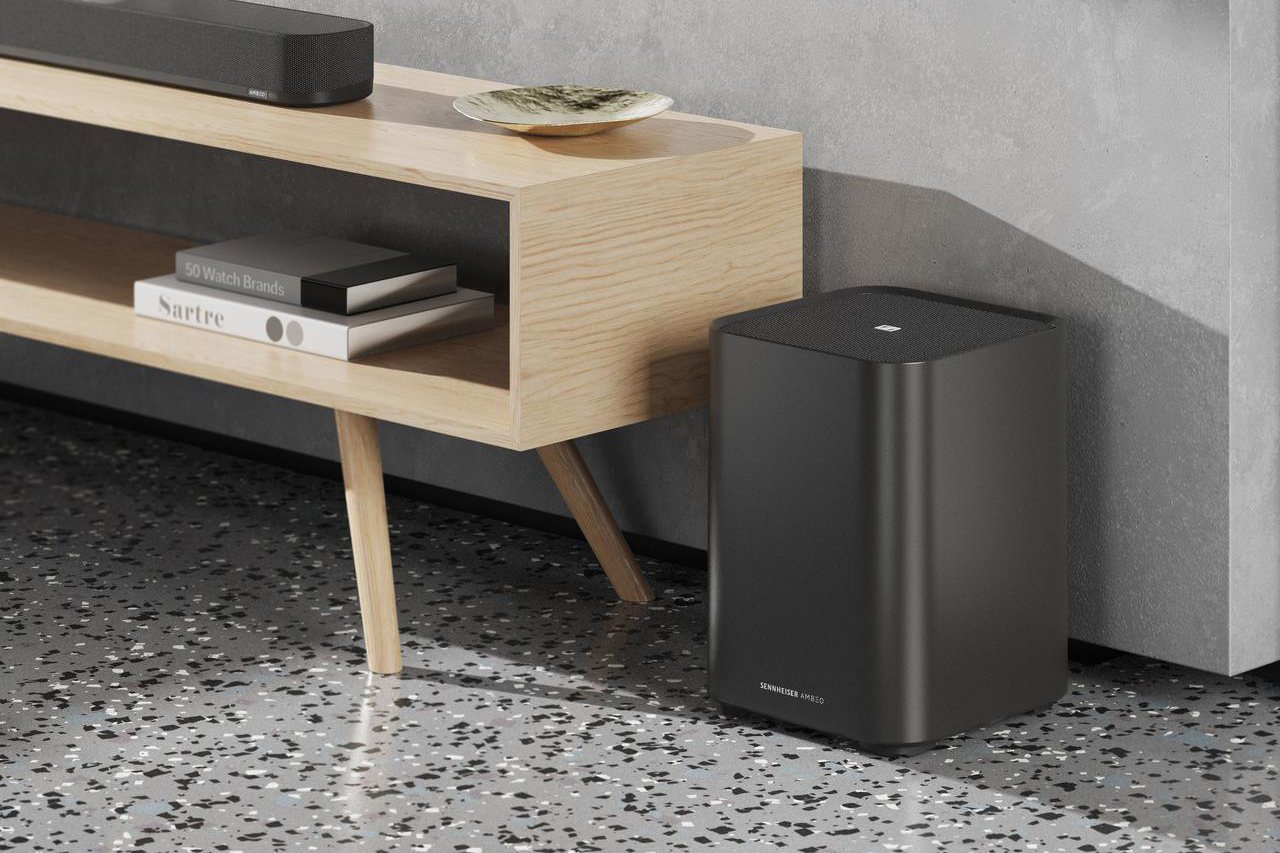 The Ambeo Sub, meanwhile, pairs an 8in woofer with a 350W class-D amplifier for foundation-rattling bass all the way down to 27Hz. You can even connect four of the things to a single system, by which point you can probably measure them on the Richter scale.
It plays nicely with both the Ambeo Plus and Ambeo Max, with each system recalibrating itself to accommodate the extra low-end rumble. It uses a wireless connection, so there's no need to snake unsightly cables around your sitting room.
Both the Ambeo Soundbar Plus and Ambeo Sub are set to go on sale from the 22nd of September, with pre-orders open right now. Expect to pay £1299 for the former and £599 for the latter.