Time to upgrade: the 7 best Apple Watch accessories
Treat your Watch to these travel-friendly marvels...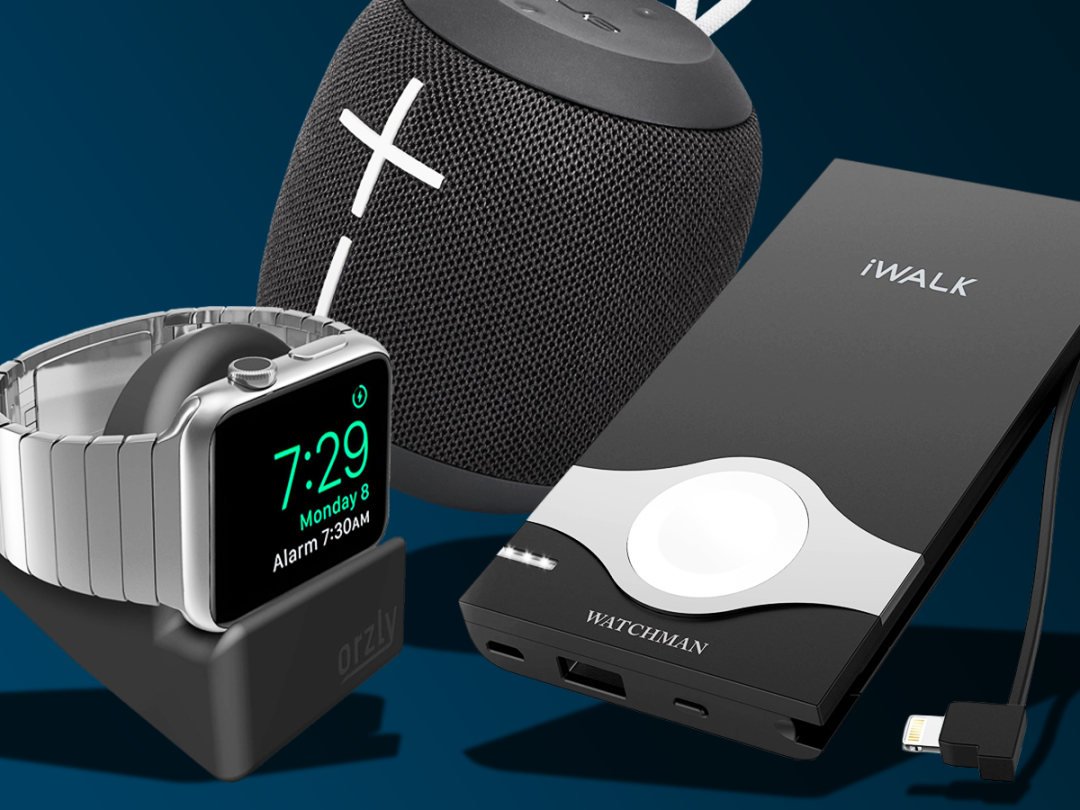 The Apple Watch just got a lot more independent with the Series 3, with standalone music streaming and phone call powers.
Still, that doesn't mean it wants to go it alone 24/7. We've been digging deep to find seven of the best Apple Watch accessories, from basic stands to the speakers and headphones you need to bring out the little guy's musical side.
In fact, pair an Apple Watch with these accessories and they solve almost all of the smartwatch's problems. Other than you still have to pay a good chunk of change for one. No matter what those Facebook ads tell you, we're yet to find a legit route to a free Apple Watch. Sorry.
If it's Watch bands you're after, head to our separate round-up for those. But otherwise, read on…
Orzly Night Stand (£7.59)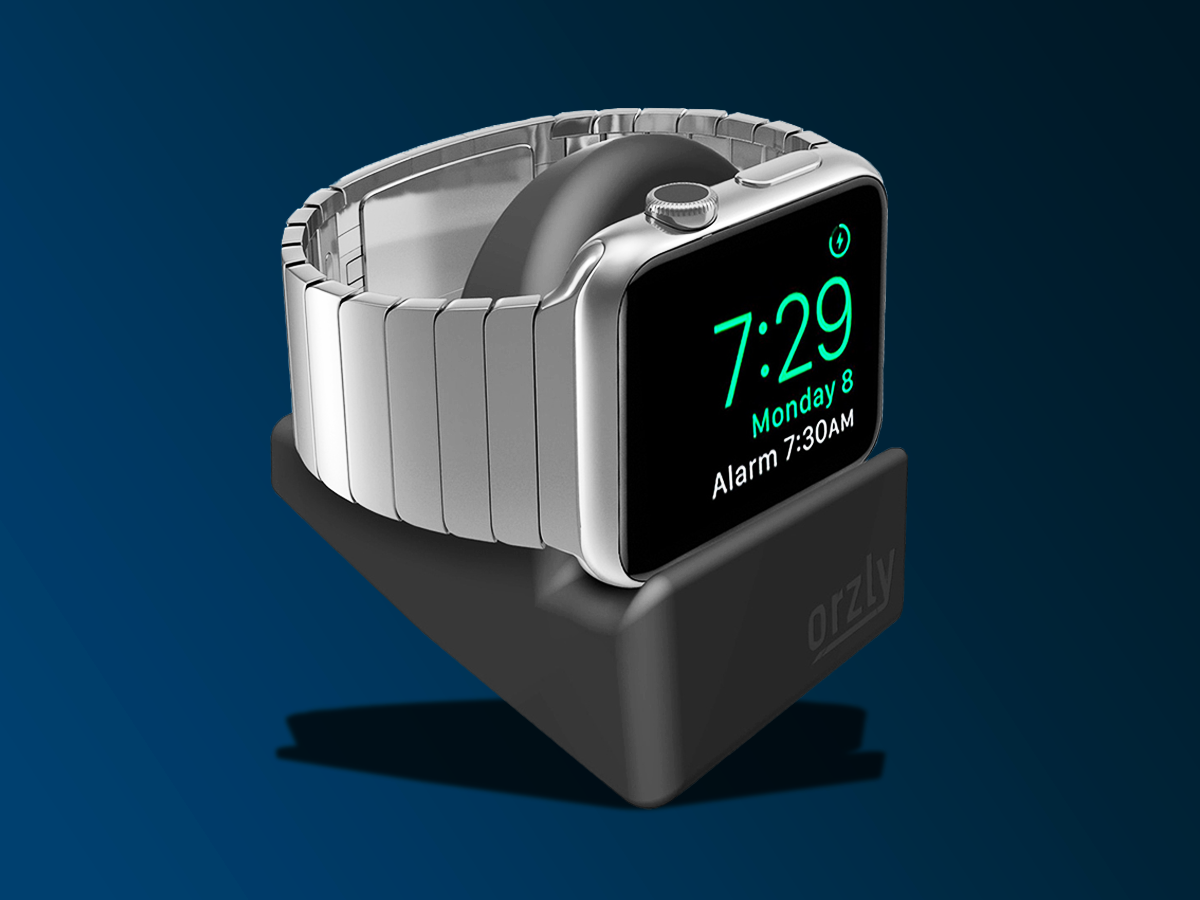 Sometimes the simplest mobile accessories are the best.
The Orzly Night Stand is a dinky dock for your iPhone. Your Apple Watch's standard charger cable slots into it, pitching it at the right angle to function as a bedside (or desktop) clock.
It's made of TPU, which is half-way between rubber and hard plastic. This means it's dense and has a bit of weight to it, but can shrug off being bashed around.
As it's so low-tech, being a piece of rubbery moulded plastic, the Orly Night Stand only costs a few quid too. You can get it in black, blue, green and red, to suit your decor.
The best bit is it gives your Apple Watch a role while it's recharging, rather than sitting on its "naughty step" charger dock, doing nowt.
iWalk Watchman (£54)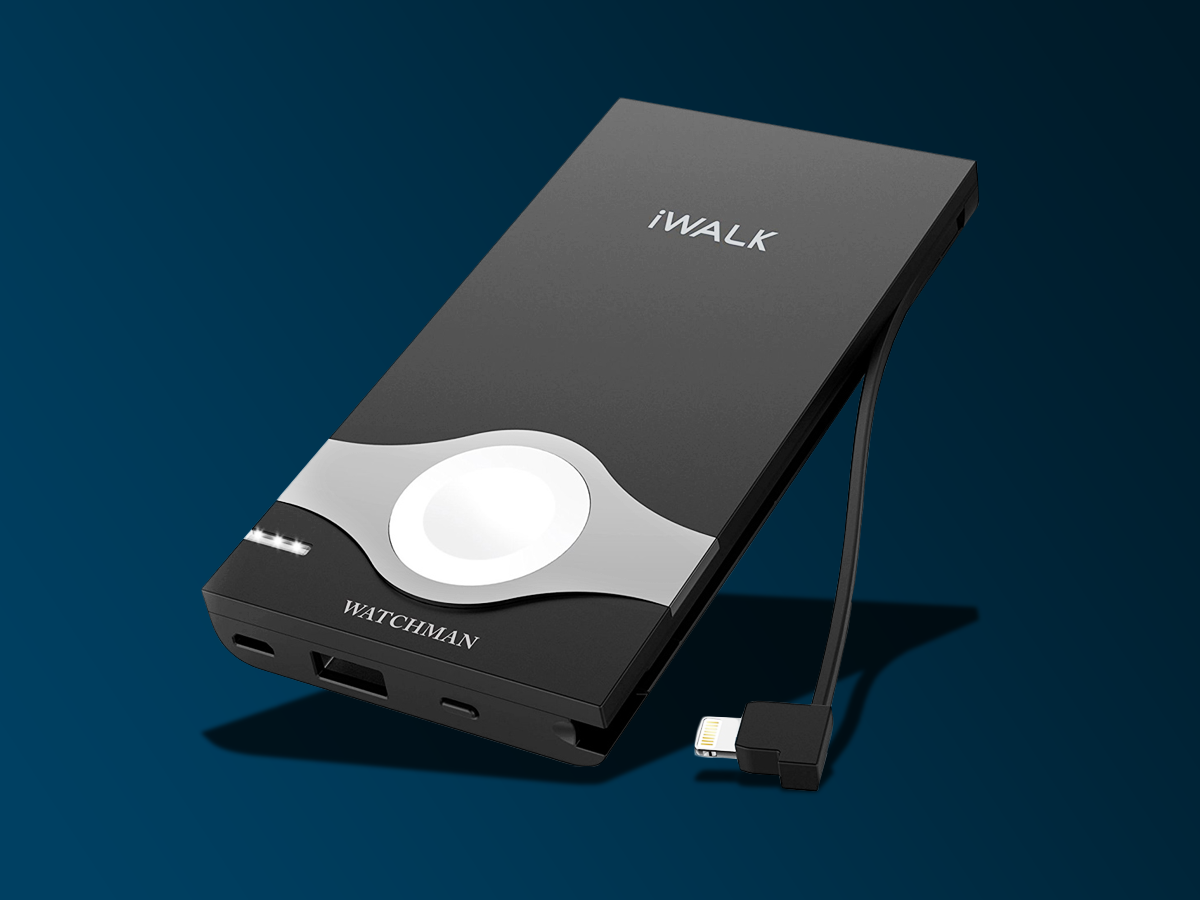 We've sworn by external batteries for years. If you're a hardcore phone user, it's the best way to make sure you're not left with a blank screen before you even start your journey home from work.
The problem: these chargers usually aren't much good for Apple Watches, as you have to bring your dock cable along too.
iWalk's Watchman external battery has the wireless charge panel you need for an Apple Watch, and the capacity you need for a top-end smartphone. Or even a tablet.
The 10000mAh capacity makes it a beast of a battery, with enough juice to recharge an Apple Watch over 30 times.
Think of this a portable charger for the whole Apple family, though. If you just want to keep your Watch alive, you might as well buy something smaller.
The iWalk Watchman has a footprint similar in size to an iPhone X, but is about twice as thick. It'll fit into a bag, no problem, but will ruin those jeans contours.
Griffin Portable Power keyring charger (£70)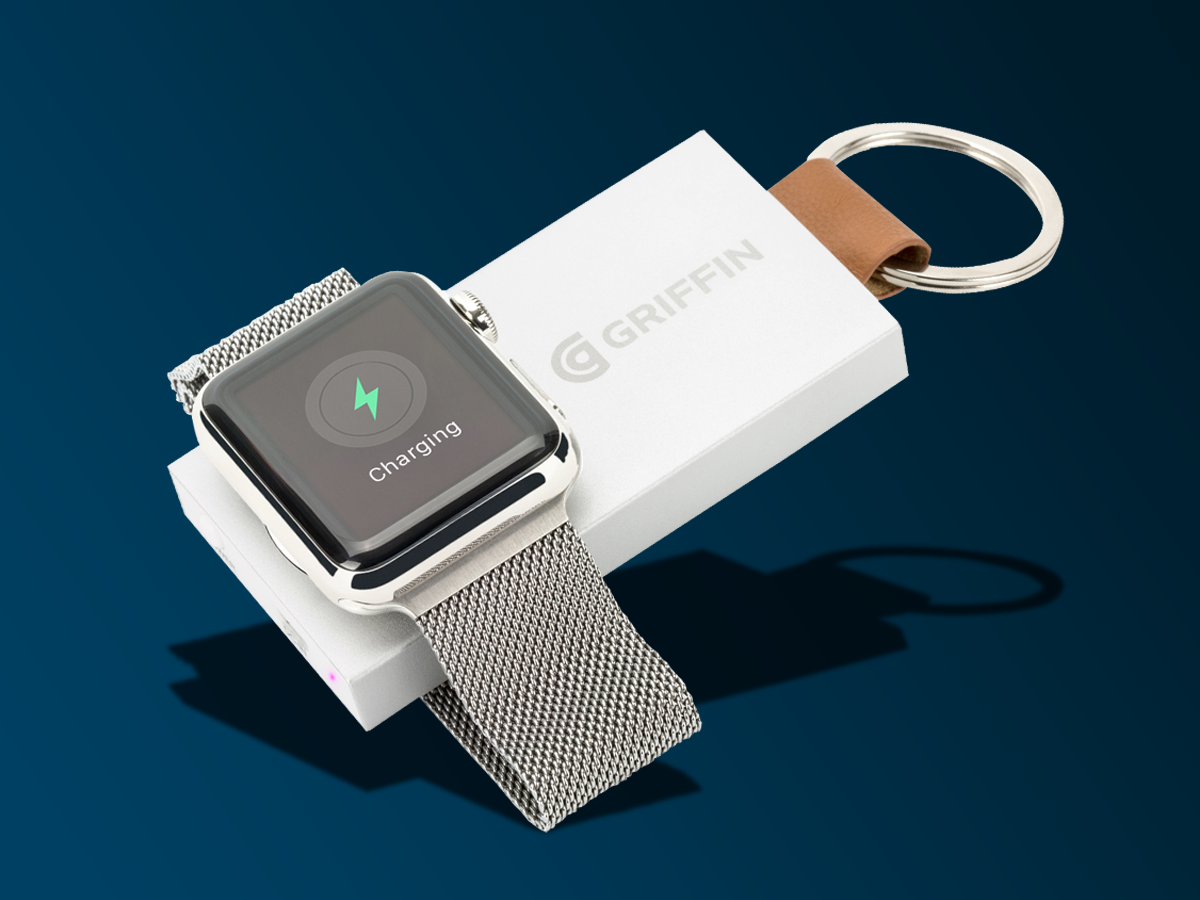 What's the most annoying thing about the Apple Watch? The price? That it shows you have downed a can of Apple kool-aid? All that stuff is bad enough according to some but, as with any smartwatch, the only real problem is battery life.
The Griffin Portable Power is a keyring-sized power pack that lets you keep your smartwatch going without carrying about a giant battery pack.
It has a tough metal outer to deal with life in your pocket, while an integrated wireless charging plate also means you don't need to carry around your Watch charge cable.
A battery pack this size would only get you about half-way to a full charge with a phone. But as the Apple Watch only has a dinky cell, the Griffin Portable Power's 1050mAh unit will get you two full charges plus a good half charge for emergencies.
If you're frugal it'll see your Apple Watch through most of a full week away.
Spigen Tough Armor Case (£9.99)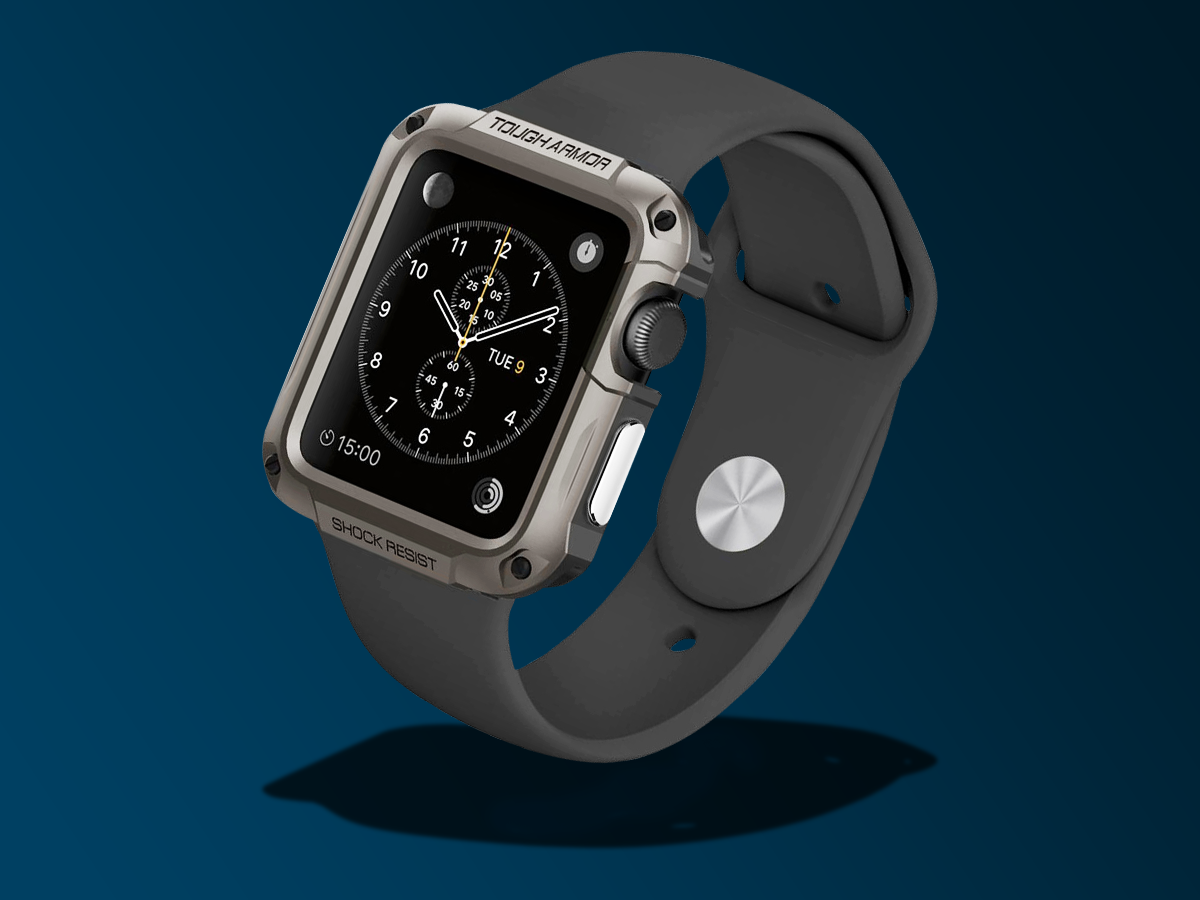 Apple Watches are built to withstand a beating. As hard as we try, the title guy always seems to be getting bashed against doorframes and scraping across something or other.
You have to try pretty hard to dent this tech timepiece, but check in every week and whether you bought the aluminium or stainless steel version, it will have picked up a few micro-scratches.
The Spigen Tough Armor case is one solution, hiding the shiny bits behind tough-looking armour made of a mix of hard plastic and rubber. Yes, fewer people will know you're wearing Apple.
But if you're someone who jumps ship to the latest model every year, this will make it much easier to sell your old watch and skip to the new one.
Funnily enough, 'pristine' watches sell better on eBay than 'scratched to buggery' ones.
Watchkeeper ($60)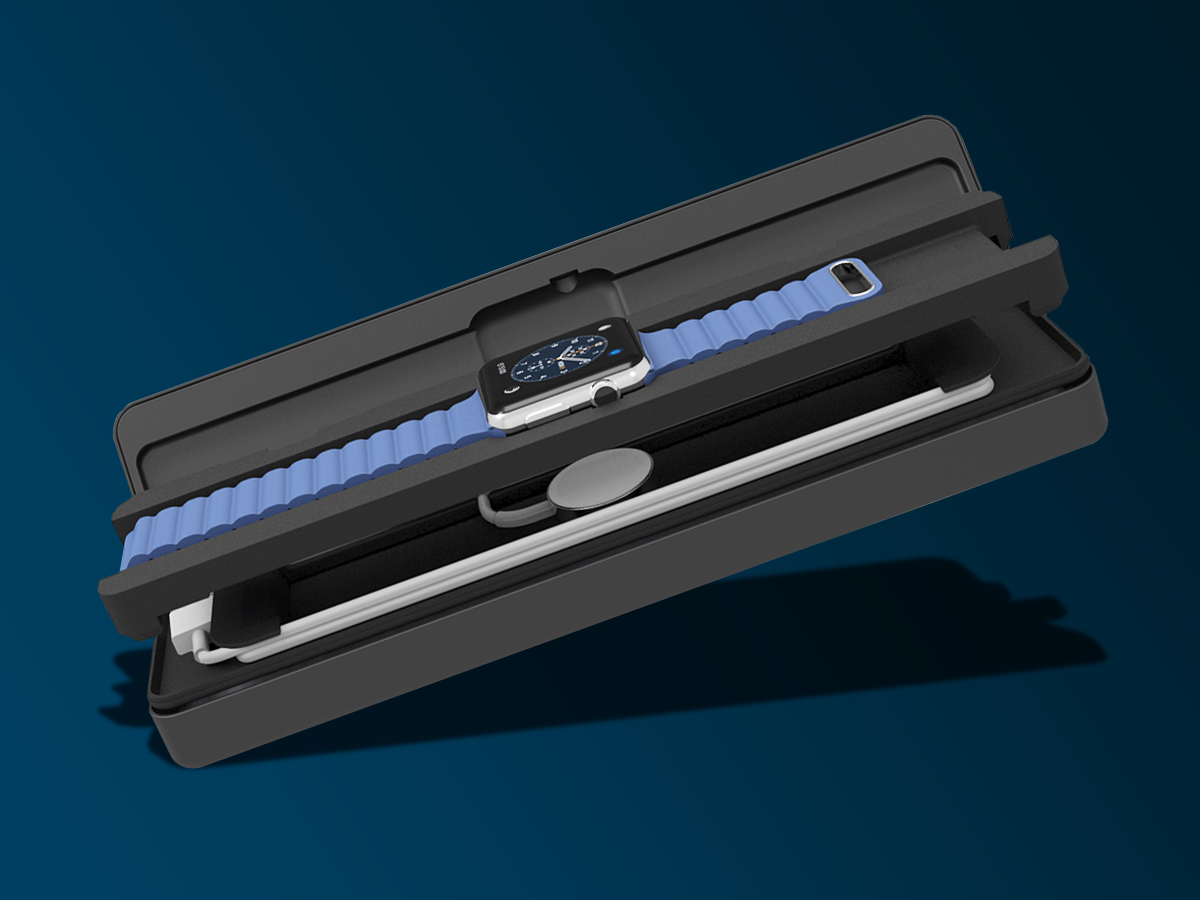 Buy a pair of true wireless earphones and you'll usually get a neat little charge case that'll recharge the buds while they're in your pocket or bag.
And it keeps them safe too. Studio Proper has come up with a Watch-shaped solution, WatchKeeper. It looks a bit like an unbelievably slim glasses' case, with a brown or black leather outer.
When you're out and about, it just stores your watch and charge cable to keep clutter to a minimum.
While at your desk, though, you can make the cable snake out of the back, letting it charge the watch while sitting pretty.
Not everyone needs a WatchKeeper, but it's a good idea if you travel a lot and don't want it to get damaged as you jet-set around the place.
UE Wonderboom (£79)
One of the new Apple Watch's under-appreciated features is the ability to fling out tunes to other Bluetooth devices.
Your first thought: sure, Bluetooth headphones. However, you can also send music to a speaker like the UE Wonderboom.
This is one of our favourite 'poolside-ready' speakers. Its water resistance is so good you can dunk it without ending up with a very cute but very fried speaker.
The UE Wonderboom sounds good too, a passive radiator making its bass punch and overall clout much better than its pint-size shell might suggest.
It spits sound out in all directions and the battery lasts for up to 10 hours.
Urbanista Seattle Wireless (from £59)
The Apple Watch 3 is the most independent Apple smartwatch yet.
It'll take calls, let you go for runs without your phone. But, let's be honest, running is boring without music. Bluetooth headphones bridge the gap.
Searching for wireless headphones can be difficult – it's like going to Toys 'R' Us with a shopping list that just says "toy".
There are hundreds of the things, and a quick Google search won't tell you why pair X is worth £200 more than pair Y.
Pro tip: sometimes they're not. Our top pick of the moment for those out to snag a bargain are the Urbanista Seattle Wireless. Sound-quality wise they're not a million miles off box-shifters like the Beats Studio 3 Wireless.
They sound rich and detailed, and have a minimalist Scandi design that'd make IKEA proud (if IKEA made headphones). The Urbanista Seattle Wireless aren't the least head-clamping pair we've ever worn but this does mean you can wear them while running without them making a break for the gutter.