Smartphone Supertest 2018: What's the best phone right now?
£1000 to spend on a phone. Seven top models to choose from. Are Apple and Samsung really the best picks?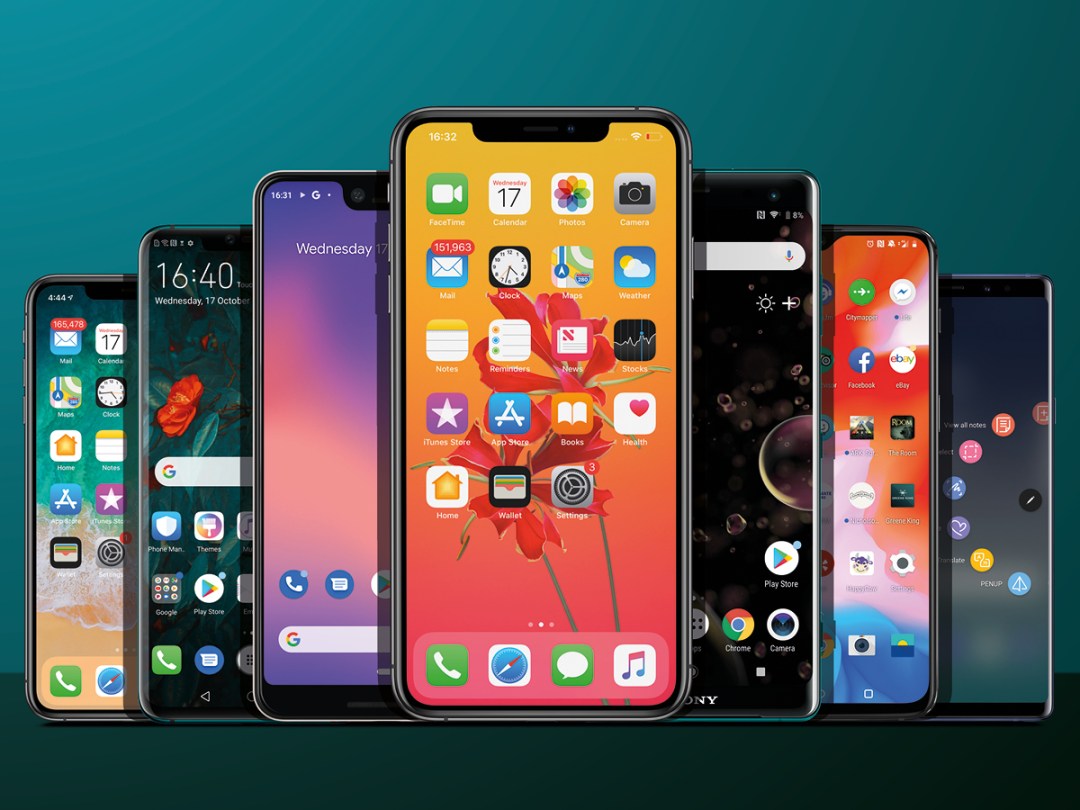 What would make you spend £1000 on a phone? That's today's question.
Just a couple of years ago it might have been inlaid cut-glass diamonds, or a Porsche logo splashed across the back. All the really tasteful stuff.
But today all the big phone manufacturers have models pushing a grand. Heck, you can pay £1449 for an iPhone XS Max if you really want to.
Which of these top-price models really match up to the price, though? Because unless there's something special inside, you might as well save £500 or more and buy an Honor 8X.
It turns out there's a clear answer to that question. One of these phones goes further than the rest in maxing-out what you get for your cash.
Want more tech tricks than Inspector Gadget, a ridiculously screen-packed design and a camera that works in every situation? The best bit this actually applies to most of these phones. It turns out you can't go far wrong when you have this much to spend.
Sony Xperia XZ3: The headlines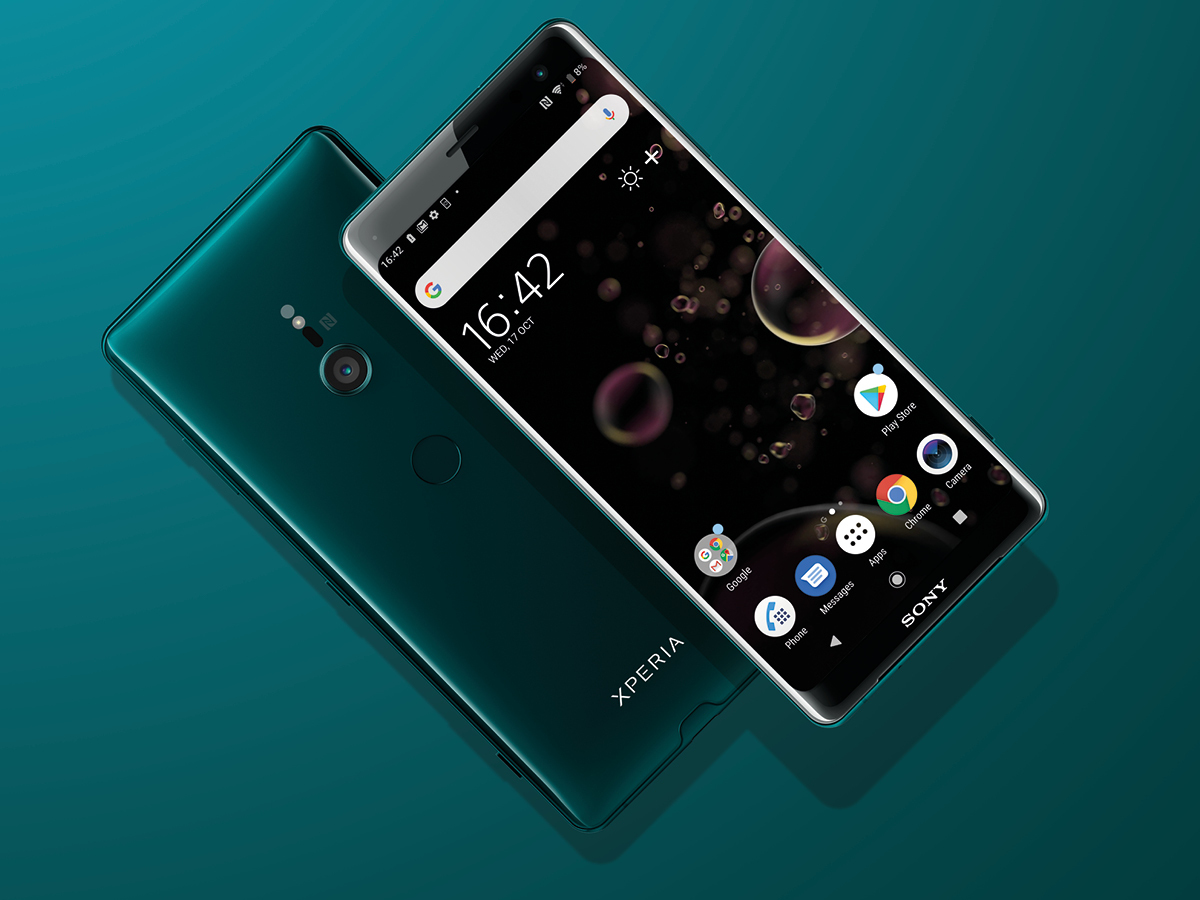 Put the Xperia XZ3 next to these other kings and it won't come out on top.
The camera is great, but worse in most areas. Its battery life is fine, but doesn't match the Note 9. You have to look at the price too, though. The Sony Xperia XZ3 is £400 less than an iPhone XS Max. £170 less than a Note 9. That means something.
This is also the first time Sony has crammed an OLED screen into a phone. And we'd rather that than the mostly pointless 4K displays Sony packed in to show off in the past. It's a stunner, although this 6in'er fills out the front less than any other here.
Sony has embraced curved glass like no-one else, mind. The XZ3 smooth as anything and, yes, does have a habit of slipping down surfaces you swore were flat. Get bored and you could use it as a spirit level.
Old Sony quirks, like pig-ugly camera processing, have been fixed and the 960fps slo-mo shooting is fun to play around with. Funny as it sounds at £699, saving a bit of money is the best reason to buy.
The Sony XZ3 cameras start to struggle earlier with zoomed and low-light shooting, the speakers are less beefy than the others here. And who thought putting the finger scanner that low on the back was a good idea? Reach out for it and you'll find the camera lens, but you'll be waiting a long time if you expect that to get the Xperia XZ3 unlocked.
Sony Xperia XZ3: The details
Camera
Sony has wised up, ditching its old strategy of using the highest-resolution sensor it can get its hands on. This 19MP camera has the best performance in an Xperia to date. Beautiful HDR images and improved processing get a thumbs-up. The others outperform the XZ3 in bad lighting, it can take a beat to focus and the picture degrades quickly when you start using the zoom, though. It's the curse of the single lens.
8/10
Display
This is the first Sony Xperia to use an OLED screen. It took a while. A notch-free display with just a slight curve at the edges, the XZ3 feels comfortably conventional in this class of renegades. And aside from the iPhone XS it's the smallest display here. It's still a stunner, with the perfect contrast of OLED and eye-popping colour, if you want it. With tones maxed red can look bright rather than deep, though.
8/10
Performance
8745 A Snapdragon 845 guarantees smooth sailing in games and day-to-day use for at least a few years. It's outpaced in a few other areas important to those who use their phone for more than telling their other half when they'll be home, though. The speakers may be stereo are the weakest on test and battery life is worse than that of the other Androids here. It's not bad at anything. But this is the big league.
8/10
Design
Old Xperias were boxy things. The XZ3 is a slick and smooth player, curvy glass around the back and a front with Samsung-a-like curves at the sides. It looks different. It looks interesting. There are some annoying bits, mind. This might be the slippiest phone ever, and the finger scanner on the back is far too low. The tap-sensitive side, which brings up shortcuts, doesn't feel like a killer addition either.
8/10
Current price: £699
For a little more/less
Sony Xperia XA2 An affordable alternative, the XA2 doesn't have the XZ3's fancy bits. The screen's aspect is old-style 16:9, the camera has more megapixel but lower image quality. And you lose the OLED punch. However, nowadays it's a decent deal if you don't want to spend a packet.
Stuff says ✭✭✭✭✭
The first OLED Sony phone and the best Xperia ever. But can Sony's latest really compete with the best no-compromise phones in the world? That's a tough one to answer.
Huawei Mate 20 Pro: The headlines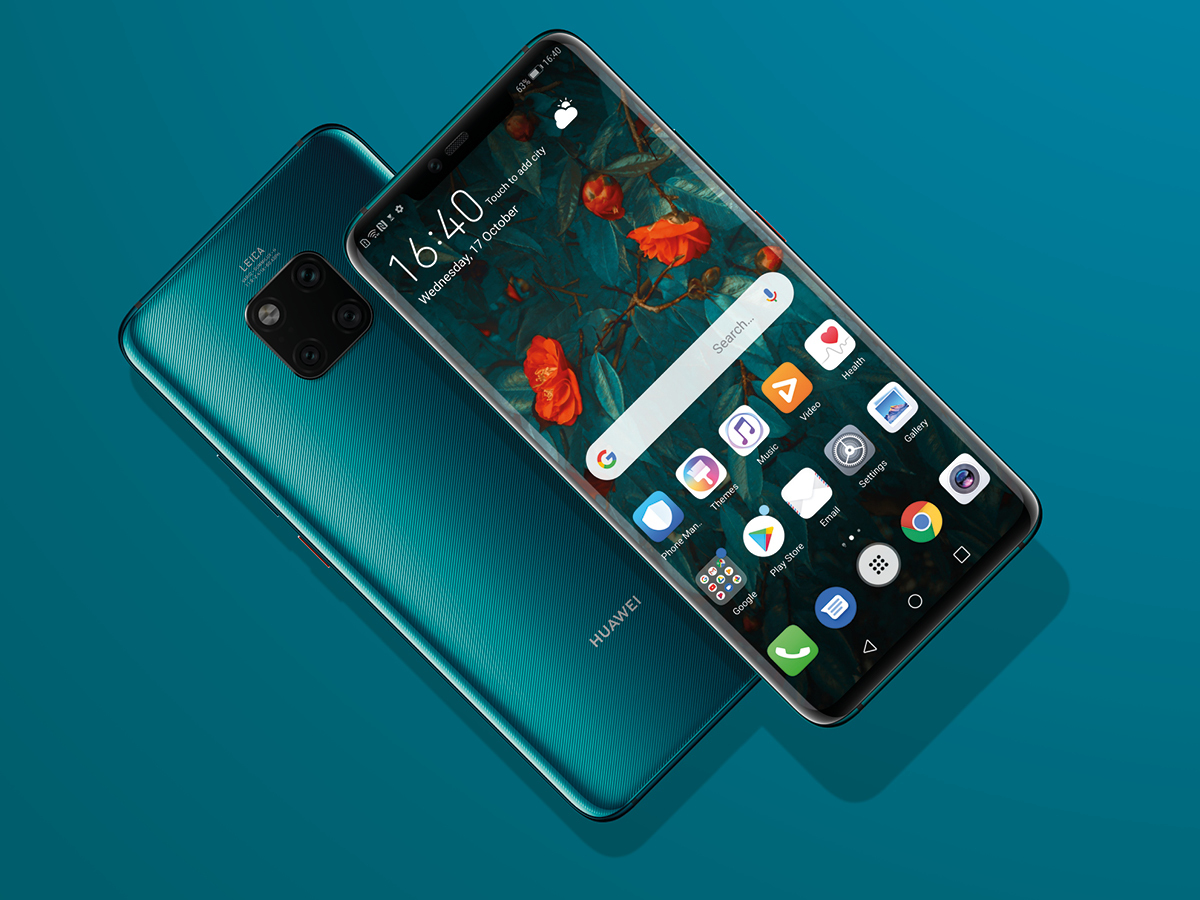 If the Huawei Mate 20 Pro was a meal, it would come with everything on the menu. The list of feature just keeps going.
Not only is there wireless charging, you can charge-up other phones with its 4200mAh battery just by holding them together. Rubber band advised.
There's an in-screen fingerprint scanner only a hair less quick than Huawei's famed rear pads too. Not content with a normal camera, the Mate 20 Pro has a 3x zoom and an ultra-wide lens. And a new version of the brilliant AI-assisted night mode that made the Huawei P20 Pro so special.
Huawei's ahead of the Android pack with the Kirin 980 CPU too, which is a generation ahead of the arch rival Snapdragon 845. This is the most tech-packed phone in the world right now. But is it good? It sure is.
The glass and metal design is as sleek as any out there, as long as you can stomach that Lego brick style camera housing. Night and zoomed images are the best of the bunch, and the battery outlasts every Android here.
Many people may simply not be willing to spend this much on a Huawei. And parts of the software, like the camera app, still aren't as tasteful as Apple's or Samsung's. This is what a crazy-expensive Android phone should be about though. If we don't have cutting edge features to show off, why not save £500 and buy something much more sensible?
Huawei Mate 20 Pro: The details
Camera
There's 76 megapixels' worth of camera here. So much they're about to bubble over like hot chocolate in a microwave. It gives the Pro the best chops for extreme environments. Ultra-dark shooting? It wins. 10x? Another Huawei victory. Shoot a pretty landscape on a sunny day and you may prefer the iPhone and Pixel photos. But this phone lets you push at the limits of phone camera capability more than any other.
10/10
Display
If you're after the biggest screen around, that's not the Mate 20 Pro's game. It wants to fit as much display into a phone that doesn't actually seem huge at all. A 6.3in OLED with curved edges and the teeniest borders of all the phones here means it beats all comers on that front. It's also the only one with an in-screen fingerprint scanner, for extra tech bragging rights.
9/10
Performance
This is the only Android phone here with a "next-gen" processor, the mighty Kirin 980. It beats all Google powered rivals by at least 10 per cent in benchmarks. And the 4300mAh battery comfortably outlasts them all too, including the Note 9. It's not as good as the iPhone XS Max for gaming, though. A lack of dev optimisation for the graphics chipset makes a couple of ultra-demanding titles chug a bit when maxed. And the speaker system isn't even close in power to the iPhone's.
8/10
Design
Huawei plays the same game as Samsung here. Curve the screen and you can fit in a wee bit more without straining anyone's fingers. Despite the 6.4in screen this is the most compact Android here by some stretch. Sure, giant camera array on the back is a bit much to take in at first. But this a fantastic-looking mobile with the same breed of all-screen front as an iPhone XS Max.
9/10
Price: £800
For a little more/less
Mate 20 Sure, you could downgrade to the Mate 20. It's a little more affordable, you get a tri-camera rig on the back and its screen is bigger. However, the display is noticeably less sharp, the design is less compact and most of the Iron Man extras have been cut out. OR Honor 8X £229 Sister company Honor smashed it out of the park with the 8X. This phone is only £229 but looks completely at home next to these phones, up to four times the price. It's metal and glass too. Performance isn't as hot and the cameras are a league or two below, but it's a hot deal.
Stuff says ✭✭✭✭✭
Huawei doesn't play about when adding extra features. This phone can wirelessly charge other mobiles, has zoom and ultra-wide extra cameras and a next-gen CPU. It's a beast.
iPhone XS Max: The headlines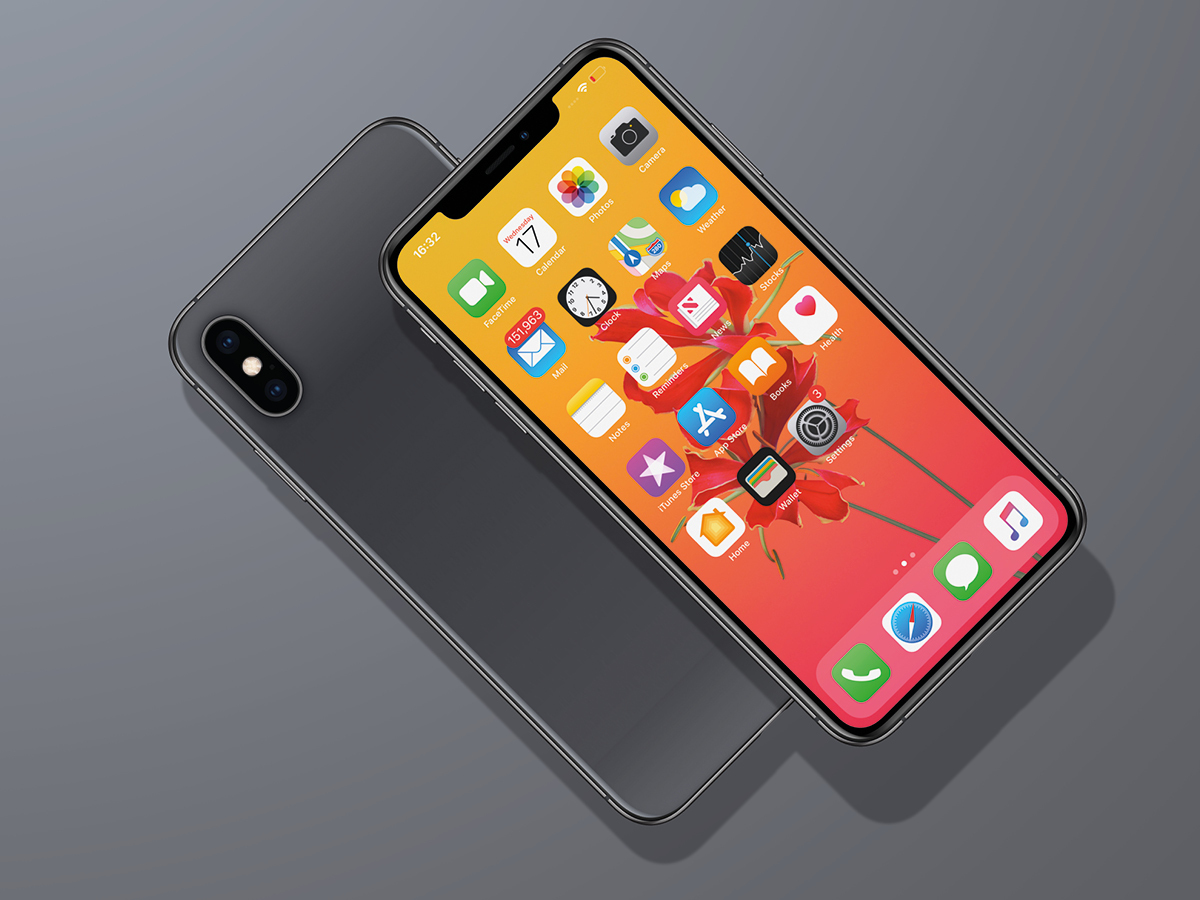 iPhones have never come cheap, we knew that. But trick out the iPhone XS Max with 512GB storage and it ramps to £1449. You could buy a tidy Ford Fiesta with that kind of money, and have enough change to snag a pair of fake Ray-Bans for the ride.
Use the iPhone XS Max and it starts making sense, though. The way the screen surround sticks at 3mm all the way around, bar the notch, makes it look like a work of art. Get this thing a spot in the V&A already.
Its face unlock feature is ultra-quick. You don't even miss the lack of a finger scanner. Even if you're a paid-up member of team Android, you have to admit this is probably the best phone for gaming in this class. The iPhone XS Max has the most dynamic speakers, more graphics juice, and iOS tends to get games before Android. And the camera? As ever, Apple has the experience nailed down. The app is clean, shooting is fast and what you see in the preview is pretty much what you get.
HDR performance has improved this year too. The best of Android do claw ahead in a few areas, though. Huawei's AI night mode deals with dark scenes better and Samsung has the edge for ultra-zoomed sharpness.
If the iPhone XS Max was the same price as its rivals, though, this would be an easy one to pick. So does the idea of a £1100 make you feel a little sick inside or not?
iPhone XS Max: The details
Camera
Apple nails the experience of using a phone camera. The preview image you see when shooting looks fantastic, a real estimation of what you'll actually get when you go back to review your photos. It's a top performer too, with better HDR and low-light performance than the old iPhone X. Shoot an ultra-zoom or a very low-light scene and the Samsung and Huawei pip it, just, but the iPhone XS Max is up there with the best.
9/10
Display
Bloomin' gorgeous. That's the best way to describe the iPhone XS Max screen. Aside from the notch there's just a sliver of border around the display, and it tracks the screen's curves as if it's painted on. Apple's colour calibration looks flawless too. There's none of the sense that reds are too red, greens too green. It all just looks, well, right. This is a brilliant display for gaming and video.
10/10
Performance
Are you a gamer looking to spend big? Stop right now, you've found your phone. The combo of the super-powered Apple A12 Bionic CPU and that giant screen just can't be beaten. Even the most demanding games run like an olympian. The iPhone XS Max earns extra cred for its fantastic speakers, which are the most dynamic sounding here. Deepest bass, clearest treble. The iPhone XS Max is an entertainment deity.
10/10
Design
The Max's front is its strongest side. You just can't fault those curves. Elsewhere it's very much the usual oversize iPhone styling, but with the camera swivelled around by 90 degrees. Glass on the back, metal on the sides and three colours to choose from. It's tasteful, it's clean. It's an iPhone. However, this is also quite a big-feeling phone. You may find it a bit much if upgrading from a standard-size iPhone.
10/10
For a little more/less
iPhone XR (£799) is the middle child size-wise in the iPhone X line-up, but is no awkward kid. It's hundreds cheaper, just as powerful. You miss out on the 2x zoom camera on the back, though, and the screen is lower contrast LCD with far fewer pixels packed into each inch.
Stuff says ✭✭✭✭✭
Have a bottomless budget for your next phone? This is the maxed-out model, with perhaps the most beautiful display design seen in a phone. And XS-beating battery life.
Google Pixel 3 XL: The headlines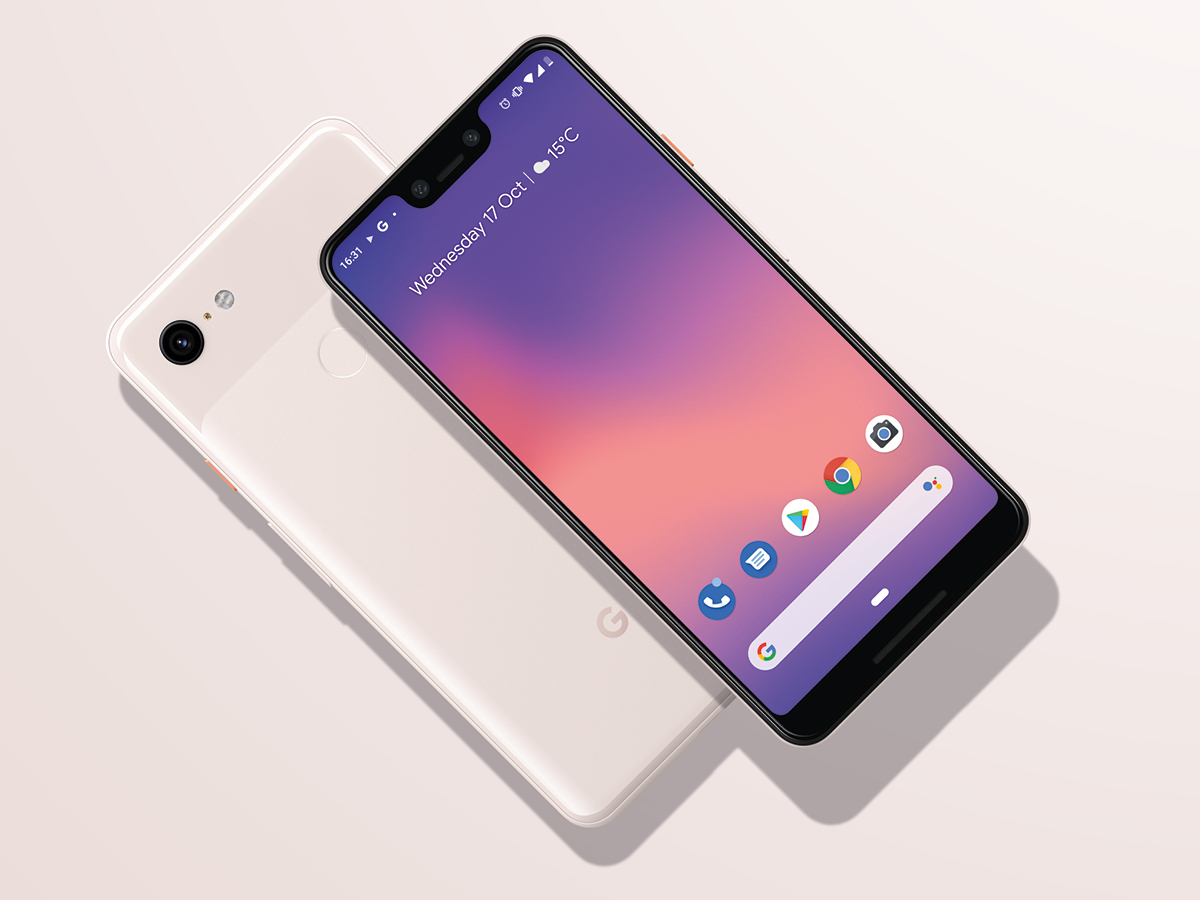 The Pixel 3 XL is an ambassador from Android HQ, here to show us what little green guy is into this year. At first, the hardware seems quite a lot like last year's Pixel 2 XL. The characteristic Pixel look, which has more cute-factor than any other high-end phone, is still here.
Some parts are totally different, though. The back is now all-glass, with a fingerprint-hiding soft touch finish across the parts you hold. Glass isn't just there for fashion's sake. You can wirelessly charge the Pixel 3 XL, and Google offers its own PixelStand dock.
There's a notch too. You can't miss it, this thing is a double-decker. However, it does allow some of the finest selfies you'll see in a phone, and brilliant background blur portraits. Who knew the future of Android was all about selfies?
The Pixel 3XL doesn't have a genius face unlock like an iPhone, and you can't hide the notch like Huawei's. But this phone will get Android updates earlier than any other.
And the camera? Many called the Pixel 2's the best in the world. This year we get boosted contrast in daylight shots and smarter AI when using the digital zoom. Its colour is often the most truthful, although some eyes may prefer the brightened mid-tones of the competition. And when using zoom or in low light, the Pixel 3XL drops behind the best.
Instagram addicts and wannabe influencer may naturally gravitate towards an iPhone. But if you want selfies you won't have to edit to death, the Pixel 3 XL is king.
Google Pixel 3 XL: The details
Camera
Bold move, Google. This phone only has one camera on the back, and tries to fill the rest in with smart software. Does it work? To an extent. Day photos are stunning. But crank that zoom and it can't touch the iPhone or Note for detail. The HDR approach is different too, maxing out contrast for bolder looking images. However, the Pixel easily has the best selfie camera, treating each hair like a precious family heirloom. Guess what? That result comes from two sensors, not just software.
9/10
Display
You may have heard about the Pixel 3XL's screen. It has the Big Mac fat stack of notches. You can't hide the thing either, so get used to it. Display quality has improved a lot since last year, with much less of a blue tint when you tilt the phone. Great as the display is, it can't make the same impact as the iPhone XS or Mate 20 Pro, which fill the front as if the screen was poured in as a liquid.
8/10
Performance
A Snapdragon 845 processor means the Pixel matches most other top Androids for performance. Whatever you want to do in Android, it won't be a problem. And the very loud stereo speakers are
great for games. The pure Pixel version of Android you get here has an unmistakeable slick and smooth feel too. Android 9.0 is even more gesture heavy, so get your thumb ready for a good flicking.
8/10
Design
Every phone in the universe seems to be made of metal and glass these days. The Pixel 3XL is one of the few that feels genuinely different. Google slapped a soft-touch finish on the back that feels divine and stops it becoming a fingerprint wasteland. Unlike every other phone here. It's a soft touch look, not just feel. We lose the two-tone appearance from last year, but it's still one of the most recognisable Androids.
8/10
Current price: £869
For a little more/less
Downgrade to the Pixel 3 and you can save a tidy £130. It has the same camera setup, the same CPU, even the same mostly-matt glassy back. There's no notch and the screen is smaller, though. This phone comes across as less of an entertainment monster.
Stuff says ✭✭✭✭
The official showcase for Android 9.0 is here, complete with features designed to make you use your phone less. Now there's some out of the box thinking from a phone maker.
iPhone XS: The headlines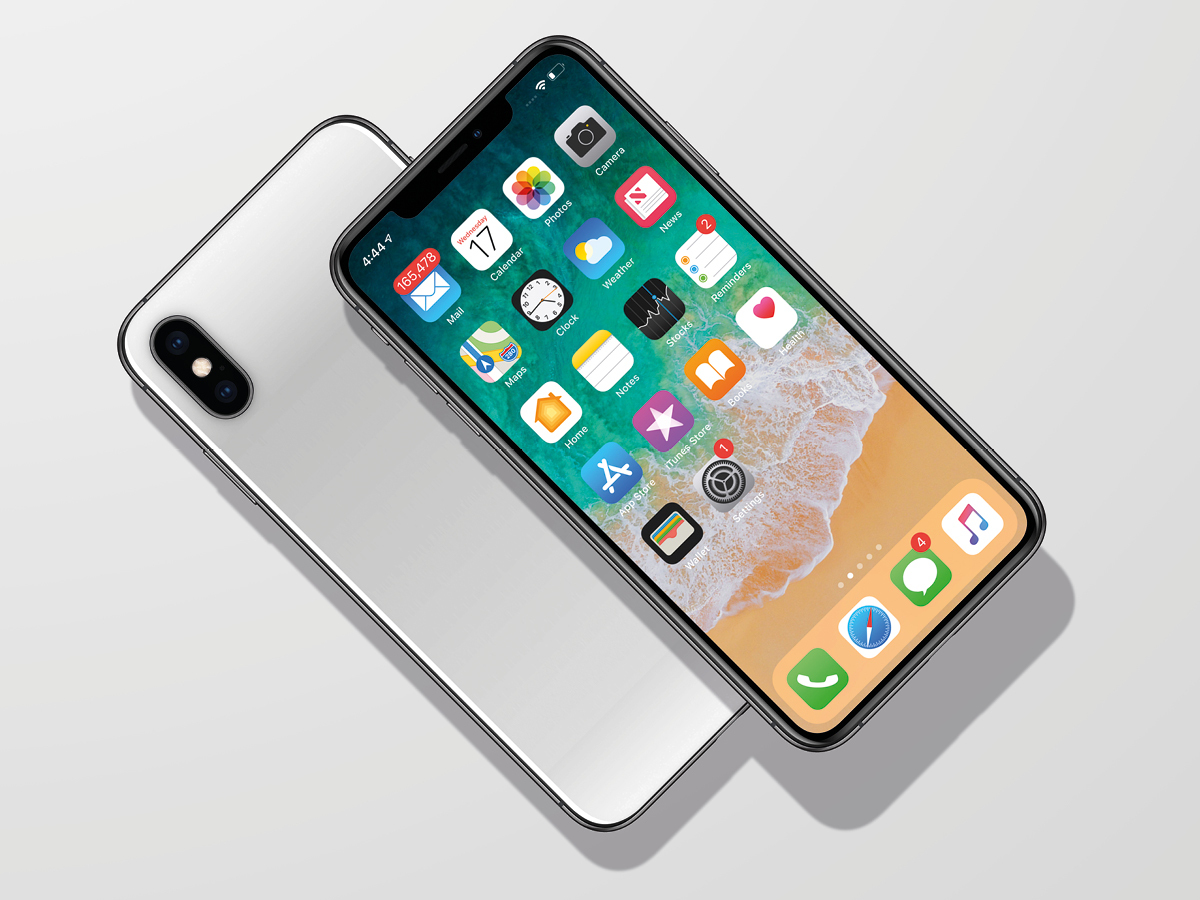 As Apple never released the budget iPhone some were hoping for in 2018, the XS is the smallest of its new models. However, it's exactly the same size and shape as last year's iPhone X. It looks the same too, and Apple's ultra-quick Face ID unlocking remains a top feature.
So, what's different? Only two major areas have been upgraded. You get the Apple A12 Bionic processor, the same as the Max. That's currently the most powerful processor you can get in a phone.
Apple has upgraded the rear cameras too. HDR performance is better this time around, netting you richer photos that get closer to the look of a well-edited shot taken with a good dedicated camera.
In this crowd, the iPhone XS's screen may not blow you away. Its 5.8in diagonal makes it practical, not a pocket cinema. However, you still get the top-grade image quality of an OLED screen and Apple's classy calibration.
Battery life is the one part to put you off. The XS Max and Huawei Mate 20 Pro are designed to withstand a day of solid hammering. We find the iPhone XS begs for its charger a bit too early in the night if you stream a lot of audio, or kill time with some YouTube videos.
A smaller size and a battery that turns its nose up at the hardcore crowd mean the iPhone XS is best for the lighter users out there.
iPhone XS: The details
Camera
It may be smaller, but the iPhone XS has the same camera as the XS Max: dual 12MP sensors on the back with a 2x zoom option. This is a great arsenal, and bags of fun to use, but Huawei and Samsung perform slightly better at extreme zoom and in very low light.
9/10
Display
In this crowd the smaller 5.8in screen is likely to get lost. But don't forget all the tech sitting in that panel. There's HDR 10 support, near-perfect sharpness, brilliant TrueTone colour that adapts to lighting and a 120Hz touchscreen for an even more responsive feel. 3D Touch adds pressure sensitivity too, not found in the Android brigade.
8/10
Performance
The iPhone XS is the ultimate pocket rocket phone, with the same power on tap as the XS Max. Its A12 Bionic CPU is still a class leader. Don't buy this iPhone if you want it to last through a day of major punishment, mind. The 2658mAh battery just doesn't have the reserves for it, even if it does outlasts most Androids in a video-playing face-off. It's for breezy users who don't want something that'll stick out of pockets.
10/10
Design
Is this an iPhone X? The iPhone XS looks just like its predecessor, with just a few little tweaks. There are a couple of extra antenna cut-outs and it's 3g heavier. No-one's going to notice that. The XS comes in gold, grey and silver. And, most important, it's a reminder of the charms of a small phone. No stretching to reach shortcuts. No sense your pocket's about to burst as soon as you slot it in next to your wallet.
8/10
Price: £999
For a little more/less (50)
Stick with the older iPhone 8 (£599) and you can save a few hundred quid. Sure, it doesn't have the zoom camera or the latest CPU. But unlike an Android that's no longer new, you're still guaranteed software updated for years to come. The A11 Bionic CPU won't seem creaky for a long time either.
Stuff says ✭✭✭✭✭
This is the old iPhone X with a new camera and a healthy power injection. It's by far the smallest here too. Casual vibes for miles.
Samsung Galaxy Note 9: The headlines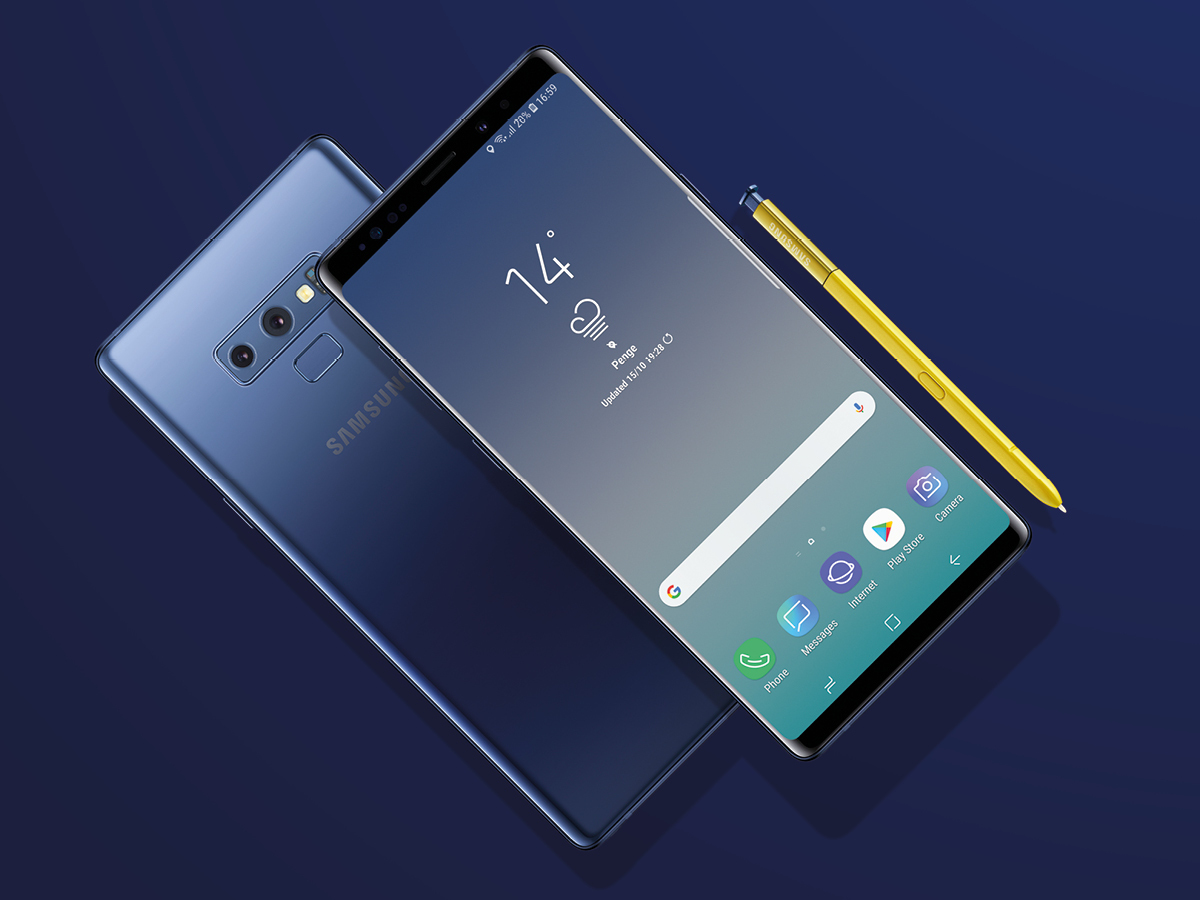 Samsung is so good at making high-end phones, it's staring to get boring. No wonder LG, HTC and Sony have started to fade into the background. Notes are the most interesting phones Samsung makes, though.
They have an S-Pen, a stylus that slots into the bottom of the phone. Give it a poke to make it pop out and you can start scrawling notes on the touchscreen, no unlock needed. This time the S-Pen also has Bluetooth, letting it work as a music controller or remote shutter button.
As such it needs a battery, but it lasts around 200 clicks and recharges when put back in the phone. Genius.
Add better battery life than the Pixel or XZ3 and a camera that holds up in every single situation and you have a special combo on your hands. Samsung is also the only designer here not to throw out the headphone jack like a carton of 2-week-old milk. And we're thankful for that every day.
There is a question of the look, though. Front-on it's great, with plenty of curved glass and OLED pop from the notch-free 6.4in screen. The boxy elements on the back make it look the phone equivalent of a pencil case full of compasses and protractors, though.
The Exynos processor seen in the UK Note 9 also doesn't fare quite as well as the competition in some games. Only a handful of titles apply, mind, and those outside the gamer elite are unlikely to notice.
Samsung Galaxy Note 9: The details
Camera
Only the Huawei Mate 20 Pro can touch the Note 9 for sheer flexibility. It takes brighter, cleaner ultra-dark night photos than the rest, the Auto HDR is superb and sharpness is terrific. At 10x it pips the iPhone XS Max for detail, and trashes the Pixel and XZ3. Zoom lenses work. Even the background blur effect is a touch more reliable than Apple's.
9/10
Display
Samsung is the king of phone OLEDs. But it has shared the wealth and all the phone here bar the Pixel have a Samsung display. This is one of the biggest, though, and there's no notch to eat into games and movies. It's the S-Pen tech that really sets the Note apart. You can just pull out the pen and start note-taking on the screen when it's off. Where else can you get that? (Hint: nowhere)
9/10
Performance
Samsung put one of its own Exynos chipsets in the UK's Note 9. It just pulls past the other Androids here in benchmarks. But in real life? That's a little different. Feed it a chip-melting game like Ark: Survival Evolved then max out the graphics and you'll see more frame judder than the Snapdragon 845 phones here. That's a shame as the screen is brilliant and the speakers beat all but the iPhone XS Max.
8/10
Design
In this crowd, you can't get away from quite how utilitarian the Note 9's camera rig looks. It's a toolbox, not a design statement. However, no other phone manages to pack the front with quite as much screen without using a notch. Notch haters, roll up. Samsung also earns extra points for fitting in a slot for the S-Pen and making a phone with a 6.4in screen this easy to handle. Those Samsung engineers really earn their paychecks.
8/10
Price: £869
For a little more/less
Samsung Galaxy A9
It seems weird that a cheaper Samsung has some more advanced features, but that's just what's happened. The A9 has four cameras on the back, to fit in zoom and ultra-wide sensors as well as a normal one and depth cam. No S-pen, mind. That's the Note USP.
Stuff says ✭✭✭✭✭
The Note 9 won't win a rear of the year award, but this phone has something special, the S-Pen. You can scrawl notes and draw masterpieces. Note: talent still required.
One Plus 6T: The headlines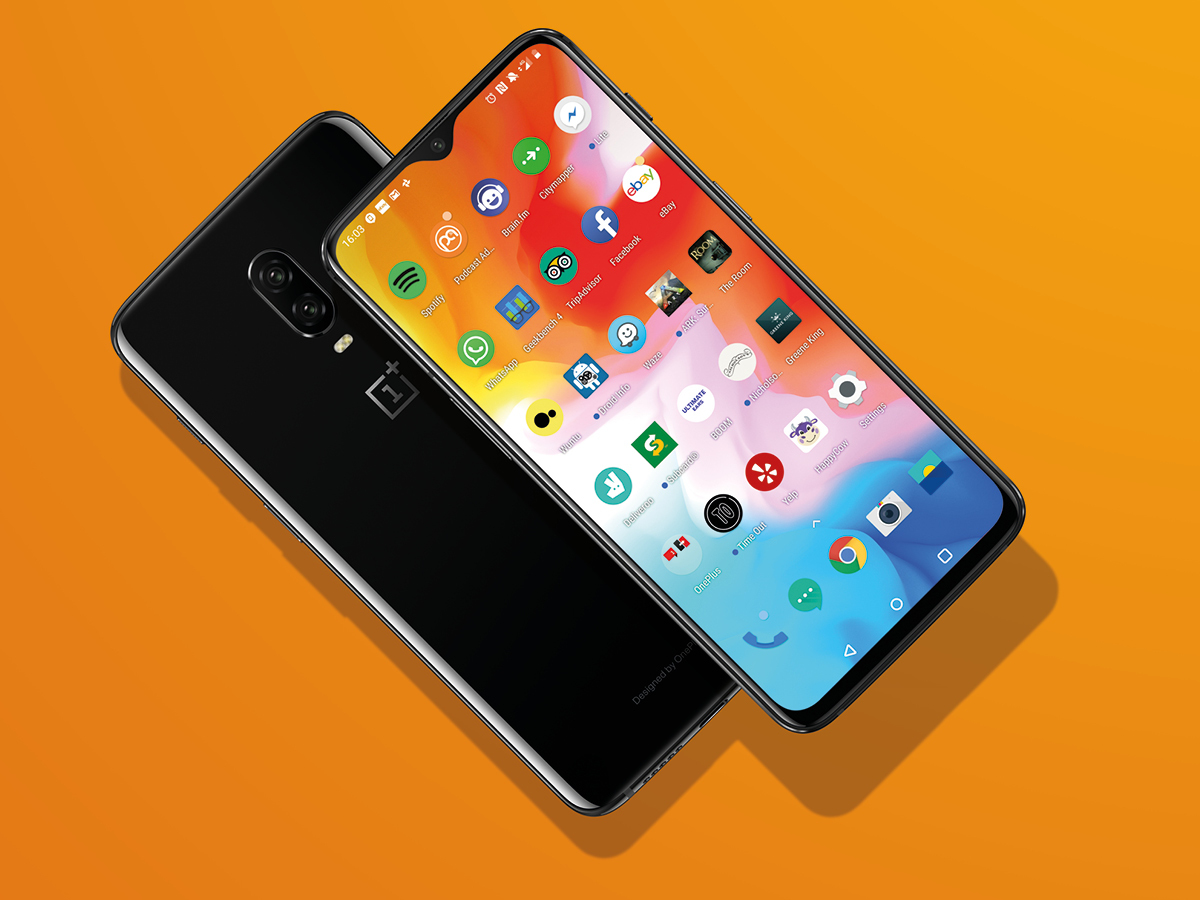 The appeal of the OnePlus 6T is simple, undeniable and powerful. It's the best value top-end phone you can get.
OnePlus prices may have crept up over the years, but that core selling point remains. In fact, the single group of people who probably shouldn't consider the OnePlus 6T too seriously are OnePlus 6 owners. The two phones aren't dramatically different.
What's new? A rear fingerprint scanner has been replaced by an in-screen one, making OnePlus only the second company to bring this tech to the UK. Huawei got there first.
It's the best in-screen fingerprint scanner yet, though. It works just about as well as a pad. And after a couple of weeks, going back to the old rear-mounted style feels a tiny bit awkward.
The other big difference is the notch. This one's a little teardrop number that just nibbles a semi-circle out of the display.
OnePlus has beefed-up the speaker too, but in return we lose the headphone jack. We miss the little guy, but we'll be lucky if any of 2019's top phones have one.
Everything else is roughly the same as before. You get a very good 6.41in OLED screen, a powerful Snapdragon 845 CPU, up to 8GB RAM and a glass 'n' metal shell.
Aside from full water resistance and wireless charging, the OnePlus 6T has just about everything you get in a phone £400 more. This is the sensible high-end choice among Androids. And now you can buy one from most of the UK's networks, you don't have to be a SIM-free phone bargain nerd or an O2 user to get onboard.
One Plus 6T: The details
Camera
On its own the OnePlus 6T camera seems perfectly good. It has a solid main 16MP sensor and a 20MP one used to make zoomed shots look better. There's OIS too, and a special multi-exposure night mode based on the one seen in the Huawei Mate 20 Pro. It can handle most conditions very well. Side by side with some of the big kids it does fall behind slightly, though, with less impressive colour and dynamic range at times.
8/10
Display
As ever, OnePlus hasn't even tried to compete with the most expensive phones. This is a Full HD+ display, not an ultra-high resolution one. However, if we hadn't pointed that out there's a good chance you wouldn't notice anyway. It's sharp, and the OLED panel delivers perfect contrast and punchy colour. Sure, the Note 9 and iPhone XS Max have more truthful tones, but for this much less? We'll take the hit. It also has a much smaller notch than most, with a teardrop shape.
9/10
Performance
Just like several other big phones of 2018, the OnePlus 6T has a Snapdragon 845 CPU. Eight cores of Kryo power and either 6GB or 8GB of RAM, for a few quid more, this phone has the best power-per-pound of any 2018 flagship. Its battery life is solid too, although doesn't quite match the Huawei Mate 20 Pro. You'll see all-day stamina from the 3700mAh unit, with some left in the tank to get you to work if you forget to plug the thing in overnight.
9/10
Design
On paper the OnePlus 6T sounds very conventional. It's metal on the sides, glass on the rest, and the front doesn't curve around like the Note 9. There are some neat parts to note, though. You can get the 6T with a "midnight" black finish. It is micro perforated to look matt, and has a lovely soft-touch feel too. OnePlus has also already released a natty Thunder Purple version of the 6T. Let's hope we'll get more. There was a red version of the OnePlus 6. It was bloomin' gorgeous.
9/10
Price: £499
For a little less
Honor 10 may come from a completely different company, but it has some of the smart budget buyer flavour of OnePlus. You get dual rear cameras, a great Full HD screen, and powerful processor, for £200 less. The OnePlus 6T has a newer processor that's far better for games, and feels like much more of a low-compromise phone, though.
Stuff says ✭✭✭✭✭
It may be a tweak of the last model, but this is the best way to avoid spending £800 or more on a phone
Smartphone supertest: And the winner is…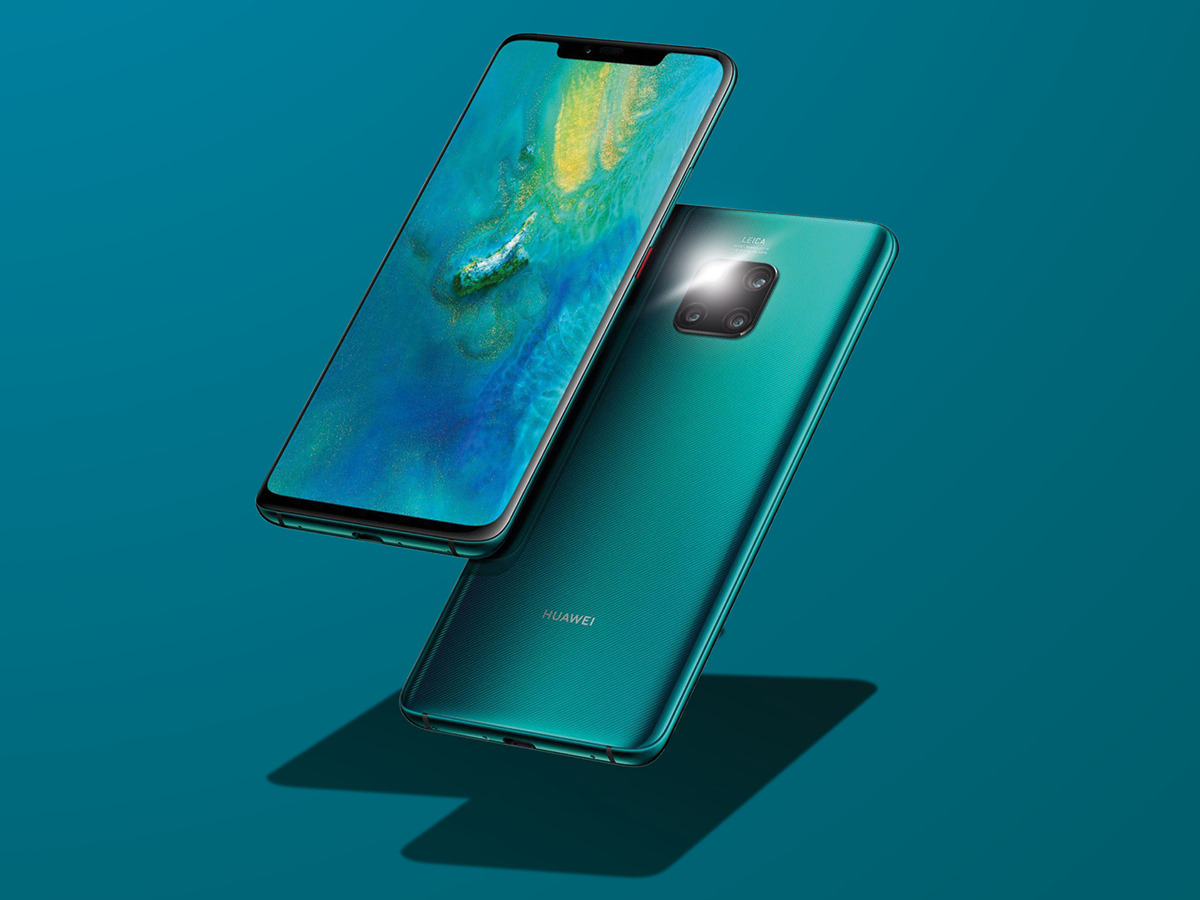 …The Huawei Mate 20 Pro.
If you want a phone that will make people jealous, sure, buy an iPhone XS Max. But Huawei's Mate 20 Pro frankly makes the competition look a bit lazy.
It has the most advanced features, the slimmest screen borders, the best real-world battery life, the most versatile camera. And it's still £200 less than the iPhone XS Max model that only has half the room for all your games and whatnot.
Is it the best at absolutely everything? Nope. The iPhone XS Max is better for gaming. Google's Pixel 3 XL often takes more natural pics during the day. And, well, the Sony Xperia XZ3 is a lot cheaper. Let's not forget the Note's stylus, either.
The OnePlus 6T is the most impressive android you can buy for under £500.
However, the Mate 20 Pro takes the win. And we still can't work out how Huawei managed to fit it all in a phone barely wider than an iPhone XS.