Samsung Galaxy S5 vs LG G2
The two South Korean tech giants go head to head in our clash of the superphone titans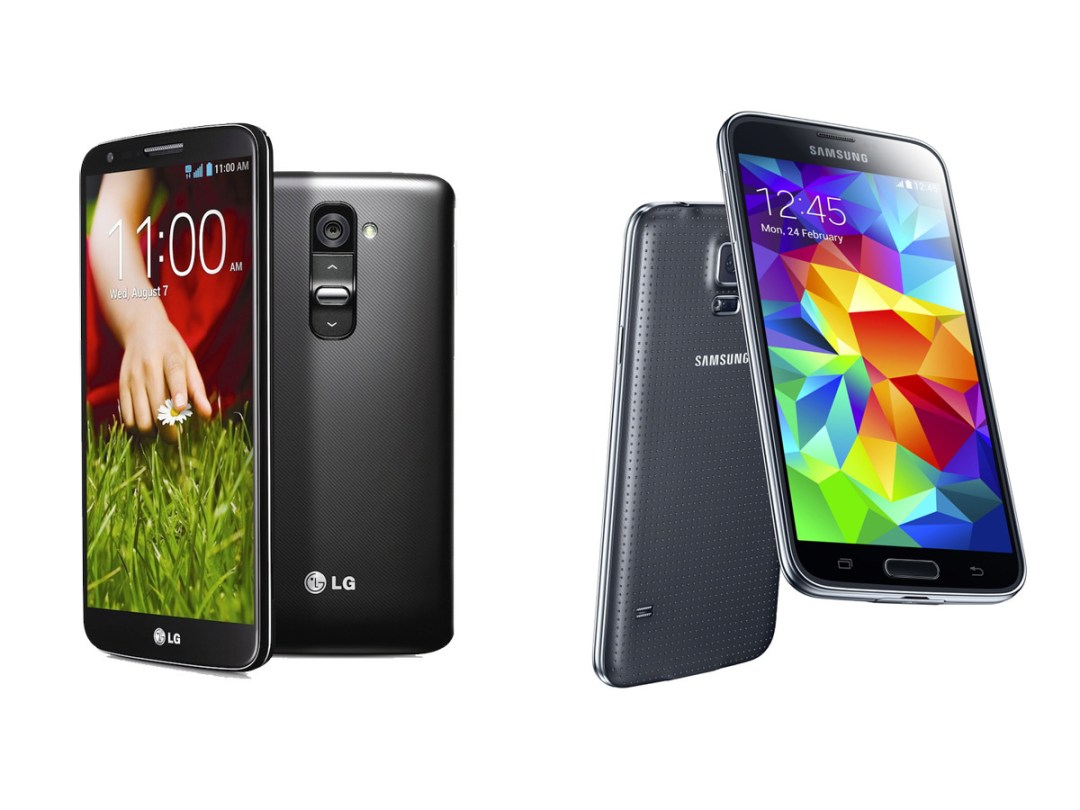 The Samsung Galaxy S5 and LG G2 have both earned a well-deserved five stars in their respective Stuff reviews.
With spec sheets bursting with power, pixels and imaging prowess, the two South Korean flagships are guaranteed to produce one hell of a fight. But which one will come out on top?
Plastic wars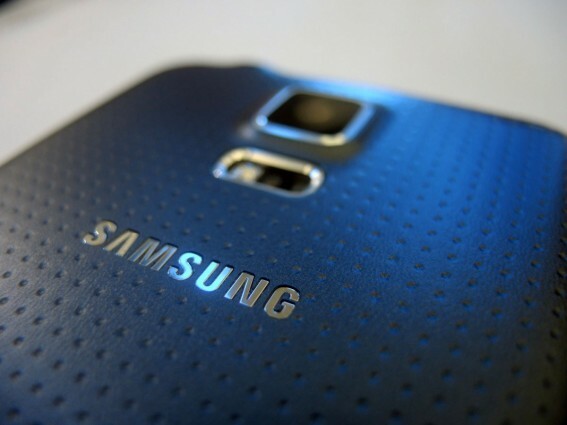 Both the Galaxy S5 and LG G2 lose out to the likes of premium-built devices like the iPhone 5s, HTC One and Sony Xperia Z2.
Forged from plastic, neither handset feels as expensive as their metal/glass-clad rivals, so we're looking at a straight up plastic vs plastic fight here.
The Galaxy S5 has received plenty of criticism for arriving with a very similar design to its predecessor, but one area it has improved on is its rear. Gone is the slippery plastic backside of the S5 and tacky looking faux leather of the Galaxy Note 3.
Instead, the Galaxy S5 has a rubbery matte dimpled polycarbonate rear panel which is wonderfully grippy, and much less likely to slip out of the hands. While we're not fans of the two-tone alien blue colour, the plain Black S5 looks and feels rather smart and is definitely the one we'd go for.
The G2 fights back with its innovative rear power and volume buttons however, and we applaud LG for cramming in a slightly larger 5.2in screen into a smaller body with super-slim bezels.
Its screen-filled front makes it look a generation ahead of the Galaxy S5 in the design race, and it's an impressive feat of engineering from the LG camp.
While the Galaxy S5 has IP67 waterproof and dustproof certification, overall the Galaxy S5 is no match for the G2's pretty slim bezelled face.
Winner: LG G2
Tasty extras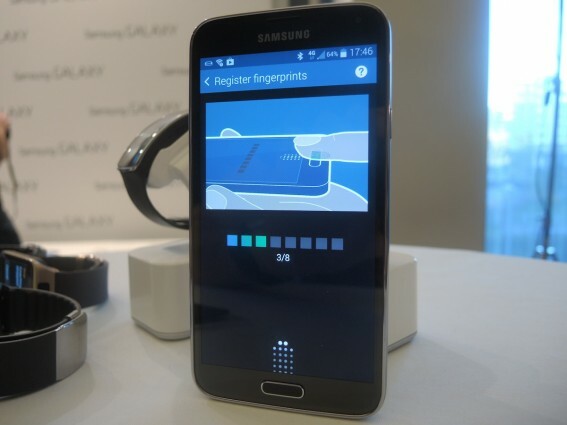 The Galaxy S5 brings two big features to the ring. First up is its Home button, which has an in-built fingerprint scanner.
Swiping our finger to unlock the Galaxy S5 works well enough, though it's not perfect. We get the occasional failed scan, and it's clunkier to use than Apple's Tough ID home button on the iPhone 5s, which can be unlocked easily with a single thumb.
Still, you can use your fingerprint to encrypt protect sensitive files on the Galaxy S5 and you can even use your digits to buy things online via PayPal in an instant.
The rear of the Galaxy S5 also has a heart rate sensor. Although it's arguable how useful a feature this is on a phone (it makes more sense on a smartwatch like the Gear 2 or Gear Fit), it's an extra feature for developers to take advantage of and there's no harm in having it.
While the G2 has fewer fancy sensors, LG's Knock On feature (a double tap to wake up the screen) is arguably more useful than the ability to measure your heart rate. Once the G2 gets upgraded to the newer Knock Code variant (which lets you unlock the screen with multiple taps in up to eight different positions) then it'll be secure too.
For pushing the boundaries and for cramming in tech into every available inch of space though, the Galaxy S5 wins this round.
Winner: Samsung Galaxy S5
Super screens
While both devices have 1080p displays, Samsung is sticking to its Super AMOLED guns while LG has gone the IPS+ LCD route.
In person, both screens look superbly sharp with vivid colours and good viewing angles.
AMOLED versus LCD is often down to personal preference and while both screens look superb, we prefer the G2's display as it offers a larger screen, crisper picture and slightly better contrast in a smaller body.
Winner: LG G2
Snap happy
The LG G2 has one of the best Android smartphone cameras around but Samsung's not taking any chances with the Galaxy S5.
It offers 16 megapixels to the G2's 13MP camera and Samsung boasts that the Galaxy S5 has the world's fastest smartphone autofocus at up to 0.3 seconds.
While the S5 doesn't feature the G2's impressive optical image stabilisation, it does offer Lytro-like post-shot refocusing, thanks to its ability to snap two shots at once at different focal lengths before combining them into one photo.
The Galaxy S5's camera also has a live HDR mode which lets you see what a HDR shot or video will look like in real time, and its HDR shots are some of the best we've seen.
The Galaxy S5 also throws in 4K video recording (which the G2 lacks).
In practice, both phones offer excellent photos in well-lit conditions. The G2's optical image stabilisation does however result in better shots in low-light conditions.
Given that many people will be snapping dark pictures on a night out, the G2 will be the preferred choice if you're not fussed about 4K video or post-shot re-focusing.
Winner: LG G2
Power race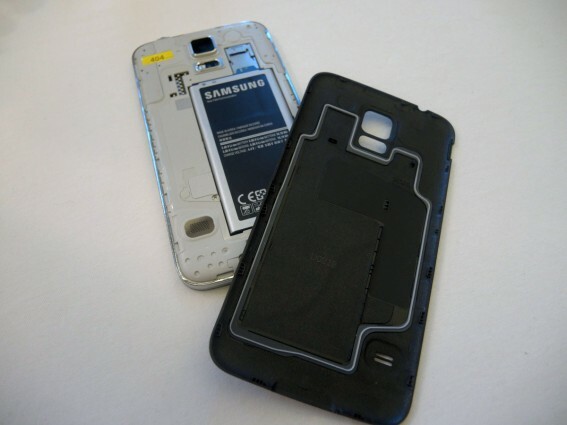 Despite the S5 having a newer, slightly higher-clocked Snapdragon 801 innards, it still – like the G2 – 'only' has 2GB of RAM,
Benchmarks aside, both phones are snappy and fast in normal use, and there's little to separate them when it comes to fluidly running apps, games or multitasking.
Winner: Draw
Android tweaks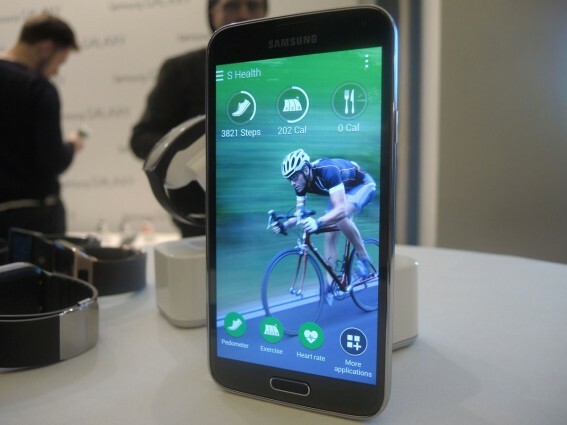 Both Samsung and LG are guilty of bogging Android down with tonnes of software extras, but some are actually genuinely useful.
The Galaxy S5 and G2 both let you lock off your personal section of the phone, allowing guests to use your device without prying into your files, folders and apps.
The G2's excellent Knock On unlock feature is also expected to be updated with the G Pro 2's Knock Code skills which will let you tap out a pattern across the screen to unlock it.
It worked really well when we tried it out at Mobile World Congress and we're looking forward to it landing on all of LG's major devices this year.
The S5 however has a very impressive (on paper at least) battery saver mode which can supposedly squeeze out an extra 24 hours of battery life with only 10% charge left on the battery.
Once activated, the menus and screen become black and white, and all apps are frozen. You can however still make and receive calls and text messages, and we can see ourselves making full use of it on a night out, stranded from any power cables.
The Galaxy S5 also features Samsung's updated S Health app which is built into the latest version of TouchWiz. It offers detailed information on calories burned, steps taken and even calories consumed, if you can be bothered to scan in every little thing you eat all day.
Thanks to the heart scanner on the rear you can even measure your heart rate to ensure you're not feeling too poorly. Or too excited. Or too… dead.
Samsung's download booster mode also sounds very interesting. It's able to use both 4G and Wi-Fi connections simultaneously to download large files faster than Wi-Fi or 4G alone. If it works, it could change our Starbucks working habits for good.
Winner: Samsung Galaxy S5
Initial verdict
Despite being the older device, the G2 is still impressive enough to come out on top.
Its slim bezels and impressive design mean that it crams in a slightly larger screen into an even smaller body that the Galaxy S5. Its camera remains at the top of the Android pack and its still got plenty of power to match the latest superphones, despite being release late last year.
Unless you're particularly excited about the S5's fingerprint sensor, heart rate sensor and 4K video recording, we'd opt for the G2.
Of course, if you're in no rush then our final recommendation would be to wait for the LG G3, which should be revealed within the next few months. We can't wait.