Samsung Galaxy Note 10 vs Apple iPhone XS: The weigh-in
Which polished super-phone deserves your cash?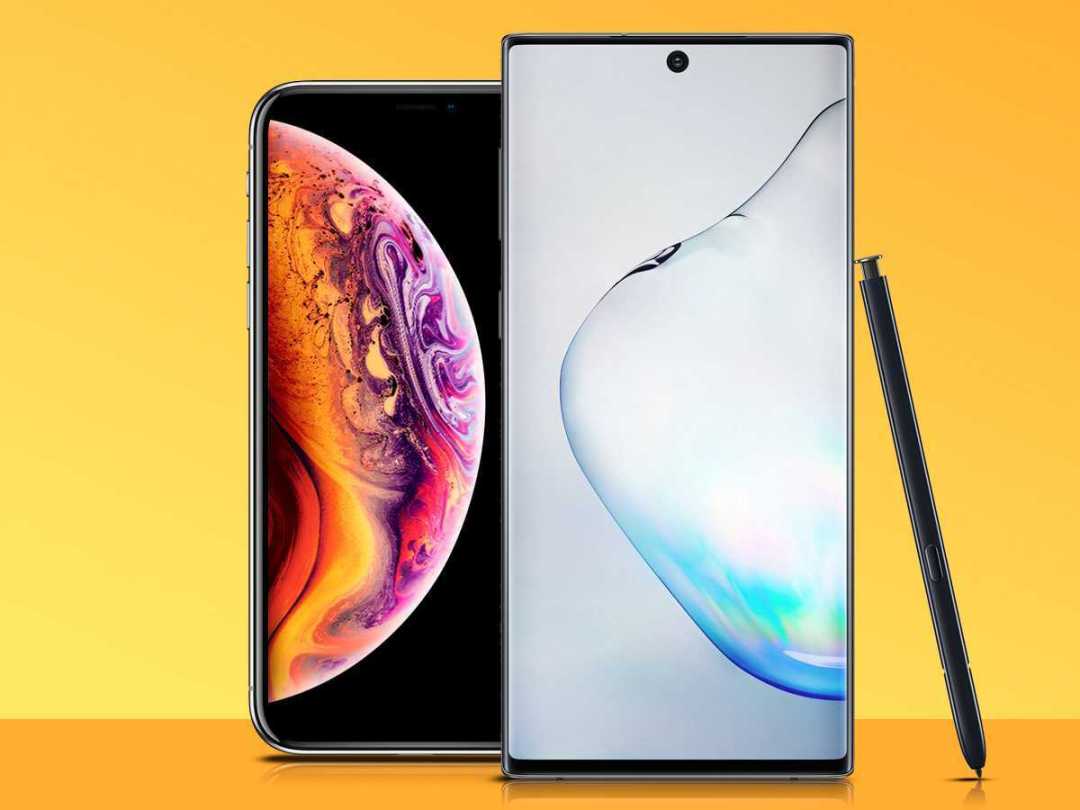 Apple's iPhone and Samsung's Galaxy S line are classic rivals, but when it comes to super-premium, super-expensive phones, you also have to consider Samsung's Galaxy Note.
The latest is the Galaxy Note 10, which comes in multiple flavours for the first time. The standard Note 10 doesn't go quite as high-end, but sees a small price cut as a result, while the top-end Galaxy Note 10+ goes big throughout… seriously big, considering that 6.8in screen.
Apple's iPhone XS is still its mainline smartphone as of this writing, although we are seemingly on the verge of an iPhone 11 announcement in a matter of weeks. But if you're considering spending big money on a high-end handset right now, here's how the battle between the iPhone XS and Galaxy Note 10 looks now that we've been hands-on with the Note 10.
Design: Distinctive silhouettes
Apple's nearly all-screen iPhone X design was mind-blowing a couple years back, although it's quickly become the norm in the smartphone scene. Samsung's Galaxy Note 10 takes a different tact, however, poking a tiny punch-hole near the top center of the screen for the front-facing camera. With minimal bezel on the top and bottom, it's a pretty slick aesthetic.
The Note 10 uses aluminium for the frame while the iPhone XS goes a little higher-end with stainless steel, and the back of the iPhone XS is pretty tame with single-coloured glass compared to the flashier, Huawei-esque designs seen on the Note 10.
All told, the iPhone XS sticks to a pretty minimal, understated approach, while the Note 10 packs more of a punch. Your call on which kind of aesthetic resonates more with you.
Screen: A gorgeous duo
The Galaxy Note 10 goes larger here with its 6.3in display, compared to 5.8in on the iPhone XS. Surprisingly, however, the iPhone XS is the sharper of the screens: its 1125p screen packs in 458 pixels per inch, while the lower-res 1080p screen of the larger Note 10 comes in at 401ppi.
The Note 10's screen still looks great, based on what we've seen with our own eyes, but this Dynamic AMOLED screen doesn't opt for the same kind of Quad HD resolution seen with the last few Note models. You'll have to bump up to the Note 10+ for that level of sharpness. And we already know the iPhone XS has an excellent OLED screen (made by Samsung, no less): it's crisp, punchy, and consistently gorgeous.
Camera: Triple-double
It's likely to be a close call in this category. Apple's iPhone XS doesn't pack as many tricks as some competitors: this dual-12MP-camera setup doesn't have an ultra-wide camera or a 10x zoom, but it does deliver consistency. The iPhone XS is one of the absolute best point-and-shoot smartphones on the market today, grabbing sharp shots in most scenarios without fuss.
We're expecting great things from the Note 10, as well, which carries over the same triple-camera setup from the Galaxy S10. That'll get you a 12MP main camera, 12MP telephoto camera, and a fun 16MP ultra-wide camera, which collectively give you a very versatile setup that can snag some really superb shots.
Performance: Top of the heap
Apple's A12 Bionic chip has been the gold standard for smartphone performance since the iPhone XS' launch last autumn, although we wonder if Samsung might've finally closed the gap with the Note 10.
It uses the company's own Exynos 9825 chip, which uses the same kind of 7nm production process as the A12 Bionic and is said to be an improvement over the Exynos 9820 seen in the Galaxy S10. In terms of everyday performance, we expect the Note 10 to feel about as speedy as the iPhone XS regardless of benchmark score, especially with double the RAM onboard (8GB in the Note 10 vs 4GB in the XS).
Battery and perks: Galaxy of benefits
The Galaxy Note 10 packs in a significantly larger battery pack at 3,500mAh vs 2,658mAh in the iPhone XS. Apple's phone typically gives us a solid day's usage, although it can be bled through much faster through gaming and streaming media. The Note 10 should be better able to withstand such usage and make it to bedtime without a top-up.
Both phones offer wireless charging capabilities, plus the Note 10 provides reverse wireless charging to share power with another wireless-chargeable phone or accessory placed on its back.
When it comes to storage, Apple is sadly still stuck in its ways with 64GB, 256GB, and 512GB options and no ability to augment any of those tallies with expandable memory. Surprisingly, the standard Note 10 joins Apple in the department: it lacks the microSD card slot that is still included with the pricier Note 10+. Still, you get a hefty 256GB in the base model, while you'd have to pay extra for that luxury on the iPhone XS.
And the Galaxy Note 10 has the S Pen stylus, of course, which pops out of the device itself and can be used to jot down notes on the screen, sketch out doodles, annotate documents, and even control the phone from afar for taking photos and controlling your media library.
Initial verdict: The Notable pick?
We love the iPhone XS, but it's certainly pricey: at £999+, you're paying a premium over top Android phones. It's worth it if you love Apple's harmonious pairing of hardware and software, but anyone open to options might be better served considering the Android alternatives.
And on that front, the £869 Galaxy Note 10 is certainly appealing thanks to its combination of a large screen, appealing design, versatile camera setup, and S Pen stylus. However, if you don't think you need the S Pen, then you might consider the cheaper Galaxy S10 instead.
In any case, we can't make a final verdict until we've posted our review of the Galaxy Note 10, so check back soon for our official appraisal there – and our updated decision here.