OnePlus 5 vs OnePlus 3T: Should you upgrade?
What's the difference between the OnePlus stablemates?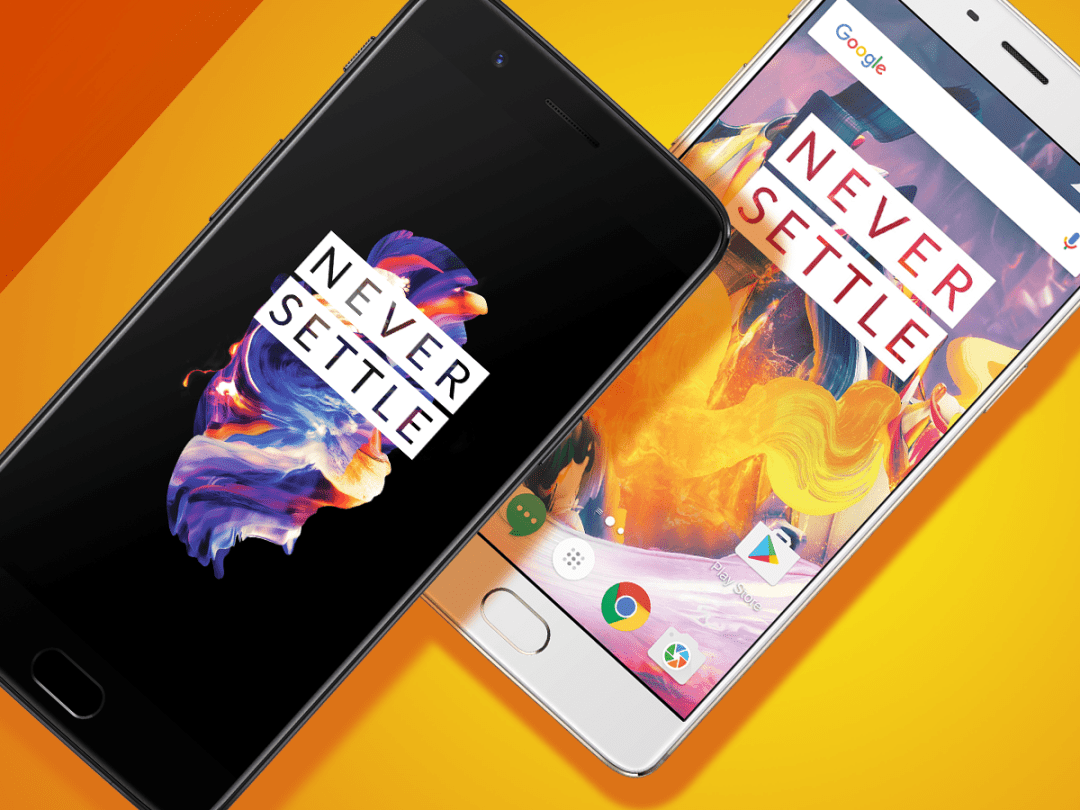 The OnePlus 5 has just dropped into our laps like manna from the bountiful gadget gods. But even those with goldfish-esque memories will recall that OnePlus' previous flagship, the 3T, arrived mere months ago.
Surely those who've bought the 3T – which went on sale in the UK in November 2016 – would be crazy to shell out another £450 on the OnePlus 5 now, only seven months on? Here's an idea: join us as we compare the two in an effort to answer that very question.
Let's find out if OnePlus' new leading light is worth the upgrade.
Design: Champagne vs cava
Cava's a nice sparkling white wine, isn't it? Refreshing, crisp and dry – it does the job. But when you've got a huge life event to celebrate – a graduation, a new job, a wedding – it's champagne that you pull out of the fridge, not cava. Lovely, rich, biscuity champagne.
And that, readers, is our clumsy analogy for the difference between the design and build quality of the OnePlus 3T (that's cava, you see) and the OnePlus 5 (you can guess which one this is).
Both have aluminium unibodies, but the 5's is sleeker, more rounded, with skinnier bezels and colour-matched antenna lines that merge camouflage-like into the background. It's a much more premium feel and look than the 3T; a big step-up, in other words.
Screen: Samesies
On paper, you'd be forgiven for thinking nothing had changed on the display side of things: both the 3T and the 5 have a 5.5in AMOLED screen with a 1080p resolution and a pixel density of 401ppi.
However, a real-world glance at the two panels will reveal that the 5's is a marked improvement, with stronger contrast and deeper blacks that help make the colours leap out and pop (it also features a DCI-P3 colour space option, if your eyes prefer that to sRGB). The 3T's screen isn't bad at all, but its contrast can look a little blown-out at times. We'd call the improvement a refinement rather than a revelation, but there's no doubt that it does represent a step forward.
Enough of one to warrant an instant upgrade, though? Probably not – we suspect OnePlus would have had to quadruple the resolution to a 1440p panel for that.
Camera: It takes two, baby
The OnePlus 3T's rear camera is a 16MP number with Sapphire glass coating, featuring 4K video capture and some nice software-derived image stabilisation. It's a decent camera, but probably the least impressive part of the phone.
You couldn't call the 5's rear camera a disappointment. It's a dual shooter setup, pairing a 16MP f/1.7 module with a 20MP f/2.6 secondary module – added together, that's the highest overall pixel count of any smartphone dual camera. The setup means you can take shots with a convincing bokeh effect, or use a 2x zoom without a noticeable dip in resolution.
It also benefits from a custom-designed algorithm developed with imaging nerds DxO, and in good lighting conditions delivers shots bursting with detail and depth. It's not a leading performer in low light (compared to the likes of the Samsung Galaxy S8, HTC U11 or Google Pixel, say), but it's still better than its predecessor – and that makes this one area that's good grounds for anyone thinking about an upgrade.
Software: Small steps
OnePlus' OxygenOS platform looks and feels a lot like vanilla Android 7 on both the 3T and 5, but the 5's version comes with a handful of small improvements born out of customer feedback.
For instance, Night Mode (which dials down the amount of blue light coming off the screen to help you get to sleep more easily) has been tweaked so that it turns on automatically after sunset, rather than have to be manually engaged. There's also a useful monochrome reading mode for ebooks.
In themselves, these changes aren't enough to warrant an upgrade, but they're nice nudges towards improved usability.
Performance: Big gains
At the time of writing, the OnePlus 5 is the fastest phone around. Toting the brand new Snapdragon 835 processor and either 6GB or 8GB of RAM, it gallops through tasks like a horse on roller-skates, comfortably topping both the single- and multi-core Geekbench 4 leaderboards. No matter what app or game you chuck at it, it'll gobble through it with silky smooth ease.
It doesn't offer expandable storage, but you do get a choice between 64GB and 128GB versions – just like you do on the 3T.
The 3T isn't a slow phone by any means – there's 6GB of RAM and a Snapdragon 821 processor, so it won't have much trouble with anything available today – but it was never a benchmark-topper even at its time of launch.
The 5 actually has a slightly smaller battery capacity than the 3T (3300mAh versus 3400mAh), but its scalable performance and more efficient CPU means that it should last about 20% longer than the 3T. And it features Dash Charge to boot.
Verdict: A worthy upgrade?
There's no doubt that the OnePlus 5, in comparison to the 3T, is a faster, more desirable phone with a better camera – but does that make it worth a nigh-on instant upgrade?
If you've just spent £400 on a 3T, probably not – it's likely you went into that transaction knowing that the 3T's camera wasn't its best facet, and bought it because it represented a great bargain, so you're probably not the sort of person who, mere months later, wants to spend another £450-£500 on a slightly better phone.
In a year, though? When apps and games might be a little more demanding? Then it'll be time to revisit this conundrum – and perhaps make a different decision.