This incredible little feature-packed gadget is the ultimate smartphone accessory for content creators
From stabilising videos and professional selfies, to AI tracking, wireless charging and more, the PowerVision S1 is the ultimate video creation tool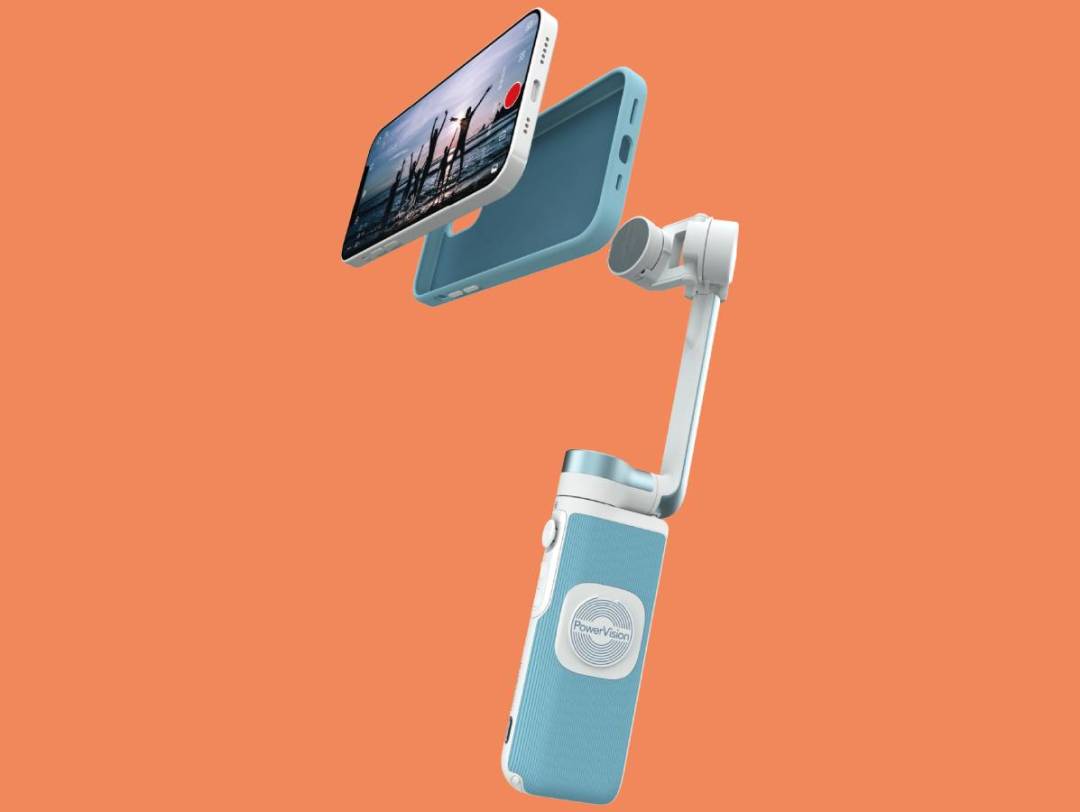 In partnership with PowerVision
Shooting video is easy, right? Wave a camera around, stick all the bits together, bosh — job done. The reality though, is rather different. Anyone who's ever remotely dabbled in video content creation can attest to the challenges and obstacles thrown at you. From wobbly tripods and shaky shots, to difficult angles and expensive gear, it's a long, tough road to perfection.
At least, it was.
Enter the PowerVision S1 – a tiny, ingenious bit of kit that can help you achieve a wondrous cavalcade of visual delights. A self-stabilizing smartphone gimbal designed to produce crisp, steady shots, with all sorts of clever tech like the ability to follow you around thrown in, it's like carrying around a professional camera crew in your pocket.
Content creation just got a hell of a lot easier…
Smooth and steady
The PowerVision S1 is the world's smallest micro 3-axis smartphone stabilizer. Securely cradling your phone via a dedicated case or optional magnetic mounts, it uses built-in motors which actively work to counterbalance shaking and movement, to produce perfectly smooth and stable shots. It's a little like handing your phone over to a precise robotic arm, letting it make all the micro adjustments that us mere humans can only dream of. The end result is that whether you're running alongside a subject in a park or bouncing around on a speedboat, your footage will be crisp and easy on the eyes, with zero blur or imperfections.
If that wasn't enough, the PowerVision app also features clever AI tracking smarts, which means you can pop it down using the included tripod and set it so that it recognises your face and body, following you around automatically. From shooting a cooking tutorial to capturing a fitness video, your phone will automatically track you across the kitchen or studio without having to ask someone else to record for you. You can even use hand gestures to start, stop, pause and capture, to save you from walking across to your phone each time. Clever stuff.
Beyond video stabilization, you can also use the PowerVision S1 to capture perfect panorama shots every time, thanks to its ability to move with pinpoint accuracy, stitching together multiple shots for the ultimate panorama results. You can also easily switch between portrait and landscape at the touch of a button, rotating your phone in an instant to capture content fit for both YouTube and Instagram, or any other platform you fancy. Throw in time-lapse, slow motion and real-time beauty filters smarts, and you're sorted for any occasion.
Once you've captured your content you can quickly and easily edit photos and clips via the PowerVision app's built-in tools with options for 500+ soundtracks, TikTok/Instagram focused filters, special effects including fog, flashing and spinning, stickers, and the ability to instantly and easily share your creations on your social media channels of choice.
A streamer's dream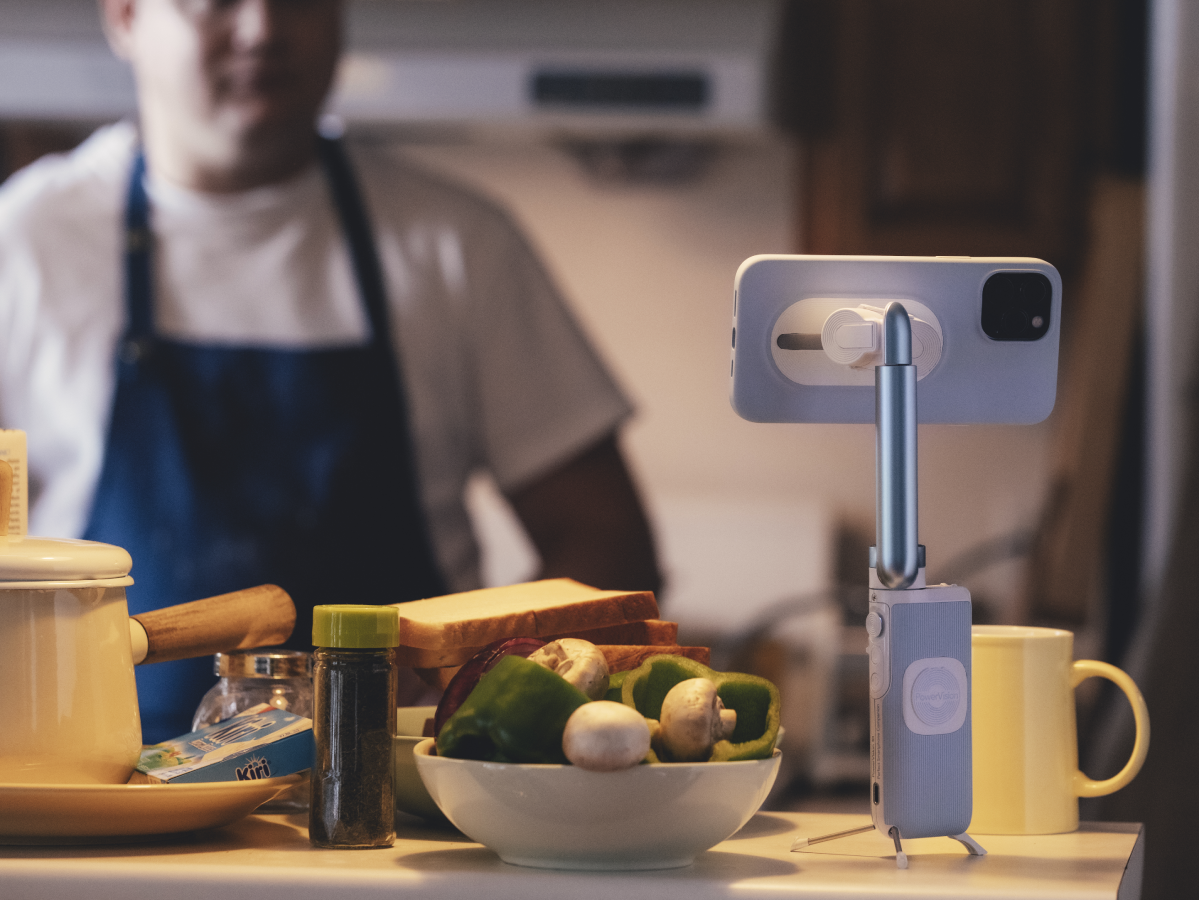 Beyond capturing photos and videos, the PowerVision S1 also plays nice with live streaming and video conferencing apps. Simply leave the PowerVision app running in the background, and you can automatically track yourself on Zoom calls, Facebook Live, Instagram Live, and any other app you can imagine. Viewers will think you've got an actual camera operator following you around too, which is a handy bonus, for a dash of extra professionalism.
If you're worried about longevity, the PowerVision S1 has that covered too, thanks to a beefy 4,120mAh battery, which cleverly doubles up as a wireless-charging power bank for juicing up your phone. That's enough to charge up an iPhone 12 to 60% while still functioning as a gimbal for two and a half hours, eliminating range anxiety once and for all.
Slick design for all occasions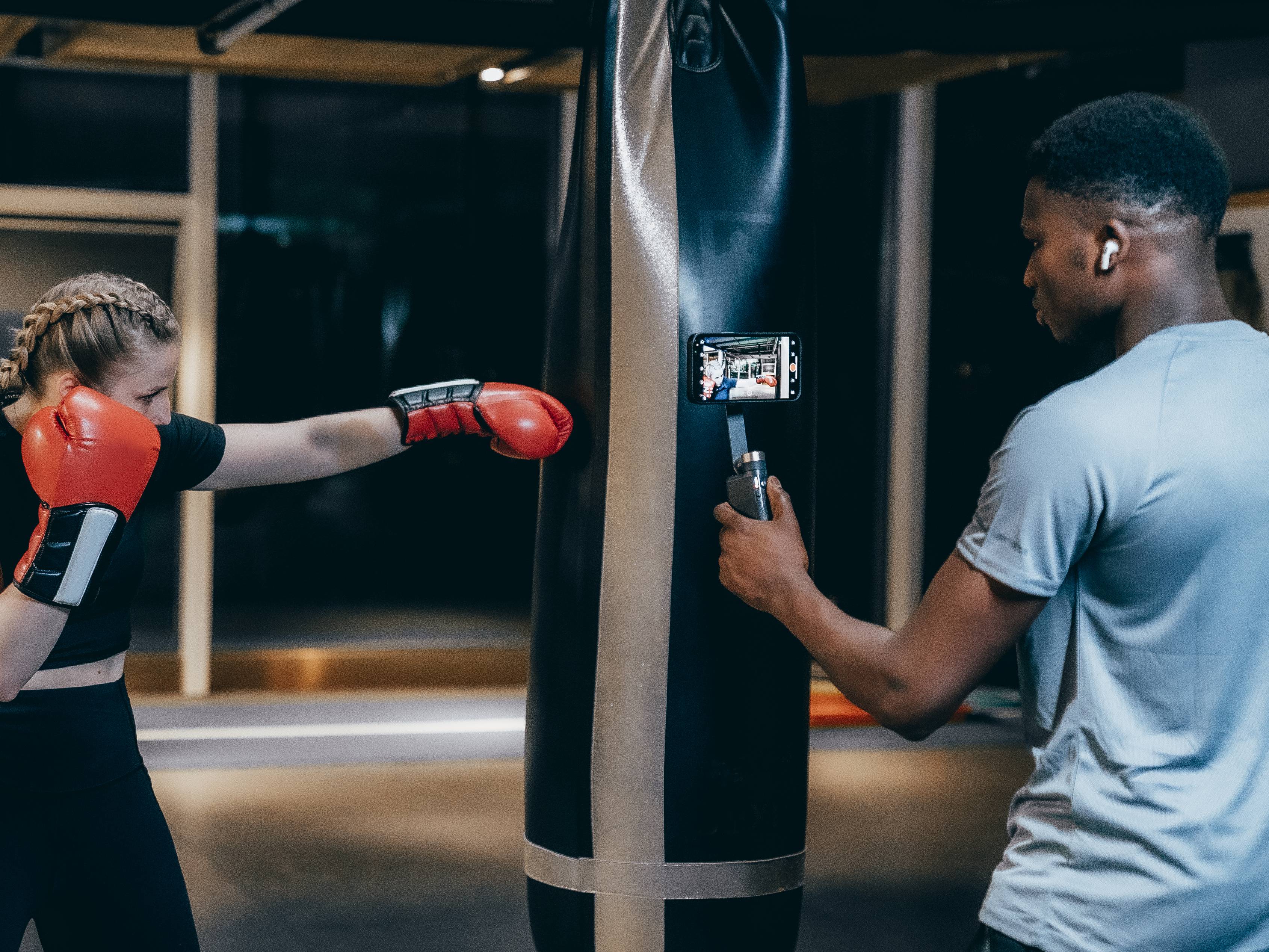 Despite it's near-endless list of features the PowerVision S1 is a svelte and easily pocketable device that's one third the size of its rivals. The smallest device of its kind in the world, you can take it absolutely anywhere you fancy, thanks to its clever folding design. The fact that it's available in three attractive colours (black, blue and pastel green), is an added bonus.
Unlike some rivals which might be better suited to particular phones, the PowerVision S1 works with almost any handset you care to think of, thanks to a clever range of mounting accessories. These range from a dedicated iPhone-friendly magnetic phone case, to a universal magnetic phone mount, and a magnetic phone clamp. You can even nab a magnetic car mount for smooth transitions while you're on the road.
If the ultimate pocketable smartphone companion sounds right up your street then you can visit PowerVision to register your email so that you can be one of the first to pre-order. Signing up now will unlock up to 40% off, which is an offer well worth signing up for.