How to buy a gaming soundbar: up your game
Everything you need to know about gaming soundbars, and why you need one
A great soundbar can really turn a standard home TV setup into your own personal cinema. Less considered though, is that it can do the exact same thing for gaming.
While we throw a ton of cash at a 32in curved screen with a list of specs that are as long as they are complicated, audio is often overlooked. The latest big-budget games are mostly played through headphones. There's nothing wrong with that. Headphones are cost-effective, and there are some pretty stellar gaming headphones out there, after all. But if you don't want to be confined to a set of cans on long gaming sessions, a soundbar might just be the way to go.
There are a few things to consider before splashing the cash on a gaming soundbar, though. That's especially true if you primarily want one for gaming. With that in mind, here's our guide to picking the perfect gaming soundbar, whatever your needs.
---
Why choose a gaming soundbar?
Probably the most notable reason for buying a gaming soundbar is an unsurprising one. Gaming soundbars are designed with gamers in mind. A soundbar meant for Netflix binging will still work with a PC setup, but it won't comes with the many gamer friendly features a gaming-specific bar does, such as extra USB ports.
As they're tailored for gamers, sound is finely tuned for different gaming genres. Bomb blasts will be bassier, while epic cutscenes will be expansive in sound.
Soundbars are often much more compact than a dedicated speaker setup, sitting neatly underneath a monitor. Assuming you're sitting directly in front of the monitor, audio is pumped out directly within your sound field, or the 'sweet spot'. This allows for audio nuances to be easier to pick out, without needing to boost the volume as much. The result is a richer, more layered audio field, and a much more immersive experience.
---
What to consider?
Sound quality
It goes without saying that a soundbar should sound good. That's the whole point, right? Some of our personal favourites include the Sonos Arc and the Bowers & Wilkins Formation Bar, but both models are expensive and are designed more for home cinema systems. Still, the basics remain the same.
Key things to pay attention to is the audio clarity, bass response, and overall sound performance. Check out how many drivers a soundbar has, too. If you simply want to boost audio from your TV or monitor, a soundbar with 2.1 channels will suffice; that's two front channels and a subwoofer. A 4.1 channel system – two front channels, two rear speakers and a subwoofer – will deliver multichannel sound, while a 5.1 holds five full-range drivers and a subwoofer.
Room size
You don't need watts and watts of power if your games room is no bigger than a shoebox, so plan accordingly. Likewise, a tiny speaker won't make a dent in a ballroom. Thankfully, the general rule when picking a soundbar right for your room is pretty straightforward. Generally, larger rooms with high ceilings require more power to fill the space. In smaller rooms, a beefy soundbar will overwhelm the space, so opt for something a little tamer. Simple.
3D audio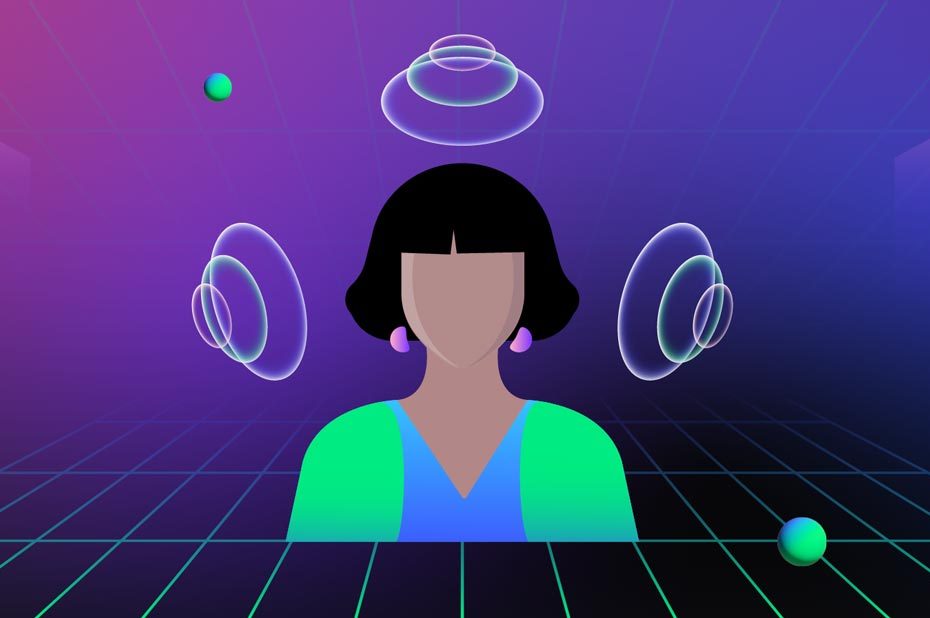 360 audio, spatial audio, 3D sound, Dolby Atmos. It has many names, but the audio format is very much here to stay – and it's not confined to just headphones. 360 audio is designed to replicate how we hear soundscapes in real life, and from multiple directions. At any one time, you may hear the sound of the breeze blowing from left to right, birds chirping above your head and the crunch of feet below you. Naturally, applying this to an immersive gaming world full of spaceships and mythical beasts, is an exciting prospect.
At the moment, you might pay a little extra for 3D audio in a gaming soundbar, but prices are dropping. The Razer Leviathan V2 Pro, one of the best gaming soundbars out there, comes built-in with THX spatial audio with headtracking for $400/£400. The Dolby Atmos and DTS:X audio formats are alternative formats, but basically provide the same cinematic sound.
Connectivity
Are you looking for a clutter-free wireless setup? Or simply something that does the job well? How about USB ports, headphone jacks or Bluetooth? The possibilities to find a tailored gaming soundbar for your needs are almost endless, but can be confusing.
First, we'd suggest weighing up the must-haves with the like to haves. Most gamers need a healthy selection of USB-C inputs, and maybe a few optical inputs for wiring up external speakers. Many gaming soundbars offer Bluetooth connectivity, allowing you to beam audio from your games without the need for a tangle of wires. The 3.5mm headphone jack is missing in some models, but which won't suit those with wired headsets. Decide on what you need, and choose from there.
Expense
Like any piece of gaming kit, the sky's the limit when it comes to spending on a soundbar. If you're looking for a normal soundbar, here's how to choose one), but gamers can't go wrong with the suggestions below.
Simply the best: Razer Leviathan V2 Pro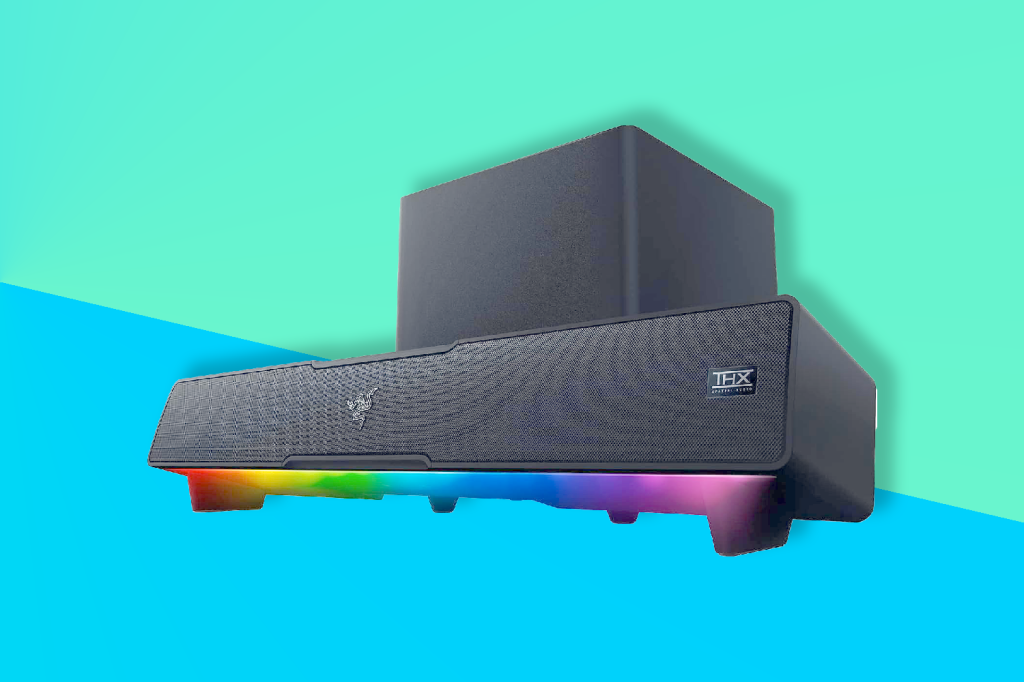 There's really very little out there than can beat the Razer Leviathan V2 Pro. This highly-specced soundbar has five 2in full-range drivers and a downward-firing subwoofer and 40Hz–20kHz frequency response, but it's the 3D audio that makes the Leviathan V2 Pro a stand out. This PC soundbar features head-tracking AI and adaptive beamforming, designed to stream audio directly into your ears wherever you are in the room. Simply put, if you want to upgrade your gaming setup, the Leviathan V2 Pro is the one.
Panasonic SoundSlayer Soundbar
While not as sleek as the Razer Leviathan V2 Pro, the Panasonic SoundSlayer Soundbar is designed for gamers in partnership with the Final Fantasy XIV Online sound team. The soundbar features three primary modes – RPG mode, FPS mode and voice mode. RPG mode will boost the immersion of role-playing games, while FPS mode will highlight subtle footsteps and quiet moments. Voice mode is meant for dialogue heavy, story driven games. Pair these extra customisable features with Dolby Atmos and DTS:X straight out of the box, and the Panasonic SoundSlayer is a solid choice.
The all-rounder: Yamaha SR-C20A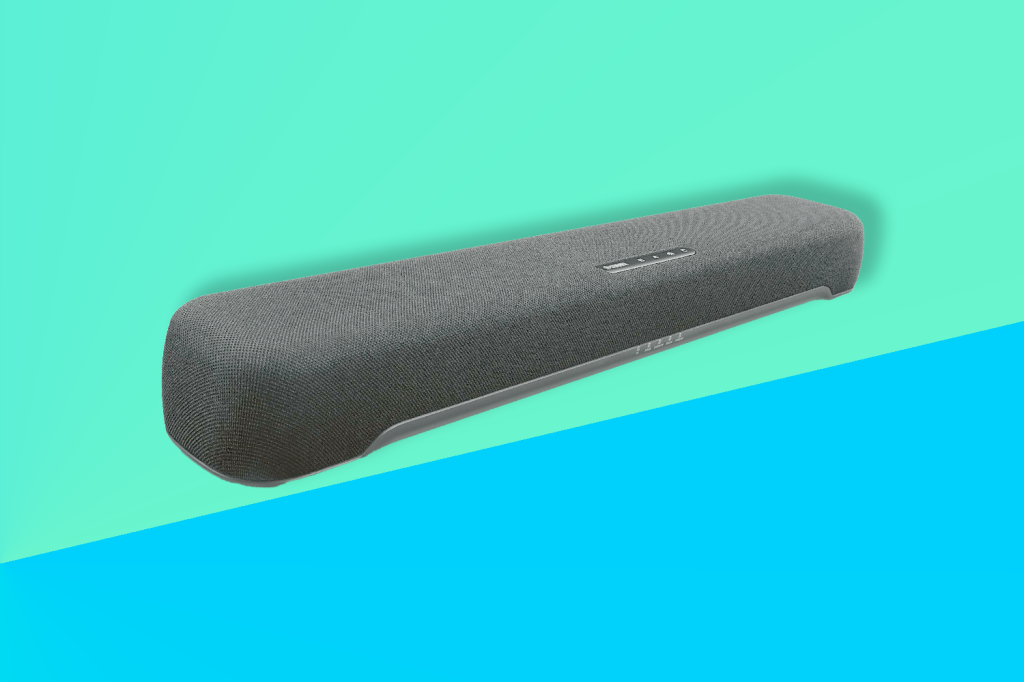 If you want your gaming soundbar to be a part of your cinema setup, then the Yamaha SR-C20A acts a pretty great all-rounder. Despite its small and compact size, the Yamaha serves up a vast, big sound, with plenty of width and even a little height to its soundstage. Audio is well-balanced and richly textured, while a beefy bass will really up the immersion when playing high intensity first-person shooters. Sound is provided by a pair of forward-facing 4.6cm full-range drivers, and for connectivity, a HDMI ARC socket, two digital optical sockets and a 3.5mm analogue input should appease most gamers.
Best for 3D audio: Samsung HW-S60B
The Samsung HW-S60B may be a little bit of an outside choice, but a simple setup and a few great features makes it an option worth considering. It comes with support for Dolby Atmos and DTS:X, which promises expansive soundscapes by simulating virtual surround sound. Multiple built-in speakers are conveniently arranged at different heights, adding to the overall sound immersion while offering crisp and punchy audio. It'll play nicely when being used for Netflix binges, too.
Best for budget: Sound BlasterX Katana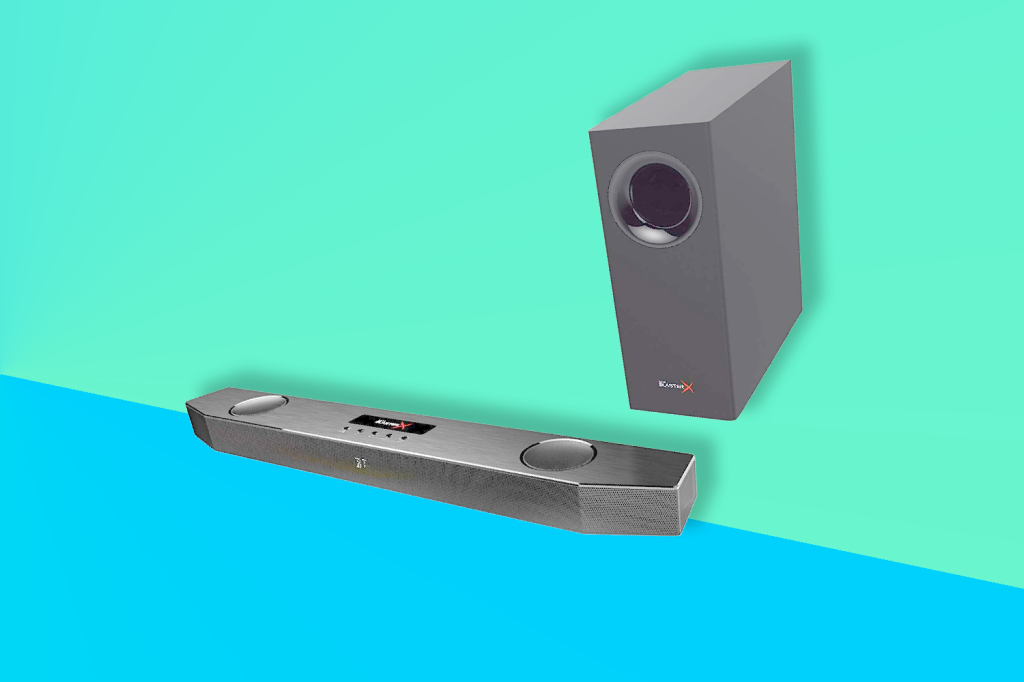 The Sound BlasterX Katana is a soundbar designed specifically for gamers in mind. The Sound BlasterX Katana features a 24-bit high resolution DAC and a 5-driver system. Each of the five speakers is powered individually by DSP-controlled amplifiers, making for a wide and precise audio spectrum. The Katana also supports Bluetooth v4.2 with a connecting range of up to 10 meters, allowing for wireless audio wherever you sit in the room. At a wallet-friendly price and tons of connectivity, the Sound BlasterX Katana certainly delivers the goods.