Honor 20 Pro vs OnePlus 7: Which is best?
Which £500-ish flagship is worth your cash this summer?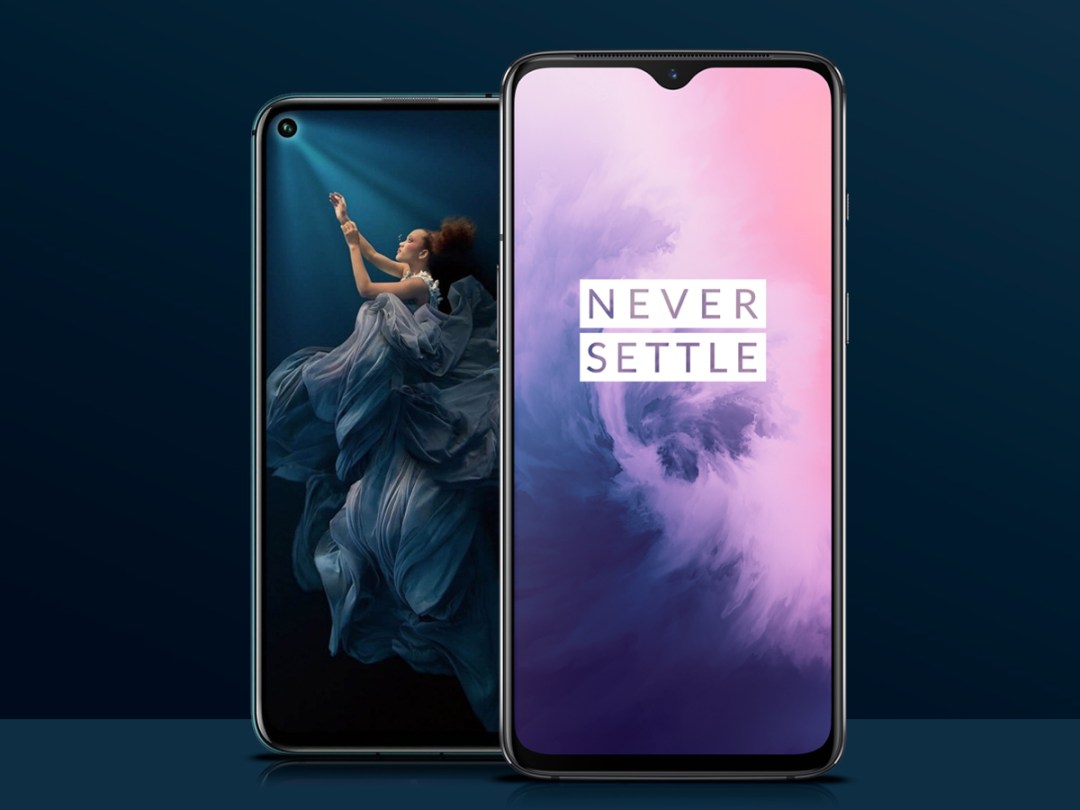 OnePlus used to own the "budget flagship" space with its high-spec, lower-priced offerings, but that segment has gotten a lot more competitive of late. You've got plenty of powerful options.
Consider the Honor 20 Pro, for example. This glossy phone is built like the brilliant Huawei P30 Pro, but makes a few key snips to trim down the price point pretty significantly. It slots in well as a rival to the new OnePlus 7, which lightly enhances last year's OnePlus 6T without going full-blooded, top-end flagship like its pricier sibling, the OnePlus 7 Pro.
Got ~£500 to spend on a phone and want to make it count? Here's which phone we think will be a better use of your cash, now that we've reviewed both of them.
Design: Class or flash?
Do you want a phone that's classy and understated, or one that's flashy and bold? Your answer might point you in one direction over the other here. The OnePlus 7 opts for the former approach, featuring a mirror finish but none of the theatrics seen with the Honor 20 Pro's Star Trek-esque teleporter homage. Your call on which is more appealing, really.
On the front, both have limited bezel, but the OnePlus 7 opts for a waterdrop notch while the Honor 20 Pro's screen has a small punch-hole cutout. Both have their advantages and drawbacks. Again, pick your poison. There's no wrong answer here.
Verdict: Draw
Screen: Close, but…
Large 1080p screen with a cutout or notch? Check on both. OLED panel? Well, you'll only get that on the OnePlus 7 with its 6.41in display. The 6.26in screen of the Honor 20 Pro opts for an LCD panel, instead.
It still looked pretty strong in our testing, but OLED panels consistently offer deeper blacks and improved contrast, even if it's sometimes the slightest of differences. The Honor 20 Pro is also not the brightest screen we've seen, so this one's a win for OnePlus.
Verdict: OnePlus 7
Camera: Four or two?
The Honor 20 Pro has four cameras, just like the brilliant Huawei P30 Pro – so is it comparable? No, afraid not. That's because the Honor 20 Pro doesn't have the incredible 10x hybrid zoom, which captures faraway shots with staggering fidelity.
Still, this is a pretty stellar setup, with a 48MP main sensor anchoring the array. It's versatile and regularly produces great shots, even if snaps sometimes turn out too bright. However, the 2MP (yes, that's 2MP) macro sensor just can't capture the amount of detail necessary to do a proper macro shot justice.
As for the OnePlus 7, it has the very same Sony 48MP main sensor on the back, so you can expect fairly similar results here. The OnePlus 7 only has one additional sensor, 5MP for improved depth data, so it's really more supplemental than anything. They're not that far off overall, but the Honor 20 Pro has an edge on versatility.
Verdict: Honor 20 Pro
Performance: Plenty of muscle
The Honor 20 Pro uses the same flagship-level Kirin 980 chip as the Huawei P30 Pro and last year's Huawei Mate 20 Pro, so it's packed with power. With 8GB RAM alongside, it certainly flies when browsing around Android 9 Pie, although game performance isn't always the absolute best of the best.
Meanwhile, the OnePlus 7 has the newer Qualcomm Snapdragon 855, which scores a bit higher in benchmark testing. It's not a world of difference, but you might encounter fewer hitches whether you have the 6GB or 8GB RAM configuration. OnePlus' OxygenOS skin atop Android 9 Pie is also super smooth.
Verdict: OnePlus 7
Battery and perks: Some differences
The Honor 20 Pro goes big and beefy on battery pack, with a 4,000mAh cell inside that lasts and lasts. Go easy on the phone and you might pull two days out of it, although most users are likely to get a day and a half. That's still impressive.
The OnePlus 7, on the other hand, opts for the same 3,700mAh pack as the OnePlus 6T. It doesn't have quite the same kind of Honor 20 Pro-like stamina, but it's still built to give you a strong day.
Oh, and neither phone offers wireless charging. Meanwhile, the OnePlus 7 opts for an in-display fingerprint sensor, while the Honor 20 Pro puts its sensor on the side (like Samsung's Galaxy S10e).
As for storage, the Honor 20 Pro gives you an enormous 256GB to play with, while the OnePlus 7 ships in 128GB and 256GB varieties. Neither phone, sadly, accepts external storage cards.
Verdict: Honor 20 Pro
Verdict: One clear choice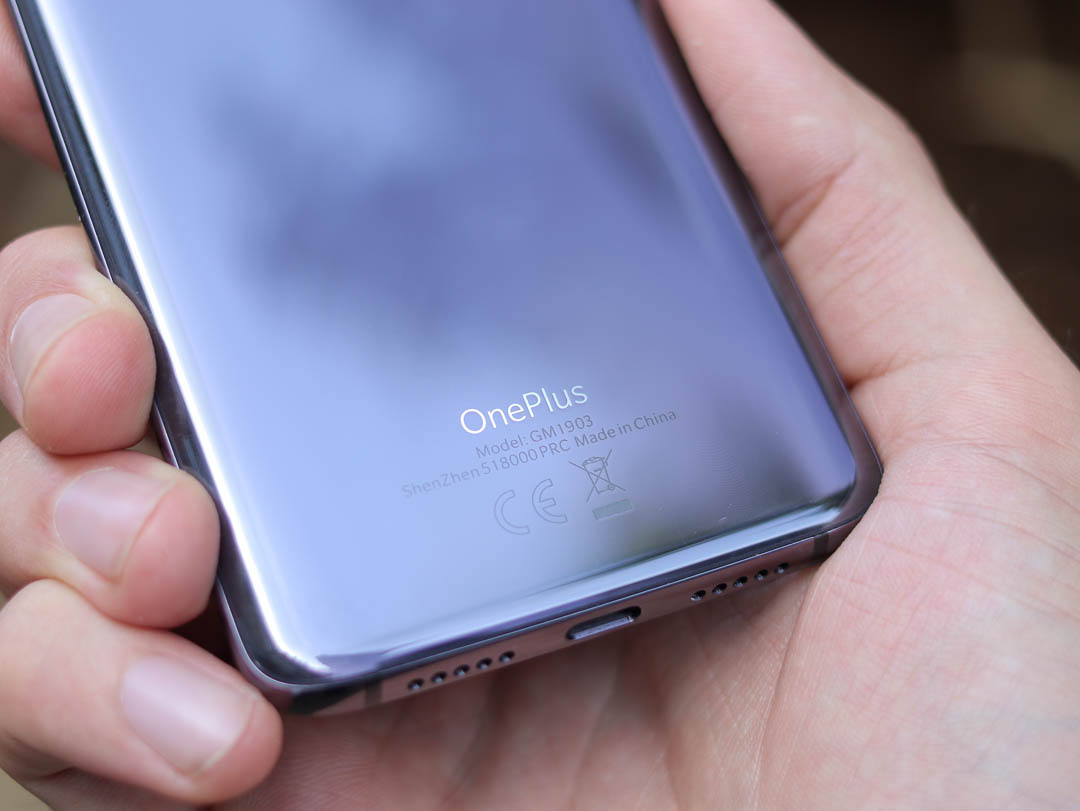 Both of these phones impress, and when it comes to a category-by-category ranking, the differences are slim – both won a pair of categories here.
But the elephant in the room must be addressed. Honor's sister company Huawei is having some big issues with Google and the rest of the tech universe right now, which could ultimately lead to Android being hobbled on the phones in the coming months… or replaced by Huawei's own homemade operating system.
In other words, the Honor 20 Pro experience you have today might not be the same as the one you get in six months, and that's a heck of a gamble to make with a £500-or-so purchase. We see these phones as being about even in terms of overall experience, but when you factor that element in, we have to give the overall nod to the OnePlus 7. It's a great £499 phone that doesn't come with a big, bright flashing red warning sign attached. Get that one.
Winner: OnePlus 7