Bond's bag of tricks: the gadgets of No Time To Die
Why 007 would be smart to use a dumbphone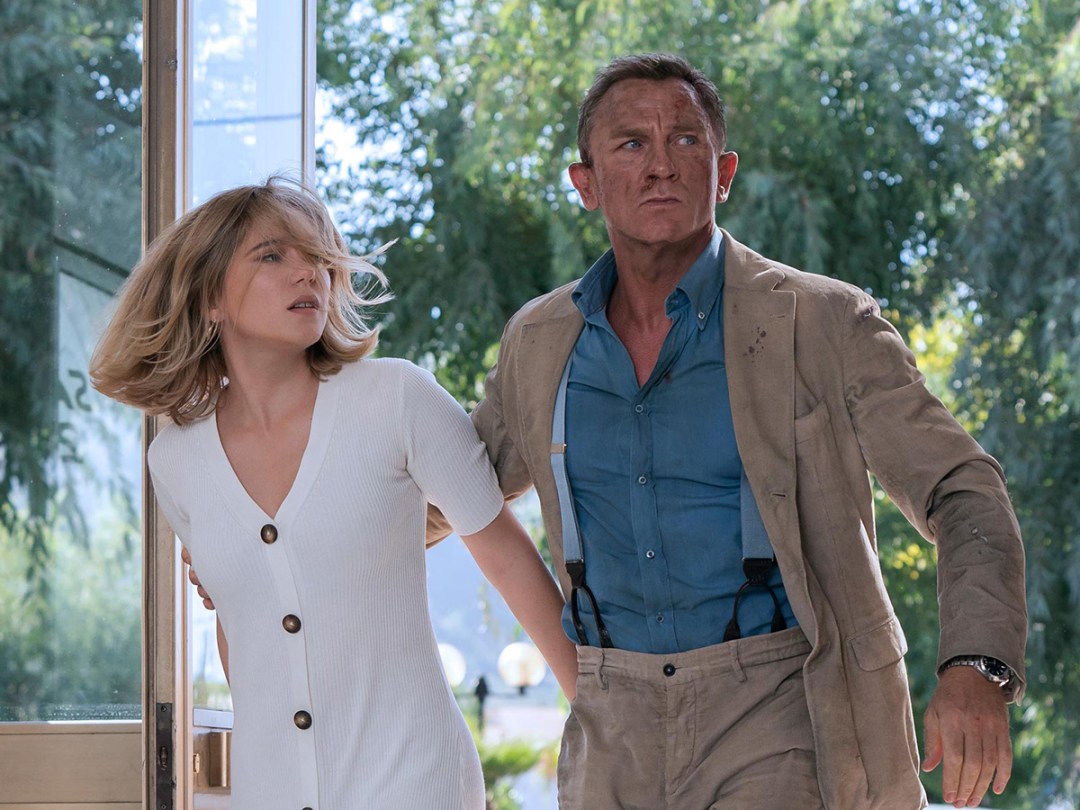 We know that Apple won't allow screen villains to use an iPhone but James Bond, perhaps the best-known movie hero of all time, won't be wielding one any time soon either.
For most of the Daniel Craig era, the majority of Bond's gadgets were made by Sony. Sony Pictures co-produced his first four movies, and its parent company was understandably keen to stuff in as much product placement as possible: hence Bond checking his emails on a Vaio laptop and spooling through CCTV footage recorded on the Sony-backed Blu-ray Disc. However, for Craig's final outing No Time To Die (in cinemas today) the mobile manufacturer of choice is… Nokia.
You read that right. As a brand, Nokia might seem a far too pedestrian a pick for a man of Bond's notoriously exclusive tastes, but – just like the time he incongruously slid behind the wheel of a Ford Mondeo or sipped on a frosty Heineken – that's the odd reality of today's movie business: Nokia owner HMD Global did a big-money deal to be No Time To Die's "official phones partner" and thus we're going to see the company's products pop up throughout the film – apparently the Nokia 7.2, Nokia 8.3 5G and that old faithful the Nokia 3310.
Bond's brick
The original Nokia 3310 was released in 2000, six years before the Craig era began. A cult classic dumbphone with a distinctive silhouette, we can picture a hipster secret agent coveting its lumpen utilitarian aesthetic in the same tongue-in-cheek way an artist struts along Margate seafront showing off their ratty old pair of Crocs.
Bond himself would have little truck with post-ironic normcore posturing, but there are plenty of practical reasons for him to use the 3310: its epic battery life (260 hours of talk time!), brick-like build quality and the fact that it ran on Series 20, an operating system that would be a lot less susceptible to cyber-attack than the Android OS employed by today's Nokia smartphones. For a secret agent, it's probably smarter to use a dumbphone.
The 2017 reissue of the Nokia 3310 (which is most likely the phone we actually see in the film) also runs on an older non-smartphone OS, although it does have Bluetooth, a Micro USB port and a much less impressive battery life (about 22 hours of talk time).
No Time To Dial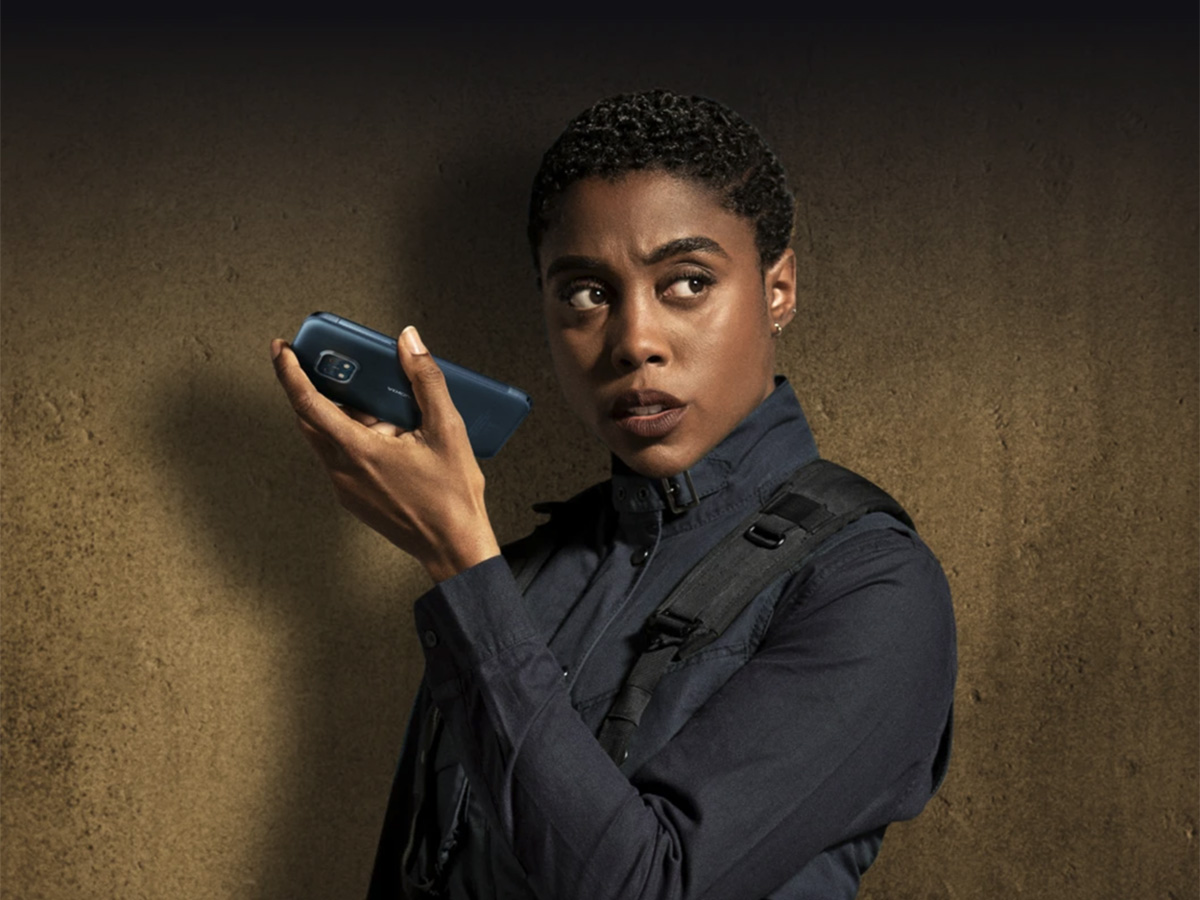 According to a report in The Sun, tech may be among the reasons for No Time To Die's repeated release date delays. Originally scheduled for a November 2019 release, it's well known that the film has slipped several times due to the departure of original director Danny Boyle and the ongoing COVID-19 pandemic. These delays would have led to the gadgets on show in the movie being out of date by the time the film finally came out, and brands like HMD Global weren't happy about it. They understandably wanted their current products rather than last year's in the hands of the film's stars, which according to the report has led to costly re-editing (or possibly even some re-shooting) of scenes that has, ironically, led to a further delay to the film's release.
The smartphones spotted in the movie's trailers, the Nokia 7.2 and 8.3 5G, are no longer current – in fact, they aren't even on the Nokia UK website right now. The "Bond handset" that Nokia phone maker HMD Global is pushing is instead the Nokia XR20, the company's 2021 flagship and a phone that No Time To Die star Lashana Lynch, who plays 00 agent Nomi, can be seen using in this promotional video.
The XR20 is in many ways a typical Nokia device: affordable in comparison to the bigger brands' flagships at £449.99, it's a mid-range 5G Android phone with 6GB of RAM, 128GB of storage, a 2400 x 1080 screen, 48MP main camera and ultra-durable build; it's reportedly the toughest ever Nokia phone, which we suppose makes it quite suitable for secret agent shenanigans. But will it appear in the movie itself? Has it been seamlessly CGIed into the hands of Daniel Craig? We'll have to wait until we see No Time To Die tonight to find out.
Still an Omega man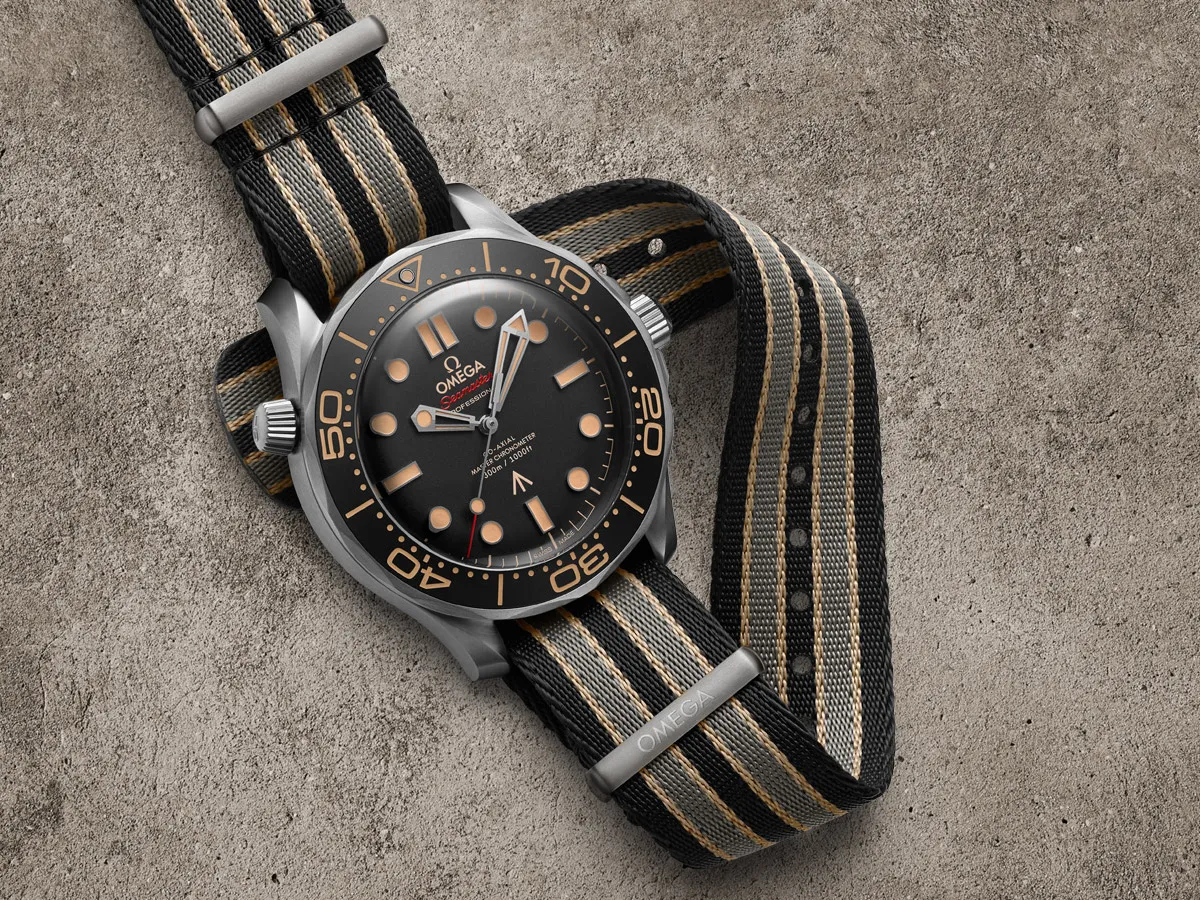 In terms of non-phone tech in No Time To Die, 007's association with Omega watches continues, with no fewer than three of the company's luxury timepieces on screen in the new film. James Bond himself can be seen with a Seamaster Diver 300M 007 Edition on his wrist; Nomi wears a 38mm Seamaster Aqua Terra; while Moneypenny (Naomie Harris) sports a 27.4mm De Ville Prestige.
Omega's association with 007 precedes Daniel Craig's time in the role; its watches have been in every Bond film since 1995's GoldenEye. The current Seamaster Diver 300M 007 Edition is a lightweight military-inspired watch with a 42mm case and mesh bracelet made from grade 2 titanium, with aluminium used for the dark brown dial and bezel ring. Daniel Craig himself played a part in the design, according to Omega. It's available now for £7,880 with a titanium strap, or £6,950 with a fabric NATO strap. Oh, and check out our look at the 1970 Seamaster Professional while you're here.
No Time To Drive
The brand most closely associated with Bond has to be Aston Martin, though, with the iconic DB5 having debuted in Goldfinger back in 1964 and appeared in six more films since. No Time To Die will be the eighth time a James Bond has driven it, then – and will feature a further three Aston Martin cars: the classic 1980s V8 Saloon; the new DBS Superleggera grand tourer; and the Valhalla, an upcoming mid-engine sports car developed in association with Red Bull Racing.
All four are actual production cars, although the trailer suggests the DB5 we see in No Time To Die will come with a few after-market extras in the form of bullet-proof windows and twin miniguns concealed behind the headlights. Just the thing for dealing with an international terrorist ring – or the current situation at the nation's fuel pumps, perhaps…
No Time To Die opens in cinemas today, 30th September.
More like this: 5 of the best James Bond phones