Best smoker 2023: the finest charcoal, gas, and pellet grills for sumptuous smokey feasts
Top gas, charcoal, electric, and pellet grills to tantalise your tastebuds this summer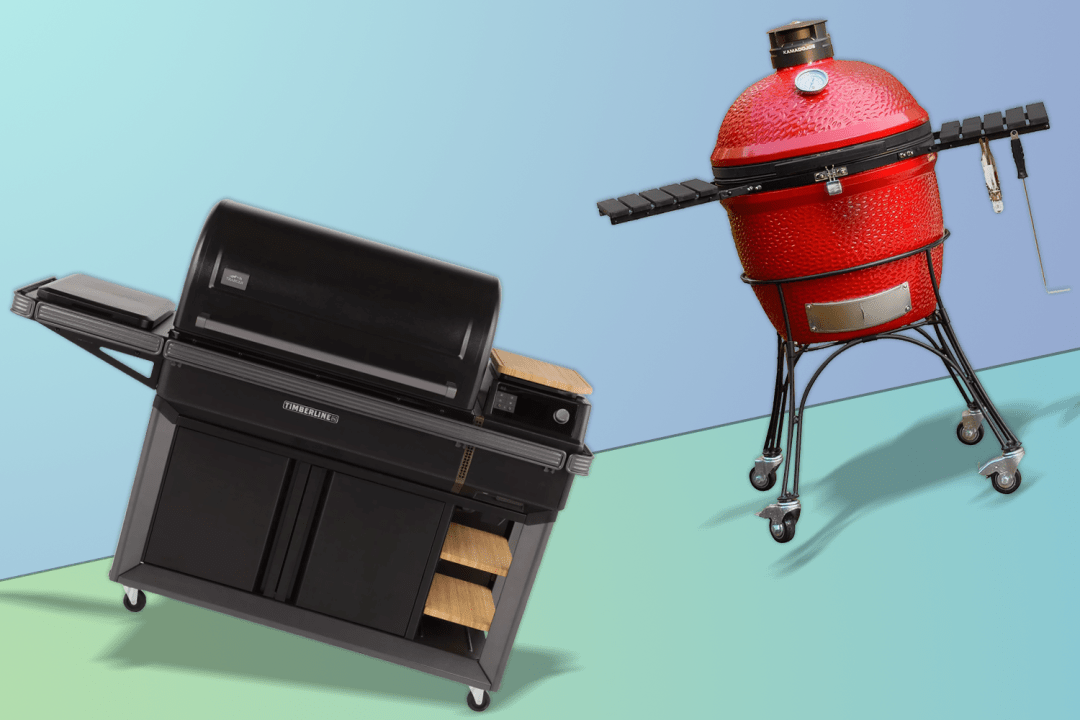 You're looking for the best smoker in 2023, and we know why. It's the juicy briskets. The tender pulled pork. The insane BBQ ribs. Or the countless other incredible uses, each one more delicious and diet-destroying than the last. It's the perfect accompaniment to an outdoor grill. And with summer on the horizon, there's no better time to embark on your smokey, flavour-packed journey.
There are countless offerings to choose from, mind, ranging from cheap to budget-busting. We've rounded up a selection of some of the best smokers in 2023 below, to suit all needs and budgets. Bon appétit.
What's the best smoker for you?
Best premium smoker: Traeger Timberline XXL
The Bugatti of smokers, with a price tag to match. Laden with features (including an automatic pellet hopper, temperature probes, side-burner, remote control and more), it's essentially a huge, fully-fledged outdoor kitchen, that will ensure your garden is the place to be every summer.
Best budget smoker: TecTake Charcoal Smoker
Cheap, basic, and offering great value for money, this charcoal-powered grill/smoker is a great place for beginners to start experimenting with different wood chip combinations. The fact that it can be used as a regular BBQ is a bonus.
Best fuss-free BBQ: Masterbuilt Digital Electric Smoker
Combining the convenience of electricity with the large capacity of a large smoker, Masterbuilt's compact-yet-capable tower offers functionality in spades — especially with its handy smartphone app.
The best smoker to buy today
Traeger Timberline XXL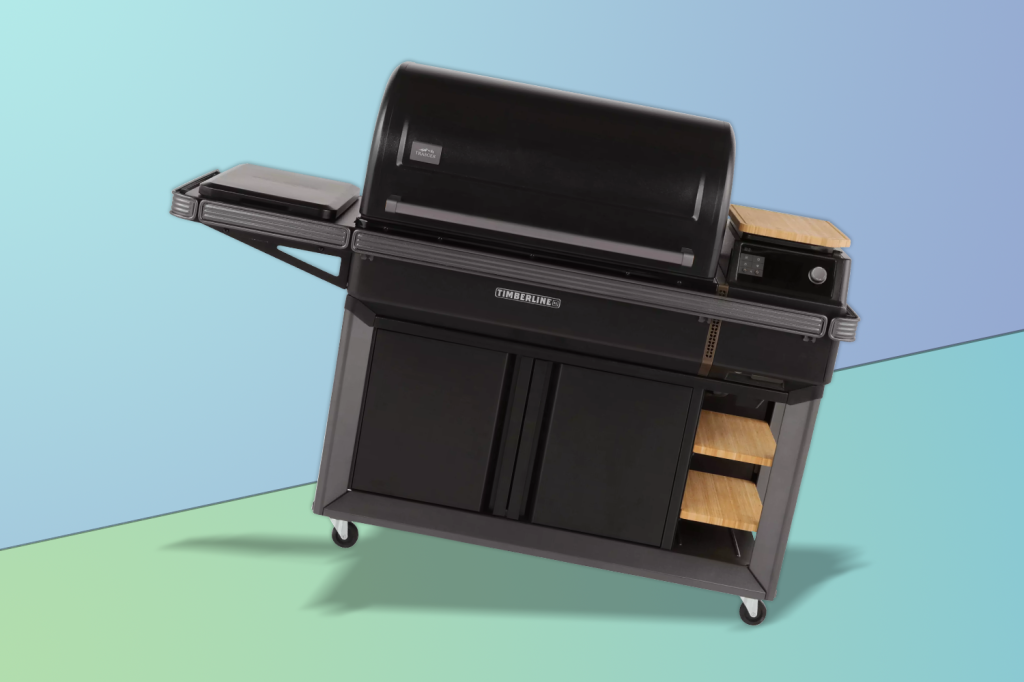 At comfortably over three grand, there's no denying that Traeger's new Timberline XL is a top-end luxury purchase. But if you're really, really serious about BBQ — if you toss and turn at night thinking about perfecting your homemade dry rub, and if the sight of a crispy bark with an underlying gloriously pink smoke ring fills you with unadulterated joy — then this will be one of the best purchases you'll ever make.
Thanks to a capacious wood pellet container (complete with automatic pellet feeder), you can slow cook and smoke delicious slabs of meat up to 24+ hours, for unparalleled, fall-off-the-bone results. You can keep on top of cook times and temps too, thanks to included meat probes, letting you go off and relax while checking on the cook via a handy smartphone app.
Its cavernous interior means there's enough space for 12 chickens, 16 rib racks, or 12 pork butts, to name a few banquet-worthy examples. Not only that, but there's also a built-in induction cooktop, letting you sear, sautee, simmer, and fry side dishes to your appetite's content. With plenty of storage and rammed with functionality, it's the ultimate outdoor kitchen for BBQ fans, and an investment that'll pay tasty dividends for years to come.
TecTake Charcoal Smoker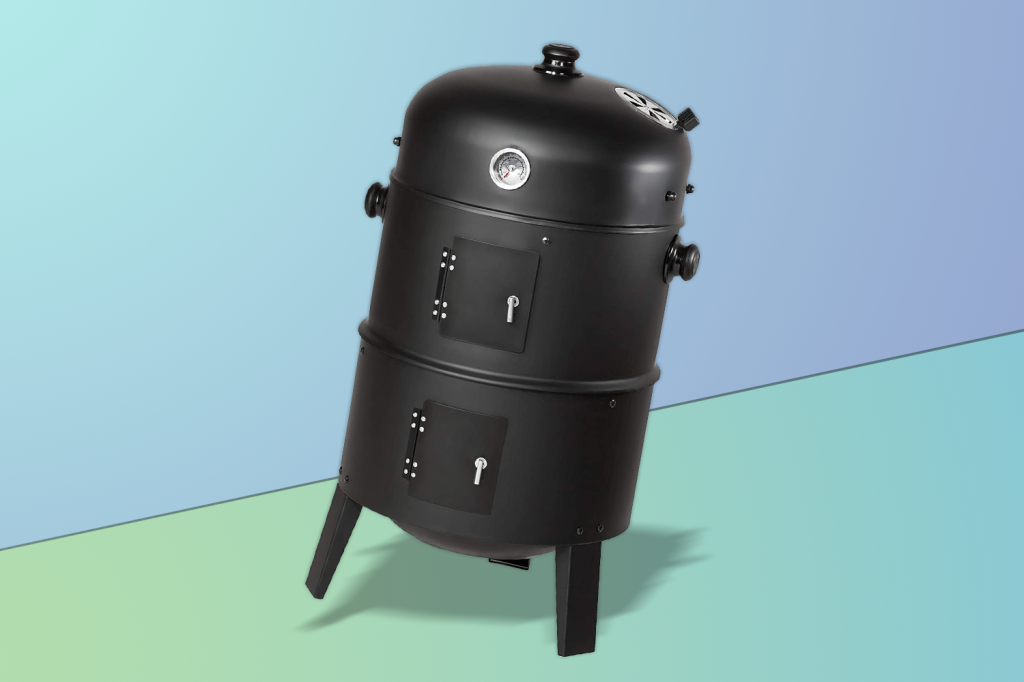 At the other end of the spectrum, we have this immensely affordable TecTake charcoal-powered smoker from TecTake. It's a no-frills affair with an entry-level price tag, making it an ideal choice for beginners looking to expand their BBQ horizons with smokier pastures.
A built-in thermometer offers a useful way to check on temps, while two side doors allow finer control over ventilation. A grill lets you use it as a standard charcoal BBQ too, which offers extra flexibility, making it even more of a bargain.
Naturally, compared to something as huge and as tech-packed as the Traeger above, you'll need to be a lot more hands-on with a more basic smoker such as this. But if you're testing out something like a six-hour slow-cooked brisket and are happy to chill in the garden with a few cold brews throughout the day, then this is a superb starting point.
Masterbuilt Digital Electric Smoker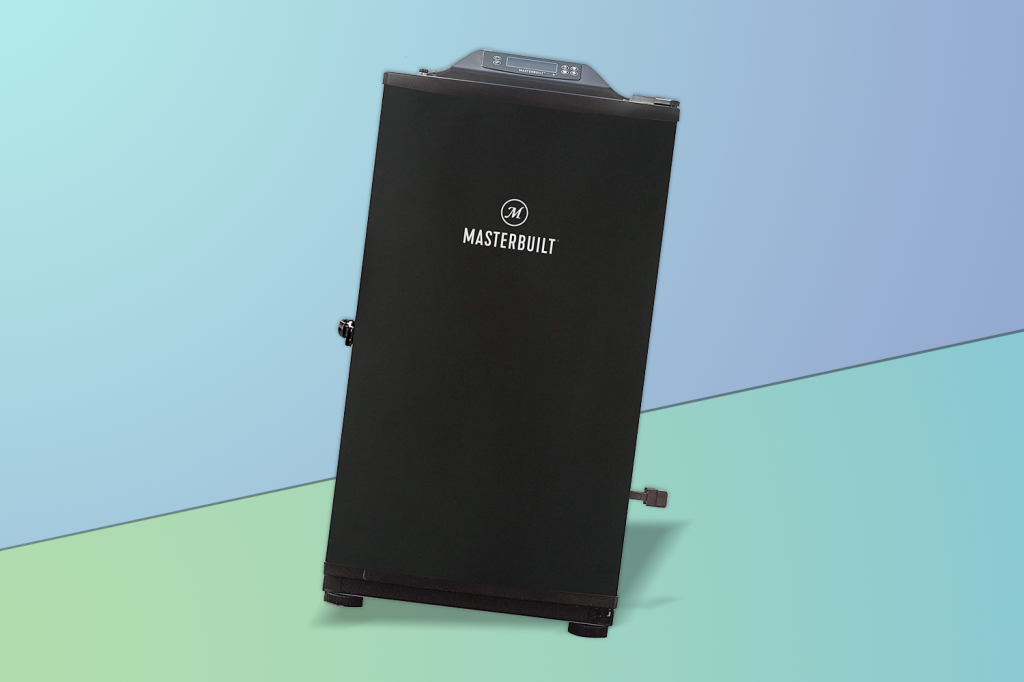 Masterbuilt's electric smoker/grill forgoes the hassles one might associate with charcoal and gas, for the convenience of electricity. A layer of four chrome-coated smoking racks provide a larger capacity than one might expect, letting you infuse deliciousness into size chickens, two turkeys, four racks of ribs or four pork butts with ease — though, obviously, not all a the same time.
Bluetooth tech, combined with an app, let you keep an eye on temps and cooks while you're inside sheltering from the sun, and a patented side wood chip loading system means that you can top up the chips without opening the door and losing precious smoke and heat. With a built-in meat probe for perfect results and a sleek build, this is a convenient, capable smoker that offers a decent capacity for a reasonable price.
Char-Broil The Big Easy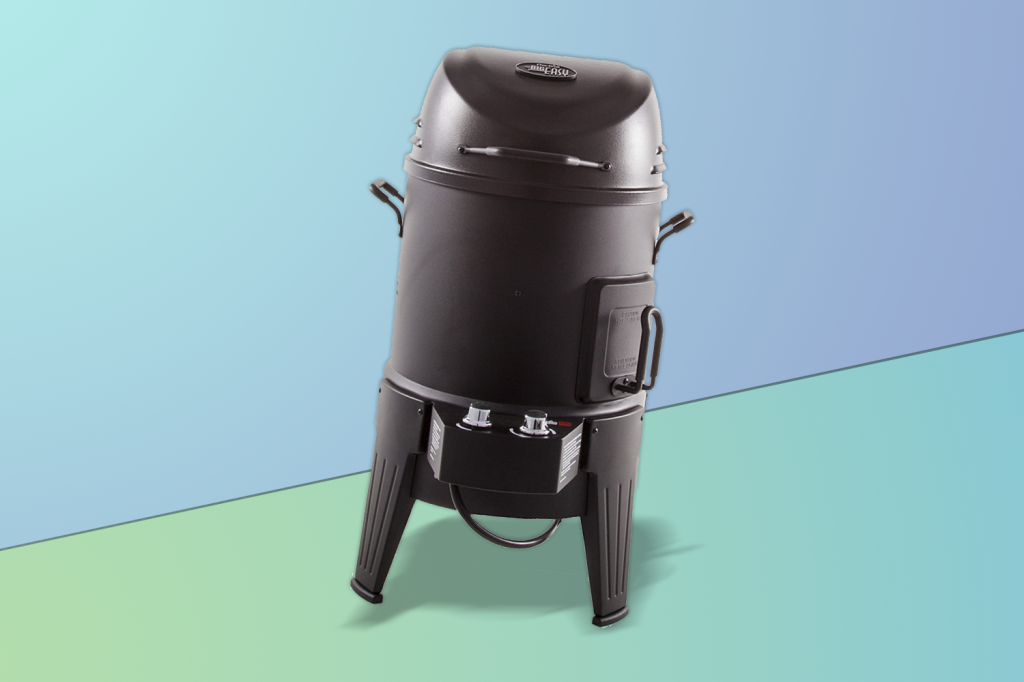 Easy by name, and easy by nature, Char-Broil's gas-powered three-in-one smoker, roaster and grill stands out with the company's tried and tested TRU-Infrared cooking system. Consisting of an emitter plate situated above the flames, it ensures that food is cooked evenly while preventing flare-ups and burnt spots. This results in up to 50% juicier food, while using 30% less gas, which is a winning combination in our books.
A removable grill top lets you roast larger items like chickens and other cuts of meat up to 11kg, while a smoker box can easily be loaded with wood chips for that authentic BBQ flavour. There's also a built-in grease tray to make clean-up a little easier, and the four included rib hooks unlock a world of mouthwatering possibilities.
Masterbuilt Gravity Series 560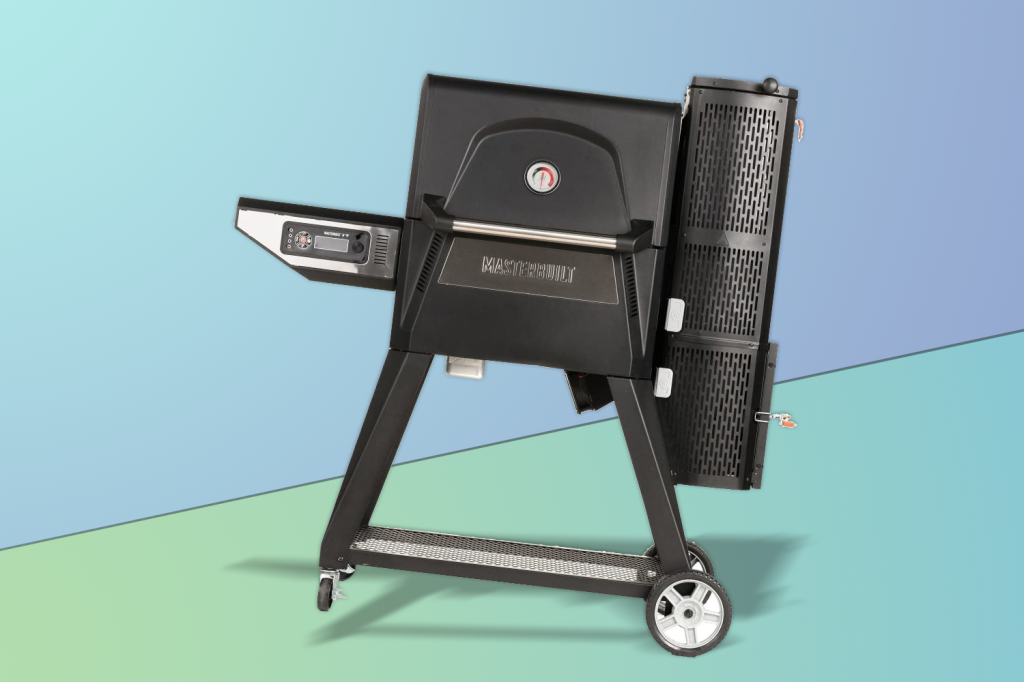 Masterbuilt's Gravity Series is a pricey yet more-wallet-friendly alternative to more premium options from the likes of Traeger. This particular model features a gravity-fed charcoal hopper, which can produce steady heat from charcoal briquettes for around 12-15 hours of use.
Ideal for super-slow cooks, it can be controlled and monitored via an app over Bluetooth or Wi-Fi, and has a generous amount of cooking capacity to boot. If you want the specifics, it's reportedly good for 36 sausages, 21 burgers, four pork ribs, and four chickens, which is a respectable amount of food whichever way you slice it.
Larger than a traditional BBQ but still pretty compact considering what it offers, it's a great bit of kit for taking your charcoal cooks to the next level.
Kamado Joe Classic II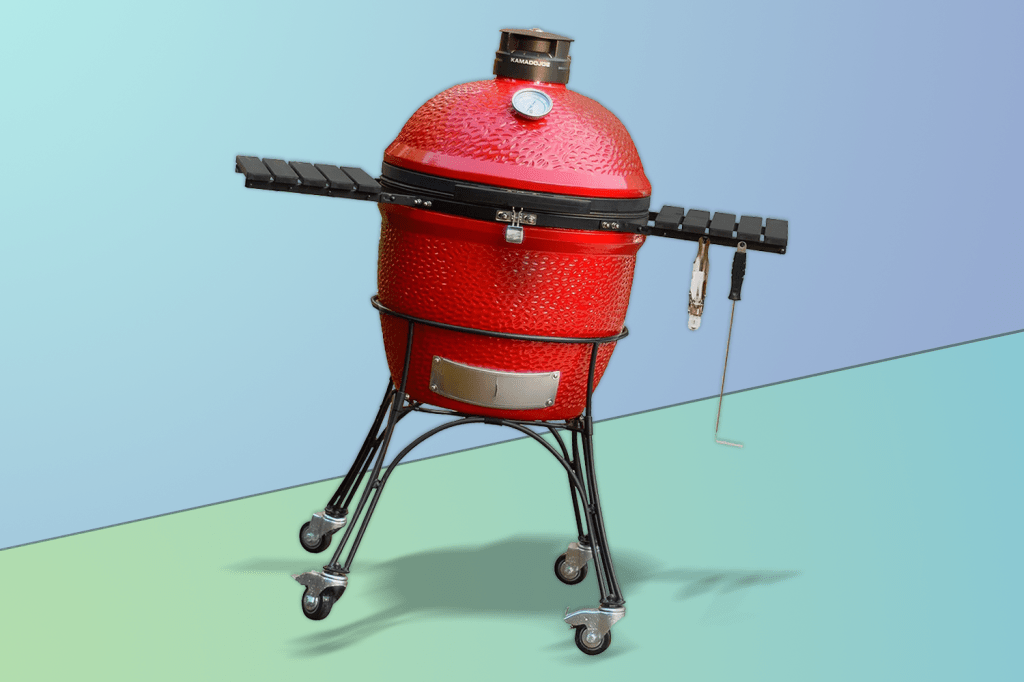 This eye-catching offering from Kamado Joe is as much a design statement as it is a formidable bit of outdoor cooking kit. With an 18in ceramic grill, cast iron cart, and rugged locking wheels, it can be manoeuvred with ease, while a two-tier internal cooking system lets you cook multiple items at once.
This multi-level design, combined with half-moon grates, lets you cook various items at different levels of intensity, at the same time. Beautifully crafted from premium materials (including an air lift hinge and fibreglass mesh gasket), it's a premium entry with decent cooking space, despite its more compact size. Capable of whipping up 13 burgers, four chickens or two pork butts, it should see you through all but the largest of gatherings.
Traeger Ranger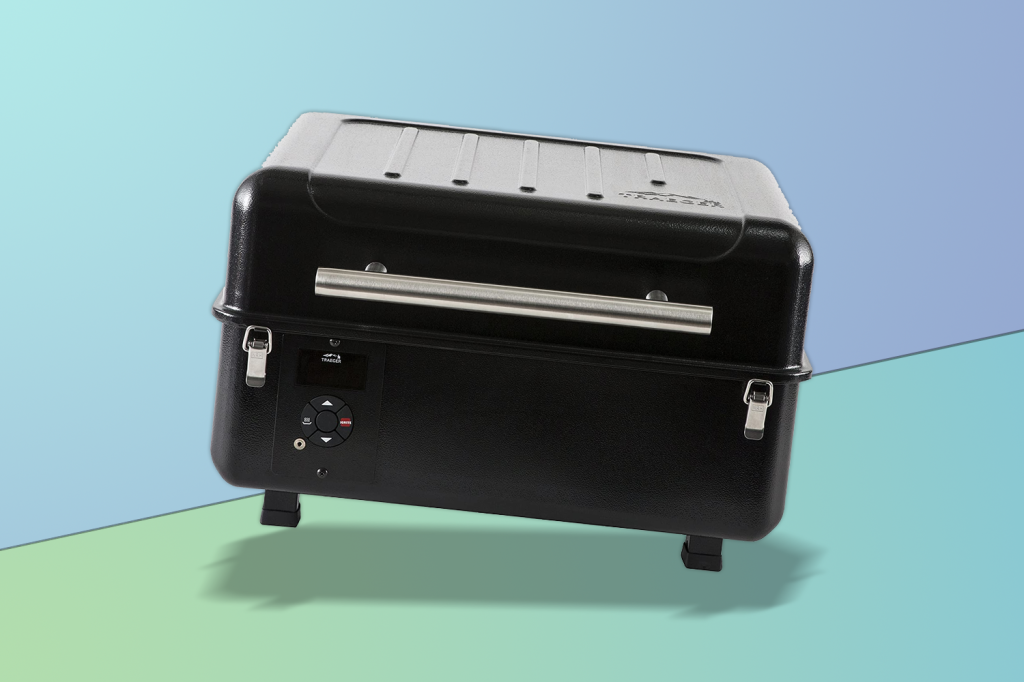 Traeger's compact ranger is a miniature on-the-go solution for those who want to experience the smokey joys of BBQ cookouts, without the bulk of a full-sized model. A self-contained pellet smoker that can handle food for around four people, it's a perfect (albeit, pricey) solution for those who are serious about smoking, while travelling.
A Digital Arc Controller promises to deliver precise temps for optimum results, while a Keep Warm mode does, well, exactly that. If you're serious about authentic BBQ flavour and regularly go camping, then this is a luxury that you won't regret.