Best marathon gear: boost your marathon training
Use the latest tech to help your training for the 26 mile challenge.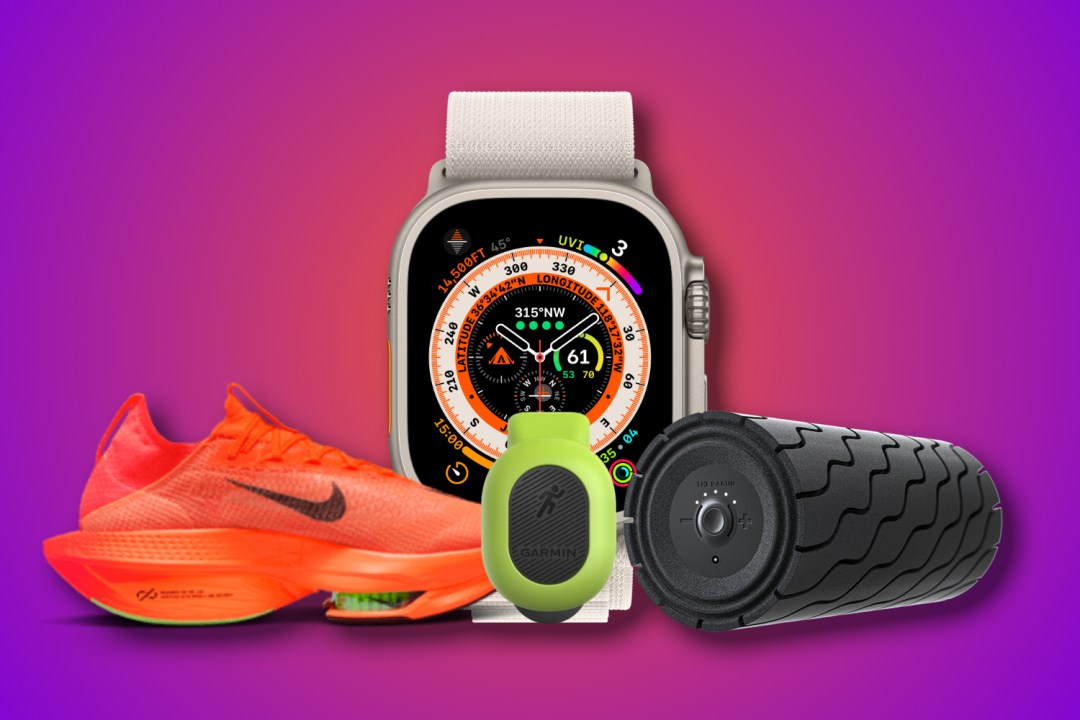 It's officially (almost) marathon season. From Manchester to Boston, April sees striders take to the streets in droves. Then there's the London Marathon, renowned among runners across the world. Each year, tens of thousands of people lace up their running shoes and pound the pavement for 26.2 miles of self-inflicted torture. At least, torture for us. Apparently, some people really quite like running. It's no walk in the park, and such a serious distance requires months of training beforehand.
While training involves going out for plenty of runs with increasing distance, there's room to worm some tech in to help make things a little smoother. Whether you're lacing up a pair of runners for the first time or this is your fourth run around London, we've scoured the best gadgets and gear to boost your marathon training – as well as a few cheaper alternatives.
---
Garmin Running Dynamics Pod
While smartwatches are usually the most popular choice for runners to keep an eye on things, they can get in the way for many. Thankfully, Garmin's here to the rescue with its Running Dynamics Pod. This little tracker tucks nicely out of the way, clipping to your waistband to keep an eye on your running performance.
It can keep track of six different metrics throughout your London Marathon prep, and sends all of these back to your smartphone for you to keep an eye on. You'll see measurements for cadence, stride length, ground contact time, and more. Using this info, you can work on improving your form for the big day, to help things go as smoothly as possible.
The pod automatically turns itself on and off when you start moving, and its battery lasts up to a year. That is to say, you can get all of your marathon training done without ever popping this thing on charge. Garmin's pod will watch you plod along, give you feedback, and all for a pretty budget price.
Cheaper alternative: Take things down a notch with a smaller pod that lives on your shoe. The Zwift RunPod (£19/$24 in the UK) comes in for even less, but leaves a few metrics at the starting line.
---
NURVV Run Smart Insoles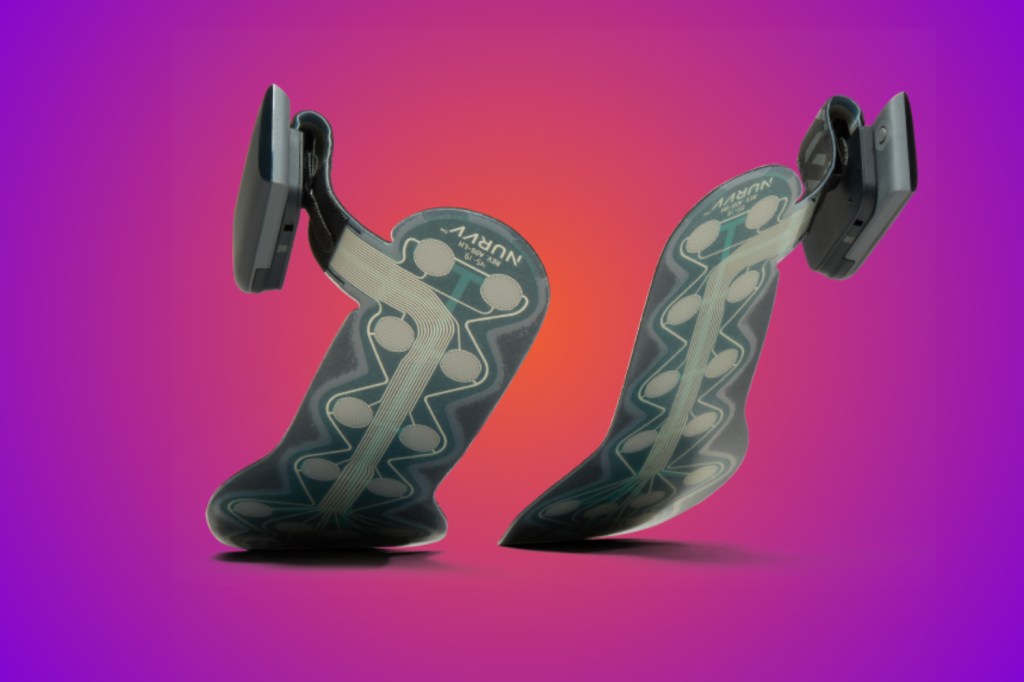 Fancy taking things a step further (literally) and getting some of the best metrics possible? NURVV's smart insoles track your pavement pounding right where the magic happens – at your feet. They pack 32 different precision sensors to collect plenty of data on your running. You'll get feedback on pace, foot strike, and running form to help avoid injuries and improve your performance – just what you need during London Marathon training.
It syncs all this data back to your smartphone for your perusal via Bluetooth. Plus, you can connect a smartwatch or other heart rate monitor for even more stats. And on top of all of this, you can pop in a pair of headphones and listen to some real-time audio feedback. It's like having your own little training expert right under your heel.
Cheaper alternative: Ditch the smarts for a pair of standard running insoles that'll help look after your feet. The Enertor PX1 insoles are some of our faves, designed to improve muscle function while running.
---
AirPods Pro 2nd Generation
What better thing to accompany your London Marathon training than a solid set of earbuds? Whether you're a podcast listener or like to crank the bass tunes up to eleven, the AirPods Pro 2 are our top pick. With a set of silicon ear tips, they'll stay in your ears while you put one foot in front of the other. Thanks to the plastic casing, they're also rather sweat proof.
As for audio, the second-gen AirPods Pro boast twice-as-good ANC as the original model. Using the new H2 chip, AirPods Pro 2 now feature Adaptive Transparency to instantly switch on for high decibel noises. This could come in pretty handy with the never-ending construction in London.
There's longer battery life, too – six hours in the buds and a total of 30 with the case. It should be plenty to see you across the finish line. And with iOS 16, you can take advantage of Personalised Spatial Audio for a custom 3D soundscape. Oh, and the case can now handily charge with your Apple Watch puck (so you'll have to get both now…) in addition to MagSafe and Lightning. Sounds like a pretty good way to keep yourself entertained on the runs.
Cheaper alternative: If you fancy a more scaled-down set of buds with fewer features, the Beats Studio Buds have you covered. Plus, they're sweat resistant as well, to keep protected while you run.
---
Apple Watch Ultra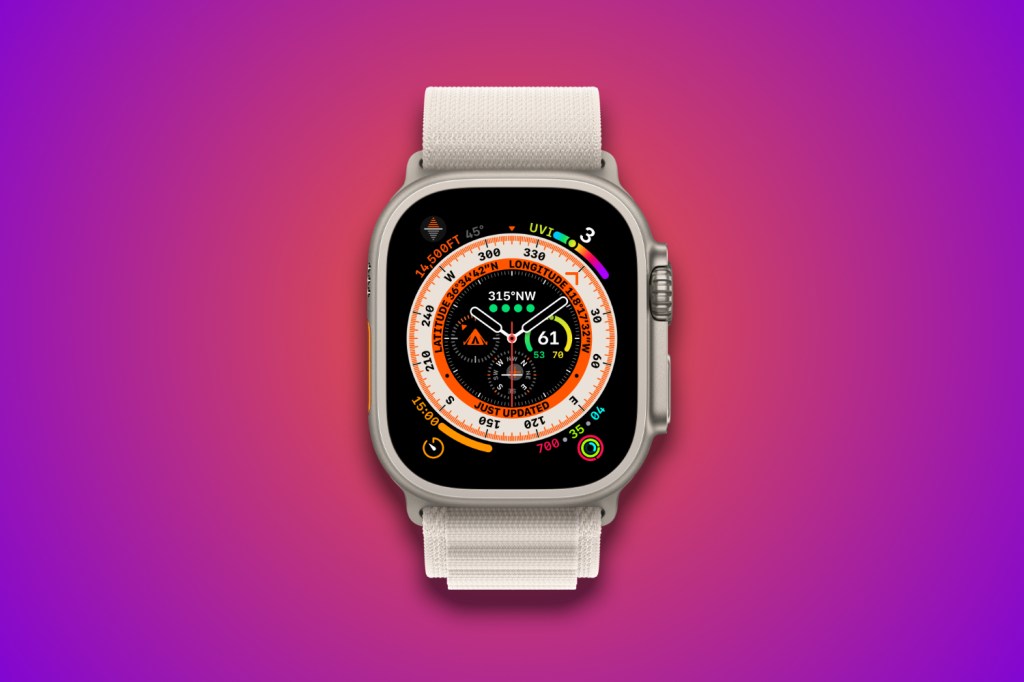 We all know the drill with the Apple Watch. It delivers your notifications, the weather, makes calls, helps out in emergencies, and (of course) tells the time. Plus, it's ring-based activity tracking system makes it easy to stay motivated throughout the day while you meet targets. But for London Marathon running, the Apple Watch Ultra particularly stands out.
Designed for more endurance-focused activities, this Ultra smartwatch is the ideal marathon companion. With everything switched on, it'll last over 12 hours while tracking your run using GPS. The GPS is also more accurate thanks to dual-band tech, where other devices may get confused by all the buildings in town. Thanks to the larger display, it'll be even easier to keep an eye on your activity tracking.
Plus, watchOS 9 brings plenty of new fitness tracking features designed for runners. On top of the usual heart rate, blood oxygen, and calorie counts, you get some runner-focused metrics too. You can set up training routes and programs for your prep, as well as view extra insights such as stride length, ground contact time, vertical oscillation, and average power. It's a pretty perfect marathon companion that lives on your wrist.
Cheaper alternative: If you fancy similar battery life and running metrics without all the extra smarts, Garmin's Forerunner 265S is a rather solid alternative to opt for.
---
Runderwear Compression Socks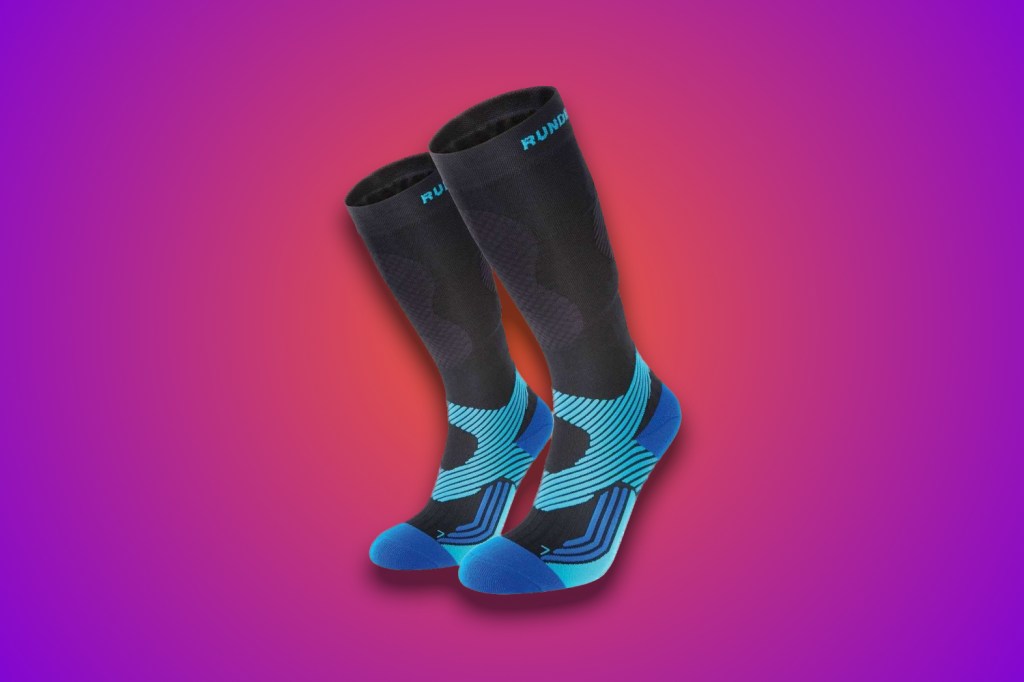 While usually reserved as stocking presents for those you don't really like, a solid pair of running socks can really help out during your London Marathon training. Runderwear's Compression Running Socks are our top pick. They gradually compress upwards from the ankle, helping to stimulate blood flow and provide extra support for distance running. Pretty handy with 26.2 miles ahead.
As well as the compression side of things, Runderwear uses breathable, moisture-wicking fabric to keep your feet cool and dry. The brand reckons you'll be 100% blister-free. Plus, they're just a pretty comfy pair of running socks at the end of the day.
Cheaper alternative: Asics specialises in running gear and offers a set of running compression socks for less. They provide the same compression benefits, and also wick away sweat.
---
Theragun Wave Roller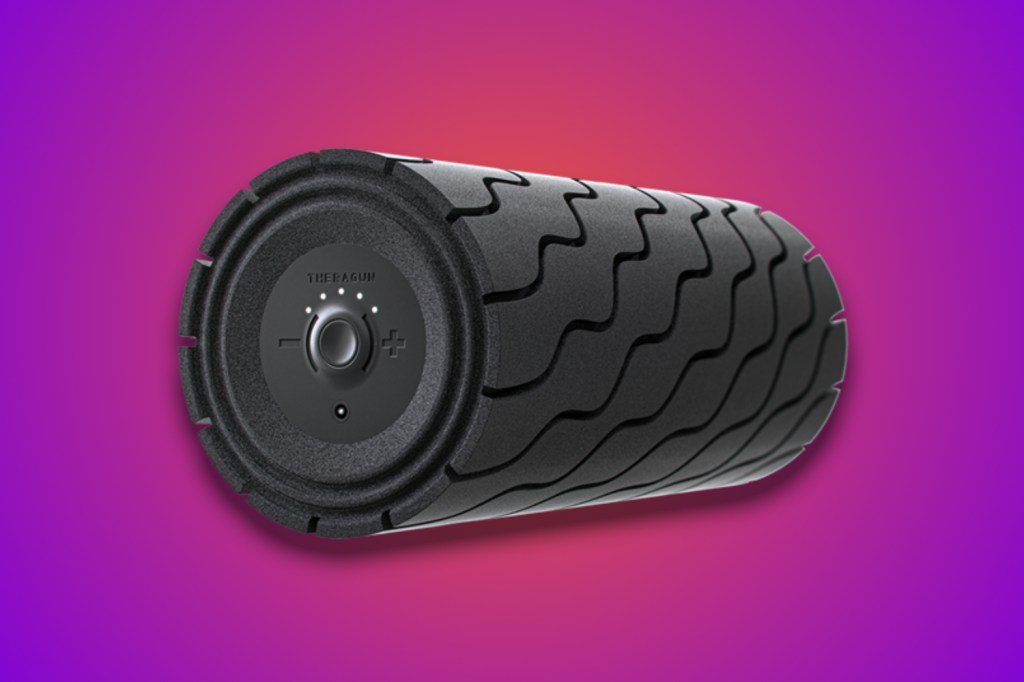 While best known for massagers that pummel bodily extremities, Theragun also offers the Wave Roller – a foam roller with smarts. It's particularly ideal for new runners at risk of over-doing things with the increasing distances during marathon training. But it'll also help seasoned pros to avoid muscle aches and pains. All in all, the Wave Roller is an excellent recovery tool.
It combines vibrations with a textured foam wave to give you a full-body roll. Rather than thwacking the knots out of you, Theragun's Wave Roller takes a gentler approach, and calmly stretches things out with an easy massage. It comes packing Bluetooth as well, so you can set up a personalised routine. The Wave Roller starts from £125, and will quickly roll its way into your heart.
Cheaper alternative: Opt for a more traditional foam roller that doesn't vibrate with the TriggerPoint Grid Roller (from £40 in the UK, or $35 in the US). It'll still help you stretch out those legs and recover quicker.
---
Nike Alphafly 2 Road Running Shoes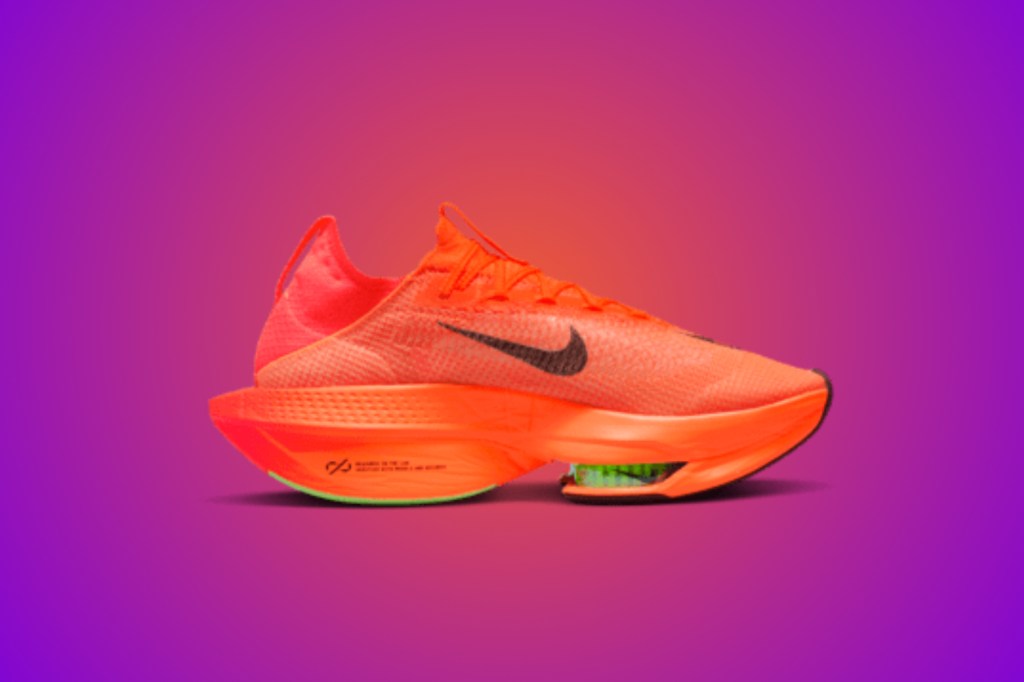 Buy: Nike Alphafly 2 Road Racing Shoes from £280 in the UK / Nike Alphafly 2 Road Racing Shoes from $275 in the US
When it comes to running, the shoes on your feet are rather important. Nike is pretty well-known for some of the best running shoes in the game, and its Alphafly 2 road racing shoes are no exception. The brand put some serious research into the Next% 2 foam used inside this pair of kicks, designing it specifically to boost performance while running.
The foam soles also provide exceptional support while you pound the pavements for all 26.2 miles of the London Marathon. Despite the thick soles, they're still super lightweight, so won't slow you down as you race around the streets. Plus, there are some pretty snazzy colour options on offer, so you'll look the part as well.
Cheaper alternative: If you still fancy a pair of running kicks with super supportive foam, opt for the Nike Air Zoom Pegasus 38 instead. They're not quite as sophisticated, but still promise support and performance boosts while on your feet.
---
Hydrapak SkyFlask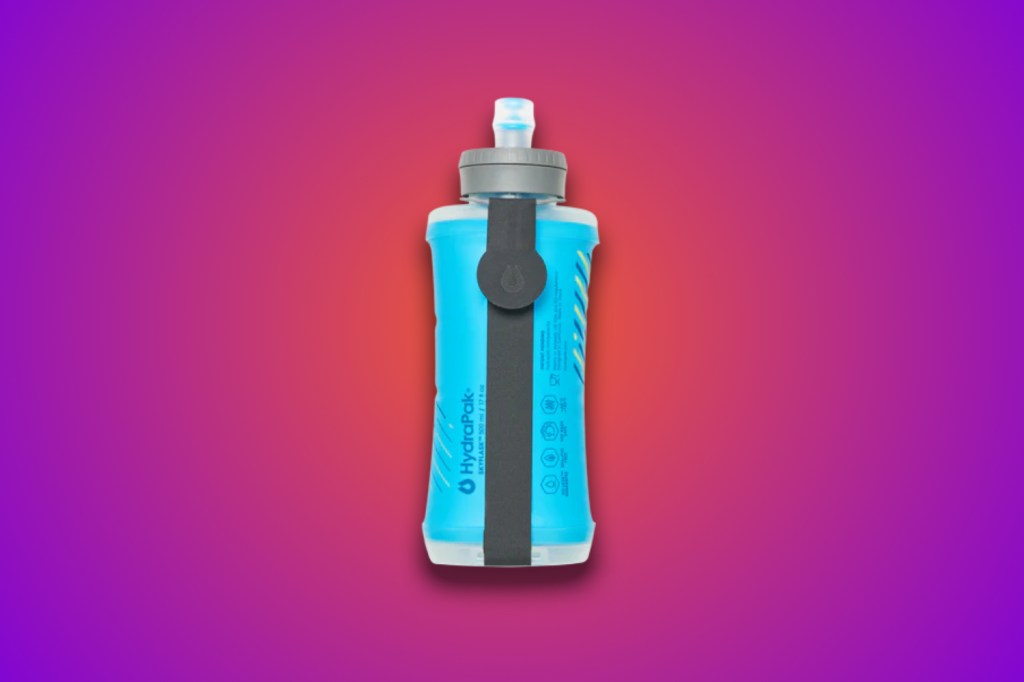 And last but not least, you'll need to keep yourself hydrated while training for the London Marathon, and on the big day itself. There are plenty of water bottles to pick from, but Hydrapak's SkyFlask is our top pick for runners. It's super light and actually collapsable, so will be no problem to carry with you through the streets. There's even a handle on the bottle for easier grip while you run around town.
It's a 500ml bottle, so provides enough room for water to keep you going between refill stations. There's also a locking cap with bite valve, so you don't leave a trail of water in your wake by mistake. And better still, it's 100% BPA and PVC free, so there won't be any weird plastic taste while you slurp at water. For a water bottle, the SkyFlask will have your back all the way to the finish line.
Cheaper alternative: If you're looking for a more simple bottle, then the Ultimate Performance Runners Bottle is a solid option. Its plastic body boasts a built-in handle for easy grip. Plus, it carries slightly more a 580ml – for a lot less.