The best fitness watches 2016 – reviewed
Whether it's casual tracking or hardcore metrics you're after, we've got the training timepiece for you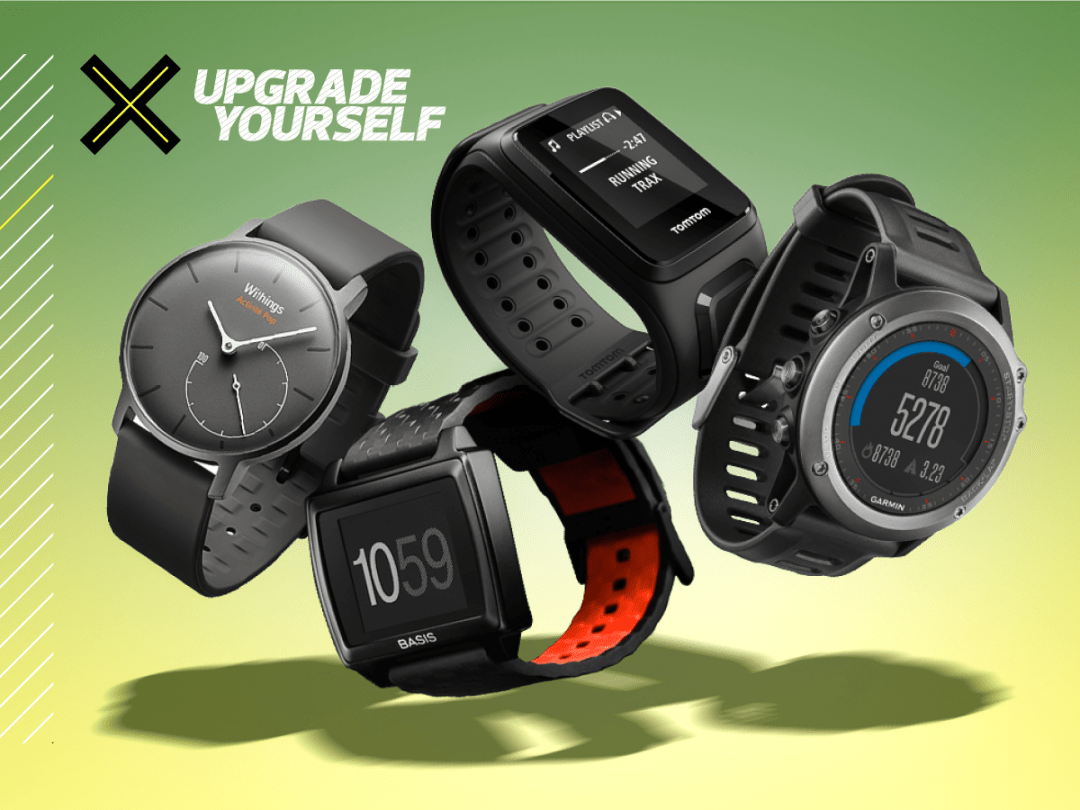 Smartwatches are great and all that, but we're still yet to encounter one that's a real winner in the world of fitness tracking.
For that, you still need a dedicated fitness watch, and whether you're looking for automated logging of your loping around the park or a deeper dive into the myriad metrics of your morning marathon, we've found a timepiece for you.
And it's not just about running. These wristy operators will all track your daily steps, and some have tracking for more adventurous activities such as swimming, cycling, climbing and golf. Ok, maybe golf isn't that adventurous.
Regardless, if you do any kind of sport, you need a sports watch, so continue reading and allow us to help you find the best one.
Doctor's notes
"Heart rate is more important than tracking anything else," GP Richard Harkness says.
"Home readings are now thought to be more valid than clinic readings, so both you and the doctor benefit from this information. Just don't get obsessive. If you don't have diagnosed high blood pressure, testing it once a month would do. Then, if you're getting high readings, step that up to 1-2 times a day. If those readings persist, always speak to a healthcare professional".
Winner: Garmin Fenix 3 (£300)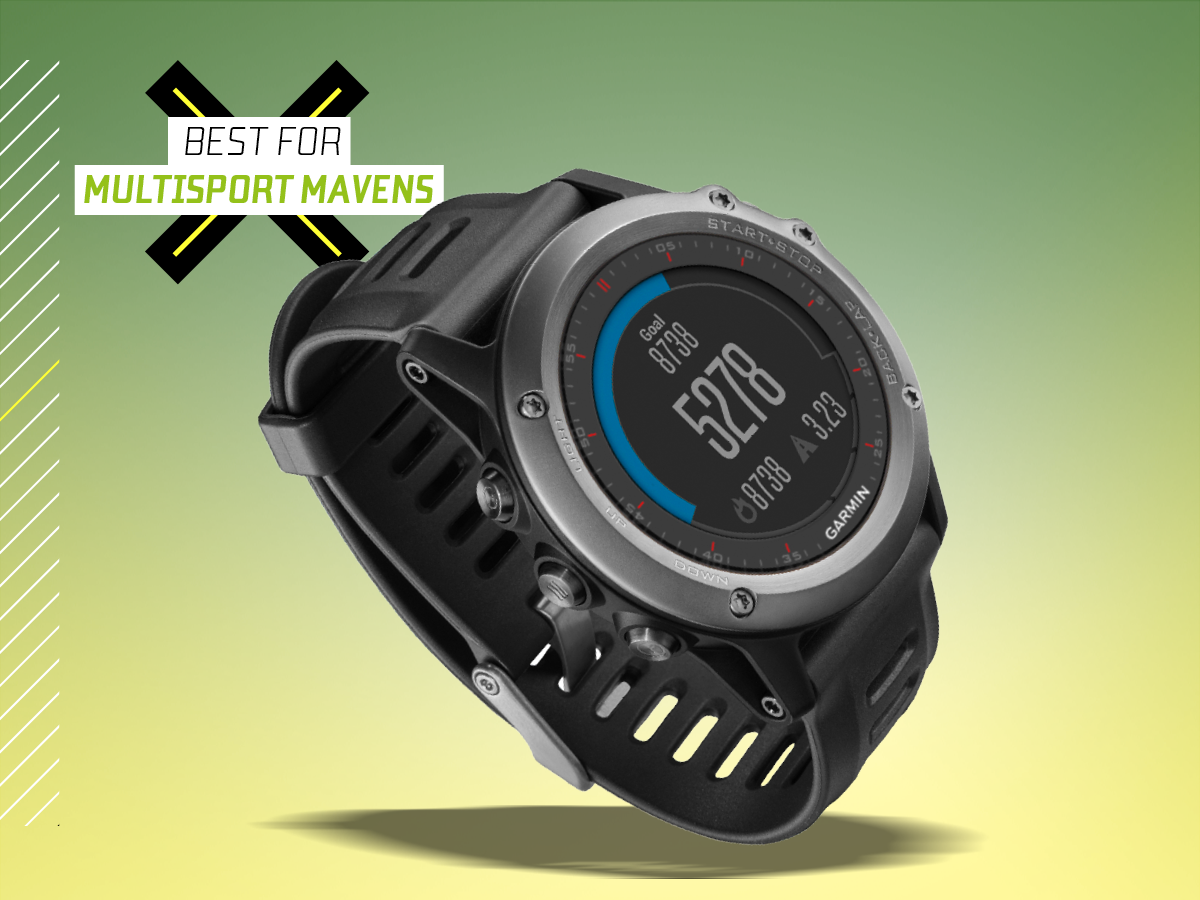 What's the story?
If you can think of it, the Fenix 3 probably tracks it: steps, sleep, various sports… and it's even got built-in weather, compass, altimeter, barometer and thermometer apps. It's also a full-on smartwatch with notification support for everything from emails, tweets and WhatsApp messages to football scores, and it'll control your music. The watch itself is big, but stylish: you could wear it with a suit and it wouldn't look out of place. Each button has two functions, the secondary one accessed via a long press. At first it's difficult to remember what everything does but you pick it up before long.
Is it any good?
Hit the start/stop button, choose your activity, wait five seconds for a GPS signal and you're off. The screen can be customised to show different metrics, but there's no heart rate or cadence tracking without a chest strap. It's the swim tracking that makes the Fenix 3 really stand out: it shows your pace, route, distance, calories and stroke rate, which puts even a swimming instructor to shame. You'll want the Garmin Connect app is required for syncing, and it works with apps such as Strava and MyFitnessPal.
Stuff says: ★★★★★
The Fenix 3 is pricey, but it's a proper smartwatch that's unbeatable for serious triathletes
Tech specs
Tracking: steps, running, cycling, swimming, skiing, golf, climbing, rowing ● Display: 1.2in colour LCD, 218×218 ● Connectivity: GPS, GLONASS, Wi-Fi, Bluetooth ● Heart-rate monitor: No ● Waterproof: 10 ATM ● Battery: Up to 50 hrs ● Weight: 82g
Withings Activité Pop (from £100)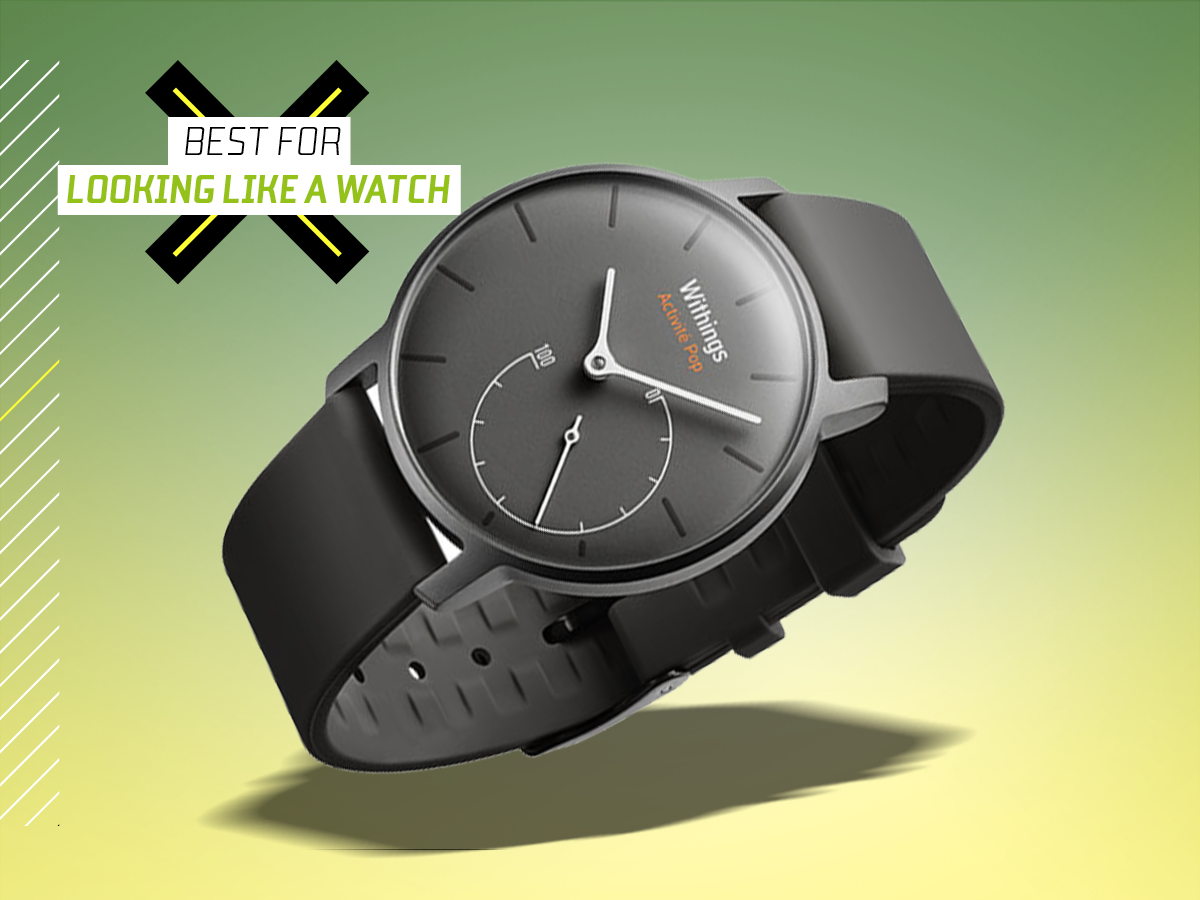 What's the story?
A cheaper alternative to Withings' standard Activité, the Pop is a traditionally styled ticker with an analogue approach to activity tracking. In the bottom right of the face there's a hand that tells you how close you are to hitting your daily target, which you set in advance via the Withings Health Mate app. That's also where you can find your in-depth tracking and sleep stats and compare them with your Pop-wearing friends. The straps are interchangeable, meaning you can clip in new colours or, in theory, have one custom made. At a glance it could just be a normal watch – and that's a good thing.
Is it any good?
The Pop's colourful face is clear and uncluttered, which makes for great contrast against the white hands. It'll detect more vigorous movement and log it as running, giving you credit for that desperate dash to the bus stop. It's waterproof too, and will automatically pick up swimming, although that's where its tracking skills end. Still, it's accurate and the battery lasts months, making it a wearable you can really live with – with just enough smarts to satisfy those who don't devour data. It'll never be a full-on sports watch, but it will track you in style.
Stuff Says: ★★★★✩
A sleek step-tracker for those of simple tastes and sophisticated wrists
Tech Specs
Tracking: steps, swimming, sleep ● Display: Analogue ● Connectivity: Bluetooth ● Heart-rate monitor: No ● Waterproof: 5 ATM ● Battery: 8 months ● Weight: 37g
Basis Peak (£130)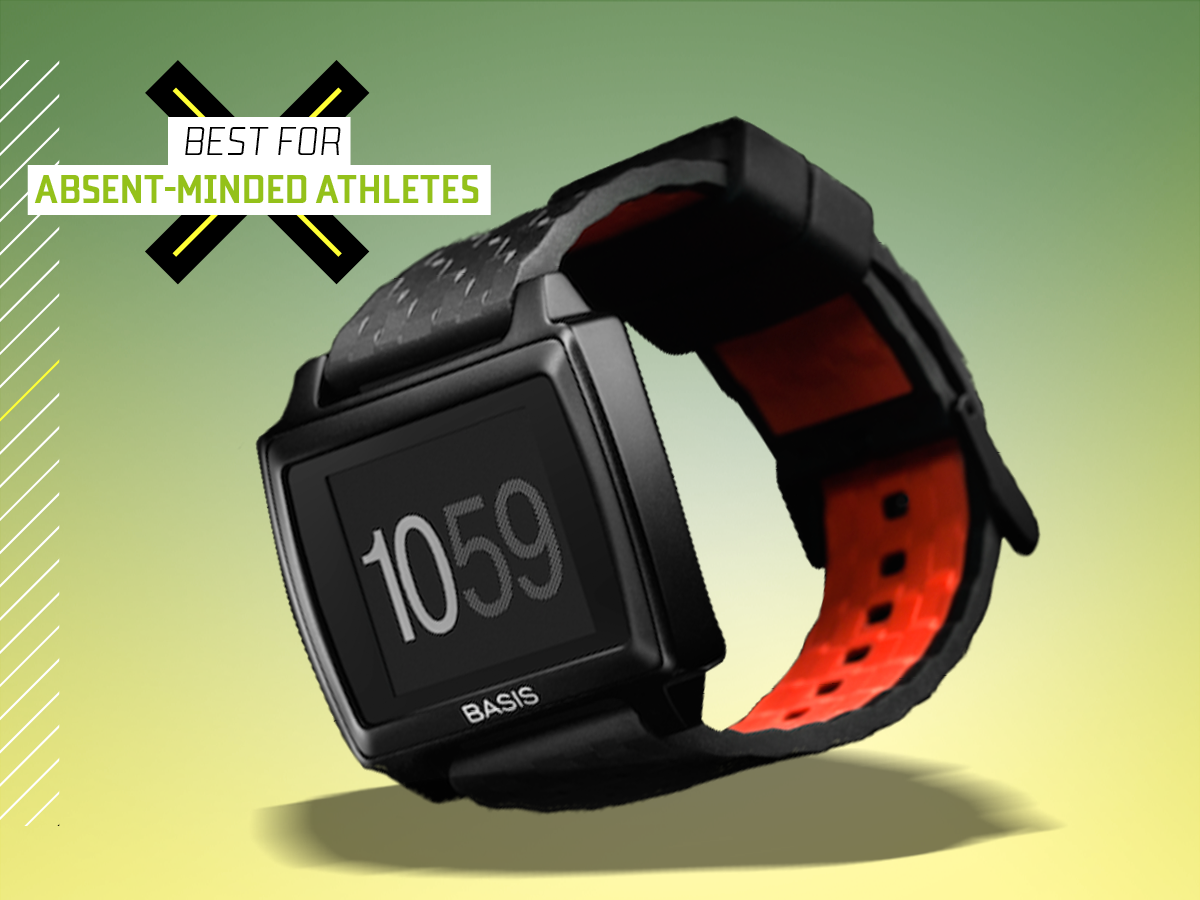 What's the story?
Unlike most fitness watches, which require the user to tell them the activity they're about to embark on in order to track it effectively, the Basis Peak captures a continuous stream of movement and physiological data and automatically identifies what you're up to without asking – it'll even know when you've nodded off at the end of the day. On the back is an optical heart-rate tracker, and it can take the temperature of your skin. It'll connect to your phone for call, text, calendar and email notifications, but with its monochrome screen it's more Pebble than Apple Watch.
Is it any good?
The Peak's auto detection works very effectively; the only problem is that it struggles to tell the difference between pausing to tie a shoelace and a genuine, premature wheezing breakdown. That means it often chops your runs into smaller chunks, making it hard to compare times on your regular route. Even with its always-on heart-rate monitor, the battery will last the best part of a week, although for an accurate pulse you do need to crank up the strap tension. Phone notifications are unobtrusive but limited to basic functionality.
Stuff says: ★★★✩✩
The Basis Peak has great battery life and innovative tracking, but it doesn't collect data in a useful way
Tech specs
Tracking: steps, running, cycling, sleep ● Display: 1.26in, 144×168 ● Connectivity: Bluetooth ● Heart-rate monitor: yes ● Waterproof: 5 ATM ● Battery: 4 days ● Weight: 27g (without strap)
TomTom Spark Music + Cardio (£190)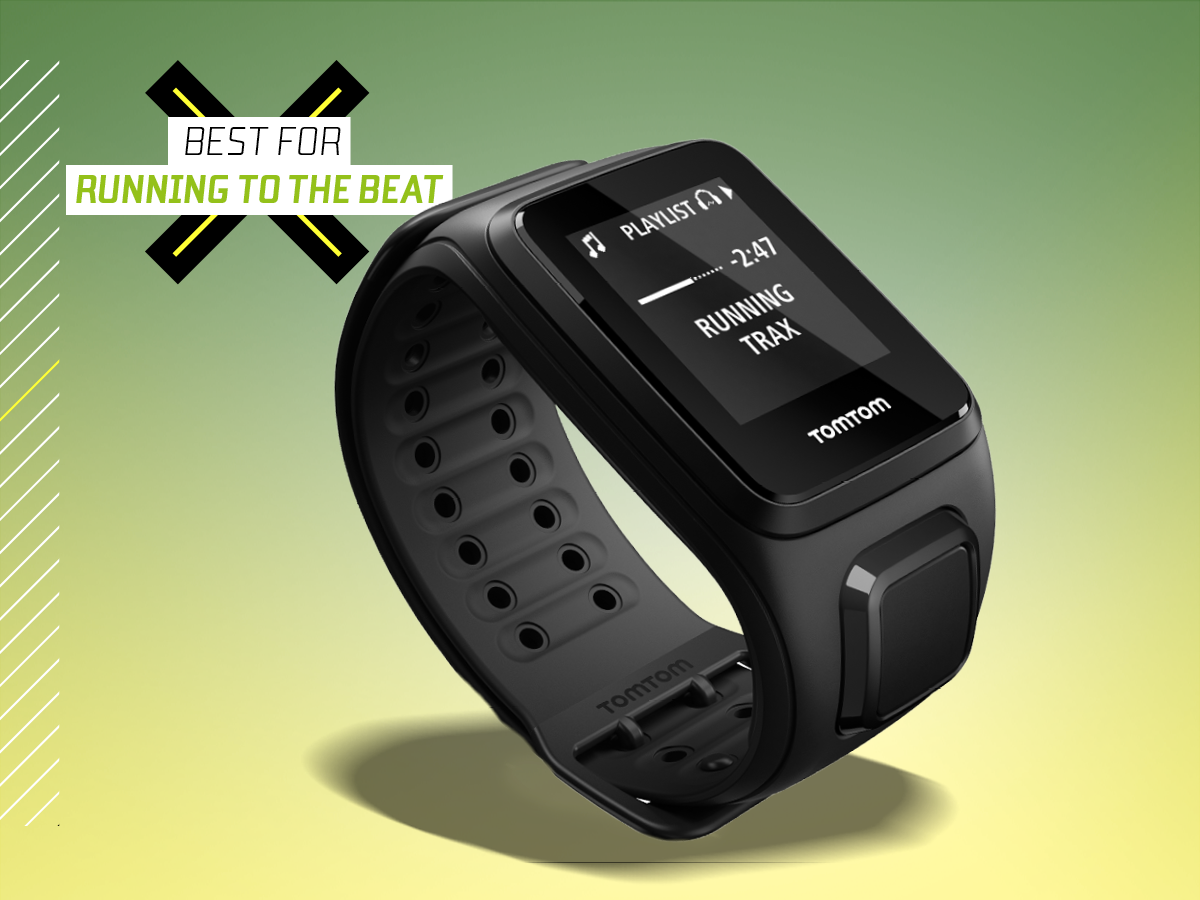 What's the story?
Forever frustrated by slapping a smartphone in an armband or clutching it in your perspiring paw while you run? 3GB of internal memory means you can load TomTom's Spark with tunes, hook up a pair of Bluetooth headphones, leave your phone on the sideboard and get on with your 10K. Having told it which activity you want to track, it'll record steps, pace, distance, sleep and calories crushed using GPS and the onboard heart monitor. The sturdy silicone strap and pop-lock buckle are well suited to sports but its hulking four-way 'button' gives it a chassis that only a mother could love.
Is it any good?
It's best to select a playlist before you start because music controls can be a pain to use on the move, which is a real let-down considering the interface for accessing stats and training options is quick and intuitive. The heart-rate tracking isn't accurate enough to be useful but the mapping did a pretty precise job of following our jogs, on or off-road and under tree cover (although battery life took a hit). Once you're home you can access detailed data via the TomTom MySports app or web platform, although it can take its time to sync and upload.
Stuff says: ★★★✩✩
Unless you must have music on your wrist, there are better options out there to accompany your workout
Tech specs
Tracking: steps, running, swimming, sleep ● Display: 22x25mm, 144×168 ● Connectivity: GPS, GLONASS, Bluetooth ● Heart-rate monitor: yes ● Waterproof: 5 ATM ● Battery: Up to 3 weeks (5 hrs GPS + music) ● Weight: 50g