Huawei Watch Ultimate review: diving in at the deep end
Not just a smartwatch, but a top-tier timepiece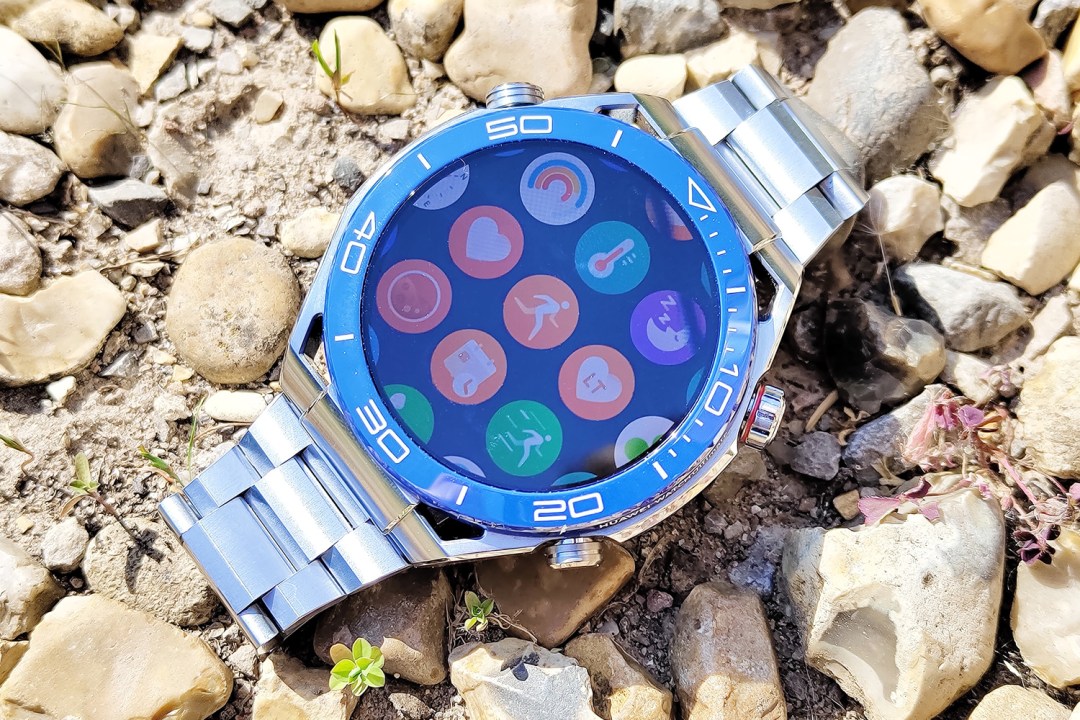 It took a while for the wearable world to catch up with traditional timepieces. Even the very best smartwatches skipped out on top-end materials, but now plastic cases and rubber straps are largely out, in favour of more luxurious metals. Nowhere is that more apparent than the Huawei Watch Ultimate: this imposing piece of wristwear uses zirconium-based liquid metal, something you won't find on any other smartwatch.
With no intergranular corrosion, it effectively shrugs off seawater at a microscopic level, and is rated for diving as deep as 100m. It doesn't skimp on above-ground fitness tracking either, and promises the epic battery endurance we've come to expect from Huawei's watches. It's not what you'd call affordable as a result (though does still undercut the super-spendy Apple Watch Ultra), and uses software that's more closed-off than the competition. Is there enough here to earn a place on your wrist?
Design & build: new take on classic styling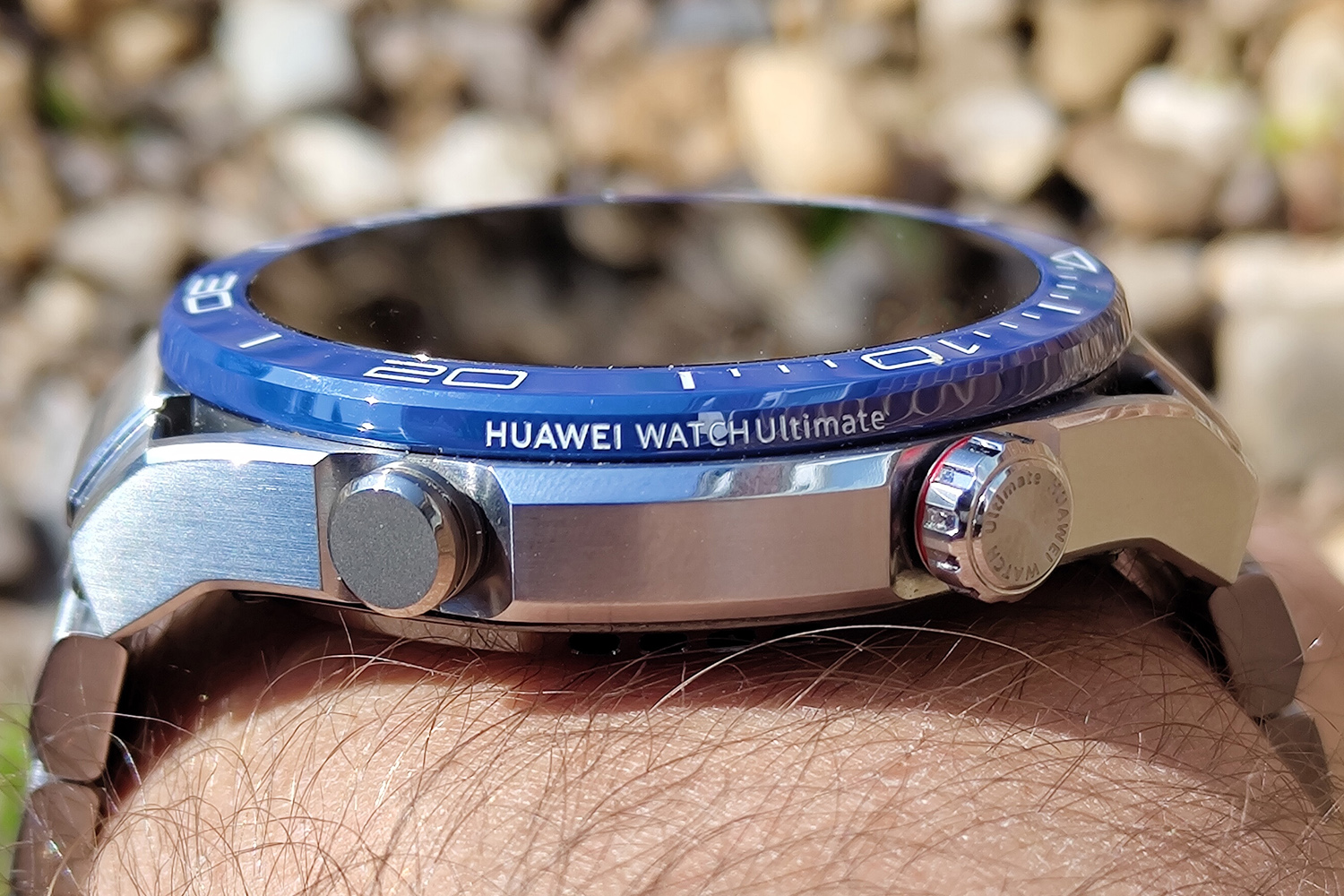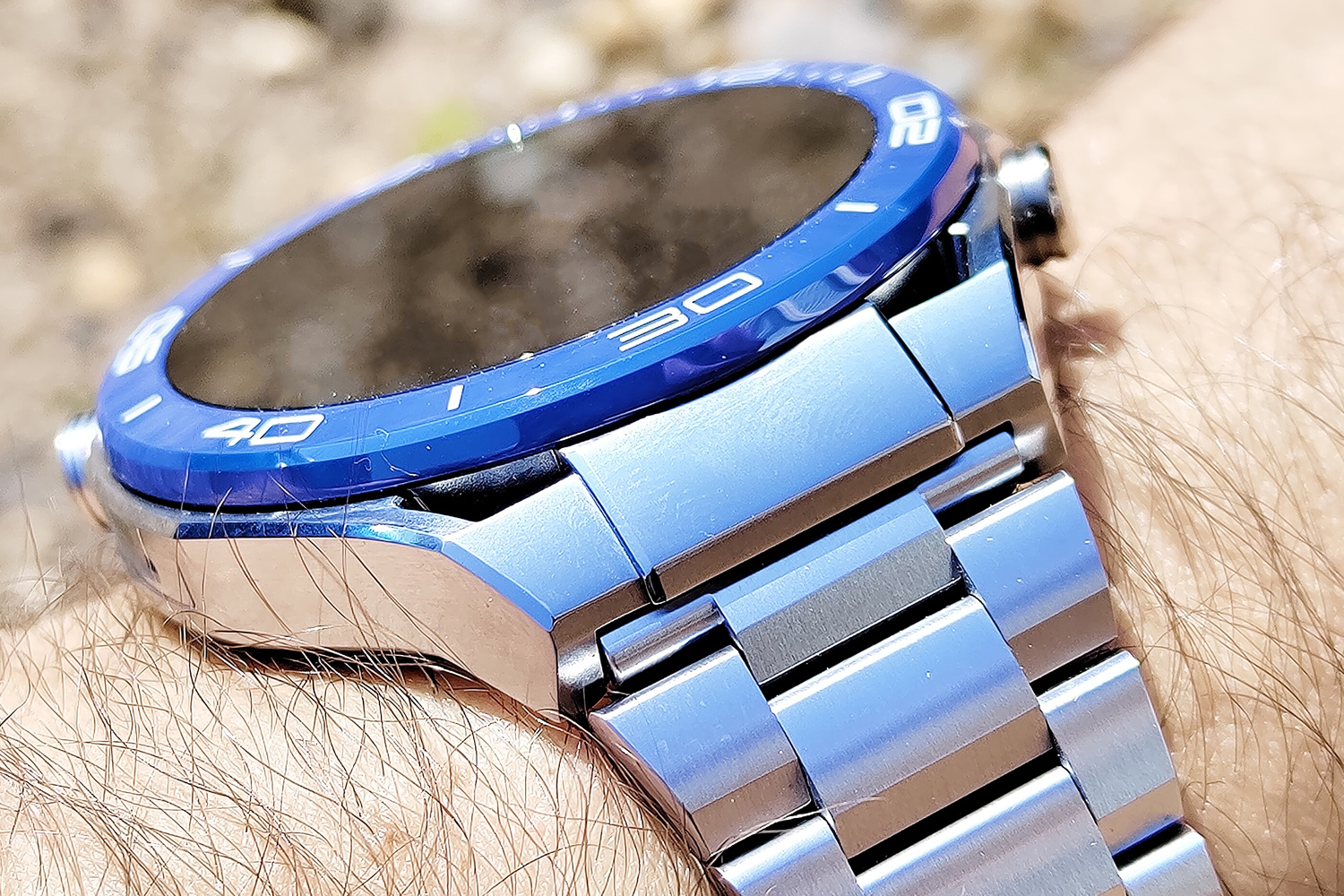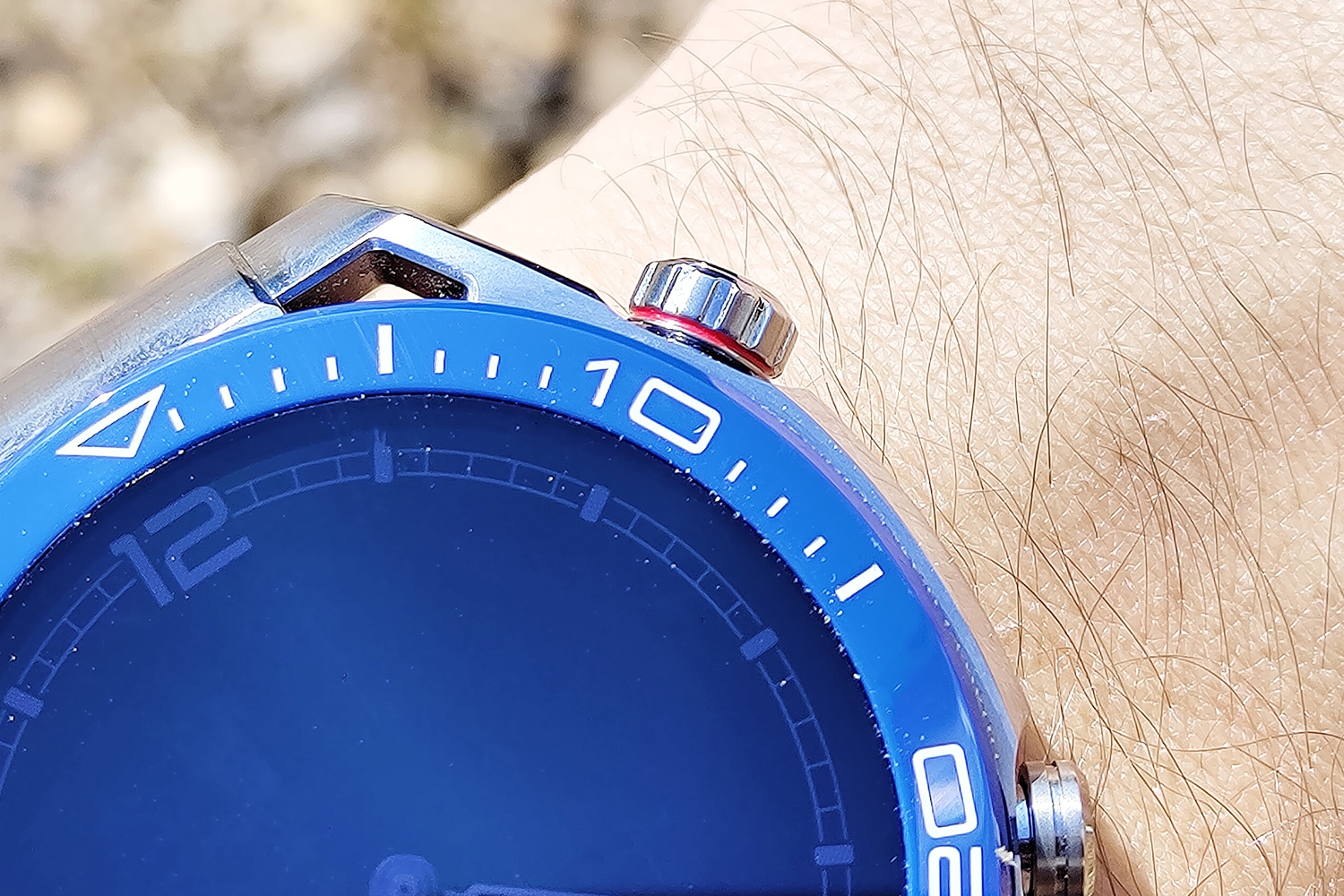 The Watch Ultimate can be snapped up in Expedition Black, which comes bundled with a natural rubber strap, or the Voyage Blue version tested here, which has a titanium band. The blue on silver colour scheme looks more than a little inspired by the Omega Seamaster, but we're not complaining – one of those would set you back thousands.
Whichever version you go for there's a second, extra long rubber strap bundled in the box. It'll fit comfortably over a diving suit, and can be swapped out in seconds using quick-release lugs. The hydrogenated nitrile butadiene rubber (HNBR) material is much more water- and corrosion-resistant than the fluoroelastomer stuff usually found on smartwatch straps.
Huawei reckons the Watch Ultimate's zirconium alloy case is more than four times tougher than the titanium used for Watch GT 3 Pro, so should withstand use and abuse better than virtually any other smartwatch. A nano-ceramic polished outer bezel and sapphire glass are almost as sturdy, surviving completely unscathed after weeks of 24/7 wear.
Compass markings have been etched into the bezel with precision, and every edge is meticulously bevelled. It's instantly eye-grabbing once strapped on your wrist. That's partly because it's bloomin' huge, and heavy too: the case alone is 76g, with the titanium strap adding another 44g. We definitely noticed it when wearing the watch to bed for sleep tracking. There's no smaller version on offer, either.
The three crown buttons (two on the right, one on the left) are equally chunky. A rotating digital crown is useful for scrolling through menus, while the other two act as shortcuts to the exercise tracking menu and new Expedition mode. it's a shame there's no way to reprogram them to launch other apps, though.
Screen: big and beautiful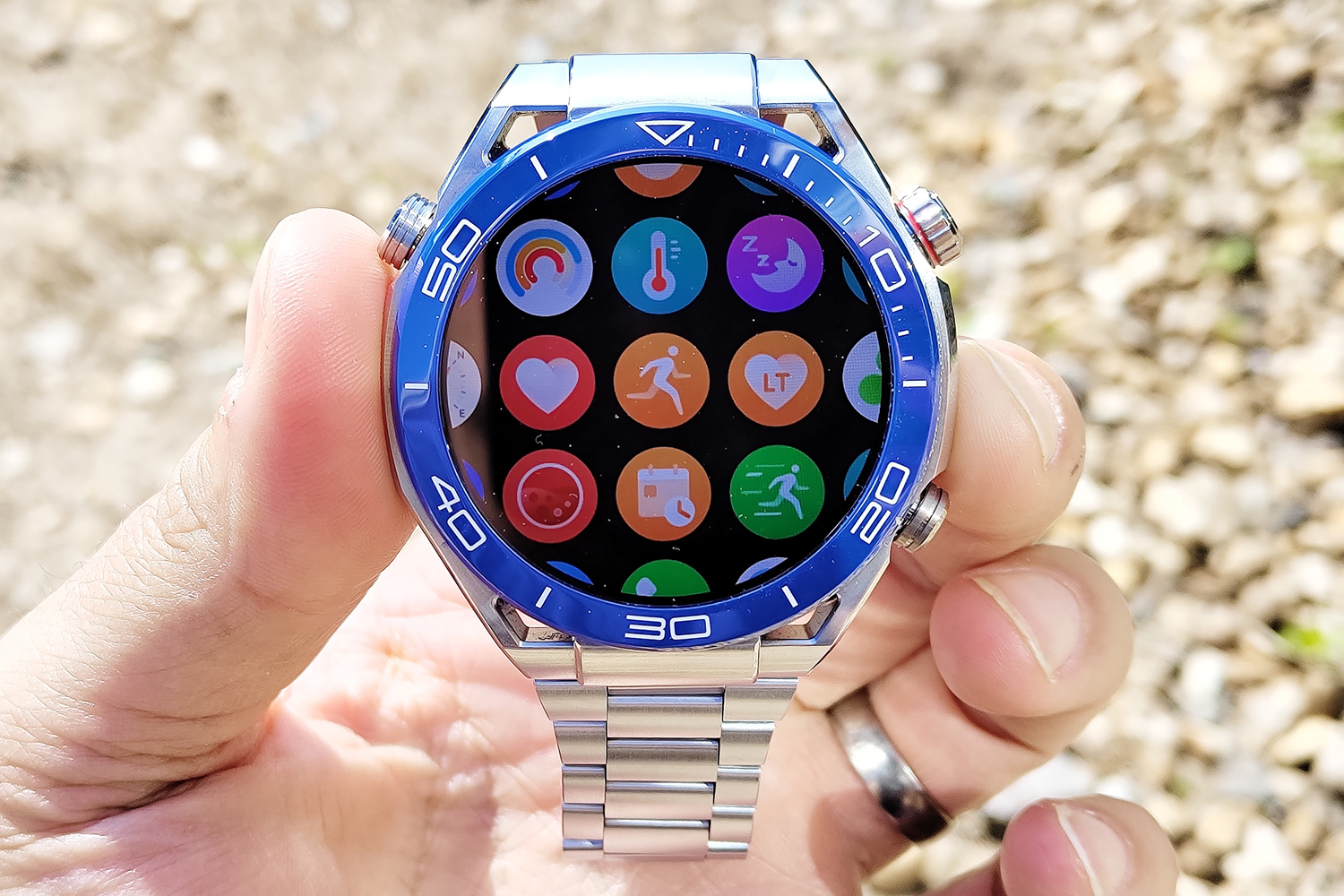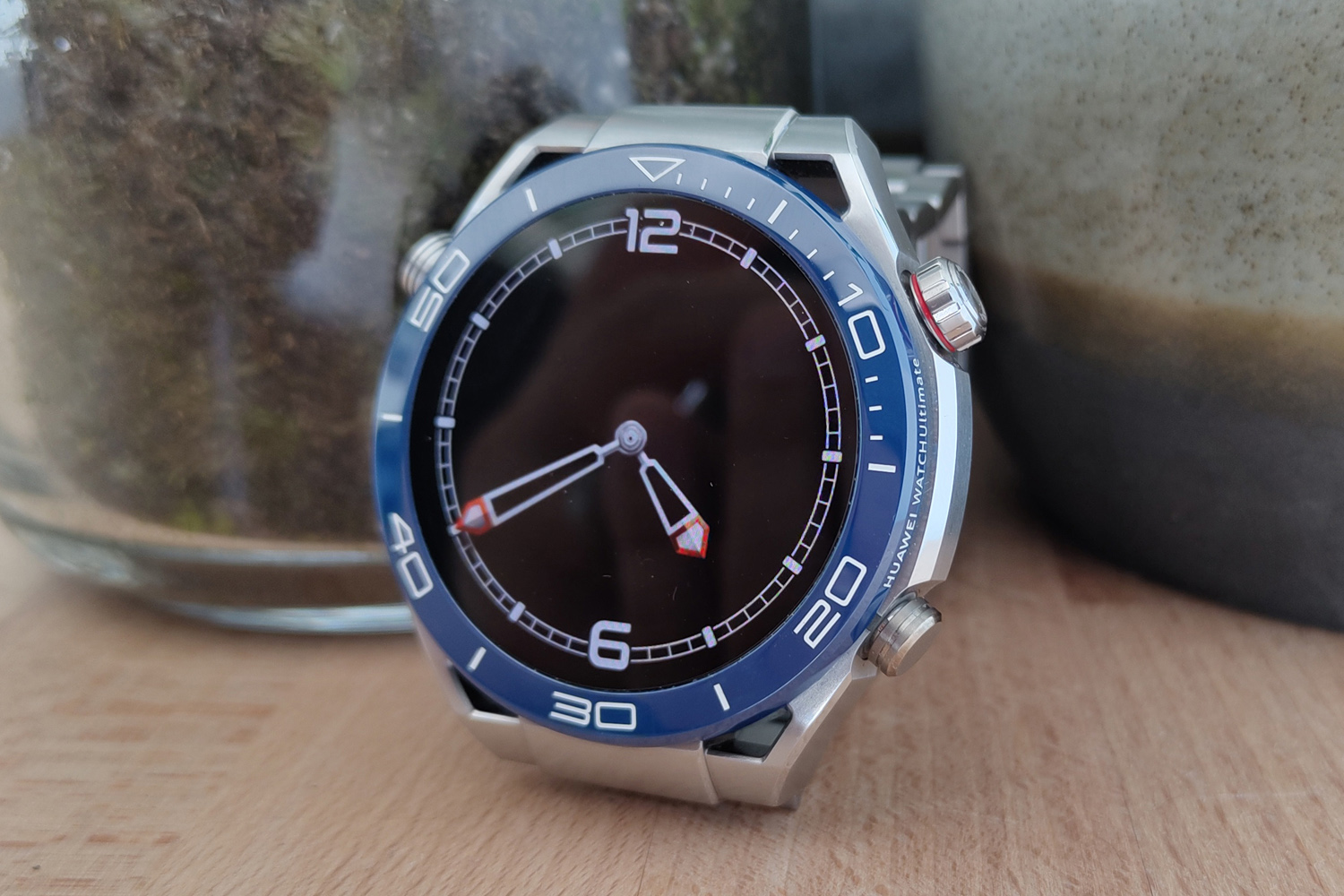 At 1.5in, the Watch Ultimate has the largest circular screen you'll find on any smartwatch. It's simply huge, but with a high 466×466 resolution everything looks pin sharp, both up close and from arms' length. Huawei's HarmonyOS UI also makes good use of the sizeable screen real estate, fitting plenty of icons and multiple lines of text into every menu and app.
The OLED panel sits under 2.35mm of sapphire glass, with a near-invisible bezel stealthily hidden beneath the watch's physical one. It's a world away from the Google Pixel Watch's disappointingly thick screen edges. Colours are as punchy and vibrant as we expect from OLED, contrast is exceptional, and viewing angles are top-notch too. Auto-brightness is quick to respond to bright outdoor light and it can hit an impressive 1000 nits peak, so we had no trouble reading it even on the sunniest of days.
LTPO variable refresh tech also drops the refresh rate behind the scenes in order to keep power consumption in check. It's completely automated, with no way to set things manually.
If you don't mind more regular charging, you can also enable the always-on display mode; the layout compliments the currently selected watch face, with raise-to-wake saving you a button press to start using the watch properly. Beyond the handful of Huawei-supplied watch faces there are hundreds more available for download, but many are paid-for, and lack the customisation seen on most WearOS or Apple Watch faces.
Features & battery life: bring your walking boots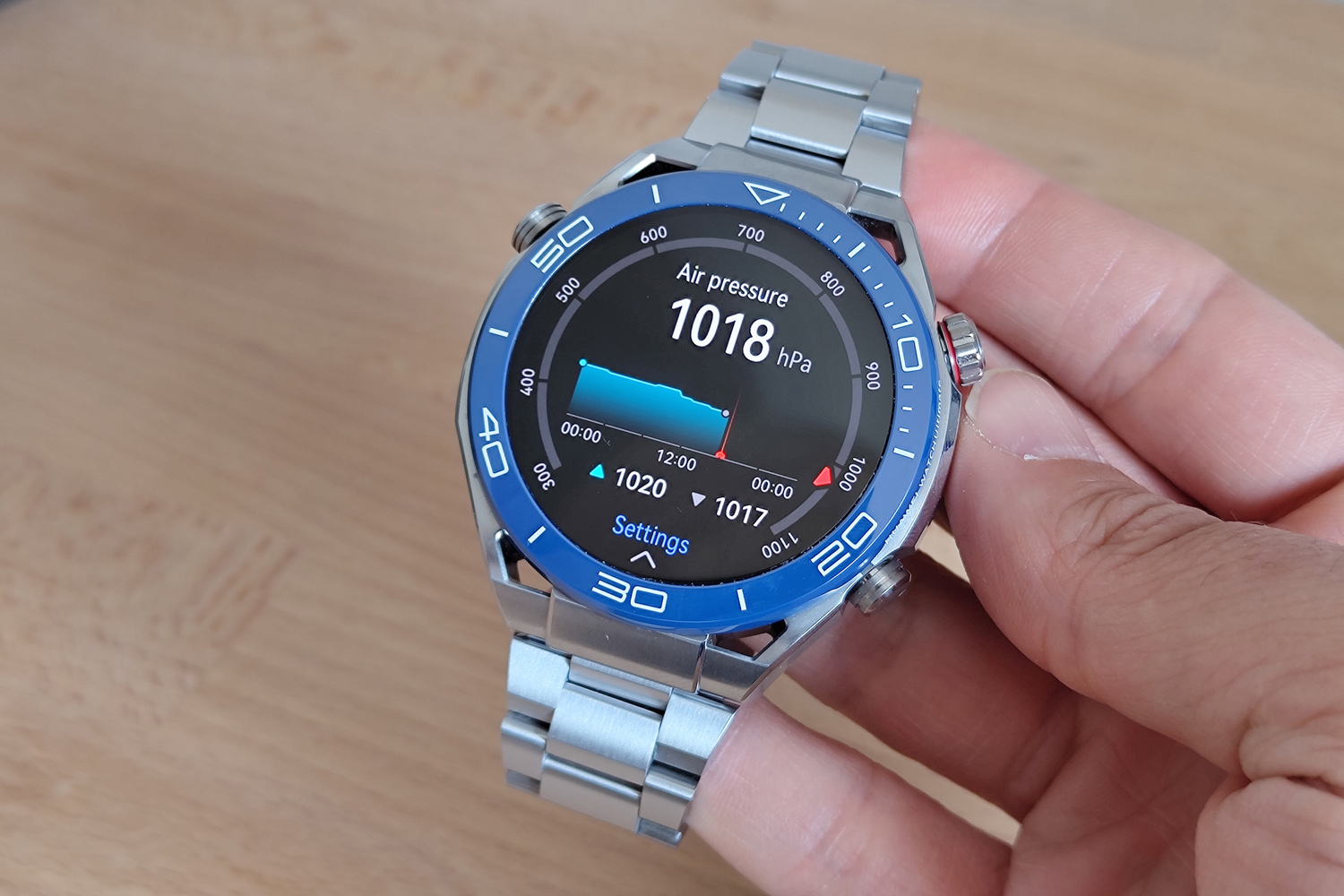 For the most part, the Watch Ultimate feels like any other Huawei smartwatch to use. The interface is familiar, with multiple cards available to swipe through straight from the home screen, a quick settings menu accessed with a swipe, and an app drawer that opens when you push the digital crown. There's so many to pick from it can be a bit overwhelming, until you work out what each icon represents.
Everything feels snappy and responsive, with apps loading in a flash and animations looking especially smooth. There's plenty pre-installed to keep you busy, including a music player that can play MP3s saved to the watch through your Bluetooth 'buds – handy for workouts where you'd rather leave your phone at home. Breathing exercises, a compass, and weather app are also ready right out of the box, on top of a full gamut of fitness-focused apps.
That said, third-party app support remains very limited, with no support from western music streaming services or fitness apps. Contactless payment support is also country-dependent, with UK customers being largely out of luck. Huawei's Celia voice assistant only works when paired to a Huawei smartphone, but there's no way to hide the icon if you're using another device. You're also limited to canned message replies, with no option to compose them on the watch itself.
The Huawei Health companion app remains a hurdle, too. You've got to download it from the company's website, not the Play Store, then enable multiple permissions and battery optimisation settings. Android 13 made this process trickier than it used to be, but the app hasn't been updated with clear instructions. A web search will help, but it's something users shouldn't have to do.
Once you're up and running, though, the Watch Ultimate can stay on your wrist for weeks at a time. The 530mAh battery can survive eight days of heavy use, but unless you're recording more than three hours of GPS-tracked exercise a day, ten to twelve is more likely based on our testing. That's miles better than anything Apple, Google or Samsung can manage, and on par with dedicated sports watches from the likes of Garmin. The bundled magnetic charging puck can deliver a full charge in an hour, so you're never waiting around long to refuel.
Health & fitness tracking: water way to go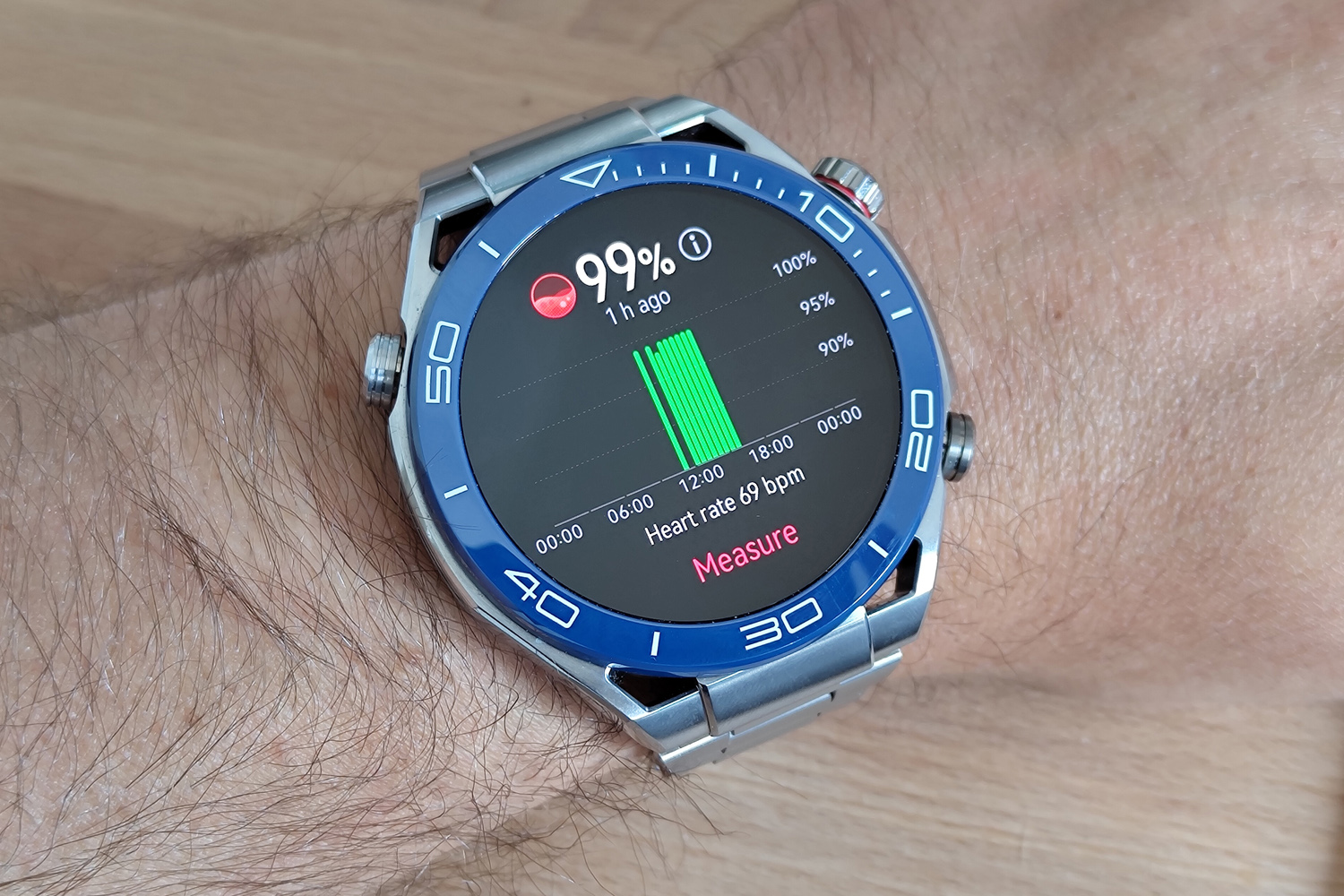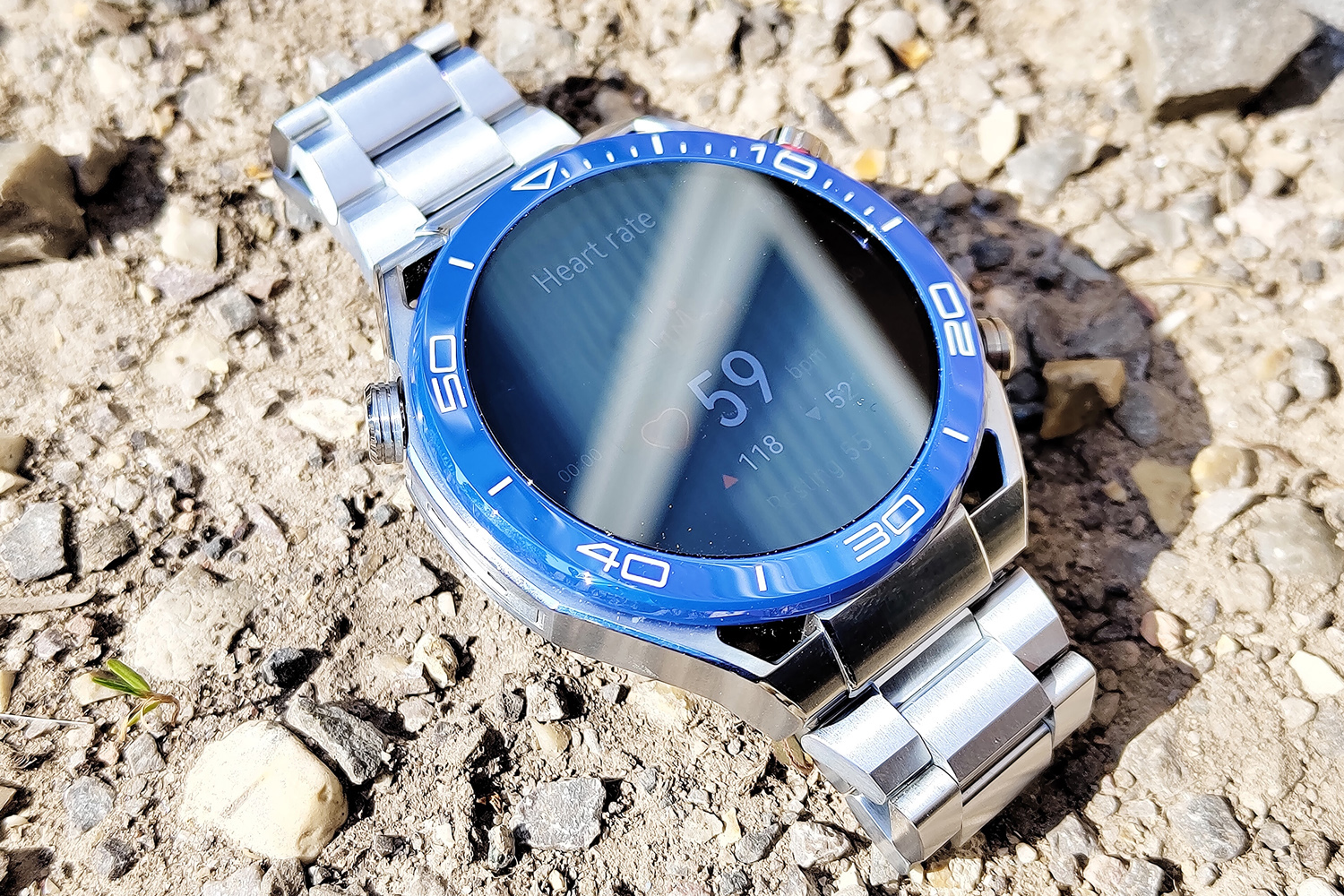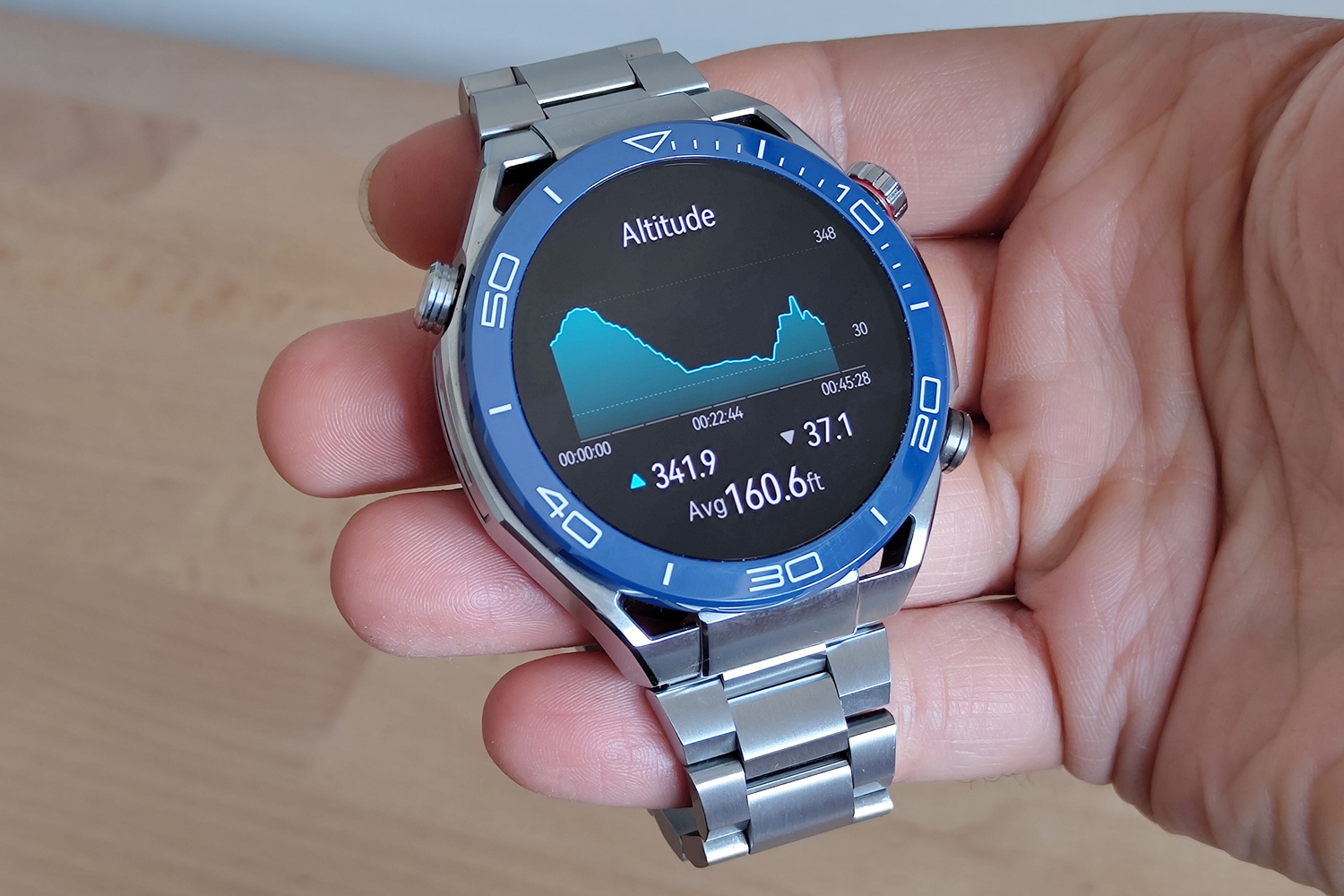 With a 10ATM rating and conforming to a whole bunch of diving standards, the Watch Ultimate goes big on watersports. There's a dedicated diving function, which includes recreational and technical dives, and records info like safety stop times, oxygen partial pressure, and gradient factor. A bespoke watchface also puts things like ascent rate, decompression limits and depth on show. And unlike the Apple Watch, which can only dunk down to 40m, this'll manage more than twice the depth. With no diving certificate we weren't able to put it to the test, but a swimming pool visit at least confirmed the watch is fully waterproof.
We were able to give the new Expedition mode a go, though. It's a tweaked version of the 'hike' exercise mode, which can save custom markers to help find your way back out of the wilderness. There's also an option to reduce the rate of GPS polling for better battery life, but it lacks any way to follow a pre-chosen route. The night-mode orange text on black background is a neat addition, but not being able to export GPX files is a bummer when the hike setting can do it just fine. it also didn't think to prompt us to stop recording when we got in a car and started driving. There's work to be done here before it'll beat a Garmin or other dedicated sports watch.
Otherwise there's all the mainstream fitness and health tracking you would expect, courtesy of an optical heart rate sensor, temperature sensor and accelerometer. It does 24/7 heart rate and ECG monitoring and around-the-clock body temperature and SpO2 tracking, stress and step tracking, and sleep monitoring. Everything gets synced to Huawei Health, which can also integrate with third-party apps like Strava, but the stock app is straightforward enough for all but the most serious athletes to get a handle on their exercise regime or general fitness levels.
We only managed a handful of the 100 or so different sports and activities available for tracking, but had no issues with either GPS tracking or heart rate monitoring; both were on par with rival smartwatches.
Huawei Watch Ultimate verdict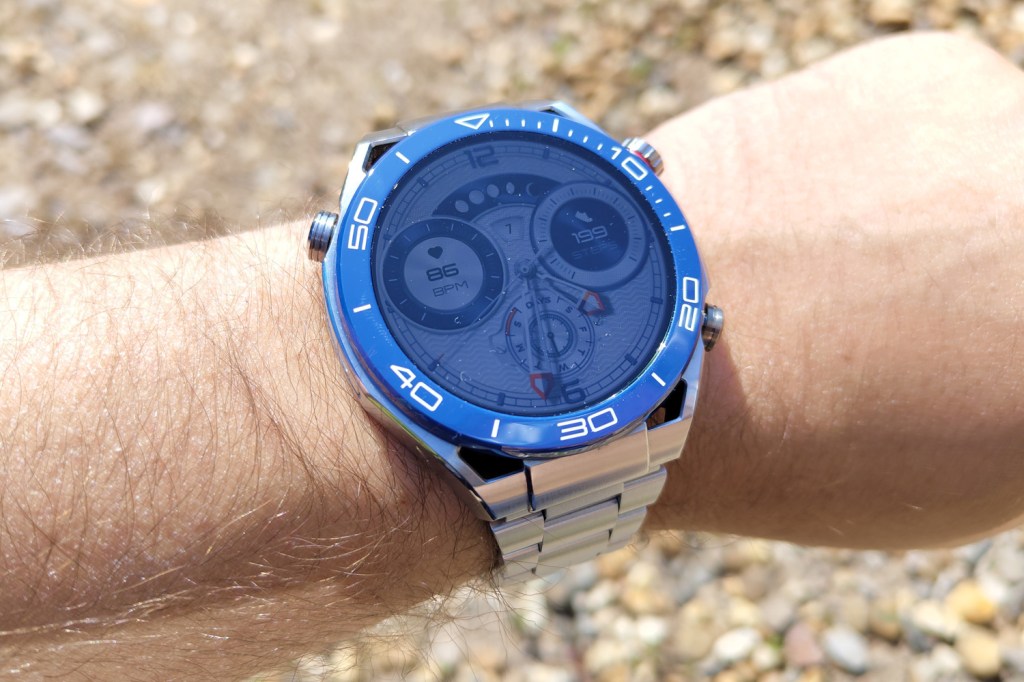 For sheer wrist presence, few smartwatches come close to matching the Huawei Watch Ultimate. It's as well-made as a traditional timepiece, with the materials to match. Diving credentials aside, there's not much here that you won't also find in the more affordable Watch GT 3 Pro – although there's more appeal to a luxury watch than simply telling the time. It's why people buy Citizens instead of Casios.
But beyond its status symbol-looks, expansive fitness tracking and brilliant battery life, there are still some software shortcomings that are hard to overlook. Rivals have more third-party apps, support streaming music services, and play nicely with contactless payments in a lot more countries. That makes it hard to justify, unless you're a budding Jacques Cousteau or care more about fashion than features.
Stuff Says…
Made from materials you'd usually expect from traditional watchmakers, the Watch Ultimate is gorgeous – and packed with smarts too. It might be overkill for most, though.
Pros
Outstanding materials and build quality
Diving joins already expansive fitness tracking
Among the best wearables for battery life
Cons
Contactless payments are country-dependent
Limited app support and no music streaming
Companion app makes you jump through hoops to set up
Huawei Watch Ultimate technical specifications
| | |
| --- | --- |
| Screen | 1.5in 46×466 LTPO OLED |
| OS | HarmonyOS 3.0 |
| Battery | 530mAh |
| Connectivity | Wi-Fi, Bluetooth, NFC |
| Durability | IP68, 10ATM water resistant, EN 13319 diving certified |
| Dimensions | 49x49x13mm, 76g (watch only) |