Huawei Watch GT 3 Pro review: almost wrist royalty
Catwalk-ready styling and true sports prowess, but the Watch GT 3 Pro stumbles with its software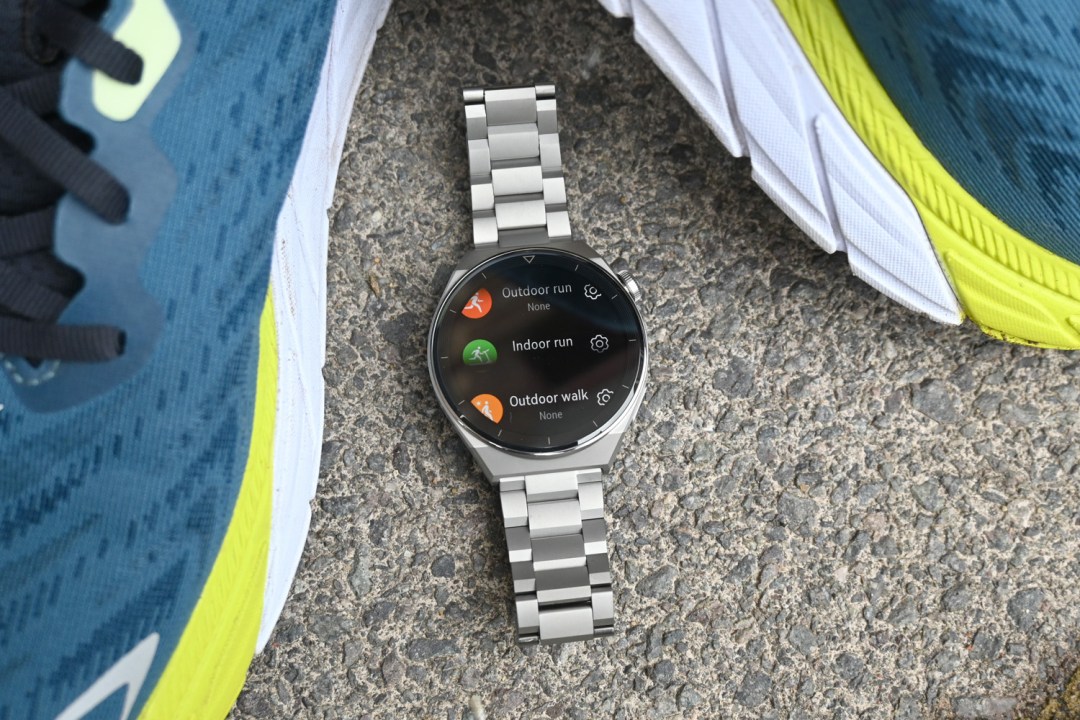 Smartwatches sit at the crossroads of tech and fashion. They usually nail the tech part – but are rarely the last word in style. Not so with the Huawei Watch GT 3 Pro. Here's a trendy titanium timepiece that'll compliment your business suit in a way few rivals can.
It's not just a pretty (watch) face, either. Beyond all the usual activity tracking and smartphone notifications, there's enough water resistance for open water swimming and free diving down to 30m. In the do-it-all stakes, Huawei seemingly has you covered.
Essentially a more premium version of the Watch GT 3 we reviewed at the end of 2021, the Watch GT 3 Pro has all the same positives – but all the pitfalls as well. Can high-end styling make up for some notable software limitations?
Design & build: metal marvel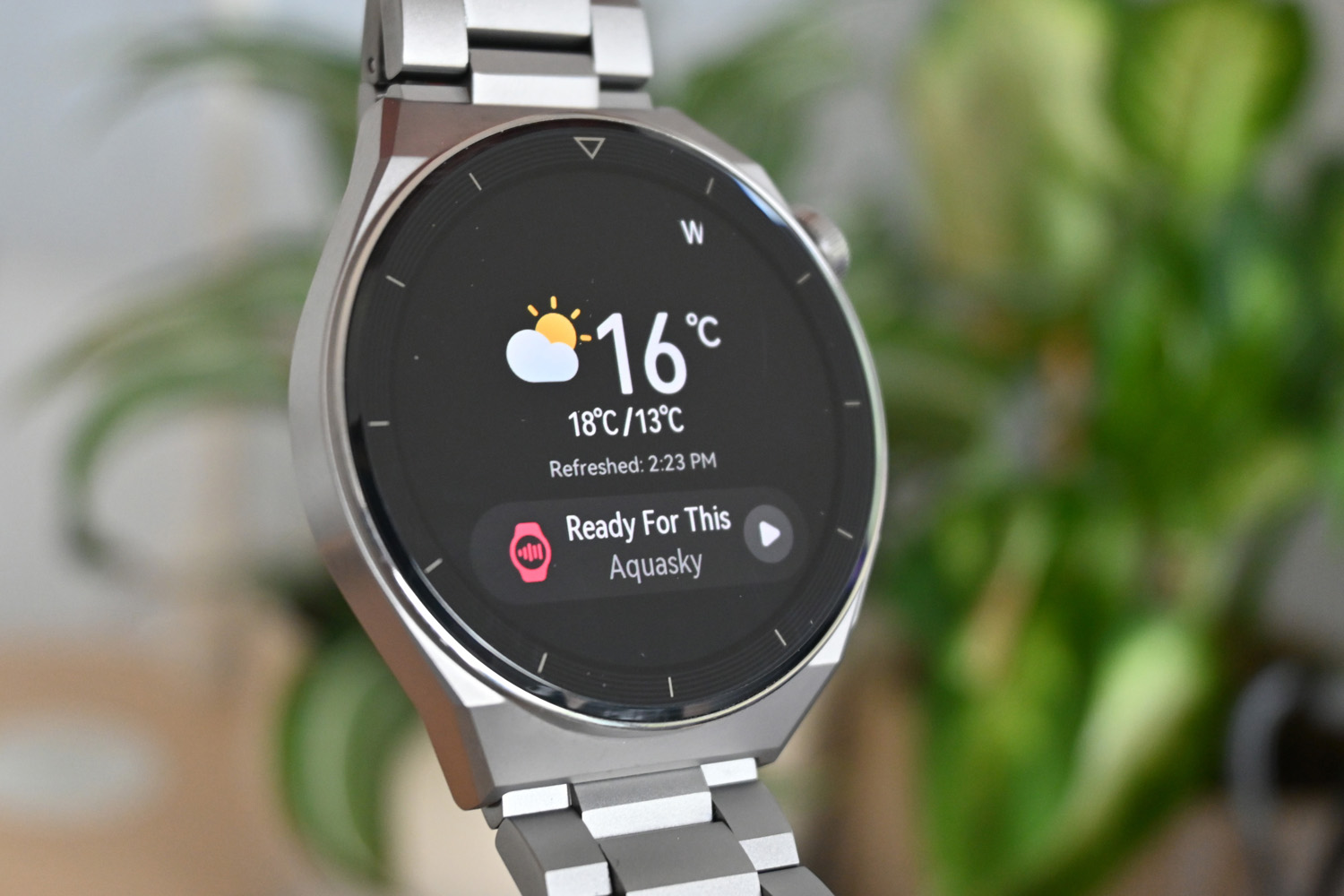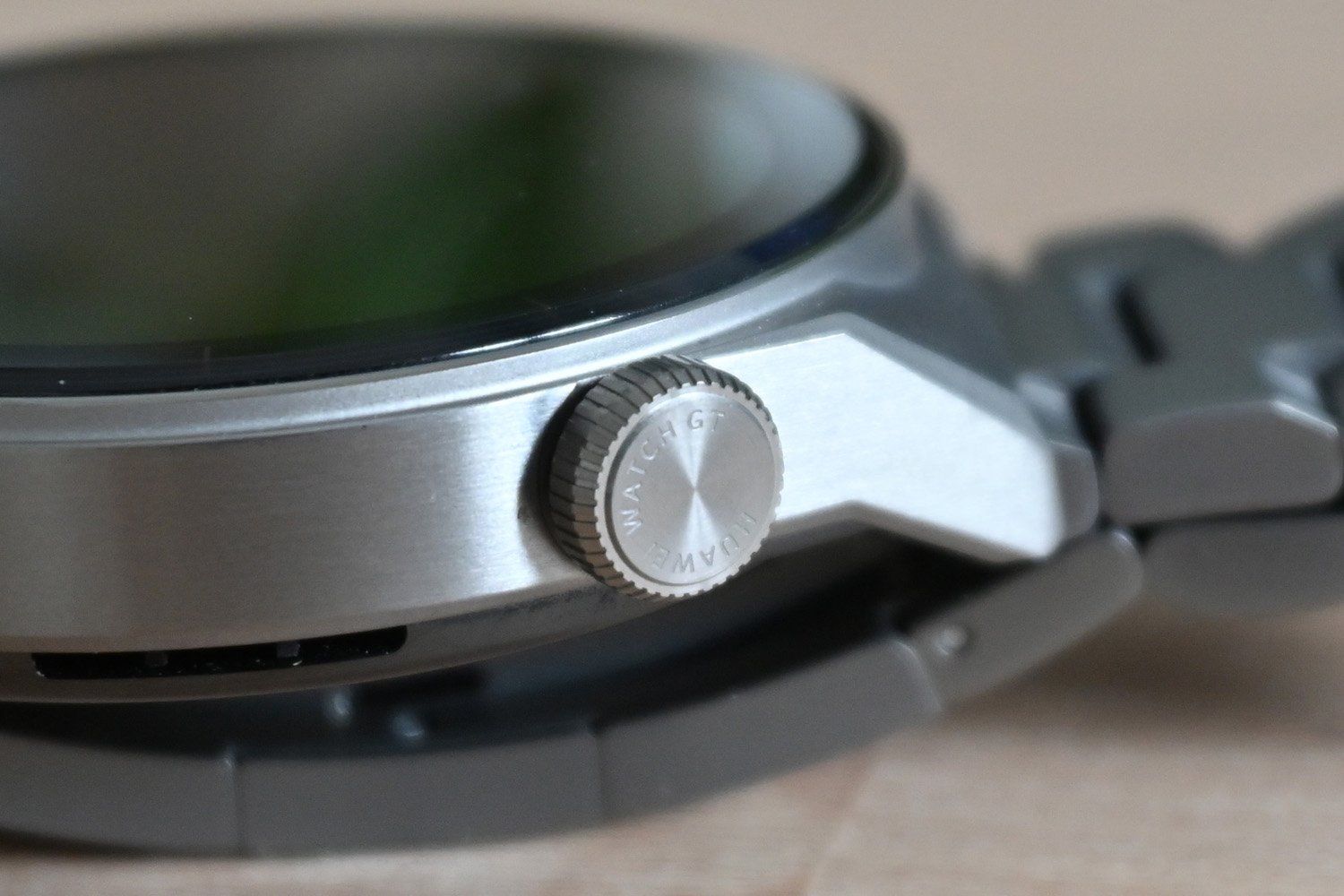 Forget silicone straps and 'metal-effect' plastics – the Watch GT 3 Pro is the real deal, with an aerospace-grade titanium frame and ceramic underside. It's got real heft, even before you factor in the weight of a strap.
Go for the full-fat, £430 version and you get an equally tough titanium strap. It has quick-connect lugs that take a bit of fiddling to remove, even if they are tool-free. Finding a perfect fit can be tricky, with our wrists landing somewhere between two links. That meant there was always a little slack, though not so much it couldn't read our heartrate.
The smaller (but pricier) white ceramic version doesn't have quite the same dominating presence on your wrist. You might find the gold trim and crown a bit gaudy compared to the Titanium's sharp angles and brushed silver finish.
There's a digital crown which both clicks and scrolls through menus, as well as a separate button dedicated to the workout menu. This is very much a fitness-focused smartwatch, but the button isn't that much of a time save. We changed it to the Music function, which came in handy while exercising.
Screen: pixel perfect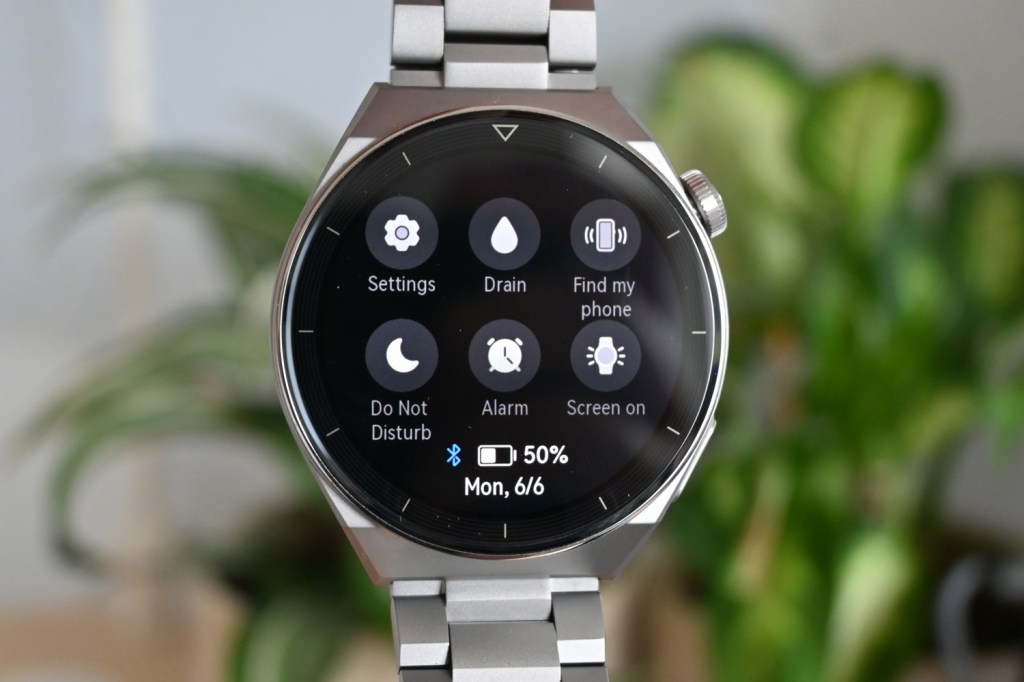 We're big fans of circular smartwatch screens, and the Watch GT 3 Pro's must be one of the best.
Titanium models get a 1.43in AMOLED display, with a 326ppi pixel density that puts it on par with the Apple Watch Series 7 for clarity. The smaller Ceramic version shrinks to 1.32in, but has an even sharper 352ppi pixel density. Even the smallest text looks crisp and easy to read from arms' length.
The ambient light sensor is whip-crack quick, always ensuring the screen is bright enough to see clearly, even when in direct sunlight. It's also careful not to blind you in dimmer conditions. Colours have that trademark OLED pop, and viewing angles are exceptional.
There's an always-on display mode if you have battery life to spare, but the accelerometer was so good at picking up arm movements that we largely left it disabled.
Importantly the screen glass is sapphire, which should protect it from scuffs and scrapes that would leave lesser smartwatches with lasting damage. Throughout our time with the watch it didn't pick up a single scratch.
Interface: devil in the detail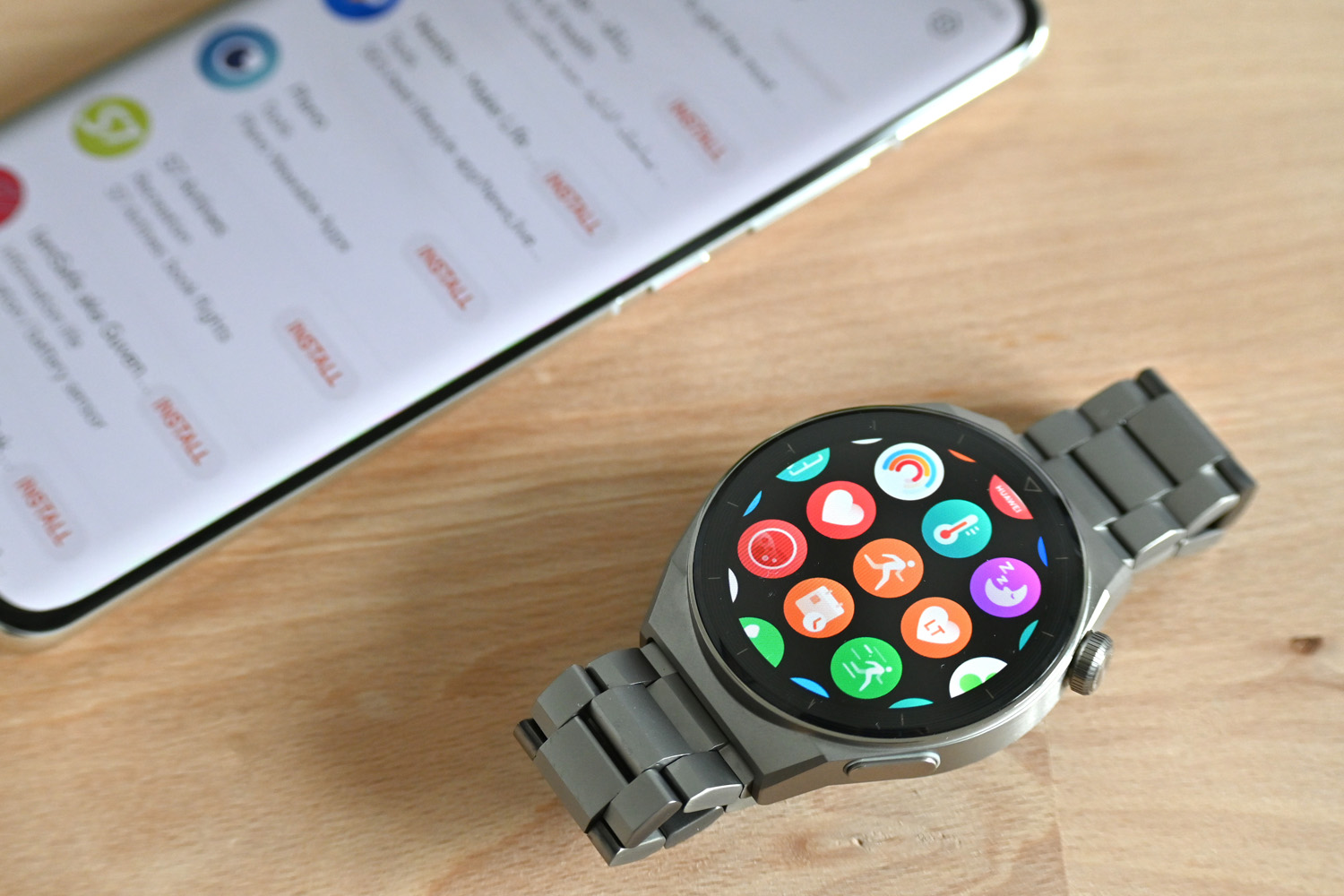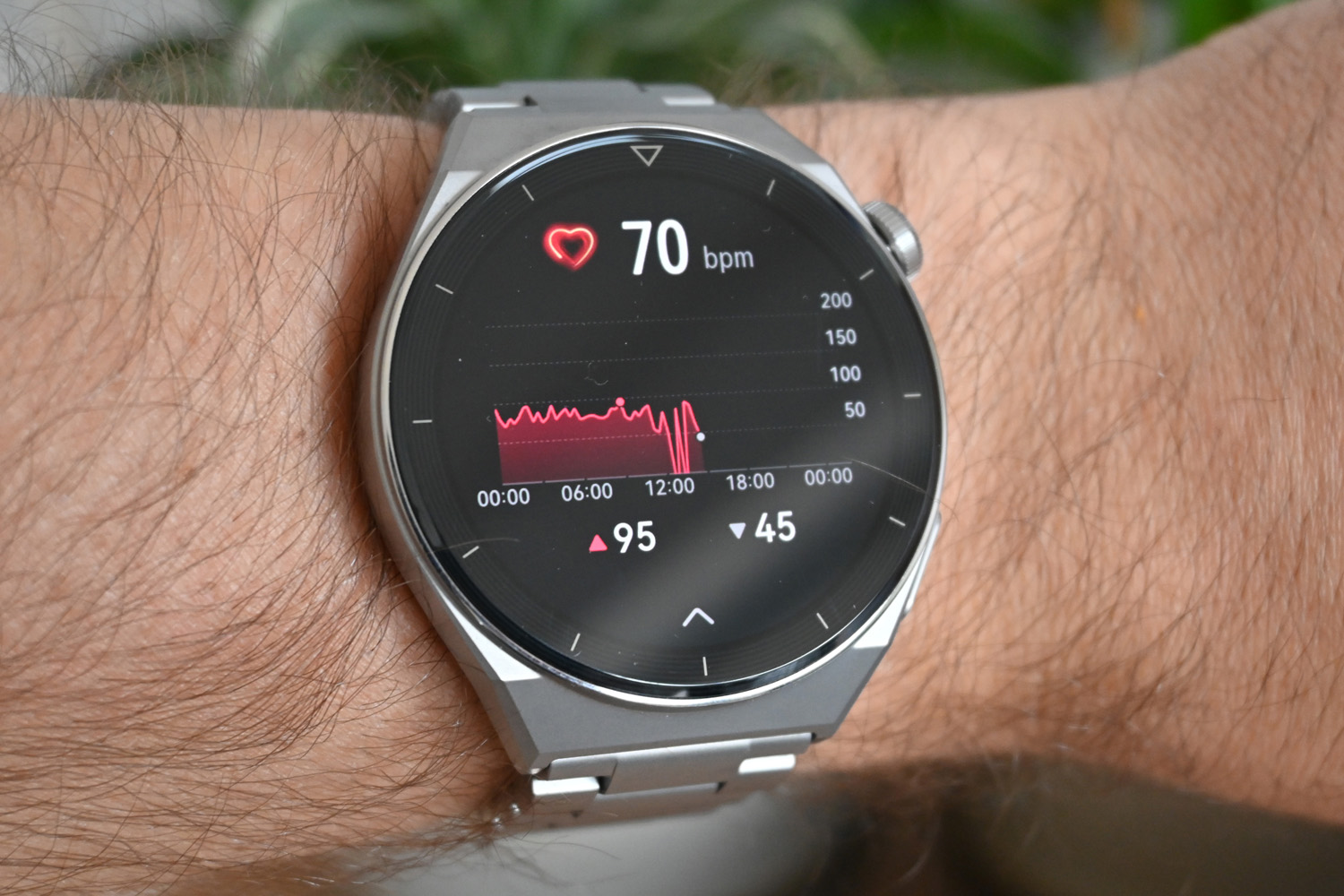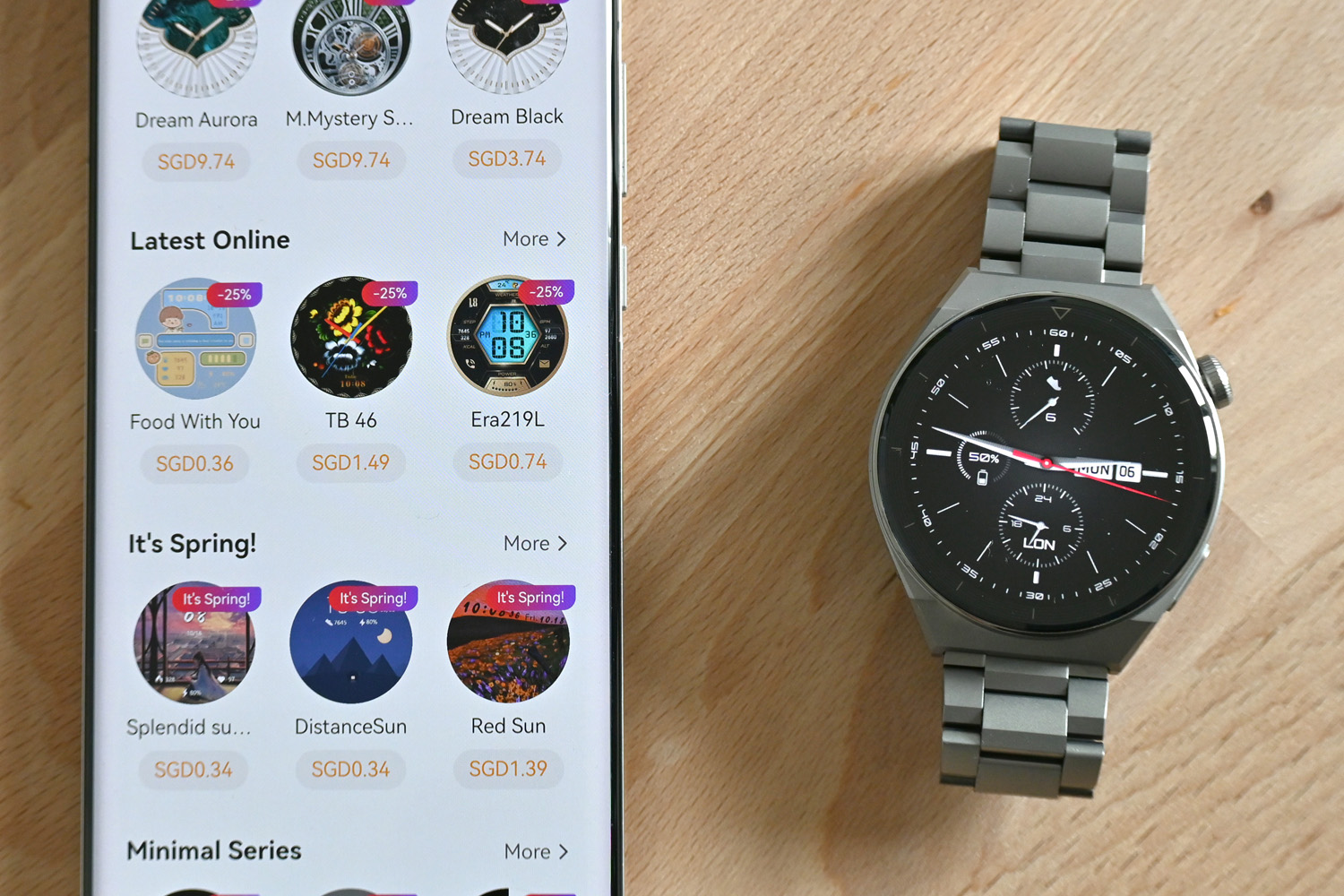 Huawei's take on a dedicated wearable OS doesn't reinvent the wheel – but it's not afraid to fill the watch face with information, either.
You can swipe through different homescreen cards for at-a-glance info, toggle shortcuts from the pulldown menu, and launch apps from the grid that opens when you press the digital crown. The icon-only layout can be a bit overwhelming at first, until you associate each image with a particular feature.
It's super-responsive, never making you wait for your taps and swipes to register. Most apps load very quickly, and everything animates smoothly.
It does fall down in a few places, though. Canned message replies are a welcome inclusion, as is the option to create your own in the smartphone app – but this is still a step behind composing full replies on the fly, from your wrist, like you can with Apple and Samsung's watches.
Third-party app support is also a big deal, even if it's early doors right now with just a handful of apps to choose from. None of the big-hitters you'll find on WearOS or WatchOS are here yet, though: think calculators and exercise timers rather than translation tools or navigation apps.
Actually pairing the watch to your phone is a hassle, with the Huawei Health companion app not available through the Google Play Store. You've got to download it from the company's website (easy enough, with a QR code on the box) or through Huawei App Gallery – which also needs to come from the company's website. This'll prompt a warning about installing apps from third parties, which might spook anyone that isn't especially tech-savvy. Get this far and there are still a handful of permissions to approve and battery management hoops to jump through. iOS support is even more restrictive.
Huawei's Celia voice assistant doesn't work unless you're paired to one of the firm's own smartphones, and contactless payments aren't supported in the UK. This wouldn't be a problem if the watch had country-specific software to remove non-functional apps, but that's not the case: the icons are always visible on the app grid, with no way to hide them.
Fitness and health tracking: multi-talented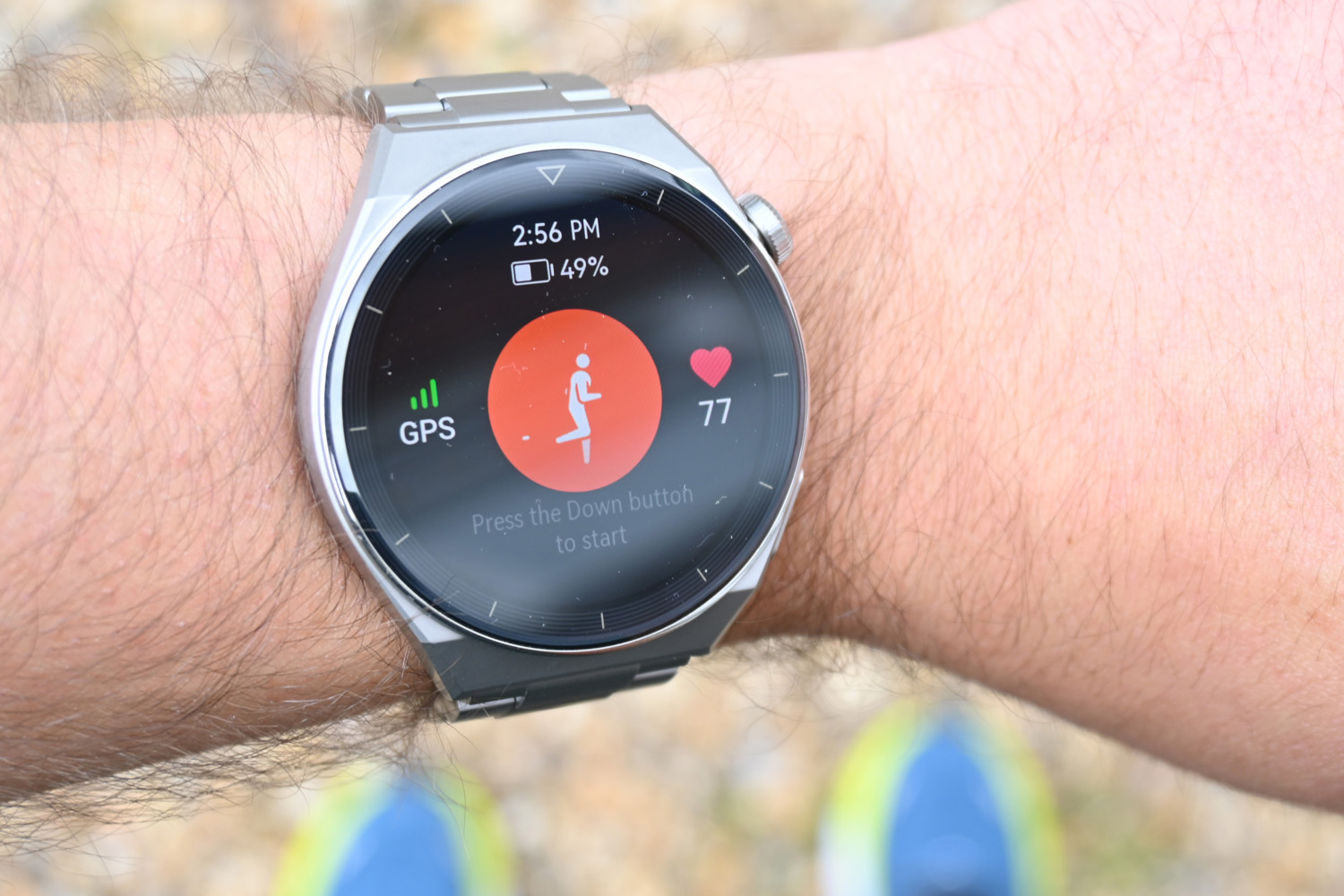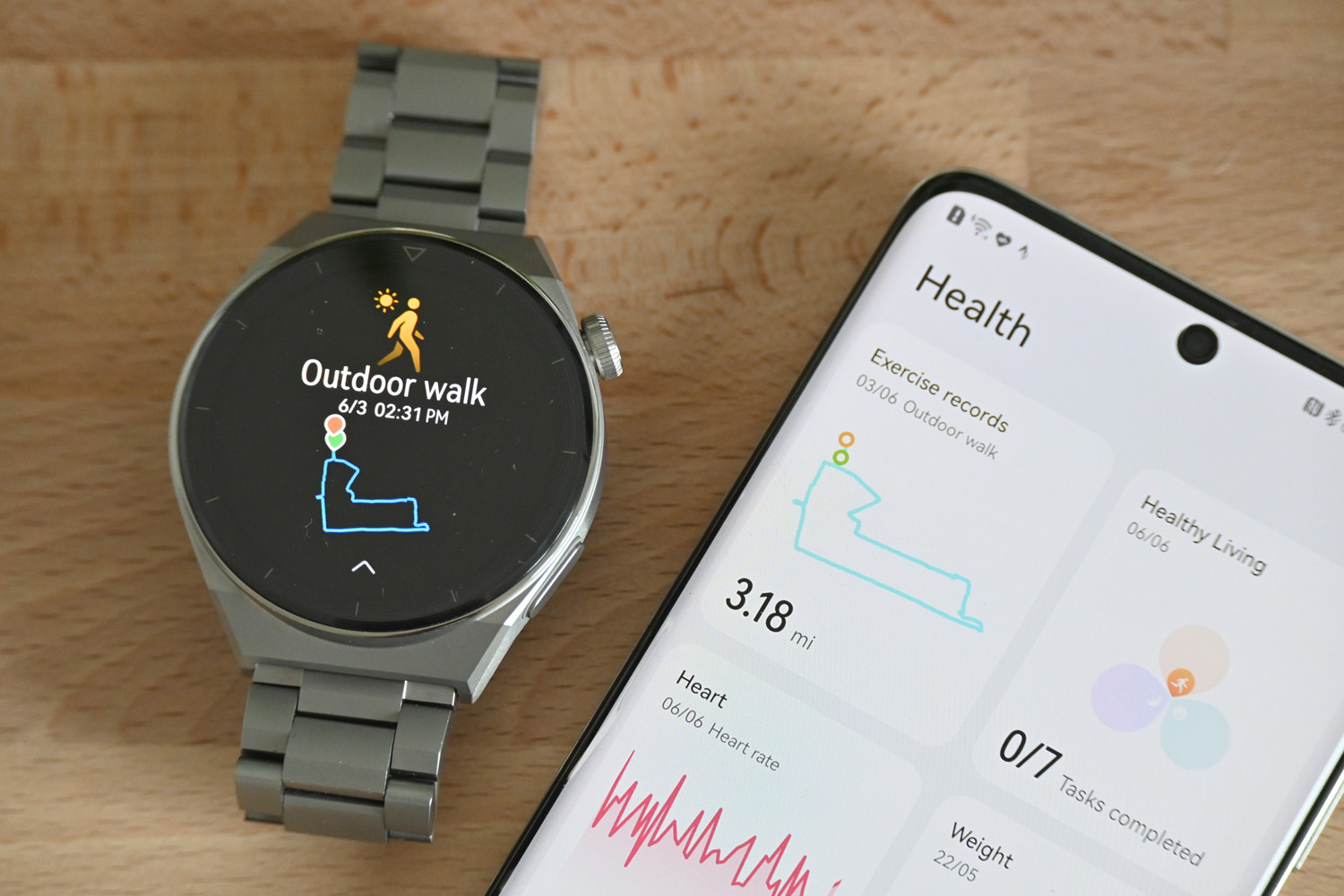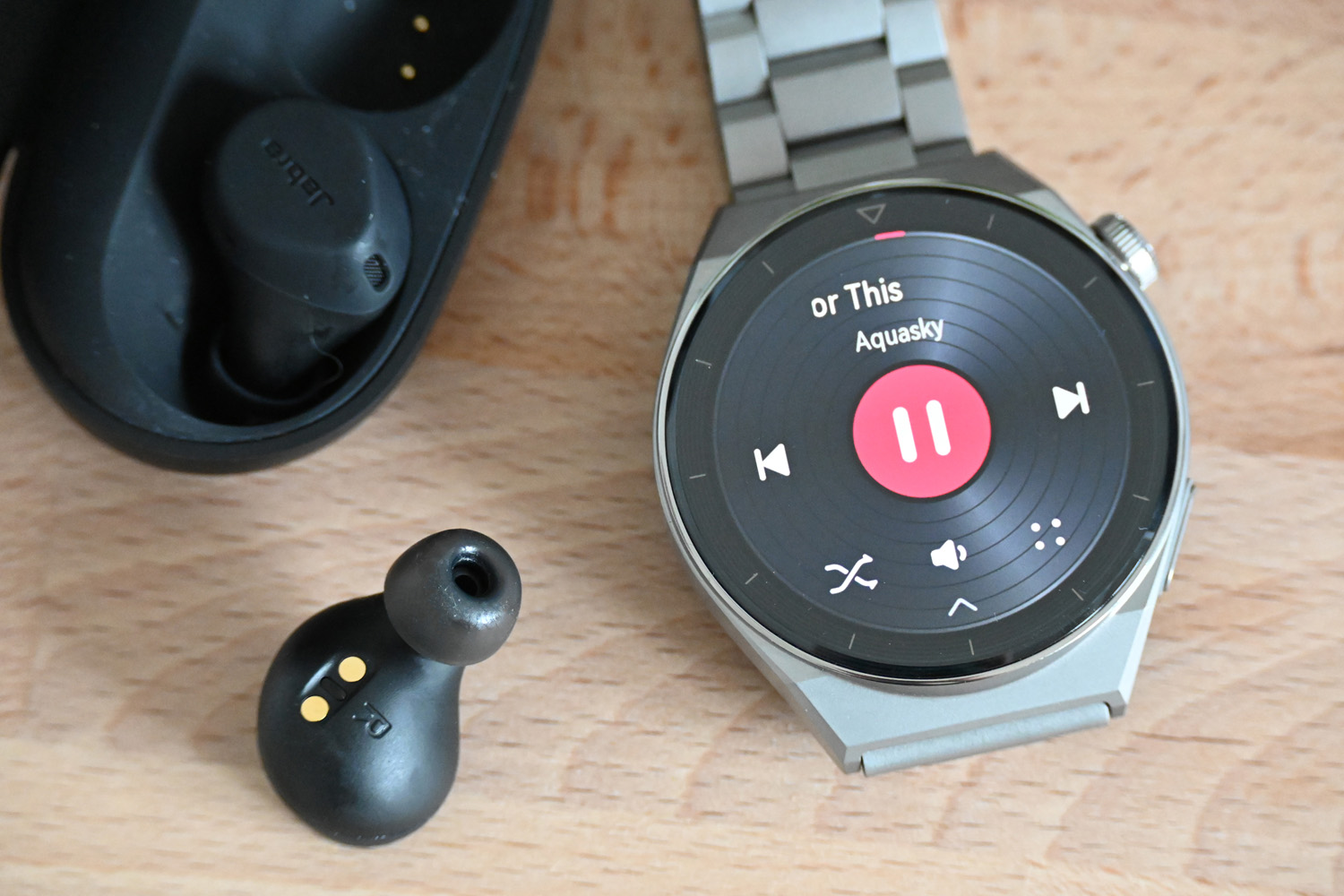 For health fanatics, it's easy to overlook the Watch GT 3 Pro's software limits, as Huawei has covered nearly all the bases when it comes to fitness. There's the usual heart rate, sleep and stress tracking, but it can also handle more advanced metrics like skin temperature, VO2 Max, and continuous SpO2 monitoring. Tracking accuracy is easily up there with the best fitness trackers, and a solid step up from most smartwatches.
Five types of GPS tracking mean you should be able to record your runs almost anywhere in the world. We had no issues with dodgy routes or map gaps, even on a run that went through some particularly dense tree cover.
Runners are well served by a virtual coach, which suggests interval targets and gives pace advice during workouts, along with HIIT, beginner and advanced training options. The 32GB of on-board storage and Bluetooth headphone support also means you can leave your phone at home when heading out, but keep the beats pumping. We had a few dropouts and timing issues with one pair of wireless in-ears, but a second set performed flawlessly.
The watch can record over 100 different exercises and activities, including pool and open-water swimming, plus that headline-grabbing free dive mode down to 30m. We lack the lung capacity to judge its performance on that front, but it survived a dunking and didn't discolour (after a thorough rinse).
Huawei Health contains an awful lot of data, but it does a great job of only showing you the important bits, until you dial down into the minutiae of cadence, heart rate recovery and training stress. The problem comes when you want to export that info somewhere else.
Technically it supports Strava – but only in certain regions. It doesn't play nicely with Apple Health or Google Fit, with a third-party app meant to bridge the gap. But even then it doesn't always work as you'd expect.
We ended up creating a new Huawei ID for the Singapore region in order to get native Strava support, and even then it wouldn't pull through the Watch's recorded heart rate data when syncing activities.
Battery life: just keeps going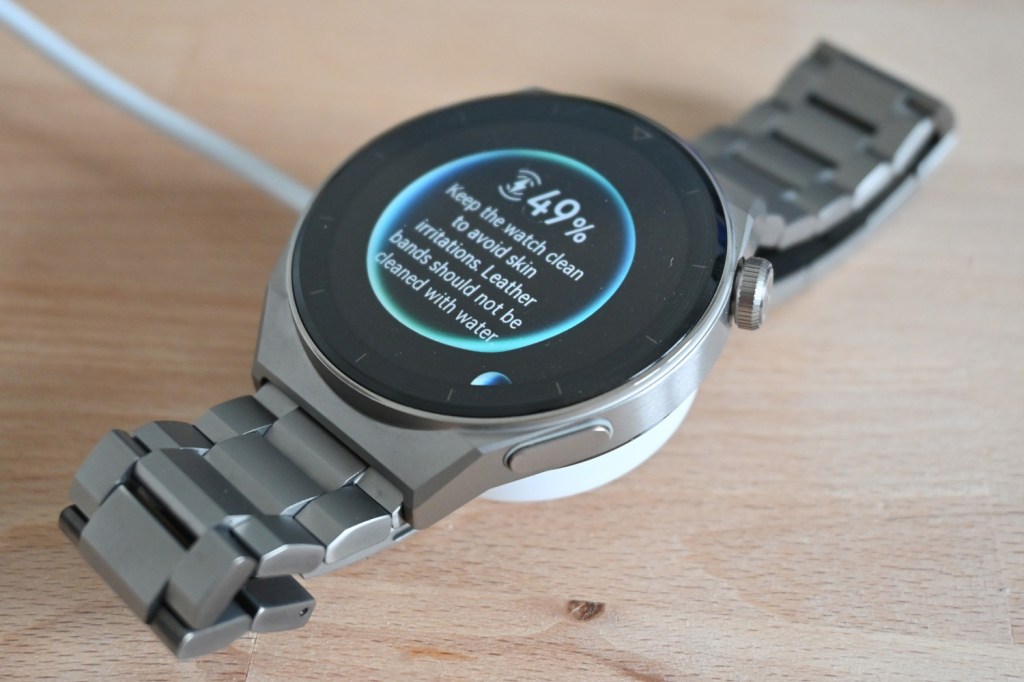 The Watch GT 3 Pro's trump card is how long it can keep ticking without a top-up. Compared to a Galaxy Watch 4 or Apple Watch 7, which might scrape two days per charge if you go without an always-on display, the Huawei will comfortably manage eight. And that's with heavy use.
Heading out for an hour-long run with GPS recording, SpO2 tracking enabled and paired to some Bluetooth earphones for on-watch music streaming, it barely ticked down 10%.
In our testing, we comfortably lasted ten days between trips to the bundled wireless charging puck, and Huawei says 14 is doable if you dial down the fitness tracking. That's on par with some dedicated fitness trackers, and blows many smartwatches out of the water.
You could argue this longevity is down to the Watch GT 3 Pro not having as many smart functions as its rivals – but we had several working days of relentless notifications and got in plenty of exercise, with no real adverse effect. It really does just keep going and going.
Huawei Watch GT 3 Pro verdict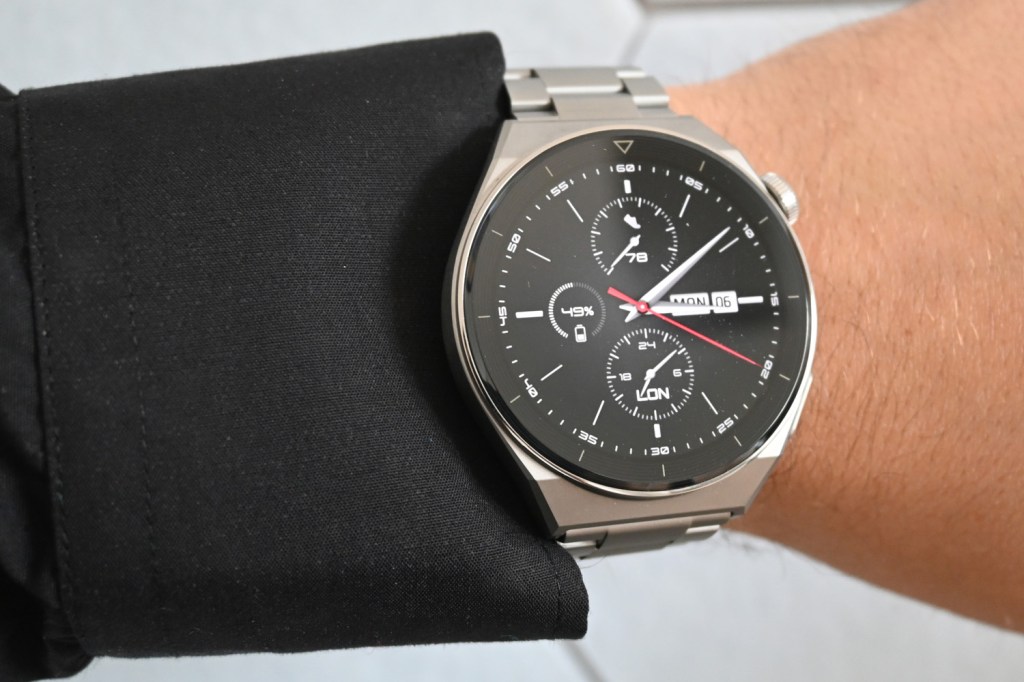 On sheer style points alone, the Huawei Watch GT 3 Pro is a slam dunk. The premium materials and exceptional build quality really do justify the high asking price. It's also an excellent fitness tracker, with brilliant battery life.
It's a shame that it falls down on the software side. Huawei has adapted as best it can to being booted off the Play Store, but the watch still lacks third party support, doesn't always play nicely with established fitness apps, and (in Europe) goes without functions like mobile payments and a virtual assistant.
We reckon that's a lot to miss out on for the money. But if you're especially fashion-conscious, and don't care about having features other smartwatches take for granted, there still may be enough here to look past the GT 3 Pro's limitations.
Stuff Says…
Easily one of the best-looking wearables around, with the materials and build quality you'd expect from a traditional watchmaker, but the Watch GT 3 Pro falls short on the software front. It excels at standalone fitness tracking, which might be enough for some; for everyone else, rival watches are still the better buy overall.
Good Stuff
Gorgeous, with exceptional build quality
Bright, high-res screen
Stellar battery life
Bad Stuff
Third-party app support either lacking or convoluted
Voice assistant and contactless payments missing
Setup is a hassle
Huawei Watch GT 3 Pro technical specifications
| | |
| --- | --- |
| Screen | 1.43in, 466×466 circular AMOLED |
| Sensors | Accelerometer, gyroscope, magnetometer, optical heart rate sensor, barometer, temperature sensor |
| Connectivity | GPS, Bluetooth, NFC (country-dependent) |
| Software | HarmonyOS 2 |
| Battery | 8-14 days |
| Durability | IP68, 5ATM, free diving up to 30 metres |
| Dimensions | 47x47x11mm, 54g (without band) |