Huawei Watch GT 3 Review
A smart watch, but not quite a smartwatch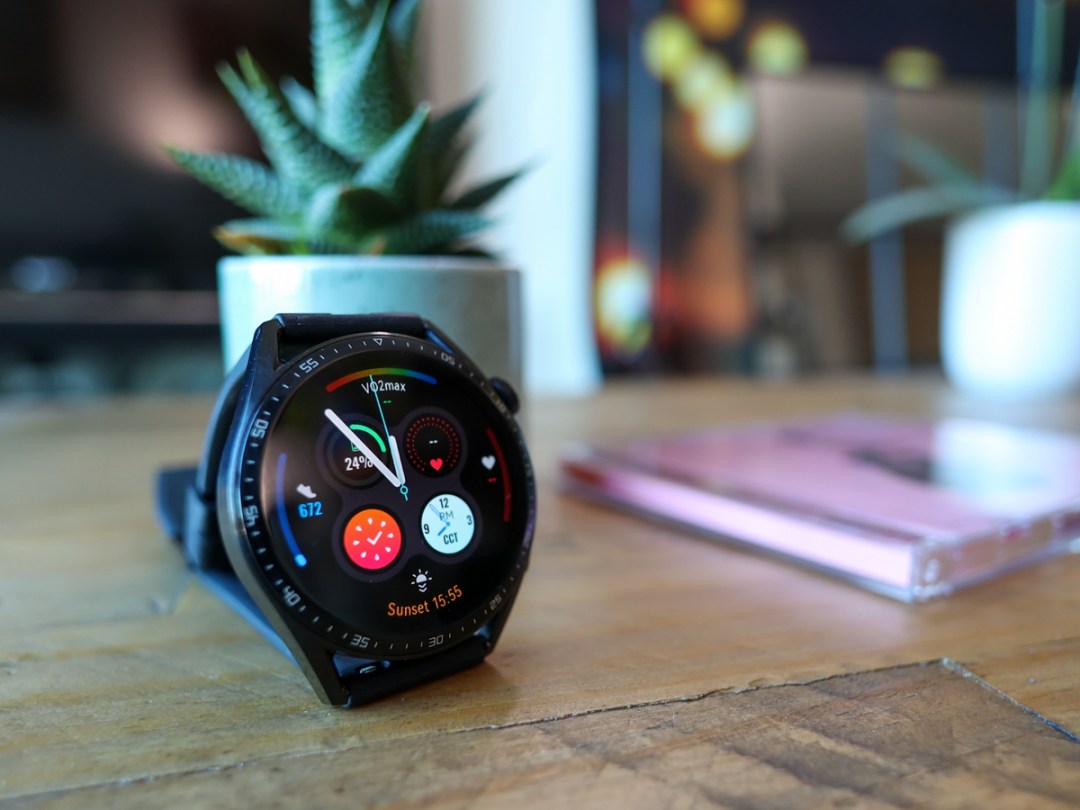 Huawei's Watch GT series has always kept its smart ambitions in check in favour of sensational battery life. For context, an Apple Watch lasts around 18 hours on a single charge, while the Huawei Watch GT 3 can go for as long as two weeks.
Starting at £210 for the smaller more elegant 42mm version, and £230 for the larger 46mm option, the GT 3 series is pricier than the Watch GT 2 was on launch, which cost £179. It's also better in a few ways – it showcases a new, nippier interface that matches that of the Huawei Watch 3 more closely. It also sports a larger display, a temperature sensor and wireless charging.
With a glut of smartish watches with fitness tracker guts hitting the scene – the Amazfit GTR 3 Pro, Xiaomi's Mi Watches and the Realme Watch 2 to name a few – and real smartwatches like the Huawei's Watch 3 and Samsung's Galaxy Watch 4 also vying for your cash, should the Watch GT 3 even be blipping your wearable radar?
Design: Big watch energy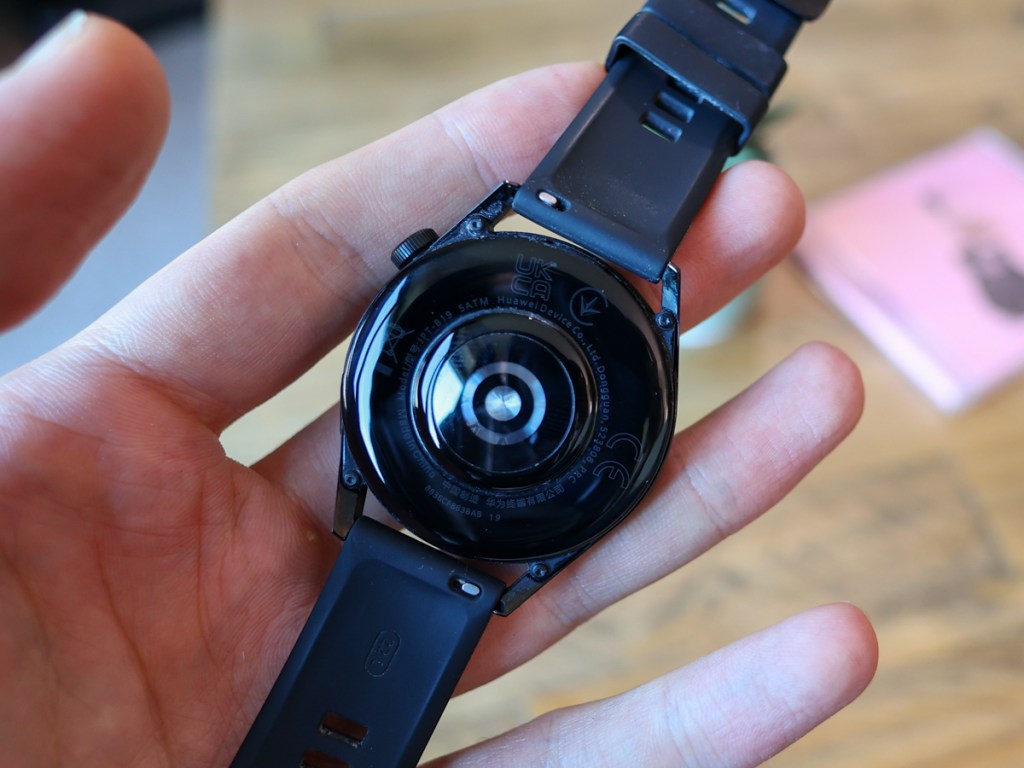 A key difference between the two sizes of Watch GT 3 is the fundamental design. The 46mm version features a dial etched around the watch face and a bevelled edge, while the smaller 42mm option has a 2.5D curved edge and a smaller fascia. We tested out the Huawei Watch 46mm, with a black fluoroelastomer strap.
Speaking of straps, in addition to the Watch GT 3 style we tested (£230), the 46mm watch can be had with a brown leather strap for £250, or stainless steel for £300. As for the 42mm size, the base version with black fluoroelastomer costs £210, the white leather option costs £230, and the light gold Milanese strap costs £280.
This pricing is punchy – matching and exceeding the lower-spec alternatives from Apple – the Apple Watch SE (£219) and Samsung's Galaxy Watch 4 44mm (£219).
As for the similarities between the two Huawei Watch 3 GT sizes, they both sport a rotating crown and a function button on the right side. They also both look like watches, with circular fascias and manageable sizes. The crown delivers satisfying haptic feedback when twiddled, and interacting with the watch is a treat.
Generally, we struggle to fault Huawei when it comes to design, and the build quality of the Watch GT 3 is on point. It feels reassuringly solid, has survived weeks on our wrist, and despite dings and a couple of drops, looks box fresh. The glass front and stainless steel frame combine to deliver 5 ATM water and dust resistance, and at 11mm, it's just a hair thicker than the Apple Watch Series 7, which measures 10.7mm.
Screen: AMOLED zing
The Watch GT 3's round OLED face measures 1.43 inches and clocks in with a Samsung-beating, Apple-matching 326 pixels per inch. That means it's sharp and an ample size, with a finger-friendly UI to boot – more on that later.
The display's quality is excellent. Outdoors, it's easy to see what's on-screen, and colours pop nicely. The watch's ambient light sensor keeps things as bright as they need to be without eating up too much battery life, and if you're not fussed about preserving juice, then you can activate the always-on display for a sticky clock-face on-screen even when the watch is on standby.
Interface: Brilliant and busted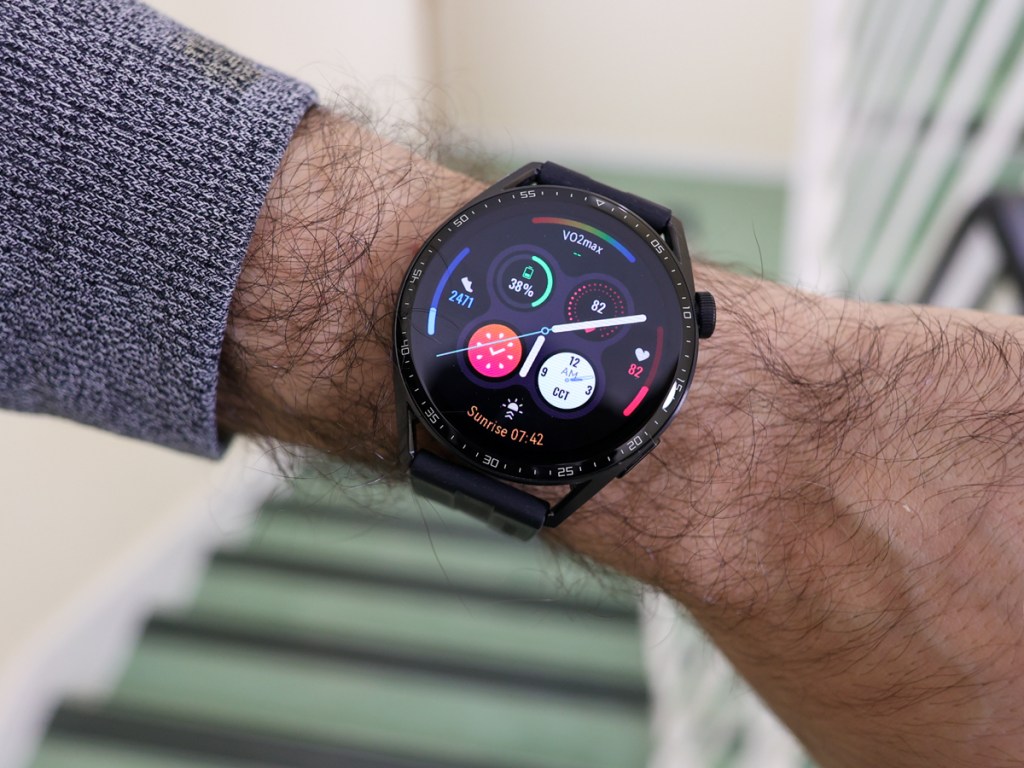 There are two sides to the GT 3's user interface – brilliant and busted.
Day to day interaction is generally great – the watch enjoys an intuitive menu system. It's peppered with enough highlights to make its UI more than an Apple Watch copycat, but there's also polish and familiarity.
It's noteworthy when comparing the Huawei Watch GT 3 UI with that of its predecessor that it's much more responsive. Between the refreshed interface and extra power inside, gone are the super-low framerates associated with the GT series – and that battery hasn't taken a hit is a treat. Huawei's UI also edges ahead of much of the competition with its apps grid, which has clearly been lifted from Apple's WatchOS, but adds plenty of usability over list-based menus.
Huawei also introduced very basic third-party app support to the line with the GT 3. While there's no app store on the watch, fire up the Huawei Health app and you can access them. There are only a few apps available at present, though they do include useful tools like a Pomodoro timer and calculator.
As for what's busted on the Watch GT 3, the main lowlights are the Huawei Wallet app and Celia, Huawei's voice assistant. Starting with the Wallet app, this watch can't make contactless payments. That's fine, we don't demand mobile payments on our wearables, but if you tap the Wallet app, which still lives on the watch, it prompts you to access the app on your phone, which then tells you 'Query failed'.
Next, there's Celia. It's activated by tapping the iridescent orb that's in the display to the left of the GT 3's main watch face. Unless you have a Huawei Phone running EMUI 10 or later, it isn't accessible, and so pulls up an error when you try and activate it. It would be great to be able to hide these as so few people have Huawei smartphones, and the Watch's appeal extends so much further than Huawei phone owners.
There are also a few things we'd have liked to have seen on the GT 3. There's no Spotify app support, for example, and notifications aren't interactive, so you can't reply to WhatsApps or emails.
Health and fitness: Serious contender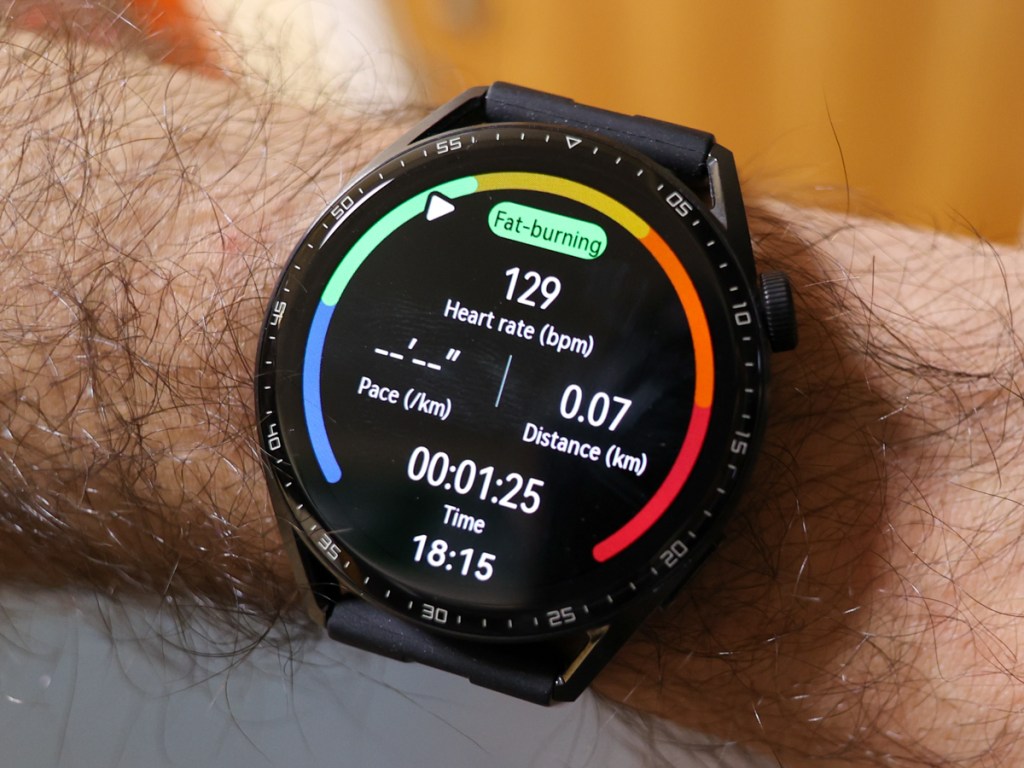 The Huawei Watch GT 3 is one of the better health-tracking smartwatches. Featuring all-day SpO2 monitoring and Heart rate tracking, it also brings back the temperature sensor as introduced on the flagship Huawei Watch 3.
In addition to basic heart rate tracking, the GT 3 can record VO2 Max, and it measures recovery time after every workout too, a great metric for assessing fitness level. With over 100 tracked workouts, it's also competitive for anyone with a penchant for obscure sports like swinging, laser tag and tug of war. Hmm.
The Watch GT 3 also supports a Personal AI Running Coach which customises a program to your fitness level. Courses including HIIT, as well as beginner and advanced running.
As for the GPS, in addition to plotting your location on a map, it can also track you independently of a phone, leaving a digital trail of breadcrumbs as you trek through the wilderness or run off the beaten track so you can find your way home.
We were impressed by the accuracy of the heart rate monitor and GPS. Both performed well when set against other smartwatches and even a fitness watch. The sleep tracking feature, which measures sleep duration and state (deep, light and REM sleep) was a bit more hit and miss, occasionally registering 30 minutes in bed reading headlines on our phones as additional sleep time. It also failed to track short naps. That said, if you're a prompt riser and aren't big on napping, it will tick your boxes.
Fans of Apple Health or Google Fit – Huawei can't sync health data with the services. It can support syncing with apps like Strava, but even that requires using a third-party app called Health Sync, and that only works for Android. This could be a deal-breaker for some.
Other specs: Battery stamina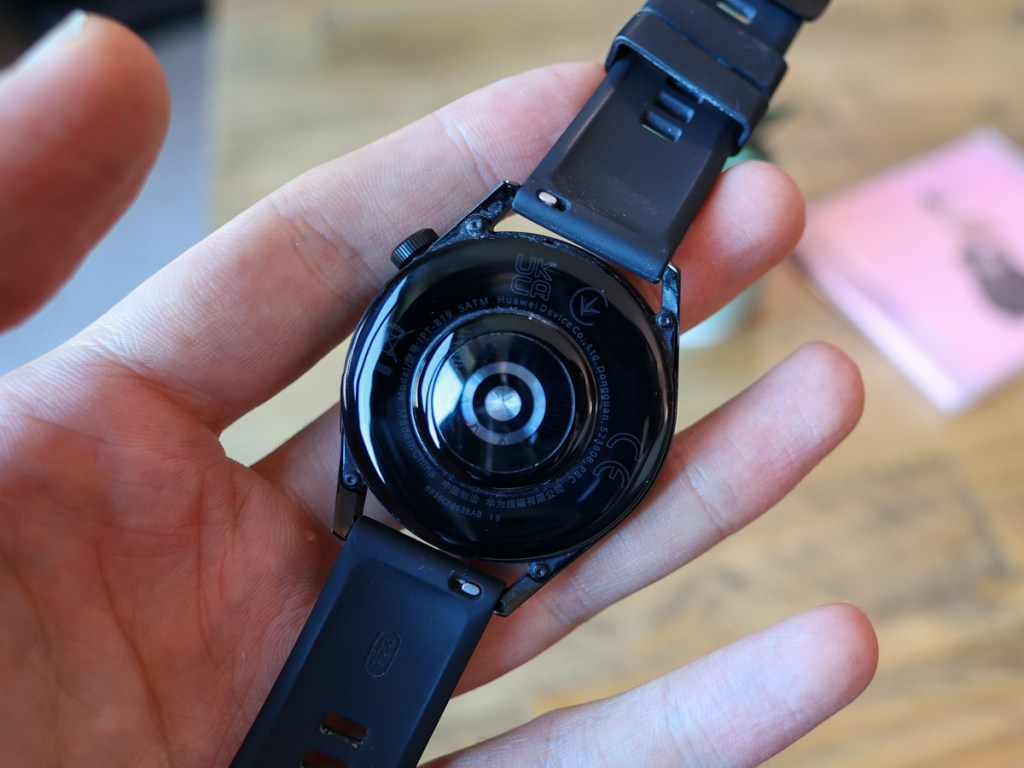 The Watch GT 3 battery lasts for ages, especially if you buy the big one. With up to 14 days on a single charge (so long as you have the always-on display off), it outdoes most of the competition while still offering many of the same core experiences. If you want a slightly smaller timepiece, then the 42mm Watch GT 3 lasts for one week. It also charges wirelessly, which is brilliant, and doesn't use a proprietary wireless charging system like Apple or Samsung.
Despite no cellular connectivity, the GT 3 does double up as a Bluetooth receiver, so you can natter away Dick Tracy style, and the voice quality is impressive. Add to the mix the fact it works with Android and iOS, and the gripes within the UI fail to ruin a solid overall experience.
Huawei Watch GT 3 verdict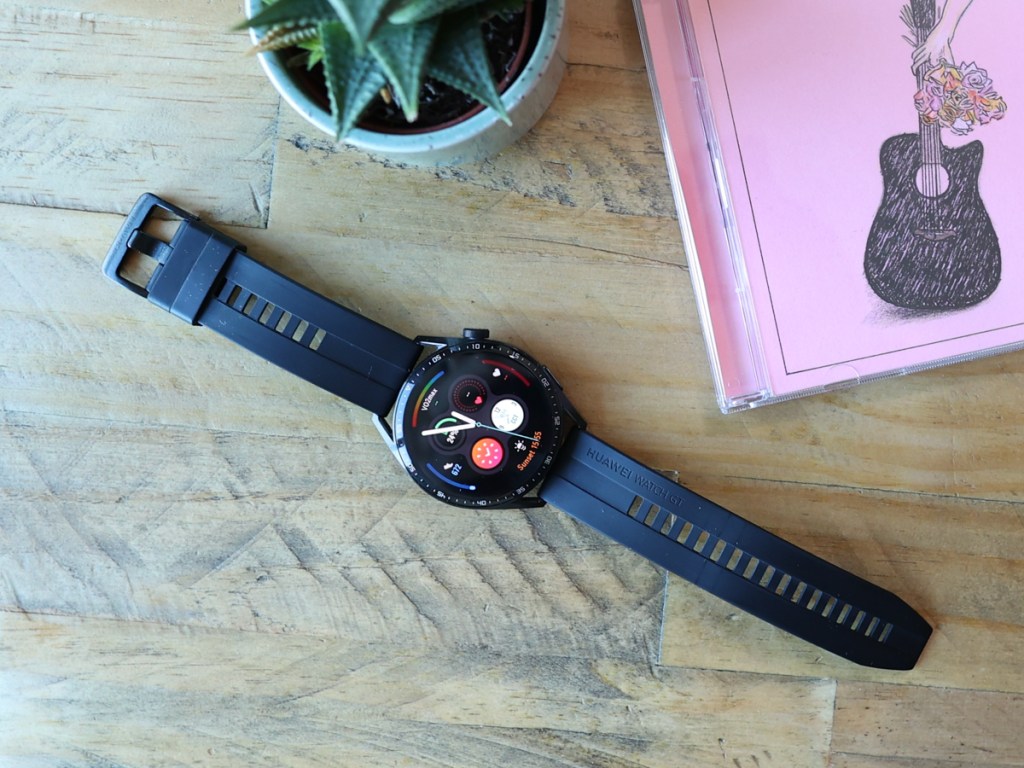 There's something to be said for a gadget that's reliable, looks good, and lasts for ages – and we found the Huawei Watch GT 3 to be all those things. Its UI never crashed, there were no glitches, its health tracking, which we used mainly to track rowing workouts and gym sessions was great, and it lasted for absolutely ages.
Could it be better? Yes, and it could also cost less given the fact it doesn't run as smart a smartwatch operating system as the Apple Watch SE and Samsung Galaxy Watch 4, but if your priority is a watch that doesn't need a nightly charge and tracks your workouts and wellness, it bests most of the competition on those fronts.
Stuff Says…
A smooth, reliable interface, great health tracking and stellar battery raise an imperfect GT 3 above mediocrity.
Good Stuff
Excellent battery life
Smooth interface
Premium design
Bad Stuff
No Apple Health/Google Fit syncing
Wallet feature is broken
Limited app support
Tech specs
Available sizes
46 mm, 42 mm
Weight
46 mm – 42.6 g, 42 mm – 35 g
Display
46 mm – 1.43 inches AMOLED Colour Screen
42 mm – 1.32 inches AMOLED Colour Screen
Sensors
Accelerometer sensor, Gyroscope sensor, Geomagnetic sensor, Optical heart rate sensor, Air pressure sensor, Temperature sensor
Waterproofing
5 ATM water-resistant