Apple AirPods 3 preview: everything we know so far
UPDATED: Apple's third-gen earbuds to be Unleashed next week?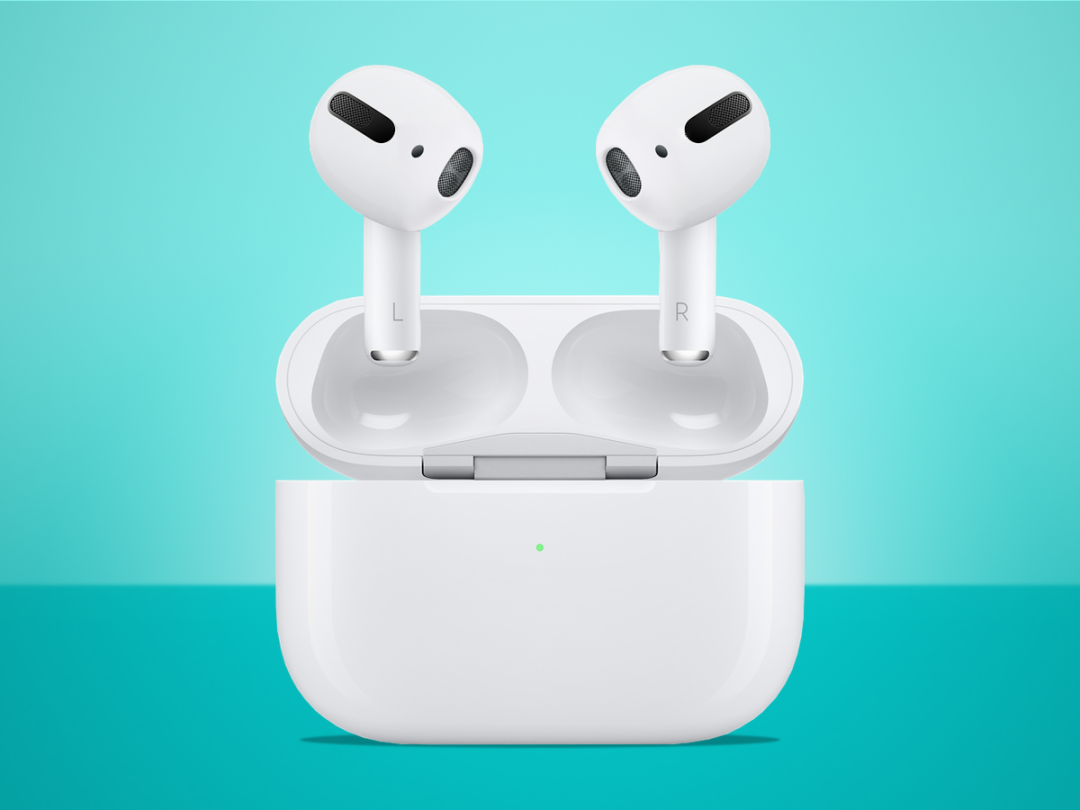 UPDATE: Apple has now announced a new third generation of the AirPods and true to the rumours, they steal a few features from the AirPods Pro. 
Original article appears below: 
Remember when naysayers dismissed Apple's AirPods as overpriced plastic earpieces with sub-par sound quality?
While many of their gripes with the first-gen earbuds were justified, sales of the distinctive true wireless in-ears since 2016 tell you everything about Apple's appeal. With more than 100 million units shifted (and counting), the AirPods are well on their way to joining the classic iPod earphones in the bright white hall of fame.
Good news for Joe Public and Premier League players alike: a fresh set of AirPods should be coming very soon. From a revised design to more sensors inside, the AirPods 3 promise plenty of improvements. We've tapped the wires of the World Wide Web to find all the latest leaks and rumours – and you'll find what we think are the most realistic AirPods 3 predictions below.
Apple AirPods 3 design: pro packaging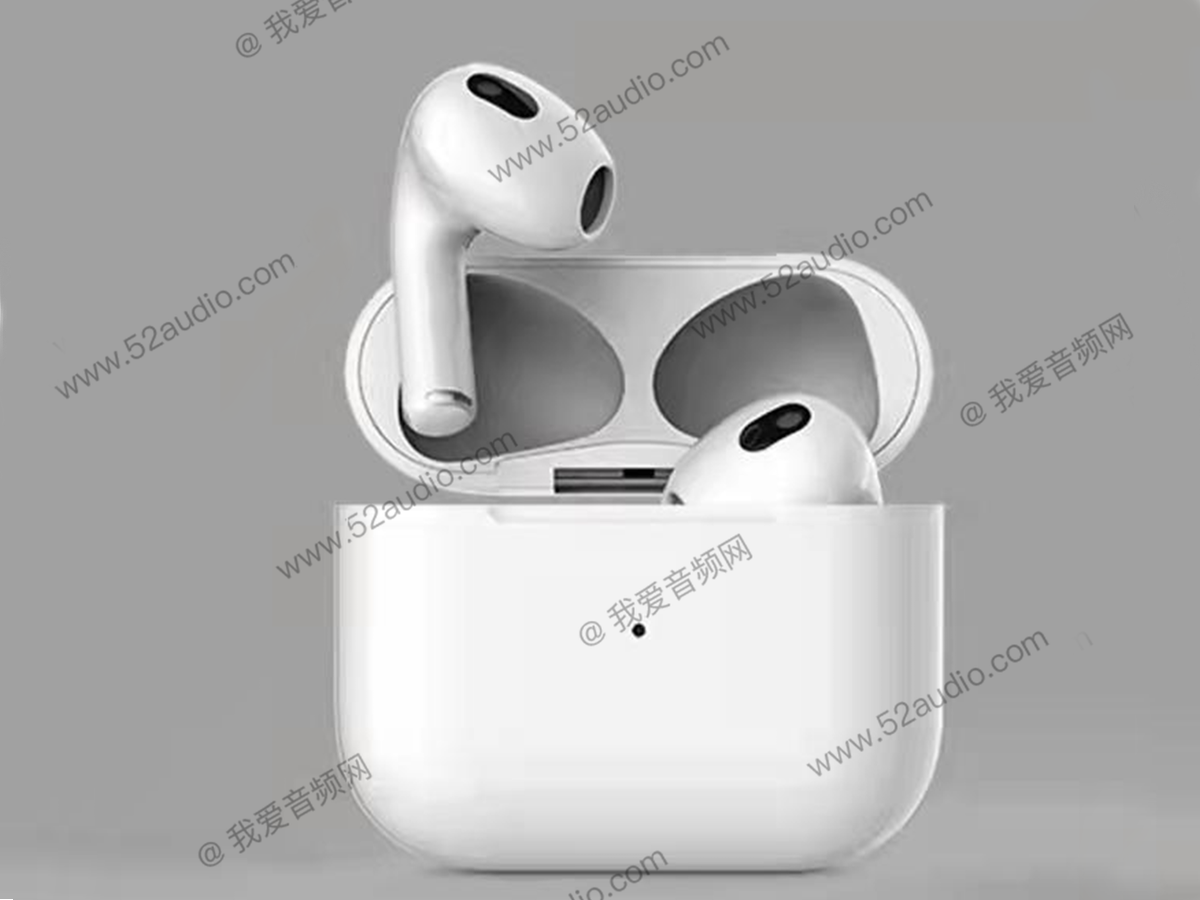 With shorter stems, silicone ear tips and black mesh vents, the AirPods Pro clearly set themselves apart from Apple's standard AirPods. That distinction looks likely to narrow with the arrival of the AirPods 3.
Various rumours and leaked renders reveal that the third-gen AirPods will closely ape the design of the AirPods Pro. How closely remains a matter for conjecture. Most online sources agree that the incoming AirPods will ship with shorter stems, giving them a neater, more streamlined appearance. Some industry insiders also predict that the AirPods 3 will gain the vents required for the pressure-relieving system previously seen on the AirPods Pro (see below).
There's less agreement over ear tips. The silicone attachments contribute to better noise isolation, plus a more secure, comfortable fit. They made a big difference to the listening experience on the AirPods Pro and would be a welcome addition to the AirPods 3. Realistically, though, fitting ear tips to the standard AirPods would cut out a key selling point of the Pro variant – something Apple will probably want to avoid.
So while renders leaked online show versions of the AirPods 3 both with and without ear tips, we'd expect to see Apple's new wireless in-ears ship with no silicone tips. That would make the AirPods 3 something of a hybrid set of headphones, with a stem and shell inspired by the Pro, but the same fixed fit as the first two iterations of the AirPods.
And those same leaks point to a similar situation with the third-gen AirPods charging case. Its dimensions look set to sit somewhere between the taller rectangle used by the second-gen AirPods and the shorter, rounded square which stores the Pro version. It's tricky to assess size based on virtual mock-ups, but there are hints that the AirPods 3 will ship in Apple's most compact charging case to date.
Some sources suggest that the updated case will also work with MagSafe. While Apple's magnetic docks currently support Qi wireless charging, they don't hold AirPods holsters in place while they power up. Magnets in the case could change this, allowing you to stick it to the pad like the iPhone 12 (and incoming iPhone 13). That said, the presence of magnets might alternatively – or additionally – mean you can to attach the case to the back of compatible iPhone models magnetically, for a neat 'phone on phone combo. This stick-on solution could well be offered as an upgrade or sold-separately accessory.
How much of this is true – and what impact it could have on cell capacity – remains to be seen. We'd certainly hope to see a beefier backup battery for the new AirPods: the current generation extends the AirPods by just 24 hours. While this isn't terrible, it appears paltry in comparison to several competitors. The case which accompanies Cambridge Audio's excellent Melomania 1 wireless in-ears, for example, can deliver an additional 36 hours of charge. And those now cost just £100. Luckily, the latest leaks hint at a 20% capacity boost – plus wireless charging as standard.
Image source: 52 Audio
Apple AirPods 3 specs: smaller but smarter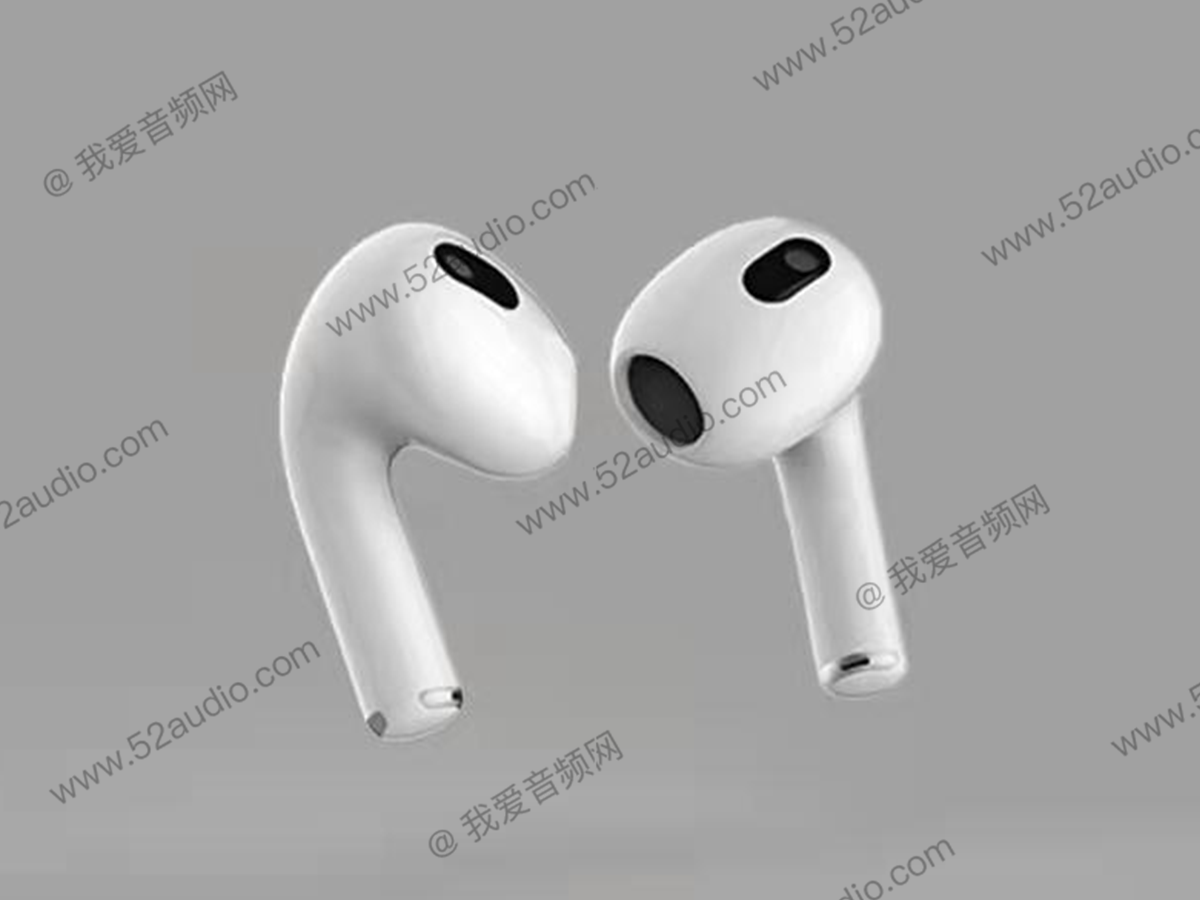 The addition of Apple's H1 chip in 2019 transformed the original AirPods, boosting battery life, improving pairing speeds and adding the ability to speak to Siri hands-free. Whether we'll see a similarly seminal upgrade for the third iteration isn't clear.
Rumours suggest that Apple is working on a new wireless chip for the AirPods 3. Rather than a revolutionary feature, though, this fresh hardware is likely to enhance existing specs. In particular, we'd hope to see a longer wireless range, plus battery life that stretches beyond the five hours offered by the AirPods 2. Those Cambridge Audio Melomania 1 wireless in-ears we mentioned above? They offer nine-hour playback from a single charge – but it's a long-shot to expect the AirPods 3 to match that.
Several sources indicate that some improvements may come courtesy of a revised internal architecture. The AirPods Pro used System-in-Package tech to achieve a more compact hardware bundle inside their plastic shell – and the AirPods 3 are widely expected to follow suit. This should mean Apple has more space to play with beneath the packaging of its updated in-ears.
That additional room could be used in a few ways: to reduce the overall size of the shell, to fit a bigger battery or to equip the AirPods 3 with more sizeable drivers, which should result in better audio quality. Apple doesn't publish the size of the custom units used in any of its AirPods, but it stands to reason that the Pro model features larger diameter drivers (an assumption which third-party teardowns appear to confirm). On that basis, it seems unlikely that Apple would want to upsize the audio hardware in the 'base' AirPods, lest they stray too far into Pro territory.
Alternatively, that optimised interior could release room for more features borrowed from the AirPods Pro. Some sources have suggested that the AirPods 3 will include accelerometers. Others claim that they will additionally – or alternatively – feature ambient light sensors. But why?
Image source: 52 Audio
Apple AirPods 3 features: motion monitoring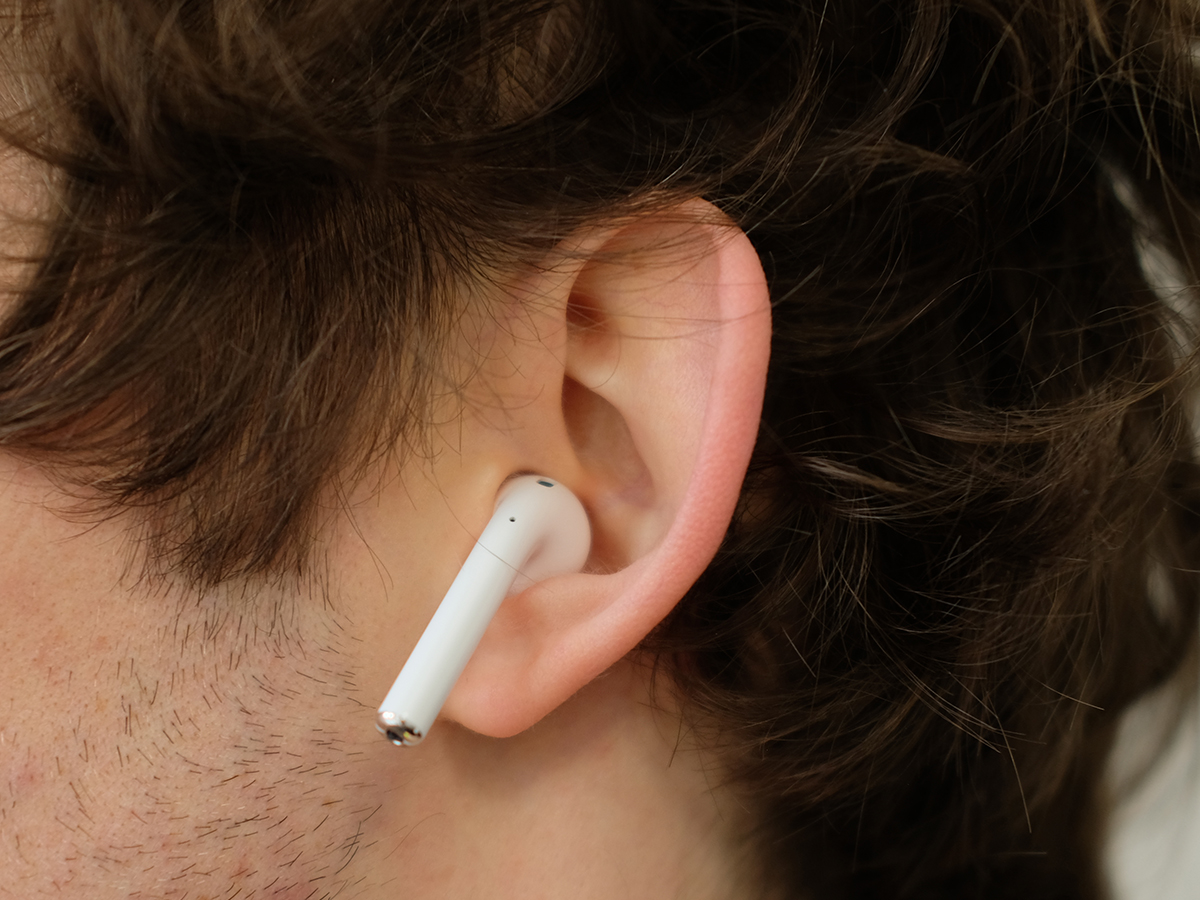 The predicted addition of an accelerometer to the AirPods 3 could mean several things. Accelerometers were used on the AirPods Pro to improve speech detection and – more significantly – to assist with the head-tracking smarts used for Spatial Audio. This is Apple's virtual surround sound tech, which places listeners in a 3D bubble of music and allows them to move their head around within it for a more immersive sonic experience.
A number of industry sources have reported that the AirPods 3 will feature support for Spatial Audio, as well as Dolby Atmos. This would represent a significant step up from the AirPods 2. And while it would bring the AirPods 3 much closer to the AirPods Pro in terms of listening skills, it would also fit with a push by Apple to distinguish its wireless in-ears with software smarts – many of which may be unlocked by the release of iOS 15 (expected at the same time).
That said, accelerometers could also have a role to play in a different rumoured upgrade: fitness tracking. The idea of using AirPods as in-ear activity trackers has long been mooted by many corners of the internet, but online whispers increasingly indicate that the functionality is imminent. That would also explain indications that the AirPods 3 will feature an ambient light sensor, which may be capable of monitoring heart rate.
That fitness-tracking smarts have even been teased by Apple executives suggests they will be coming soon. Perhaps the more pertinent question is whether they'll arrive with the AirPods 3, or whether Apple will hold them back for the AirPods Pro 2 – which are believed to be due in 2022.
Reviewed collectively, the leaks and renders paint a picture of the AirPods 3 as a 'lite' version of the AirPods Pro. While they aren't expected to offer active noise-cancelling (or the transparency tech that comes with it), many believe they will ship with the Pro's air vent system (which neutralises pressure in the ear for improved comfort), plus the Pro touch controls. All of this is, of course, conjecture until we hear anything concrete from Apple.
Apple AirPods 3 release date: set for 2021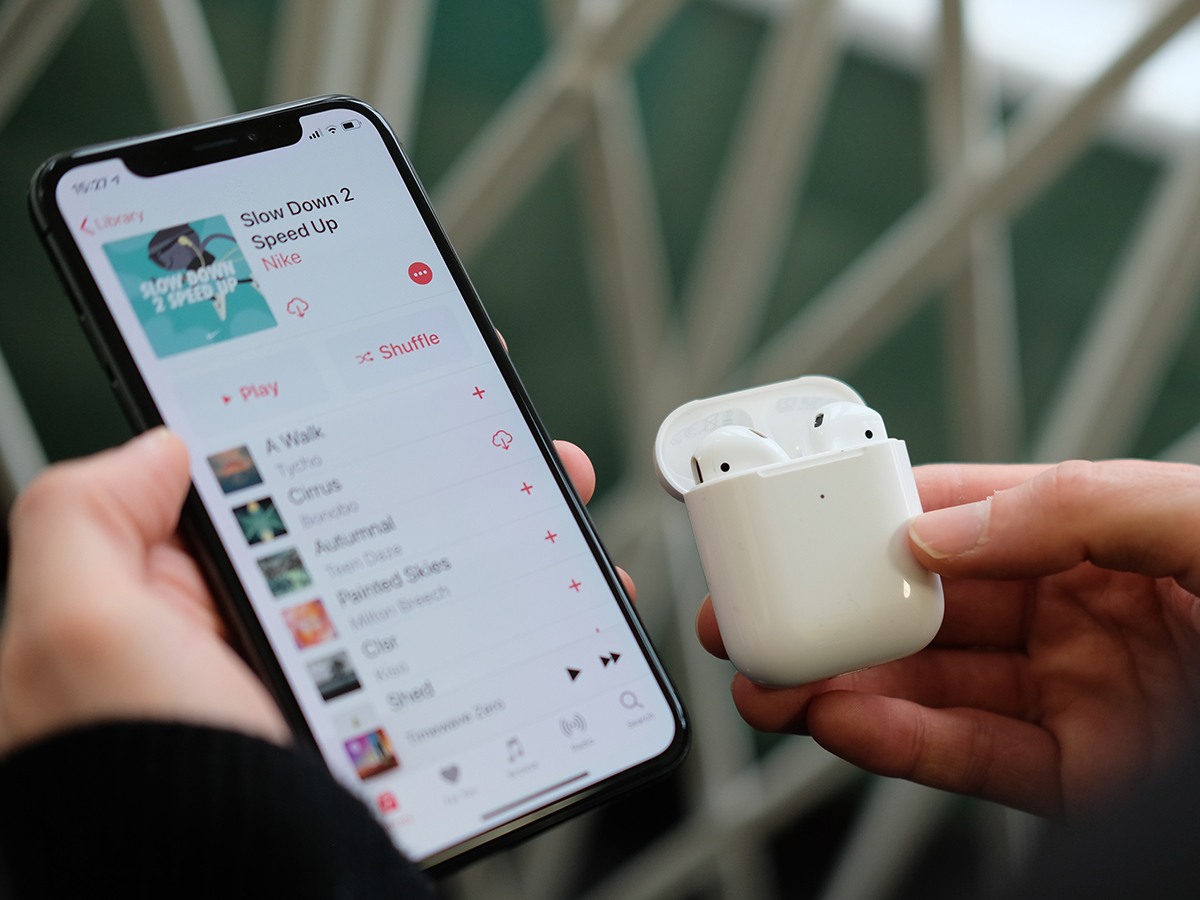 Many – including us – expected Apple to take the covers off the AirPods 3 at its 'California Streaming' event on 14 September. Instead, we were treated to a new iPhone, a new Apple Watch and two new iPads. But nothing fresh for the ears.
It's not clear whether this was a result of rumoured component shortages and supply chain delays, or whether Apple always intended to hold its new true wireless in-ears back for a separate event. Whichever is the case, one thing is certain: we don't have any fresh AirPods to play with.
So when will we see the AirPods 3? It could be next week: Apple has confirmed that it's hosting a live launch on Monday 13 October, which it's calling 'Unleashed'. And while this event is widely believed to herald the arrival of updated Mac machinery, it's also the most obvious moment for Apple to unwrap its refreshed earbuds.
Several industry insiders have put their weight behind this prediction, so there's a strong consensus that the third-gen AirPods will be officially revealed next Monday. That would make sense for Apple's timelines: it's just in time for Black Friday, plus it leaves enough time for Apple to hype the AirPods 3 ahead of Christmas.
You'll be able to follow the launch live from 6pm BST (10 am PT) on Monday 18 October.
Apple AirPods 3 price: increase incoming
True wireless in-ears have skyrocketed in popularity since the AirPods 2 broke cover in March 2019. While the Apple faithful will still be eager to see what its latest earbuds have in store, rivals like the Sennehiser CX True Wireless (which offer offering outstanding value and performance) mean Apple's in-ears face stiffer competition than ever.
Does that suggest Apple will slash the price of the AirPods 3? Probably not. The AirPods 2 cost £159 with a standard charging case and we wouldn't expect Apple to undercut this with the new generation.
In fact, consensus suggests that the AirPods 3 will set you back more than the second-gen earbuds. Some industry sources have suggested that Apple will market the AirPods 3 at a price 20% less than the AirPods Pro. Given that the latter currently retail at £249, that would put the AirPods 3 on shelves with a price tag of £199.
That pricing makes sense if Apple plans to position the AirPods 3 as paired-back Pros. But with strong audio performance, battery life and build quality available from rivals that cost significantly less, it also means the AirPods 3 will need to do even more to justify the additional outlay.