Amazon Echo Dot (2022) vs Echo Dot (4th gen): What's the difference?
Here's how Amazon's smart blobs stack up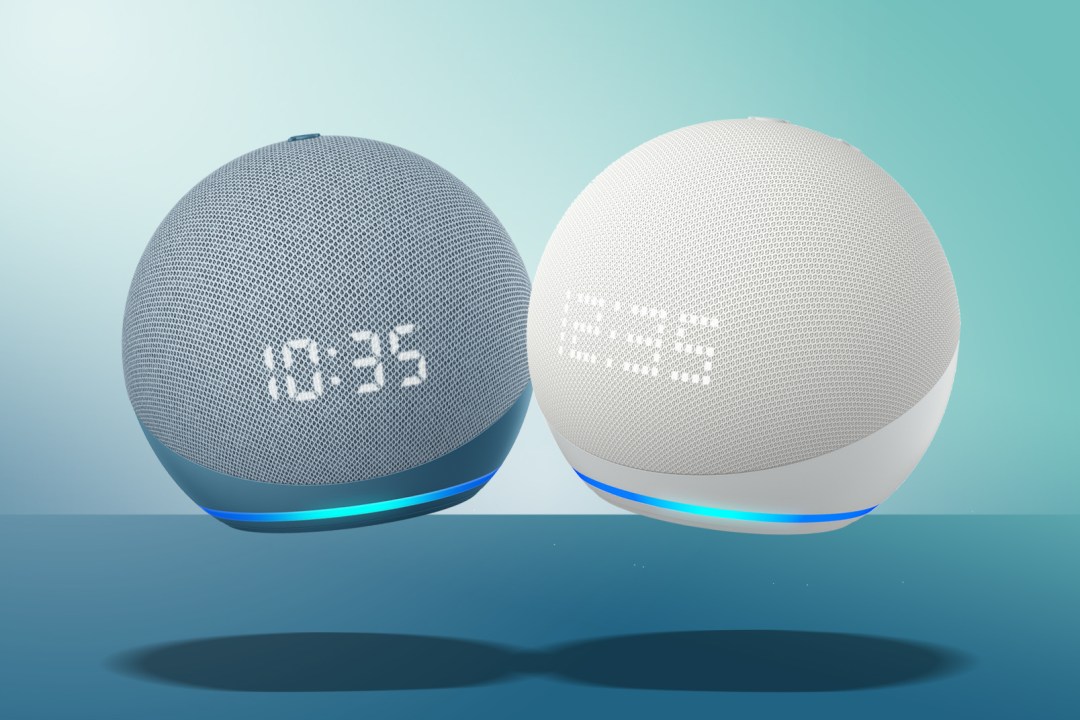 Amazon has overhauled its diminutive Echo Dot smart speaker for 2022. Well, we say overhauled, but it's more of a minor massage – unless you're paying close attention to spec sheets, you might not notice anything has changed.
Luckily for you, digesting tech specs is something we're pretty good at. So that's exactly what we've done. Here's how the new Dot compares with the old Dot, at least on paper, while we wait for one to land in our testing inbox.
Price and availability: pay for the privilege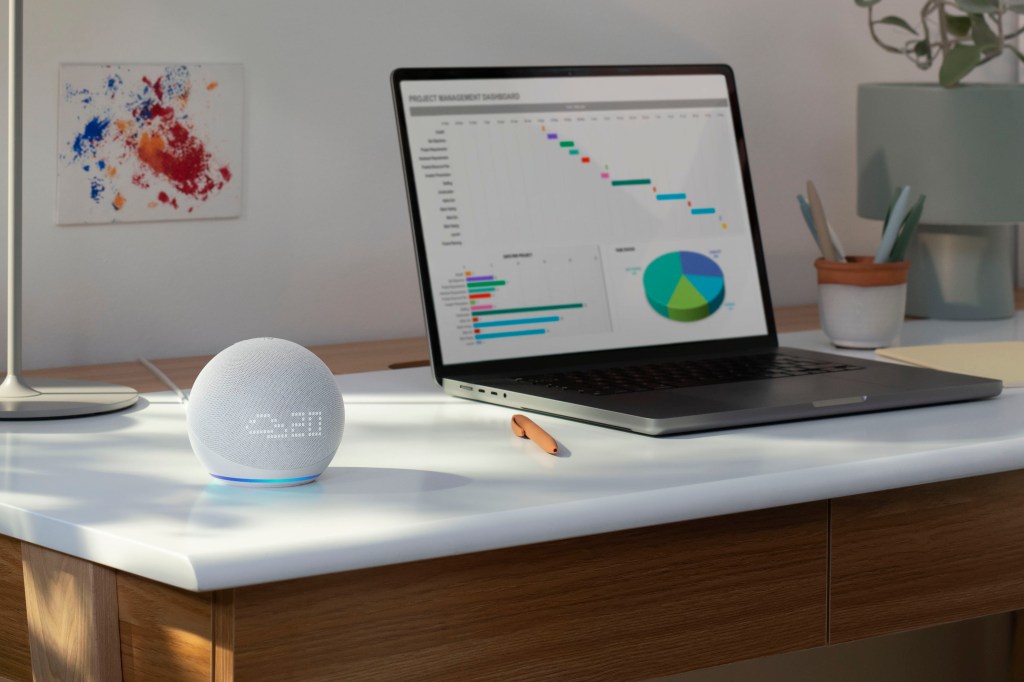 The 4th Gen Echo Dot is something of a steal right now: you can bag one for £20 in the UK, a hefty discount from the £50 RRP. That price may only stick around while Amazon has stock, though. With Prime delivery it'll be on your doorstep in a day or two.
If you want the new Echo Dot on your desk (or counter top, or wherever else you plan on plonking one), you'll have to splash more cash. Amazon is asking £55 for the standard model, and £65 for both the Echo Dot with Clock and Echo Dot Kids. It's up for pre-order currently, with shipping not expected to start until next month.
Design: clock watcher
Visually the new Dot is all but identical to the old one: both are tiny spheres covered in fabric, with a few buttons up top for adjusting volume and muting Alexa's AI ears. An activity LED ring at the bottom lets you know when she's listening in, or when you've got an unread notification. The new version can now be had in deep sea blue colours, while the old one is stuck with Glacier White and Charcoal options.
The biggest changes are underneath, and reserved for the Echo Dot with Clock. It gets an updated LED display, which can do a lot more than just tell the time. It's brighter, for a start, so will be easier to see in direct sunlight. The higher resolution lets it display scrolling text for things like weather updates, calendar notifications and now playing info. It also gets a new colour option: cloud blue, in addition to the original Glacier White.
For a more child-friendly design, you should head to the Echo Dot Kids. It's been updated with two new animal patterns: an owl and a dragon, joining the existing Panda and Tiger. Each gets its own cutesy contextual greetings and bespoke joke book.
Sound: bigger means better?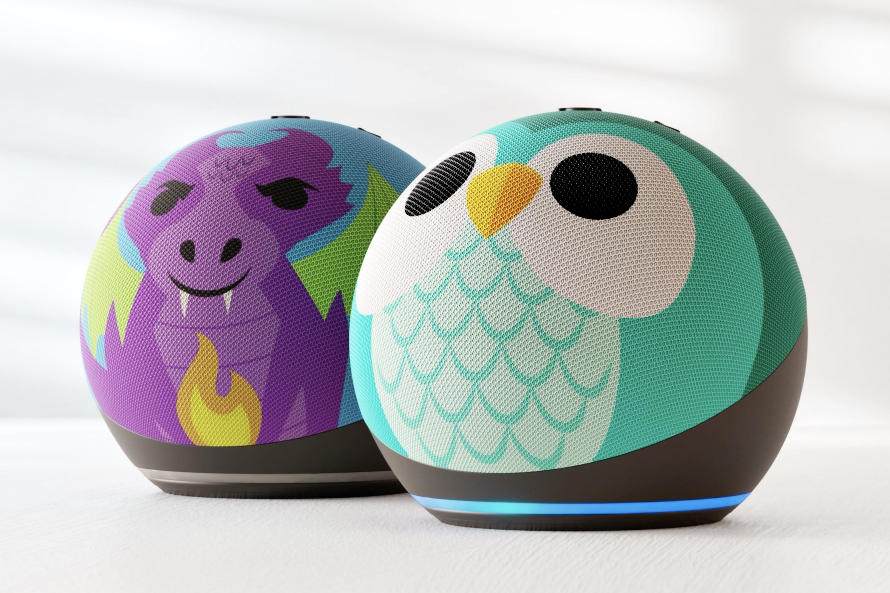 The 4th Gen Echo Dot was a step up from the previous edition. By switching from a hockey puck shape to a sphere, it found enough extra space inside to reorient the 1.6in speaker driver to face forwards, rather than upwards. Its audio abilities are pretty good for a sub-£50 smart speaker, with good vocal clarity and a punchy mid-range, but a merely alright level of bass.
For the updated model, Amazon has completely reengineered the speaker driver, without having to make the physical device any larger. The cone has a higher excursion now, so should deliver twice the amount of bass. While we've yet to hear it in person, that promises to have quite the sonic punch.
Features: Wi-Fi wonder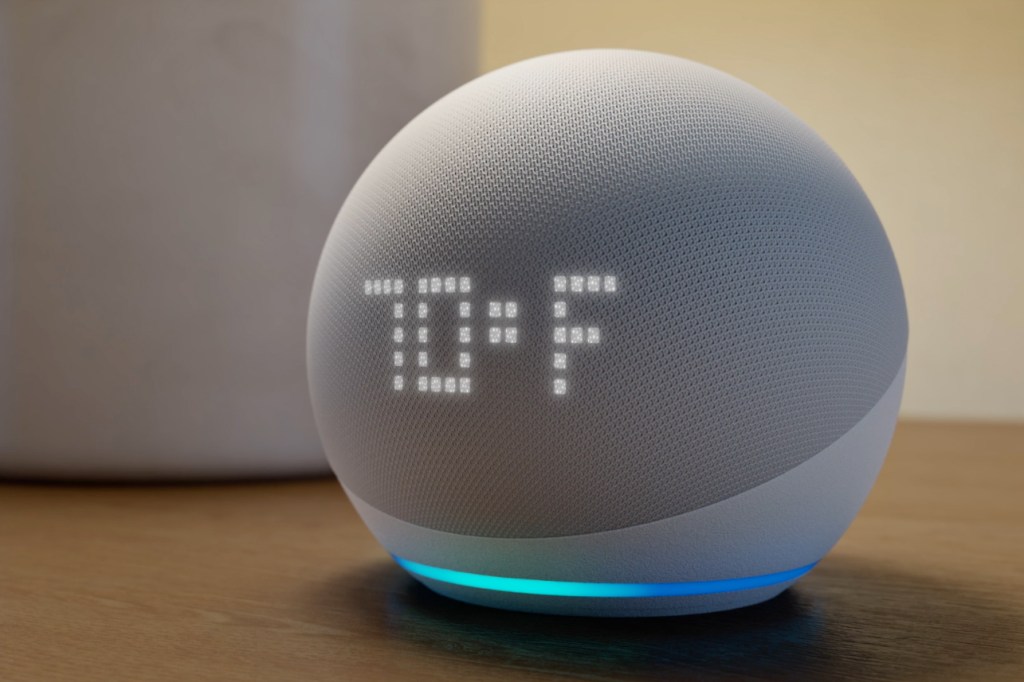 The 4th-gen Echo Dot is hardly short on smarts, with almost the same Alexa abilities as the larger, pricier Echo. It supports lossless HD audio streaming from Amazon's Music HD service, can control your smart home with your voice, and lets you make hands-free voice calls. There's a 3.5mm audio output on the back for hooking it up to a wider sound system. The only things missing are a Zigbee smart home hub and Dolby Atmos – you'll need to step up to the full-fat Echo and Echo Studio respectively for those.
For the 2022 update, Amazon has kept almost all of the above, while also adding Amazon's own AZ2 neural edge processor, which lets each Dot do more things locally rather than beam your data to the cloud and wait for a response. A new temperature sensor and some tap gesture controls also make the cut. The 3.5mm audio port sadly doesn't.
A huge upgrade for Eero router owners is the ability for new Dots to double as mesh Wi-Fi extenders. This is a trick the old ones can pull off, too – or at least they will do, once a new software update lands later this year.