Amazon Echo Studio review
Amazon gets serious about sound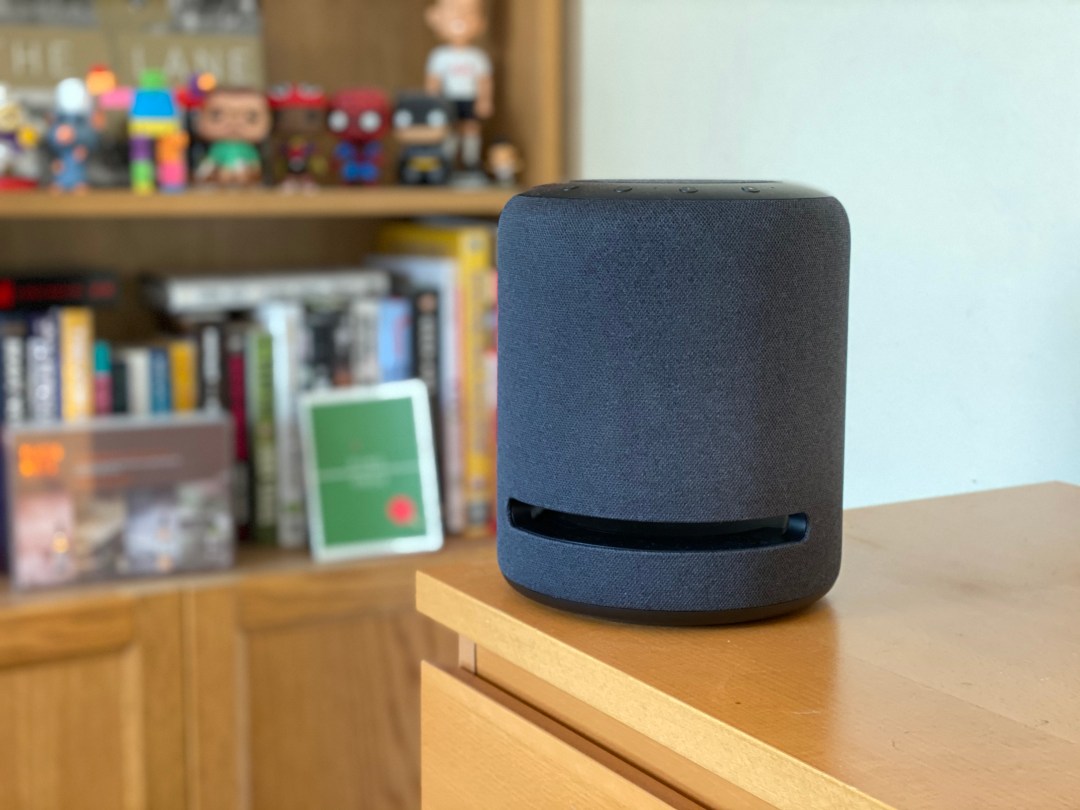 When it comes to weather forecasts, smart home conducting and pointless pub trivia, Amazon's Echo speakers are just about peerless. But while the standard Echo has recently been beefed up with the internals once reserved for the Plus, you could argue that nothing in the lineup boasts the sonic muscles to really do your music justice.
That changes with the Echo Studio. By far the company's most powerful Echo device to date, the Studio is full-to-bursting with speakers, and it's the first smart speaker capable of delivering 3D audio by utilising Dolby Atmos and Sony's lesser known 360 Reality Audio to bring added depth and height to your tunes. Quite ambitious for a £190 device, even if the results aren't always flawless.
Granted, there aren't many songs that support the 3D format yet, and you'll need to subscribe to the new Amazon Music HD service (yep, another one) to experience it, but even on its own the studio is a room-filling monster of a speaker that's more than capable of giving the likes of Sonos' range and the Apple HomePod a scare.
Amazon isn't just interested in attracting chin-stroking audiophiles though; the Studio is also a bonafide smart home hub, allowing you to control your connected devices with voice commands just like you have done with any Echo before it.
I've been risking noise complaints from the neighbours for the past week, and I'm seriously impressed with the hulking Echo Studio.
Design: One big mesh
The Echo Studio isn't doing anything unique in the aesthetics department. Like many of its contemporaries, it's a pleasingly rotund and completely unspectacular fabric-wrapped cylinder that keeps design flourishes to a minimum.
Sat next to the HomePod though – perhaps its most obvious rival along with the Sonos One – the Studio looks like a brute, so you're going to need a fairly accommodating cabinet or shelf. And for optimal directional sound, Amazon advises that you set it at least 6in from the wall with clearance above and below the speaker, which isn't ideal considering the provided power lead isn't particularly long.
There's a bit of an unsightly bass vent on the lower half, but it serves a practical purpose, maximising airflow and – naturally – bass output generated by the woofer within. The port also means you can watch the woofer getting its workout for yourself.
When you wake Alexa a ring will illuminate a familiar shade of blue, and it's also on top of the speaker that you'll find volume controls, an Alexa wake button and a button that disables the mic.
On the back you'll find the power port and an optical line-in.
Setup: Self-awareness
Before setting up your Echo Studio, you should give a bit of thought to where you want to put it. If a shelf seems like the obvious candidate, you should know that you're not going to get the best output that way. Really, the speaker needs a decent amount of space above and around it to work its magic.
Once you've made that decision, it's simply a case of plugging the device in and heading to the Alexa app to get it set up. It'll probably need to update, and while initialising the Echo Studio will automatically perform some calibration tests so it can assess the acoustics of the room it's in and where it's positioned.
Add your various accounts (all the major music streaming services are supported), connect to your smart home devices and you're good to go. The Alexa app is one of the best out there, and Amazon frequently updates it with new functionality.
FEATURES: AUDIO CHOPS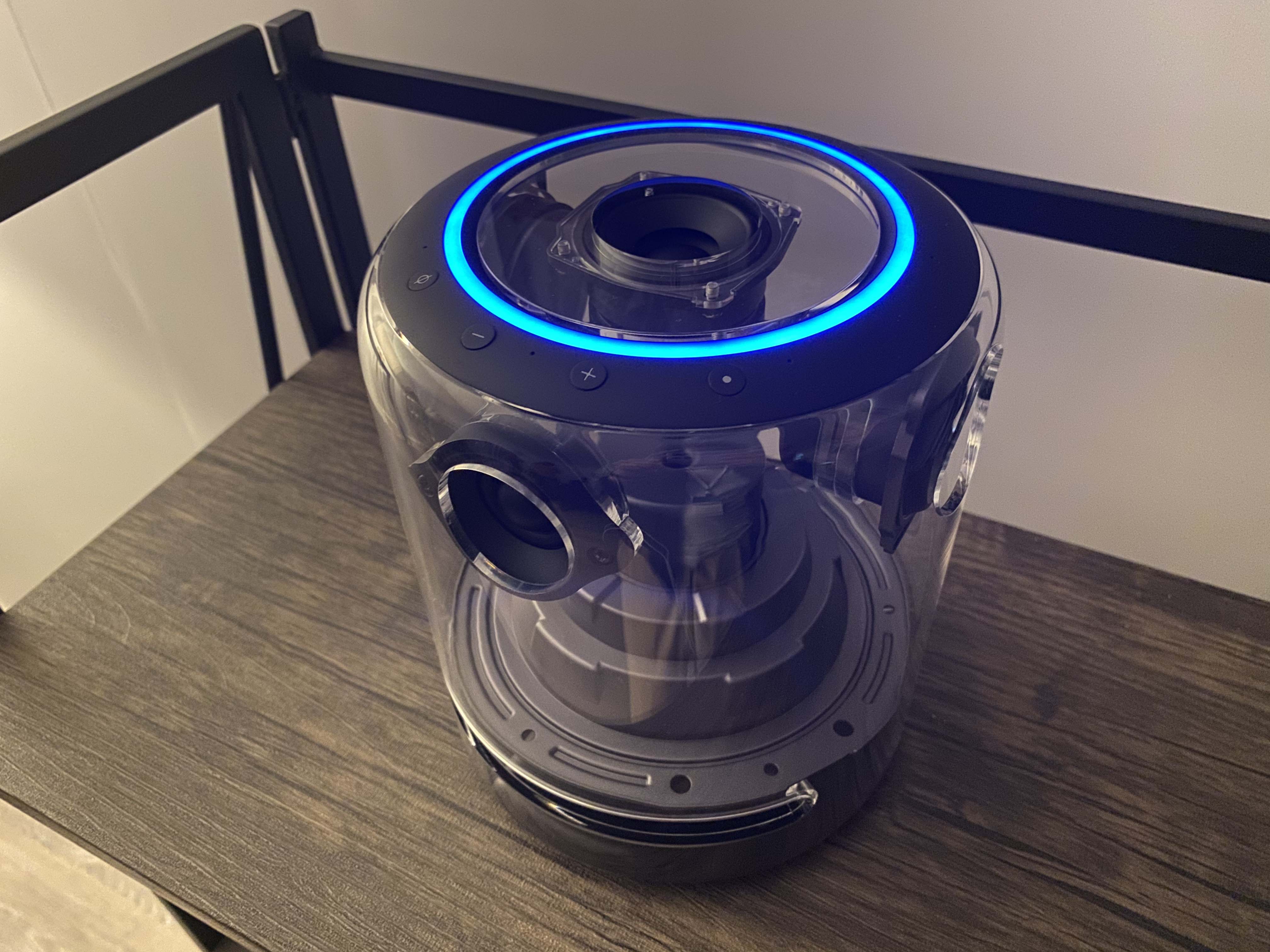 It might not be especially exciting to look at, but under the slightly drab grey hood the Echo Studio has a lot more to talk about. With 330W of peak power, its five built-in directional speakers – one of which fires upward – are designed to produce an expansive soundstage with plenty of clarity.
A downward-firing 5.25in woofer generates big bass, with the low end complimented by a 1-inch tweeter that fires forward, left and right-firing midrange speakers, and that 2in upward-firing midrange unit for added height.
The Echo Studio also has a 24-bit DAC and a power amplifier with 100 kHz of bandwidth for High-Res, lossless music playback, now available with Amazon Music HD. So unless you have the cash to double up on subs, it's possibly only worth considering the Echo Studio if you're willing to say goodbye to Spotify. That's a big call to make. Tidal intends to make 3D tracks available on its HiFi service in 2020.
One or more Echo Studios can be paired as a purist stereo pair (something that took an age to come to the HomePod, and even an Echo Sub if you want truly floor-shaking bass. The Alexa app also allows you to pair with select Fire TV devices for audio playback with multi-channel surround sound and support for Dolby Atmos and Dolby Audio 5.1.
The built-in Zigbee smart home hub allows the Studio to instantly talk to compatible smart home devices, and it works as well as you'd hope. And any question you'd usually ask Alexa, you can ask the Echo Studio. Entirely hands-free, you can control your smart lighting, change the temperature, add calendar appointments, set timers, ask for a weather forecast and loads more.
And that's before we get to the more than 100,000 Alexa Skills currently available. In testing, the Studio's far-field mics picked up my commands from across the room without a hitch.
Amazon Music HD: 3D your mind
To really get the most out of your Echo Studio you're going to need to sign up to Amazon Music HD, which costs £14.99 or £12.99 for existing Prime subscribers.
With it, you'll have access to a huge library of CD-quality tracks and albums, which Amazon labels as HD, and Hi-Res versions, called Ultra HD. Anything mixed in 3D is also flagged as such in the smartphone and TV app.
We were upgraded to the HD subscription for the purposes of this review, and under each track you can clearly see a little badge, but right now there is no way to search for tagged 3D tracks. Instead, you'll have to make do with Amazon's genre-specific playlists, which aren't brilliant. It's likely going to be some time before the 3D library is large enough to be anything other than something you show off to guests. Unless you really love Weezer and Ariana Grande, that is.
I also found the experience of using Amazon Music HD to be inferior to Apple Music and Spotify. On a number of occasions it would forget I was casting to the Echo Studio and I'd have to reselect it from the menu, while there was some noticeable lagging when adjusting the volume too.
Performance: come for the 3D, stay for the stereo
3D Music is the blanket term Amazon assigns to formats such as Dolby Atmos and Sony 360 Reality Audio. As the name suggests, music remastered in these formats allows individual 'objects' to be put in a three-dimensional space to give your tunes greater height and depth. At present there are a limited number of 3D tracks on the service, and their quality varies pretty wildly depending on the respective mix.
Carly Rae Jepsen's immortal 'Call Me Maybe' has a concert-like feel to it, with Jepsen's vocals taking prominence. But the rest of the recording sounds a bit bungled. Similarly, Lady Gaga soars in the chorus of 'Let's Dance', but the objects surrounding her appear to be fighting for space and it's hard to get a feel for the track's newfound 3D identity. I wasn't wowed by the indecisive guitar arrangement in The Killers' 'When You Were Young' either, a track I didn't think could be underwhelming.
More impressive is the The Weeknd and Daft Punk's 'Starboy'. A less busy track, you feel enveloped by its layers, and no part of the song lacks clarity. Luniz's 'I Got 5 on It' (which you can no longer hear without thinking about Jordan Peele's Us), meanwhile is tall, wide and really sharp in its delivery. At the Studio's unveiling in Seattle, I also heard Elton John's 'Rocketman' comfortably fill every corner of a fairly large demo room.
But by far the best 3D remaster I listened to was 'Rey's Theme' from Star Wars: The Force Awakens, which turned my medium-sized bedroom in suburban South London into an epic concert hall.
The Echo Studio has a go at upmixing songs with Atmos by default, but you can turn off the effect in the Alexa app. And although Amazon advises you don't, I found myself leaning towards the traditional presentation over the sort-of 3D version a lot of the time.
While 3D is the Echo Studio's main party trick, the lack of availability means you may well opt to use it as a straight-up stereo speaker most of the time. Happily, it's the best-sounding Echo speaker by a country mile and surely a contender for best in its price bracket. Bass performance is if anything a little too enthusiastic at times, but it's bold and impactful, and the midrange and treble are well-handled on the whole. This thing can go flipping loud too; I rarely dared to push it much beyond 60% volume.
Connecting a 2nd Gen Amazon Fire TV Cube was effortless and an enormous audio upgrade on my bedroom TV's comparably poxy external PC speakers, and the Studio would probably outperform a fair few soundbars at the same price to boot. I watched a few minutes of Atmos-toting Amazon Prime Video show Jack Ryan and it's much easier to appreciate the more spacious audio afforded by the technology in a TV show than it is with music.
AMAZON ECHO STUDIO VERDICT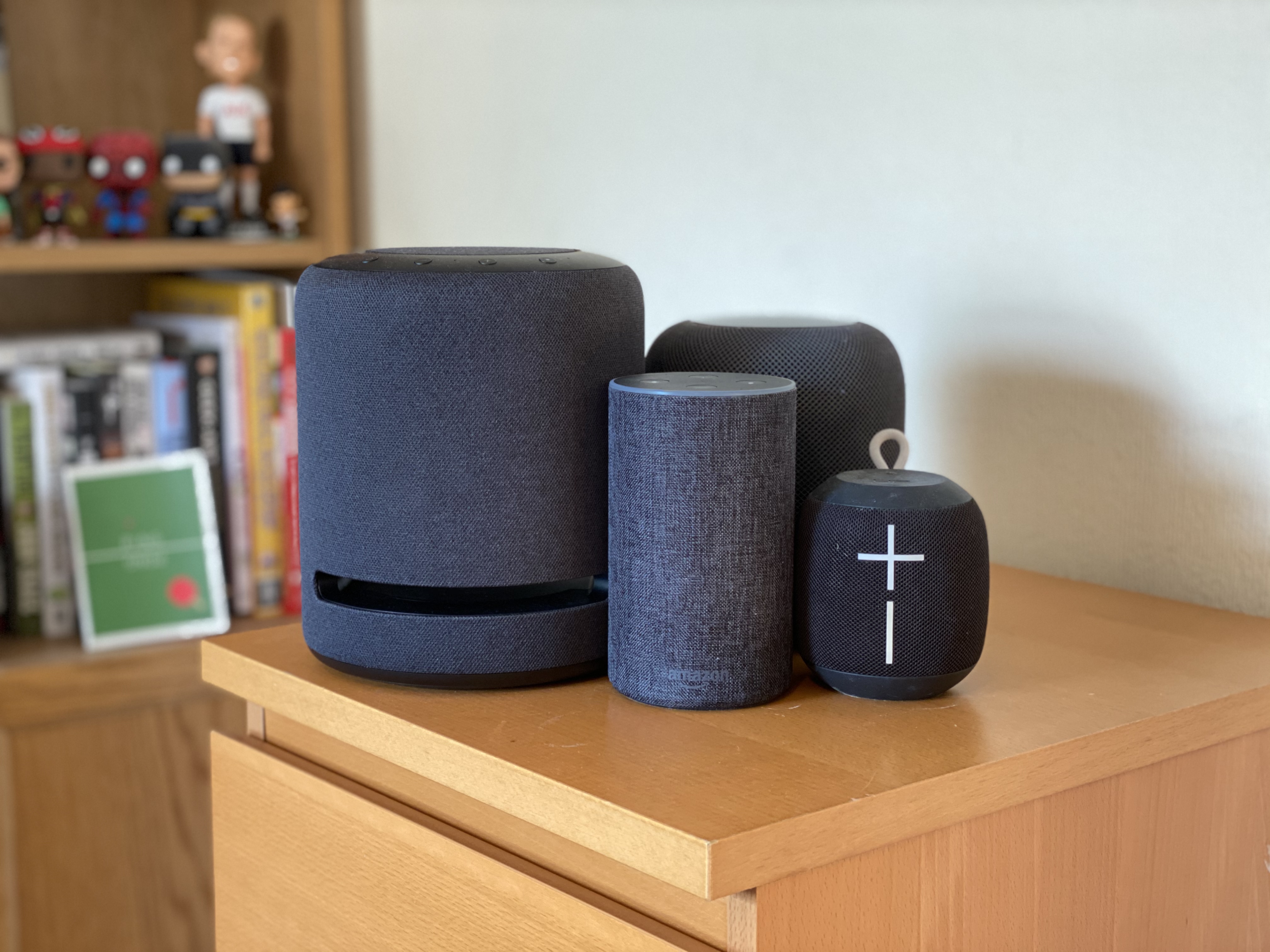 For its sub-£200 price tag, the Echo Studio is bringing a lot to the party, and while debate will rage about whether it sounds as good as or better than its competitors, it emphatically squashes the perception that Echo speakers aren't much cop for music.
Right now 3D audio is not the main reason you should buy one. The library is majorly lacking and not every track is improved by a 3D mix. But when it does work, it's amazing, and classical music in particular really benefits from the added height. And if you opt in for Amazon Music HD, you get its Hi-Res tier as well as any new 3D songs that are added over time.
I'm not going to claim that the Echo Studio can compete with a proper home theater setup, but if you rely on your TV's built-in speakers at the moment, not investing in a Fire TV device and pairing it with the chunky Studio would frankly be a crime against entertainment.
And in case you've forgotten – it's easy to amid all the 3D chatter – the Echo Studio also happens to be a faultless smart speaker. As long as you're happy to ditch Spotify for Amazon and are comfortable with Alexa's unstoppable uprising, you'll struggle to find a more feature-packed £190 audio package.
Stuff Says…
Easily the best-sounding Echo speaker you can buy, and while 3D audio isn't a revolution, it's a lot of fun
Good Stuff
Excellent value
Works as well as any Echo in the smarts department
Certain 3D tracks sound incredible
Amazon Music HD's better-than-3D-quality music trumps Apple and Spotify
You might not need a soundbar
Bad Stuff
3D mixes are, well, a mixed bag
You really need Amazon Music HD to justify it
Its size might be an issue in some rooms