101 Epic gadgets for 2023! Latest issue of Stuff magazine out now
All the hot new tech you need to own next, plus plenty more inside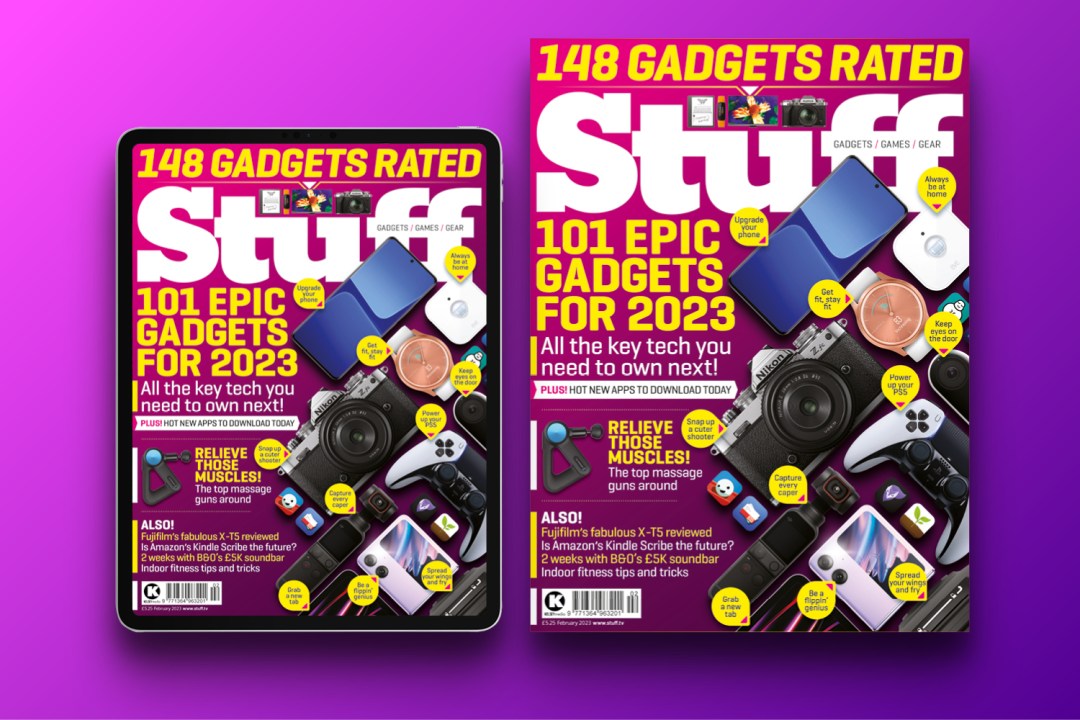 Want to know what shiny piece of tech is likely to be sat in your pocket, perched on your TV stand or strapped onto your wrist over the next twelve months? We've got you covered in the latest issue of Stuff magazine, which runs through a whopping 101 new and upcoming gadgets to look forward to in 2023.
There's a whopping 21 pages of gear, covering everything from phones, tellies and laptops to fitness, smart home and gaming. Will the Dyson Zone become a regular appearance on London's tube lines? Are smart exercise machines set to make their way into more homes than ever this year? And are foldable phones set to dominate? We broke out the crystal ball to bring you all the details ahead of time.
Speaking of phones, we've also got a round-up of the apps you need to help you plan for the year ahead, ease your daily routine, get creative or just have five minutes of fun. There are also in-depth tests of Fujifilm's stellar X-T5 compact system camera and the Philips OLED907 TV, which should be on every home cinema fan's list of potential upgrades.
Elsewhere we've been scrawling all over Amazon's latest Kindle (we're not vandals, the Scribe is the first Kindle with a digital stylus) getting our game on with the fun Evercade EXP arcade-emulating handheld console, and getting our New Year fitness push into high gear with the FitBit Inspire 3.
Then we got comfortable on the sofa and put the Bang & Olufsen Beosound Theatre through its paces. It's equal parts luxury soundbar and designer status symbol, with impressive audio to match its distinctive looks.
On the gaming side we needed more than one change of underpants to make it through sci-fi scare-em-up The Callisto Protocol. Visceral combat and some unbelievably gory death scenes bring the survival horror genre to the latest console generation, but does it move things along or is it all too familiar? Then we take on the law in a suped-up Japanese hatchback in Need for Speed: Unbound, comfortably a high point for the long-running racing series, and flex our grey matter with superhero strategy Marvel's Midnight Suns. It's equal parts tactical battler and superhero friendship simulator, and all parts fantastic.
Want more? Check out our latest reviews