Zoom Q3HD review
This quirky looking pocket cam delivers outstanding audio quality. But does it have the HD video performance to match?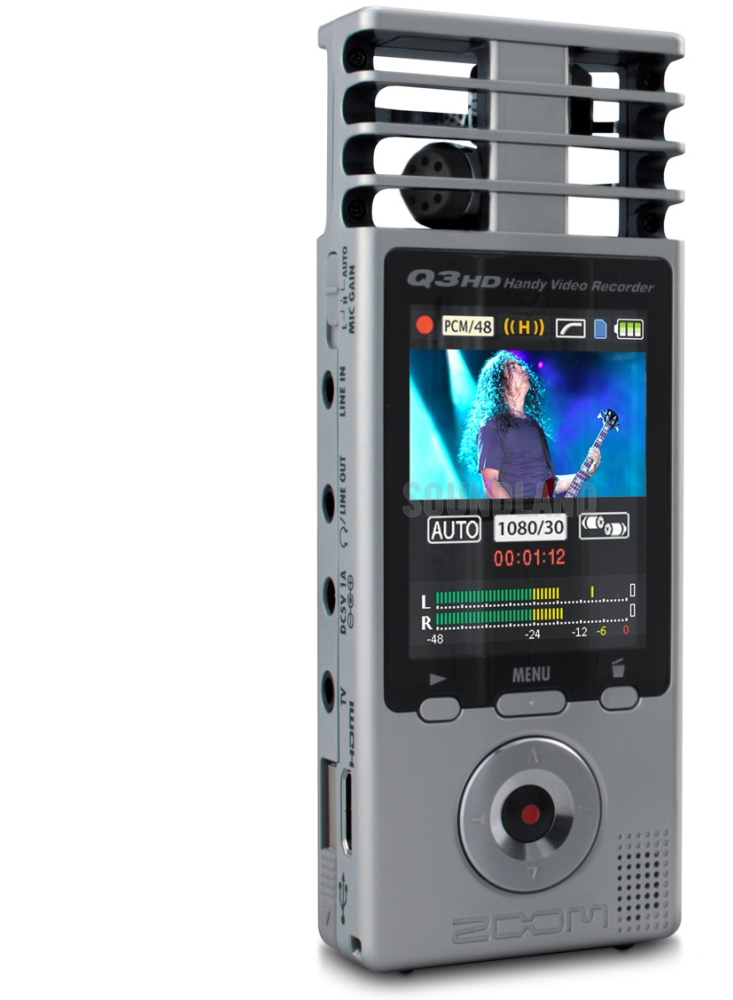 Zoom are better known for manufacturing audio equipment than pocket camcorders, or indeed video equipment of any kind, so it is no surprise to find that sound quality has been top of their wish-list when designing this quirky looking beast.
The most notable feature of the chunky, plastic case, is the large cage extension on top. This is home to two directional microphones, strategically placed in a 120º x-y formation to capture a wide separation stereo audio signal.
Proper stereo sound
It may seem like it's just there for show, but it does a fantastic job of capturing clear audio, encoding it at 320kbps in AAC or in 24-bit, 96kHz PCM WAV format for even more clarity.
To further help you serve up the best soundtrack possible, level meters are displayed on the recording screen, letting you know the auto-level is doing its job; a sliding switch on the side lets you manually set the gain. The audio can also be filtered to cut down on background noise, which worked well in appropriate situations.
The audio features don't stop there: a quick visit to the various side-ports reveals a headphone and line-in socket, so you can record via your own audio equipment. There is also a jack socket for video out, but if you have an HDTV you'll want to use the mini-HDMI output instead to see the full glory of high-def video.
Slide off the front panel and you'll discover the Q3HD is powered by two AA batteries. This may lessen the appeal for some, as it does mean you'll need to faff about with batteries rather than just let the device juice-up via USB, but at least it is possible to run it from rechargeables.
Full HD capture
The Zoom Q3HD shoots at 1080p at 30fps that should give a nice, crisp high-def image. Sadly the specs only tell half the story; the absence of image stabilisation forces you to make use of the tripod mount to avoid footage looking like you'd been on the rough cider when you shot it.
The in-device editing facilities are simplistic, but quite easy to use for basic trimming of the recorded files. A short USB cable tucked into the device can be unfurled to upload files to a PC, and the supplied software makes short work of posting your dailies to the usual social media websites.
For certain types of work – music gigs, interviews and other occasions when the audio quality is most important – the Q3HD comes into its own. It's not the most compact and doesn't capture the best images, but when it comes to sound quality its streets ahead of any other pocket camcorder.