Sony Xperia XZ1 review
3D scanning smarts can't save this merely functional flagship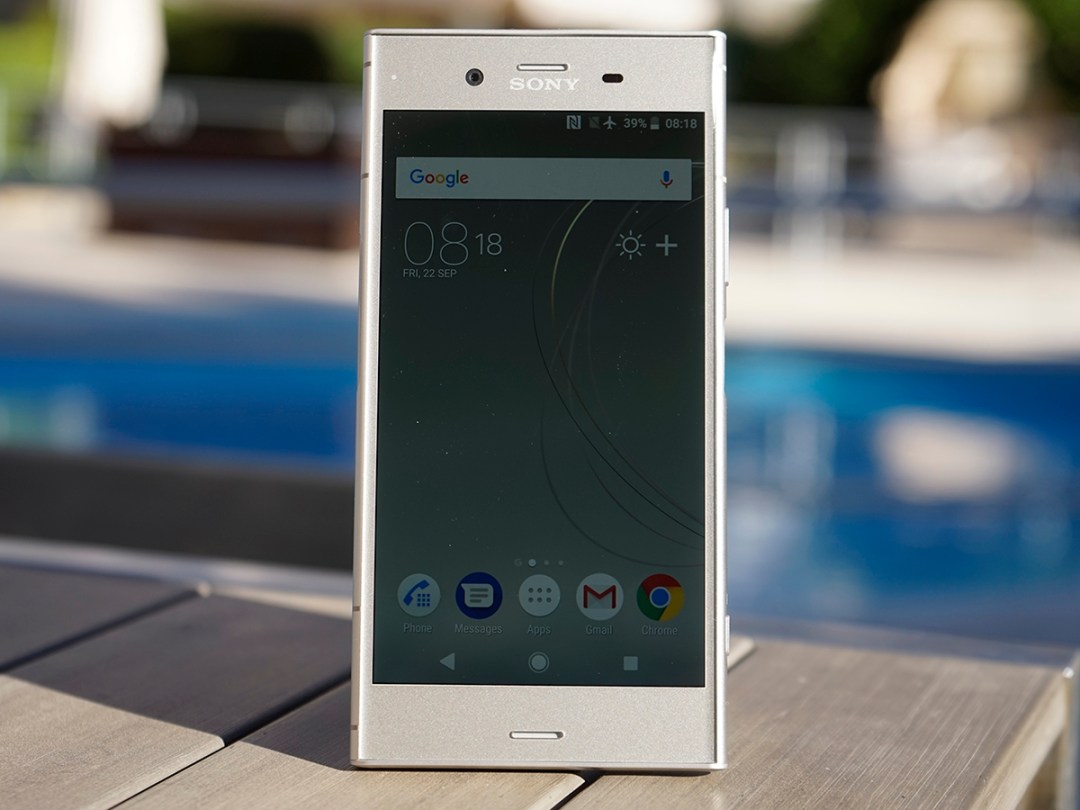 If a tree falls in the forest, does it make a sound? That age-old question now has a 2017 equivalent: if there's no 4K HDR content for your phone, does having a 4K HDR screen even matter?
Sony's Xperia XZ Premium was first past the post with these two desirable bits of display tech, but Amazon and Netflix weren't exactly in a hurry to stream content to it.
Full HD HDR seems to be the way to go – which is where the XZ1 comes in.
It takes most of what made the XZ Premium such a killer phone, at least on paper, and swaps the 4K screen for a more sensible 1080p panel. HDR sticks around, though, so your boxset binge sessions will still look their best.
In practice, though, Sony seems to have focused more on gimmicks like 3d scanning, than areas that need attention like the rapidly ageing design.
DESIGN & BUILD: Spot the difference
Oh, would you look at that: another Xperia smartphone that barely looks different from the old one. Sony's styling hasn't had a significant shake-up since the original Xperia Z arrived, and that doesn't change here.
That means you get the same angular shape, same massive top and bottom bezels surrounding the 5.2in screen, and same minimal back that looks more like Space 2001's monolith than a smartphone. The rear camera sits flush to the phone, too, which only adds to the similarity.
Sit the XZ1 alongside bezel-busting flagships like Samsung's Galaxy S8, the LG V30, or Apple's iPhone X, and you'll wonder why Sony didn't try something similar: the Xperia design is starting to feel noticeably dated.
Sony has stuck with an all-aluminium build this time, though, instead of copying the XZ1 Premium's mirror-like glass finish – which was an absolute fingerprint magnet. Here, you don't have to constantly polish the phone just to keep it looking clean. OCD phone owners: your prayers have been answered.
It is a little on the chunky side, though: you'll definitely notice one sat in your pocket.
There are some positive points, though. The fingerprint reader on the side is as excellent as ever, perfectly placed where your thumb naturally sits (if you're right-handed, anyway) and quick to unlock the phone. IP65/IP68 water and dust proofing should keep it safe when you head to the beach, too, or accidentally dunk it in the toilet. Don't lie, we've all done it.
SCREEN & SOUND: HDR Hero
Bezels aside, the XZ1's 5.2in screen is still very good. Sony has stuck to 1080p here, rather than chase increasingly high resolutions – if you want 4K, you'll have to step up to the XZ1 Premium.
You do get HDR, though, making the XZ1 the first Full HD phone to get high dynamic range. That means brighter whites, more vibrant colours, and more gradation between hues that should really make HDR videos leap off the screen. And yes, HDR clips really do look a lot better than the SDR originals.
HDR from Amazon Prime was already available on the XZ1 Premium, but Netflix arrived alongside the XZ1 at launch. That means a lot more content than Samsung or LG's HDR-ready phones, which are still waiting for apps to roll out HDR support.
For everything else, the 5.2in LCD has bright colours and exceptional brightness – although contrast isn't quite as good as we've seen from phones with OLED panels. Brightness isn't a problem, though: it gets hard though enough to see clearly in bright sunshine.
The dual front-facing stereo speakers are a great match to the screen, too. They're 50% louder, and push out 50% more sound pressure than last year's phone, easily making it loud enough for playing podcasts while you're cooking, or catching up with Netflix shows without plugging in headphones.
CAMERA: FOCUS OF ATTENTION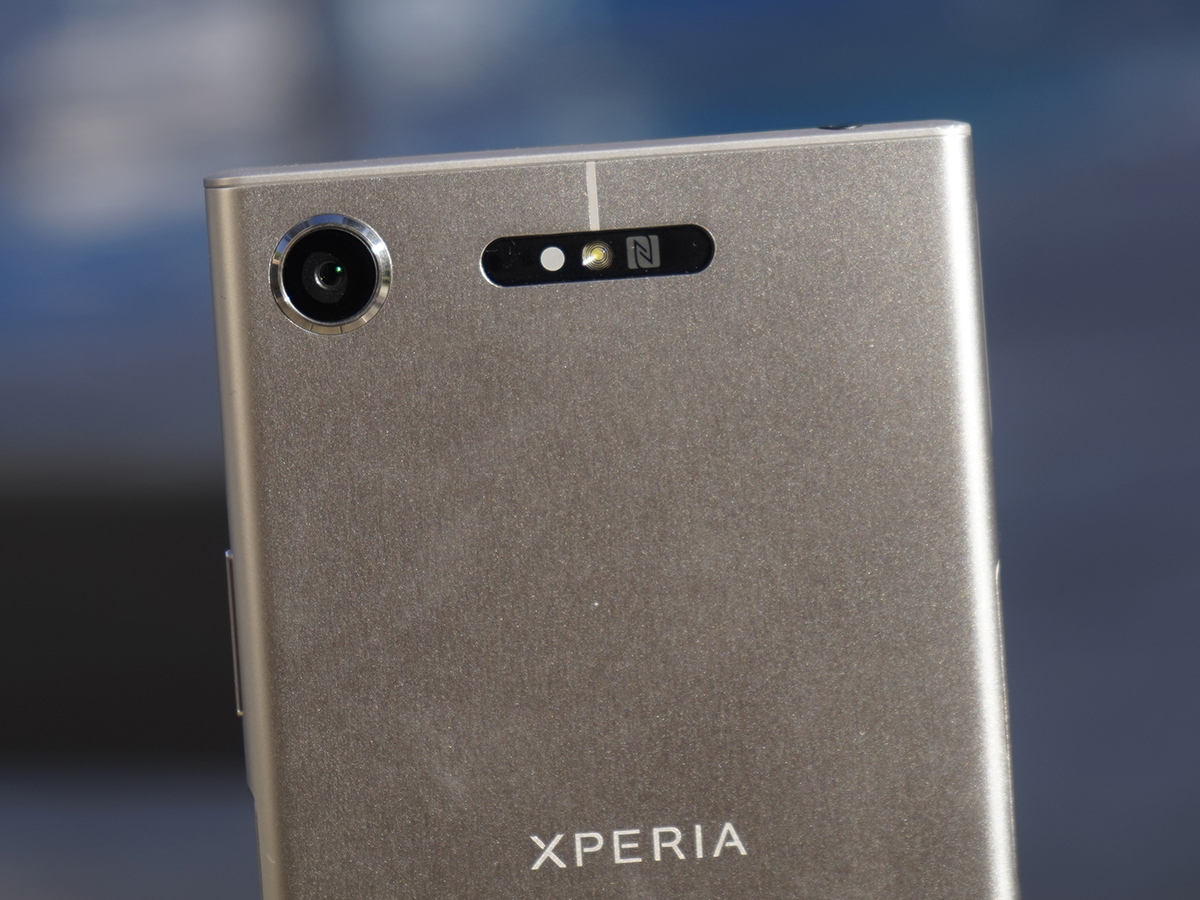 Sony's phones use camera tech diluted down from the company's point-and-shoot compacts, so it's only fair to expect good things.
On paper, the XZ1 delivers, thanks to a 19MP sensor with predictive capture, smile detection and autofocus burst. Basically, it'll make it much easier to capture the shots you want, without having to jump into the manual mode.
Predictive capture isn't new to Xperia phones, but it is turned on by default here, so you won't forget to enable it. Press the shutter and you'll get a series of shots to choose from, rather than just one. So no more missed snaps – and it works, too, even if it's a little fiddly having to jump into a menu and scroll through every shot to pick your favourite.
Picture quality is up for debate, though. Colours were aggressively vibrant and oversaturated, making a vase of flowers look very unnatural. Details look good on the surface, but zoom in and it was easy enough to spot the limitations of the processing.
As with previous Sony phones, the XZ1 tends towards oversharpening, which looks good on from a distance but loses more subtle details when you look closely. It's something the higher-than-usual pixel count just can't compensate for. Google's Pixel, Samsung's Galaxy S8 and Apple's IPhone 7 Plus all do a better job, and with fewer pixels.
Low-light photos aren't amazing, with lots of noise unless you rely on the harsh LED flash.
Burst mode with tracking autofocus is the real star, here, shooting 10fps for up to 10 seconds but keeping your targets clearly in focus – even when they're moving around the frame, or in and out of it. The system worked well on slow-moving targets like pets and children, and is a nice addition to the XZ1's feature-set, even if it's not exactly something you'd buy a phone just to have. Don't rely on it for a formula one race, though.
Sony's super slow motion video mode also makes a reappearance, shooting 960fps videos that make hyper-active pets and children look about as energetic as a sloth. Resolution is still limited in this mode, but the results are still impressive when you feed it enough light.
SOFTWARE & 3D SCANNING
The camera plays a major role in the XZ1's standout feature: 3D scanning. The 3D Creator app lets you digitise people's faces and heads, turning them into miniature models and animated figures. For some reason.
Boot up the app and it'll show you how to wave the phone around, mapping a face, whole head, or static object. Once you've followed the dotted lines and tapped a few buttons, it'll create a model in real time.
In the right light, it works reasonably well, giving you digital models to share online or send off to a 3D printer to be turned into a miniature statue. Actually getting the right light, though? Trickier than you think.
Any bright sunshine can throw off the system, and the speed at which you pan the camera can lead to massively inconsistent results – unless you particularly like flat faces.
Sure, it's impressive that all this is being done on the phone, rather than offloaded to a high-powered server somewhere, but the whole concept just feels like one big gimmick. It doesn't rely on any particular hardware, either, so doesn't feel like something you won't eventually find on any other phone.
3D scanning aside, the XZ1 has another software first: it's arriving with Android Oreo out of the box, beating every other phone-maker to the punch. You'll be as up-to-date as can be once you get one in your pocket.
It has all the same features you'll find in vanilla Android, like improved lock screen notifications, improved battery life, and picture-in-picture support, only with a trademark Sony twist thanks to that Xperia UI.
It doesn't feel all that different from previous iterations, with custom icons, a slightly tweaked notification tray and rearranged Settings screen. Sony has filled the app drawer with its own apps, though, many of which just do the same thing as Google's originals.
PERFORMANCE & BATTERY LIFE: HOURS OF POWER
At least the XZ1 doesn't disappoint when it comes to hardware, keeping pace with the more expensive XZ1 Premium – and all the other big-name phones that have launched this year.
That means a Snapdragon 835 CPU and 4GB of RAM, which is enough to make Android feel particularly snappy. Sony's minimal Xperia UI isn't exactly demanding, so there's nothing to slow your apps and games down. The 1080p resolution helps keep things ticking over, without pushing the GPU too hard either – even demanding games will play at smooth frame rates.
You get 64GB of storage, which is more than enough for apps, games and multimedia, plus you can add a microSD card if you do eventually run out of space.
The 2700mAh battery is a little on the small side, though. It makes sense on the 4.6in XZ1 Compact, but here you've got a much bigger 5.2in screen to power – and that's before you start playing with HDR.
In continuous use, it managed around 12 hours of video playback – some three to five hours less than the other 2017 flagships we've tested. You'll get through an entire day between top-ups, but only just.
You do at least get USB-C and fast charge support, but no wireless charging.
SONY XPERIA XZ1 INITIAL VERDICT
Let's be honest: unless you've been paying attention very, very carefully over the past four years, you'd struggle to tell the XZ1 apart from any of the multitude of Xperia phones that came before it.
Sure, the hardware has improved. HDR video on something that slips in your pocket is very cool, and bringing the same camera tech as the top-end Xperia XZ Premium down to a more affordable price was always going to be a good move – it's just all wrapped up in a distinctly unexciting design. Even if the metal finish is a whole lot better at hiding fingerprints than the Premium's shiny glass.
It's perfectly competent, but when the rest of the smartphone world is making the jump to front-filling screens with minimal bezels and smooth, curvaceous handsets that are a joy to hold, the XZ1 feels instantly dated before it even goes on sale.
It's not exactly a bargain, either: at £600, it'll set you back just as much as a Galaxy S8, and only slightly undercuts the new crop of iPhones. Gimmicky 3D scanning tricks just aren't enough to make up the difference.
Tech specs
| | |
| --- | --- |
| SCREEN | 5.2in, 1920×1080 LCD with HDR |
| CPU | Quad-core Qualcomm Snapdragon 835 |
| MEMORY | 4GB RAM |
| CAMERA | 19MP rear, 8MP front |
| STORAGE | 64gb on-board, microSD expansion |
| OPERATING SYSTEM | Android Oreo w/ Xperia UI |
| BATTERY | 2700mAh non-removable |
| DIMENSIONS | TBC |
Stuff Says…
It's clever, but 3D scanning tech alone does not make a killer phone. The XZ1 just feels like more of the same, and that's not enough any more
Good Stuff
Brings HDR to Full HD for the first time
Delivers performance you'd expect
Android Oreo out of the box
Bad Stuff
Same design we've seen for years
3D scanning is a gimmick
Camera has familiar processing issues