LG V30 review
Scraps the dual-screen gimmicks for a Hi-Fi focus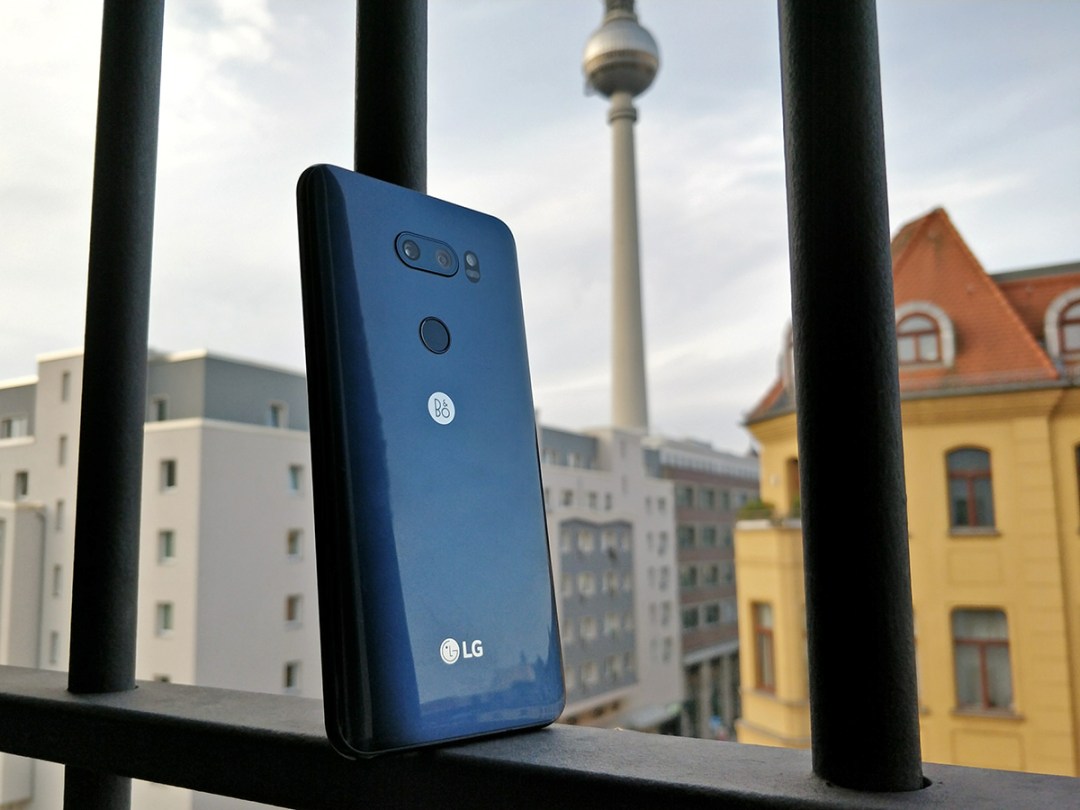 Budding movie makers, pay attention: LG's latest wants to add some silver screen magic to your social shares.
The V30 can record 4K videos in LOG format – that's the kind of silver screen wizardry cinematographers use when they colour-grade blockbuster movies. Not bad for something that slips into a pocket.
It's purpose-built for audiophiles, too, with a 32-bit DAC that'll handle Hi-Res music tracks. Oh, and let's not forget the headphone jack – what good would a music-obsessed phone be without one of those?
On paper, the V30 sounds like a laundry list of everything you could want from an Android phone: OLED screen, skinny bezels, and one of the more unique dual camera setups currently squeezed into a smartphone.
Unfortunately, a few mistakes stop LG from delivering on its promises.
DESIGN & BUILD: SLIMLINE STUNNER
If the G6 was a tentative dip in the water, as far as bezel-free phones go, then the V30 is a full-on cannonball straight off the diving board.
Gorilla glass 5 protects an 18:9 aspect ratio screen, which practically fills the entire front of the phone, and the shiny rear gets the same treatment. 3D glass then wraps slightly around the sides, merging smoothly with the metal frame, which has its own slight curve.
The Aurora Black hue of our review sample is a little business-like, though. We prefer the more colourful Moroccan Blue version.
It might have the same size screen as Google's giant Pixel 2 XL, but the V30 sits more comfortably in your hand – because it's not making room for any front-facing speakers.
The dual camera module take up a lot less space here than they do on the G6, giving the back of the phone a more refined look. Oh, and they're nowhere near the fingerprint sensor, either. LG: 1, Samsung Galaxy S8: 0.
That sensor sits in perfect position on the back of the phone, too, right where your finger naturally rests.
The whole thing is IP68 dust and water resistant, so won't come a cropper if it takes an accidental dunking, and LG has drop-tested it too, so hopefully a light case of butterfingers won't mean a smashed screen. Not that I've thrown it at any concrete to find out – and it's still made from glass, so any major impacts are still going to cause carnage.
While the screen itself might not curve around the edges of the phone like the Galaxy S8, the V30 is otherwise as modern as handsets get right now.
SCREEN: OLED-ING THE SIDE DOWN
LG's return to OLED smartphone screens should have been a triumph – after all, its OLED TVs are the best in the business. Unfortunately though, the V30 lets the side down.
The 6in OLED panel has a pixel-popping QHD+ resolution, which keeps things looking pin-sharp, and when you crank up the brightness, colours look punchy. So far, so good.
In the dark, though, there's a grittiness and unevenness to the lighting that is pretty nasty, with desaturated colours you just wouldn't expect from OLED. It also has the same off-angle blue cast seen on the Pixel 2 XL, although it's less noticeable here.
HDR10 support means compatible Netflix streams should look even better than their SDR counterparts, but there's just not enough definition in darker scenes – a very odd thing for OLED, which usually has exceptional contrast. The iPhone X and Samsung's Galaxy S8 perform much better here.
We're not alone in experiencing these issues. Other reviewers have seen handsets that fared better – and worse. It seems quality control might be the issue here, so buying in-store might be the best way to guarantee a decent panel.
The switch to OLED does at least mean the V30 will play nicely with Google's DayDream View VR headset – a first for an LG phone. This puts it on level pegging with Samsung's Galaxy phones, which have supported the Gear VR headset for a few years now.
LG's always-on display tech makes a lot more sense on an OLED screen, too, as it's only using power to draw a few pixels, rather than relying on a backlight.
It's a real shame the screen just isn't up to par, because you're forced to look at it every time you use your phone. Samsung's OLED panels are just much better all round.
SOUND: GOLDEN EARS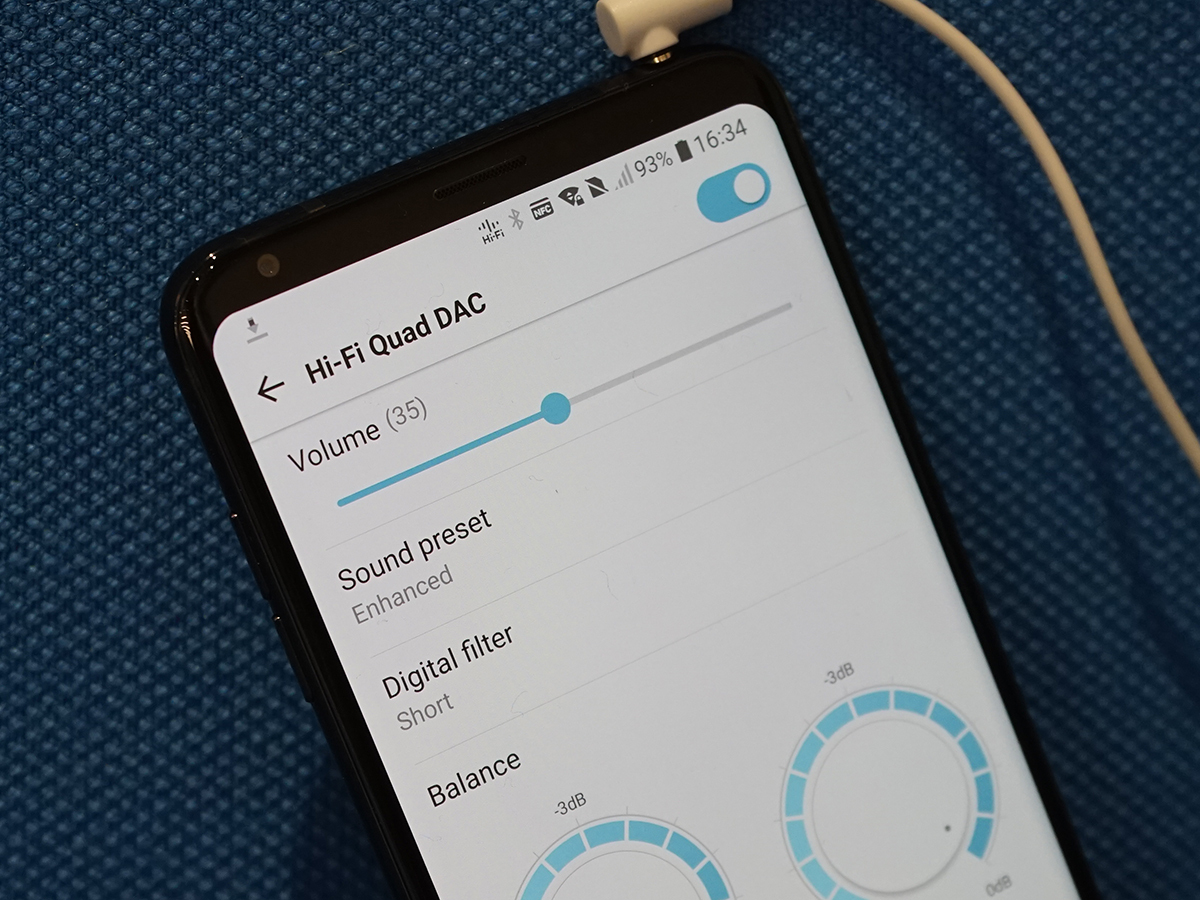 There's nothing to complain about the V30's sound. LG has added a quad-DAC, which is audio geek speak for making your music sound as good as it possibly can from a smartphone.
That includes MQA support, a world's first in a phone. This cutting-edge new file type is much smaller than a FLAC or WAV file, but stays lossless for the best possible quality. You'd normally find it on very high-end Hi-Fi kit, so to have it in a phone is a big deal for audiophiles.
The detail and precision you get from MQA and a decent pair of headphones is genuinely superb. Daft Punk's Get Lucky has never sounded so clear-cut.
The built-in speaker has apparently been tuned by audio experts B&O Play, who also supply the bundled in-ear headphones, but it's not quite as loud as the dual-speaker Pixel 2 XL.
Still, short of spending thousands on a dedicated Pono or Astell & Kern music player, this is the best portable sound around.
CAMERA & VIDEO: DIRECTOR'S CHAIR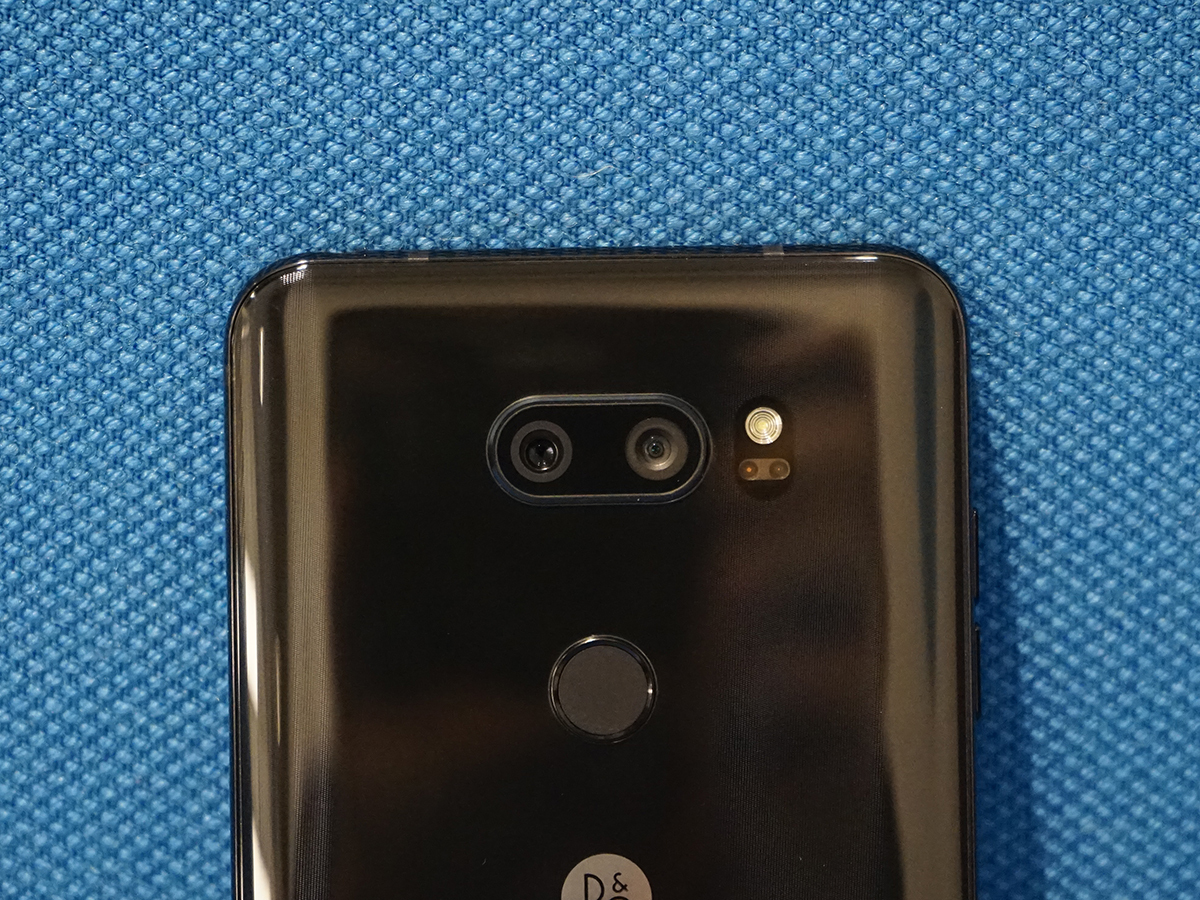 OK, here's where things are going to get geeky. Apologies in advance, non-camera fans.
The V30 takes the dual camera setup from the G6 and upgrades it, boosting the main sensor's resolution to 16MP and giving it an extra-wide f/1.6 aperture. Only Huawei's Mate 10 Pro comes close to matching it.
The lens is actually made from glass, too, or at least the final lens element is – something you won't find in any other smartphone. This helps more light hit the sensor with every snap: two whole light stops more, according to LG.
Rather than follow the rest of the dual camera crowd with a depth-blurring Portrait mode, the V30's second snapper is instead dedicated to squeezing a whole lot more into every photo. It's a 13MP wide-angle lens, with a 120° view and f/1.9 aperture.
That sounds impressive, but it misses out on the optical image stabilisation you get on the main sensor, meaning things are a bit more hit-and-miss in low light.
You do get combined laser and phase detection autofocus, though, so the cameras feel snappy in use.
Sharpness is this phone's strong point, but only because your shots are so heavily processed – something LG just doesn't seem to be able to let go of. HDR works well enough, but can't cope with complex scenes as well as Google's algorithm-assisted Pixel 2, and it tended towards over-exposure in many of our test shots.
Colours are fairly natural, though, and image noise is rarely an issue until the lights get really low. It's a competent performer, but Samsung, Apple and Google take better photos overall. Stills are only half the story, of course. It's video where the V30 really carves out its own niche, with Cine Video presets. These use wider colour gamuts and dynamic range to jazz up your videos – but aren't just simple filters. The V30 actually uses LOG profiles, so you can colour-grade your footage like a pro video editor, with just a few taps.
There's also a neat target-based zoom, which lets you smoothly zoom into a focus-locked target instead of just zooming into the centre of the frame. Sure, it's still using digital zoom, but the effect is a lot more cinematic now.
Add in the two microphones (AOP, for recording with a lot of background noise) and 24-bit lossless audio, and videos sound as good as they look. If only LG had managed 4K recording at 60fps, then it really would be the full package.
PERFORMANCE: BACK IN THE GAME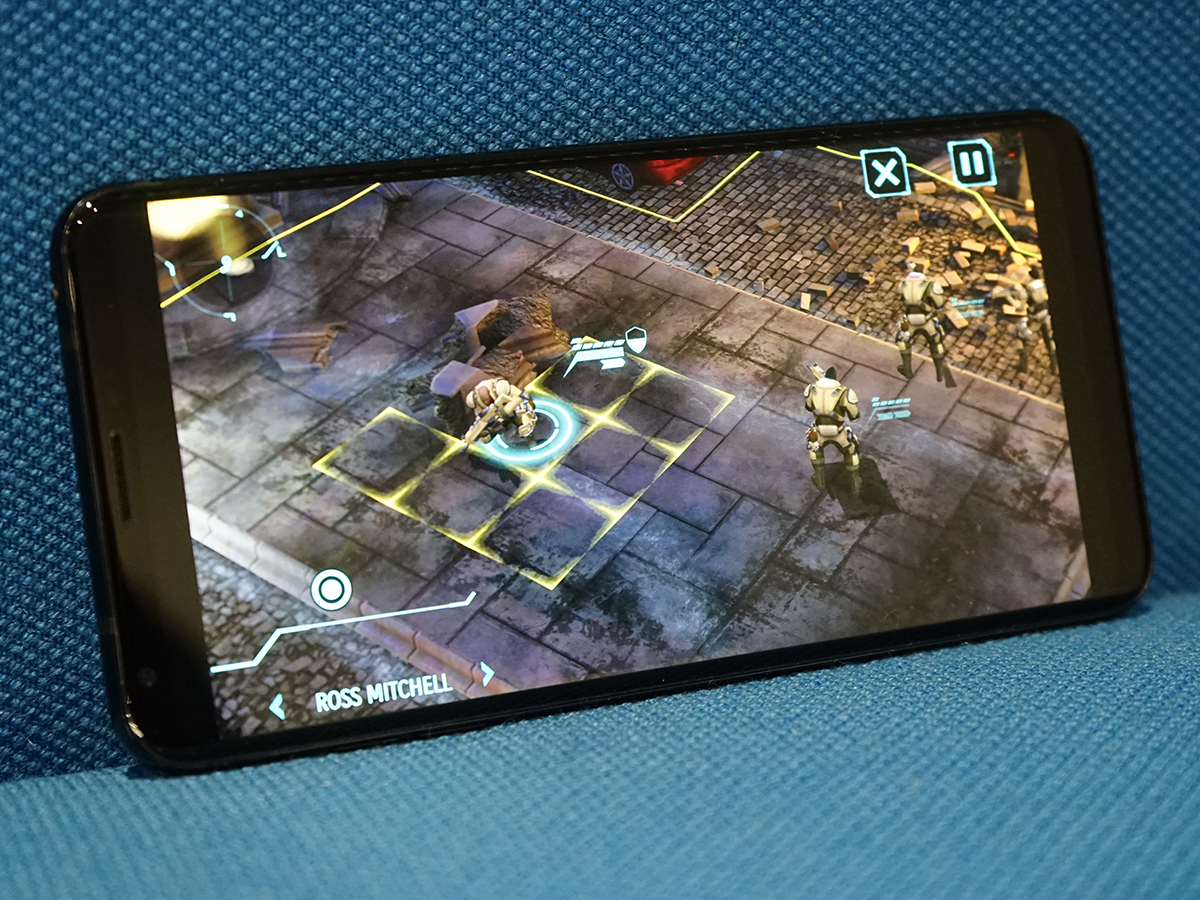 The G6 was the last major phone to arrive with a Snapdragon 821, and while it was hardly a slouch, as soon as the rest of the world stepped up to the Snapdragon 835, it felt out of date.
That's not a problem for the V30 – it's got Qualcomm's latest and greatest silicon under the skin, with eight cores ticking along at a healthy pace to keep your apps running smoothly, game frame rates high and Android stutter-free. 4GB of RAM is onboard for multitasking, too.
Everything feels snappy and responsive, with even demanding 3D games like XCOM: Enemy Within playing smoothly at the native QHD+ resolution. You won't be missing out on power if you opt for LG this time around.
Storage is more complicated. In the UK we get the standard V30, which has 64GB of on-board storage and a microSD slot for adding more later, should you run out. There's also the V30+, which doubles that capacity to 128GB, but a microSD card will cost you significantly less cash.
BATTERY: WIRELESS WONDER
With the more energy-efficient Snapdragon 835 and a power-sipping OLED screen, you'd expect the V30 to be fairly frugal when it comes to battery life.
The G6 wasn't exactly the battery life champ, but the 3300mAh cell used here is big enough to get you through an entire day – if you're not constantly playing games or watching videos, that it. This puts it on par with Samsung's Galaxy S8+, but it still falls short of Huawei's Mate 10 Pro and its near-miraculous staying power.
Should you get caught short, Qualcomm's Quick Charge 3.0 lets you get back up to 50% in well under an hour, which is enough to get you through to the next morning if you top up mid-afternoon.
The glass construction also opens the door for wireless charging, which is even more convenient than a cable.
SOFTWARE & OS: FLOAT ON
The V30 ships with Android Nougat out of the box, which might come as a disappointment to some, but LG has promised version 8.0 Oreo will be coming soon. The update is already rolling out in beta form to Korean handsets right now, so hopefully the wait won't be too long.
In the meantime, there are plenty of LG's own software tweaks to use – including a floating shortcut bar that effectively replaces the outgoing V20's second screen. It's a worthy replacement, able to sit anywhere onscreen within easy reach instead of right at the top, where only the most nimble of thumbs could reach.
You can jump straight into apps using shortcuts, control music playback, choose your favourite contacts to call or message, or access game tools like screenshots.
LG's custom UI looks relatively unchanged from the G6, but that's not exactly a bad thing – it made minimal changes, and kept the best bits from Google's original vision for Android.
That includes the return of Google Assistant, after making a first appearance outside of Google's own Pixel phones on the G6 earlier in the year, and this time it knows a few LG-specific tricks. Ask to take a video with a particular movie mode, and it'll jump right into the camera app with the correct filter already loaded.
KnockON is back, too, letting you wake the screen with a tap – handy when it's sat on a desk and you can't reach the fingerprint sensor.
Finally, security has taken a step up with voice recognition unlock and face unlock options. The latter isn't nearly as complex as Apple's IR-assisted FaceID, and I'm still happy to stick with the fingerprint reader, which is perfectly placed and quick to skip the lock screen, but it's nice to have the choice.
LG V30 VERDICT
The V30 isn't just a G6 refined with a combination of glass and metal. It feels focused, because it scraps the gimmicks the V-series used to be known for.
Media-friendly upgrades like the quad-DAC give it a real sound step-up over any other smartphone you can buy right now, and performance was never in doubt thanks to that Snapdragon CPU.
Camera quality isn't fantastic, but the second wide-angle sensor at least makes it a versatile companion for anyone with the travel bug.
If only the OLED screen was as striking as the all-glass design. As it stands, display quality just isn't up to the same high standards as the rest of the smartphone world. Seeing how the screen is the one thing you look at every time you use your phone, this misstep is difficult to ignore – but if you get lucky and find a handset with a decent panel, there's still a lot to like here.
Tech specs
| | |
| --- | --- |
| SCREEN | 6in QHD+ OLED FullVision display w/ 18:9 aspect ratio, HDR 10 |
| CPU | Qualcomm Snapdragon 835 |
| MEMORY | 4GB RAM |
| CAMERA | Dual 16MP, f/1.6, 71° and 13MP, f/1.9, 120° rear w/ optical image stabilisation |
| STORAGE | 64GB on-board, microSD expansion |
| OPERATING SYSTEM | Android 7.1 Nougat |
| BATTERY | 3300mAh non-removable with wireless charging, QuickCharge 3.0 |
| DIMENSIONS | 152x75x7.3mm, 158g |
Stuff Says…
The best-sounding smartphone around, but display inconsistencies really let the side down
Good Stuff
Phenomenal sound quality
Gorgeous design
Versatile dual-lens camera
Bad Stuff
One of the weakest OLED screens around
Camera quality still not up there with the best