Sony Xperia 1 review
Long time coming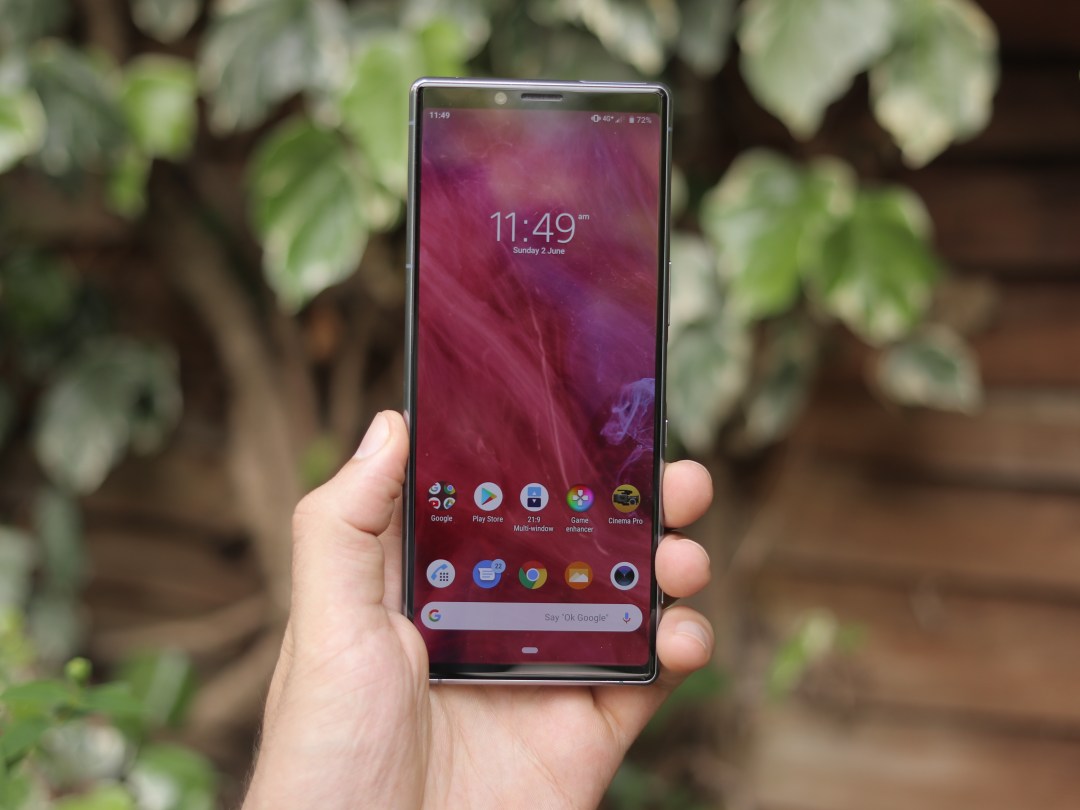 Sony's regrouping and trying something different. Something that will have punters longing for something a little out of the ordinary. But do we really need or want longer phones?
The Sony Xperia 1 is a beast. Packing the world's first 4K HDR OLED smartphone display, a triple camera around the back loaded up with Sony Alpha eye-tracking tech, advanced video features, and stacks of power, it's most definitely a flagship.
But it's also pricey, costing £850 SIM-free.
Is there enough innovation and excellent execution in it to stand out in the face of stiff competition from Apple, Huawei, OnePlus and Samsung?
Design: Where have you been all my life?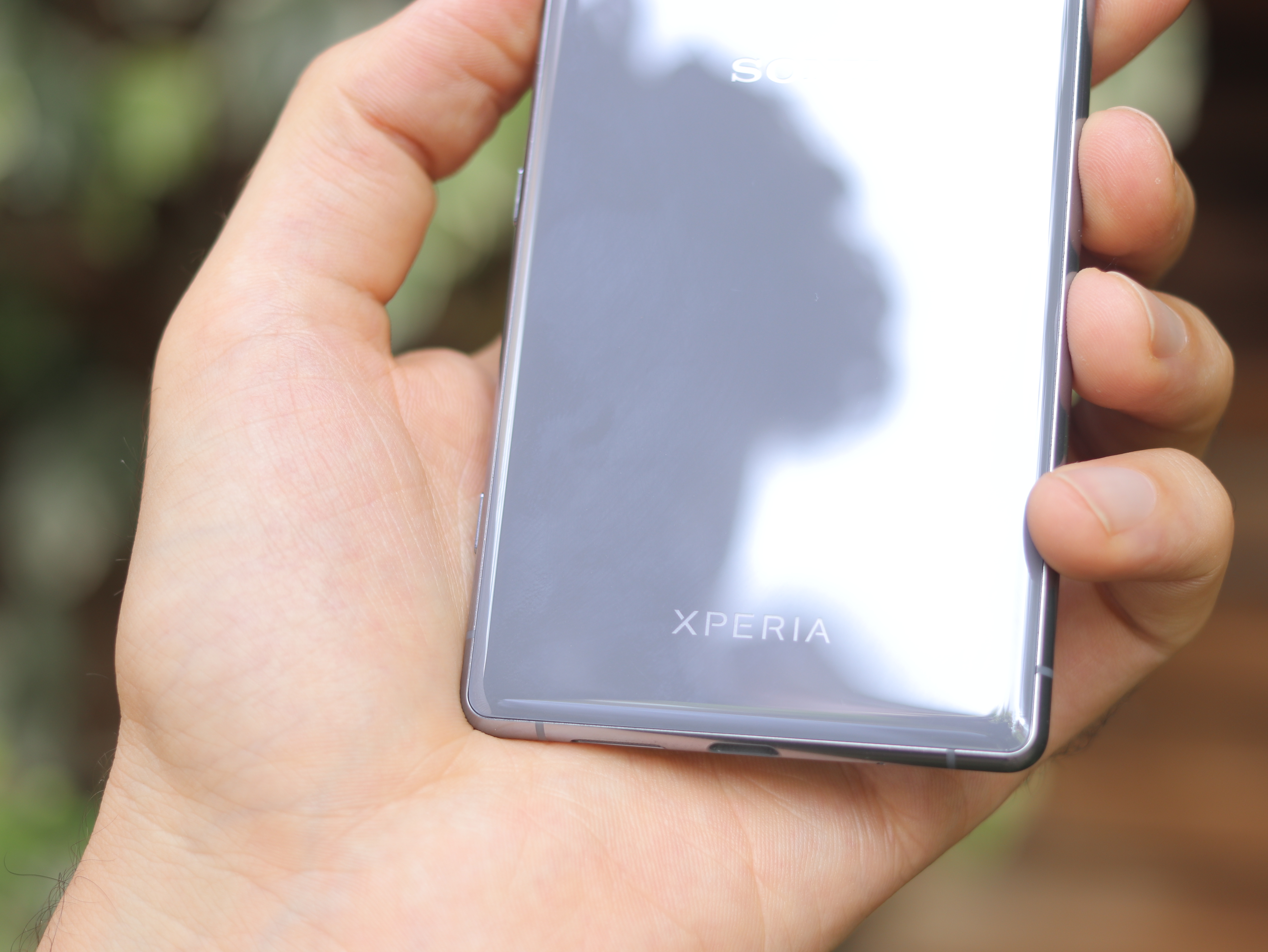 The Xperia 1 is the first flagship smartphone with a 21:9 aspect ratio screen, and this directly impacts its design.
It's a tall phone, and it looks great. Available in black, grey, purple and white, the grey version is both the most premium looking, and is exclusive to Vodafone in the UK.
The phone's front and back are protected by hardy Gorilla Glass 6. A polished aluminium frame wraps around the sides, and there's IP68 water resistance too, so you can dunk it up to 1.5m for 30 minutes.
The sides are rounded, and all the buttons are on the right. The fingerprint scanner is sandwiched between the volume and power keys, and there's also a camera key, which can be half-pressed to focus – very retro.
At the base is a USB-C port, and the bottom firing speaker, which is complemented by a front firing speaker above the display. Speaking of, at 6.5in, the screen's big, and so too is the phone, so if you can get it in your hands before taking the plunge, we'd suggest doing so.
If you want to swap SIM cards, you don't need a fiddly pin.
Instead, Sony's SIM tray can be pulled out with a fingernail and takes one SIM card and a microSD card. It's clear that Sony built the body of this phone around the display, and the lack of a curve means it doesn't look as cutting edge as some phones out there, but irrespective, the Xperia 1 is a beautiful smartphone.
Screen: 4K HDR OLED, nuff said…
On paper, Sony's Xperia 1 has the best smartphone screen known to man.
Its 4K resolution is sharp enough to cut right through of the competition. The technology under the glass is also OLED, which is deep, rich, punchy and inky all at the same time.
At 6.5in, it's big too – roughly on-par with the iPhone Xs Max and Samsung's Galaxy S10 Plus. The key difference here is its aspect ratio. At 21:9, it's cinema-style wide display is totally unique in the flagship space.
By creating a Creator Mode colour space, Sony had Netflix engineers corroborate the fact the Xperia 1 has an excellently colour calibrated screen that's versatile.
Within the settings, you can customise things to look the way you want them to, and there's an eye comfort mode to filter blue light as well. Combined with HDR support for wide dynamic range video playback, it definitely won't leave you wanting from a depth and colour point of view.
The screen's clarity is also flawless. The Huawei P30 Pro for example features 398 pixels-per-inch (PPI), versus almost 643 PPI on that of the Xperia 1.
Despite all this, we wouldn't call it the best smartphone screen around. Its max brightness can't stack up to the best of the rest, and its viewing angles are very good, not incredible, with slight colour shifting at extreme angles.
From a quality point of view, it's also bettered by its predecessor, the Xperia XZ3, which delivers more impact and is still one of the best displays we've ever seen. That said, the 21:9 aspect ratio is the part we fell in love with. It's flatness and slight bezel either side meant we fired up less accidental screen presses than we do on curved screens.
With its extra height, when typing documents, something we do a lot, the keyboard took up less space, leaving more room to see, our forever growing to-do list.
When split-screen multitasking, which is easy to access thanks to a smart gesture, each app gets a really respectable amount of space. All this comes together to make other phones feel ergonomically inferior in specific use-cases, even if they pack less bezel or more brightness.
There are downsides to the aspect ratio too though. Watching 16:9 shows result in hefty letterboxing, as does playing unoptimised games – though that last one should be addressed if/when more manufacturers jump on the 21:9 train.
In the same breath, 21:9 movies look gloriously immersive, as does the interface in general. So while you can't please everyone, if your use-case matches up with the Xperia 1's strengths, the 21:9 aspect ratio gets a hearty recommendation from us.
Software: Stocktastic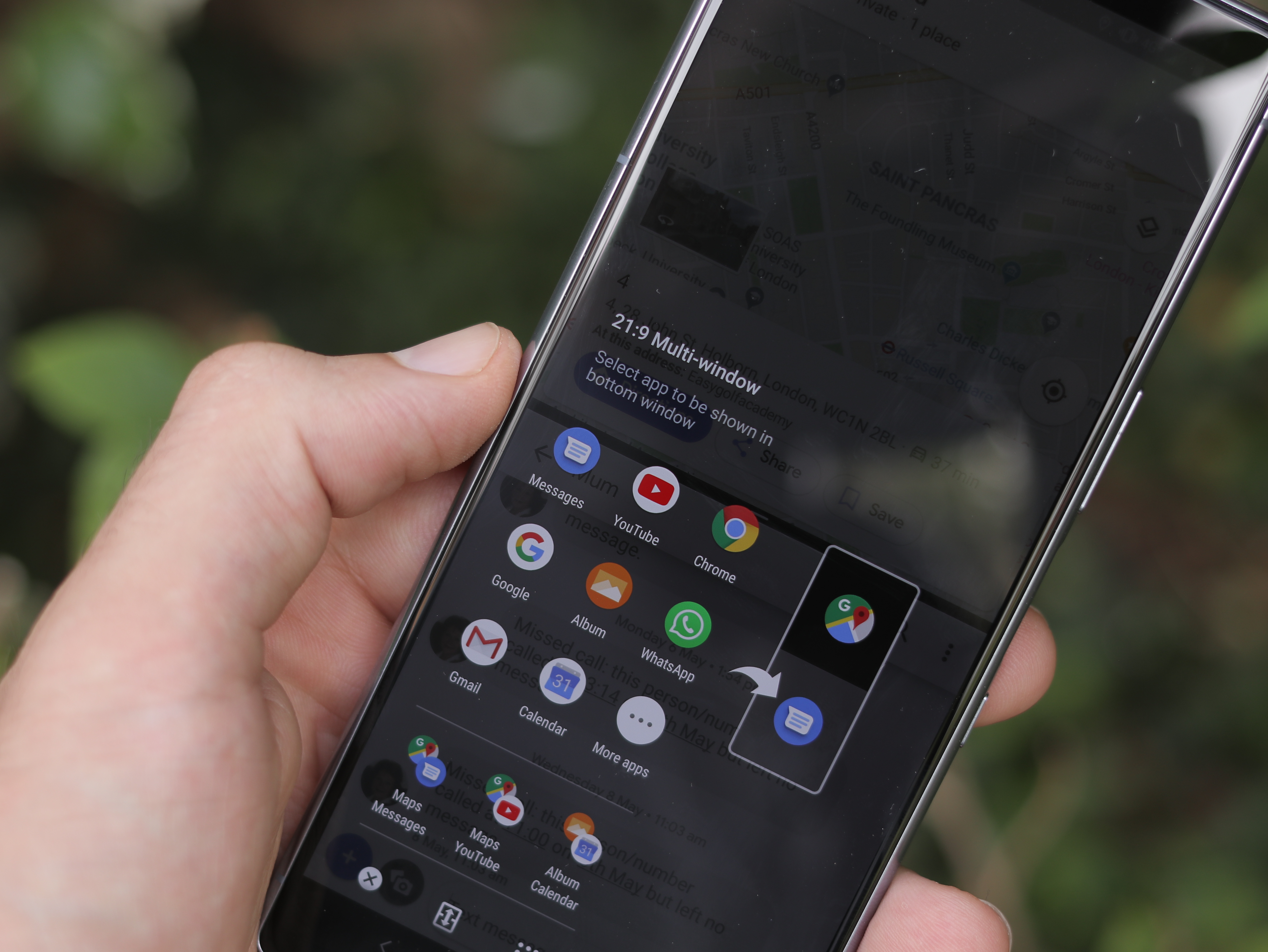 Serving up Android 9, with a light dressing of Sony over the top, we're big fans of the Xperia 1's respectful take on Android.
It features home screens, an apps tray and a notification bar, as well as a Google Assistant screen to the right.
Just like the Pixel 3, you can ditch the navigation buttons in favour of a little icon at the bottom of the phone which enables gesture-based navigation.
Sony has also brought back its own gesture system, Side sense introduced in the XZ3, and built upon it nicely. Side sense fires up with a double tap of the side of the phone.
A swipe down along the side of the phone navigates back, and new to the Xperia 1, a swipe up activates split-screen multitasking. While it was relatively reliable on the XZ3, without a curved screen, it can take a couple of taps.
What we did find reliable though were the swipe gestures. In particular, activating split-screen multitasking with a gesture is a delight. The rest of the interface is predictable enough. There's a fair amount of Sony bloatware, but this can be uninstalled, it's all smooth and stable.
Within the settings, there's also digital wellbeing centre which enables handy features to let you keep tabs of your screen use.
Performance: One powerful Xperia
Thanks to the Qualcomm Snapdragon 855 processor inside the Xperia 1, it performs like a dream for the most part.
Packing 6GB RAM too, it's the best specced Xperia ever, and that power is reflected across everything from gaming through to simple browsing, editing and swiping.
In fact, the only area we found there to be occasional slowdown was within the camera application.
Every so often, it could take a second to fire up or swap between the cameras.
Storage options are also plentiful, with the UK version of the phone packing 128GB storage complete with a microSD card slot, which can add 1TB to the mix.
Connectivity options are also on-point, with Bluetooth 5.0, a USB-C that supports 18W fast charging and 4G onboard.
The missing 5G isn't a strike against it per se, but it's definitely something to be aware of now that a heart handfull of the flagship rivals all have 5G offerings.
Camera: Sony's best, but not the best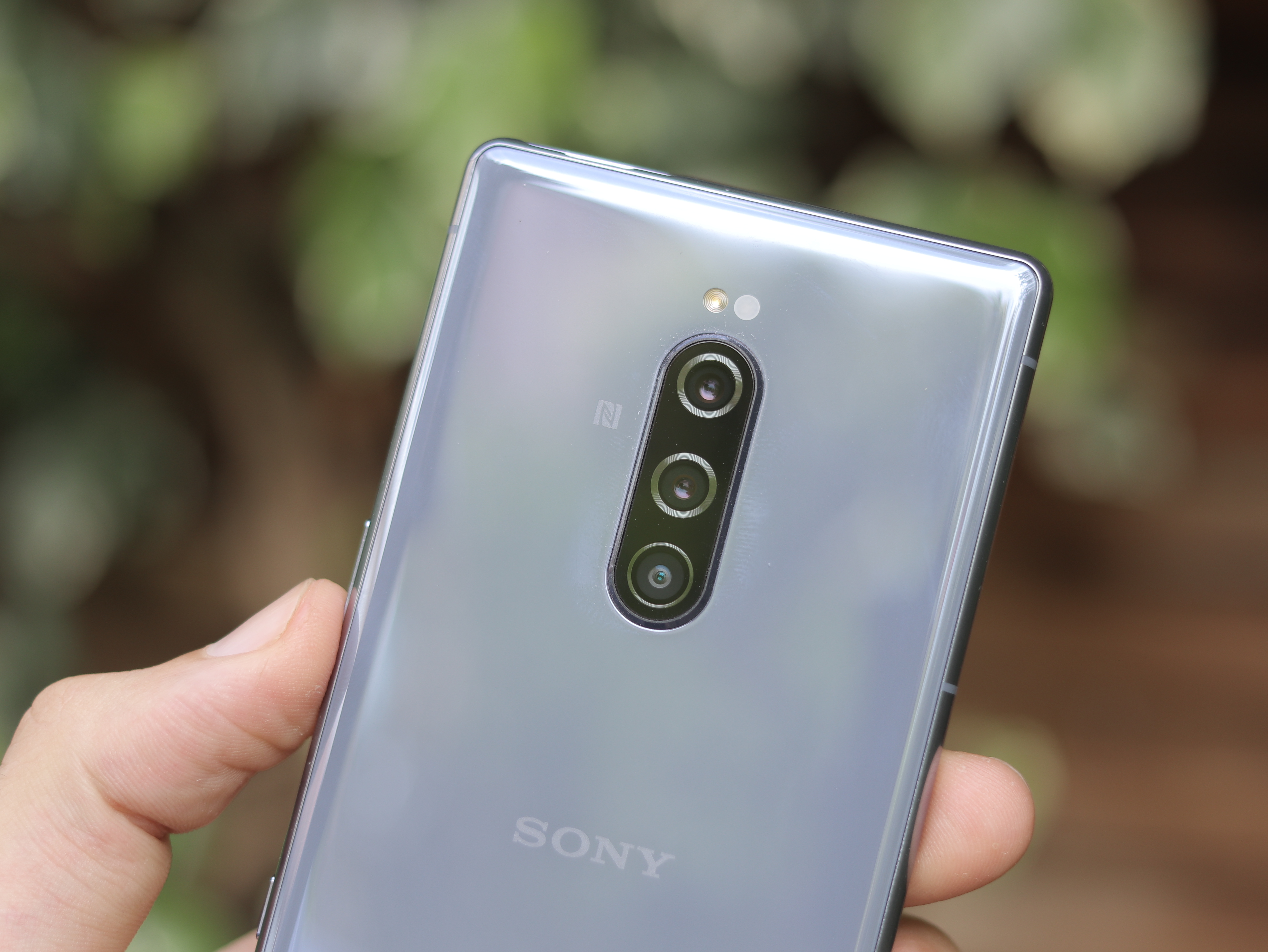 Not one, not two, but three cameras around the back? A first for Sony, and a welcome break from tradition bringing the Xperia 1 up to speed with the competition.
As for the specifics, there's a main 12 MP (f/1.6, 26mm) camera, one 2x zoom 12 MP (f/2.4, 52mm) camera and finally, a wide angle, 12 MP (f/2.4, 16mm) camera. These offer a great range of focal lengths, and there's also OIS on the primary and 2x zoom cameras too.
What's even better is the fact this is the first time we've seen a marked improvement in image quality from Sony in a while. Images captured on the main camera have a healthy amount of detail, colours are rich and even when you pinch into them, it doesn't feel like Sony is as aggressively processing them as it did images shot on older Sony phones.
Low light performance is pleasantly realistic. While Google, Huawei and Samsung are all making night look like day, the Xperia is definitely the truest to life. That said, if you do try to ramp up the exposure, it struggles more than the aforementioned.
Dynamic range is good – so backlit scenarios are handled well, but it isn't Pixel 3 or Huawei P30 Pro good.
The auto mode does however features smart scene detection, and you can customise white balance while you shoot which is really handy. There's also a manual mode, and Sony has increased the maximum shutter time to over 30-seconds, so you can grab light trails and get creative. All this comes together to make it a great camera phone for imaging enthusiasts.
The Xperia 1's eye-tracking feature is also very handy for portrait shots, automatically blurring out the background if appropriate while locking onto your subject's gaze, and the continuous 10fps burst mode, with tracking autofocus is also fantastic when shooting moving subjects.
Also impressive is the 4K HDR footage the Xperia 1 captures. It's sharp, has great tonal range and plays back on HDR screens nicely.
Naturally, the phone can also record non-HDR video too, and it's competitive, though stabilisation across zoom ranges can't stack up to that of Huawei's flagship.
As for the pro video features, thanks to Sony's CineAlta powered app, filmmakers will have a field day with the Xperia 1. It's the only smartphone around that offers videographer levels of control over your video recording out of the box – from manual focus, through to shutter speed and a range of colour profiles.
The default colour profile, 'Venice', shoots with a beautifully flat look that has excellent dynamic range, and can be colour corrected in post-processing.
Unfortunately, there's no editor on the phone itself, so we'd suggest you download the PowerDirector app, or get your footage onto a computer. Once you do, you'll realise just how good the Xperia 1's video capabilities are.
Finally, the selfie camera is comfortingly soft, with its humble 8MP resolution. This means while it won't be super sharp, it will likely flatter, and thanks to a powerful screen flash that fires up automatically when the lights get low, you'll look decent in most environments.
Battery: Small, sufficient, safeguarded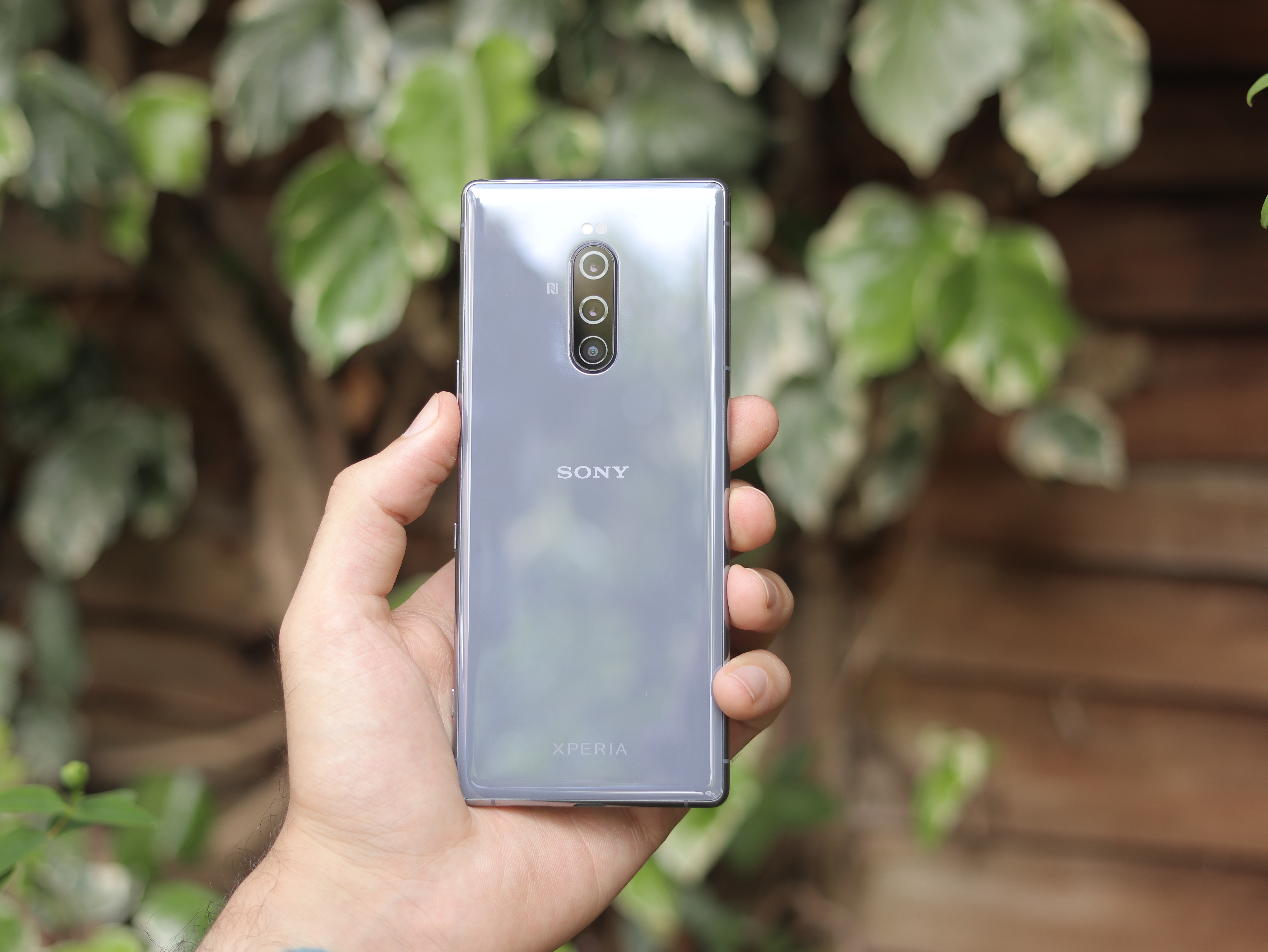 At 3330mAh, the Xperia 1's battery capacity is small, given the phone's flagship power demands, so you can imagine how surprised we were it lasted a full day.
Now, we're not talking Huawei Mate 20 Pro days, which are more like 1-2 days, but by 9pm, we still had, on average, 15% left in the tank, despite 5am rises.
Specifics varied depending on screen usage for us, so for gaming, watching or shooting-heavy days, you may want to take a battery pack with you just in case.
There's no wireless charging, but the phone does feature fast charging and Sony's Battery Care software.
This slows down the charging speed when your phone is plugged in overnight and increases the lifespan of the battery as a result, so twelve months down the line, your phone's battery shouldn't drain after half a day.
Sony Xperia 1 verdict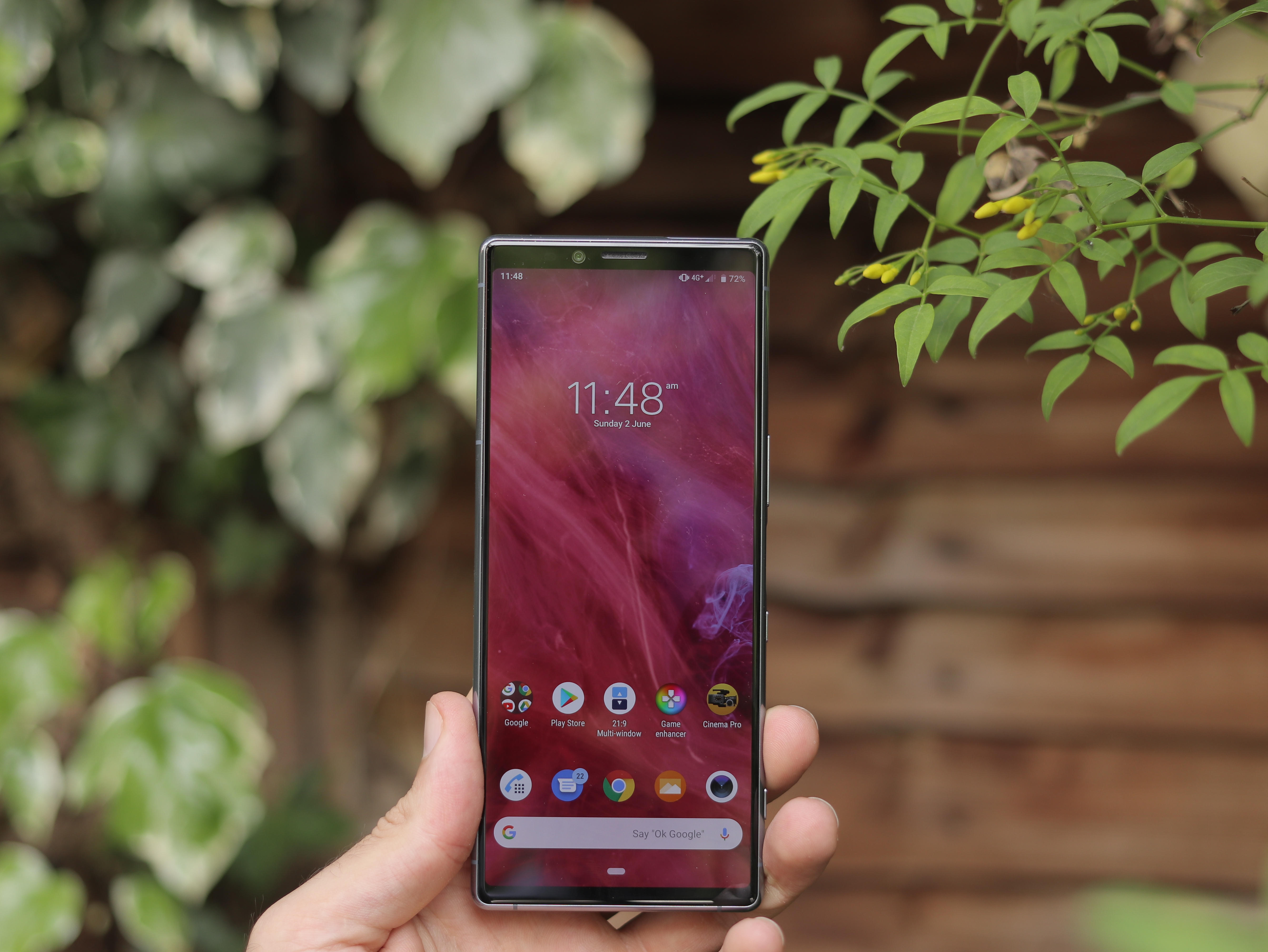 The Xperia 1 is a supermodel smartphone.
After a week reviewing it, more squat phones just feel a bit weird. Its premium design and lithe frame shine, the screen is seriously good, there's a clean interface, a great stills camera and it's class-leading when it comes to video capabilities.
It's both the most expensive and the best Sony phone to date.
Having said that, in the face of stiff competition from more affordable phones like the OnePlus 7 Pro and Honor 20 Pro, while it's excellent, the Xperia 1 isn't necessarily good value and its oddball size won't appeal to everyone.
So if you're a mobile gamer, watch more 16:9 shows than 21:9 movies, and care more about stills more than video, then there are other better phones out there that cost less.
If, on the other hand, you're a video enthusiast, edit a lot of documents, watch films when out and about, need a good camera and split-screen multitask a lot, this is cream of the crop.
Tech specs
| | |
| --- | --- |
| Memory and storage | 6GB RAM microSDXC support (up to 512GB) |
| Operating System | Android 9 Pie |
| Processor | Qualcomm Snapdragon 855 |
| Battery | 3330 mAh |
| Weight | 178g |
| Dimensions | 167 x 72 x 8.2mm |
| Display | 21:9 display, 6.5in 4K HDR OLED (1644×3840) |
| Main camera | 12MP + 12MP + 12MP (Super wide-angle, 2x optical zoom) |
| Sound | Dolby Atmos Stereo speaker, High-Resolution Audio ( (Supported audio formats: LPCM, FLAC, ALAC, DSD) |
Stuff Says…
Pricey, brave, excellent – the Xperia 1 is a sensational smartphone and a film enthusiast's dream
Good Stuff
Beautiful design
Long screen is sensational to use
Compelling stills/video camera
Bad Stuff
Battery is good, not great
No wireless charging
Occasional lag in camera UI