Samsung Galaxy S20 5G review
Pick of the litter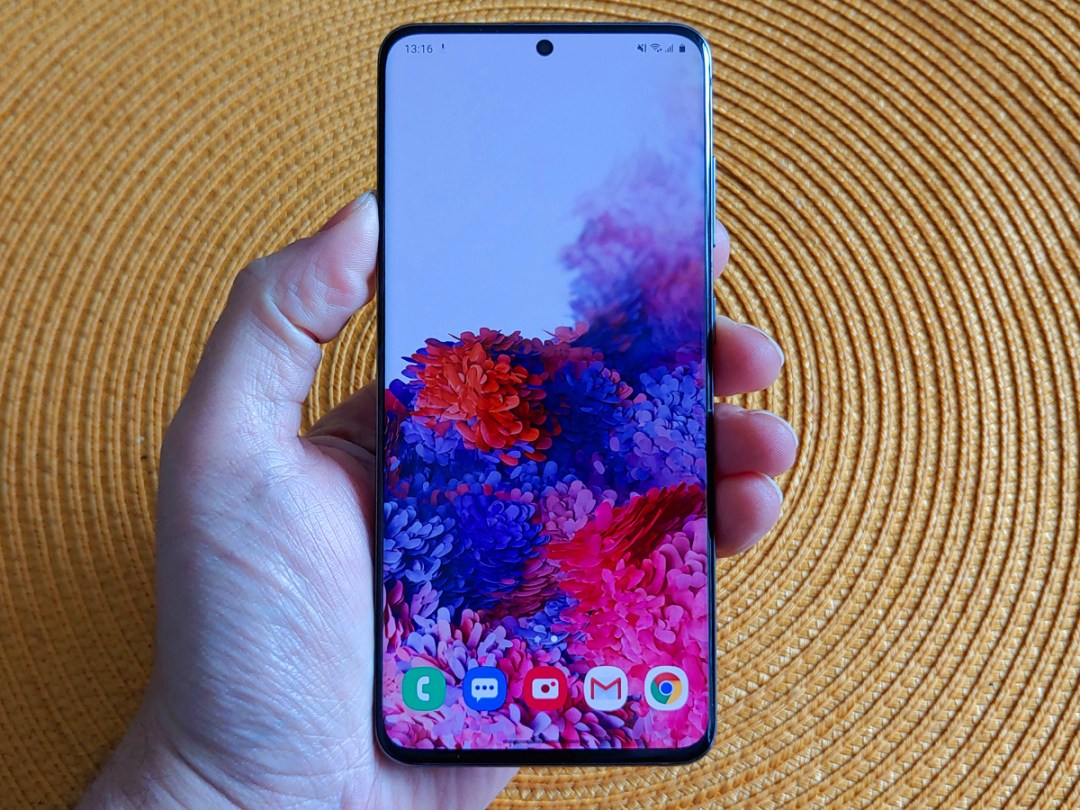 Just a year or two ago, the latest Samsung Galaxy would be the centre of attention.
Now though, the Galaxy S20 finds itself the mere starting point of a three-stage assault on the phone world. Anyone wanting the biggest and best will skip ahead to the no-compromise Galaxy S20 Ultra, right? Well sometimes, smaller is better.
The most compact S20 gets almost all the goodies you'll find in the larger, pricier ones, including a high refresh rate screen, 5G connectivity and multiple capable cameras. Oh, and it costs a whole lot less as well.
By focusing on the things we really want from our phones, it's clear this is still every bit the flagship.
DESIGN & FEATURES: BUSINESS CHIC
The S20 looks and feels a lot like any other modern Samsung phone – which is to say built to an incredibly high standard using quality materials. The design team really hit its stride a year or two ago, with only the tiniest spit and polish needed to keep ahead of the competition.
The curved screen isn't quite so curved this time around, the colour choices (grey, pink, blue) a little more conservative, and the metal frame a little less blingy than before, but when folding stunners like the Galaxy Fold and Galaxy Z Flip exist, you can afford a little restraint in your mainstream flagship. Even the dreaded Bixby button has been removed.
The giant off-centre camera bump on the back does feel a little bit "me too", as both the iPhone 11 and Google Pixel 4 did it first, and the glass back is just as much of a fingerprint magnet as they all are, but the diddy dimensions mean no-one should struggle to use it one-handed. IP68 water resistance means you're protected were you to drop it in the sink.
The repositioned in-display fingerprint sensor helps on that front, sitting higher up the phone so you don't have to contort your thumb just to skip the lock screen. It still uses ultrasonic tech, which isn't quite as rapid as the optical scanners found in other phones, but accuracy is pretty good.
The headphone socket has been deleted in favour of USB-C (or wireless) audio, with a pair of AKG-tuned in-ears included in the box, but no dongle for any existing pairs of cans you might own.
DISPLAY & SOUND: PIXEL PERFECT
As the bezels surrounding them have got skinnier, Samsung's retina-soothing screens have continued to expand. We're now up to 6.2in, giving the Galaxy S20 a pixel-busting 89.5% screen to body ratio. There's always the S20+ if you need to go bigger, but while screen size is ultimately personal preference, we think most people will be more than happy here.
All three Galaxy S20 models get the same 3200×1440 resolution, which is enough to embarrass the average PC monitor, and all can crank up the refresh rate to a silky smooth 120Hz. That's twice as quick as a typical phone, and it makes a massive difference to how animations flow over the screen. Even simple things like scrolling through your Instagram feed are suddenly transformed. It all just looks more fluid, and you should absolutely turn it on as soon as you get the phone out of its box.
Sure, it means not being able to use the phone's native resolution, but it already defaults to a Full HD+ mode to save battery. The refresh rate isn't variable, either, so it's 60Hz or 120Hz.
High refresh rate is really the icing on an already delicious cake, as Samsung's AMOLED panels continue to be some of the best you'll find in a phone. Colours are punchy and vibrant, contrast is unbeatable, and viewing angles are excellent. Brightness is top notch, even when you step outside, and benefits HDR content with brilliant highlights alongside deep, dark shadows.
Audio quality isn't quite up to the same standard, sounding a little tinny and hollow at louder volumes. You can feel a lot of vibration through the back of the phone, too. It's not even below average for a phone, but other flagships sound better.
CAMERA: DOES MORE WITH LESS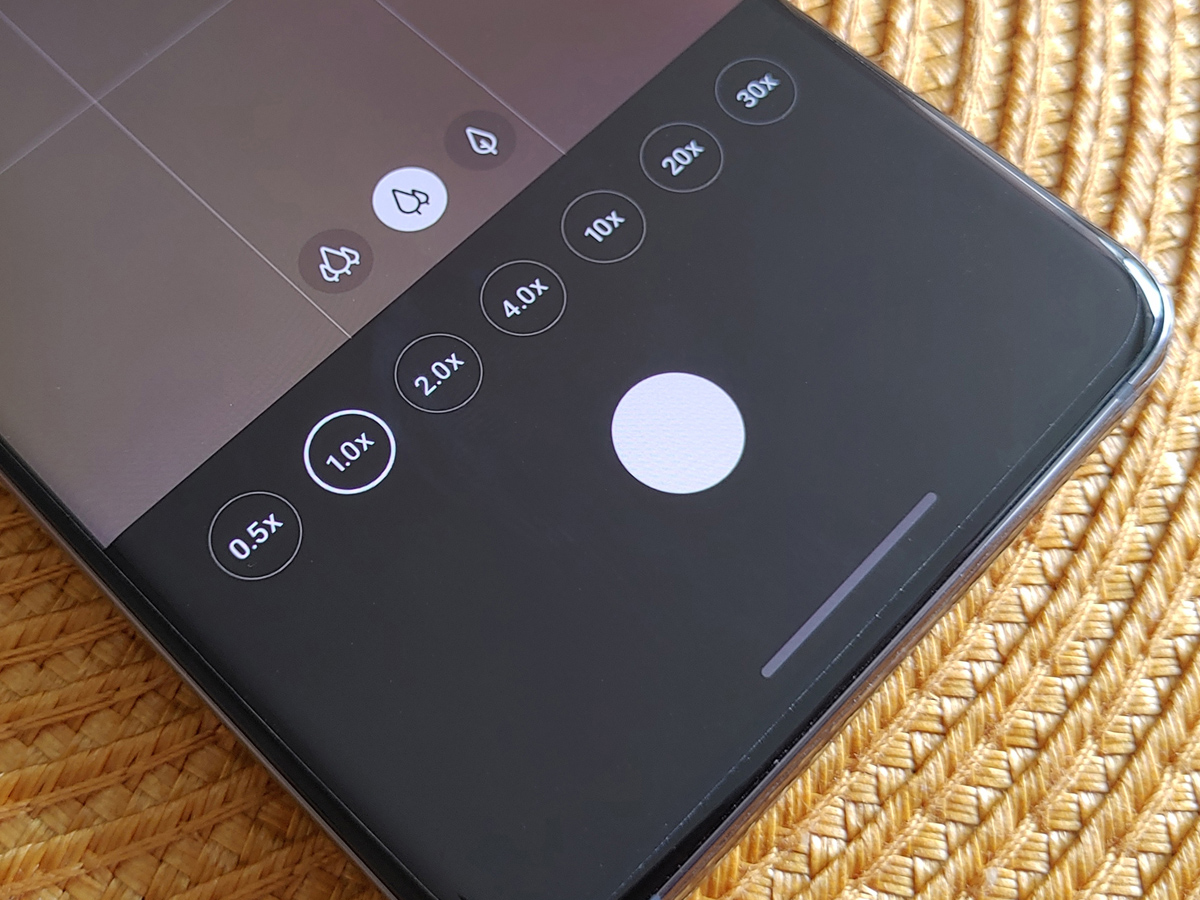 On paper, the S20's main snapper looks like a step back from last year's Galaxy S10. Both have 12MP sensors, but the old phone had a snazzy dual aperture. That's gone here in favour of a fixed f/1.8.
That's only half the story, though. The sensor uses bigger pixels, and has been redesigned entirely for better image quality. It's joined by a 64MP telephoto good for 3x optical zoom, with a 12MP ultra-wide angle completing the trio.
Whichever one you use, image quality is a real step forward from last year's Galaxy S10. Every picture we took looked vibrant, colourful and well-exposed. Auto-HDR does a great job of balancing skies and shadows. The camera app also makes it easy to swap between lenses, and they all produce similar-looking snaps so one sensor isn't relegated to "once in a blue moon" status.
Image processing isn't as in-your-face as previous years, with colours appearing more natural, although it can still oversharpen certain textures and details to an unrealistic degree. Facial details are sometimes lost as it loves to smooth out texture once it recognises a person, though this is less pronounced in the Pro mode.
Low-light shooting has improved, too, although not to the same level as the Pixel 4 or iPhone 11 Pro. The dedicated night mode uses algorithms and a few seconds of exposure to keep your pics detailed and free from too much grain without turning into a blurry mess, but white balance leans a little too much towards the warmer end of the spectrum.
The new Single Take mode is a fun inclusion, taking a few seconds of video footage and cutting it using all three cameras, pulling out still images and slapping a handful of different filters on them with a single press of the shutter button. 8K video recording is neat, if pretty much impossible to watch back at full resolution right now.
PERFORMANCE: FULL THROTTLE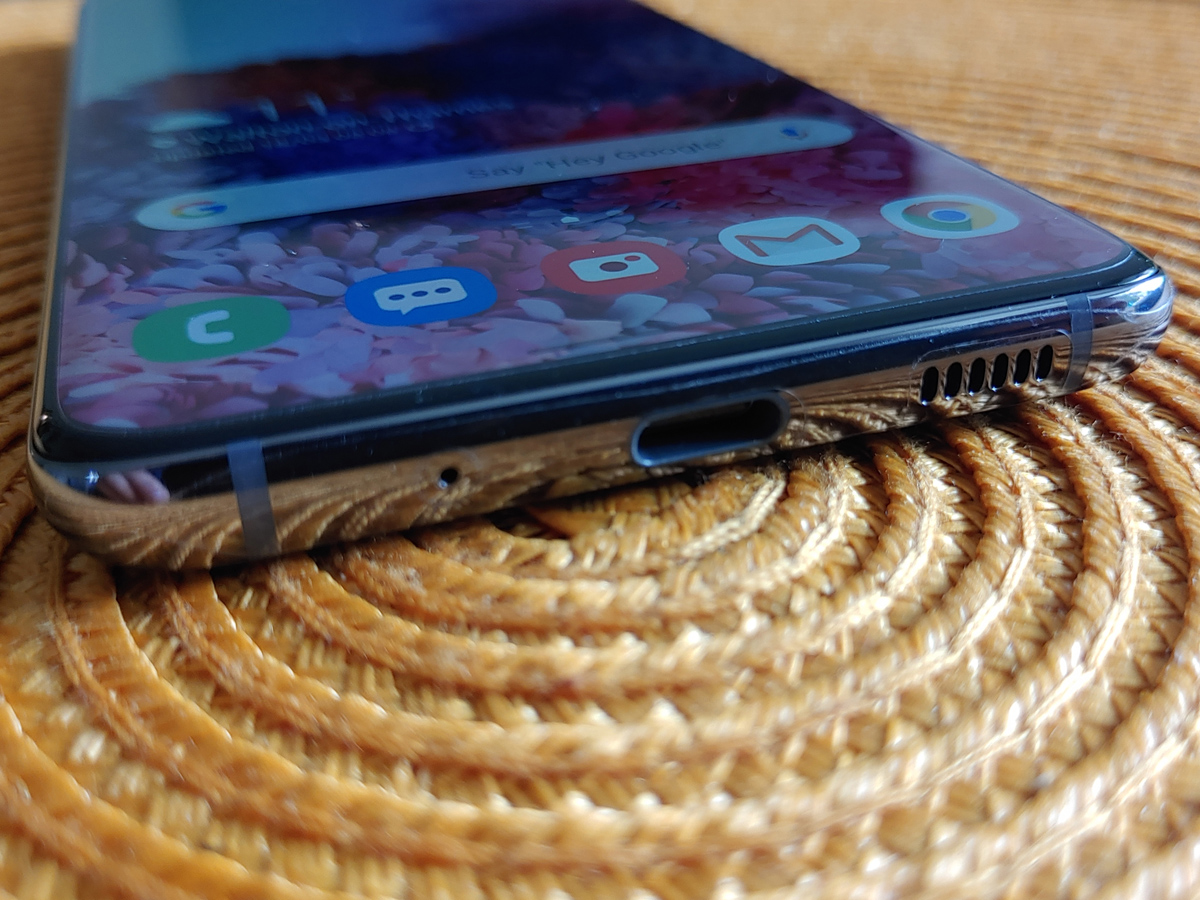 Depending on where you pick it up, your Galaxy S20 will either have one of samsung's own Exynos 990 CPUS, or a Qualcomm Snapdragon 865. Both are octa-core chips, and both are super fast.
The Snapdragon has the edge in most benchmarks, but there's not a moment when the Exynos version feels slow to use. Apps open quickly, icon- and widget-filled homescreens never show any sign of lag or stutter, and the 128GB of built-in storage leaves plenty of room for games, Play Store downloads and media. Manage to fill it all and the microSD card slot makes it easy to add more capacity.
Multitasking is a dream thanks to a huge 12GB of RAM, which lets you pin three apps to memory so they're never forced to reload while you switch out to look at something else. Which is very handy if you have a mild Fortnite addiction. Gaming is of course buttery smooth, whether you're crushing candies or fragging enemies in Call of Duty Mobile. If it's in the Play Store right now, the S20 will play it well.
5G is on-board too, although there is a 4G version available for £100 less. Honestly, if you're not taking out a 5G contract along with the phone, and don't live in a 5G area right now, you're probably better off saving the cash and sticking with 4G for at least another year while networks beef up their coverage. It's too spotty now to make it worth spending extra.
BATTERY LIFE: AIN'T NO STOPPING ME NOW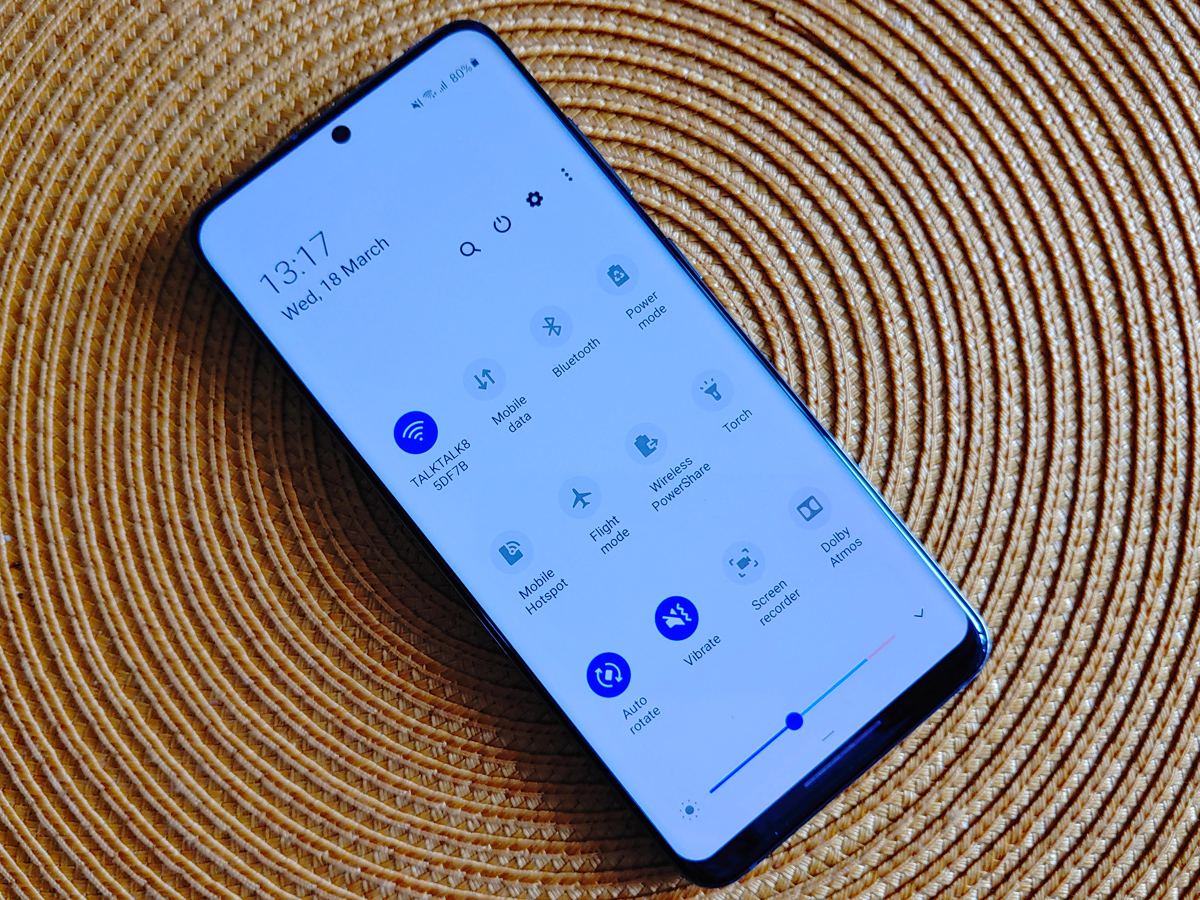 Don't go thinking all that fancy screen tech is going to sip battery faster than a Ferrari at the petrol pumps – the S20 is packing a 4,000mAh cell that's easily enough to get you through the day, even with 120Hz enabled.
Switch back to 60Hz and your time away from the mains will extend to somewhere between 20 and 30%, which should see you through to the next morning without too much trouble.
Streaming video addicts can expect something close to 12 full hours of continuous playback, which is comfortably up there with the best mainstream phones, and fast-charging means you get from empty to full in under an hour.
Wireless charging means you can top up without a cable, and wireless powershare lets you give juice back to other devices if you've got some to spare. Think a pair of Galaxy Buds earphones rather than your friends' flat phones, as your charge only stretches so far.
OS & SOFTWARE: LOOKS SIMPLE. ISN'T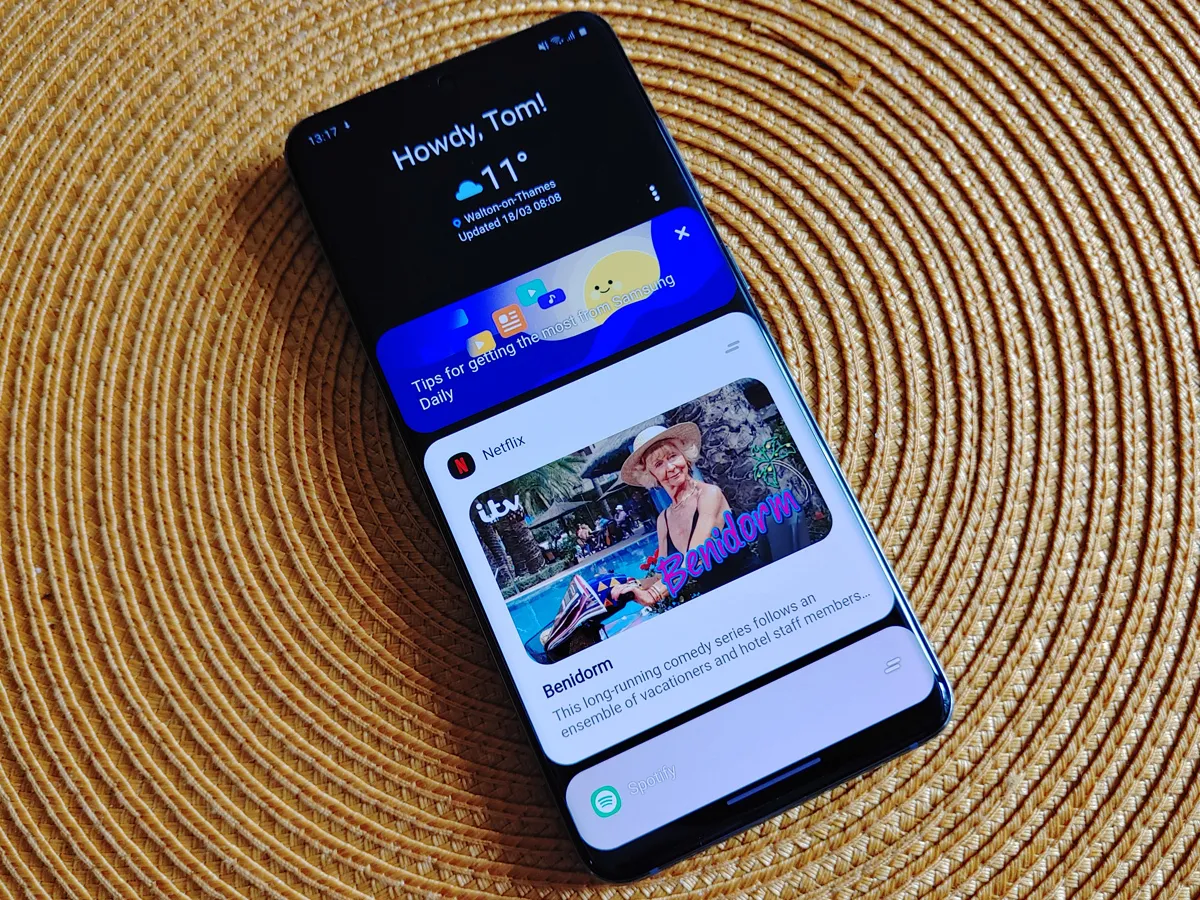 The minimal icons, simplified settings pages and fairly sparse home screen give a good first impression of Samsung's latest Android skin, but One UI 2.0 has a whole lot of hidden features lurking beneath the surface. Not all of them are useful.
Samsung's Bixby virtual assistant isn't quite as distracting as it once was, but has usurped the power button and will wake with a long press. You know, the same motion you've been using to turn your phone off for the best part of a decade. Samsung Daily, a continuous feed of news, sports, weather and apps from (Samsung approved) third party networks, lurks to the side of the home screen. There are fewer duplicate apps, but that's largely because the standard Google ones are now an optional install.
It all feels a little like Samsung is trying too hard to force its software on you again, just like the Touchwiz days. Thankfully you can turn much of these 'features' off if you don't like them.
When you do, you'll find the handful of modes and settings worth using, like the system-wide dark mode that arrived with Android 10. The entire UI switches to darker colours when the sun goes down, so you don't scorch your eyeballs at night. Edge panels put useful shortcuts a swipe away, and Focus mode disables distracting apps while you're trying to get work done.
SAMSUNG GALAXY S20 VERDICT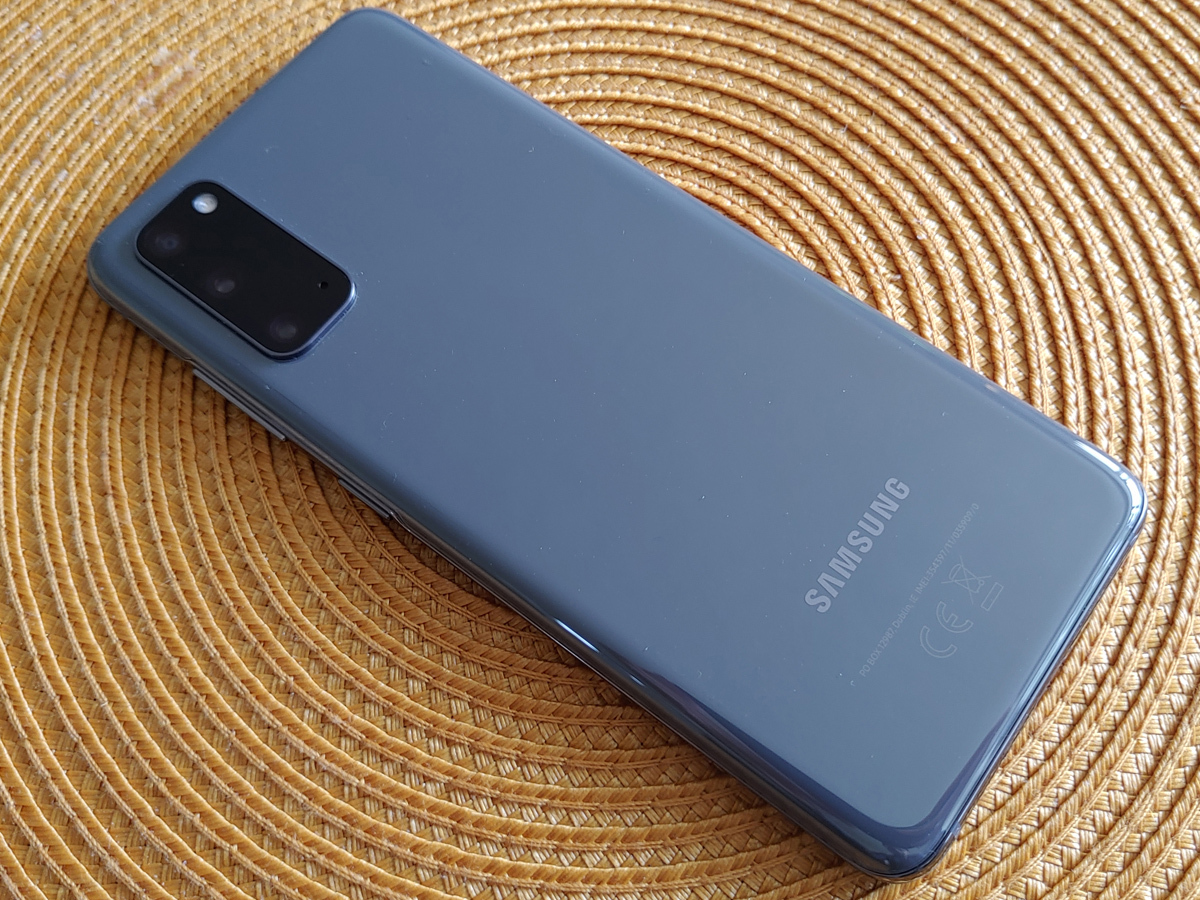 A few software foibles aside, the Galaxy S20 feels like the Goldilocks of flagship phones right now. Not too big. All the hardware you could want, but not too feature-packed. Just right.
It delivers excellent battery life, a phenomenal display, blistering performance and superb image quality from a diverse set of cameras. It may not take the best photos, with the Pixel 4 and iPhone 11 claiming victory in certain scenarios, but it does a great job almost all of the time.
Until someone else comes along and does it better, this is the Android handset to beat.
Tech specs
| | |
| --- | --- |
| SCREEN | 6.2in, 3200×1440 AMOLED w/ 120Hz refresh rate, 20:9 aspect ratio, HDR10+ |
| CPU | Exynos 990 octa-core |
| MEMORY | 12GB RAM |
| CAMERA | 12MP, f/1.8 + 64MP, f/2.0 + 12MP, f/2.2 rear w/ dual pixel PDAF, optical image stabilisation, LED flash. 10MP, f/2.2 front w/ dual pixel PDAF |
| STORAGE | 128GB onboard, microSD expansion |
| OPERATING SYSTEM | Android 10 / One UI 2.1 |
| BATTERY | 4000mAh non-removable |
| DIMENSIONS | 152x69x7.9mm, 163g |
Stuff Says…
It has all the features you'd want in a flagship phone, plus a few more, without going overboard like the pricey S20 Ultra. The regular Galaxy S20 is the best Android flagship of 2020 so far
Good Stuff
High refresh rate meets fantastic image quality
Best hardware and build quality of any Android phone
All-day battery life… usually
Bad Stuff
5G not worth it for many
Camera image processing a bit strong
RIP headphone socket