Redmi Note 11 Pro 5G review: the better-looking twin
A Poco X4 Pro 5G without the monstrous camera bump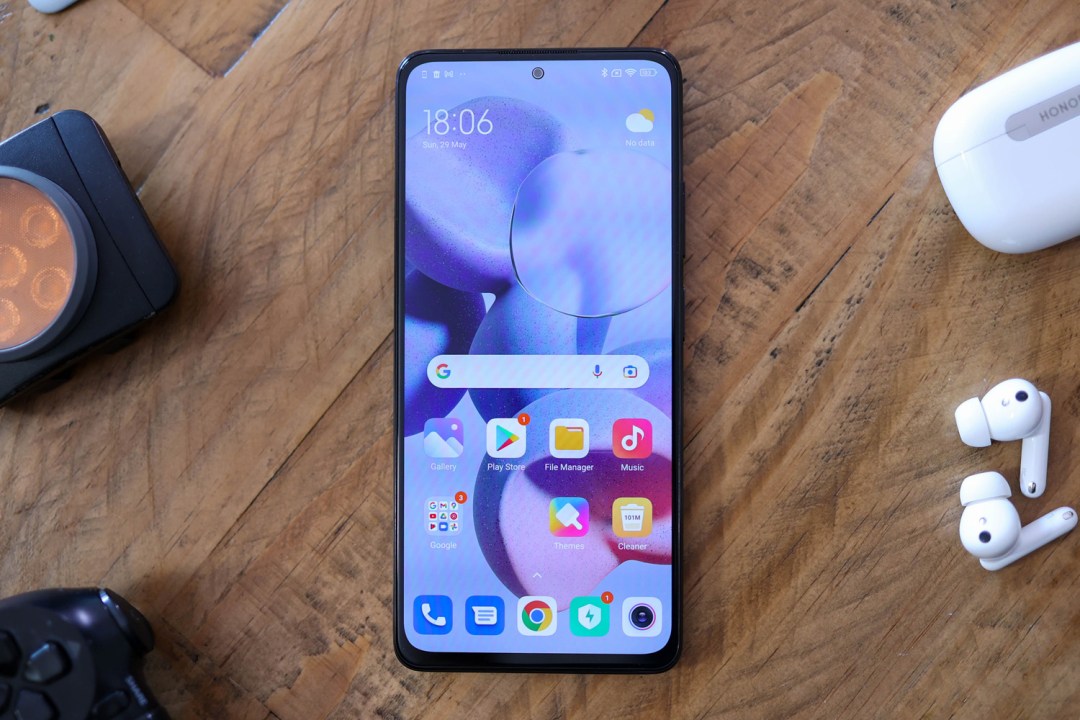 If you love the idea of the Poco X4 Pro 5G but can't stomach its attention-seeking camera bump, you're in luck – the Redmi Note 11 Pro 5G is a much more refined take on the X4 Pro's guts. But that polish will cost you.
Both Poco and Redmi are part of Xiaomi, so we're used to seeing similar phones from both camps, but we seldom see carbon-copied spec sheets. Despite identical insides though, the back panels of the two brand's latest budget phones – the Poco X4 Pro and Redmi Note 11 Pro 5G, are markedly different. While Poco's phone is a nod to supersizing, with a humongous raised camera, Redmi's camera bump is about one-third of the size, and it's elegantly stepped too.
The back panel on the Redmi Note 11 Pro also enjoys some swanky frosted glass – much more understated than the Poco X4 Pro 5G's glossy, light-grabbing alternative. So on first impression, the Note 11 Pro would be our hands-down choice.
Costing £299 at Carphone Warehouse, and £319 on Xiaomi's online store, the Note 11 Pro is pricier than Poco's £269 X5 Pro 5G. There's also plenty of competition: the lower-cost Realme 9 Pro+ with its excellent camera, the stylish Honor 50, which costs around £320 now it's been out for a few months, and even last year's Redmi Note 10 Pro, which misses out on 5G but enjoys a stellar screen and better camera specs and a much lower price.
Redmi Note 11 Pro 5G design: Frosty and flat
The Redmi Note 11 Pro is a flat phone that looks more mature than last year's curvy Note 10 Pro. Sort of like a chunky Sony Xperia phone, its flat front and back are sandwiched in a matte frame, with rounded corners that nuzzle into the palm.
The frosted glass back panel is relatively good at fending off fingerprints, as is the frame, but if you're concerned about grubbying up your phone, the soft plastic case Xiaomi ships in the box adds an extra layer of protection. With IP53 certification, the phone will be able to handle a splash.
There's a 3.5mm headphone port at the top of the Note 11, alongside an IR blaster and loudspeaker. At the base is a USB-C port, the second speaker and a dual-SIM, or a single-SIM plus SD card slot. There's a volume rocker and a power button/fingerprint sensor combo at the right side, so none of the under display scanner goodness you see on some other budget phones like the OnePlus Nord CE 2.
Redmi Note 11 Pro 5G screen: Noteworthy (but no note-taking)
The Redmi Note line has nothing to do with Samsung's Galaxy Note line, so you won't be getting a pen with the Note 11 Pro – its screen is a finger-input-only display. That said, once you get past the confusing name, there really is very little to complain about.
The Note 11 Pro uses a high-quality, bright AMOLED panel with a 120Hz refresh rate. That makes it as smooth as an iPhone 13 Pro, with excellent colour depth, zing and contrast.
Measuring 6.67in, Redmi loads up the Note 11 Pro with a big screen – not too much smaller than the Galaxy S22 Ultra's 6.8-inches. With wide Full-HD resolution, you get screen clarity that rivals pricier phones like the ROG Phone 5, and delivers a near best-in-class picture overall – along with the Poco X4 Pro.
With a sunlight boost mode ramping up the brightness of the Note 11 Pro all the way up to 750 nits, it's a doddle to make out what's on-screen in almost any condition. Within the settings, Xiaomi's interface serves up plenty of display customisation options, so if the default punchy saturation is too much for you, it's easy to dial things back
Redmi Note 11 Pro 5G performance: Middle of the road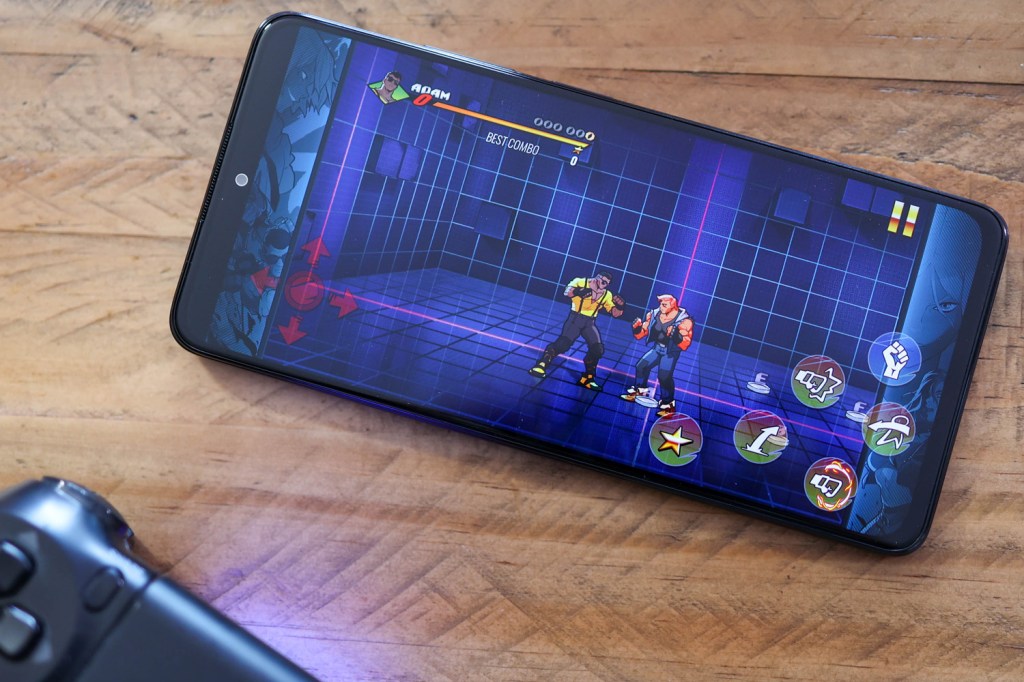 As with last year's Redmi Note 10 Pro, the Note 11 Pro 5G combines premium features with middle of the road power: a Snapdragon 695 5G chipset. This gets you through day-to-day tasks with ease, but intensive stuff like 3D gaming and video editing can slow things down.
Unlike the Poco X4 Pro 5G, the Note 11 Pro caps out with 6GB RAM and 128GB storage – but those are still respectable memory specs for the price. And don't forget the memory card slot, in case you value extra storage more than a second SIM card.
In daily use the phone was silky smooth – around 85% of the time. Occasionally, multi-tasking caused it to stutter before catching its breath. App stability was generally good, however, we did experience a delay in notifications for some apps. Xiaomi's interface, MIUI, is aggressive when it comes to managing background apps. We had to dial back the battery saver settings and pin some apps to keep them alive in the background.
The Redmi Note 11 Pro runs all 2D games we tested perfectly – Streets of Rage 4 being the most intensive. Hook up a Bluetooth controller, and it's a beat-em-up blast. 3D titles were a mixed bag, though. Trials of Mana was smooth enough, but its graphics settings were clearly dialled right back. Injustice 2 struggled, slowing down at critical moments in a fight, and Genshin Impact was a lost cause at anything above minimum graphics settings and 30fps frame rate target.
Xiaomi's MIUI interface, which sits on top of Android, isn't just heavy-handed on the power-saving front. Heavy customisations to make everything feel a bit more like an iPhone (there's a Control Center for crying out loud) also add to the strain of this modestly powered mobile. It's also still running Android 11; given Android 13 has just been announced, future-proofing might also be a concern for some.
What we did enjoy was the responsiveness of the side-mounted fingerprint scanner, the fact the stereo speakers are expansive (albeit flat tinny at loud volumes), and the smoothness of the display, which makes the phone feel faster than it really is.
Redmi Note 11 Pro 5G battery: Staying alive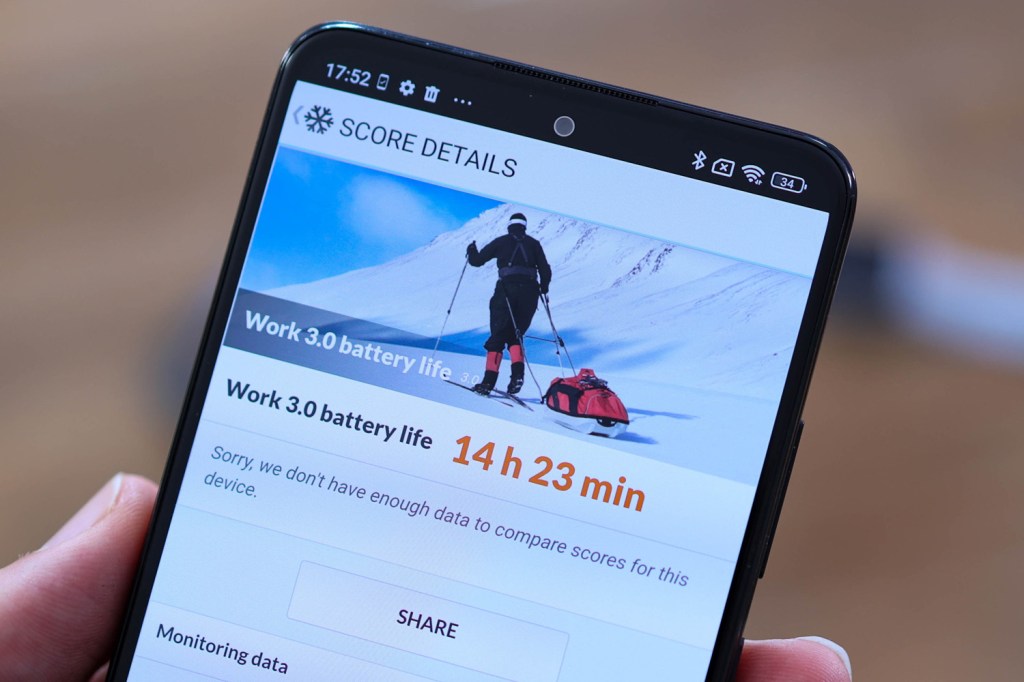 Once again, Xiaomi loads up a massive 5000mAh cell in its latest Note Pro, and it absolutely smashed our battery benchmarks, giving us around 14hrs screen-on time from 80 per cent down to 20 per cent. This out-performed most affordable phones we've used recently, with just the Realme 9 besting it in recent tests.
With 67W fast charging, the Note 11 Pro powers up in under an hour, and 20 minutes should give you near enough 50 per cent charge – really decent speeds for the price. There's no wireless charging, and nor is there 120W super-fast wired charging, which was introduced on the Xiaomi 11T Pro. For those speeds, you'll want to stump up for the pricier Redmi Note 11 Pro Plus.
Redmi Note 11 Pro 5G camera: Downgraded
Yes, the logo underneath the Redmi Note 11 Pro 5G's main camera may read "108MP", but it captures 12MP photos by default, and this is no flagship performer. More important than pixels are optical image stabilization – missing on this phone – and software processing, which can be too aggressive on the 11 Pro.
The main camera is flanked by an ultra-wide 8MP camera and a 2MP macro camera. This is an inferior setup to last year's Note 10 Pro, which had an excellent 5MP telemacro camera.
Don't get us wrong, photo quality can be impressive. In bright scenes, colours look great, detail is abundant and pictures are nicely contrasted – they'll look great on the phone's AMOLED screen. Pinch in, and oversharpening becomes clear (elements can showcase halos of colour shifting), and so too can noise, despite respectable low-light performance for the price. The main thing to go when lights drop is detail.
Xiaomi does load up a tonne of shooting modes on its Redmi phones so you can override its default image processing: Pro mode and 108MP mode. However, while last year's Note 10 Pro supported RAW capture, the 11 Pro misses out.
It's a similar story for video: the 11 Pro caps out at 1080p 30fps recording, while the Note 10 Pro shot at 1080p 60fps, and climbed up to 4K resolution at 30fps.
The ultra-wide camera performs adequately in bright scenes, but all the secondary cameras crumble in low light, as too does video capture.
Redmi Note 11 Pro 5G verdict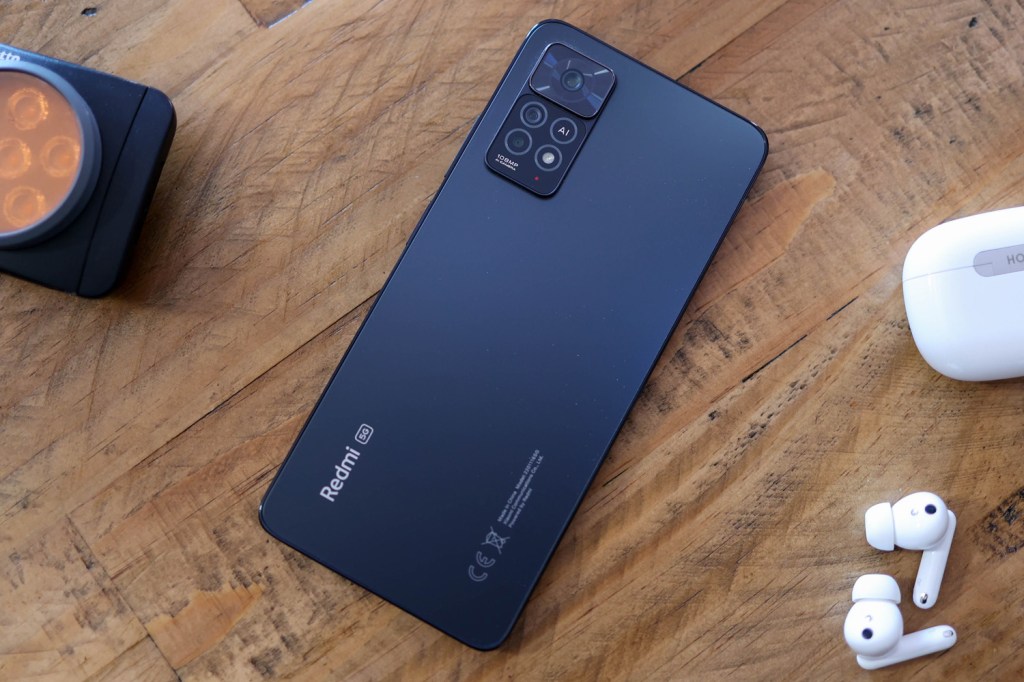 The Redmi Note 11 Pro is a strange phone that's likely a victim of the ongoing global chipset shortage. This trend of 2022 phones that are inferiorly specced compared to their 2021 counterparts isn't exclusive to Xiaomi phones. Redmi's main competitor Realme is experiencing similar with its Realme 9 series.
That said, when you take away the context of past and present (and a global crisis), the Note 11 Pro 5G is still a good phone at a good price. Its screen is excellent for watching videos, its design both looks and feels premium for the price – much better than the Poco X4 Pro 5G's – and it has exceptionally good battery life.
Gamers should definitely look to last year's Poco F3, an absolute bargain with Snapdragon 8-series power. Anyone after a better camera should consider the Realme 9 Pro+, which edges ahead thanks to its stabilized lens and superior video capture. But for binge-watchers after refined styling, the Note 11 Pro still has its place.
Stuff Says…
A good phone at a good price that's perfect for watching on – but gamers should look elsewhere
Good Stuff
Great screen
Looks and feels like a premium handset
Bad Stuff
Not as good as last year's models
Not so great at video recording
Redmi Note 11 Pro 5G specifications
| | |
| --- | --- |
| Screen | 6.67in, 2400×1080 OLED w/ 120Hz refresh rate |
| CPU | Qualcomm Snapdragon 695 octa-core |
| Memory | 6GB RAM |
| Cameras | 108MP, f/1.9 main w/ PDAF + 8MP, f/2.2 ultrawide + 2MP f/2.4 macro rear. 16MP, f/2.5 front |
| Storage | 128GB on-board, microSD expansion |
| Operating system | Android 11 w/ MIUI 13 |
| Battery | 5000mAh non-removable, w/ 67W wired charging |
| Dimensions | 164x76x8.1mm, 202g |