Asus ROG Phone 5 review
The ultimate beefcake blower for gaming on the go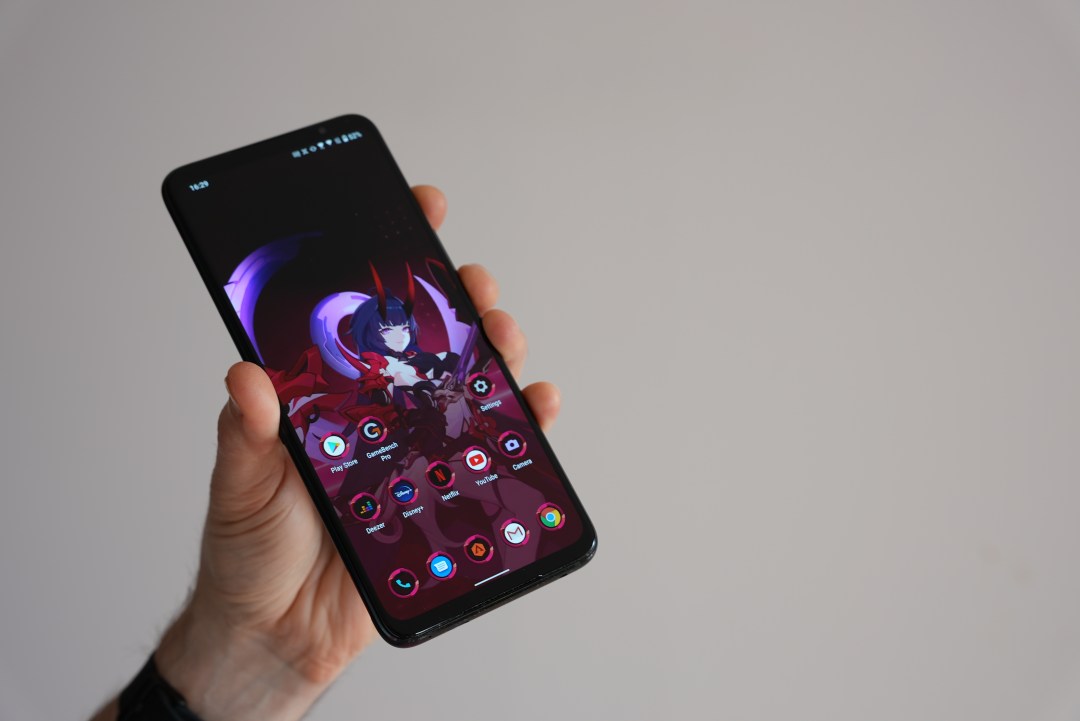 While it's still seemingly impossible to bag yourself a PS5 or Xbox Series X without paying one of those filthy scalpers a couple of kidneys, one solution is to embrace the wonderful world of mobile gaming. Titles like Call of Duty Mobile and Fortnite attract huge numbers of players, with the added bonus that they can be played absolutely anywhere (yes, even on the khazi).
But to give you an advantage over quick-witted youngsters, you'll need a serious smartphone dedicated to the gaming cause. Something like the Asus ROG Phone 5 in fact, which boasts super-powered specs and a veritable smorgasbord of smart gamer features.
Design: Absolute unit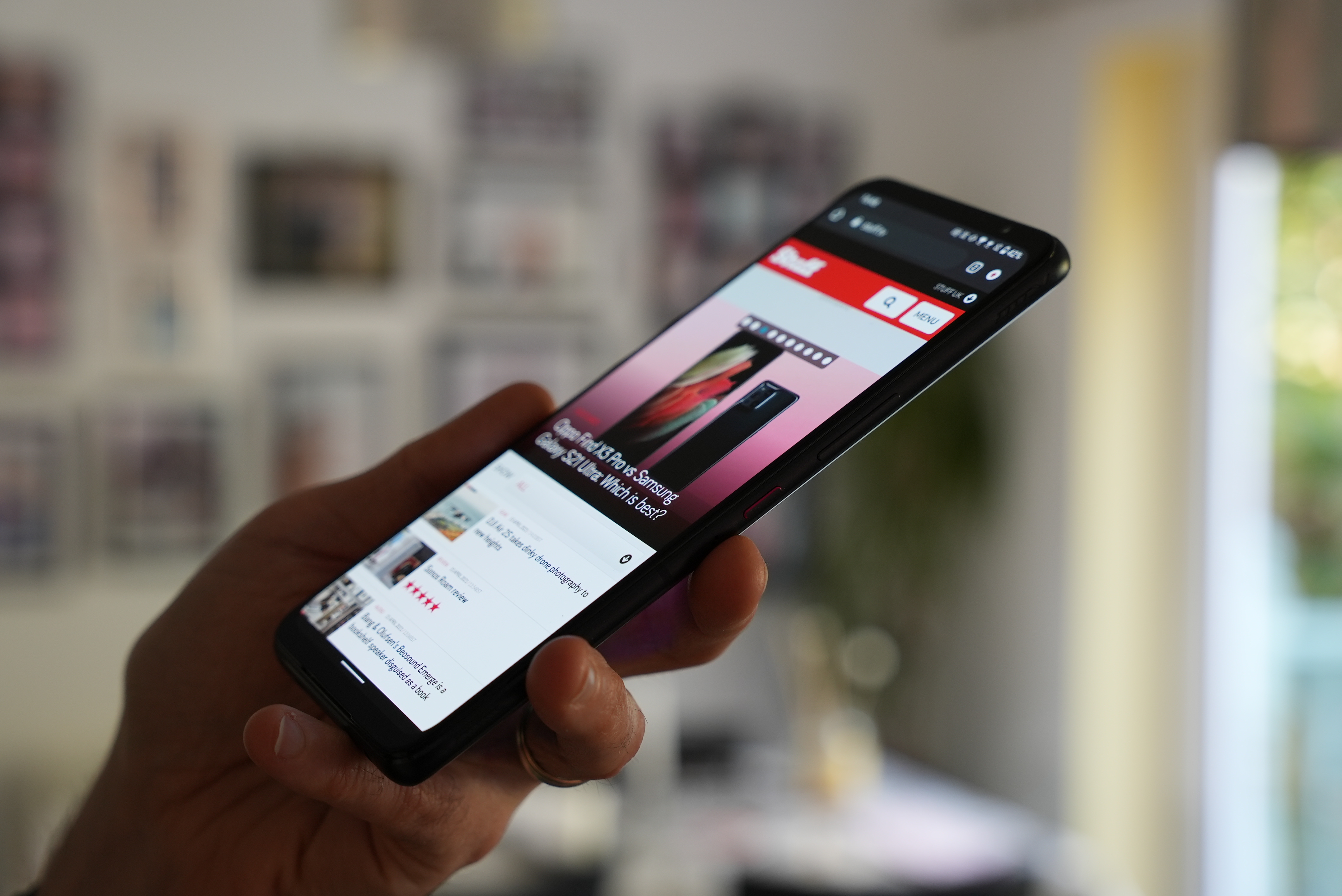 With its chunky 238g chassis and typically outlandish design, the ROG Phone 5 is unmistakably a gaming smartphone. In case you were still unsure, the customisable AURA RGB logo slapped on the arse is all the confirmation you'd need (which can flash, strobe and pulse on demand like a demented disco rig).
The ROG Phone 5 may be the size of a tank, but it's just as tough as one too. That back end is Gorilla Glass 3 while the screen is upgraded to the fresh Victus glass, which is drop as well as scratch resistant. Don't bank on any water resistance however, thanks to the various vents and other orifices.
Display & sound: Peeper pleaser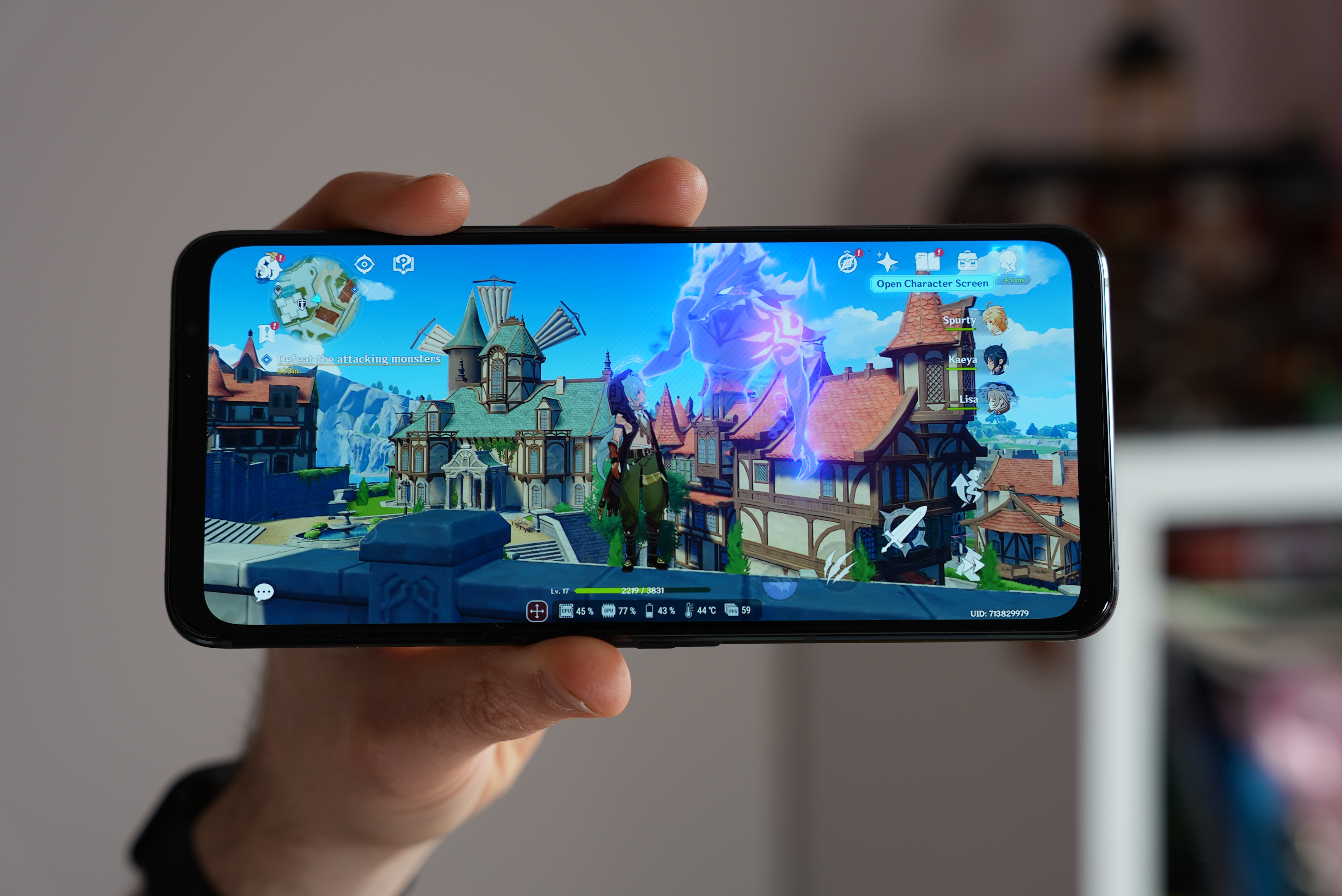 Samsung has custom designed a gorgeous 6.78in AMOLED display especially for the ROG Phone 5, boasting always-on HDR and impressive colour accuracy. You'll be dazzled by how pretty your bestie's intestines look when you blow the sucker to bits with a well-aimed grenade.
As you'd expect from a dedicated gaming handset, the ROG Phone 5 boasts 144Hz refresh rate support for titles like Vainglory. Plus that 300Hz touch sampling is ideal for competitive online gaming. Every swipe or tap of that screen is instantly registered; kiss goodbye to pesky latency that potentially means the difference between rousing victory and mopping your brains off the floor.
Asus has once again found space for front-facing stereo speakers, which pack a proper punch on top volume. Audio is best enjoyed via the 3.5mil headphone jack however – a rare feature for premium phones these days.
Performance & software: X gon' give it to ya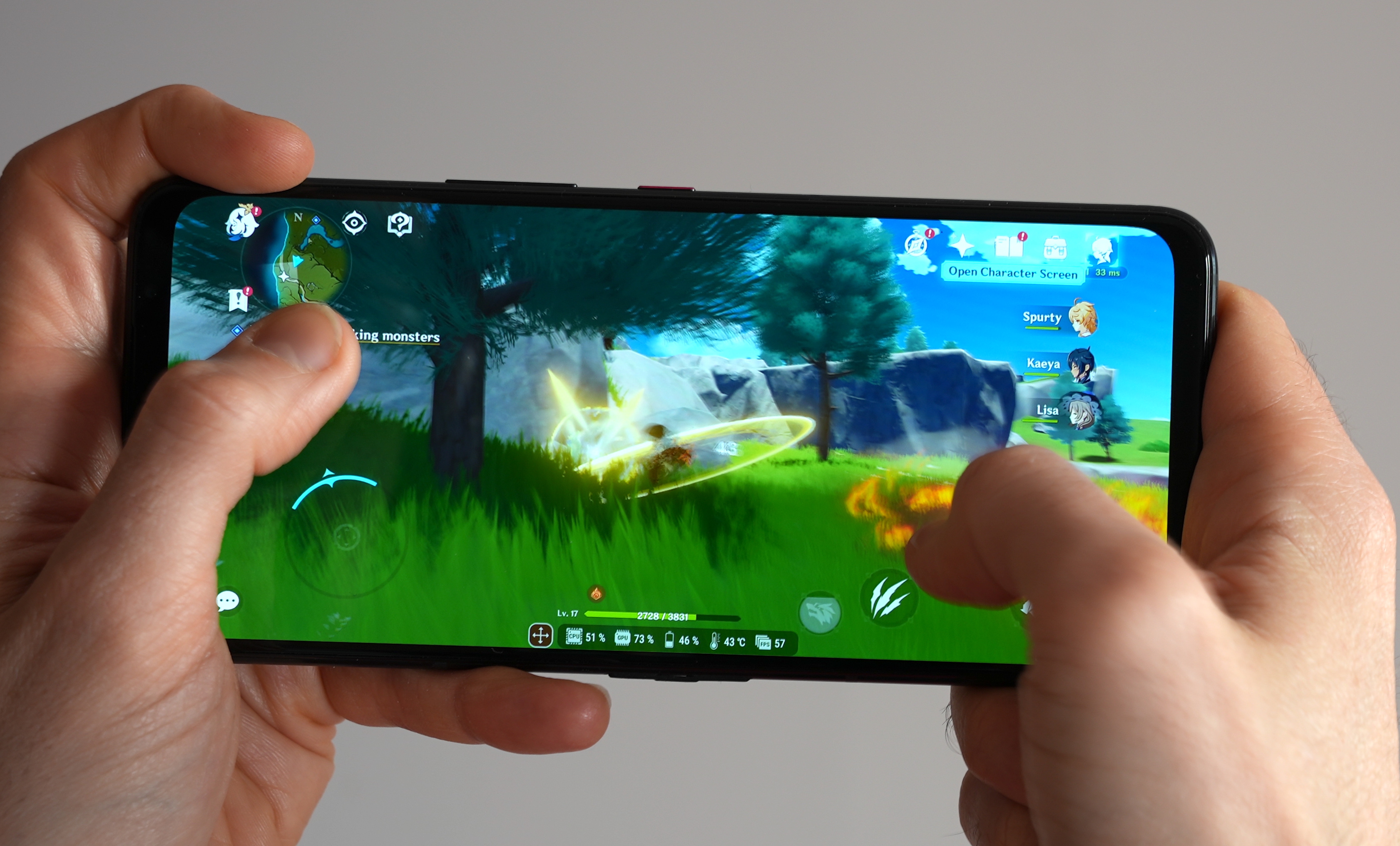 The ROG Phone 5 packs in Qualcomm's super-powered Snapdragon 888 plus up to 16GB of DDR5 RAM, so unsurprisingly the ROG Phone 5 is beefier than a barrel of cows. This setup alone ensures smooth running when playing even the most demanding Android titles like Genshin Impact. However, Asus has also added a special X Mode which maxes out the CPU and GPU performance, to keep those frame rates sky high. With this active, VainGlory held a median frame rate of 126FPS through a full match, with pretty much zero fluctuation.
If you're gaming all afternoon, the phone's multiple cooling methods (including an enlarged vapor chamber) help to get rid of that pesky hot air in a jiffy. We didn't notice any throttling during testing, while the central positioning of those main components means the glass surfaces don't get toasty beneath your fingers.
For greater control over those settings, the ROG Phone 5 serves up an Advanced Mode which allows you to manually fiddle with the CPU & GPU performance, refresh rate and visual settings. And if you want a serious competitive edge, Asus' fresh Esports Mode can be activated any time to block all notifications, while also disabling any features that aren't permitted in gaming tournaments, such as the excellent Air Triggers.
Those Triggers are a pair of 'ultrasonic' shoulder buttons which can be mapped to perform any action when tapped or stroked. They're a godsend for games like PUBG, which awkwardly cram a gajillion virtual buttons onto the screen. Not only are these Triggers perfectly responsive with zero latency, but they also offer haptic feedback when touched.
Asus also sells a dedicated 'Kunai' gamepad for the ROG Phone 5, which can be attached via a bumper for a console-style experience. If you're after unbeatable control, this comes highly recommended. No worries if you want to download loads of games, because the ROG Phone 5 offers 256GB of nippy UFS 3.1 storage. Sadly this isn't expandable via microSD memory cards.
Battery life: Burns twice as bright, but half as long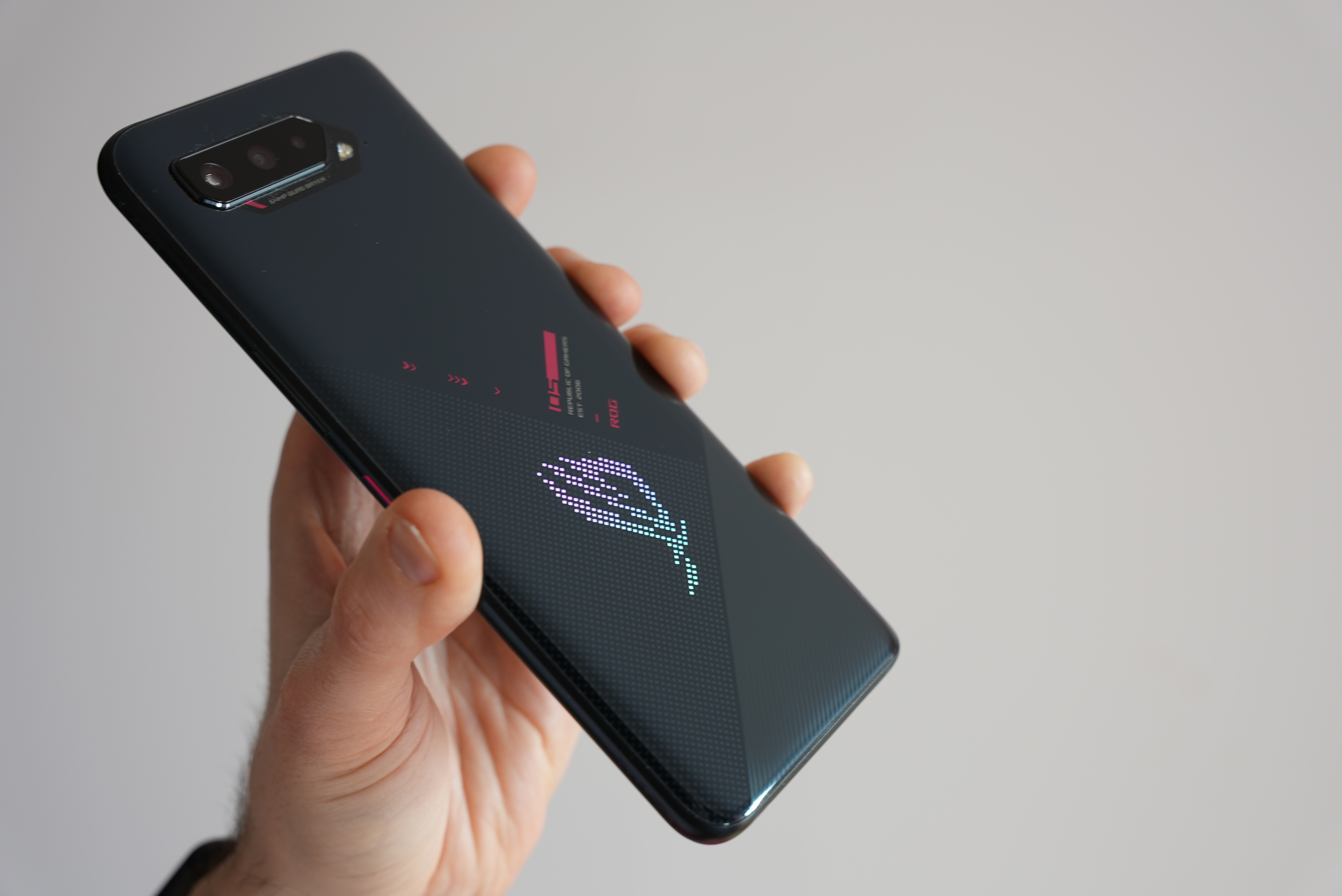 The ROG Phone 5 may pack in a behemoth 6000mAh battery, but those power-sapping components mean you'll only get a couple of hours of Genshin Impact action from a full charge.
However, if you are gaming on the go with no access to a charger, you can always switch on Asus' Ultra Durable mode. This scales back some of ROG 5's features to extend battery life and makes a significant difference to the longevity, doubling the length of time you can get your Genshin on. However, that Ultra Durable mode also has a serious impact on performance. For instance, when playing Genshin Impact on the maximum detail settings, I noticed a fair few instances where frame rate dropped to laggy levels for a couple of seconds or longer.
When you get into scraps with a few beasties at once, there's definite slowdown and you'll want to scale back the graphics to keep things playable. Still, if you're playing at home, the handy side-mounted USB port can be used to keep the ROG Phone 5 powered up while comfortably gaming as usual. And you have the option to bypass battery charging when the phone is plugged in, to avoid further heat build up.
This phone boasts 65W 'Hyper Charge' tech, which is a big step up from the ROG Phone 3 and made possible thanks to the dual battery design. So if you're in a rush, this mighty mobile can be fully charged in under an hour, easy.
Camera: Average optics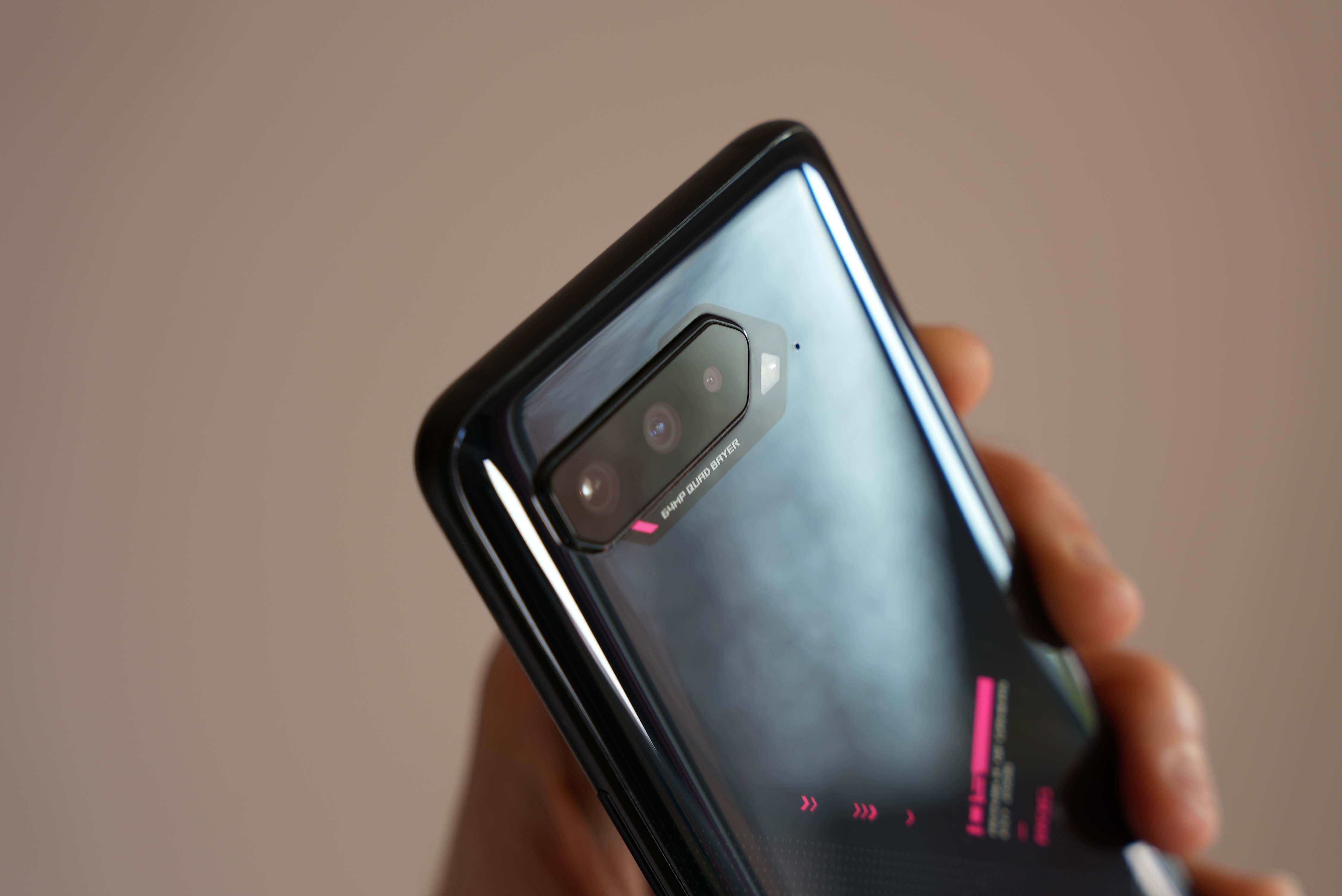 If you want to stream your online ultra-violence on the likes of Twitch, the ROG Phone 5 can capture your gurning mug using the 24MP selfie camera.
There's also a triple-lens rear setup, including a 64MP primary sensor (which is bang average in most respects), 13MP ultra-wide shooter and the obligatory 5MP macro lens. But seriously, you should be using this blower to annihilate your mates in PUBG. Not snapping pics of pretty daisies.
Asus ROG Phone 5 Verdict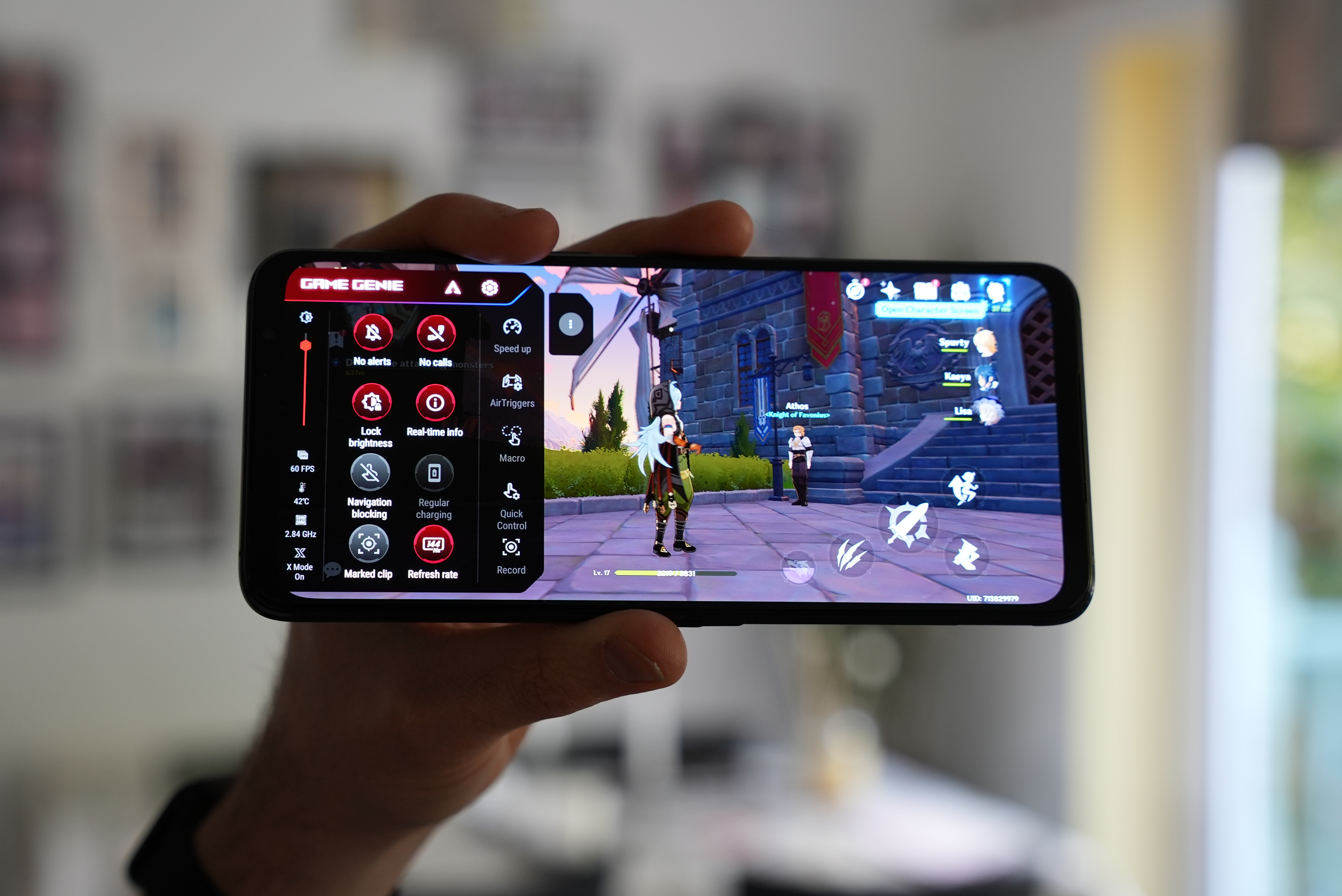 Serious about your mobile gaming? Want the best possible kit for blazing through the most demanding Android titles out there? Well, look no further.
Asus has expertly blended premium hardware and cutting-edge gaming features to craft an obscenely powerful smartphone that can take on anything, and even give old decrepit gits like me the upper hand in bloodthirsty online battles. It ain't cheap, but it's worth every penny.
Stuff Says…
The ROG Phone 5 is our favourite gaming smartphone of 2021, thanks to those beefy specs, clever tools and impressive accessory support
Good Stuff
Impeccable performance
Gorgeous display and punchy audio
Deep set of gaming features
Full range of optional accessories
Bad Stuff
Not exactly cheap
As portable as the average house brick