Philips Fidelio T2 review: smaller size, bigger sound
Redesigned ANC in-ears shrink down but don't skimp on battery life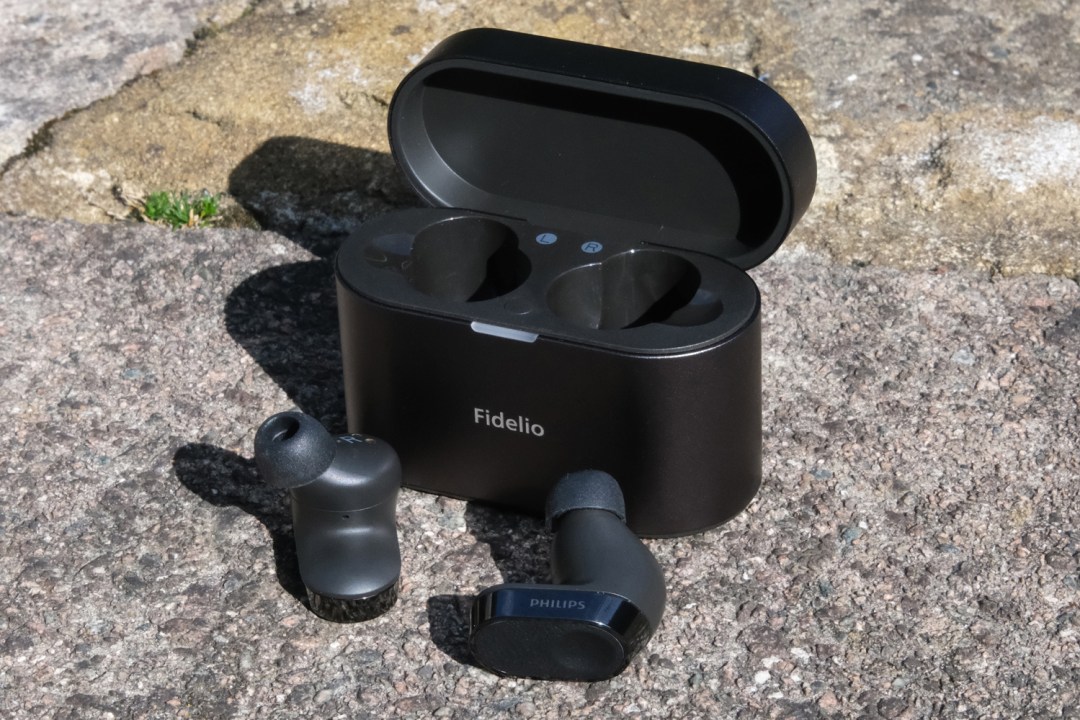 Stuff Verdict
Fantastic sound, exceptional battery and future-proof connectivity, but the Fidelio T2 can't match the best ANC alternatives. And did the charging case really need to be so chunky?
Pros
Warm, energetic sound
LC3 and LDAC codecs on board
Brilliant battery life
Cons
ANC is only alright at this price
Charging case is seriousy stocky
No vegan leather alternative
Introduction
Philips reserves the Fidelio name for its very best audio gear, so when it shows up on a pair of wireless earphones you know it's a big deal. The Philips Fidelio T2 aims to improve on the first-gen Fidelio T1, which majored on battery life but was a bit of a bulky beast; the firm has activated the shrink ray for version two, without also limiting longevity. Hi-res codec support and dual drivers mean it shouldn't disappoint on the sound front, either.
With active noise cancellation also in the mix, they're as feature-packed as you'd expect from a top tier pair of in-ears – and are priced accordingly. A pair will set you back more than the stellar Sony WF-1000XM5 or Apple's 2nd gen AirPods Pro, although they undercut Bose's new Quietcomfort Ultra Earbuds. Does the Fidelio T2 deliver a sonic performance to justify that kind of cash?
How we test headphones
Every pair of earphones and headphones reviewed on Stuff is used for a minimum of a week's worth of daily listening. We use a playlist of test tracks made up of multiple genres to assess sound, and use our years of experience to compare to other models. Manufacturers have no visibility on reviews before they appear online, and we never accept payment to feature products.
Find out more about how we test and rate products.
Design & build: size still matters
Philips reckons the Fidelio T2's charging case is 40% smaller than the last-gen model – but it's still flippin' huge. It took up so much space in our jeans pockets we resorted to leaving it in our backpack, so people would stop asking us "if we were happy to see them". The flip-top lid is at least secured firmly with strong magnets, and the anodised aluminium build feels suitably premium. Vegans won't appreciate that it's topped with real Muirhead leather, though.
There's more leather on the buds themselves, which are finished with shiny ceramic trim. Philips reckons Bluetooth reception is improved by using ceramic instead of metal, and to the Fidelio T2's credit we had no dropouts throughout our testing. Concave indents on each bud help you find the touch-sensitive parts for controlling music playback and answering calls.
The buds are a fair bit smaller than the outgoing Fidelio T1, with stubby stems and a balloon-shaped main body that sits comfortably inside your ear concha. The five sizes of silicone ear tips should help most people find a strong seal. We found they did a good job of keeping the buds locked in while walking around – but they felt looser than some rivals while working out more vigorously.
IPX4 splash resistance is the bare minimum for surviving sweaty gym visits and light rain showers. If you want more protection the Jabra Elite 8 Active remain our top pick.
Features & battery: quality control
Philips has future-proofed the Fidelio T2 with support for Bluetooth LE connections and the LC3 codec. The latter promises higher bitrate audio than the more mainstream SBC and AAC codec used by today's gadgets – but only once they add support for it. In the meantime, there's LDAC for the best possible sound quality right now.
Google Fast Pair is a welcome inclusion, and there's full support for Google Assistant voice commands.
There's no spatial sound upmixing on board, which might be a positive or a negative depending on how you feel about the tech. We were perfectly happy with the Fidelio T2's stereo soundstage, which is reasonably expansive for a pair of earphones. Music still feels like it's contained within your head, rather than surrounding it, but not to the point it becomes constricting.
It's great to see Philips maintain a battery life lead over similarly-priced rivals: the Fidelio T2 lasted close to nine hours in our testing with ANC enabled, which is a third longer than the AirPods Pro 2nd Gen can manage. The charging case can supply an extra hour of playback in five minutes, and holds enough charge for an extra 27 hours of listening. That's better than the outgoing Fidelio T1's case could manage, and competitive with other premium wireless buds. Still, given how bulky it is, we were expecting even more. The case needs two hours to fully charge over USB-C, or longer if you prefer the convenience of wireless charging.
Interface: all things being EQ
It's not the most comprehensive companion app out there, but the Philips Headphones app still has enough useful features to make it a must-download. You can pick which voice assistant a long-press invokes (if you have multiple installed), how much of your voice gets piped past the ANC when making calls, and whether to turn off the wear sensor. It never mistook movement for us removing a bud, though, so we opted to leave it on.
There's no way to reconfigure the touch controls at all, and the toggle switch that presumably disables them altogether… didn't. You can pick a fixed amount of noise cancelling, but the adaptive mode was quick enough to increase or decrease the amount in different environments that we didn't bother.
Having a clear toggle at the top of the settings page for LDAC makes it obvious if you're using the highest quality codec, and the main menu has clear battery indicators for each bud and the case, so you aren't caught short.
Philips includes four EQ presets and a six-band equaliser for making your own tweaks. We'd suggest staying away from the Bass and Powerful presets unless you like a seriously boomy low-end, and while the voice preset tightens up speech on podcasts very well, it can make music a little too sibilant. There's also no way to save multiple custom EQs for different genres.
Sound quality and noise cancelling: big and bold
The Fidelio T2 has a total of six microphones for dedicated to noise cancelling, with two also using bone conduction tech to listen out for your voice. Moving the feed-forward mic's venting hole has made them a little less susceptible to wind noise than before, but overall ANC abilities are good rather than great.
We found it could block passing traffic and the low-end rumble of public transport fairly well. The feeling of pressure would also dip when moving into quieter locations as the ANC strength reduced. However, higher frequencies still tended to seep through, so other people's chatter wasn't always blocked. Rapid changes in exterior volume also proved tricky here, while top rivals such as the Sony WF-1000XM5 took them in its stride.
The shape of the buds creates plenty of passive noise isolation, but we also experienced more movement resonance when walking compared to other ANC in-ears. They'll make your commute more bearable, sure, but just not as much as the very best ANC earphones.
How much you enjoy the Fidelio T2's tuning will depend on how much you appreciate a deep low-end. These are impressively boomy buds, which at times sound like you've shoved miniature subwoofers down your ear canals. It gives electronic tracks like Camo & Krooked's It's Over enormous presence, without trading too far into the rest of the frequency range. The graphene-coated 9.2mm dynamic driver and balanced armature work in tandem to prevent bass from becoming muddy, and there's an impressive amount of sub-bass detail if you go searching for it.
Neutrality must not be a concept Philips' engineers are familiar with. All genres sounded wonderfully warm dynamic, with an engaging mid-range that makes strong vocal performances really hit home. They do sit a bit further back in the mix, but the Voice EQ preset can help elevate them again. We also thought the higher frequencies came across a little soft at times, lacking the sparkle we've heard from similarly-priced rivals.
They're not the last word in critical listening, then, but we can't deny the fun factor.
Philips Fidelio T2 verdict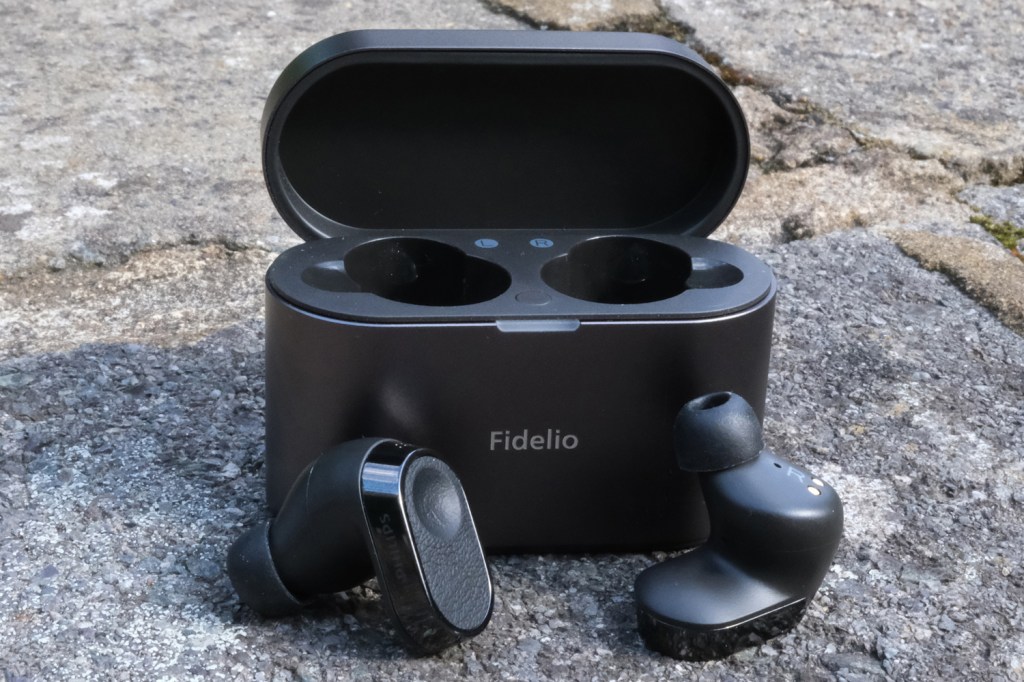 The Fidelio T2 continues Philips' run of form for luscious sounding, long lasting wireless earphones. They're happy to stream hi-res audio tracks today, and support next-gen codecs for when devices finally make LC3 mainstream. Nine hours of listening with ANC enabled is almost untouchable by any rival, too.
Noise cancellation isn't on par with Bose, Sony or Apple, though. Some would-be customers will be put off by the use of genuine leather, and others will wonder why the charging case had to be so hefty. If muting the outside world is your top priority there are better options for the money – but the Fidelio T2 is a still a fantastic choice for anyone that puts enjoyable audio first.
Stuff Says…
Fantastic sound, exceptional battery and future-proof connectivity, but the Fidelio T2 can't match the best ANC alternatives. And did the charging case really need to be so chunky?
Pros
Warm, energetic sound
LC3 and LDAC codecs on board
Brilliant battery life
Cons
ANC is only alright at this price
Charging case is seriousy stocky
No vegan leather alternative
Philips Fidelio T2 technical specifications
Drivers
9.2mm dynamic + balanced armature
ANC
Yes
Bluetooth version
Bluetooth 5.3
Codecs supported
SBC, AAC, LDAC, LC3
Durability
IPX4
Battery life
9/27 hours (buds/case, ANC on)
10/30 hours (buds/case, ANC off)
Dimensions
21x26x26mm, 5.75g (buds)
29x64x42mm, 76g (case)