Jabra Elite 8 Active review: workout warrior
True wireless in-ears don't get much tougher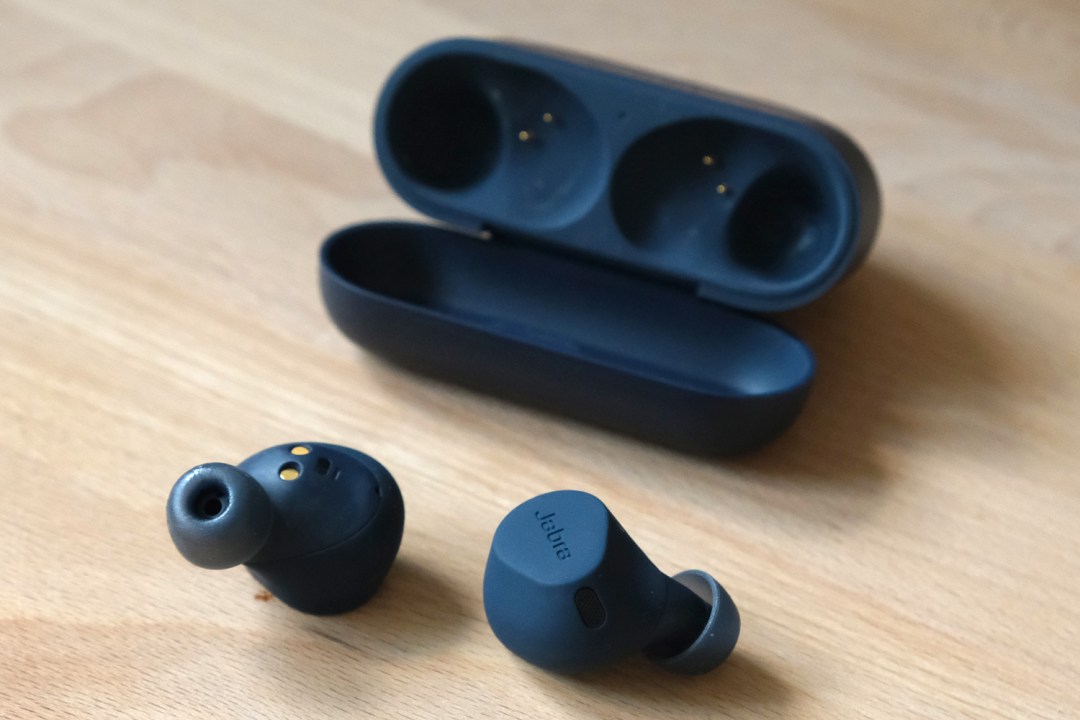 Stuff Verdict
A fantastic choice for rain-or-shine runners that deliver punchy sound and decent noise cancelling, but for fair weather workouts Jabra's other models hold greater appeal.
Pros
IP68 toughness
Comfortable to wear
Long battery life with ANC enabled
Cons
Sound signature won't please everyone
Not the securest fit for workout earbuds
Introduction
A lot of fitness-focused wireless earbuds are aimed purely at gym goers, so only really need to shrug off sweat. But what if you're all about outdoor exercise of the wetter, dustier and muddier kinds? Jabra reckons the Elite 8 Active will better fit the bill. These rugged ANC in-ears promise some of the best water resistance around, and reach military-grade standards for shocks, drops and extreme temperatures.
They don't skimp on sound, though, and aren't short on features for more stationary listening. Dolby-approved spatial audio, adaptive noise cancelling tech and a comprehensive companion app are all part of the package. But at $199/£199, is there enough here for to appeal to those with a less punishing workout regime?
How we test headphones
Every pair of earphones and headphones reviewed on Stuff is used for a minimum of a week's worth of daily listening. We use a playlist of test tracks made up of multiple genres to assess sound, and use our years of experience to compare to other models. Manufacturers have no visibility on reviews before they appear online, and we never accept payment to feature products.
Find out more about how we test and rate products.
Design & build: oh so durable
An IP68 rating for dust and water resistance already put the Elite 8 Active up there with the sturdiest in-ears around, but Jabra reckons a passing grade in the MIL-STD-810 tests make these tougher than any rival. They're supposed to survive all conditions, from baking saharan deserts to the frozen Arctic tundra, so it won't matter if you're caught in a rain shower or take a spill on a muddy trail.
You can rinse them under a tap if they do get mucky, and they'll be no worse for wear. We had no problems after giving them a brief dunking to wash off dust and dirt, which seemed to accumulate faster than other pairs of in-ears we've used recently. Don't think you can take 'em swimming, though, as Bluetooth reception is next to nil once you go under water. The charging case isn't quite so protected, but an IP54 rating is still better than many rivals.
Whether you go for the Black, Dark Grey, Navy or Caramel colour option, each earbud is wrapped in Jabra's ShakeGrip silicone rubber. This is meant to keep them locked securely in your ears, even while exercising, without relying on wing tips or ear hooks. That'll be true for some ear shapes, but not for others: even after experimenting with the different sizes of bundled ear tips, we experienced a little movement in one ear during a run, while the other stayed perfectly still. We wonder why Jabra didn't include the angled tips found in the pricer Elite 10 true wireless 'buds, which we think provide a more reliable fit.
The buds are satisfyingly small, and light at roughly 5g each. They don't quite sit flush to your ears, but are near enough to it we could sleep while wearing them. Smoothed-off edges and a shape sculpted to follow the contours of your ears meant all-day listening didn't bring on any ear fatigue, either. The case isn't the smallest around, but slim enough to slip into a pocket.
Features & battery: endurance athlete
The Elite 8 Active bring back Jabra's familiar one-button interface, which puts physical controls on each earbud. You won't trigger them accidentally like capacitive or touch-sensitive 'buds, which makes them perfect for exercise, but you might prod them further into your ear than is comfortable if you're not careful.
By default the left ear handles ANC modes, answers incoming calls, wakes your phone's voice assistant and lowers volume, while the right one manages playback, skipping tracks and increases the volume. The smartphone companion app lets you customise which multi-press gestures does what, too.
Microsoft Swift Pair and Google Fast Pair make getting connected to Windows and Android devices a breeze, and there's multipoint pairing on board for quick swapping between two devices. Spotify Tap is a welcome addition, too; it jumps straight into your most recently listened-to playlist without having to get your phone out first.
Eventually the Elite 8 Active will get LC3 codec support for hi-res Bluetooth streaming, but Jabra has yet to set a date for when a firmware update will start rolling out to customers. In the meantime it makes do with basic SBC and AAC. We had no dropout issues to our phone, and connectivity was also flawless to a smartwatch, which isn't always a given.
Voice calls were clear enough, which shouldn't come as a surprise given Jabra's pedigree in the office headset space, although it could still be tripped up by background noise while stationary. The wind noise filtering was good, though, swapping from the four exterior mics to the two interior ones once it detected we were moving a little faster than usual.
Jabra reckons the Elite 8 Active are good for around eight hours of listening with ANC enabled, and that proved accurate in our testing at sensible volume levels. They're longer-lasting than many rivals, which have to disable noise cancelling to last nearly as long. The companion app clearly shows the remaining charge, and a voice prompt chimes in when you're running low. There's another three full charges available in the case; a five minute stay will add an hour of listening. The case will need a few hours over USB-C to fully recharge itself, and it supports Qi wireless pads for slower, cable-free charging.
Interface: feature-filled
We're big fans of the Jabra Sound+ companion app, which is available for both iOS and Android. It has a clear layout, with the biggest features within easy reach on the homescreen, and plenty of more advanced ones as you scroll further down.
Here that includes Dolby spatial audio upscaling, which adds a wider, more immersive soundstage to your tunes. There's no head tracking (you'll need to step up to the pricier Elite 10 for that) and not everyone will think the effect is convincing. We thought it was more subtle than other spatial modes we've tried, but can go a bit heavy on the bass, giving tracks an unnaturally boomy low end.
The handful of EQ presets are a more useful inclusion, as is the option to create your own using the five-band equaliser. There's plenty of scope for dialling up the bass or treble to suit your own tastes. Soundscapes then let you zone out to white noise or the relaxing sounds of the ocean.
The app also handles OTA updates, lets you adjust how much of your own voice is piped into your ears while on phone calls, and set up a location-tracking Find My Jabra feature.
Sound quality and noise cancelling: plenty of energy
Like Jabra's previous Active in-ears, the Elite 8 Active delivers punchy and energetic audio that's well-suited to exercise. They have a clear mid-range and crisp high-end, with plenty of volume on tap. Royal Blood's Little Monster was as angry and animated as we'd expect, while quieter, calmer tracks were fairly refined.
The fairly small 6mm dynamic drivers have to work hard to pull that off, though, and don't always have the definition or nuance we'd expect in this price range. Bass is impactful, but can be a little vague, and high-end notes sit quite forward in the mix. Some custom EQ tuning can help a bit, but these aren't earphones for critical listening. You probably won't notice while focusing on heart rate zones or counting reps, mind.
Noise cancelling coped well with the constant, low-frequency rumble of commuter trains, but sharper frequencies often make it through, meaning this isn't the best choice for silencing a noisy office. It's not going to best the current crop of more expensive ANC in-ears, though performance didn't disappoint given the price.
The noise floor is almost imperceptible while there's music playing, and ANC didn't discolour the audio in any noticeable way, so there's little penalty for using it all the time. The transparency mode feels quite artificial, although we'll take that over being flattened by a car we didn't hear coming.
Jabra Elite 8 Active verdict
If durability matters most to you, the Jabra Elite 8 Active are a bit of a no-brainer. These are brilliantly rugged earphones that don't compromise on size or comfort, and have impressive battery life to boot. Noise cancelling might not be class-leading, but it still keeps the outside world at bay, and Jabra's companion app continues to offer plenty of customisation.
Not everyone needs this sort of serious weather resistance, though. IPX4 rated 'buds such as the Beats Fit Pro are sure to survive a mildly sweaty gym sesh, while the Shokz OpenFit's air conduction approach makes more sense for runners and cyclists. Meanwhile, the cheaper JBL Reflect Flow Pro have fewer features but are are just as durable.
For better noise cancelling and more nuanced audio you'll need to spend more, though – and give up some protection in the process.
Stuff Says…
A fantastic choice for rain-or-shine runners that deliver punchy sound and decent noise cancelling, but for fair weather workouts Jabra's other models hold greater appeal.
Pros
IP68 toughness
Comfortable to wear
Long battery life with ANC enabled
Cons
Sound signature won't please everyone
Not the securest fit for workout earbuds
Jabra Elite 8 Active technical specifications
Drivers
6mm dynamic
ANC
Yes
Bluetooth version
Bluetooth 5.3
Codecs supported
SBC, AAC, Bluetooth LE audio (with future firmware update
Durability
IP68 (buds), IP54 (case)
Battery life
8/32 hours (buds/case with ANC enabled)
Dimensions
2020x29mm / 24x47x65mm (buds/case)
5g / 46g (buds/case)