Shokz OpenFit review: breezy listening
True wireless earbuds that promise great awareness as well as engaging audio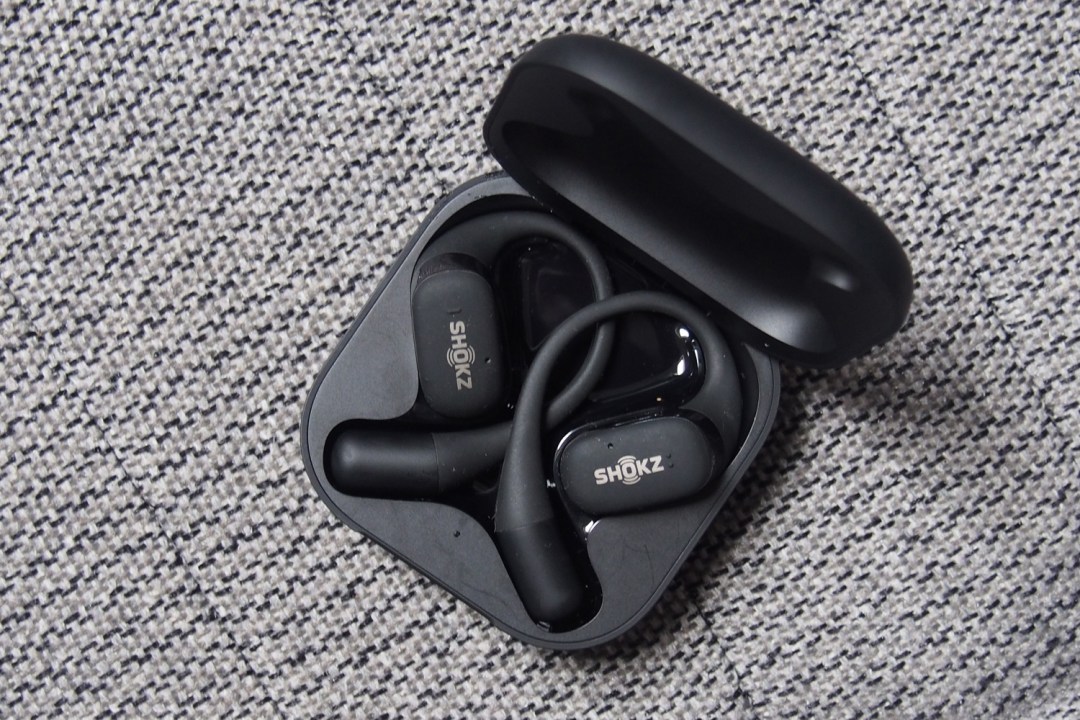 The trend for 'air conduction' earphones, which essentially plant speakers near your ears instead of inside 'em, has been growing lately. They're an evolution of the tech found in neckband-style bone conduction headphones, only slimmed down to work as true wireless earbuds. Shokz has been a go-to brand for bone conduction for years, and has now decided to get in on the air conduction action with OpenFit.
These ear hook-style true wireless 'buds promise to kick things up a notch in the sound department, while also keeping you aware of your surroundings. Shokz isn't the only player in this niche corner of the headphone world, though. Does the OpenFit do the job where it matters most?
Design and build: That hanging feeling
The OpenFit look like a pretty conventional pair of truly wireless earbuds, but are designed to sit in front of your ears instead of inside them. That means your ear canals aren't being blocked up, leaving you free to still hear sounds around you while also getting a blast of your own audio.
Each earbud weighs less than 10 grams so they're super light and they're got an IP54-rated design, which means they're built to fight off sweat as well.
Shokz says it's scanned a vast array of ear data to provide a soft and secure grip, though we think maybe it needed to do a touch more scanning. If you're wearing them at work or for a walk, they don't budge. When you put them to tougher, sweatier exercise use, that lightweight form factor seems to work against it and we found that you have to at times spend some time slightly repositioning them. It's a similar story in windy conditions too, where maybe it could do with some extra bulk to them. While they certainly feel comfortable to wear for long periods, they aren't the super secure fit in all wearing scenarios.
In spite of that diminutive form factor, Shokz does still find room for microphones when you want to take calls and there's touch controls to tinker with volume, change songs and are definitely best suited when you're not in the midst of a HIIT session.
The buds drop into a charging case that isn't as dinky as Apple's AirPods Pro case and doesn't carry the same sweat resistance as the buds either. Though they do securely hold the OpenFit in place.
Performance: A big slap of bass
Unlike Shokz' other headphones, bone conduction is out and 18x11mm custom DirectPitch dynamic drivers are in. They deliver sound to the ears with less sound leakage than bone conduction headphones, and also promise bigger bass, bright highs and deep lows.
The result is a sound that's certainly bigger and punchier than bone conduction-based Shokz headphones making it a much better fit for bass lovers. The sound leakage doesn't feel as severe as bone conduction headphones either, making them a little more suitable to wear in quieter, more public environments.
This air conduction approach also means Shokz can also introduce some sound customisation into the mix. That's unlocked in the companion phone app, where you can pick from presets or create your own EQ profile to get something that's better in tune with podcasts or you favour clarity over thumping bass.
You won't find the best battery life on a set of truly wireless headphones here, but the OpenFit still puts in a respectable performance – especially when you factor in the Quick Charge feature. A claimed 7-hour battery life is achievable if you're not listening at near to top volume, with a total of 28 hours available if you've got a fully charged charging case. A quick 5-minute charge gets you 1 hour of battery life, for those that are terrible at remembering to pop them back in the case to charge.
Shokz OpenFit Verdict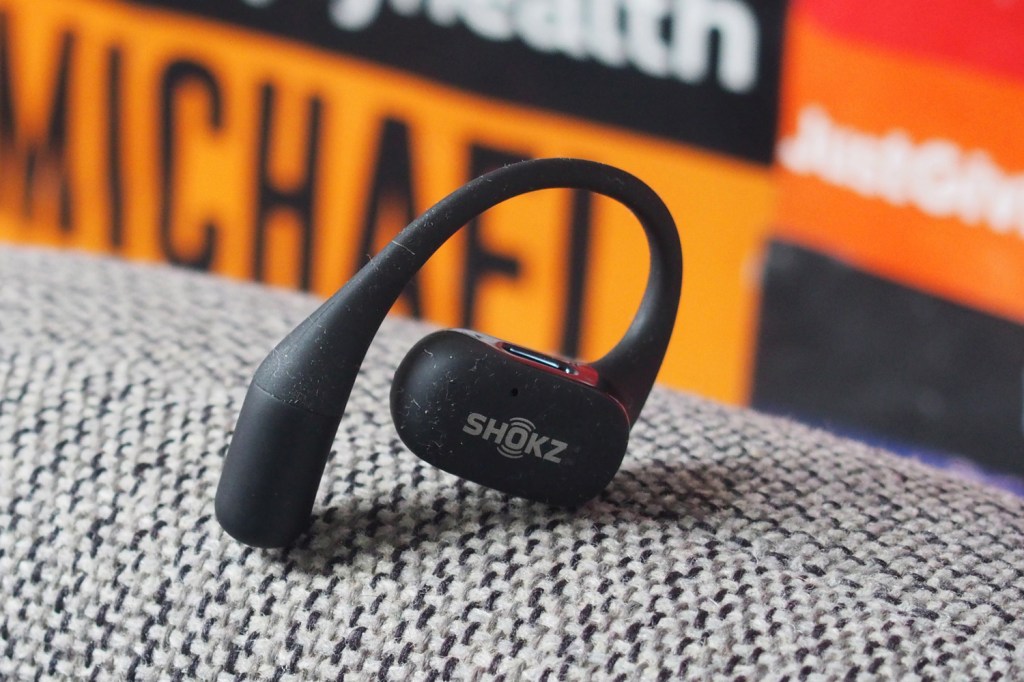 In most instances the Shokz OpenFit give big, customisable sound from a light and comfortable form factor. If you're planning to use them for a lot of your exercise however, you might not be entirely satisfied with the earhook fit.
At $180/£180, they're now the most expensive headphones in the Shokz line-up. If you really don't get on with the neckband-style design of headphones like the OpenRun and OpenRun Pro, then the OpenFit will appeal. But if you're happy to have the more reliable fit for exercise and still want to enjoy balanced, open ear sound, you could save some money and go for one of those other pairs instead.
Stuff Says…
Comfortable wireless earbuds that safely deliver bassy and customisable audio, but not everyone will gel with the the earhook design.
Good Stuff
Comfortable to wear all day
Effective touch controls outside of exercise
Reliable connectivity
Bad Stuff
Lightweight build can affect secure fit
Battery life takes a hit at louder volumes
Charging case is pretty big
Shokz OpenFit technical specifications
| | |
| --- | --- |
| Drivers | Air conduction |
| ANC | No |
| Battery life | Up to 7 hours |
| Wireless charging | No |
| Bluetooth version | Bluetooth 5.2 |
| Durability | IP54 |