OnePlus 8 review
£50 extra for 5G is a no brainer
A constant drum roll built up with a slow crescendo in our heads the week before the OnePlus 8 arrived.
Was OnePlus about to muck it all up by charging us an extra £250 for 5G, wiping out the main appeal of its great value phones? The crash cymbal just rang out, and we have good news – starting at just £50 more than the OnePlus 7T, that solid OnePlus rep is still in-tact. Phew.
So how has it managed to fit some of the same core hardware used in £1000-plus phones into a £599 OnePlus 8? A sideways shift in the camera, for a start. But if your 5G headaches revolve around phone price rather than whether the mast technology is trying to sauté your brain into some kind of fine gruel, the OnePlus 8 is one of the most accessible next-gen network phones to date.
Design: Those curves look good in green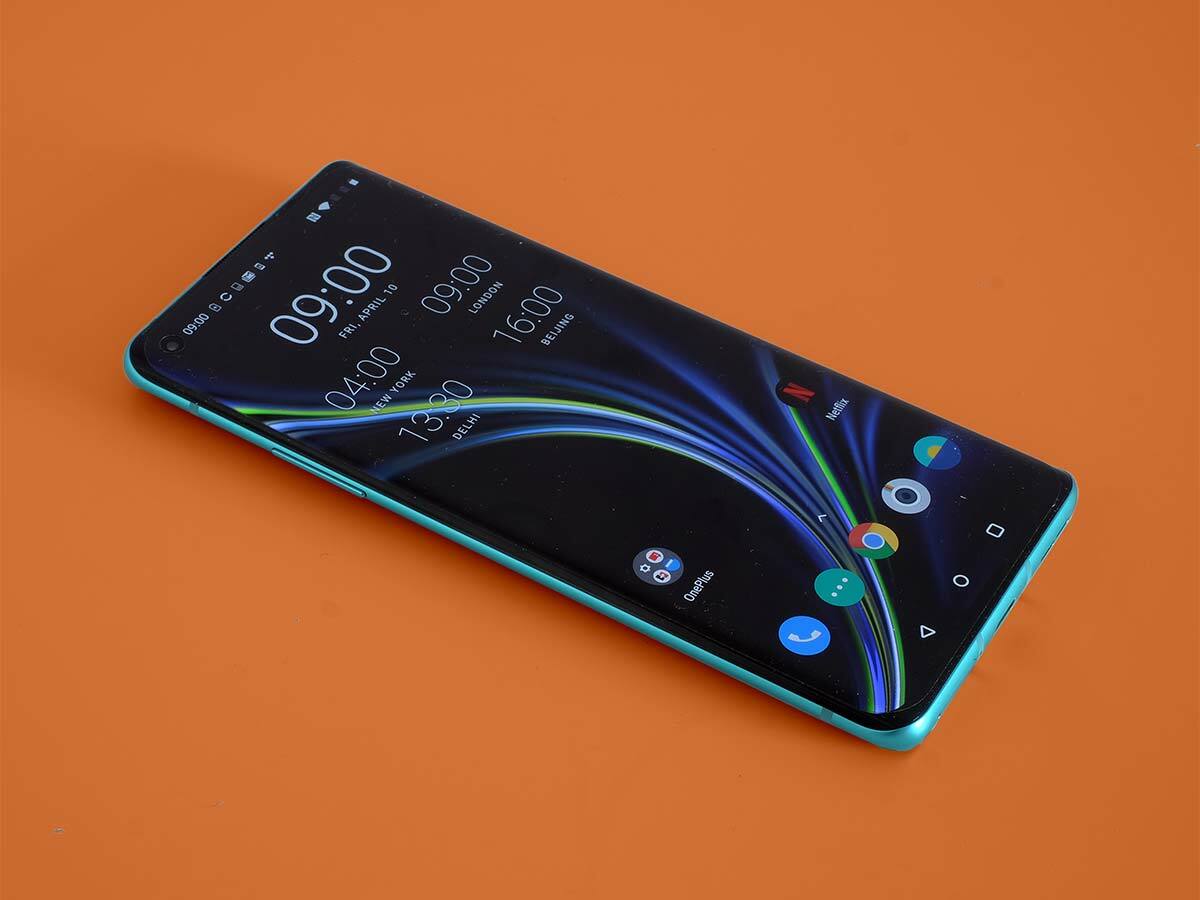 No-one likes a price hike, but OnePlus has also given the OnePlus 8 a bit of a style upgrade by way of an apology.
Unlike the OnePlus 7T, this phone has curvy glass on front and back. It means the screen borders are a touch smaller. And nothing says "expensive phone" like curved glass. OK, so a foldable one does. But if you're interested in the OnePlus 8 you probably want something more practical than a £2000 phone you might break in two days.
Our particular OnePlus 8 is also a bit of a stunner. We have the higher-end version, with 12GB RAM, 256GB storage and OnePlus's new Glacial Green finish. It's a silky-looking matte glass treatment that shifts between an aquamarine green and darker blue as it plays with the light cast on the back.
Some light-reactive finishes are just out to grab as much attention as they can, as quickly as possible. But this one is a beaut.
Can't afford the upgraded OnePlus 8? The base model with 8GB RAM and 128GB storage comes in glossy black. It's not quite as nice as Glacial Green, but black never gets old. And the core experience of using the phone doesn't change.
The OnePlus 8 is a great size, and feels as well-made as any £1000-plus phone. Its curves are out to charm fingers and it's not so wide you need XL-size hands to grip the thing comfortably. This, alongside the lower price, is the best reason to pick the OnePlus 8 over the OnePlus 8 Pro. It just fits better.
Its in-screen fingerprint scanner is quick too, and only seems to fail when your thumb is wet. The OnePlus 8 looks and feels its best naked, but as ever we advise using the bundled silicone case. It makes the phone chunkier and less pretty, in exchange for far better grip and about a 95% reduction in the likelihood of you dropping it and smashing the glass back within a week.
Screen: 90Hz OLED still rocks in 2020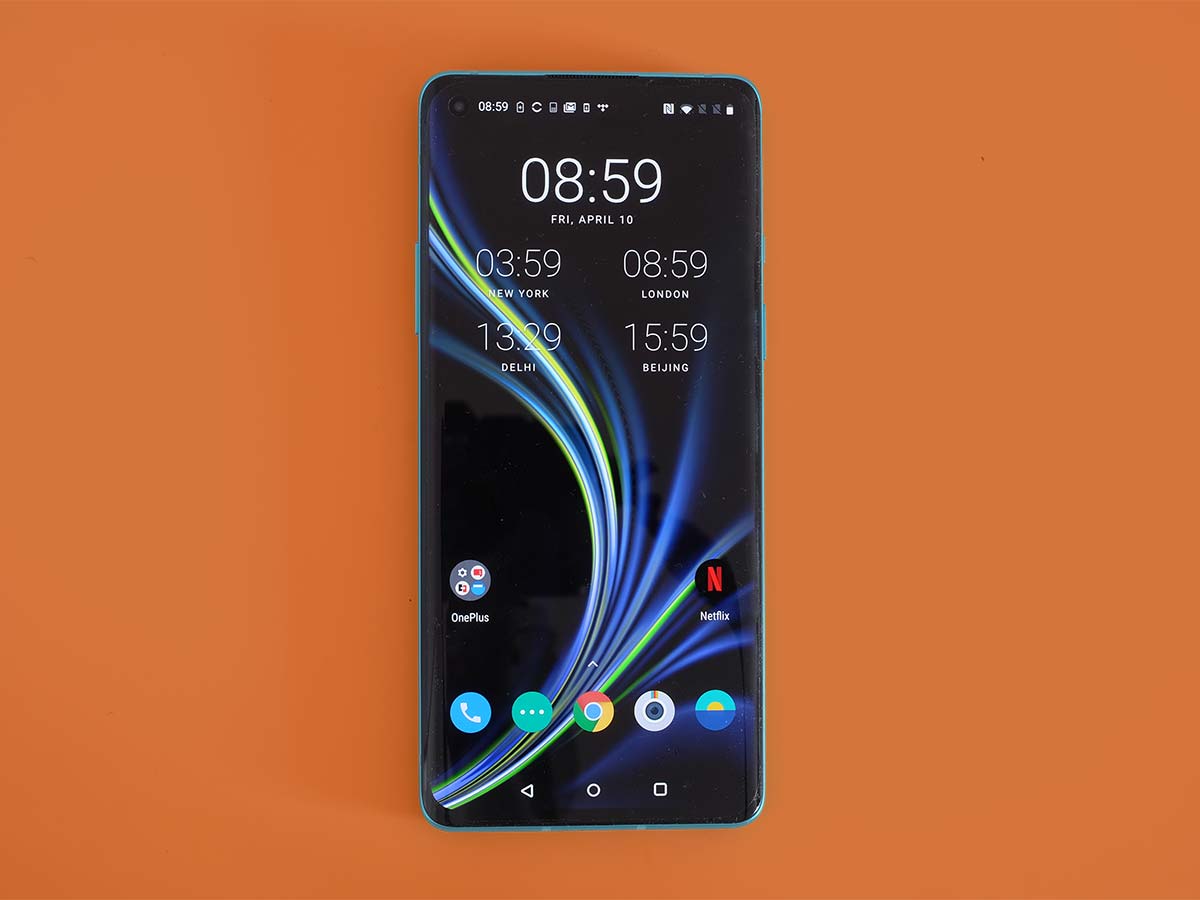 We've used the OnePlus 8 and OnePlus 8 pro side-by-side, and while there are differences in their screen tech across the board, size is the main change. A bigger screen is always better for watching movies and games. It's as simple as that.
The OnePlus 8 has a 6.55in OLED screen with similar specs to the OnePlus 7T. This time we get a punch hole instead of a teardrop notch. And as it sits at the corner of the display rather than the centre of the top, it's less distracting. Its resolution is 2280 x 1080 pixels, and its max refresh rate is 90Hz. You can now get 120Hz screens, including the OnePlus 8 Pro's.
But we don't think you should get too hung up on the difference. We human folk are better at appreciating changes than absolutes. So while, yes, a 120Hz screen scrolls even more smoothy than this one, you are most likely upgrading from a 60Hz phone. You still get the thrill of seeing Android slide by more smoothly than you've seen before.
Things like peak brightness are actually just as important, if not more so, out in the real world. The OnePlus 8's OLED panel is very bright, and has no trouble coping with bright, sunny days. It's just a shame the phone refuses to use its true max brightness in the camera app.
Being able too see what you're shooting no matter the lighting conditions is one for the best uses for an ultra-bright screen.
Still, the OnePlus 8 does support HDR10+, which will also suck up all the screen power it can get. The phone also has excellent colour, and you can choose how saturated you want it to look. Its default Vivid mode looks great too.
Software and Performance: A top Snapdragon is always good news
OnePlus takes the best approach to this kind of customisation throughout the software. 95% of people will probably be happy with what's laid out as standard. But for the tweakers and fiddlers, there's plenty to play with just below the surface.
There's a dark mode. You can change the style and shape of app and drop-down icons. As usual there are two system font, and the OnePlus 8 even lets you pick the shade of colour accents throughout the interface.
After fiddling around for a while, we switched back to the OnePlus 8's defaults. But what does that show other than that the design team knows what it's doing? The OxygenOS software, based around Android 10, is also a lot more stable at launch than most phones we've reviewed recently.
We haven't stumbled across a single major bug yet. Performance is excellent. The OnePlus 8 has a Snapdragon 865 CPU with Qualcomm's X55 5G modem. You can't get any better core hardware at the time of the phone's launch. OnePlus told us the standard 8 uses LPDDR4 RAM, the Pro LPDDR5. But according to our testing the RAM is actually the same speed, copying data at around 17,000MB/s.
Storage runs at SSD-like speeds too, with reads of 1400MB/s and writes of 450MB/s. There are no hidden downgrades, in the 256GB/12GB OnePlus 8 at least. It's gaming performance we care about most, though, and again you can't get much better. The OnePlus 8 is the kind of phone that makes you wish developers would build even higher-end graphics modes into their games. Most titles don't seem to remotely push at the Snapdragon 865's limits.
Camera: A sneaky downgrade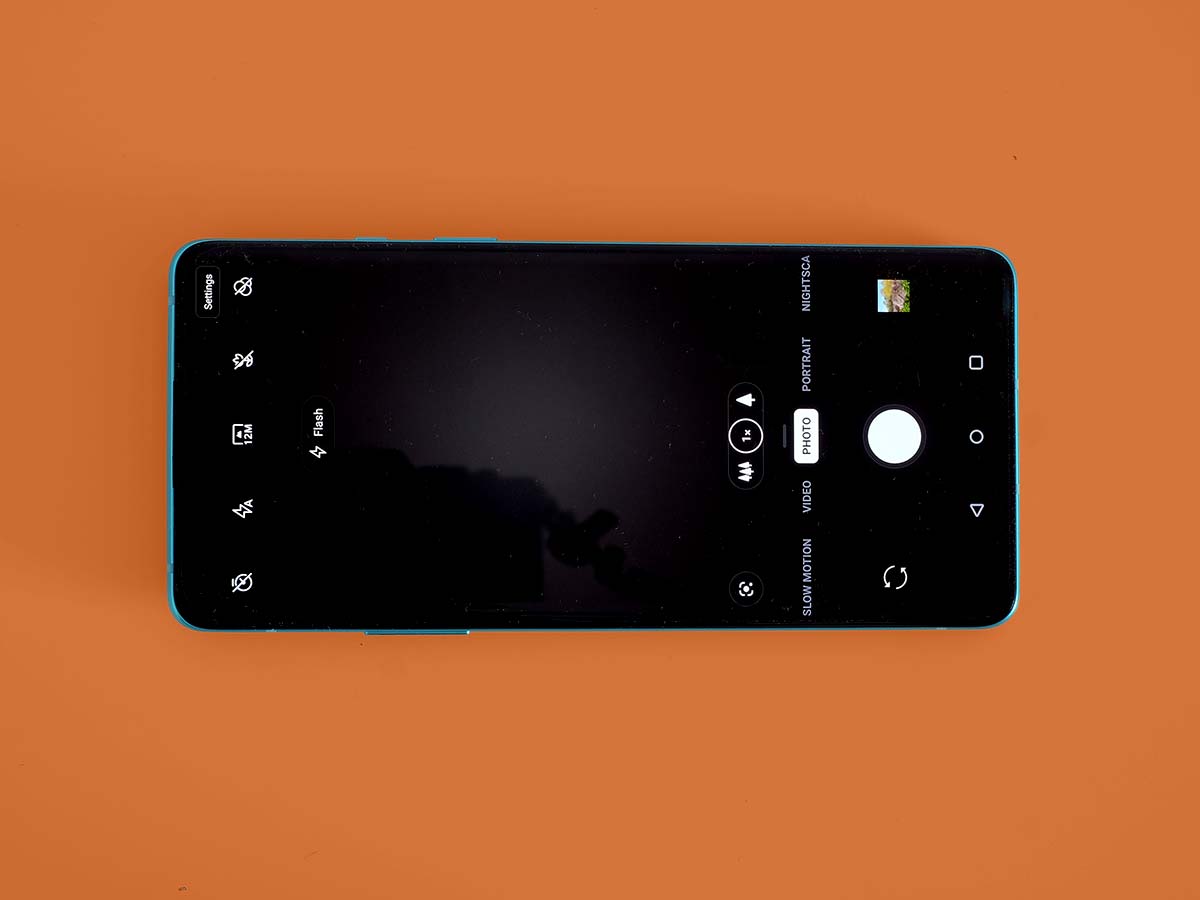 OnePlus always packs great Qualcomm processors into its phones. But the camera tech? Its history here isn't quite so strong.
The OnePlus 8 has three rear cameras, and two of them are good. There's a 48MP primary camera and a 16MP ultra-wide, and both use solid Sony sensors. They are the very same sensors used in the OnePlus 7T, an IMX586 and IMX481. These offer excellent results in daylight, and aside from the odd change in colour temperature image quality is not too far off that of the higher-end OnePlus 8 Pro. Until you look very close, anyway.
The very best phone cameras can render a little more fine detail and texture detail than the OnePlus 8 even in daylight. You'll see clearer blades of glass, more individual pieces of gravel in someone's driveway, with the Pro version. But before you start zooming into the pics, there's not a huge drop in quality.
Their wide-angle lenses are a similar case. Like the better wides, you don't register a big drop in image quality as soon as you hit the 0.6x zoom button. Result. Don't mistake the OnePlus 8 and OnePlus 8 Pro for camera equals, though.
The non-Pro model is less well equipped for more extreme situations, and even the Pro isn't exactly a hero at dealing with them compared to a Samsung Galaxy S20 Ultra or Huawei P40 Pro. The OnePlus 8 has a good night photography mode, one that takes a second or two to create a clever composite of frames. But the results are softer than the best around, and softer than the OnePlus 8 Pro's shots.
It's also much worse at close-up macro photography, one of the OnePlus 8 Pro's strongest parts. The OnePlus 8 has a camera dedicated to macro shooting. You switch to it using a button that sits right at the top of the camera app. However, it has a 2-megapixel sensor, the equivalent of a toy you might get free in a cereal box. Disclaimer: for those too young to get that reference, sugary cereal for kids used to come with junk plastic toys in the bottom. The 90s were exciting years.
The OnePlus 8 also has no zoom camera. When you use the 2x button in the app, it crops into the main sensor. It's no match for a proper 3x or 5x zoom, but we still appreciate easy access to the crop mode. Would we rather have the OnePlus 7T's 12MP zoom camera, over a 2MP macro? Yes. And the annual price increase does put more focus on what is arguably a camera downgrade.
There are a good number of video features, though. You can shoot at up to 4K resolution, 60 frames per second with stabilisation. And there's a super stable mode, also seen in the OnePlus 7T. This uses software-stabilisation-optical-stabilisation sandwich, and while it can result in some strange image wobble distortion in lower light, it is otherwise very effective. You just use it at up to 4K resolution, 30 frames per second too.
We tried the OnePlus 8 and OnePlus 8 Pro 4K video modes side-by-side, and the Pro's 4K video has significantly more detail, though. The two phones share the same selfie camera sensor, though, an IMX471. And it's very good, with solid skin tone handling and excellent detail, as long as you hold it still enough to avoid a blurred exposure.
Battery Life: B- stamina, A+ speed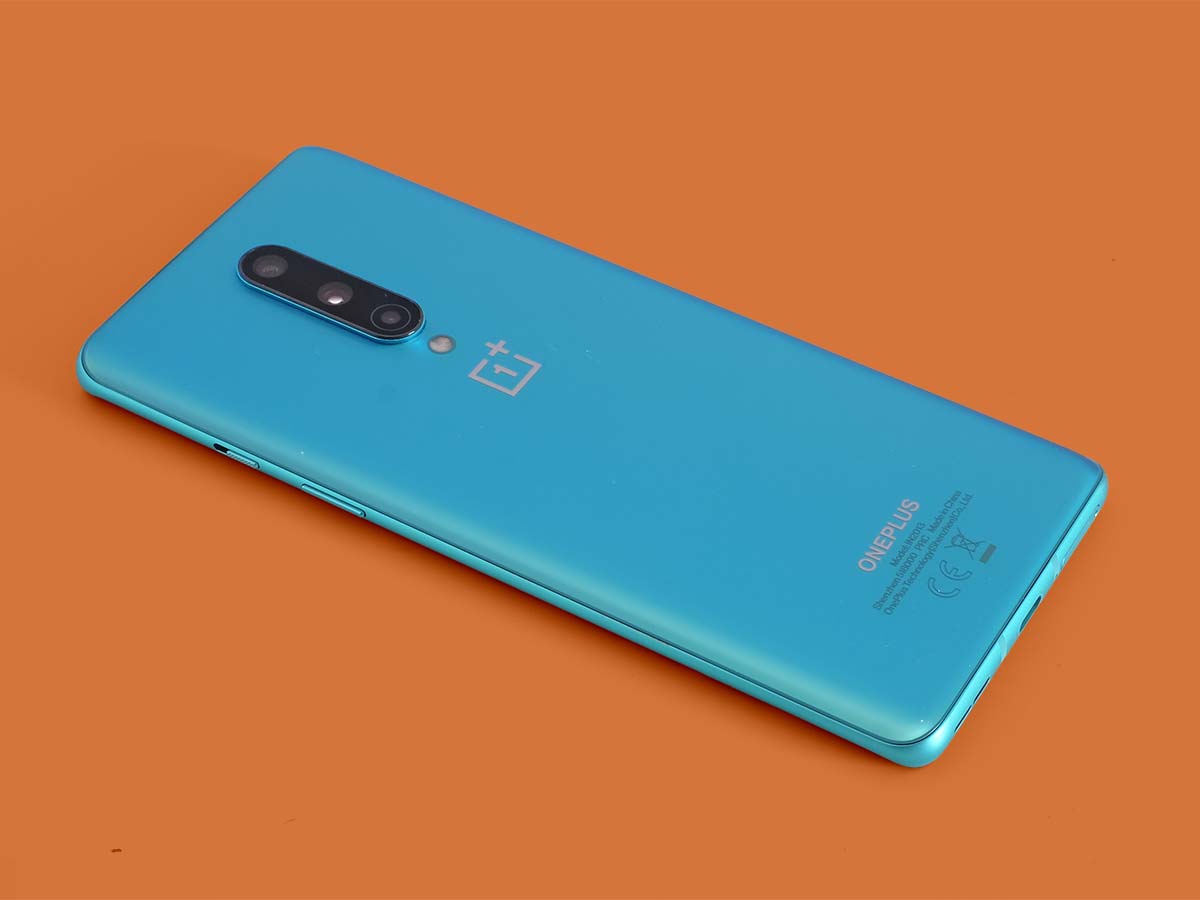 We have good news and bad news on battery life. The OnePlus 8 has a significantly larger battery than the OnePlus 7T, with 4300mAh instead of 3800mAh.
The bad news? We're still not exactly bowled over by its stamina. Take the phone out on a bright day and the 90Hz screen chews through the battery like a five year-old left alone with an easter egg.
We're moderate to heavy users on most days, and while we have for the most part made it to bed time without needing a top-up, we're rarely left with much charge. However, we have also been spoilt by a few recent 5000mAh phones that are a little more geared for longevity than the OnePlus 8. And on our few lighter days, the efficiency of the Snapdragon 865 does shine through.
For example, as we write this at 14:50pm, the phone still has 72% charge left. We haven't been outdoors yet and have streamed fewer podcasts than usual. But this shows lighter users should have no issues.
The OnePlus 8 also has its maker's famously fast charge tech. It will get you well over 50% charge in half an hour from flat. This phone doesn't have wireless charging, mind. For that you need to bump up to the OnePlus 8 Pro. OnePlus is, as usual, not a leader on camera tech or battery life. But it is not an embarrassment in either area.
OnePlus 8 verdict
You need to appreciate the cost of 5G to "get" the OnePlus 8. It may seem like everyone has been blathering on about 5G for ages, but the phone hardware that makes it possible is still barely out of nappies. And that means it costs a bit to pack in.
However, OnePlus has clearly tried its hardest to keep that extra cost to a minimum. £50 extra for 5G is a bit of a bargain.
In other respects, outside a bit of curved glass here, a new processor there, the OnePlus 8 doesn't seem a big improvement over the OnePlus 7T. But when many 5G phones are as effective wallet-drainers as Western Union email scams, we're going to chalk this one up as a win.
Tech specs
| | |
| --- | --- |
| Processor | Snapdragon 865 |
| RAM | 8/12GB |
| Storage | 128/256GB |
| Cameras | 48/16/2MP and 16MP front camera |
| Battery | 4300mAh / Warp charging |
| Screen | 6.55in 2400 x 1080 pixel OLED screen |
Stuff Says…
OnePlus gets over the 5G upgrade hump in style. The camera's no better, it's worse in one way, but we get a style upgrade and an only slight jump in cost.
Good Stuff
Excellent power and performance
5G (and no massive price hike)
2020 curves
Bad Stuff
Camera not as versatile as last time around