OnePlus 7 review
Have we met before?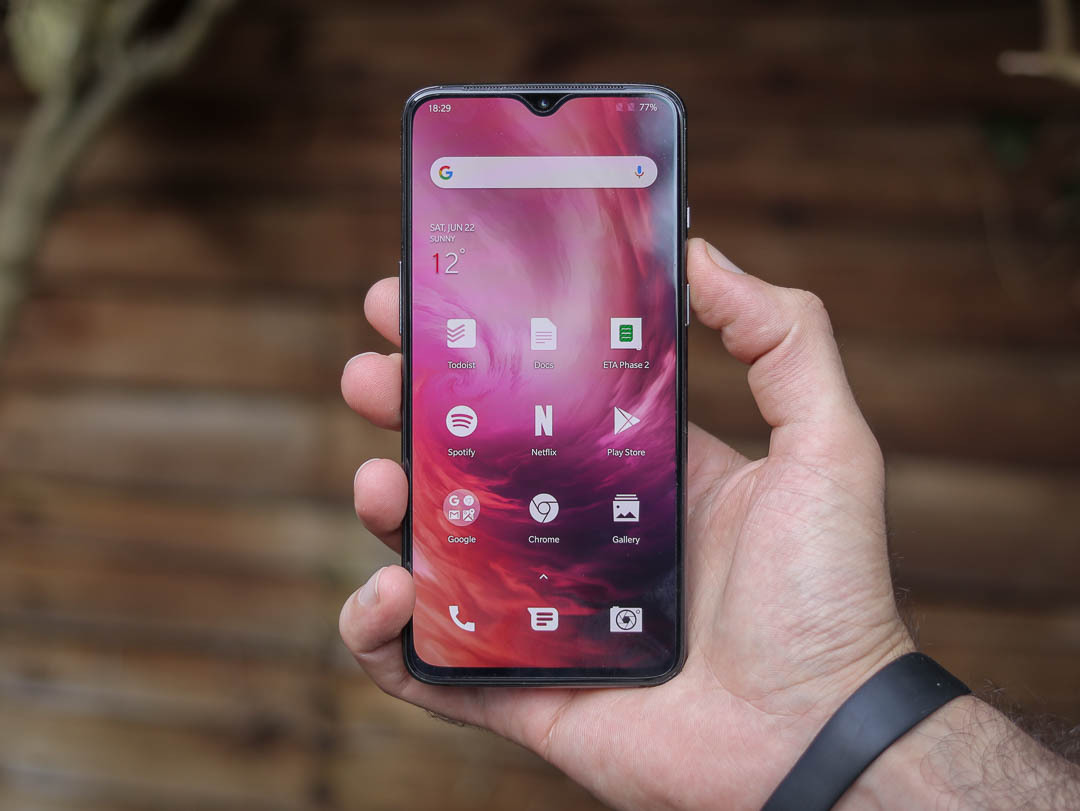 The OnePlus 7 costs £499. For that kind of money, you could pick up a Huawei P20 Pro, a Samsung Galaxy S9, a Xiaomi Mi 9, or, if you wanted to go a bit cheaper, an Honor 20 or Pixel 3A with £100 left over.
When OnePlus hit the scene, there wasn't much competition in the 'affordable flagship' space; now, it's packed. So, while we absolutely loved the OnePlus 7 Pro, do we really need a vanilla OnePlus 7?
No one's suggesting the OnePlus 7 is a bad phone. That asking price of £499 gets you a flagship Snapdragon 855 chipset, 6GB of RAM and OnePlus' slick UI experience – Oxygen OS. It also packs a dual-camera and a large 3700mAh battery.
But you only have to look at it to realise that OnePlus didn't take any risks when putting the OnePlus 7 together – it's basically a OnePlus 6T in a mirror finish outfit. It's got the same screen size and resolution, fundamental design, and starting price for the same storage/RAM configuration.
After a week with the phone, given everything else on the market now, can we really give it the hearty recommendation we gave the 6T?
Design: OnePlus 6T2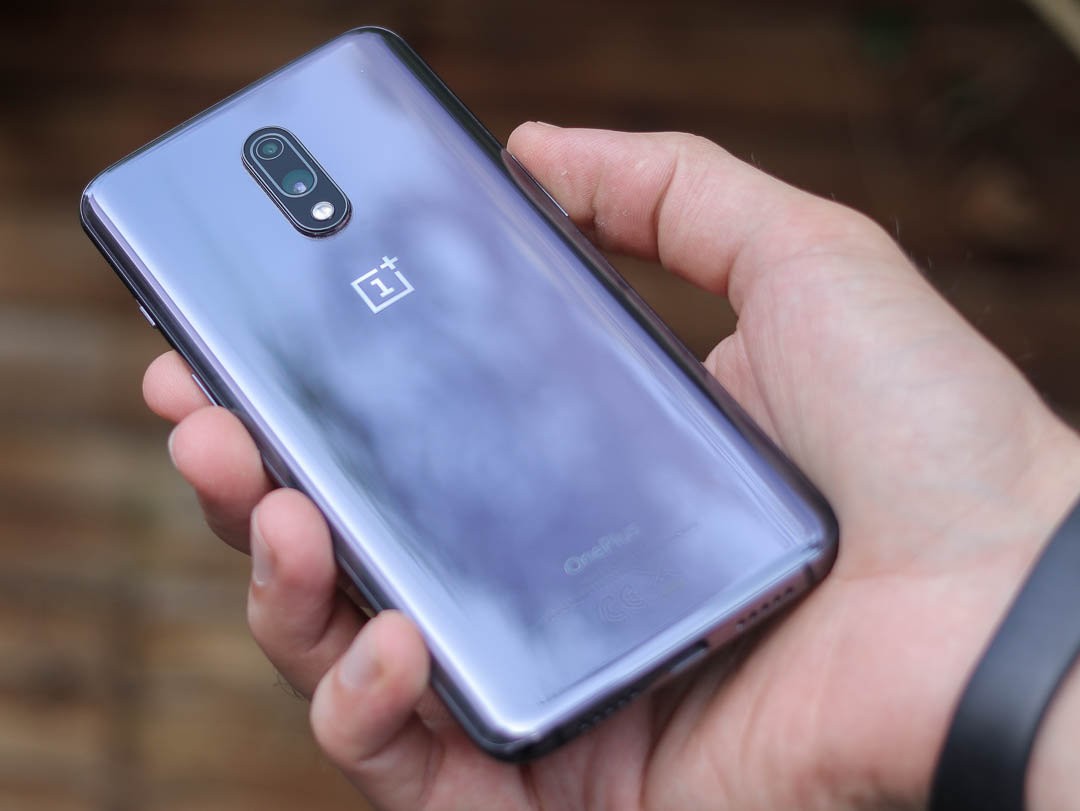 What do you call a phone that's 8.2mm thick, has a FullHD 6.4in AMOLED screen, Gorilla Glass 6 protection, an aluminium frame and a water droplet notch? A OnePlus 6T of course! Or a OnePlus 7, your choice.
On the one hand, that's all a bit disappointing and smacks of an update light on innovation. On the other, you do get stereo speakers, a bumped up camera and more power under the hood here – and all in (virtually) the same chassis, which isn't bad going.
The OnePlus 7 does look good – its fascia is flat, with the 16MP selfie camera nestled within the small notch at the top. The notification slider, power button and volume rocker are all accounted for.
At the bottom, you don't have a headphone jack, but you do have a USB-C port, as well as one half of the stereo speaker setup, with the other slightly above the display.
With its Mirror Grey finish, the OnePlus 7 looks and feels great – ultra-premium and shiny, but touch it a couple of times and it fast becomes smudge central. On the plus, there's a case in the box to keep it clean, and protected. Coupled with the pre-fitted screen protector, without spending an extra penny, you're protected from the front to the back.
Our only real gripe with the OnePlus 7's design is how pronounced and sharp the camera surround is. It's a few microns away from being a weapon, and doesn't scream premium like the rest of the phone. Everything else about the design, however, checks out nicely.
Screen: Me again!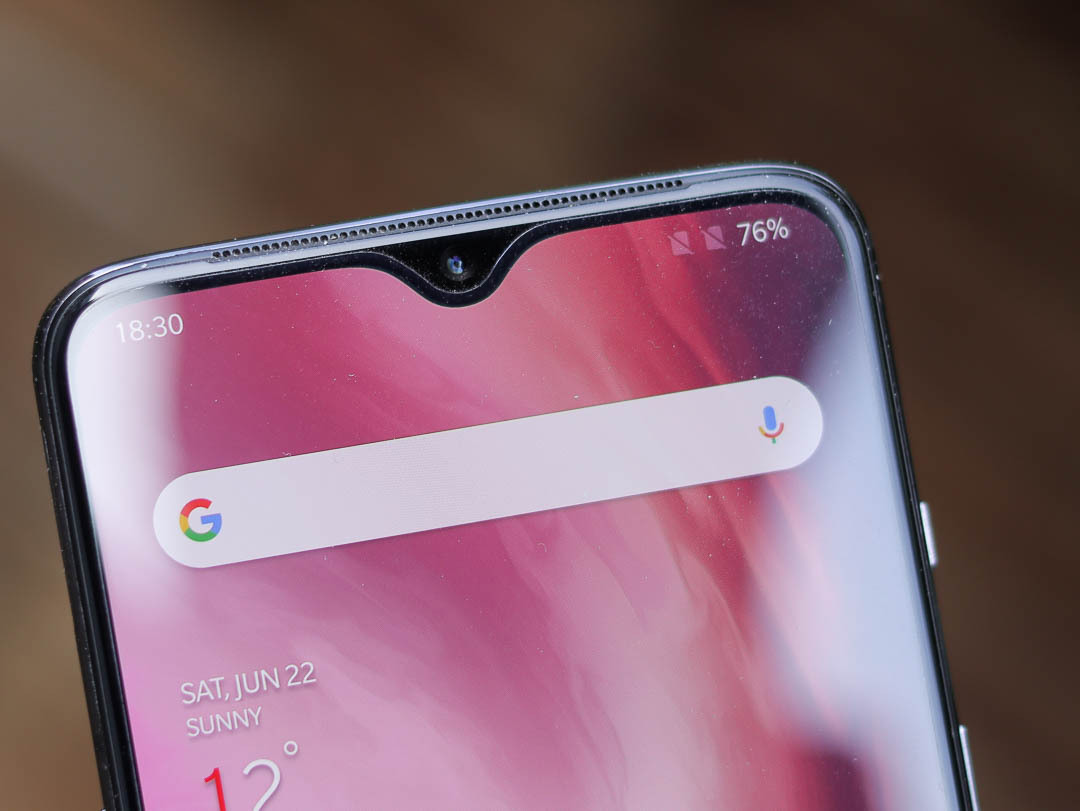 Full HD resolution, AMOLED screen tech and a water droplet notch. The OnePlus 7's 19.5:9 screen is identical to that of the OnePlus 6T, and that's actually a good thing. It features the same 402 pixels-per-inch sharpness and 85.5% screen-to-body ratio, and while we would have liked something different, maybe a punch hole camera for example, it's still a great screen.
The quality is solid – colours are deep and inky, it's as bright and sharp as it needs to be, and there are a whole load of screen calibration tools in the settings. Viewing angles are also grand, and you can choose to hide the notch if you don't like it.
Software: Oxygen oh yes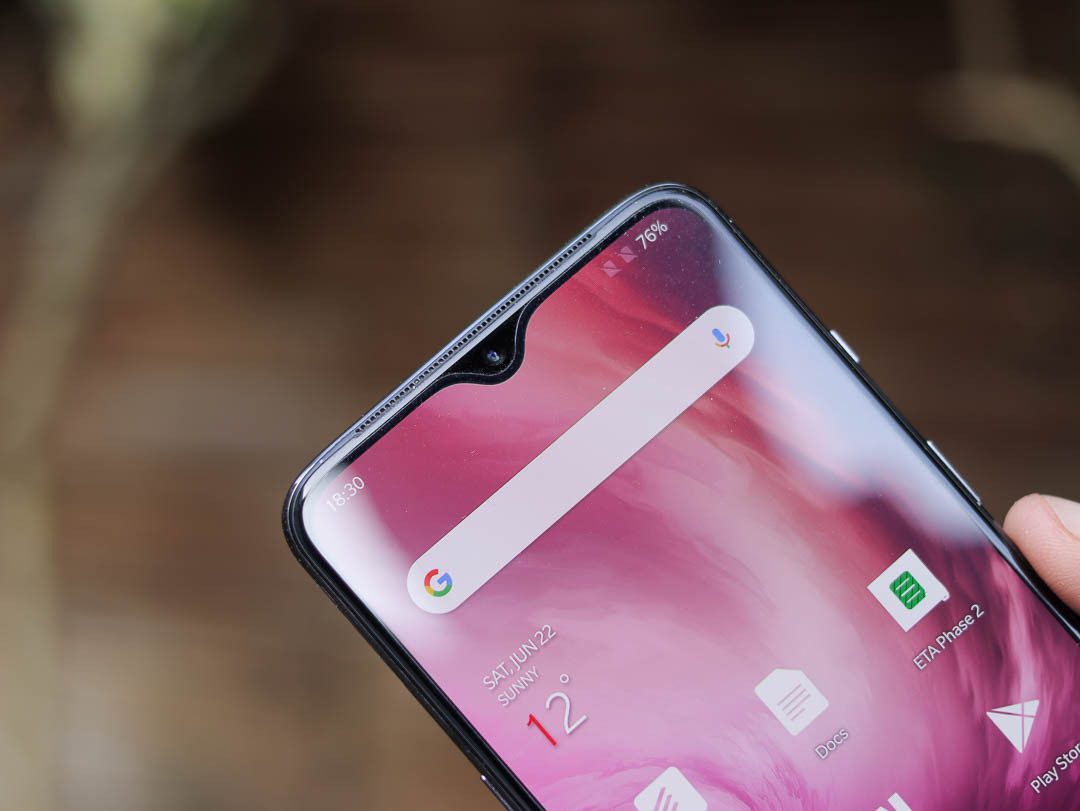 Consistently since OnePlus smartphones hit the scene, one of the best things about them has been the OnePlus Skin, called Oxygen OS. It's clean, fast, and brimming with features. Sitting on top of Android 9, it's up to date and ready to showcase your favourite apps beautifully.
Consisting of home screens, a handy shortcut screen to the left, and an apps drawer, the basics are ticked off. Dig a little deeper and there's a handy hidden apps tray too, plenty of gestures you can fire up, getting rid of the navigation buttons for example, and you can also customise your grid and icon sizes.
Dive into the settings for even more things to tweak and play with – Parallel apps for multiple instances of the same app, App locker so you can secure specific apps with a fingerprint or password, and Gaming mode to zap interruptions when you're immersed in a 3D world.
Without sounding gratuitous, Oxygen OS is easily one of the best versions of Android around, and it's showcased beautifully on the OnePlus 7.
Camera: 1 + 1 = 2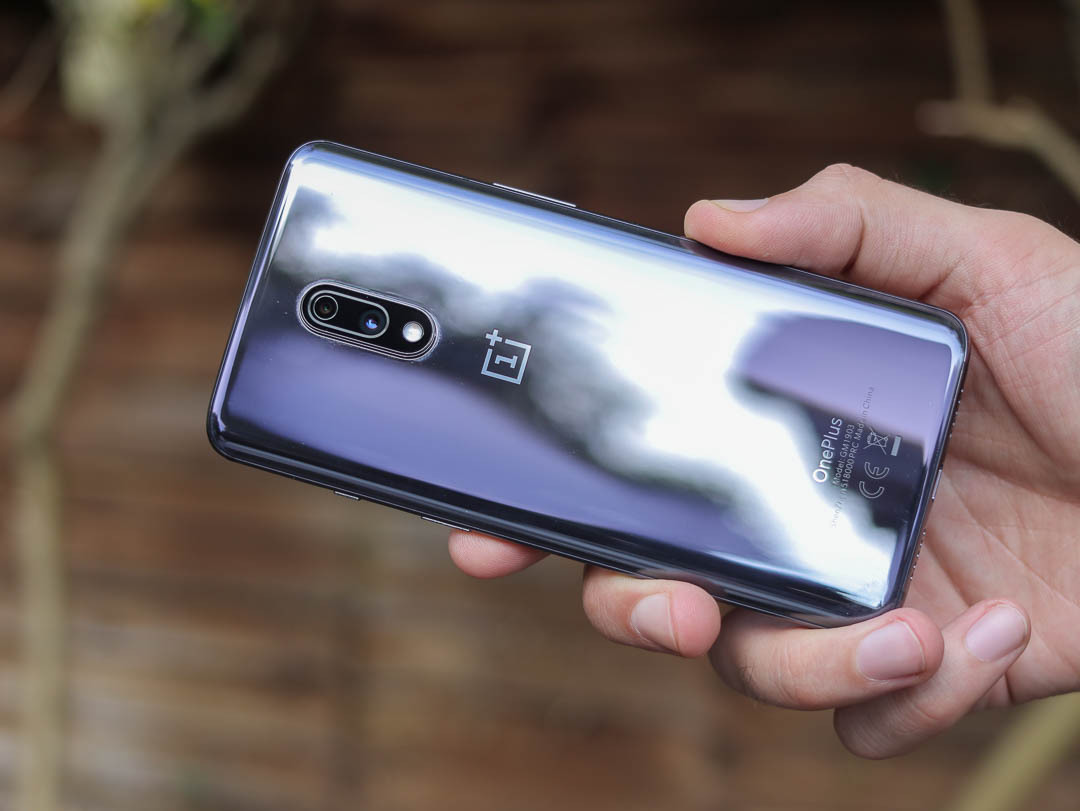 Unlike the OnePlus 7 Pro's triple camera set-up, the vanilla OnePlus 7 features just two cameras.
The primary camera is Sony's new IMX 586, 48MP sensor paired with an f/1.7 lens. Outfitted with both optical and electronic stabilisation. As for the secondary camera, it's a 5MP depth sensor that enables better background blurring.
Out and about, pointing and shooting, the OnePlus 7 is a fine camera. It grabs a good amount of detail, especially in well lit conditions, and there's a handy Nightscape mode for low light shots.
Even automatic mode isn't bad in low light though, which is a bonus. Where it falls down is when it comes to nuance. Shots in good light may have a good amount detail, but contrast and saturation seem too pumped up in certain scenes, as evidenced in the sample pictures of the cats outdoors.
Yes – pictures often look Instagram ready, but if you like wiggle room to edit your photos yourself, you won't have much.
The phone can also shoot up to 4K video too at up to 60fps (maximum of five minutes at a time), and it's nicely held together, impressing across lighting conditions.
In addition, there's a 16MP front cam for sharp but flattering selfies, and this is great. Unlike a couple of years ago, there are a lot of great camera phones that cost £499 or less – not least of all the Pixel 3C, which is ultimately a flagship camera on a midrange smartphone, so while the OnePlus 7 is a good camera phone for the price, it isn't the best
Performance: The flagship bit
With a Qualcomm Snapdragon 855 processor and either 6 or 8GB RAM, the OnePlus 7 flies even at its lowest configuration. Storage options are plentiful too, with a starting capacity of 128GB – so while the lack of a microSD card slot might bug some people, most users should still have enough space for their files.
The phone doesn't feature a headphone jack, so you'll have to opt for a Bluetooth option, or use a dongle. That said, it does have Dolby powered stereo speakers that are superb. Complete with a customisable EQ and a bunch of presets, not to mention support for Dolby Atmos content, movies and music sound flagship quality.
The phone also features NFC which is great, but there's no wireless charging. The battery capacity is identical to the OnePlus 6T, at 3700mAh, and it supports 20W fast charging as well. As for real-world use, the OnePlus 7 will comfortably make it through a day for all but the most power hungry power users. There are power saving options within the settings too, so you can make a full charge stretch a bit further – about two days with light use.
The in-screen fingerprint scanner and face recognition, in tandem, they work very well, getting you into your phone in a flash.
OnePlus 7 verdict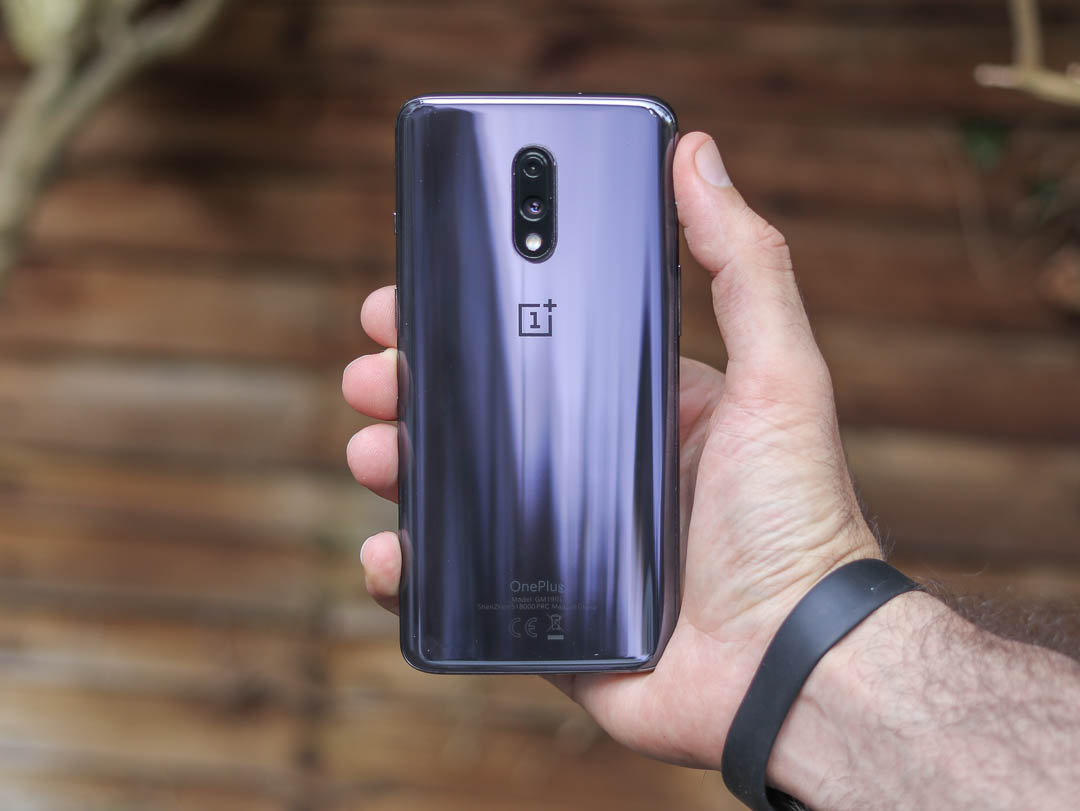 Is the OnePlus 7 a great phone? Definitely.
Is it worth an upgrade from the 6T? Absolutely not. It's a 6T with stereo speakers, a slightly better camera and a newer chipset. If you're coming from a OnePlus 4 or 5, love Oxygen OS but don't fancy dropping £700 on the Pro version, then you should definitely check it out, but if you have a 6 or 6T – our advice would be: sit tight for the OnePlus 7T, or if you really want to upgrade now the OnePlus 7 Pro will not disappoint.
Stuff Says…
A solid, samey refresh of the OnePlus 6T
Good Stuff
Premium design
Flagship power
Great speakers
Bad Stuff
Fingerprint magnet
Sharp camera surround
Competent, not class-leading