LG Xboom 360 XO3 review: sets the mood
This style-led speaker's LED light show will up the ambience in any room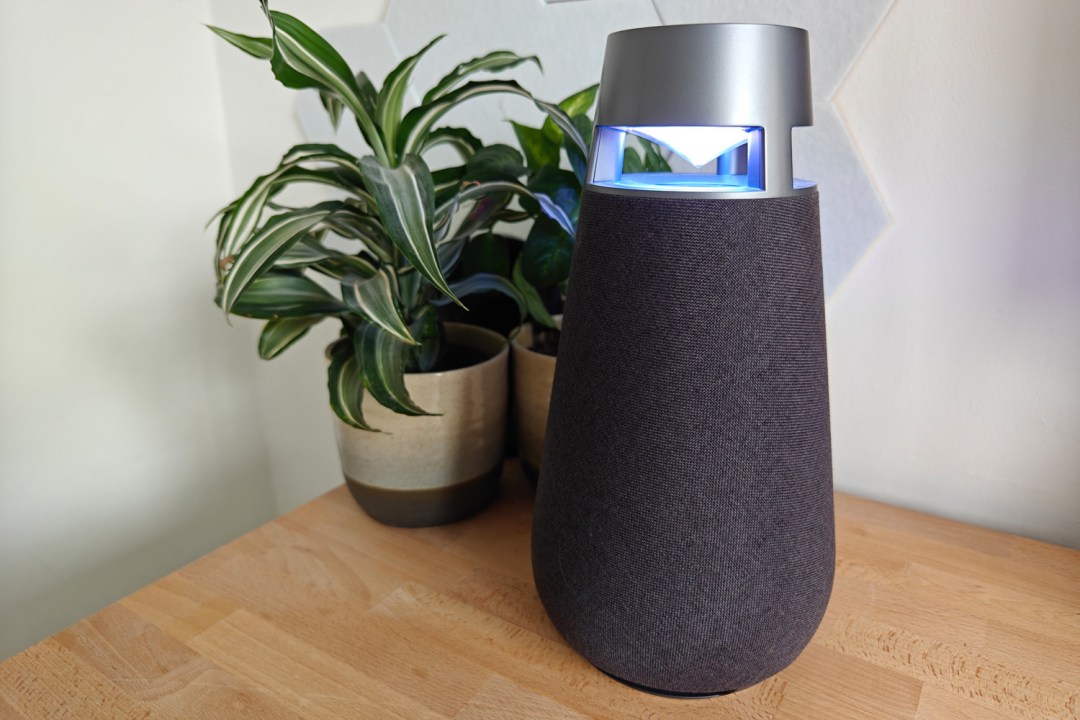 We might be spoiled for choice, but even the very best bluetooth speakers mostly phone it in when it comes to design. No matter the colour, they're all ultimately basic-looking boxes. So bravo LG for shaking things up with the XBOOM 360 XO3. This battery-powered boombox looks more like something you'd buy from the soft furnishings department, rather than the tech section.
A trio of speaker drivers and onmi-directional audio should mean there's substance as well as style, while some funky customisable light effects add a sense of fun. But it's by no means a budget option. Can it compete with other top-tier portable speakers?
Design & build: subtle and stylish
The XBOOM 360 XO3 is pretty sizeable for a portable speaker, but it can quite easily slink into the background of any room. The vase-like proportions, grey acoustic cloth and brushed metal effect top are wonderfully minimal, to the point guests might not recognise it as a speaker at all. Turn it on, though, and the colour-changing LEDs can quickly make it the centre of attention.
A sound reflector built into the top section helps disperse sound around the room, so you can in theory put it pretty much anywhere and get the same audio experience as if you were sat directly in front of it. We found it sounded best when kept at head height, though.
At 3.2kg it's not an especially hefty speaker, but LG still includes a sturdy fabric carry handle in the box to make it easier to move around the home. It'll be fine to take outdoors, too: IP54 splash resistance means it'll survive a brief rain shower. You're gonna want to bring it inside if the heavens properly open, though. A rubber base keeps the speaker stable, and helps stop bass vibrations from the woofer transferring into other surfaces and spoiling your listening.
The power button, USB-C charging port and 3.5mm aux input are found on the back of the speaker, towards the base. That helps keep cables out of view, but makes reaching for the power button a bit fiddly. We think it would've been better to put on the top along with the other controls. For the most part you'll be doing your listening wirelessly, using either SBC or AAC Bluetooth.
Features & battery life: keeps it simple
Subtlety can go out of the window once colour-changing lights get involved, but the XBOOM 360 XO3's LEDs can be perfectly restrained on the right settings. They shine downwards, illuminating the upward-firing main driver, and glow outwardly in all directions. These aren't blindingly bright, even on the highest setting, but still jazz up a dimly-lit room easily enough.
The only other splash of colour is the Bluetooth pairing button on the top of the speaker. It sits next to a bunch of other touch-sensitive controls, which handle playback, volume, and toggling through the different lighting modes. They light up white, but only once you press one – there's no proximity sensor, which can make it tricky to find the right button first time when you're in a darker room. They could also react a little faster: there's a second of delay between pressing pause and your music stopping.
Aside from being able to link two XO3s as a stereo pair, or multiple speakers together in wireless party mode, there's not much here in the way of advanced features. There's no multiroom option and it can't do anything clever like become a wireless surround speaker for one of LG's TVs. With no built-in microphone, you can't use the XO3 to make or receive voice calls from a paired smartphone either. That also means Alexa, Siri or Google Assistant voice commands are off the menu.
LG reckons you'll get up to 24 hours of listening from the battery if you stick to the standard EQ, turn off the mood lighting and stick to 50% volume. We ignored those caveats, testing with the LEDs lit up, EQ engaged and volume cranked, yet still managed more than two days of songs during office hours without needing to plug in.
Interface: colour me impressed
It might not be overflowing with advanced features, but the XBOOM's smartphone companion app is still pretty comprehensive. Everything is sensibly split out into sections and scrollable as one big list, so you don't have to go digging through menus for specific features.
As well as volume, EQ and power management controls, the mood lighting feature has a bunch of presets to play with. You can make the LEDs flicker like a candle, strobe different colours like you're in a 90s nightclub, or gently fade through different hues for something a bit more relaxing. A party mode can even illuminate your phone's camera flash in time with the beat.
There are only two EQ presets to choose from: Standard and SOUND BOOST (LG's emphasis, not ours). The latter adds a bit of extra volume, as well as giving both bass and treble some extra punch, which is handy given this isn't an especially loud speaker for its size. A custom mode lets you tweak things by hand, but the six-band equaliser doesn't make a giant difference to the overall tone.
You can also queue up playlists directly in the app using any tracks saved to your smartphone, but with no third-party integration you'll have to head to whatever service you get your music from if you've given up on MP3s in favour of streaming.
Sound quality: an easy listen
The XBOOM 360 XO3 has a trio of speaker drivers: a 1in tweeter up top, a 2in main driver, and 4in woofer. That combo produces the sort of detailed and well-balanced audio we'd expect for the cash, with a rich high-end and airy mid-range that suits multiple musical genres. The opening horns on Enter Shikari's "(pls) set me on fire" were handled with care, while keeping plenty of energy in reserve for when the thumping guitars kicked in.
Bass is a little restrained in the default EQ setting, but the sound boost profile adds some extra low-end to give electronic tracks more presence. The sub-bass on Sub Focus' "Ready to Fly" became much more impactful, without going overboard and dominating the rest of the mix.
The increased volume Sound Boost also delivers comes in very handy when you're entertaining. The XO3 is engaging enough when there's no background chatter, but crank it beyond 75% volume and clarity takes a hit. As a way to get a party started, it could be a little lacking. Then again, most louder and clearer-sounding rivals require mains power.
The omnidirectional sound isn't enough to convince you the speaker is sat in a different corner of a room than it really is, but does genuinely help disperse the audio so you never feel like you're sat in a dead spot.
LG XBOOM 360 XO3 verdict
With looks that should fit in just about anywhere you feel like plonking it down, the XBOOM 360 XO3 gets maximum style points from us. The customisable lighting is subtle yet effective, and it's perfectly portable. While it's not the loudest speaker for its size, audio quality is very good, and the omnidirectional sound means that quality stays no matter where it's placed.
The XO3's feature list looks a little sparse compared to its biggest rivals. An Amazon Echo Studio adds Alexa smarts and the multiroom-ready Sonos Era 100 isn't a whole lot more cash – although both need mains power. The LG's built-in battery makes it more flexible, so if you just want single-device listening that isn't tethered to a plug socket, the XO3 is still a compelling option.
Stuff Says…
A great looking portable speaker that'll fit in just about anywhere in the home, but its feature list isn't as extensive as some rivals'
Good Stuff
Stylish looks
Energetic audio with wide soundstage
LED lighting adds ambience
Bad Stuff
Not the loudest speaker of its size
No microphone or smart assistants
EQ tuning has limited effect
LG Xboom 360 XO3 technical specifications
| | |
| --- | --- |
| Drivers | 4in woofer, 2in mid-range, 1in tweeter |
| Connectivity | Bluetooth, 3.5mm |
| Bluetooth version | Bluetooth 5.1 |
| Codecs supported | SBC, AAC |
| Durability | IP54 |
| Dimensions | 165x327x165 mm, 3.2kg |