LG G2 77in OLED review: gee-whizz what stunning visuals
LG's top-of-the-range OLED model will blow you away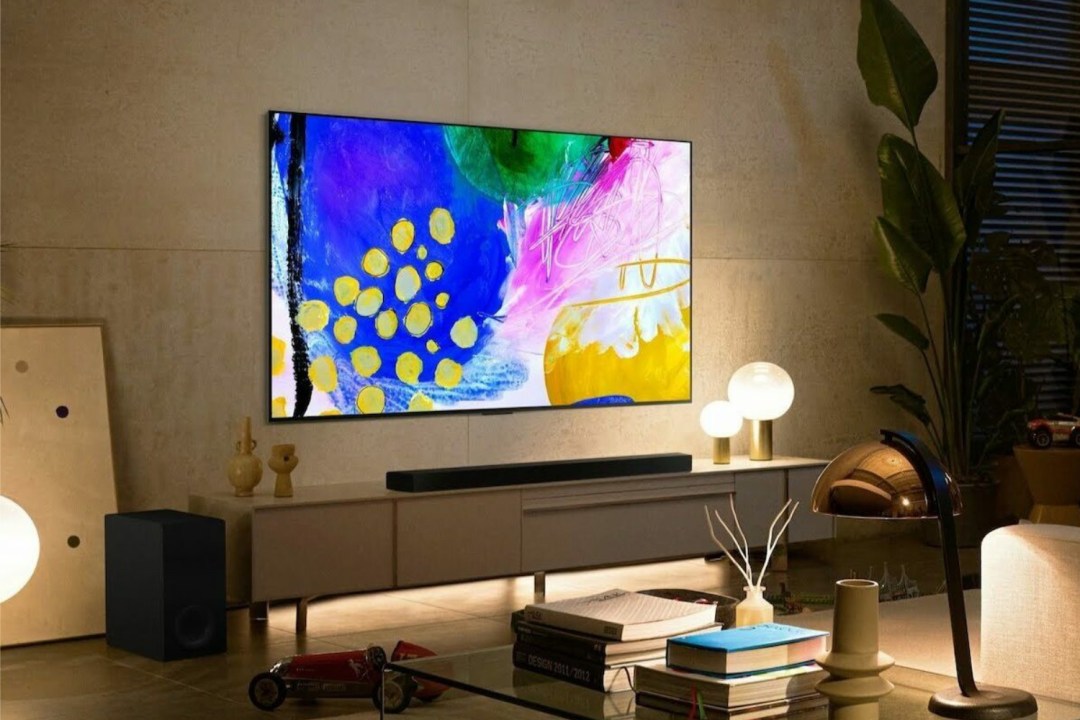 LG has long been an OLED TV pioneer, having carved out a reputation for outstanding picture quality while keeping costs competitive with the LCD alternatives. But things change fast in the TV world. Now Samsung has OLED panels of its own, with quantum dot tech thrown in for good measure. Does an LG still embody the perfect blend of stunning visuals and impressive performance? The LG G2 OLED should give us the answer.
As the most premium offering in LG's 2022 line-up, the G2 delivers on its top billing with an upgraded OLED evo panel, all-new Alpha 9 Gen 5 processor and improved heat dissipation. That last one promises to deliver brightness to battle the best LCDs. It's arriving in 55, 65, 77 and 83in screen sizes, with a 120Hz refresh rate and Dolby Vision support.
We've had our eyes glued to the 77in version, and can confirm it's a TV where bigger really does mean better. Here's how it stacks up to major rivals, and whether it's worth the splurge for anyone after a serious home cinema upgrade.
LG G2 design: stand and deliver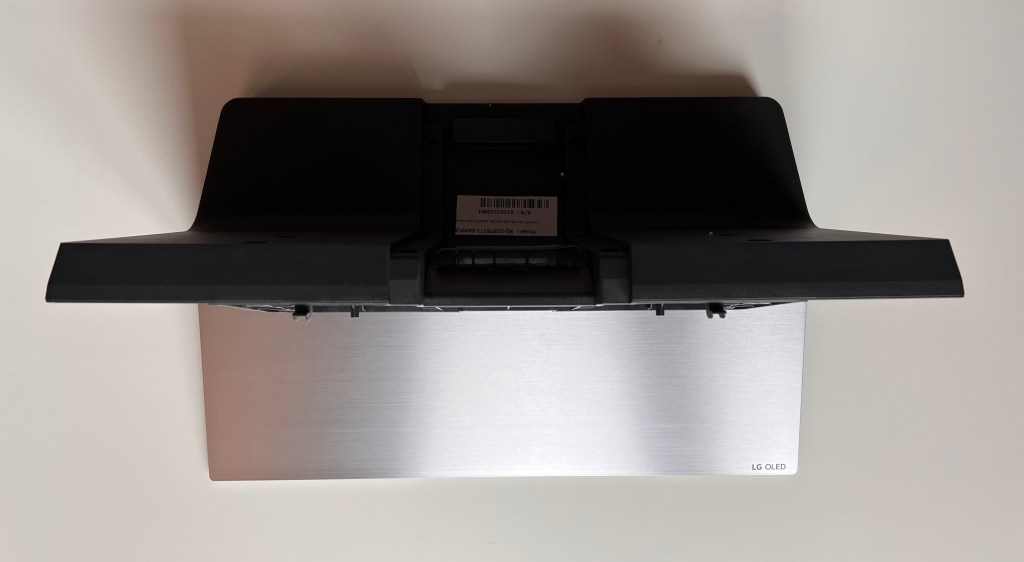 LG calls the G2 its "Gallery Edition" TV for good reason: it was designed to be wall mounted, like a painting. So much so that it doesn't even come with a stand. If you're not planning on giving up a wall for a telly of this magnitude, you'll need to splash out an additional £150 for the (admittedly very shiny) metal floorstand.
Now that's a drop in the ocean compared to the TV's £4500 RRP, but it still isn't great to be on the hook for even more cash just to position your shiny new telly where you'd like.
Setting a telly of this size up isn't easier, either. Though that's more of a complaint for physics than LG, so we'll let them off.
LG G2 features: one smart cookie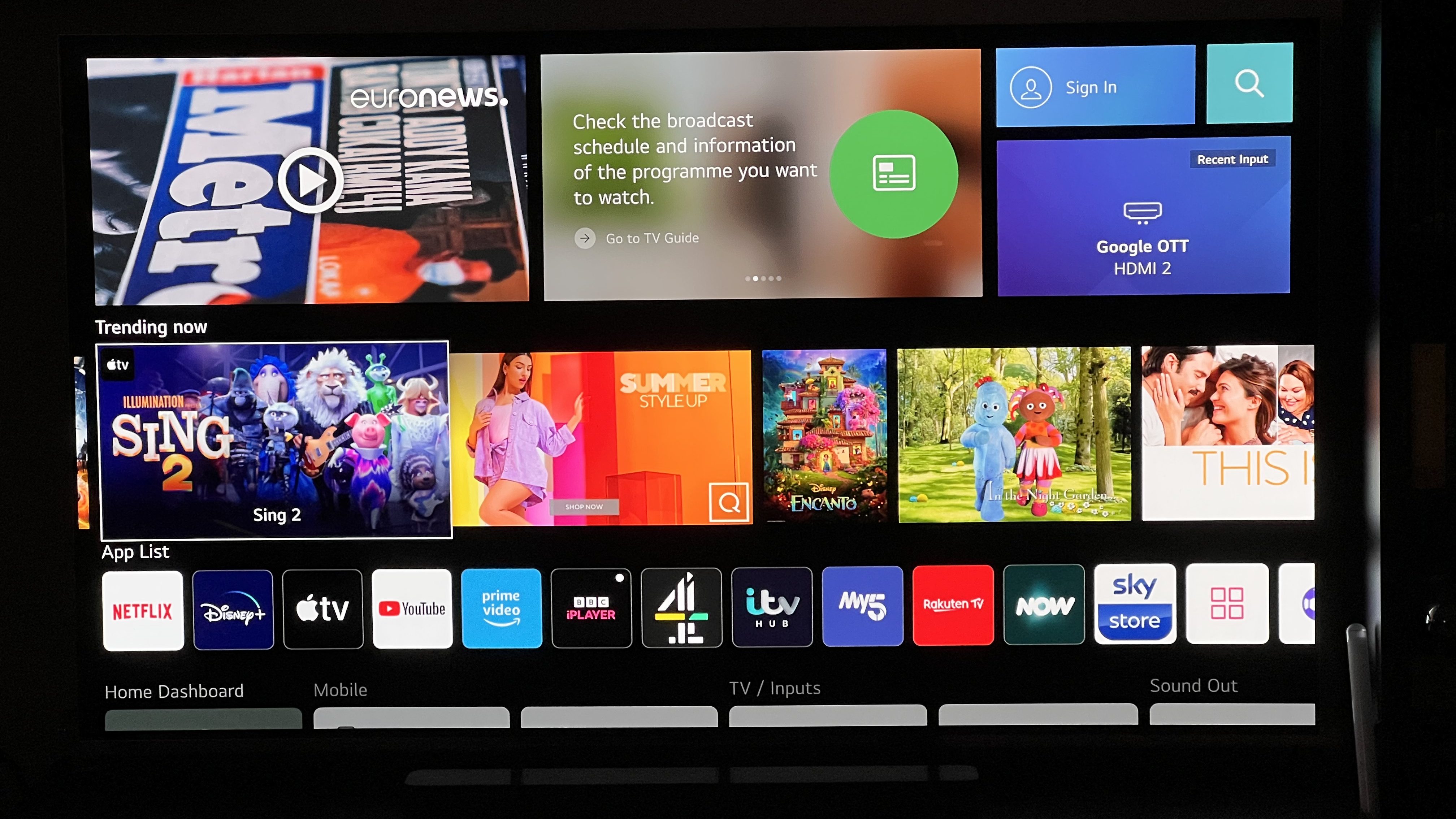 LG's 2022 OLED range introduce a new version of webOS, the firm's long-running telly operating system. If you're coming from an older LG model, version 22 replaces the menu across the bottom of the screen with a full-screen homepage kitted out with apps, widgets, inputs and recommended shows. For eager beavers upgrading from a 2021 vintage OLED, you'll find it all very familiar. It remains intuitive, clutter-free, and lets you just get on with watching.
The trending now section may irk some viewers, as it's essentially a spot to squeeze in banner ads around your content. On the plus side, you won't find autoplaying trailers like on Samsung's Tizen-powered TVs. Silver linings and all that. All the usual streaming apps are present, including Netflix, Disney +, Prime Video, Apple TV and Now, as well as YouTube and catch-up services from all the British broadcasters including BBC iPlayer, ITV Hub, All4, and My5.
Aside from having to click buttons multiple times to register an input in some apps, and the occasional bug, webOS is a pretty enjoyable experience – at least once you've got through the initial setup menus. Forget being able to plug in and start watching something straight away: you'll need to go through about 15 screens of setup first. 99% of these are related to the "smart" features, and 100% of them could be done after plugging in the TV.
Gamers will be pleased with the new gaming menu. It lets you manually adjust the refresh rate up to 120Hz, adjust the latency, and access multi-view features. You don't need to be picky with which input you use for your console or PC, either: all four of the G2's HDMI ports are HDMI 2.1 with 4K/120p and variable refresh rate support.
Casting via Google or Apple AirPlay comes baked-in, along with a new Always Ready mode that'll keep the TV's voice assistant on constant alert to help with queries. It's definitely not a feature for the privacy-minded, though. Elsewhere you'll find the usual scattering of family settings and energy efficiency settings.
One more modest UI change we spotted: a move from the old fireworks screensaver to one that displays the current weather forecast (as long as you've set up the weather widget first).
LG G2 picture: top of the class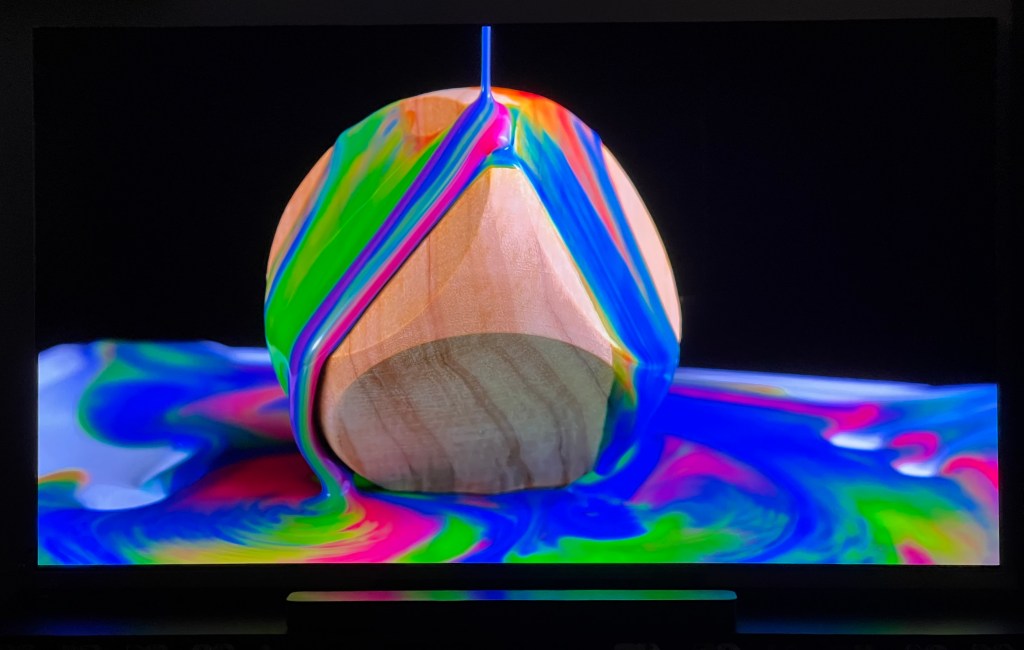 Last year, only LG's top-end TVs got the brighter OLED evo panel tech, but for 2022 the firm has expanded it out to the more mainstream C2 models. That's because it has some new secret sauce to make the flagship sets even brighter, ensuring the G2 remains top of the pile.
LG doesn't officially state the G2's brightness output, but it clocked in at around 600 nits of brightness during our testing. That's not quite as bright as Sony's new premium QD-OLEDs or Samsung's first QD-OLED offering, but is still in the top rankings for OLED tellies right now.
We could argue it's good LG hasn't bagged the number one spot: in a dark room, some Dolby Vision film scenes were properly retina-scorching. It's more than bright enough for daylight viewing, and gives HDR content real impact once you close the curtains.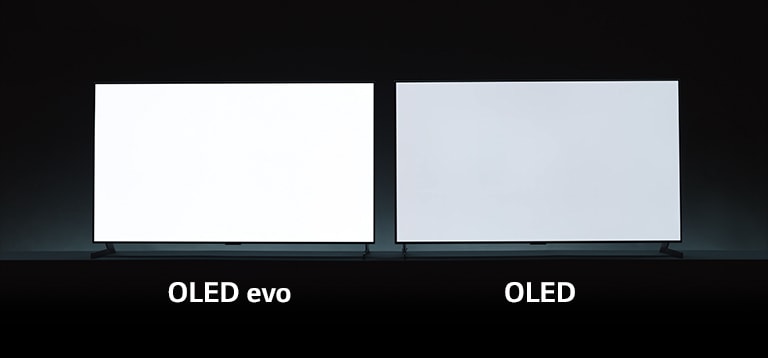 Colour accuracy on the LG G2 is second-to-none. Every hue is as vivid as you'd want it to be, but still looks completely true to life. They're almost contradicting statements, but the LG G2 manages to do exactly that. And since this is an OLED, you'll find perfect inky blacks, which help the brighter and more colourful parts of any given scene stand out even more. Importantly, it also preserves details in the darker areas.
That detail is constant across sources, and applies to even the smallest textures and facial features, without any kind of aggressive image sharpening or the introduction of image noise. From 4K HDR video to standard-def free-to-air TV, it does a superb job with all content.
With motion control settings switched off, the telly handled movement smoothly and naturally, with the occasional minor hiccup in particularly busy scenes. The Alpha 9 Gen 5 processor also does some clever AI processing that tackles upscaling incredibly well, helping older content look good at 4K and reducing pixel stretching on such a large panel.
If you're looking for the best out-of-the-box picture setting, go with Bright Room FilmMaker. It helps colours to look as close to the director's intention as possible, and doesn't overdo it on the brightness, while still showing every speck of detail.
Properly configured, the LG G2 might just be the best-looking telly I've ever set eyes upon. Period, full stop, the whole shebang of punctuation. Colour accuracy, brightness, and image clarity all combine to craft a magnificent picture.
LG G2 sound: hear, there, everywhere
The G2's down-firing speakers deserve a spot on the Hollywood Walk of Fame: they produce fantastic sound, and even pull off a convincing Dolby Atmos experience.
This is all relative to built-in TV speakers, of course, and would be put to shame by a surround sound system or soundbar, but it simulates virtual surround to the best of its abilities. You can pick out directional sounds quite clearly, which you can't say of many integrated TV speakers.
There's an impressive amount of bass for such a skinny set of drivers that don't include a subwoofer. During our testing, one person in the room thought we forgot to unplug our surround sound speakers. While we wouldn't go that far, it does demonstrate how punchy they can be.
They can get a little muddy in busier scenes, though, lacking the finesse and precision of a dedicated system.
LG G2 comparisons: obvious differences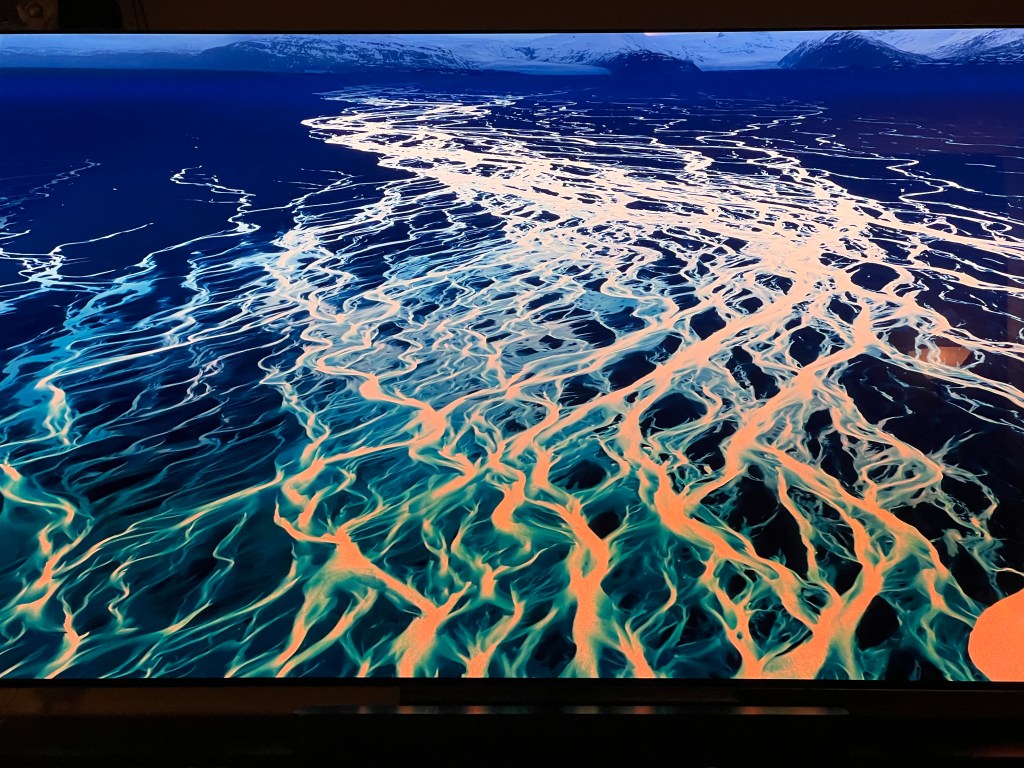 Anyone considering the G2 will almost certainly have one eye on Sony and Samsung's latest offerings. The competitor TVs use quantum dot OLED panels, which blend OLED's black performance with the brightness more traditional TV tech.
Both Sony and Samsung's QD-OLED models beat the G2's the brightness on paper, but come with a trade-off. Comparing this TV to Samsung's new S95B OLED, the G2's colour accuracy is a cut above. The Samsung's picture is warmer, at least out of the box, while Sony tends to lean cooler. Preference is key here, and just like how you might prefer photos taken on an iPhone to ones snapped on a Samsung phones, you may prefer Samsung or Sony's colour treatment. Having only been hands-on with the Sammy and Sony duo we're not ready to call a winner just yet, but the LG is by no means the redheaded stepchild of the three.
Another worthwhile comparison is to LG's B8 OLED from 2018. Looking at the two TVs side-by-side, you'd be mistaken for thinking they're using two different technologies. The G2 is so much brighter and more colour accurate, it needs to be seen to be believed. Even against last year's C1, the G2 is noticeably brighter and more defined.
LG G2 verdict: Beating the competition
As the most premium offering in LG's 2022 line-up, the G2 doesn't come cheap. Starting at £2400 for the 55in version, it creeps up to £3300 for the 65in, £4,500 for the 77in, and maxes out at £6500 for the 83in model. That's some pretty serious dough.
Then again, Samsung's flagship S95B OLED clocks in at £3400, and Sony's will set you back £3500. Neither gets any bigger than 65in. That makes the G2 the more modest of the bunch. And if bigger is better in your book, it'll be LG all the way.
You don't have to spend nearly as much if you just want OLED TV tech. LG has plenty of mainstream models, as does Philips, Sony and Panasonic – with the latter two leaning more to the top end of the price spectrum. None deliver the brightness and precision of the G2, though.
WebOS remains one of the better smart TV systems, it delivers stellar sound, and LG's image processing remains superb. It's comfortably the best set the firm has made to date.
Stuff Says…
Picture-perfect quality in a premium TV package… one of the best OLEDs currently on the market, but for quite a pretty penny.
Good Stuff
Excellent colour accuracy and perfect inky blacks
Intuitive smart TV software
Dazzlingly bright
Bad Stuff
Pricey, and the stand is sold separately
Sluggish setup process
LG G2 OLED77G26LA Tech specs
| | |
| --- | --- |
| Screen size | 77in |
| Resolution | 3840×2160 w/ 100/120Hz refresh rate |
| HDR | HLG, HDR10, Dolby Vision |
| Inputs | 4 x HDMi 2.1, 3 x USB, Wi-Fi, Bluetooth, Ethernet, Optical |
| Smart TV OS | LG webOS |
| Weight | 35.1kg |
| Dimensions | 1712x976x24.8mm |