Google Pixel 8 Pro review: raising the bar
With price no longer on its side, does the latest Pro-grade Pixel still deserve flagship billing?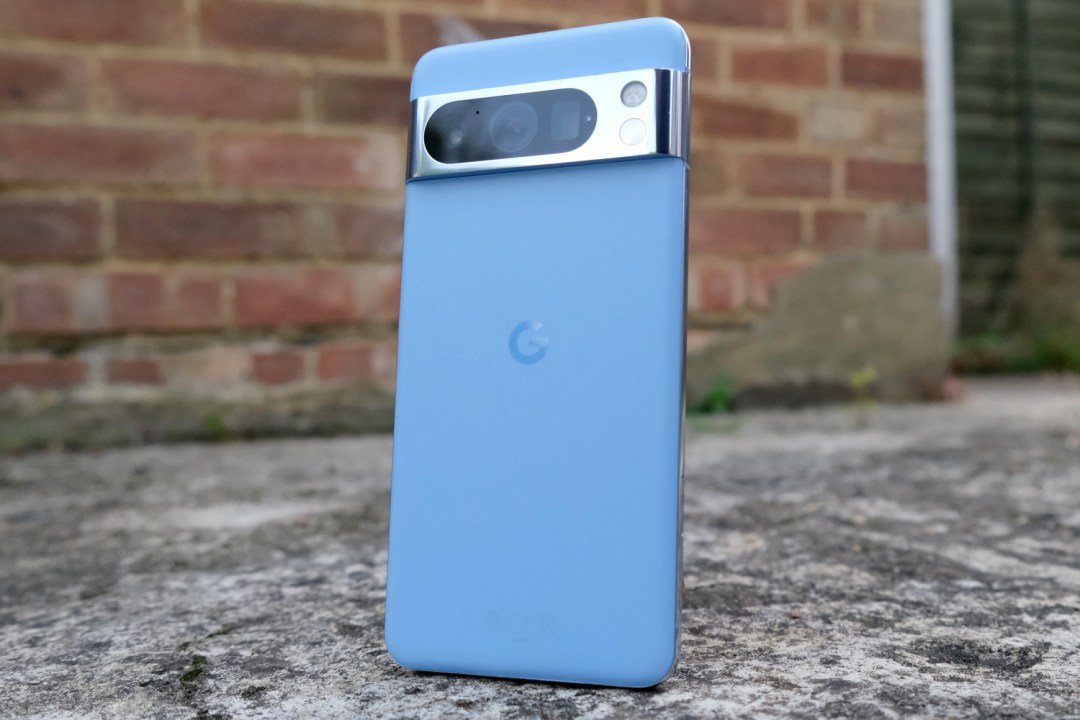 Stuff Verdict
It continues Google's run of phenomenal phone photography and is more AI-assisted than ever, but the 8 Pro isn't a value champ like previous Pixels.
Pros
Fantastic photos in all lighting
Sharper styling goes far in justifying premium price
Android's AI upgrades are a sign of things to come
Cons
Higher price makes rivals more tempting
Battery life and charging speeds still merely OK for a flagship
Introduction
To these eyes, Google's last Pro-grade Pixel had some of the most capable cameras you could find on a flagship smartphone. Nothing from Apple, Samsung or anyone else in quite managed to displace it – and yet buying one somehow left a smaller dent in your wallet than any of its closest competitors. But things are different this year.
The iPhone 15 Pro Max and Galaxy S23 Ultra have upped their game with clever zoom lenses and huge pixel counts; Google, meanwhile, seems more focussed on AI-assisted editing. A price hike has also pushed the Pixel 8 Pro firmly into premium territory.
It's not all bad news, though. The camera hardware has taken a small step up from last year, and a new CPU generation aims to avoid the battery life and thermal issues that troubled its predecessor. Styling has been seriously streamlined, and the display is brighter than ever. Add in the latest version of Android and it looks every bit the new hero of the Pixel range. Is that enough to see off its big-name rivals?
How we test smartphones
Every phone reviewed on Stuff is used as our main device throughout the testing process. We use industry standard benchmarks and tests, as well as our own years of experience, to judge general performance, battery life, display, sound and camera image quality. Manufacturers have no visibility on reviews before they appear online, and we never accept payment to feature products.
Find out more about how we test and rate products.
Design & build: you flatterer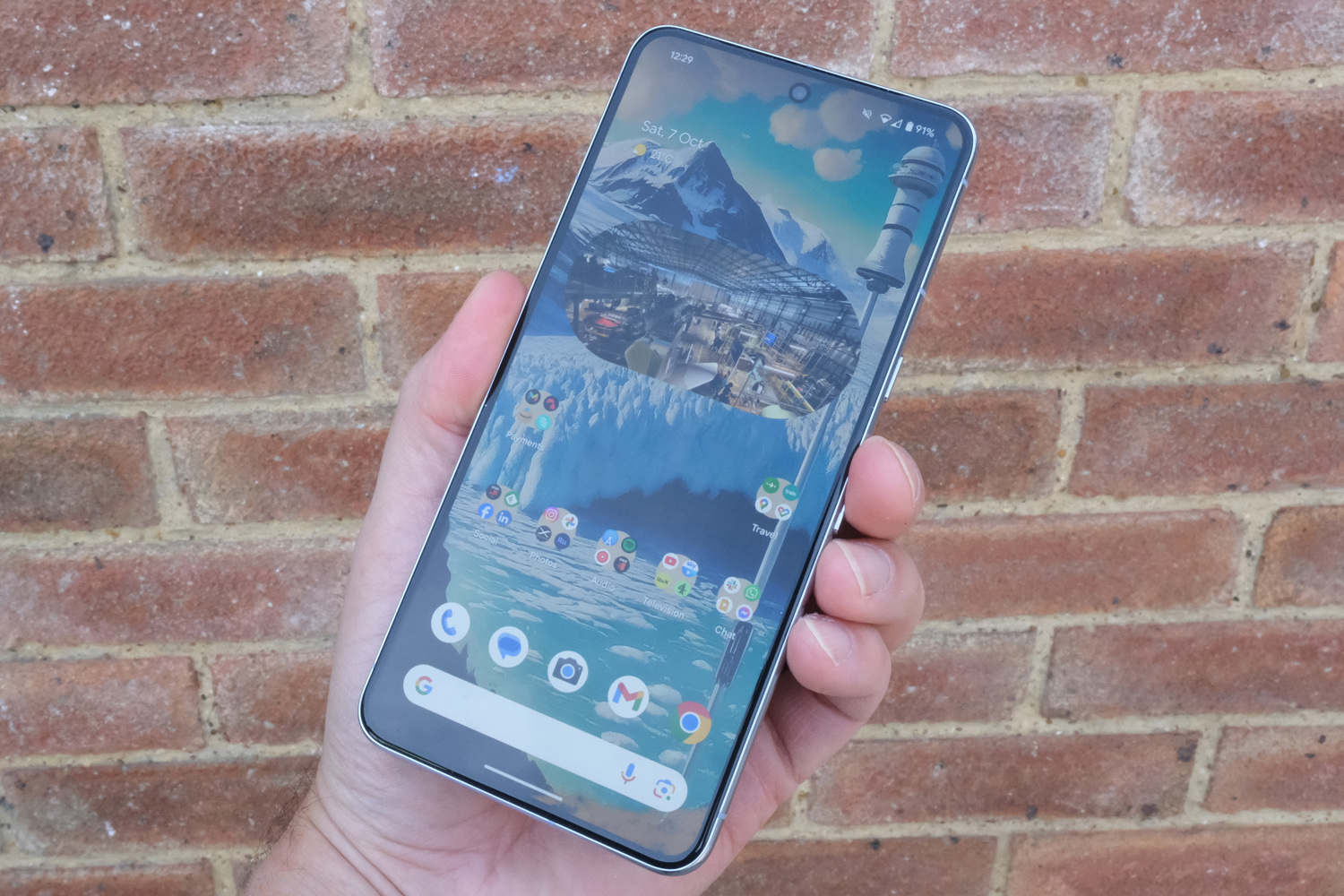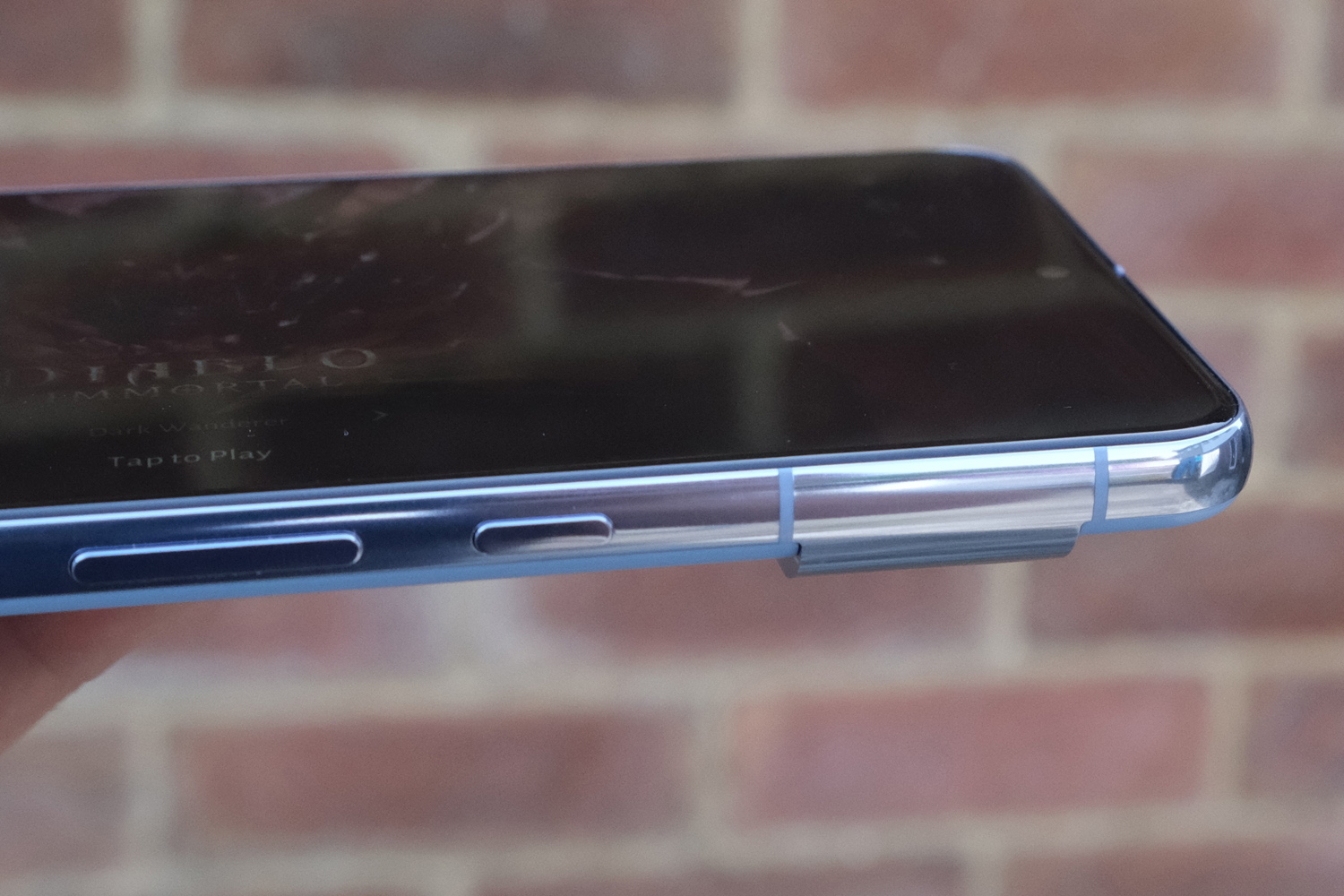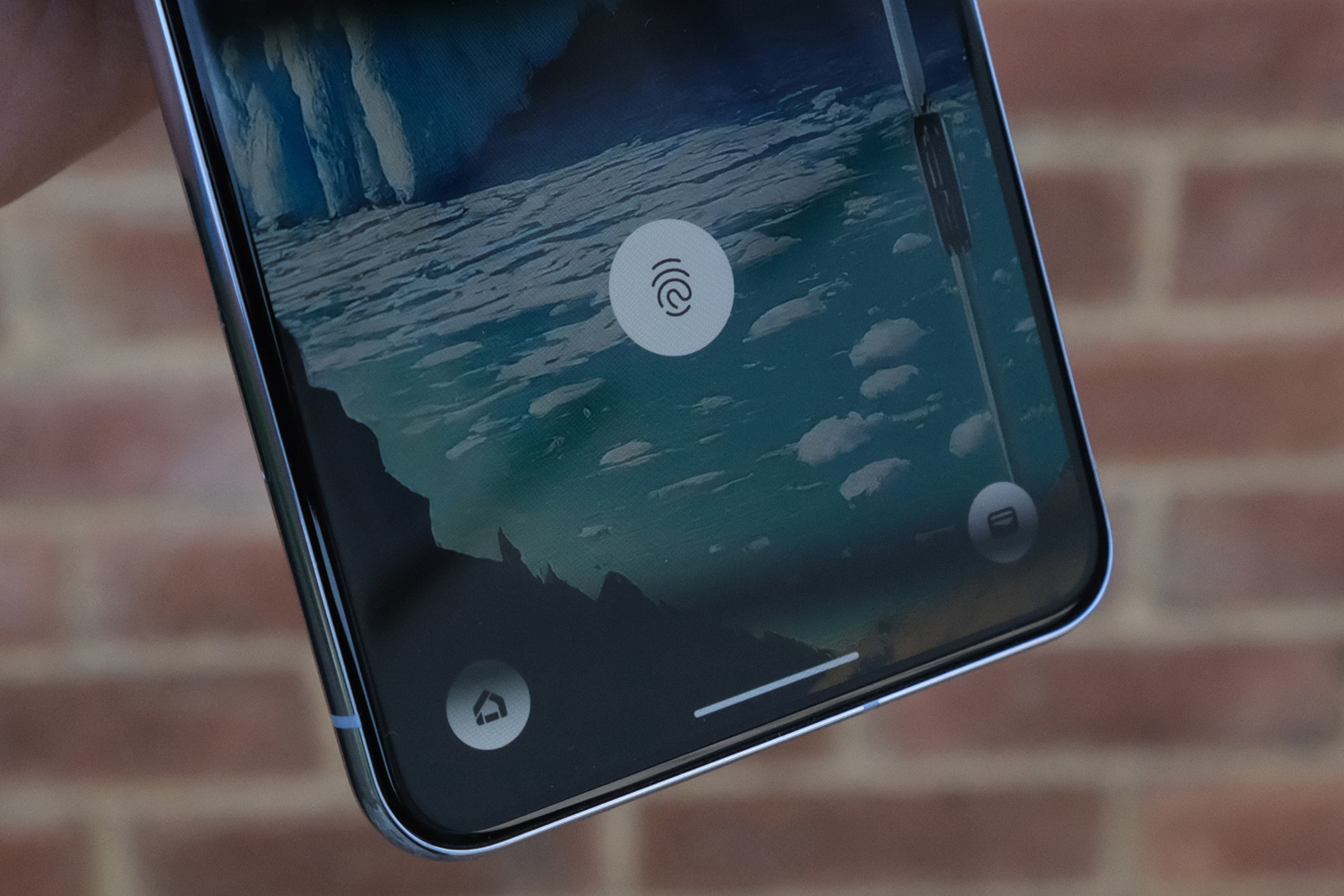 A subtle yet significant glow-up means this is the best looking, best feeling Pixel phone yet, with more prominently rounded corners. Sure, the camera bar still looks like a Cylon's visor, but the new matte finish means the rear glass is no longer a magnet for messy fingerprints. The whole thing just feels more polished and practical.
The biggest change is the move to a flat display instead of the Pixel 7 Pro's curved edge panel. I'm very happy the phone world seems done with that particular fad; curved glass handsets looked cool, but caught the light in distracting ways and had issues with input detection if you held them wrong. It usually spelled disaster if your phone took a spill, too. That shouldn't be a problem here, with Corning's scratch-resistant Gorilla Glass Victus 2 on the front and back. The whole thing is IP68 dust and water-resistant, too, so can survive an accidental dunking.
My Bay blue review sample is a proper head-turner, and complimented by the polished frame that's made from 100% recycled aluminium. History has proven that phone buyers are a boring bunch, though, so expect to see a lot more Obsidian (black) and Porcelain (cream) versions out in the wild.
The in-display fingerprint sensor is sufficiently speedy, but now that face unlock is secure enough for my banking apps, I find I'm using it a lot less often during the day. It's fast to recognise my face, and can skip the lock screen without tapping the screen after tweaking a setting in the Security menus.
The new temperature sensor built into the camera bar seems less useful; readings seem pretty consistent if you keep the phone within 5cm of the object you're measuring, but I'm not a fan of hot drinks and can't cook so well I need to know the exact temperature of my pots and pans. It probably made sense during the phone's covid-era design stage, but without medical approval for checking body temperature, I reckon it'll fade faster than the Soli radar or "squeeze for Google assistant" Active Edge function did.
Screen & sound: beyond bright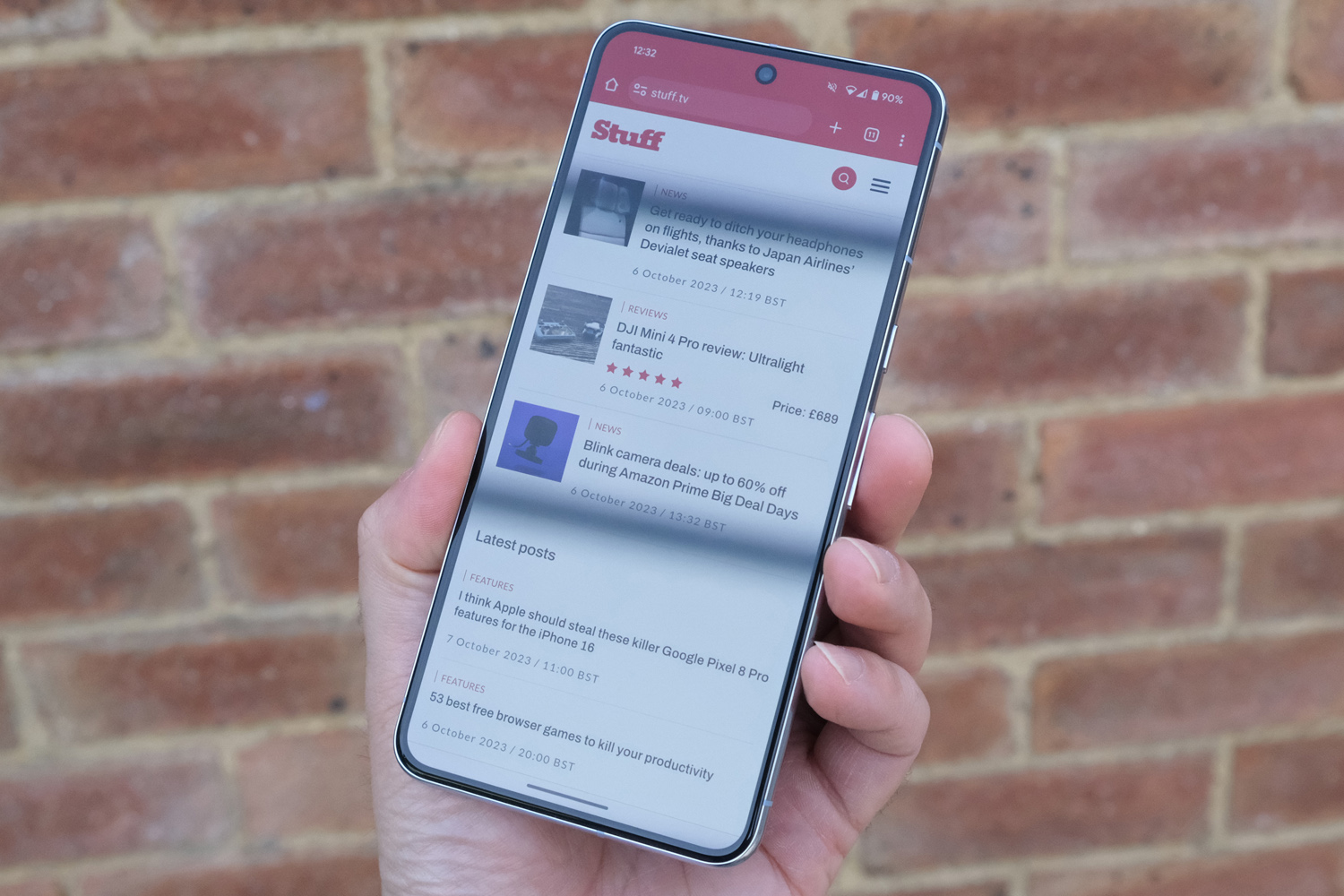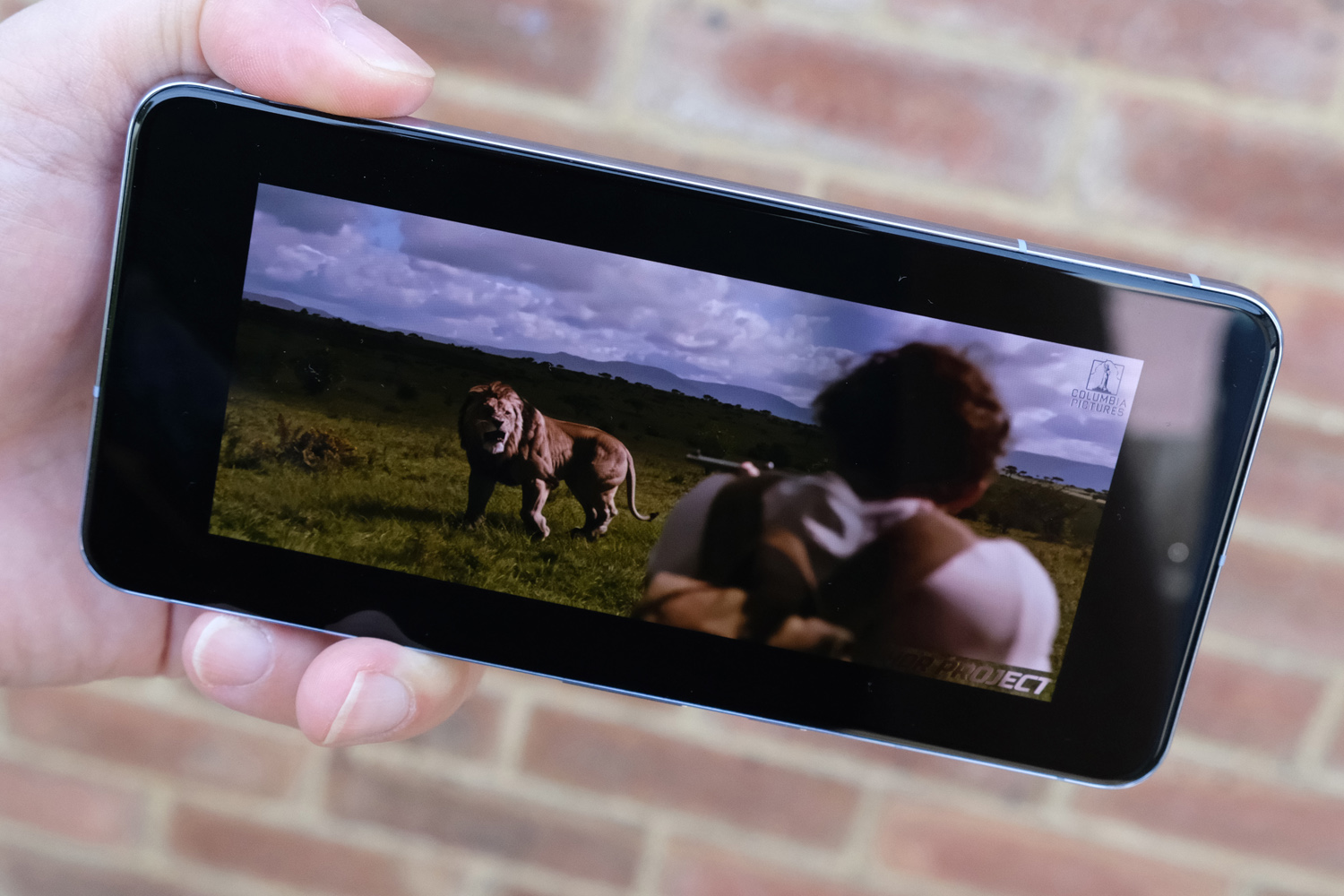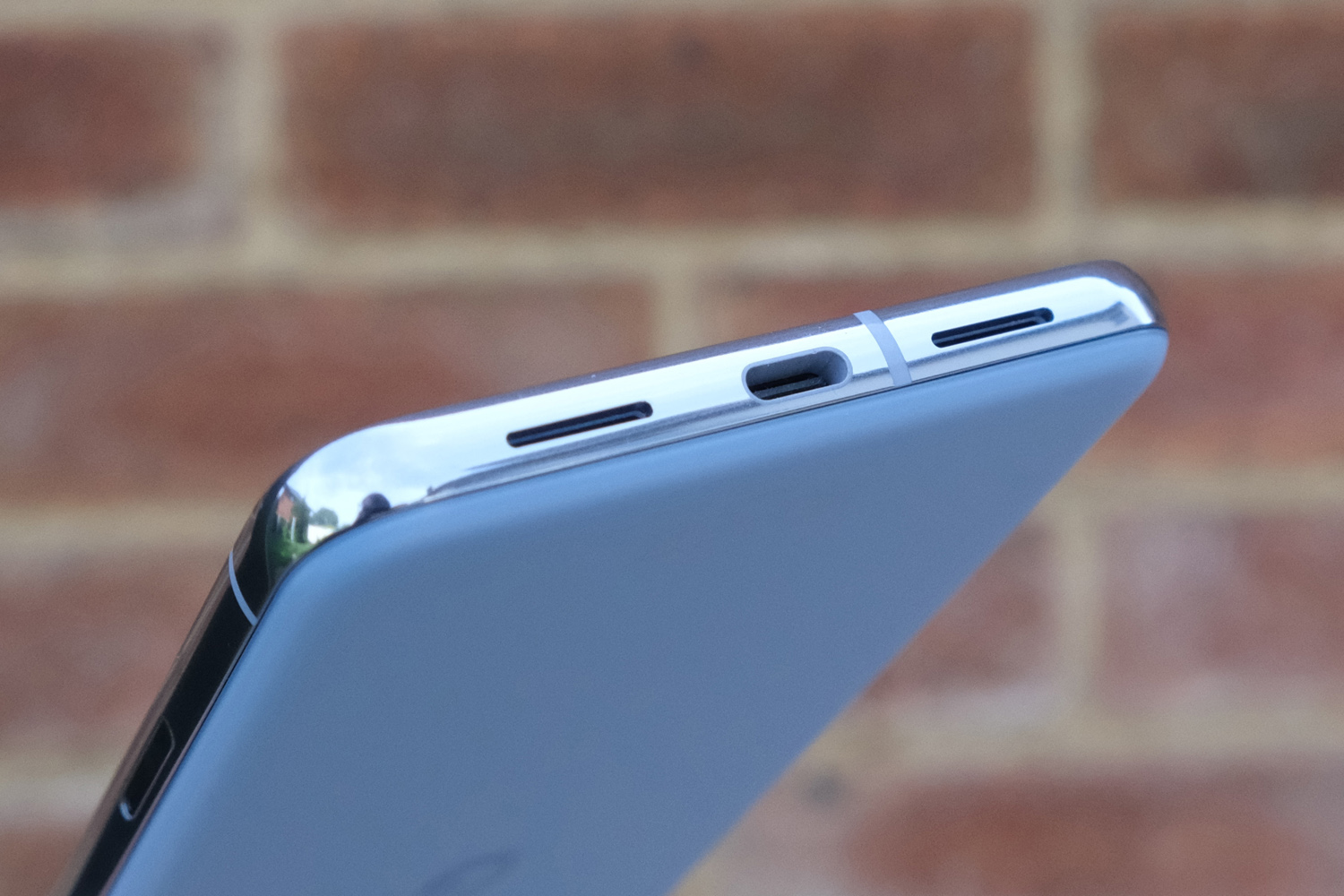 By ditching curved glass, the Pixel 8 Pro's screen bezels are undeniably more noticeable than their predecessor's were – but no more so than any iPhone. All four sides are the same thickness, and quickly faded into the background once the 6.7in AMOLED panel burst into life.
It delivers absolutely epic contrast, wonderfully vibrant colours, and perfect blacks that make HDR content really dazzle. The 1-120Hz adaptive refresh rate guarantees menus scroll smoothly, without sapping battery life when showing static content; there's no way to force it on all the time, but it's quick enough to react to movement that never felt like an issue.
I would need a magnifying glass to tell that the panel actually packs in fewer pixels than the Pixel 7 Pro's did – 2992×1344 to 3120×1440 – because everything looks needle sharp. It defaults to a lower resolution out of the box, which helps keep power consumption in check without really impacting picture quality. Viewing angles are ace as well.
Brightness is where the Pixel 8 Pro really impresses, though. Google claims a peak 2400 nits in High Brightness Mode (HBM), which is as good as it gets in the phone world right now. That basically meant I could see the screen perfectly while outside in direct sunlight – without having to take off my sunglasses.
Top marks to the stereo speakers, too. The down-firing main driver actually manages some bass presence, and the earpiece speaker avoids sounding shrill when you max out the volume. With no 3.5mm headphone or dongle included in the box, it'll be Bluetooth all the way for any personal listening.
Cameras: pretty fly for AI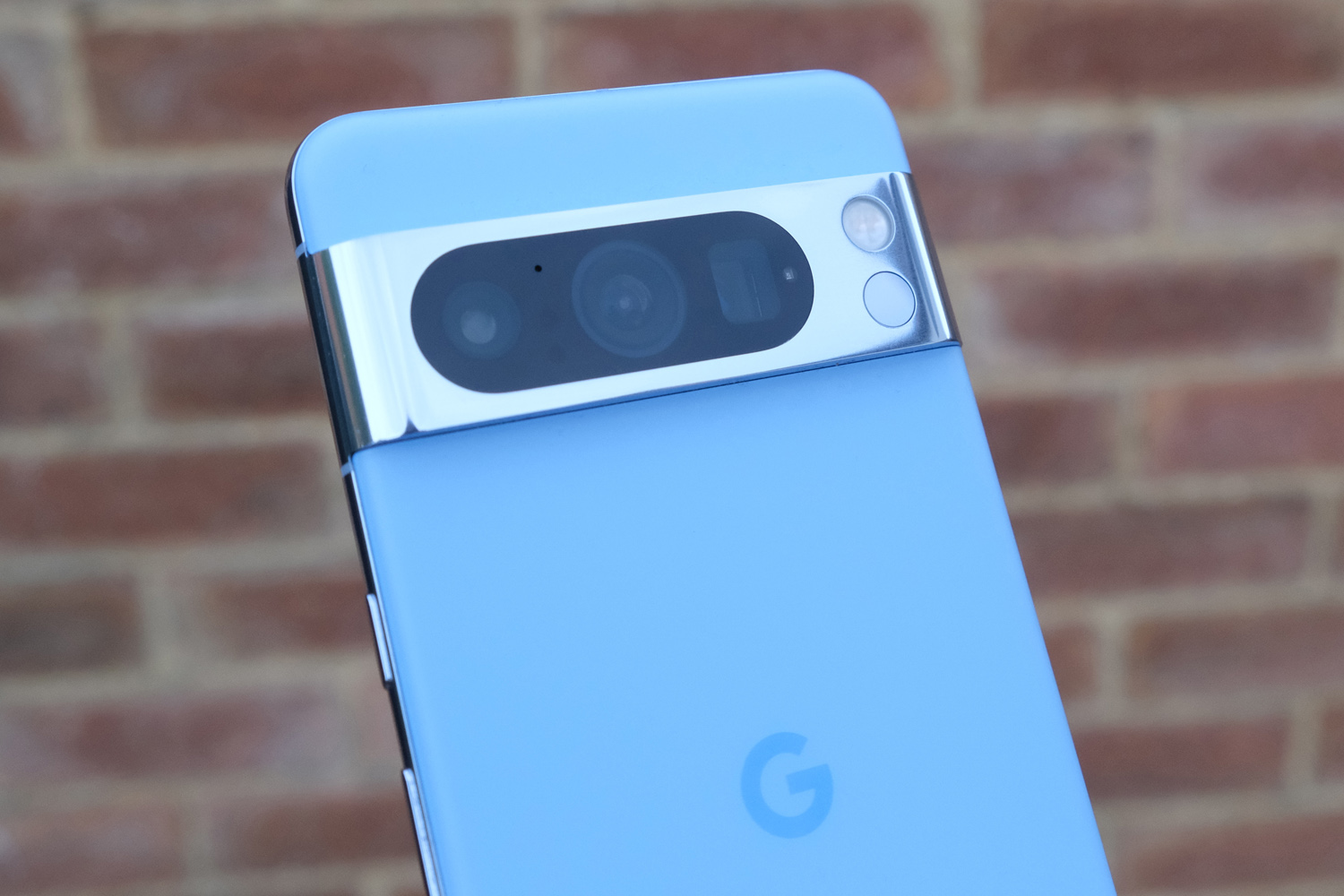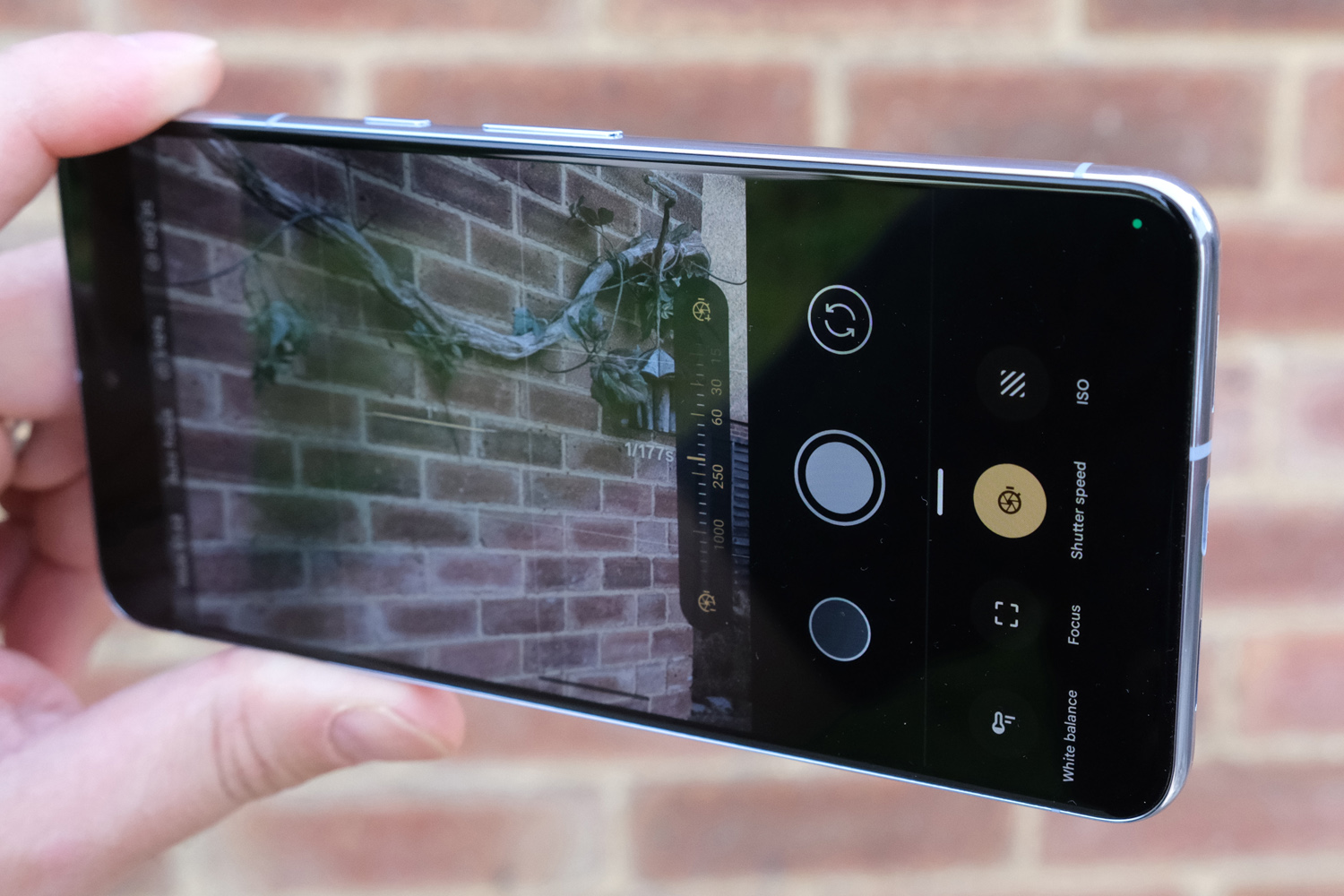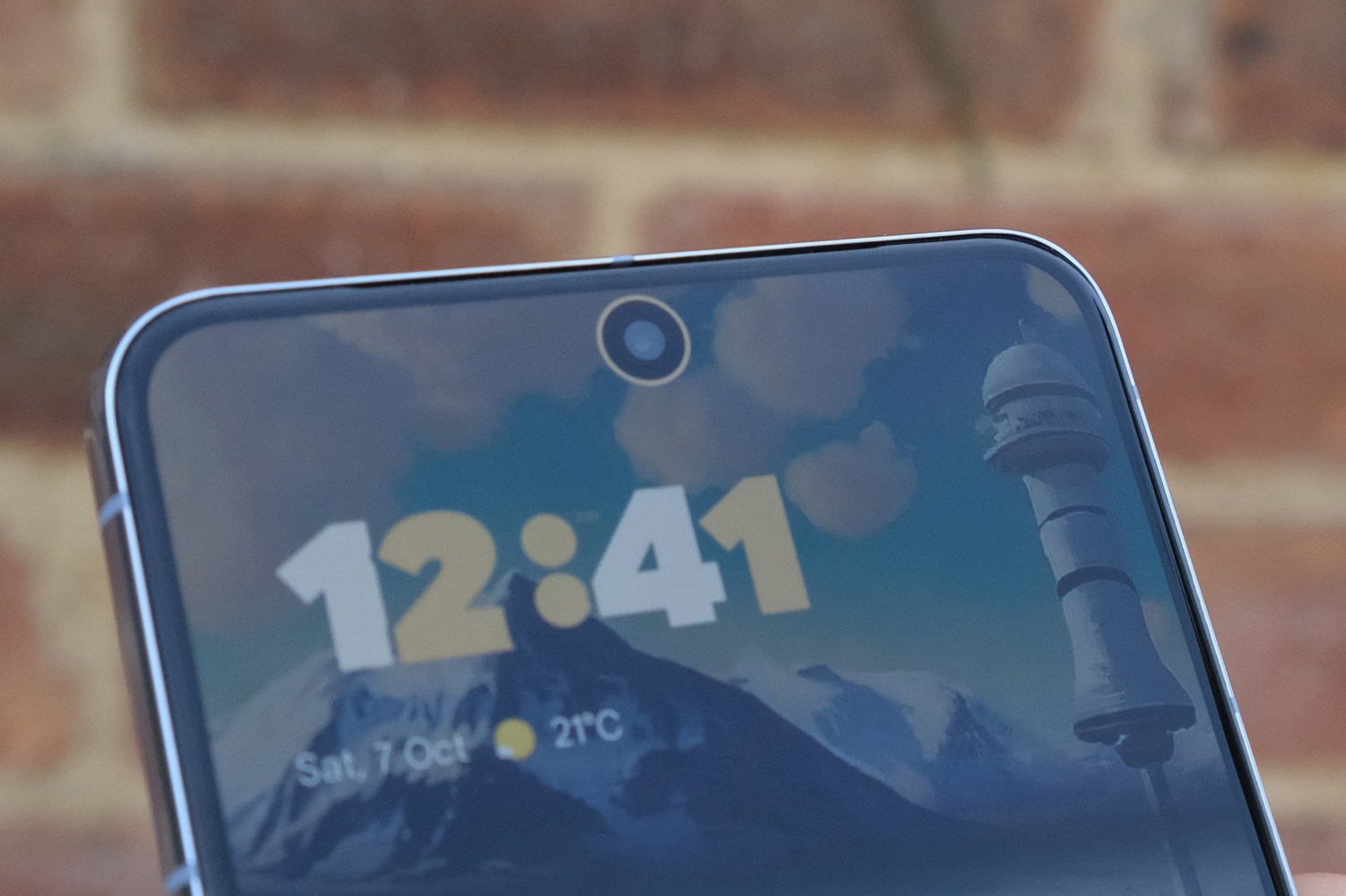 At first glance, the Pixel 8 Pro has seen only minor changes to its camera setup. The biggest upgrade is to the ultrawide snapper, which keeps the same expansive 125-degree field of view as the Pixel 7 Pro, but swaps that phone's 12MP sensor for a 48MP unit. Its pixel count is now on par with the telephoto camera, which remains good for 5x optical zoom before Google's Super Res algorithms get involved. The lead cam sticks with a 50MP sensor.
Importantly, all three lenses have larger apertures than last year, which should make a big difference in low light. Macro focus can get as close as 2cm to your subject now, too. While I'm not the biggest selfie fan, I can still appreciate autofocus making a return to the front-facing camera – the feature had been MIA for multiple Pixel generations. The prospect of pro controls for shutter speed, ISO and manual focus are much more appealing to me, as is the option to shoot full-resolution 50MP stills.
It's editing where Google is making the most noise this year. There's a mix of on-device and web-based tools, for both stills and videos, although some will only land with a later Pixel Feature Drop. That includes Video Boost, which takes footage filmed in RAW and processes it in the cloud to pull out more detail and more vibrant colours and the Blade Runner-esque "Zoom Enhance".
I've been able to test Best Take, which can be freakishly good at rescuing group photos. It analyses your camera roll for matching faces, then lets you swap out each person's head to create a more visually pleasing composite pic where no-one is blinking, and everyone is looking right at the camera. Audio Eraser, meanwhile, strips background noise like crowds or barking dogs from your videos to varying success.
Finally, Magic Editor is the next evolution of Magic Eraser. It lets you tap to select an object, then drag it anywhere else in the shot; machine learning does the heavy lifting, and the results can be more than convincing enough for social media. More complex compositions can trip it up, but it's an impressive first-gen effort. One of the pair below was edited in about 20 seconds – which do you think is the original?
AI-powered editing tricks aside, clearly Google wasn't going to give up its phone photography crown without a fight. The Pixel 8 Pro takes stunning shots in good light, with natural colours, perfectly judged exposure and plenty of contrast. Detail is exceptional across the zoom range, and all three snappers have great consistency. Dynamic range is genuinely impressive at times, with white highlights and deep shadows in the same shot, and minimal fringing or blowouts from bright skies.
Ultra HDR, a new image standard that bakes HDR gain map data into regular ol' JPEGs, means your snaps look spectacular on the Pixel 8 Pro's screen. Highlights properly pop now, but not at the expense of shadow detail. Unfortunately our website converts image uploads to .webp and doesn't preserve the HDR data, so you're only getting SDR versions of my shots.
There's perhaps a little more sharpening on 2x shots, which rely on sensor cropping, than the other zoom lengths – but not by a lot. The telephoto delivers fantastic 5x shots, and Super Res can fill in the gaps considerably further than that. Only Apple now gives it any competition in terms of long-distance clarity, with fewer digital artefacts and image noise than Samsung's best can manage.
(ultrawide, main sensor, 2x zoom, 5x zoom)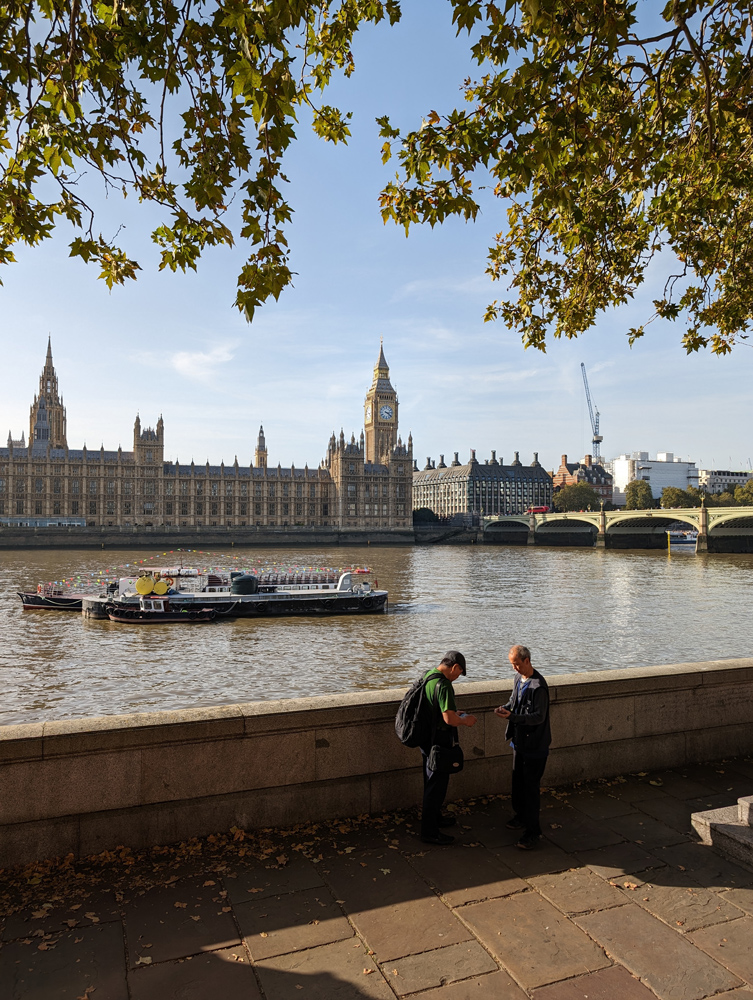 (main sensor, 2x zoom, 5x zoom, 20x zoom Super Res)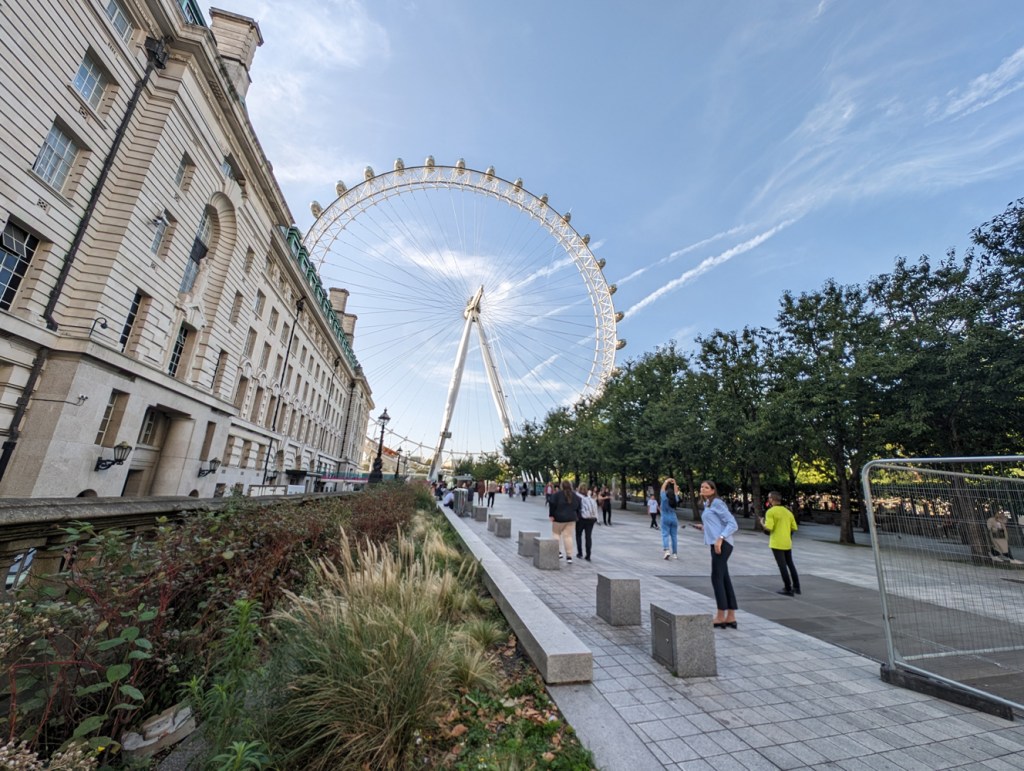 (ultrawide, main sensor, 2x zoom, 5x zoom)
Noise and sharpening are kept well in check everywhere else. The ultrawide lens has very effective barrel distortion correction, and software-assisted shooting modes such as Action Pan are as effective as ever.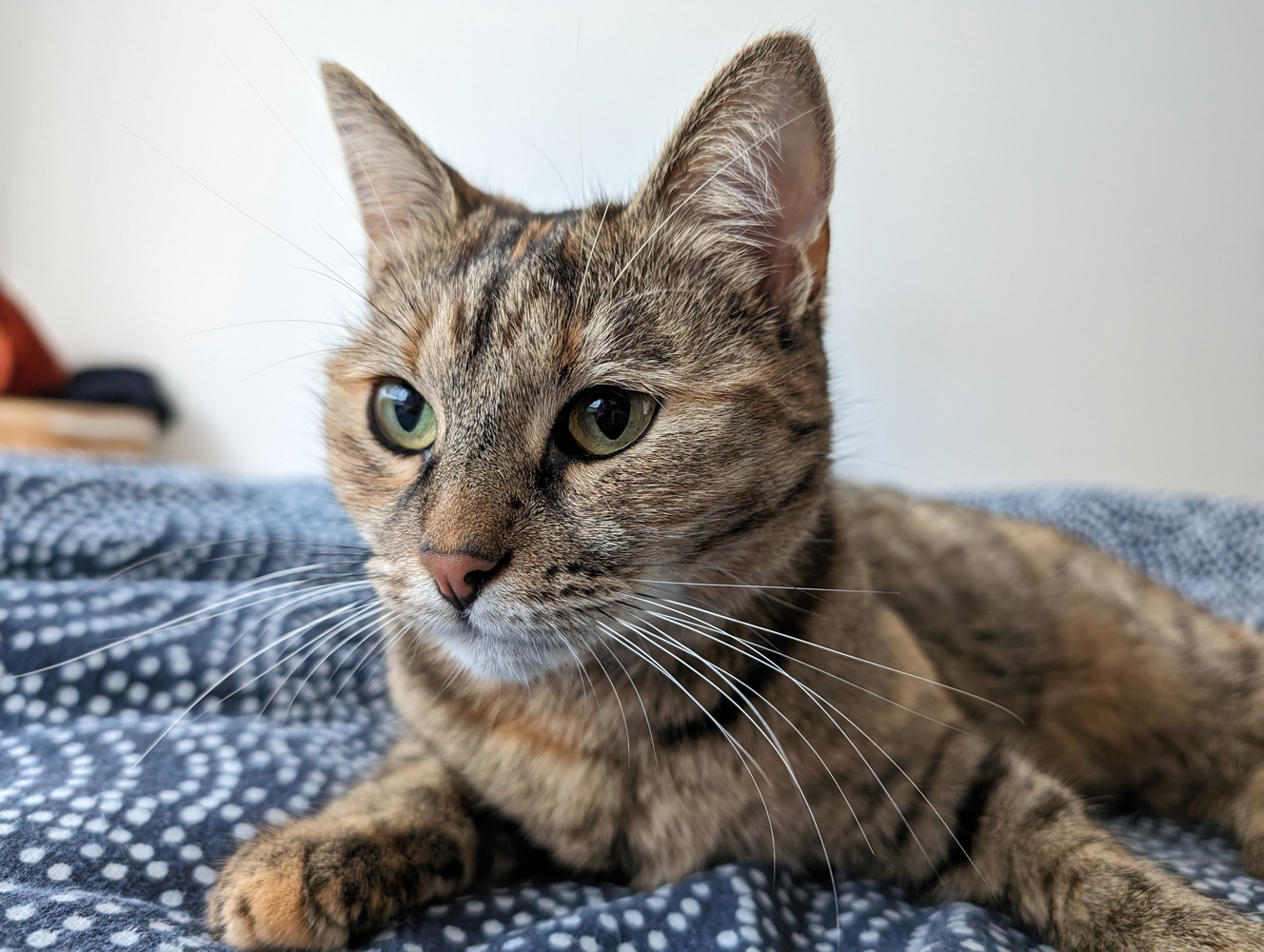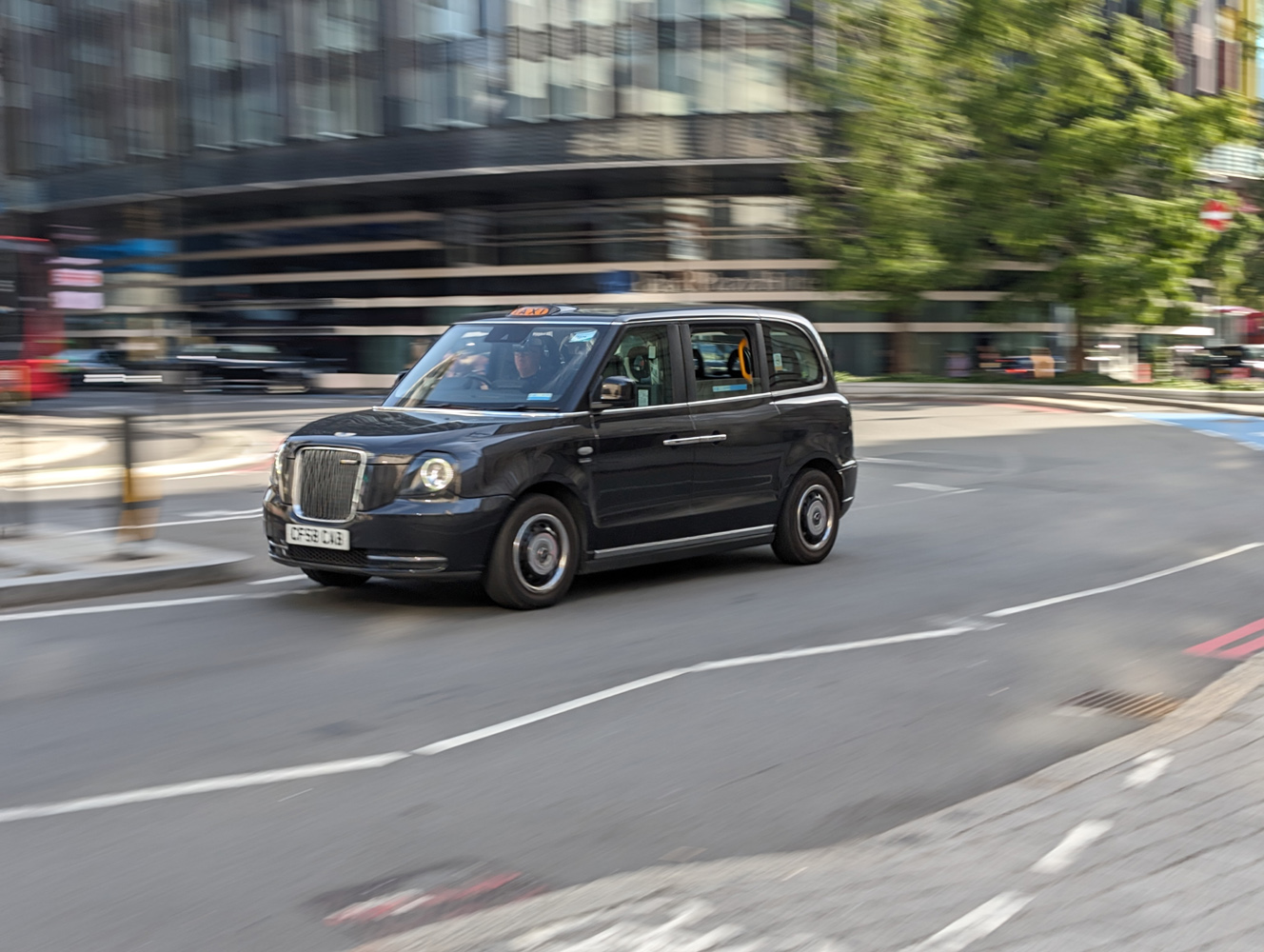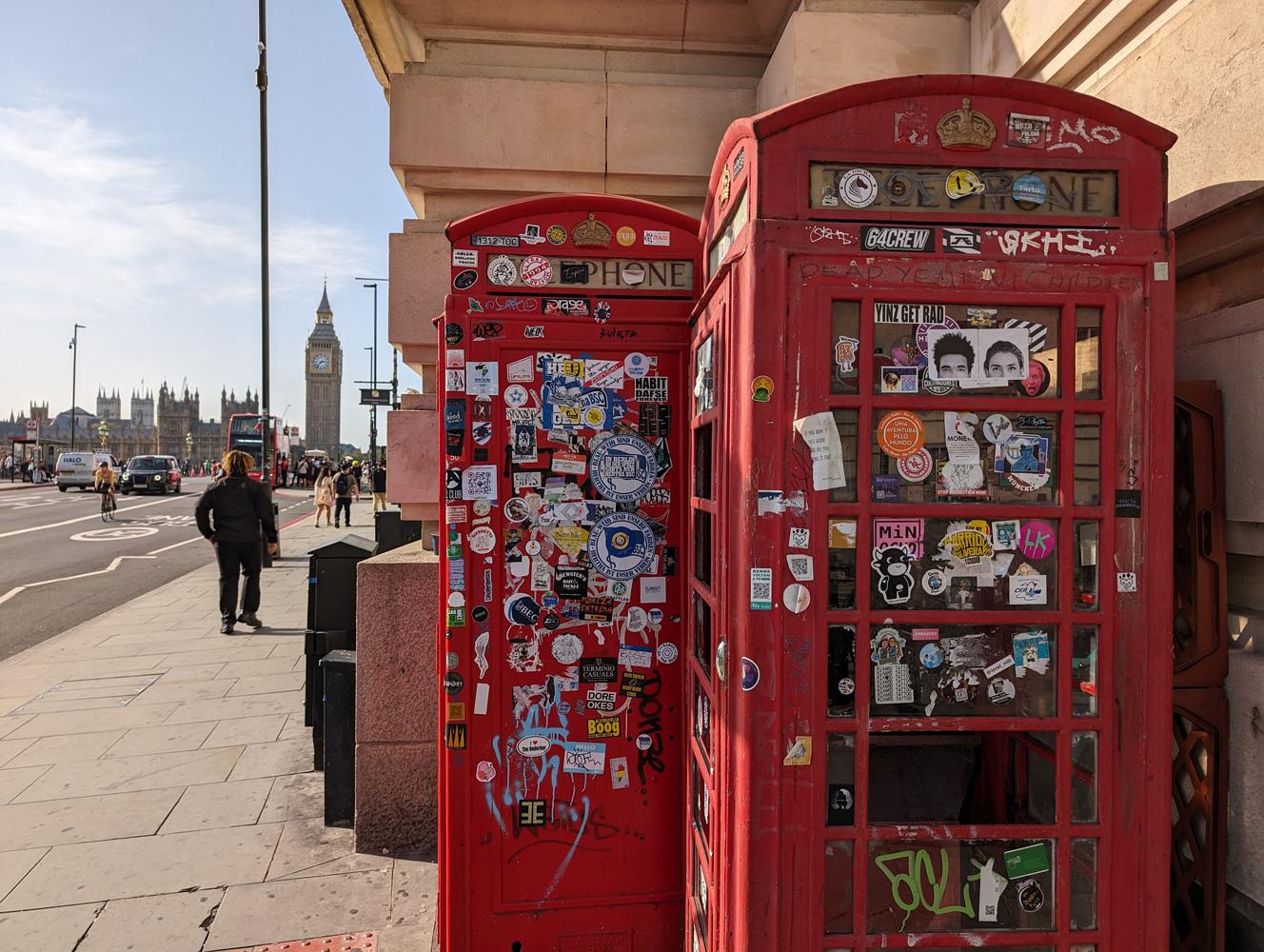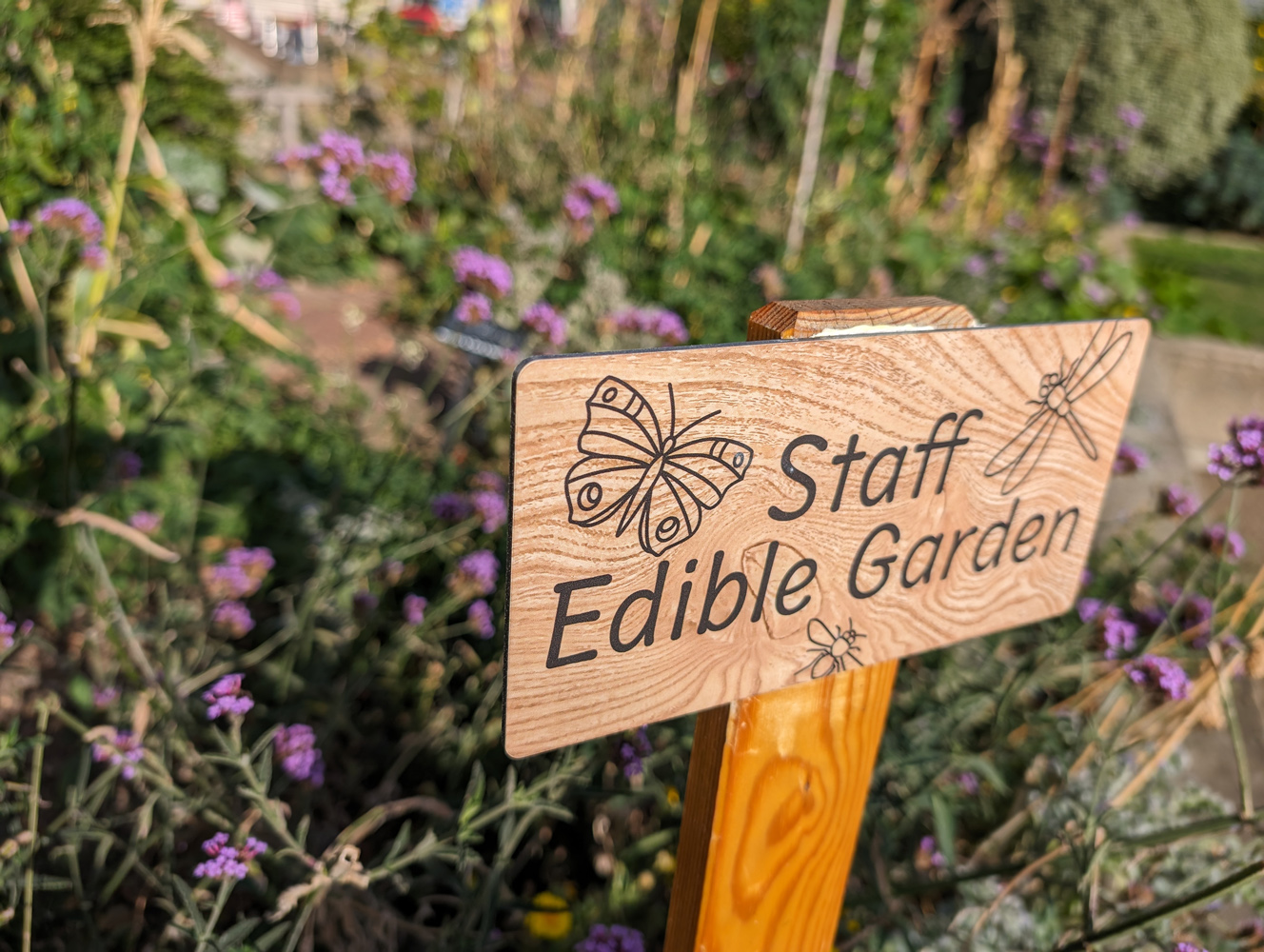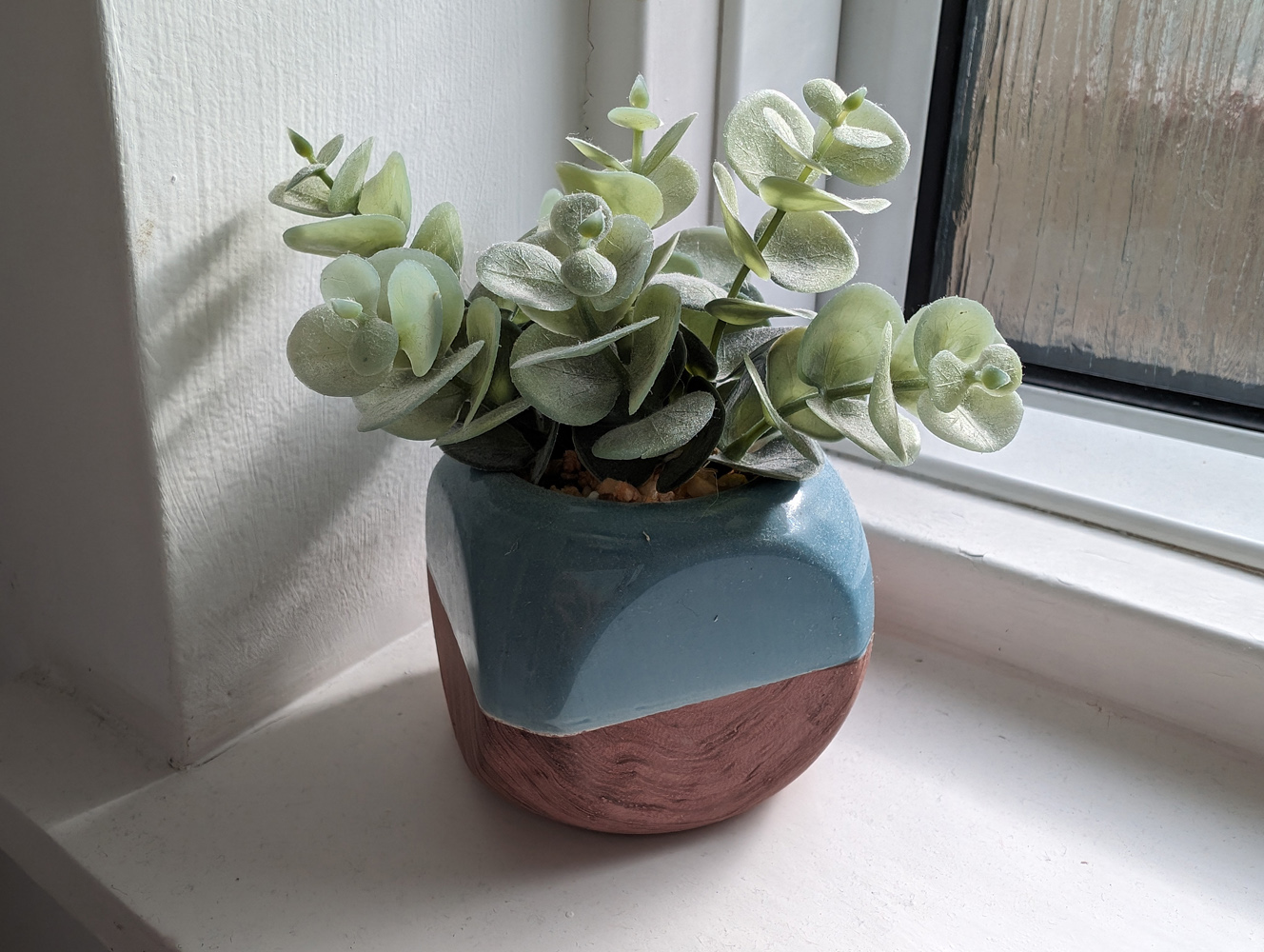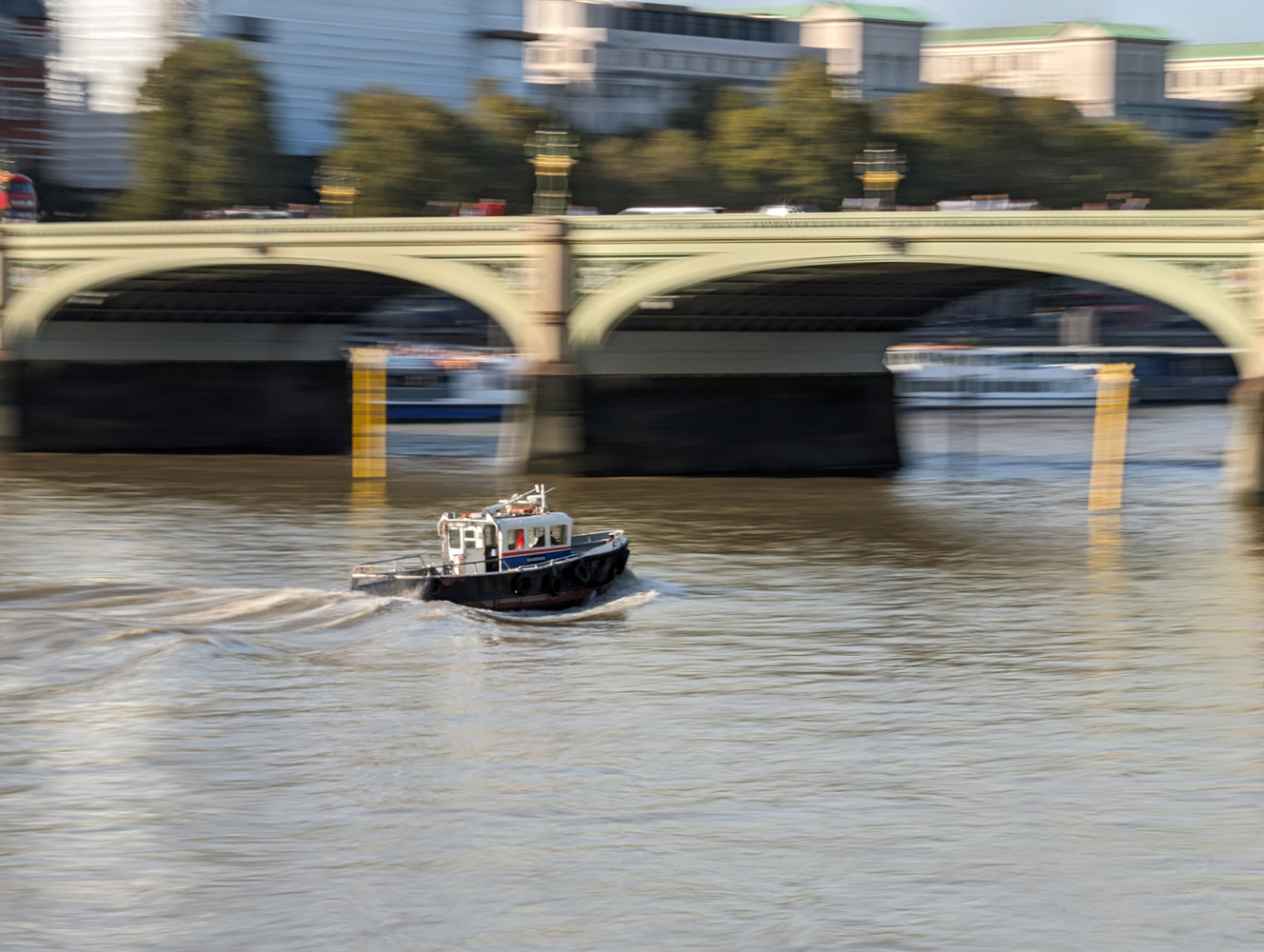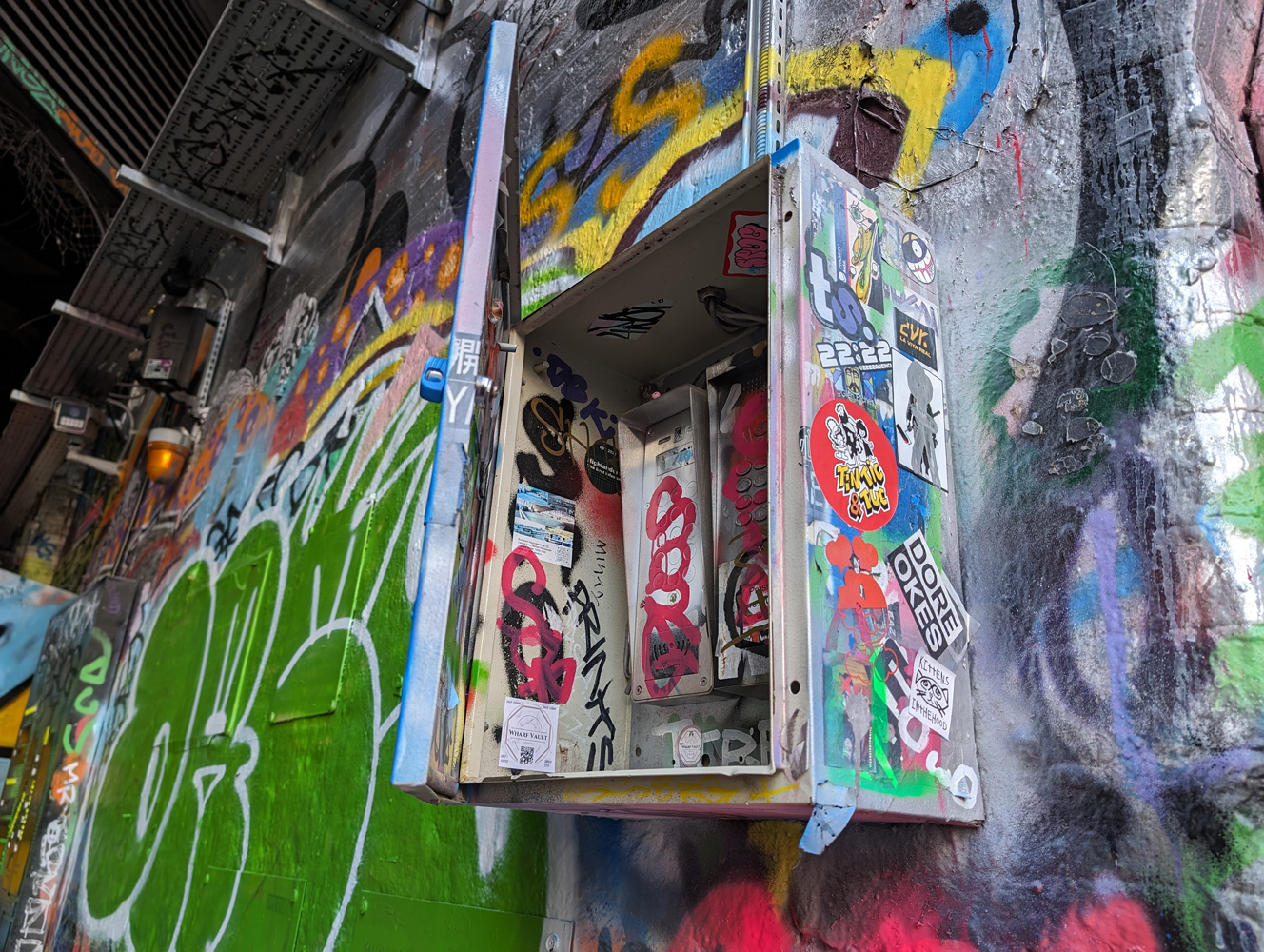 Macro Focus shots can be taken even closer to your subject now, which helps accentuate bokeh blur outside the narrow focus window. I got wonderfully clear and detailed shots with very little effort, and they hold up brilliantly when peeking at pixels.
I love that it kicks in automatically when you get close to a subject, saving a trip into the menus, and it can be disabled with a tap if you'd prefer to keep your distance with the main sensor.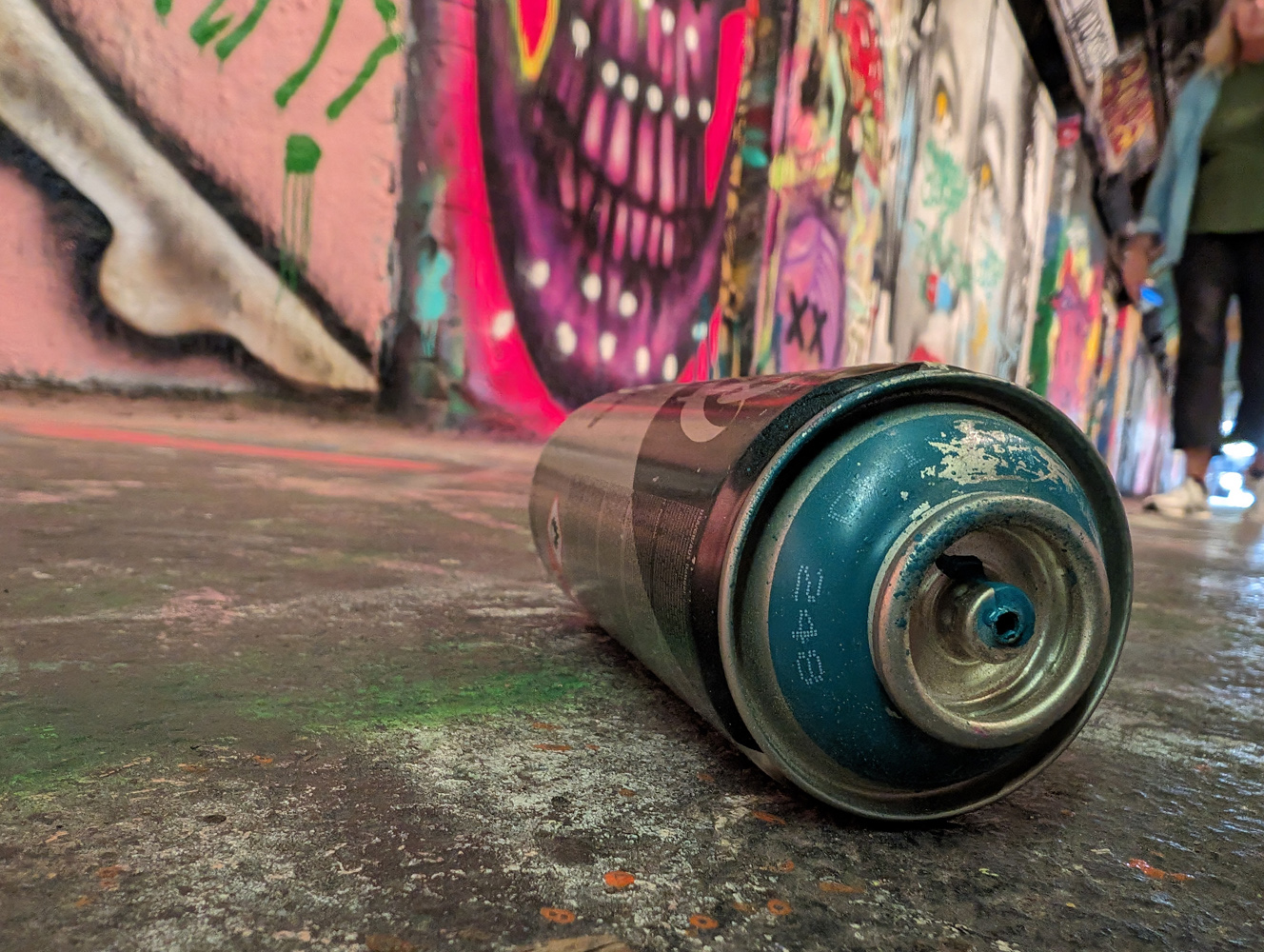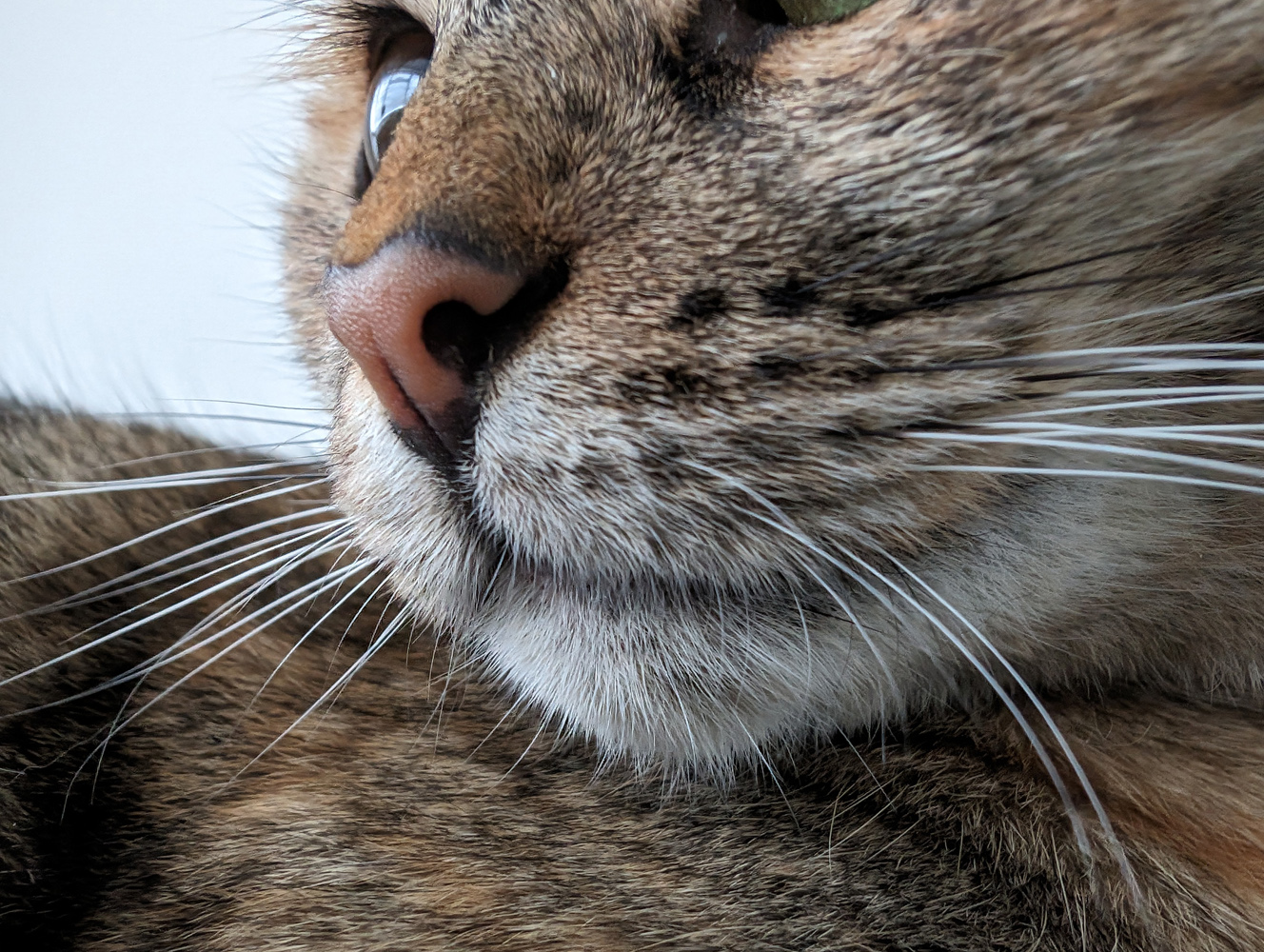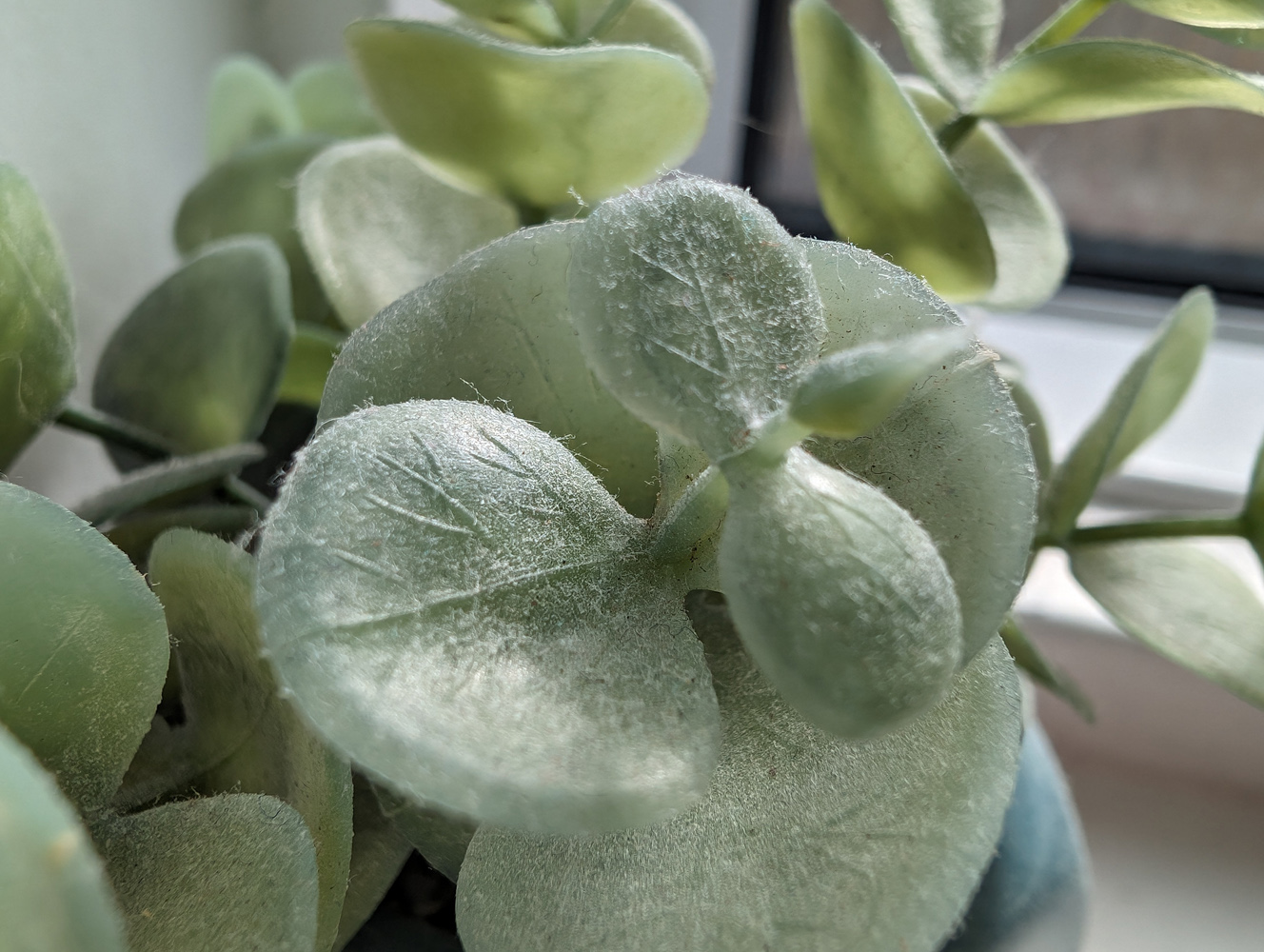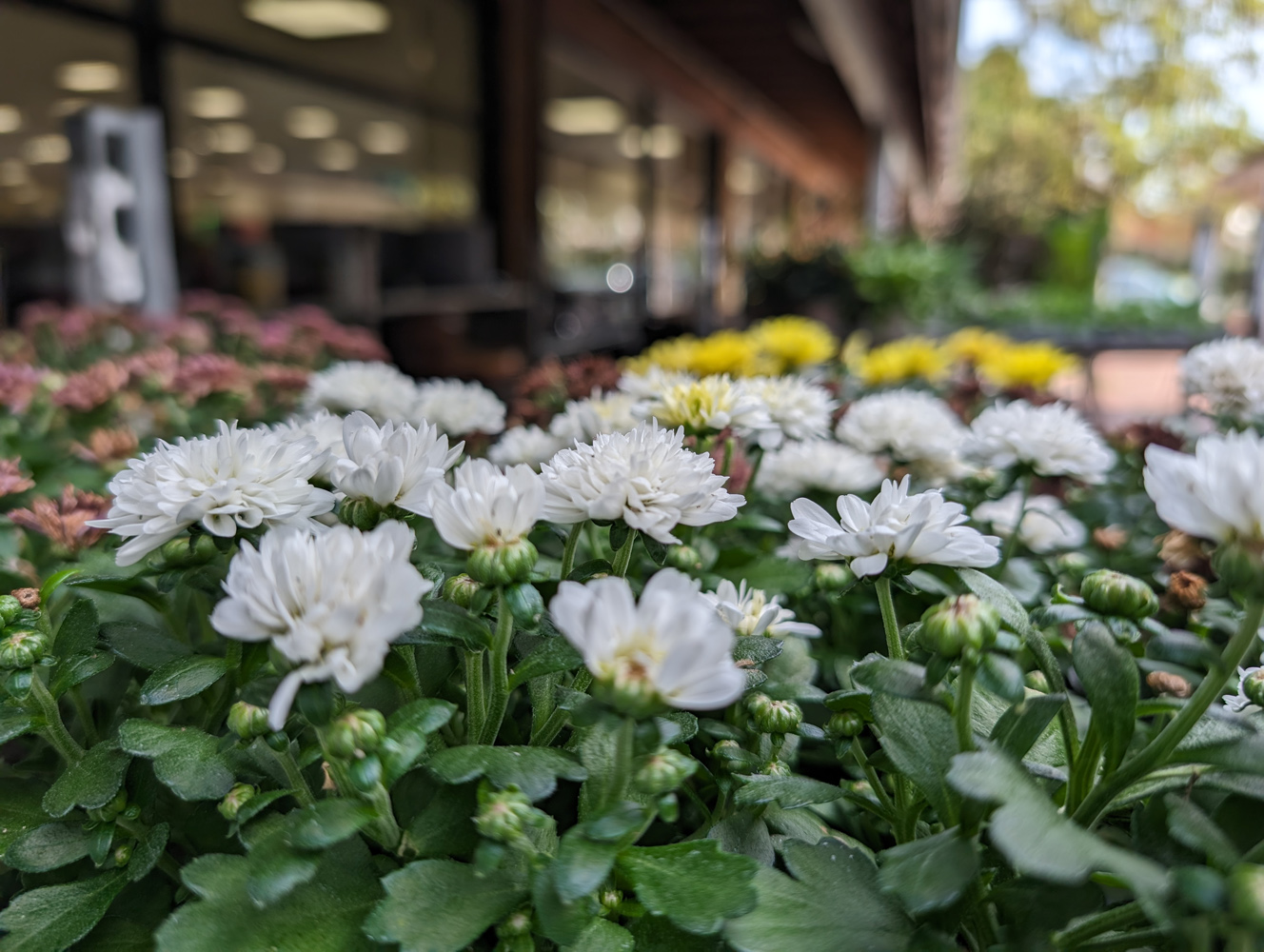 Low light performance remains a Google specialty. The main sensor produces the best results, which is no surprise given it has the widest aperture of the three lenses, but all have increased over last year's Pixel 7 Pro. The Pixel 8 Pro takes cleaner, more detailed snaps as a result. Night Sight helps out in the darkest environments, and needs less time to take a snap compared to previous Pixels. The ultrawide is the least capable lens of the three, but not by a large margin.
Colours are convincing, noise is kept in check, and the level of detail on show is excellent. Apple and Samsung remain the closest competition here, with 1in sensor smartphones getting close through hardware brute force. Only distant subjects with small yet bright light sources prove any major challenge.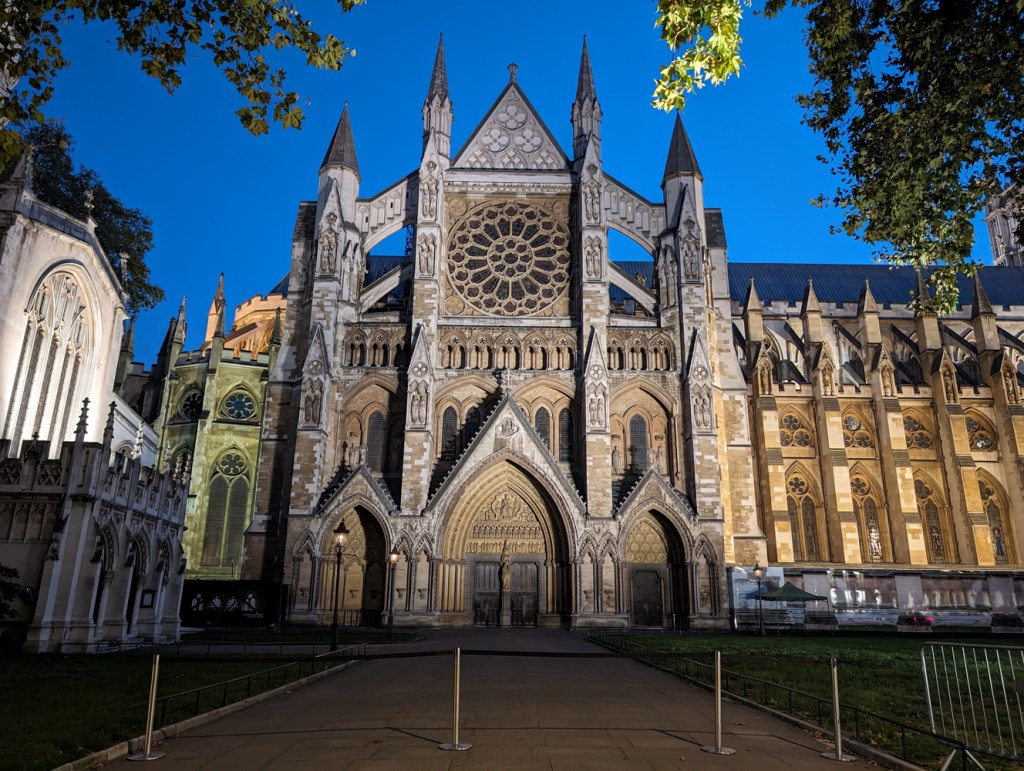 (Night sight 1x, 2x, 5x)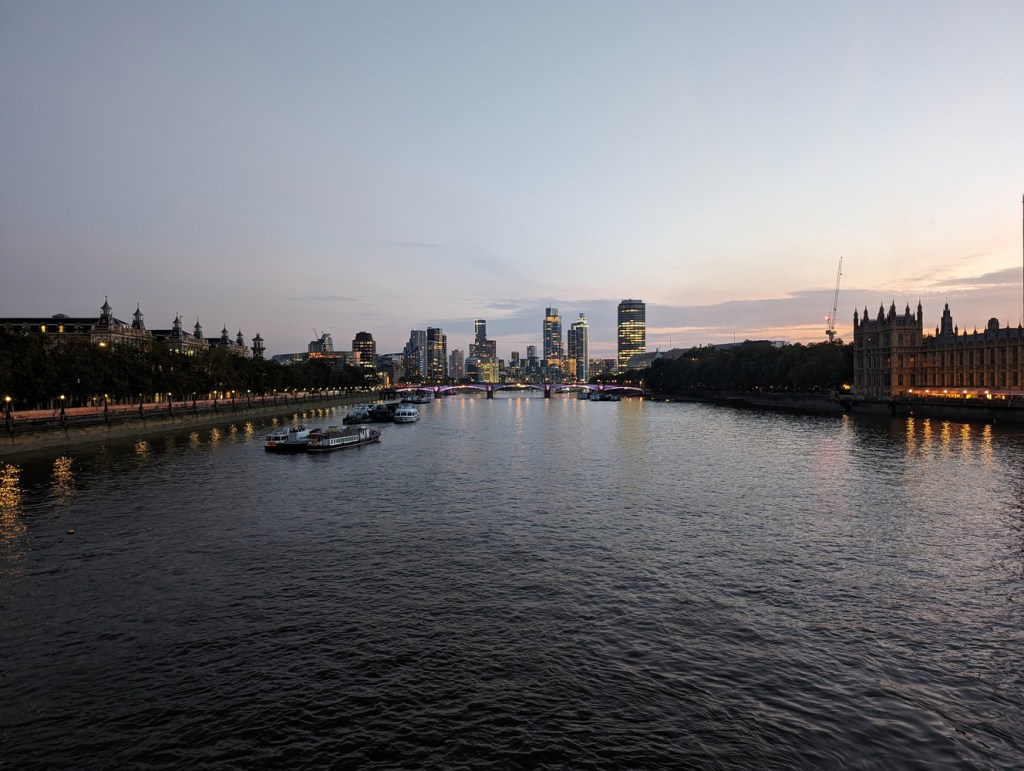 (Night sight 1x, 2x, 5x)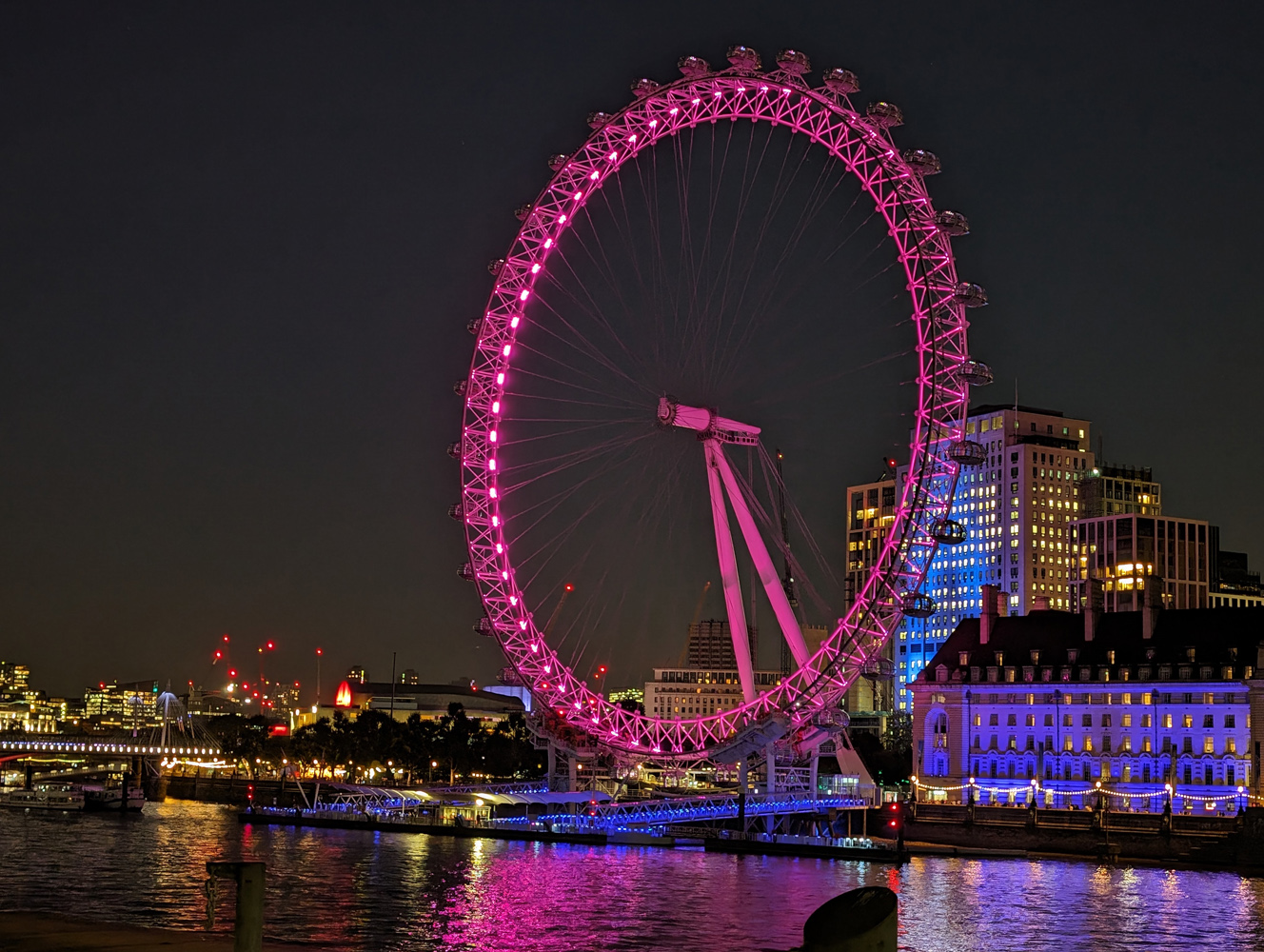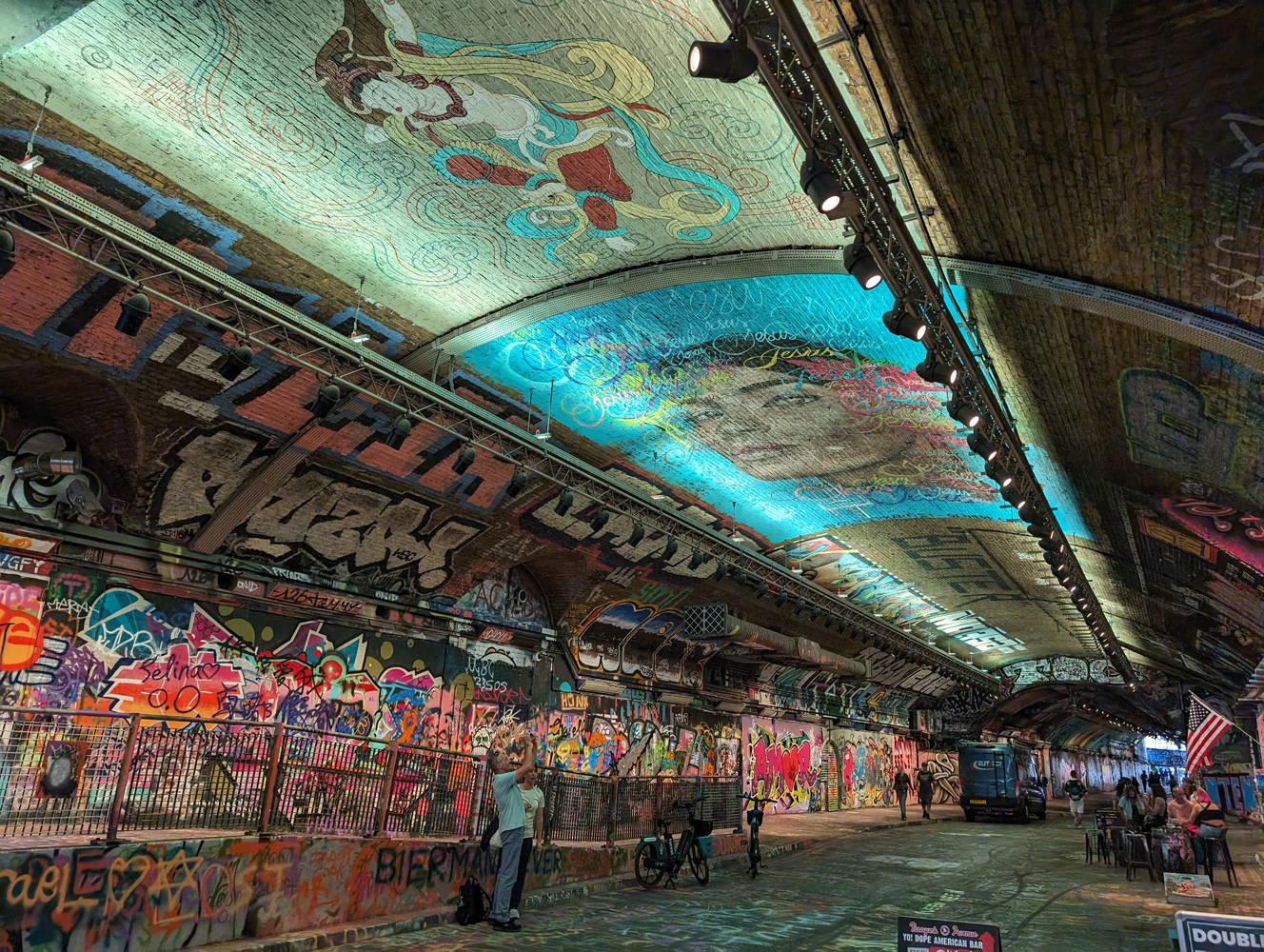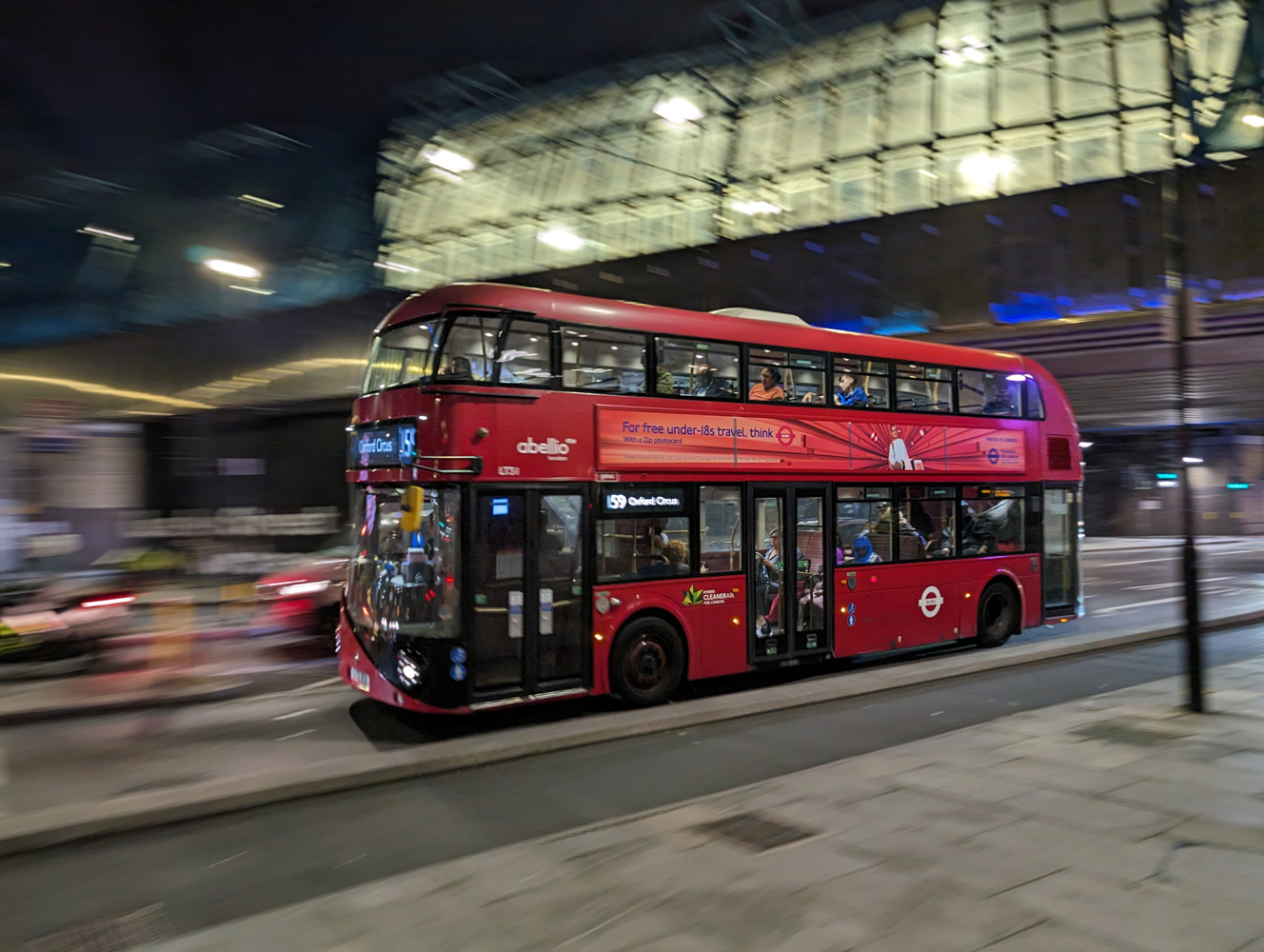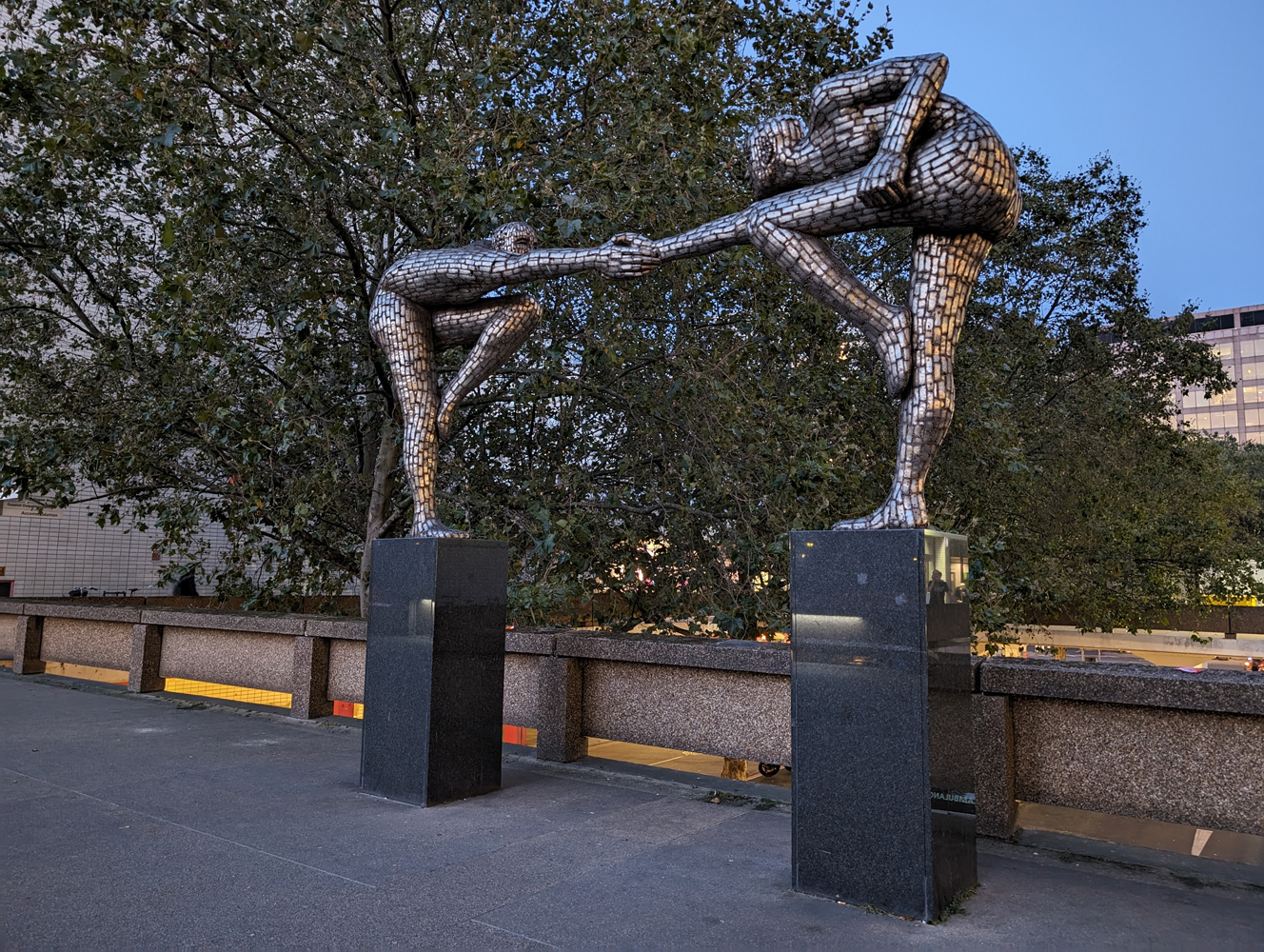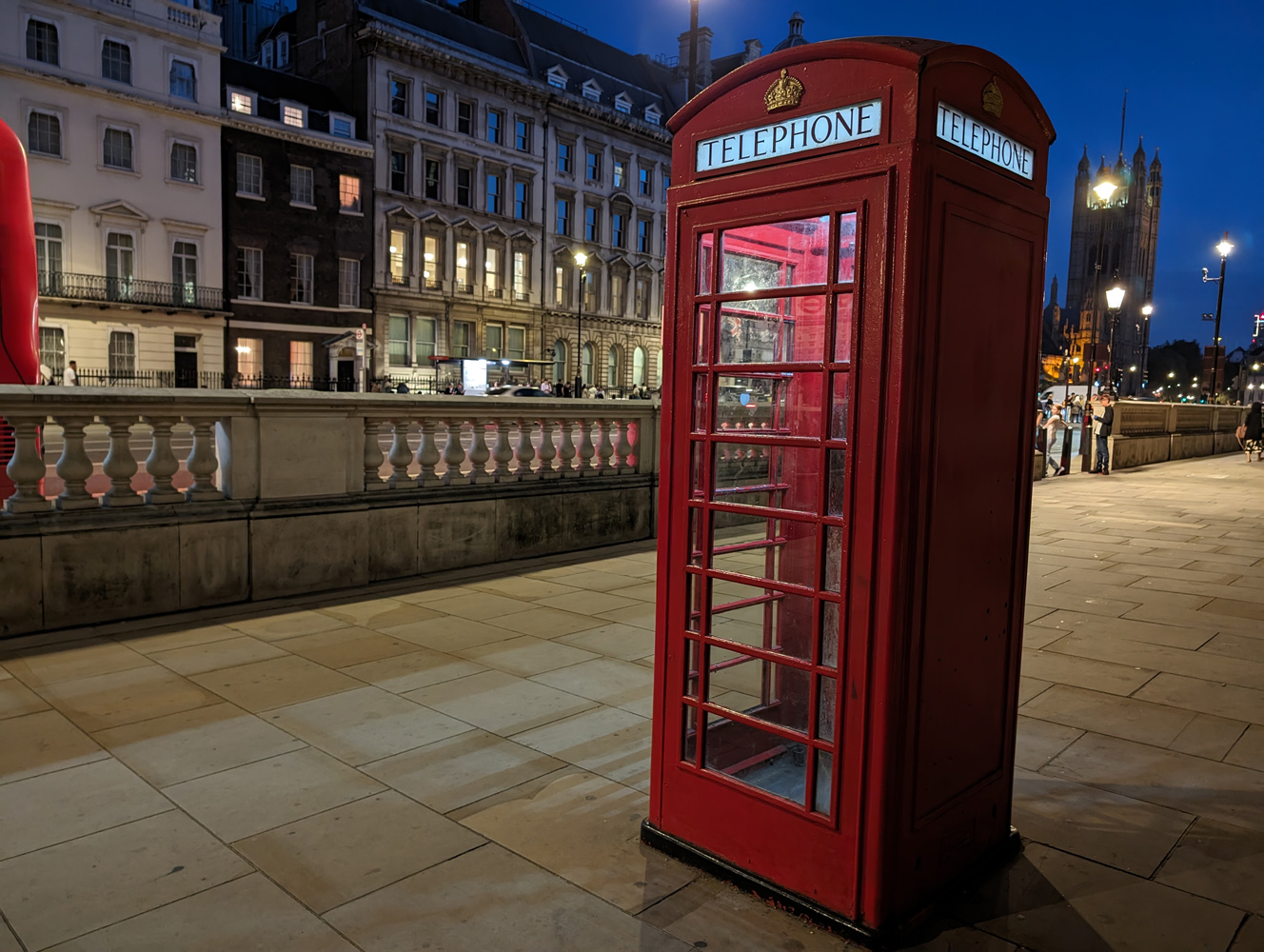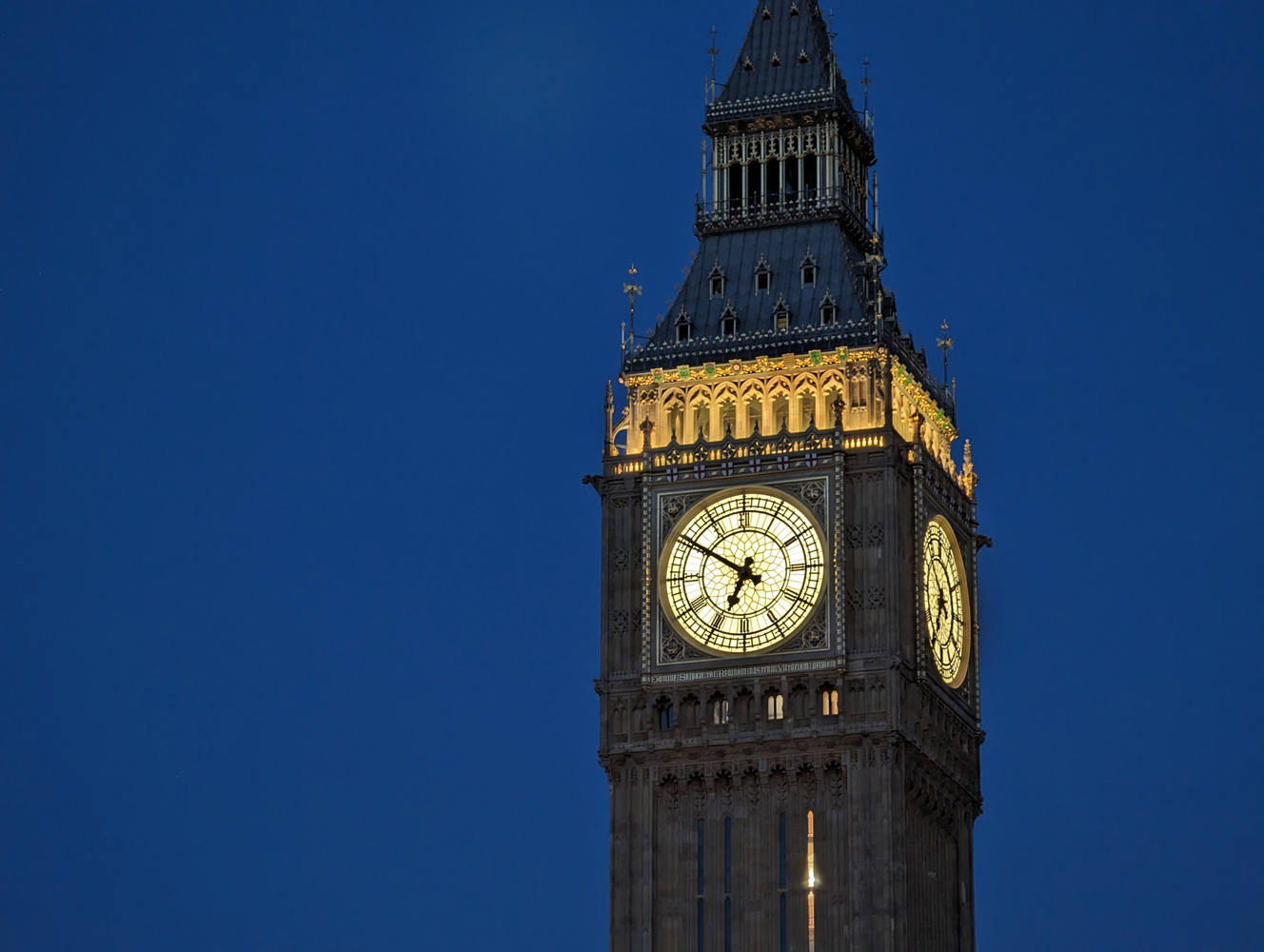 Selfies from the front-facing camera were equally impressive, with plenty of fine details preserved – meaning there's nowhere to hide if you look tired or sweaty after a long walk.
Colours were just as well-judged as the rear cameras, with perhaps a little less dynamic range. Autofocus proved very effective, and the aperture is wide enough to create a tiny bit of depth blur to backgrounds, even before reaching for Portrait mode.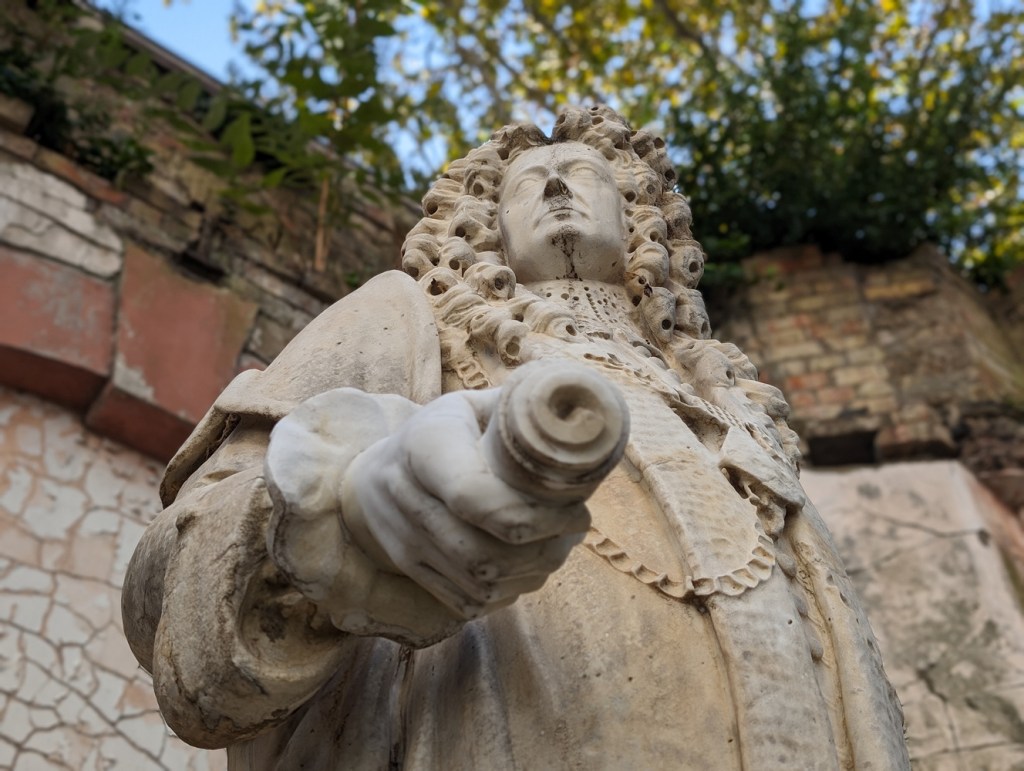 The Pixel 8 Pro can shoot 4K video in 10-bit HDR at 30fps, or with standard dynamic range at 60fps. The best stabilisation settings are reserved for 1080p, again at 30fps. This is an area Apple continues to offer more creator-minded settings for, but I like modes like cinematic plan for adding some extra flair to your footage.
Software experience: first for features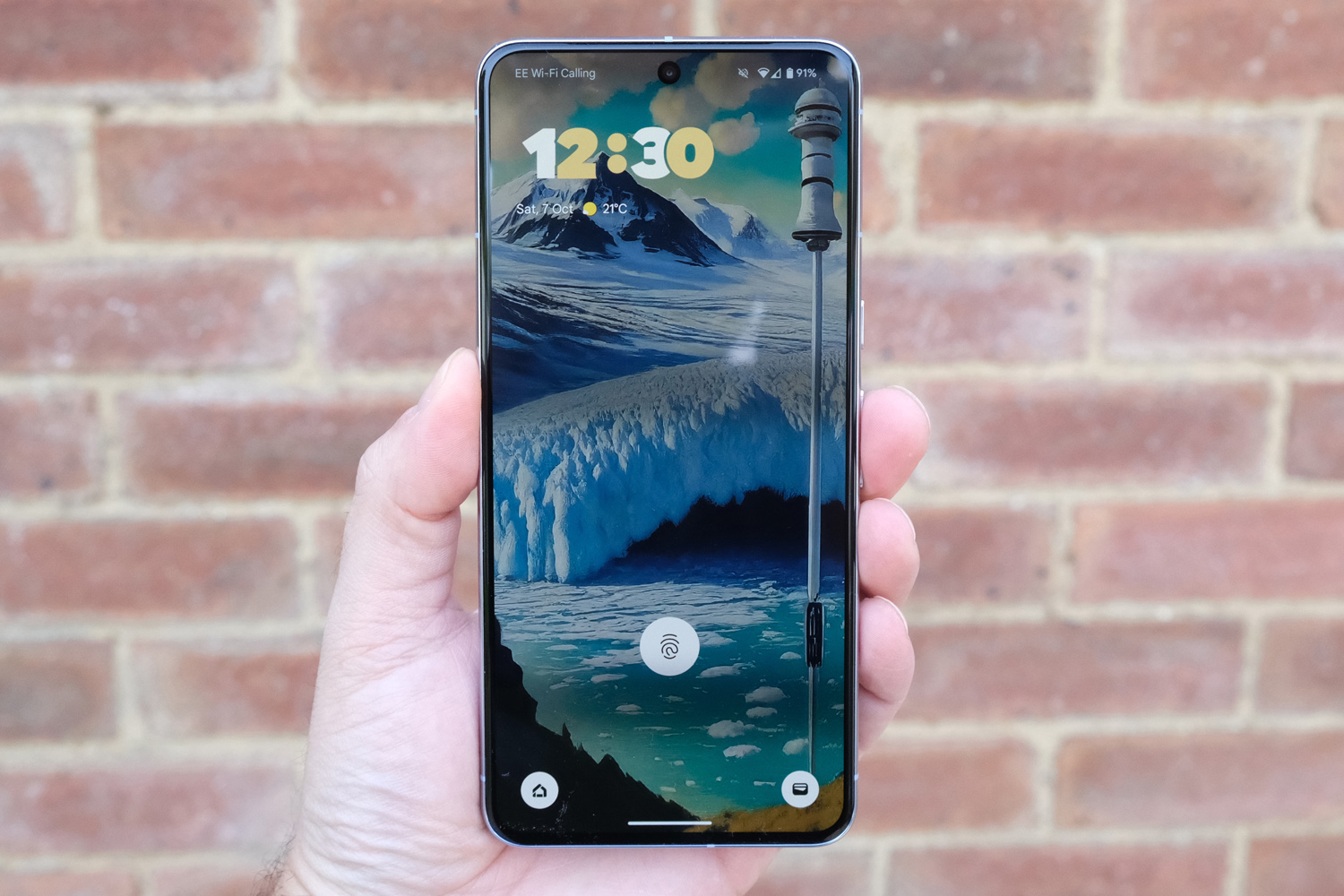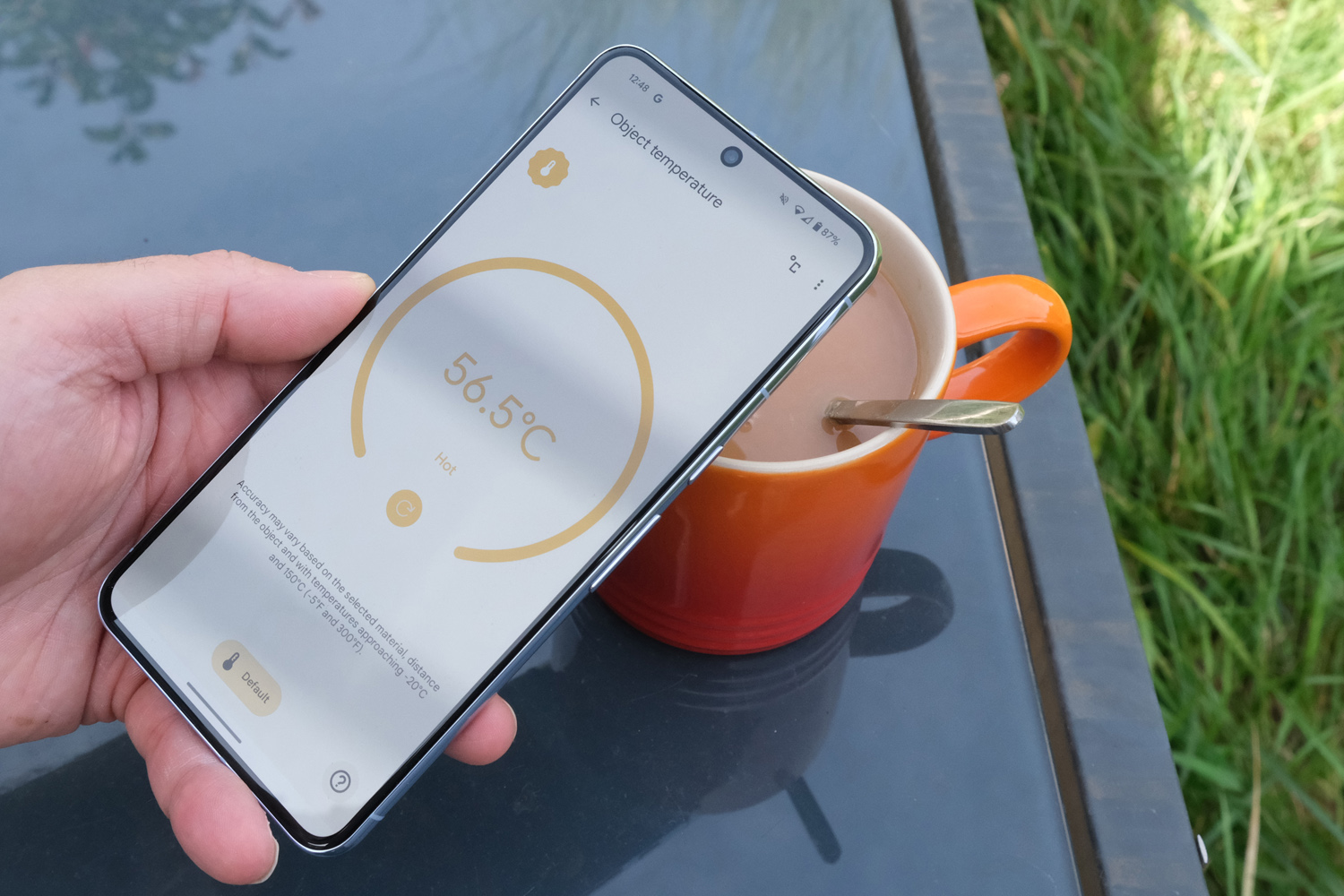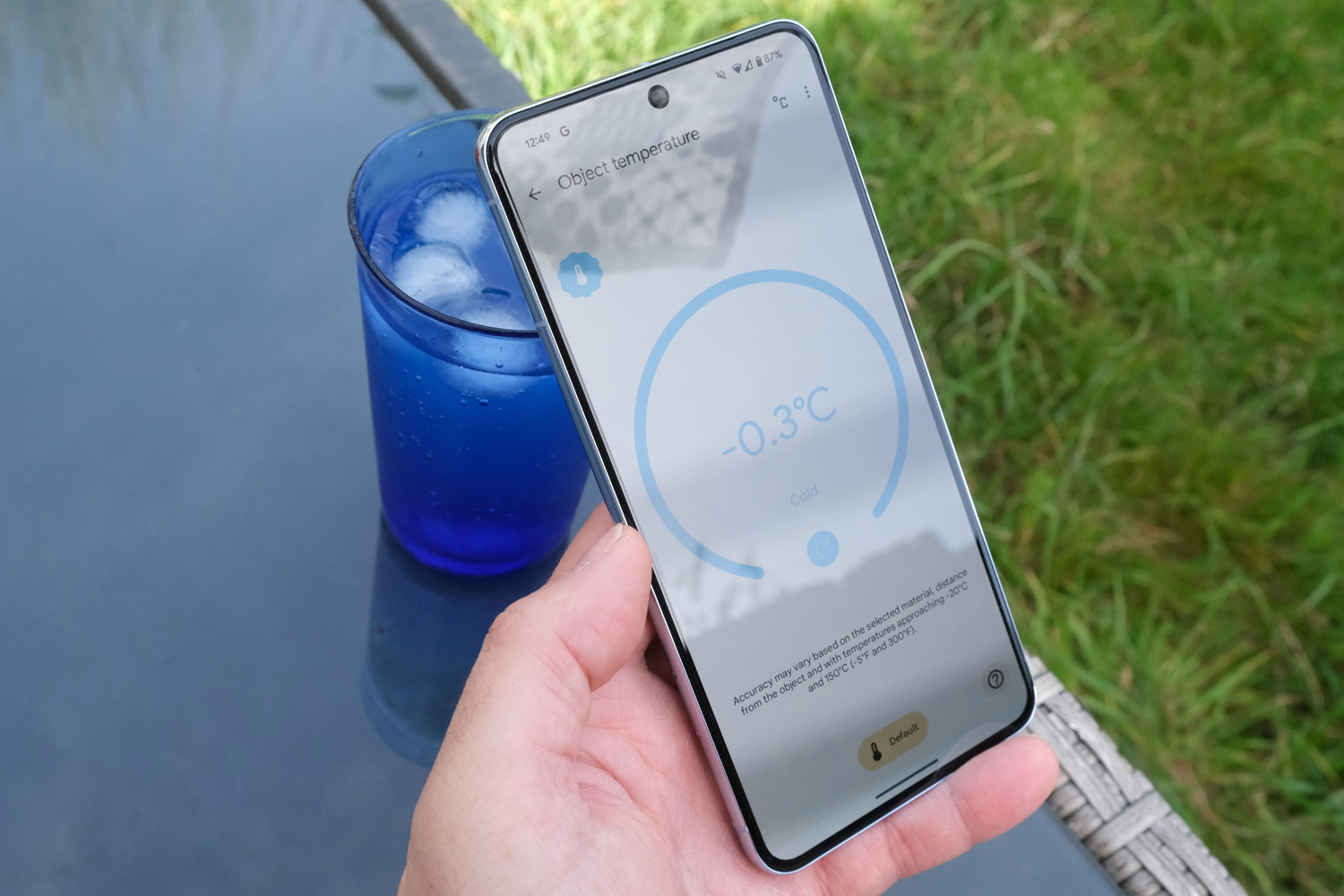 Not only is the Pixel 8 Pro the first phone to launch with Android 14 out of the box, it has also been treated to a few extra goodies you won't find anywhere else. That includes letting Google Assistant handle incoming phone calls like a personal secretary, or getting it to summarise and translate web pages on the fly. Unfortunately these are country-dependent, so I wasn't able to see them in action.
I did have some fun with the new AI-created wallpapers, though. You pick a general theme, such as imaginary, texture or terrain, then tweak a text prompt with different variables chosen from a list. I swapped "A painting of a mountain and spaceships in the 19th century realist style" for "a painting of a cliff and parachutes in the water colours style", and a new image was generated in just a few seconds. Results vary from convincing to blurry to downright frightening, and there will be questions over whether the model was trained on copyrighted material, but it's a cool way to bring generative AI into the mainstream.
Otherwise the Pixel 8 Pro is rocking the same Google-ified version of Android I'm familiar with, keeping preinstalled bloat to a minimum and providing plenty of Material You customisation options. Being able to customise your lock screen clock is a nice addition, but iOS still goes further. Apple's consistent widget design is still leagues ahead of Android's more scattergun approach, too.
Google leapfrogs Apple on software support, though. The Pixel 8 series has beeb promised a whopping seven years of Android versions and security updates, which is a year longer than most iPhones tend to be supported for. It puts virtually all other Android phone makers in the shade, too. That bodes well if you plan on keeping your next blower for the best part of a decade.
Performance & battery life: feel the heat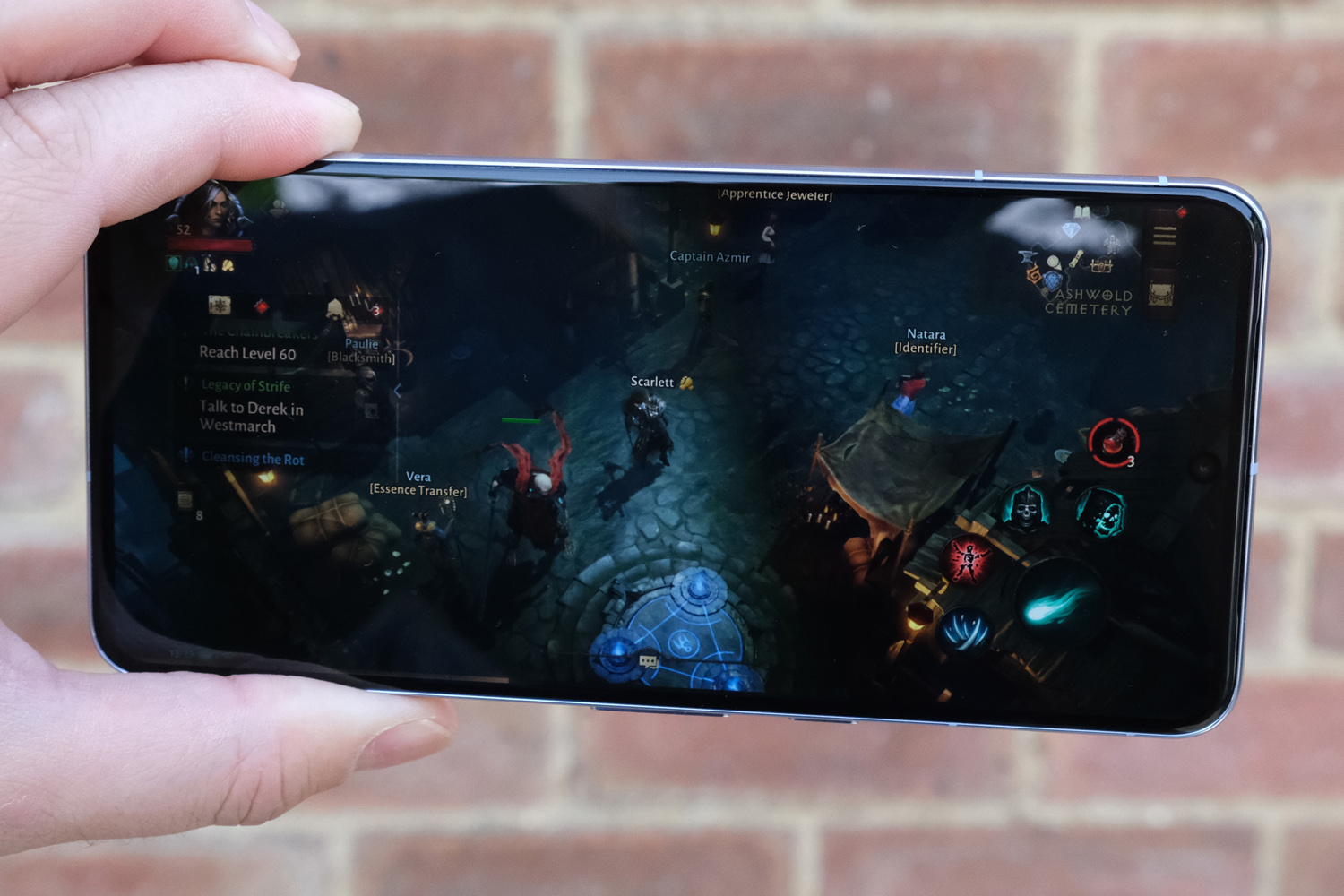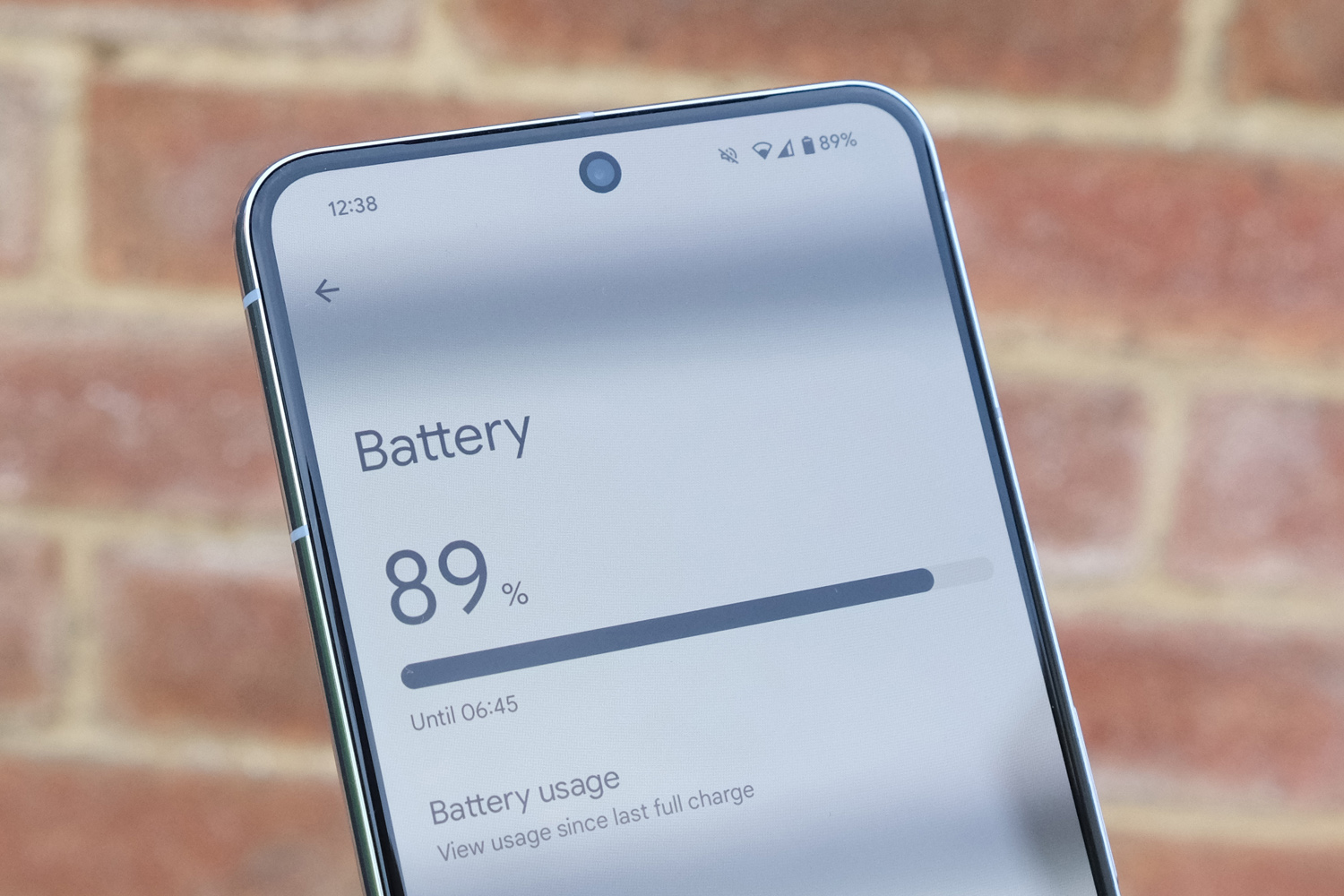 Previous Pixel phones taught me that Google's home-grown Tensor CPUs like to run hot. The Pixel Fold was the worst offender, often getting toasty to touch after very little use, but the Pixel 7 and Pixel 6 generations also suffered. The Pixel 8 Pro's new Tensor G3 chip aims to avoid thermal throttling with a more efficient 4nm design and 1+4+4 core layout.
The bad news? Repeated benchmark runs still give it a bruising, and it warms up fairly quickly while gaming. Daily performance seems more consistent now, though. It feels as nippy as I'd expect a top-tier phone to, with apps opening quickly and no stuttering or slowdown when multitasking. 12GB of RAM helps out with the latter. It lacks the muscle of phones with Snapdragon 8 Gen 2 silicon, though. Games largely defaulted to medium settings, but challenging titles like Diablo Immortal still played consistently once I cranked the details up a notch or two.
I feel Google is being a little stingy by making the base storage option 128GB; most high-end Android alternatives start with 256GB, and it's not like the smaller capacity has kept the price down. That said, Apple is equally guilty of this.
Battery life largely lived up to Google's usual "all-day" claim, as long as I went easy on gaming and didn't spend all my time shooting 4K HDR videos. That falls short of the longest-lasting flagships, but not so much I need to keep a power bank close by. Most people will comfortably get through 24 hours without needing to plug in. Wired charging speeds are pretty pedestrian compared to OnePlus and Xiaomi's best efforts, and the Pixel 8 Pro lands just a little too soon to get Qi 2 magnetic wireless charging, but it will at least play nicely with 1st-gen Qi charging pads.
Google Pixel 8 Pro verdict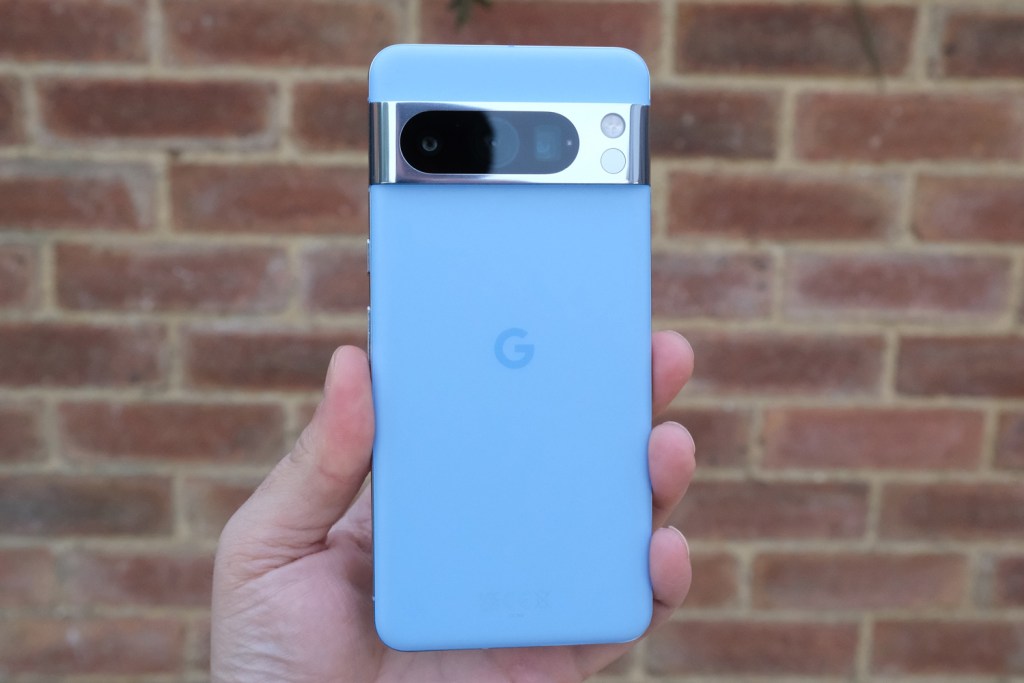 With a design that has matured like a fine wine, a simply stunning screen, and some of the most capable cameras you'll find on a phone, the Pixel 8 Pro finally feels deserving of that 'Pro' label. Even if it comes at the expense of the smaller, cheaper Pixel 8. Extensive software support means it could earn a place in your pocket for years to come – but that's not to say there aren't areas where rivals do things better.
Performance, battery life and charging speeds are good rather than great, and the growing reliance on generative AI is sure to divide opinions. The temperature sensor also feels like a flash in the pan right now.
Previous Pro Pixels had their sore spots, of course. And they also had value on their side. The Pixel 8 Pro still compares favourably on price with the iPhone 15 Pro Max and Galaxy S23 Ultra, but not by a lot. That means you have to be more of a Google die-hard to pick this over the very capable alternatives. You'll be very happy with your purchase if you do.
Stuff Says…
It continues Google's run of phenomenal phone photography and is more AI-assisted than ever, but the 8 Pro isn't a value champ like previous Pixels.
Pros
Fantastic photos in all lighting
Sharper styling goes far in justifying premium price
Android's AI upgrades are a sign of things to come
Cons
Higher price makes rivals more tempting
Battery life and charging speeds still merely OK for a flagship
Google Pixel 8 Pro technical specifications
Screen
6.7in, 2992×1344 OLED w/ 1-120Hz, HDR10+
CPU
Google Tensor G3 nine-core
Memory
12GB RAM
Cameras
50MP, f/1.7 w/ multi-directional PDAF, laser AF, OIS
48MP, f/2.8 telelphoto w/ 5x optical zoom, dual pixel PDAF, OIS
48MP, f/2.0 ultrawide w/ dual pixel PDAF
10.5MP, f/2.2 front w/ autofocus
Storage
128/256/512GB, 1TB (US only)
Operating system
Android 14
Battery
5050mAh
Dimensions
163x77x8.8mm, 213g