Garmin Vivosport review
This sporty lightweight is part fitness tracker, part smartwatch...
Spent any time researching fitness trackers? You'll have seen a whole platter's worth of bands that look a little like the Vivosport. It's small enough to avoid attracting too much attention, but doesn't look anything like a normal watch either.
The Garmin Vivosport is different to other small trackers, though. Thanks to built-in GPS and an altimeter, it's more like one of those sport watches that can seem like they're trying to take over your arm.
It may not be as long-lasting as most Fitbits, or as futuristic-looking as the Samsung Gear Fit2 Pro, but the Vivosport is one of the top picks if you want GPS in a small package.
Design: strait-laced but practical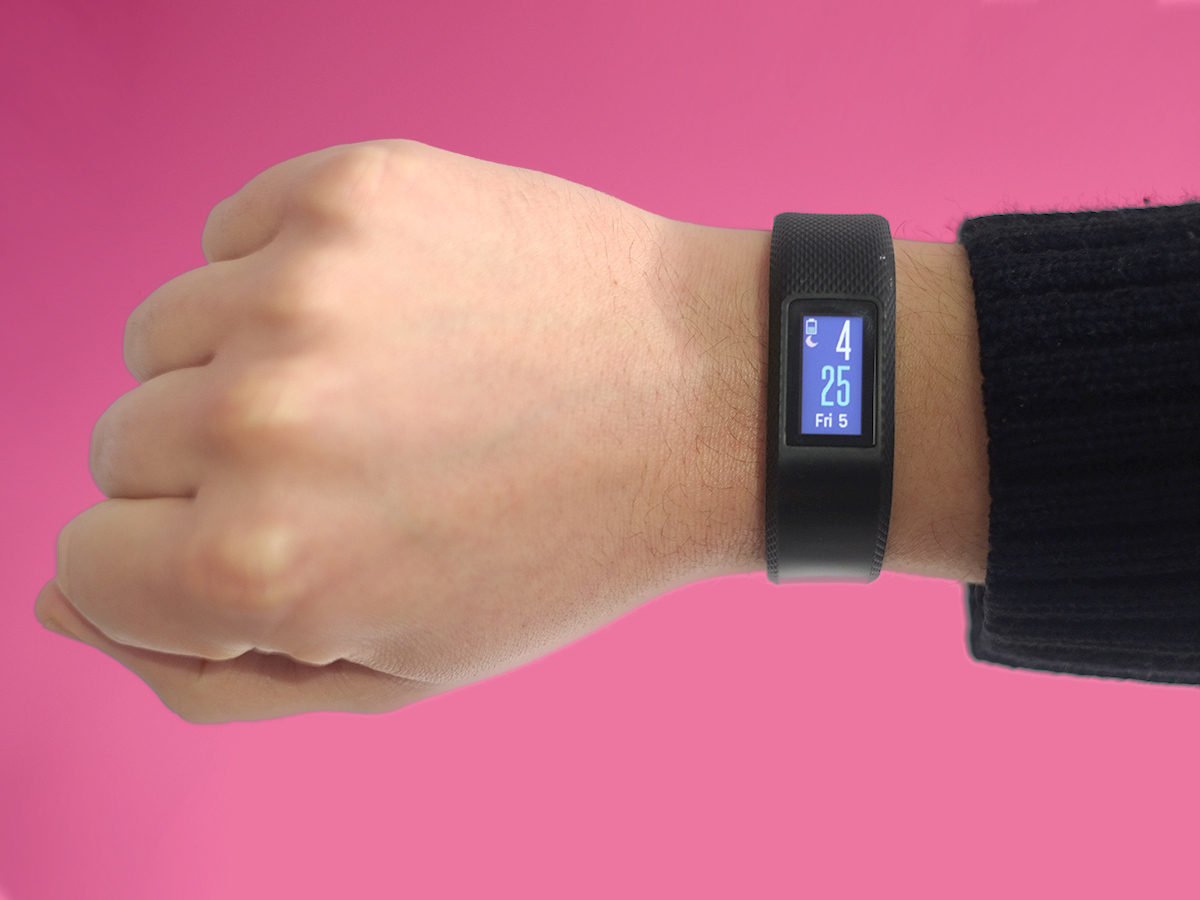 Garmin is good at a lot of things, but making ultra-desirable fitness bands isn't one of them.
The Vivosport is innocuous, but isn't a wearable that'll have your friends peering on jealously, as a Nokia Steel HR or Skagen might. It's a black diamond-embossed rubbery band with a tiny dim rectangle of screen in the middle.
Size and comfort are the best parts of its design. The Vivosport is not too wide, not too thick, particularly for a band with GPS. It's also a little smaller than its older brother the Vivomove HR.
If you want to turn heads at the running club, get a Garmin Fenix 5. If you want to turn heads in the pub, get a Nokia Steel HR. The Garmin Vivosport just isn't much of a head-turner, but is light, comfortable and a cheaper alternative to the smarter Garmin Vivoactive 3.
For a bit of extra visual impact the Vivosport also comes with the option of lime green or "fuscia focus" inner colouring, although ours is boring old slate and black: the wallflower's choice.
While we find the Nokia Steel a touch more comfortable, the Vivosport is still a watch you can more-or-less forget you're wearing at times. This isn't a smartwatch you need to charge every day either.
Battery life and screen: hitting the right balance
Garmin's own line is that the Vivosport will last a week as a fitness tracker or for up to eight hours of GPS tracking. If this is actually the right buy for you, you'll be doing a bit of both.
I've found the Vivosport lasts around four days peppered with some 30-minute GPS tracking sessions. And when it's dead, you just plug the charger into the socket on the back. There's no hoity-toity wireless charging going on here.
Like other Garmins, the Vivosport has a special display that hardly uses any power when displaying something. It's different tech to that of a Kindle ebook reader, but the effect is the same. It's not all that clear indoors, but outdoors it looks great. And there's a blueish light that turns on when you tap the screen to make it visible at night.
Unlike a Kindle or the Vivomove HR, the Vivosport screen is colour too. Little bits of green, red and blue are dripped through the menu system, to make it look more interesting. It's no Samsung Gear Fit2 Pro, with colour looking subdued and the whole screen appearing recessed behind the top layer.
In real-world terms it's a great tech for this sort of device, though. The screen is "on" 24/7, so you don't need to wake the Vivosport to see the time, and despite the low resolution Garmin has packed in a lot here.
Features: impressive smartwatch impersonator
One thing that might put off some of the hardcore exercisers among you is the lack of Bluetooth and ANT+ support.
You can't hook up a chest strap sensor, which would get you a much more reliable read than the Vivosport's optical sensor. Still, oddly enough, you can do the opposite. This tracker's heart sensor can broadcast as an ANT+ device, letting it hook up with other trackers. For example, a bike computer.
There are other neat extras too. The Vivosport must be one of the smallest trackers that can pass on all sorts of phone notifications, not just SMS and call reminders. You can even read WhatsApp messages and email excerpts, each arriving with a buzz. Sure, it's pretty painful when the screen can only fit 3-4 words a page but you can't fault Garmin for the effort.
And if, like me, you tend to use wrist notifications to judge whether to pull phone from pocket rather than to read emails, you get some of the day-to-day utility of a smartwatch here.
You can wear the Vivosport in the swimming pool, and I have, as it's water resistant to 5ATM (50M), but trying to track lengths in the pool is a bust. Heart-rate tracking while swimming is also a bit of a mess. If you swim outdoors in rivers, you could have a crack at GPS tracking your route, but rivals like the Samsung Gear Fit2 Pro and the Apple Watch Series 3 remain better bets for water-lovers.
All your data ends up in Garmin Connect, which these days does a good job of adopting the dual personality it needs to satisfy the Garmin line-up. On its face you get a dead accessible, smart-looking summary of your steps, resting heart rate and stress level. For a Fitbit-like breezy summary, this is all you need.
Dig deeper and you'll expose a giant cavern of fitness-tracking nerdiness including even inputting all your gear, from bikes to shoes, in the app. Garmin Connect supports challenges too, although unless you have friends on Garmin you're stuck with system-wide step challenges. They're fun, but some of the fluffier platforms make a little more of this social side.
Garmin Vivosport verdict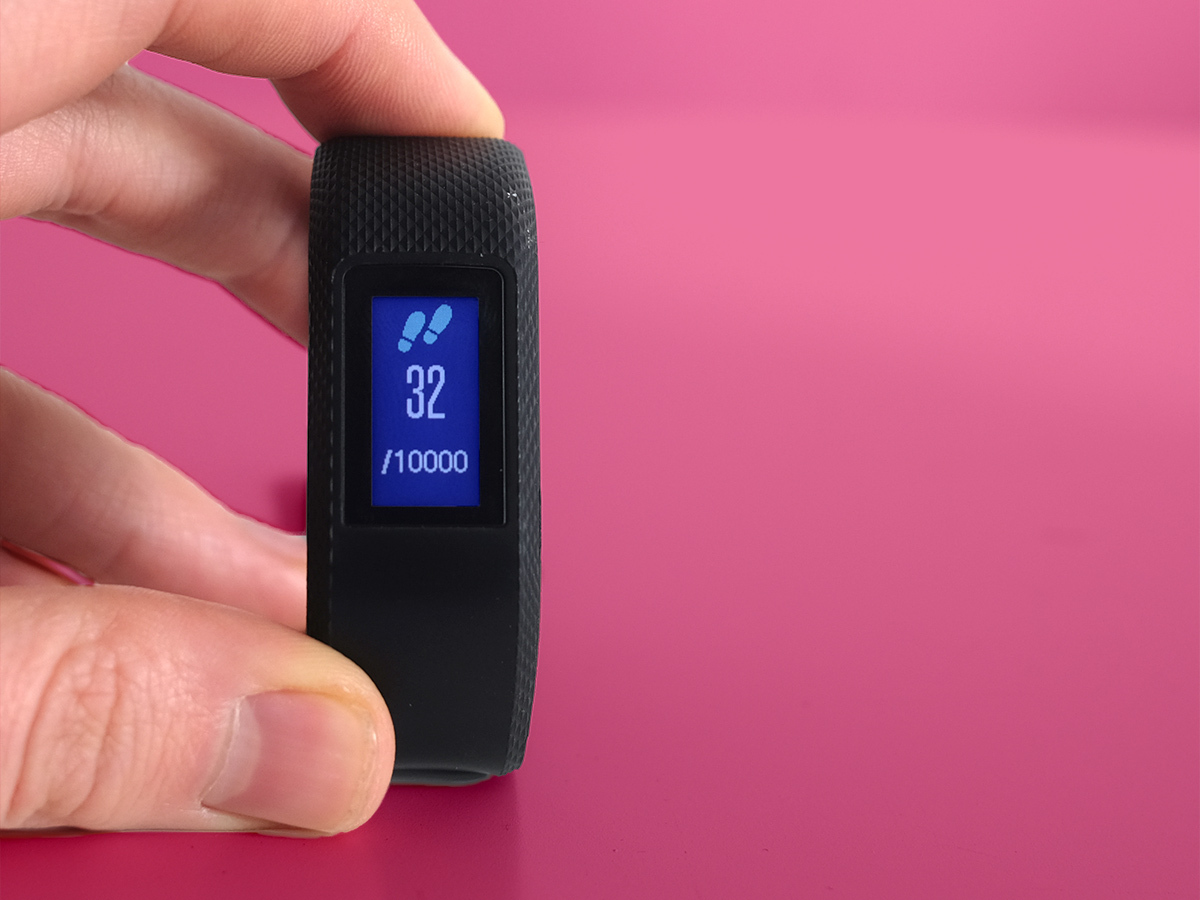 The Garmin Vivosport looks like a basic fitness band, but it has the notifications of a smartwatch and the fitness tracking of a GPS runner's watch.
Garmin has crammed an awful lot into this little tracker, making it one of the very best options for those who want GPS but without an ultra-high price or wrist-bothering design.
It's not for swimmers or style freaks, but this has to be one of the best small fitness trackers to date.
Stuff Says…
This GPS fitness tracker fits more into a small band than just about any other
Good Stuff
Serious fitness tracking features
Always-on screen
Fairly good battery life
Bad Stuff
Not the most alluring band around
No support for chest strap HR sensors