Fujifilm GFX100 II hands-on review: making medium format mainstream?
Overhauled sensor and new processor bring versatility to large sensor class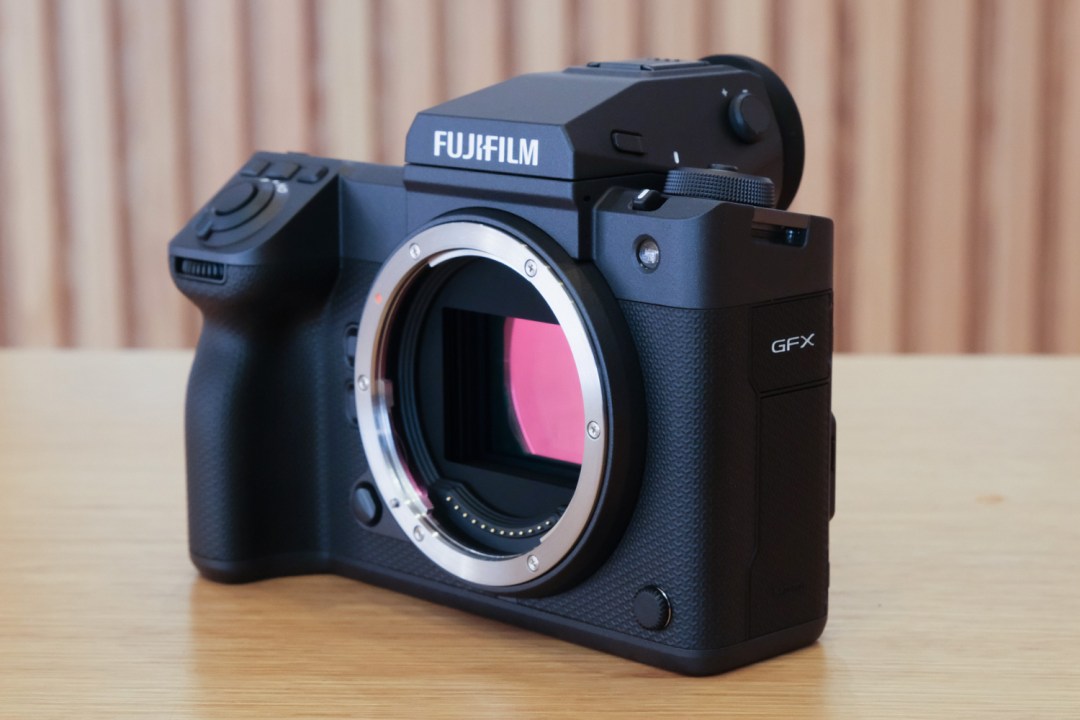 Initial Verdict
Brings new versatility to Fuji's medium format model, which should widen its appeal beyond studio and landscape photography.
Pros
Speed to match the stunning detail
Advanced video settings have filmmaker appeal
Cons
Priced for professionals
Full-frame rivals shoot at faster frame rates
Introduction
Full-frame sensors are pretty much the end game for much of the the camera world – but not for Fujifilm. The firm has been squeezing even larger medium format sensors into its top-tier system cameras for a while, and the GFX100 II is the latest iteration. It still packs an absurd amount of pixels, only now has a lot more than still life photography (traditionally medium format's speciality) in mind.
The GFX100 II It takes everything Fuji learned with the GFX100 S and adds the super-quick X-Processor 5, faster burst shooting, and massively upgraded video functionality. A high cost of entry means it's largely aimed at professionals, but isn't the biggest leap from flagship full-frame cameras such as the Sony A1 and Nikon Z9. The new film production-focused features could also make it an 'affordable' alternative B or C camera to an Arri Alexa.
Is there enough here to appeal to serious snappers who regularly venture outside of a studio environment? We got our hands on an early sample ahead of the official reveal to find out.
Design & build: sensor of scale
The GFX100 II fits right in with Fuji's more mainstream CSCs, thanks to a compact body, weatherproof metal frame and a sensible (though not overwhelming) scattering of buttons. A new bespoke rubberised texture gives the chunky hand grip plenty of purchase to support the 1.03kg cam, which is still impressively light given the medium format sensor inside. Bolt on a lens and that weight only climbs higher, but we found it perfectly suited to handheld shooting.
If you're wondering why the shape has more in common with the GFX100S than the much larger original GFX100, it's because Fuji has moved the portrait-minded second shutter button to an optional battery grip. That keeps the camera body as small as possible, without ignoring the fact medium format cameras are a regular sight in portrait studios. We didn't see it in action, so can't say whether what impact the added bulk has on usability.
Fuji has added a trio of extra Fn buttons at the top of the grip, giving more manual control without having to take your eyes away from the super-high resolution OLED electronic viewfinder. We found it pin-sharp and incredibly responsive, effortlessly keeping up with fast-moving subjects. It's detachable, too, if you'd rather use the tilting LCD screen at the rear – or compose shots using an external display. The LCD screen doesn't flip out, but vloggers and Youtubers are hardly Fuji's target audience.
The top plate is tilted slightly towards you now, making it easier to see the shooting mode dial and LCD monitor window than previous efforts. That LCD is much bigger, too, with a fresh-looking UI that mimics traditional ISO and shutter speed dials – though you can still swap to a more straightforward layout if you like.
Features & battery life: get connected
Size-wise it hasn't grown all that much from the GFX100S, but Fuji has still crammed in a bunch more connectivity options aimed largely at professional photographers.
Instead of twin SD card slots, here you get the choice of SD and CFexpress Type B; the latter promises faster and higher capacity storage, with the former still on hand for automatic backups. It also supports stills shooting to an external SSD using the USB-C port, or video recording at full 8K/30P resolution.
There's an Ethernet port for saving straight to an FTP server, which will please studio photographers, and wireless file transmission to boot. IPTC tagging, which signals to press and news agencies your snaps haven't been AI-generated, is also on board.
ProRes RAW and Blackmagic RAW footage can also be shot to an external device via the full-size HDMI port, while multi-camera timecode sync is supported with the third-party AirGlu Ultra Sync Blue accessory. Live view now has both vectorscope and wave form options, as well as a focus map, which should please filmmakers.
Fuji clearly expects more owners to use this camera outside of a studio environment, and an uprated battery will certainly help with that. The firm reckons 540 shots per charge, which is a 20% uplift over last-gen, though we didn't get enough time to confirm it. On the video side, 60 minutes of 'real-world' recording should be possible, or 90 minutes for a single clip at 4K/60fps.
There's no recording length limitation, and at 25 degrees ambient temperature you should expect two hours before heat forces the camera to take a break, unless you bolt on the optional fan accessory. At 40 degrees ambient it's more like 64 minutes.
Performance: all about AF
Image processing duties are handled by Fuji's latest X-Processor 5, which brings the fastest burst shooting and autofocus performance of any GFX camera to date. The GFX100 II can manage 8fps using an electronic shutter, while the impressively rapid AI-based subject-recognition autofocus first seen on the X-H2S keeps track of your subject. It can understand animals, birds, cars, bikes, planes and trains, with face and eye detection handling human subjects. Tracking AF also works just as effectively in the movie recording modes.
We had limited options to test subject detection during our demo, but it had no trouble tracking passing cyclists and taxis. It's not going to outpace the fastest full-frame cameras, but it's far better suited to moving subjects than the outgoing camera, which was more of a landscape and still life specialist.
Low light performance has seen a big boost, with up to 8.0 stops of five-axis in-body stabilisation. On older GFX kit, lenses averaged 6.0 stops. That helps in movie mode, too, with a dynamic range priority option extending to 14+ stops if you don't mind a slower 25ms rolling shutter.
Finally, a larger memory buffer now lets you shoot 76 uncompressed RAW images to a CFexpress card before the camera needs a breather, or 36 images to SD card. The GFX100S could do 14 frames at 5fps before it would buffer.
Image quality: detail oriented
It has the same huge 102MP pixel count as the old GFX100S, but Fuji has upgraded the GFX100 II's sensor to one with a faster readout. Fine-tuned power circuitry and high-speed analogue-to-digital converters also help pick up the pace, despite capturing a staggering 11,648×8736 pixels every time you squeeze the shutter button. Base ISO has also been lowered to 80, so each shot can capture even more dynamic range than the outgoing model.
JPEG shooters have access to Fuji's ever-increasing selection of film simulations, which has been bolstered here by Reala Ace. This new addition brings a similar retro-tinged vibe to the fan favourite Provia, but with a little less saturation. Whether it'll be heading to existing Fuji cameras later remains to be seen.
The following shots were taken straight from the camera, but have been resized from their native resolution (a limitation of the Stuff website). It's clear the GFX100 II captures hugely detailed still images, with a beautiful colour tone and plenty of dynamic range. We'd need more time, lighting and location changes to tell how well it'll handle different shooting scenarios, but can't argue with the clarity on display.
We mostly shot on the new GF 55mmF1.7 R WR, a $2299/£2249/€2599 prime lens with 11 rounded diaphragm aperture blades and ultra-wide f/1.7 aperture. It delivered stunning amounts of bokeh blur, while keeping the focus point wonderfully crisp. It's a substantial bit of glass at 790g, yet well balanced for handheld shooting. Focusing was fast and quiet, too. It'll be going on sale at the same time as the camera itself.
Fuji is also launching a pair of manual tilt & shift lenses, its first for GFX. They're a niche proposition, but landscape, architecture and product photographers have apparently been crying out for one, for their ability to stay in focus without warping lines, and not having to rely on focus stacking in post. Both have an 85mm image circle, allowing for ±15mm of shift adjustment, and can be rotated 90 degrees for 'perfect' panoramas. The $3999/£3899 30mm F/5.6 lens will arrive first, at the end of October, and will be followed by the $3499/£3499 110mm F/5.6 at the end of November.
Fujifilm GFX100 II initial verdict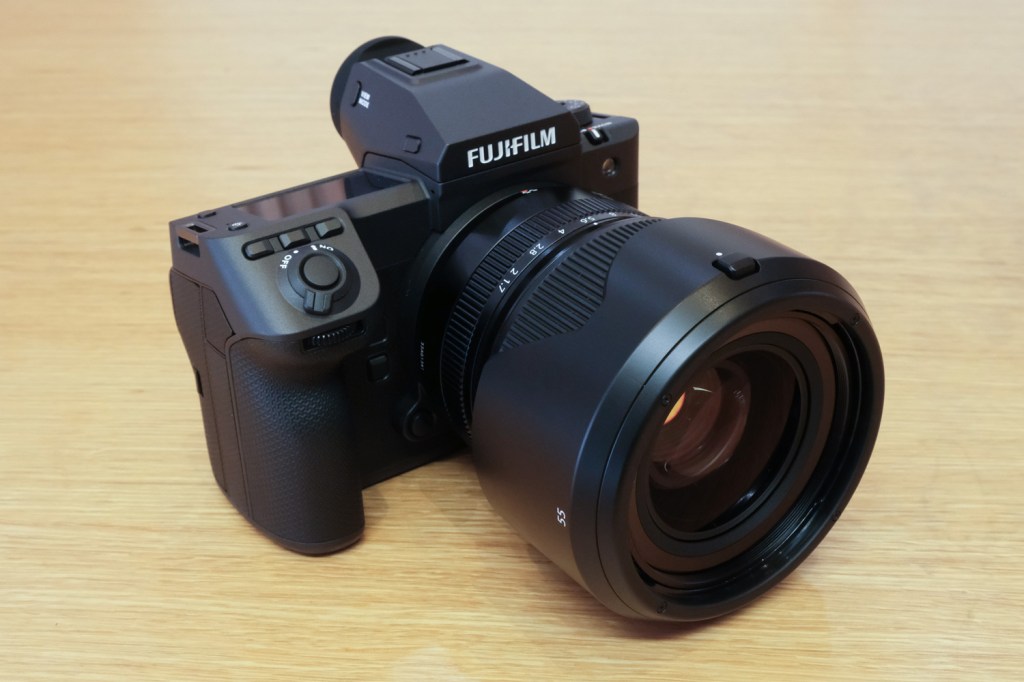 Previous GFX cameras took astoundingly detailed images, and the GFX100 II is no different – only now a much faster, more accurate autofocus and faster burst shooting mean it's far better suited to snapping moving subjects. Upgraded low light performance also makes it much more of an all-rounder than the outgoing model.
We can see wedding snappers currently using a two-camera system giving serious thought to making the upgrade, although sports photographers used to double-digit burst speeds aren't likely to be swayed.
Also, as impressive as we found the GFX100 II during our short demo session, this isn't suddenly going to bring medium format to the masses. At $7499/£6999/€7999 body-only, only professionals and the most dedicated hobbyists need apply. That said, now it's not just landscape photographers and portrait or product specialists with studios who should sit up and take notice.
The Fujifilm GFX100 II is going on sale from the 26th of September, from all GFX stockists and directly from Fujifilm.
Fujifilm GFX100 II technical specifications
| | |
| --- | --- |
| Sensor | 102MP medium format |
| Lens mount | Fujifilm G mount |
| ISO Range | ISO40-102,400 (extended) |
| Continuous shooting | 8fps (electronic shutter) |
| Video recording | 8K/30p (1.42x crop) |
| Screen | 3.2in, 2.36m-dot tilting LCD |
| Viewfinder | 0.64in, 9.44m-dot OLED |
| Storage support | SDXC, CFexpress Type B |
| Connectivity | USB-C, HDMI, Ethernet, Wi-Fi, Bluetooth |
| Dimensions | 152x117x98.6mm, 1.03kg (with EVF, battery & memory card) |