Fujifilm GFX100S review
It's medium format with minimal headaches from this 102MP maestro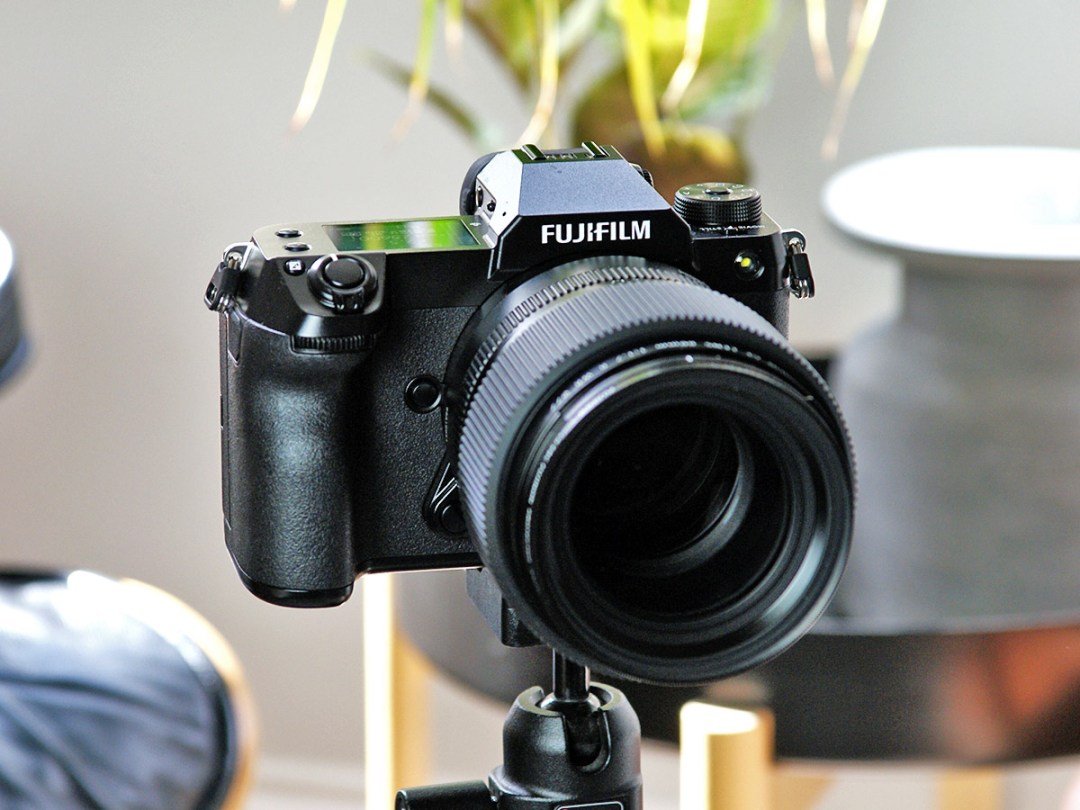 Medium format cameras have never been renowned for their user-friendliness. Bulky, eye- wateringly expensive and rarely possessed of the planed-down, finely honed niceties you'd demand from a mirrorless or DSLR model, they're traditionally tough to live with – but totally worth the pain once you see the glorious photos their giant sensors are capable of producing.
Fujifilm's latest GFX camera bucks the trend (well, mostly). It's compact and lightweight by medium format standards and is packed with features like in-body image stabilisation and fast, accurate phase-detection autofocus that make it operate in much the same way as the company's consumer-focussed X-series mirrorless models.
You could call it a point-and- shoot medium format, we suppose – even if the five grand-plus price tag is still a sticking point. Having spent a couple of weeks in its company, we're almost ready to sit our bank manager down and beg for the loan we need to obtain one for keeps. Read on to find out why the GFX100S is a medium format camera with max appeal.
Design and build: Small for a medium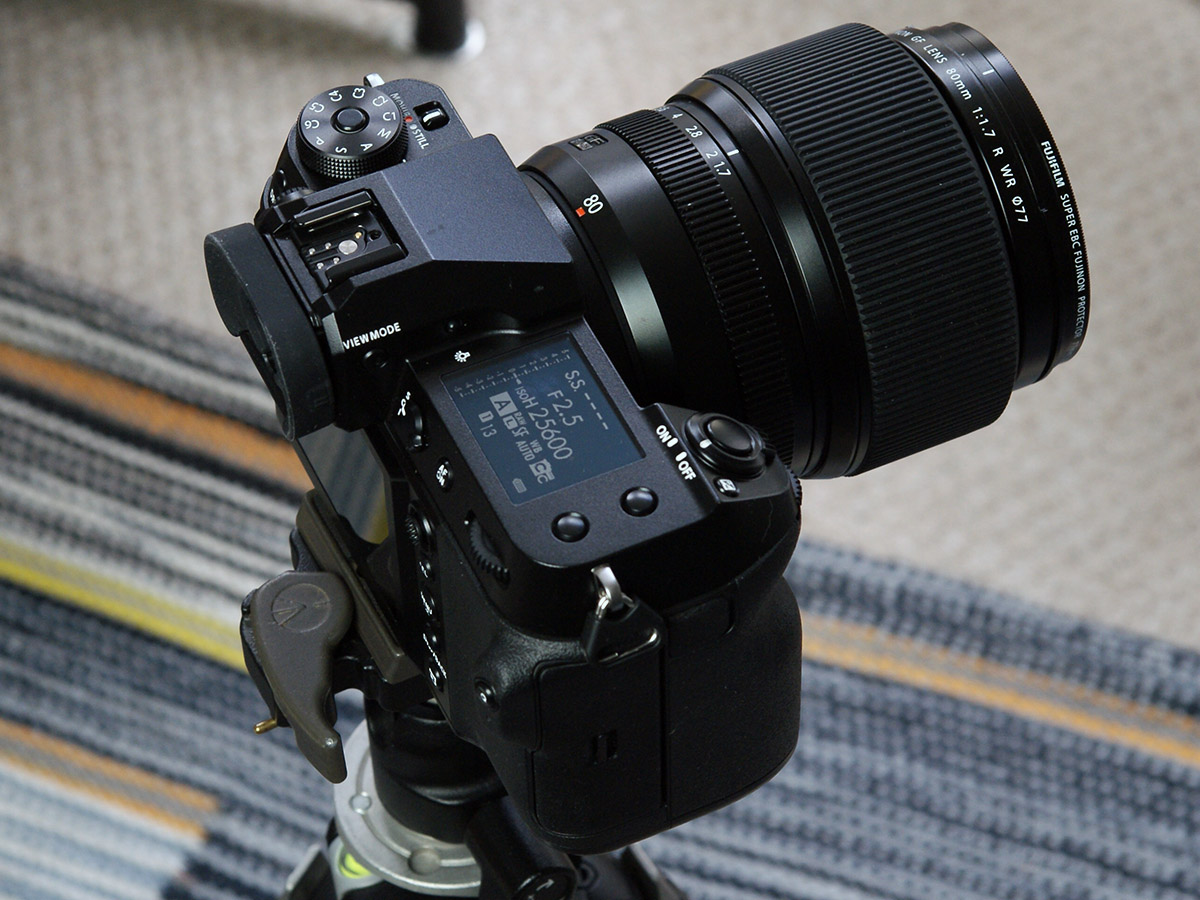 Weighing only 900g without a lens (but including its battery and a memory card), the GFX100S is 500g lighter than the flagship GFX100 (Fujifilm's other 102MP medium format model, priced at £10,000). It's also 30 percent smaller by volume thanks to a significantly lower height and a slimmer frame, and the only real trade-off is the loss of the integrated vertical battery grip – something which most consumers, I'd wager, don't really want. Fuji appears to be banking on that assumption too, with no plans to release its own battery grip accessory for the new camera.
Battery grips allow you to fit more batteries in a camera and hold it more steadily in a vertical orientation, so there's definitely an advantage to having one in certain situations – but we prefer the portability of the slimmer, lighter GFX100S. To be able to take it outside and spend a few hours walking around and shooting 102MP images without feeling like you need a neck replacement afterwards is a huge deal. It's still a chunky camera (particularly with a lens attached, GFX lenses being mostly quite large and heavy), which helps you get a good firm grip on it, and it's still weather-proof.
Like the GFX100, the GFX100S has a 3.2in three-way tilting touchscreen on the back. It won't flip fully forward, but will tilt slightly to the right as well as up and down. We found that flexibility useful in certain situations, such as when the camera was on a tripod, as it meant we didn't have to stoop to compose shots. A vlogger would want a forward-flip screen, of course, but we can't imagine many vloggers considering a camera this big or expensive for documenting their ramble-chats.
There's an electronic viewfinder too, and very nice it is – although not quite as sharp as the interchangeable viewfinder on the GFX100. Both cameras have a useful top-plate LCD panel, giving at-a-glance info on current settings – even when the camera is powered down.
Features and performance: Swift and stable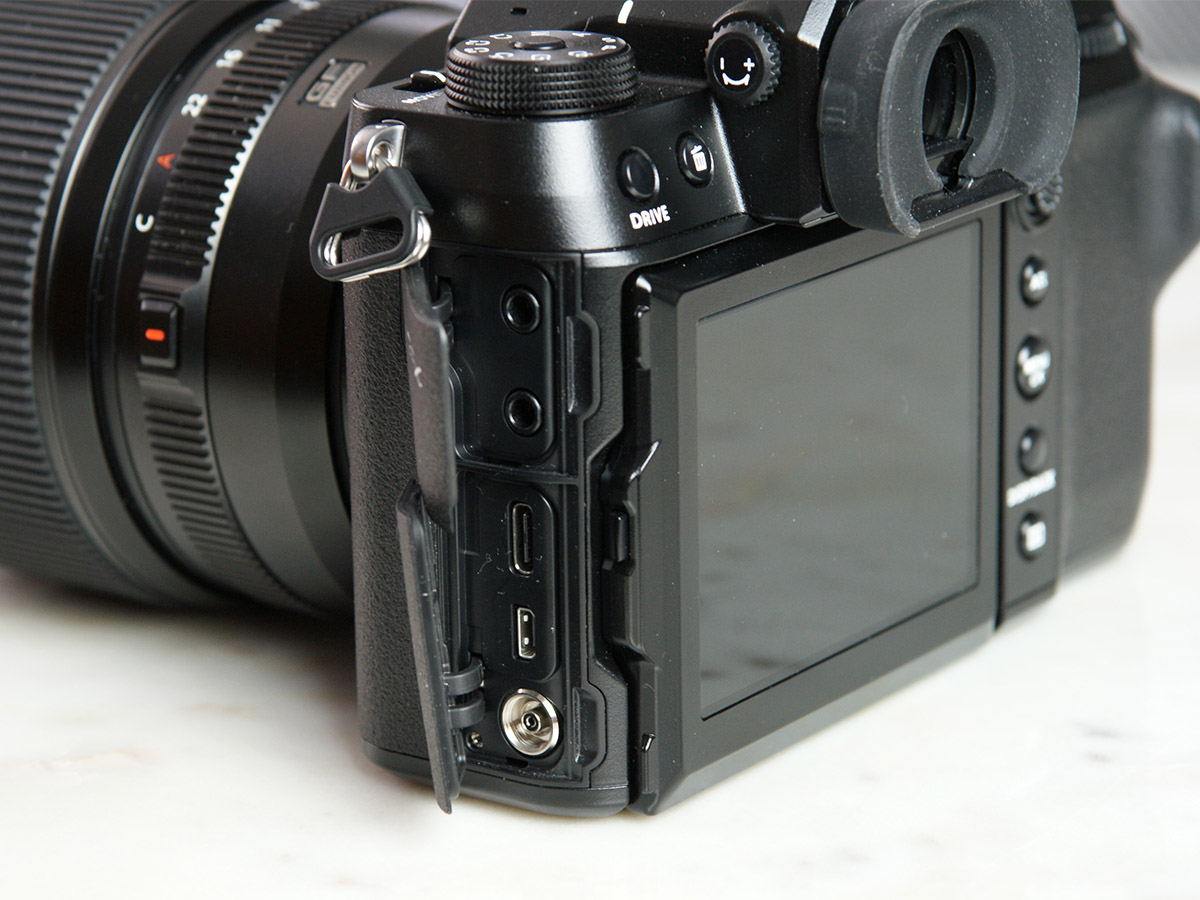 Having in-body image stabilisation in a compact medium format body is impressive in itself, but the system here has actually been improved over the one in the much larger GFX100.
The GFX100S's IBIS has 6 stops of compensation to the GFX100's 5.5, and Fujifilm claims the real-world advantage will be equivalent to an entire stop when using some lenses.
Without having a GFX100 handy to compare the two, all we can say is that the GFX100S's system is great for handheld shooting with both photos and videos – and when you're capturing images with this much detail, that extra sharpness from IBIS is really appreciated.
The camera uses a hybrid autofocus system combining phase-detection and contrast- detection modes, and we found it both fast and accurate in general use. While we suspect it's less brisk than full-frame and APS-C mirrorless cameras, it's very quick considering the size of the sensor.
You can switch on face and eye detection to aid you with portraits, and they also work well when capturing video: you can move in and out of the frame and the AF will swiftly find your face and keep it in focus.
Battery life is excellent, with a full charge providing enough power for around 450 shots or an hour of 4K video recording.
Image quality: MF Boom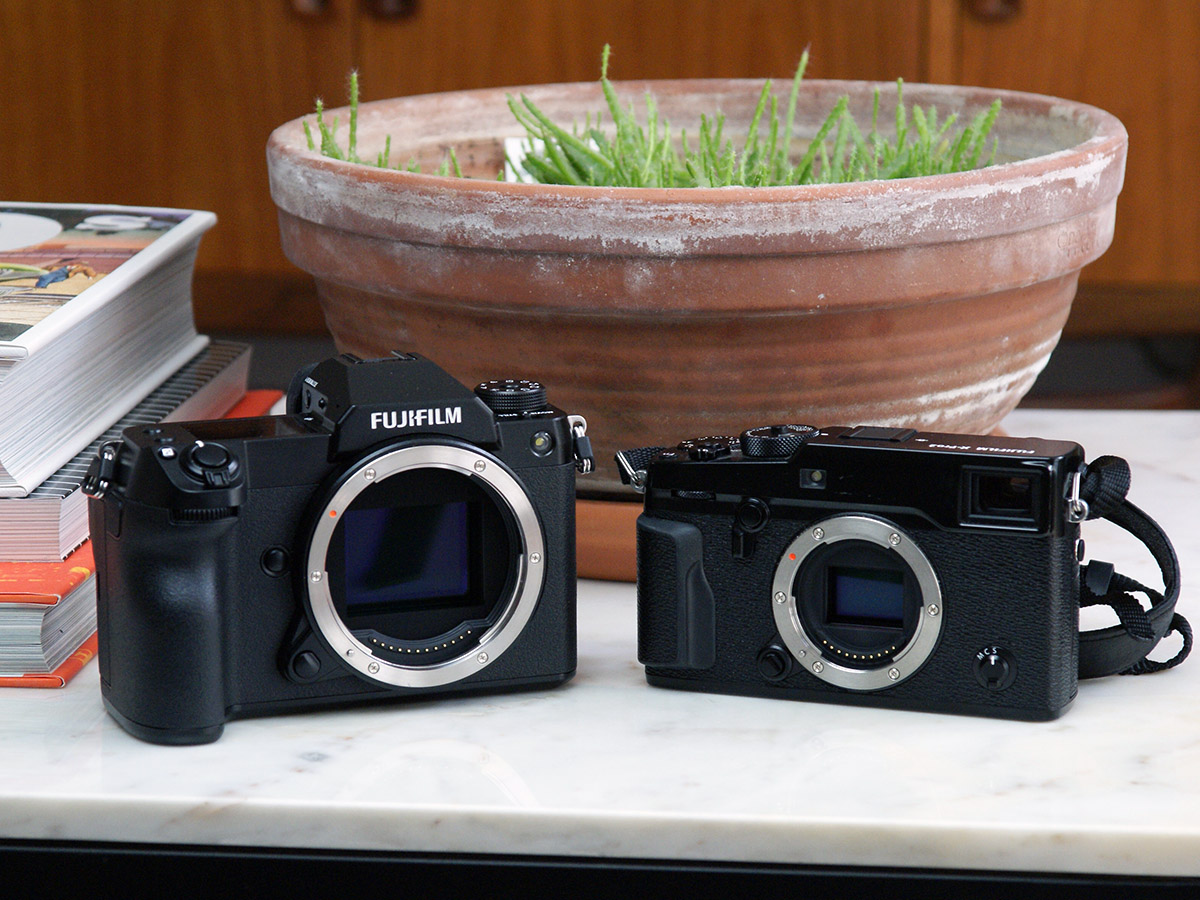 The 102MP 43.8 x 32.99mm sensor here is exactly the same one used by the GFX100, and it's quite something. Paired with a high quality lens (I received two with my review sample: the new 80mm F1.7 prime and the standard 32-64mm F4 zoom, priced at around £2,100 and £2,150 respectively), it creates hugely detailed images with beautiful colour tone, strong dynamic range and (particularly with the 80mm F1.7) an incredibly narrow depth of field.
Taking full length portraits with bokeh isn't easy to achieve on an APS-C or even full- frame camera; it is with the GFX100S.
All these sample images were shot in RAW before being adjusted in Adobe Lightroom and exported, but JPEG photographers have access to a range of impressive Film Simulation modes for instant in-camera processing. There are 19 of these in all, including the new Nostagic Negative, apparently inspired by the amber-toned work of 1970s American photographers like William Eggleston and Stephen Shore. We've always liked Fujifilm's approach here: the modes let you quickly achieve great-looking, characterful images straight out of the camera.
Of course, photography is only half the story these days, and the GFX100S is also a very capable video camera, able to record 4K footage at up to 30fps and 1080p at up to 60fps. Individual clips can last up to 120 minutes (twice that offered by the GFX100), and many of the Film Simulation effects can be applied to videos too. If you prefer, you can also shoot in Hybrid Log Gamma or FLog for easier colour correction in post-production. I've made a short 4K/24p video to demonstrate the sort of detail you can expect, as well as show how effective the IBIS is during handheld video capture.
Fujifilm GFX100S verdict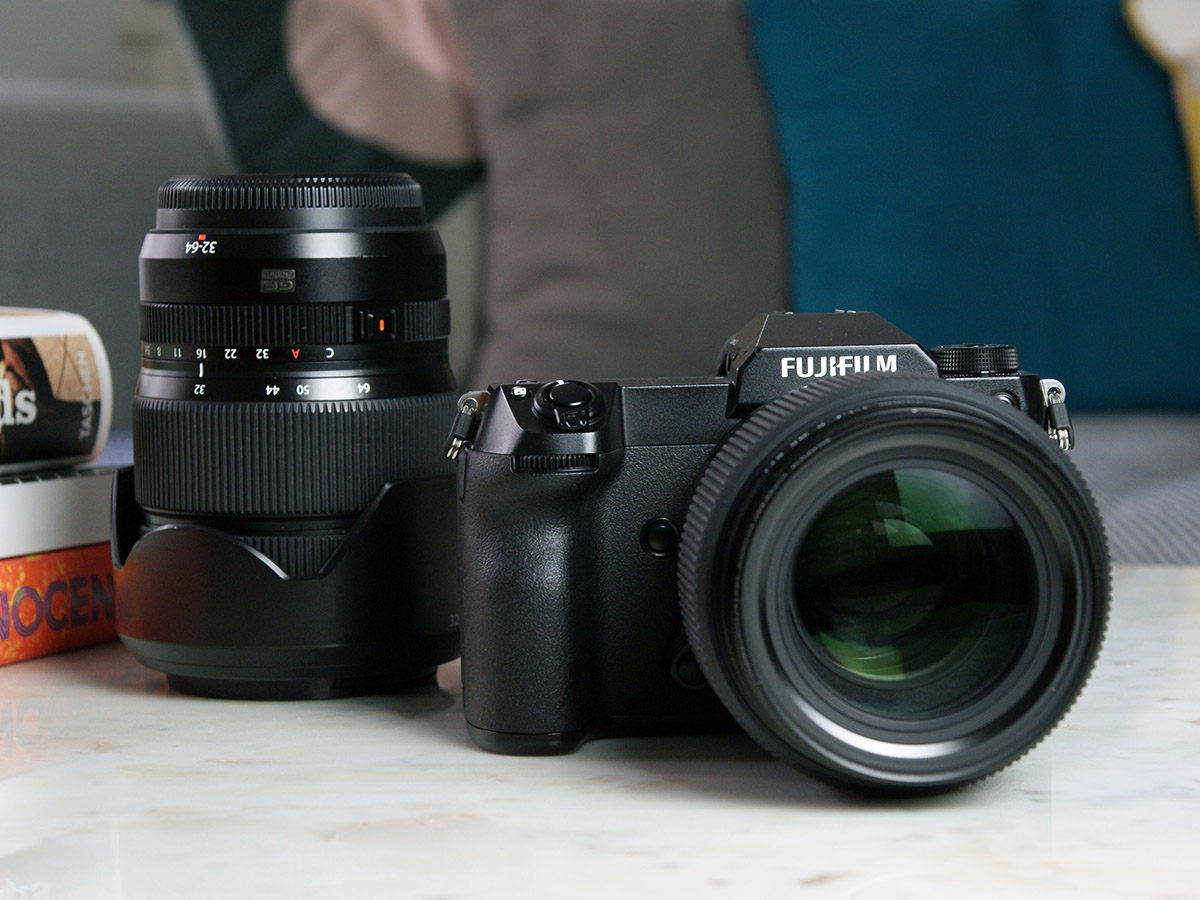 To have features such as fast, accurate autofocus and in-body image stabilisation in an easily portable 102MP medium format camera would have been unthinkable just a few years ago, and if such things existed we suspect they would have set you back a lot, lot more than £5,500.
The GFX100S is arguably the most accessible 100MP+ digital medium format camera yet, while offering the stellar dynamic range, detail and narrow depth-of-field associated with the sensor size.
That said, it's still £5,500 (without a lens) and bulkier than a full-frame mirrorless model, so we're not about to suggest this is a camera for the average consumer, or even a demanding enthusiast with a bit of money to burn. That kind of person may well get better mileage from ploughing those funds into a cheaper premium camera from Sony, Canon or Fujifilm's own X-series and a range of lenses – as the bump in quality you get from the GFX100S is something only the most perfection-seeking of pro shooters will require.
Tech specs
| | |
| --- | --- |
| Sensor | 102MP BSI medium format |
| Lens mount | Fujifilm G mount |
| ISO range | 50-102400 (expanded) |
| Continuous shooting speed | Up to 5fps |
| Video recording | 4K up to 30fps, 1080p up to 60fps |
| Screen | 3.2in TFT touchscreen, 2.36m dots |
| Viewfinder | 0.5in OLED, 3.69m dots |
| Connectivity | USB-C, 3.5mm mic, 3.5mm headphone, 2.5 shutter release, micro HDMI, Bluetooth 4.2, Wi-Fi b/g/n |
| Dimensions | 150 x 104.2 x 87.2mm |
| Weight | 900g (inc. battery and memory card) |
Stuff Says…
Fujifilm has made medium format accessible
Good Stuff
Superb medium format images
Half the price of the GFX100
Compact, lightweight design
User-friendly features
Bad Stuff
Still expensive for a camera!