Asus ZenFone AR review
AR and VR, together 4EVA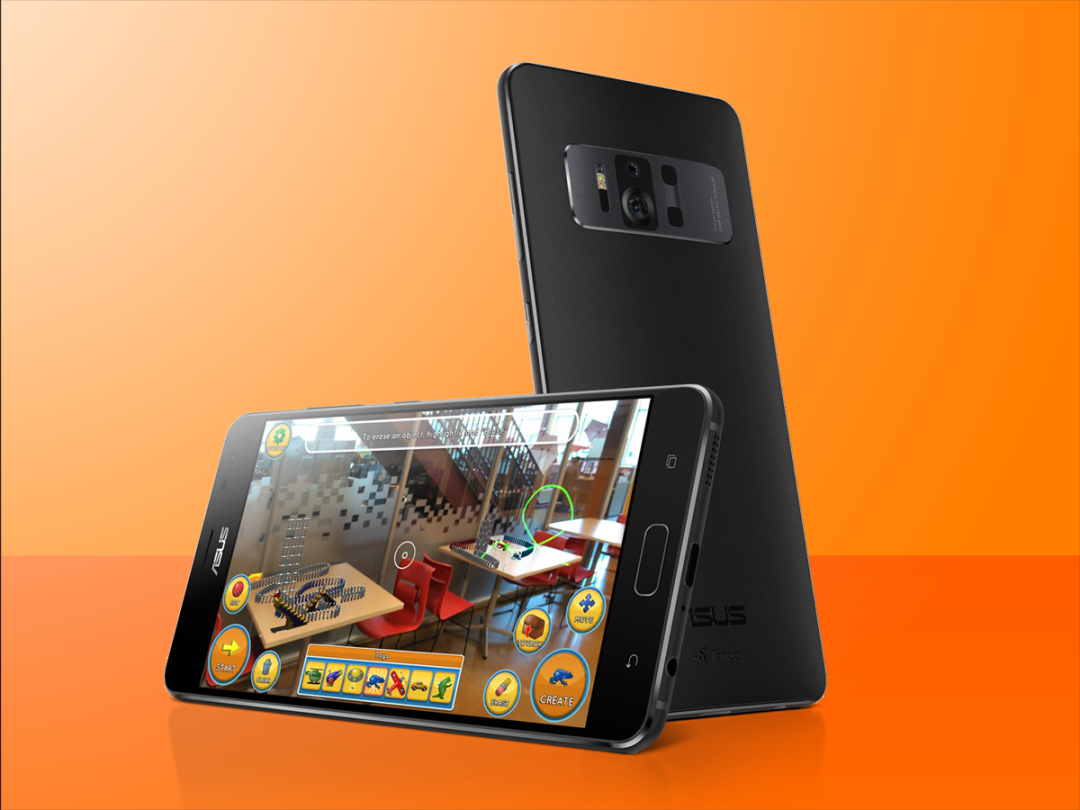 Tango and Daydream. Sounds like a crime-fighting detective duo from the 1980s, right?
Wrong. They're actually the two most exciting words in Google's smartphone master plan. Y'see, Tango uses augmented reality to bring the virtual world to life, while Daydream's VR antics can plunge you right into it.
They've each made appearances in some of 2017's biggest phones, but have never shown up as a pair. Until now. Asus has squeezed Tango's camera-centric AR tech into the ZenFone AR, then added support for Google's snazzy Daydream View headset, for the best of both (virtual) worlds.
Before you get lost down a virtual rabbit hole, though, the ZenFone AR has plenty going for it.
DESIGN & BUILD: HELL FOR LEATHER
Lenovo might have been first out of the gate with a Tango-ready phone, but the Phab 2 Pro was a 6.4in monster – you needed fingers like yardsticks to use it. The ZenFone AR is far easier to handle.
OK, so it's not exactly a featherweight at 170g, but that's light enough that you won't need a neck massage after a Daydream View session.
That's partly down to the leather-like back, which ditches metal for a lighter, grippier finish. With no Samsung-style fake stitching, it actually looks pretty classy, and stopped butterfingers here from dropping it on more than one occasion.
The main, depth-sensing and motion-tracking cameras are all clustered together at the top of the phone, away from where your fingers grip the phone so they don't block the sensors Tango needs to function.
A metal frame keeps everything sandwiched firmly together at the sides, but now that the Galaxy S8 and LG G6 have started banishing the bezels, the ZenFone's chunky screen surround up front is looking a little out of date – even if it does leave room for a handy fingerprint sensor beneath the display.
At least the USB-C port on the bottom feels more 2017 than 2007.
SCREEN & SOUND: OLED ALL THE WAY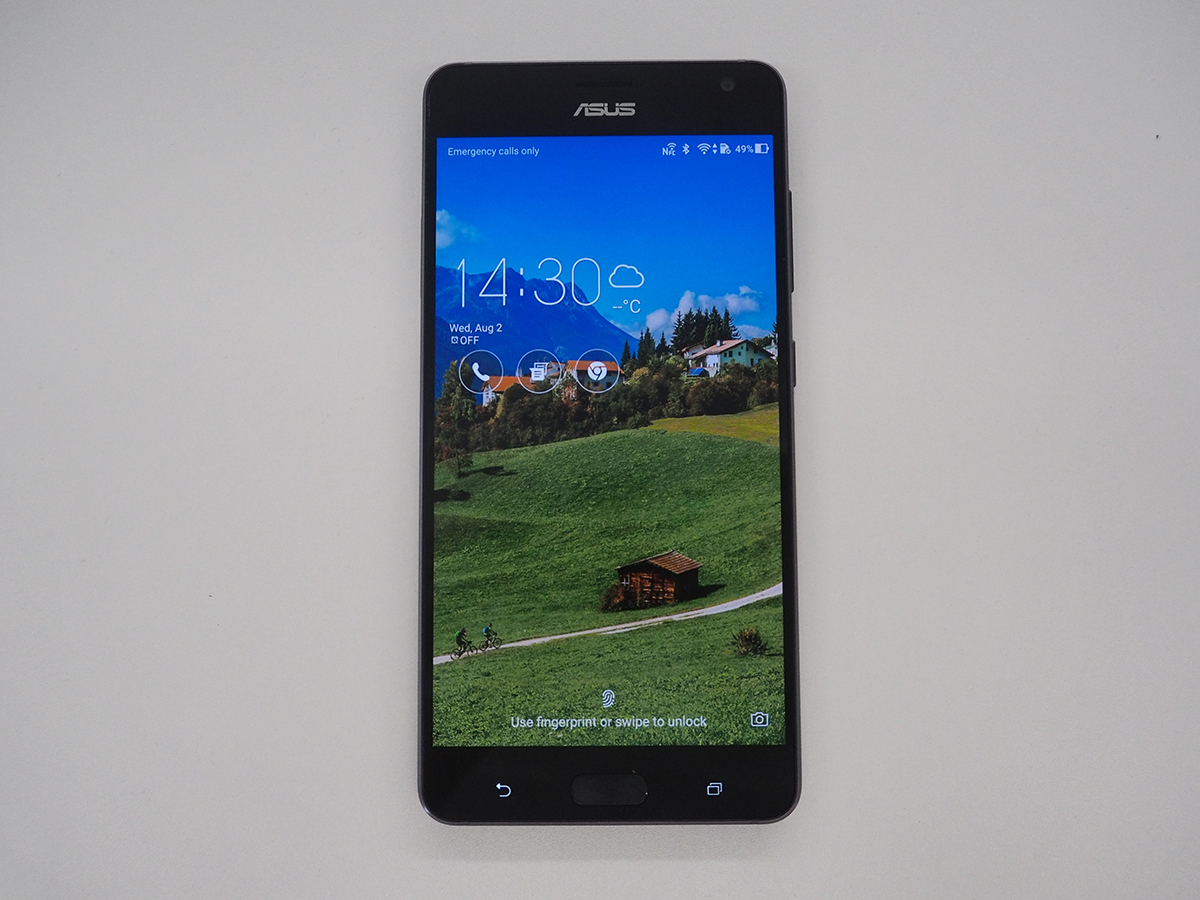 It might not have any fancy curved edges or ultra-skinny bezels, but the AR's 5.7in screen still makes a good impression. Asus has gone with AMOLED tech, because Google insists on it for Daydream – and the same goes for that QHD resolution.
Everything looks super-sharp, as you'd expect from a 2560×1440 panel, and contrast is superb. Games and videos have deep, inky blacks, whether you're watching normally or in VR.
Colours are vibrant, without being overly saturated, which helps keep your photos looking natural and lifelike. Viewing angles are ace, and it can even crank the brightness high enough to be seen clearly when you're out in the sun.
There's a blue light filter, so you aren't kept awake after any late-night social media scrolling, and you can tweak the colour temperature if you want to, but the default setup is difficult to dislike.
It's every bit the premium screen, which is exactly what you'd expect from a top-spec phone.
The single speaker does a great job with podcasts, YouTube videos and even Netflix streaming shows, but you'll still want to plug a pair of headphones in for any critical listening. Good job Asus has found space for a 3.5mm headphone port, then.
PERFORMANCE & BATTERY LIFE: LAST YEAR'S MODEL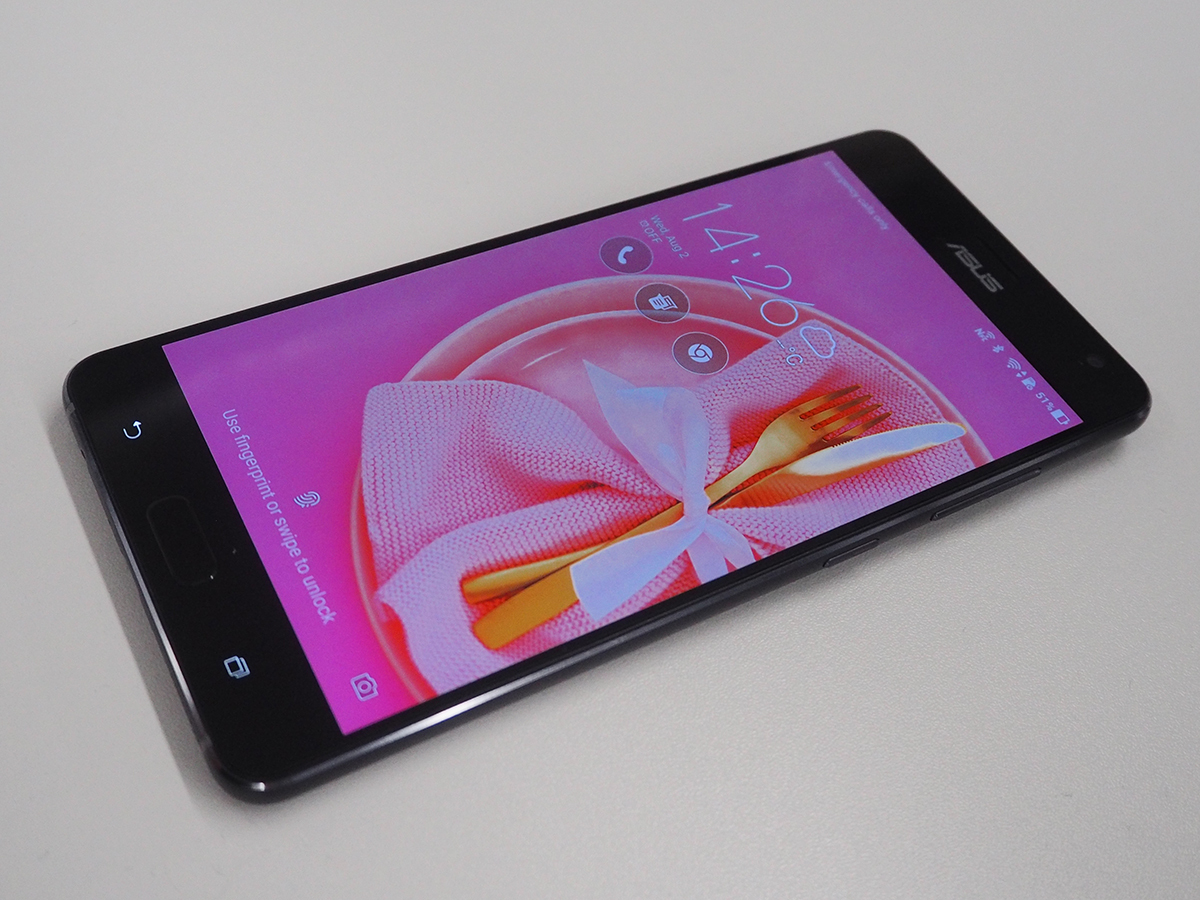 When the ZenFone AR first showed up, the Snapdragon 821 CPU it was rocking was cutting-edge. Now, though, it's been superceded by the quicker, more efficient Snapdragon 835.
Are you going to notice the difference? Nah, probably not – Android 7 feels plenty smooth, and the quad-core chip still rocks along at a healthy 2.35GHz. There's no stutter or lag when swiping between homescreens, and demanding 3D games like Asphalt 8 tick along at a healthy frame rate.
On paper, the ZenFone AR is behind the times, but it can still run with the rest of the Snapdragon 835-equipped crowd.
The UK-spec handset we tested has 6GB of RAM, which is more than enough for swapping between a handful of apps. Games, VR apps and AR experiences load pretty quickly, too. 64GB of on-board storage leaves plenty of room for your own downloads, and there's a microSD card slot for adding more later if you run out.
The one downside to using last year's chip is efficiency. The 821 uses more power than the newer 835, so the 3300mAh battery will drain a little quicker compared to its rivals.
You'll still get a full day of use if you stick to web browsing, Facebook and music streaming, but only just. If you're planning on hitting virtual reality hard, you'll be out of juice in just a couple of hours.
AUGMENTED REALITY: IT TAKES THREE TO TANGO
The ZenFone's raison d'etre, at its most basic, measures the space around you, then plonks virtual objects in that 3D space for you to move around and interact with on your phone. Without having to pop on a headset.
Google's vision of augmented reality goes a lot further than a simple SnapChat Lens or Pokemon Go's simple overlay, though. It uses the main camera, a second motion-tracking cam and a third depth-sensing sensor to accurately measure your room. This spacial awareness lets it give the impression that the BMW i8 sportscar you've just dropped into your living room really is there.
It works brilliantly, with no tracking issues as long as you've got enough space around you to move freely. Sure, the phone gets a little toasty after a while, but that's hardly a deal-breaker.
Here's the worry, though: all the demos and apps that come pre-installed on the Zenfone AR are the same as the ones that rocked up on Lenovo's Phab 2 Pro – which launched over six months ago. There aren't many new ones in the Play Store, either.
Testing out new Ikea sofas before you lug one home from the store is cool and all, but more apps and games are needed before a phone like this becomes a must-buy. But that won't happen until more phones like this are on sale – it's a real chicken-and-egg headscratcher.
VIRTUAL REALITY: DREAM A LITTLE DREAM
Slot the phone into a Google Daydream View headset and it works perfectly as a VR device too. Games and apps run perfectly, using the ZenFone's sensors to accurately track your head movements.
It doesn't do anything different from the other Daydream-ready phones we've tried, but that's kinda the point – Google creates the ecosystem and everyone else just makes the hardware to run it.
There's a growing number of VR apps and games out there, and now that Samsung's newest Galaxy phones play nicely with Daydream too, expect plenty more to show up later this year.
CAMERA: PIXEL POWER
When you're not using it for AR, the ZenFone's main camera is pretty handy when it comes to actually taking photos. It pairs a 23MP Sony sensor with an f/2.0 lens, phase-detect AF and 4-axis optical image stabilisation, which should help out when light levels drop.
It's nice and fast when snapping pics in Auto mode, with an app that doesn't overload you with icons and menus. The more advanced stuff, like the picture-stitching Super Resolution mode that takes 92MP photos, a full manual mode, and a software-controlled depth blur, are just a tap away.
Outdoors and in bright light, our test shots packed in plenty of detail, with realistic and accurate colours. Zoom in and you'll still spot the limitations, but this is more down to processing than the hardware – bigger names like Google, Samsung and HTC still have the edge here.
Low-light performance is pretty decent, but noise starts to creep in early and detail levels drop. It doesn't quite challenge the Google Pixel, Galaxy S8 or iPhone 7 Plus for quality, but it's up there with the OnePlus 5 and the best of the rest.
It's a similar story with the 8MP selfie cam – details are there, colours are on point and contrast is fine, but you won't be blown away by your shots. Unless you really like beauty modes, anyway, which the ZenFone has in spades.
ANDROID & SOFTWARE: ANYTHING BUT ZEN
Asus has given Google's stock OS a thorough makeover, with all-new icons, a colourful notification tray and your choice of app drawer or multiple homescreens full of apps. And when I say full, I mean FULL.
The AR is packed with pre-installed apps and games, including some dedicated to AR and VR, but a handful of others that you'll probably never use. It's messy, and not all of 'em can be deleted to free up space. Annoyingly.
That's a shame, because underneath all the bloat, there are some genuinely useful software tweaks. The energy-sapping AMOLED screen lets Asus borrow a trick or two from Samsung, with an always-on display that puts the time, date and notifications front-and-centre even when the AR is in standby.
It doesn't take much effort to swap out the default theme for something more to your tastes, and Asus has added plenty of options to customise the look and feel, but it'll take some learning to work out where every setting and feature is hidden away.
ASUS ZENFONE AR VERDICT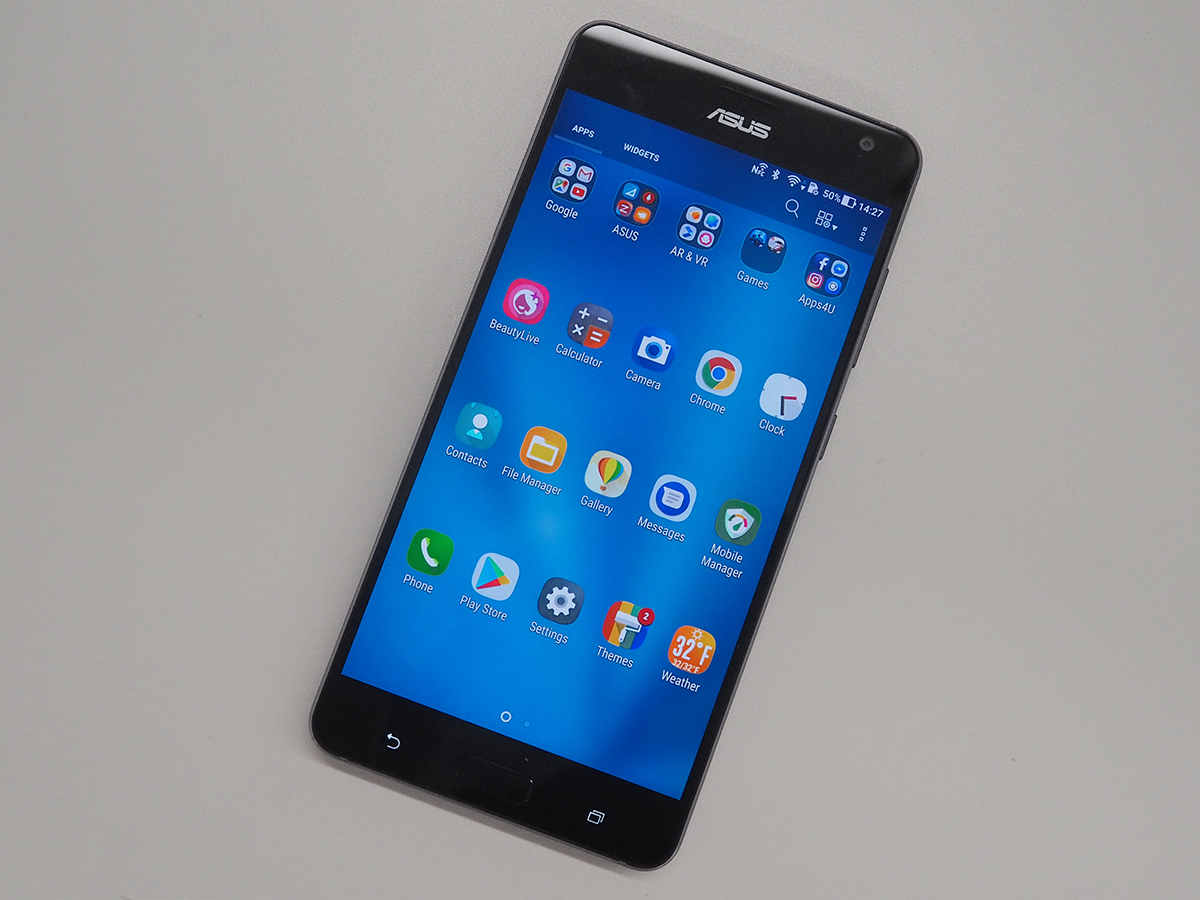 Even without that double whammy of augmented and virtual reality, the ZenFone AR is every bit the premium phone. It's got a great screen, plenty of power, and a competent camera.
It's not the first Tango-ready phone – but it is the first you'll actually want to use. Lenovo's Phab 2 Pro was a hulking monster of a handset, whereas this slips perfectly into a pocket. Grab a Google Daydream View headset to go with it and you've got one seriously feature-packed phone.
The only problem is whether AR will be worth paying big bucks for. All those extra cameras aren't cheap, and if you don't plan on using the tech, the ZenFone AR is undeniably expensive. It's also using an older-gen CPU, and camera quality isn't quite up to scratch compared to the other big-name phones doing the rounds right now.
Still, if you want to live on the bleeding edge of AR and VR, this puts both in your pocket – even if it comes at the expense of other aspects of the phone.
Tech specs
| | |
| --- | --- |
| SCREEN | 5.7in, 2560×1440 AMOLED |
| CPU | 2.35GHz Qualcomm Snapdragon 821 quad-core |
| MEMORY | 6GB RAM |
| CAMERA | 23MP, f/2.0 rear w/ OIS, PDAF, LED flash. 8MP, f/2.0 front |
| STORAGE | 64GB on-board, microSD expansion |
| OPERATING SYSTEM | Android 7.0 Nougat w/ ZenUI |
| BATTERY | 3300mAh non-removable |
| DIMENSIONS | 159x78x9mm, 170g |
Stuff Says…
A cool combination of VR and AR in one package, but expensive as a result – and feels a little behind the times in other areas
Good Stuff
Augmented reality and VR in one pocketable package
Gorgeous AMOLED screen
Competent camera
Bad Stuff
Outdated (but still quick) CPU
Cameras that enable AR unavoidably pricey
Custom Android UI is a little overbearing