Apple Watch Series 9 review: all in good time
Time for a change? Not with this update, which nets you a great device but one with few surprises over the Series 8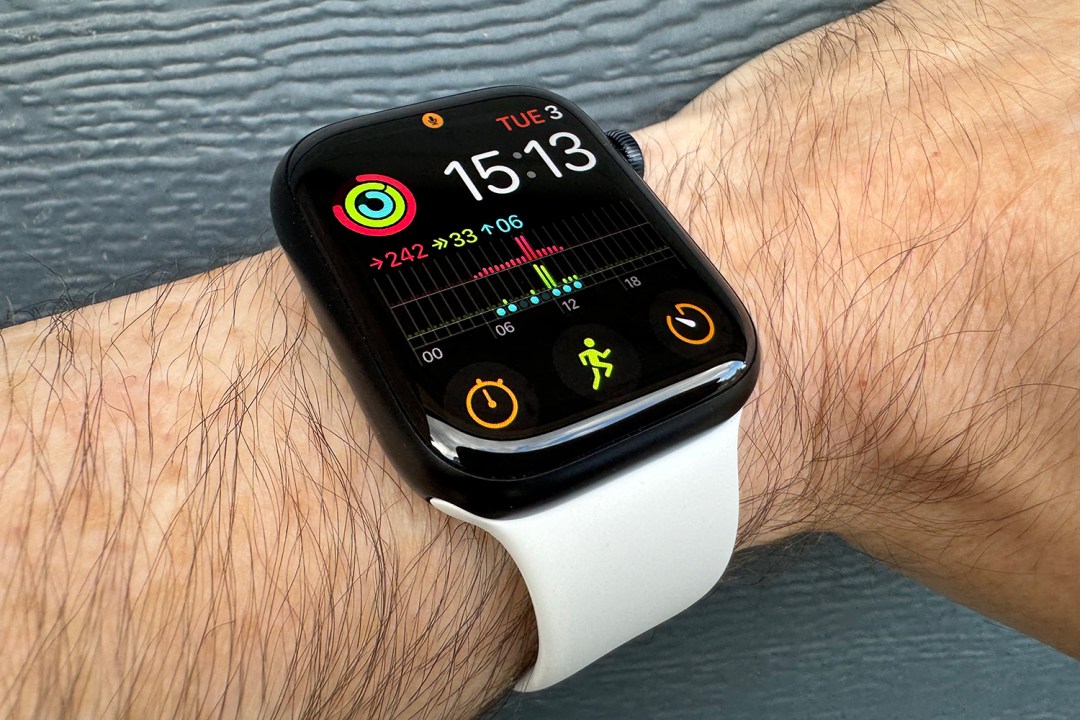 Stuff Verdict
Another year of gentle tick-tock iteration. But for newcomers, the speedier S9 chip will give this watch longevity over the SE, and one-handed double-tap shows promise.
Pros
Brighter display
More powerful SiP
Your bands still fit
Double-tap should be great…
Cons
… But it's not there at launch
Battery life no better
No big reason to upgrade
Still requires an iPhone
Introduction
Apple releases new hardware like clockwork. The Apple Watch Series 9 smartwatch rocking up at the September event was no surprise.
But neither is much of what you find when using this wearable, which feels an awful lot like the Apple Watch Series 8.
That all said, watches aren't designed to be upgraded annually. And it wouldn't be a new Apple Watch without at least some meaningful changes. So what are they, and are they enough to convince you to part with 400 bucks and up? Let's find out in the Stuff Apple Watch Series 9 review.
How we test wearables
Every smartwatch and fitness tracker reviewed on Stuff is worn 24/7 throughout the testing process. We use our own years of experience to judge general performance, battery life, display, and health monitoring. Manufacturers have no visibility on reviews before they appear online, and we never accept payment to feature products.
Find out more about how we test and rate products.
Design and display: One more time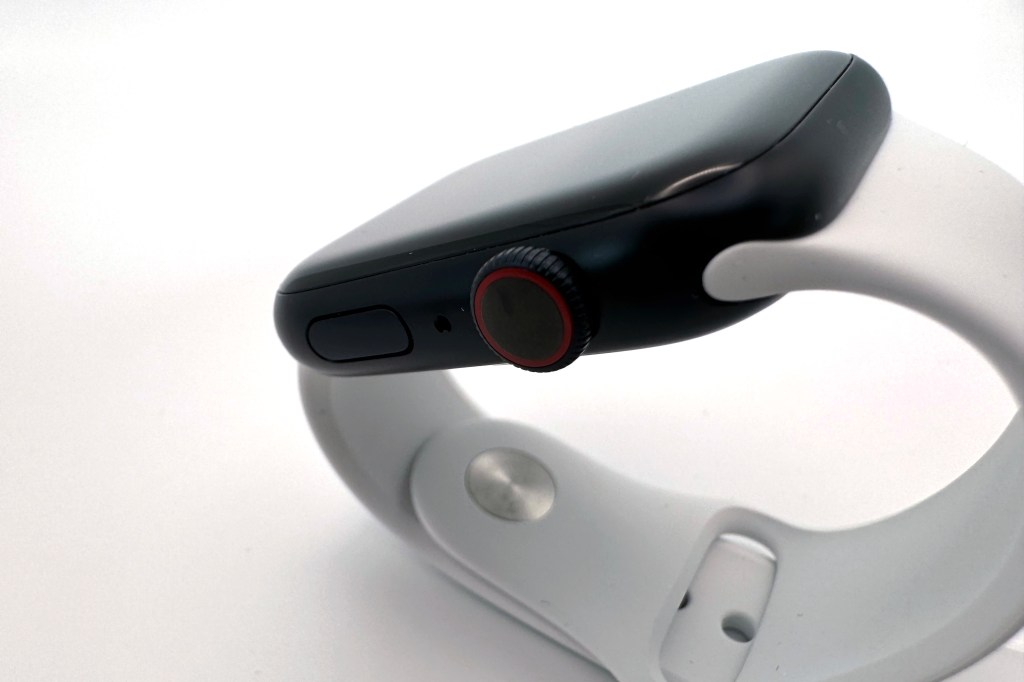 Did you like the 2021 Apple Watch redesign for the Series 7, which was also used for the Series 8? Good, because that's what you get here. The case outwardly appears the same – a slightly chunky piece of tech, but with enough design smarts to not look clunky. It's amiable. I still rather like it. But the lack of change also means no Action button from the Apple Watch Ultra – or, indeed, new iPhones. Boo. That's one of my favourite Apple features in recent years.
So what has changed? Two things. First, the display has been upgraded. It now maxes out at 2000 nits outside – double what its predecessor managed. And it drops right down to 1 nit when in Sleep Focus, which means it didn't fry my retinas when I was trying to snooze. I appreciated that.
The other change is environmental, with some Apple Watch versions now getting a 'carbon neutral' badge. Apple talks about this on its website. Since Stuff lacks a team of environmental specialist investigative journalists to dig into the details, I'll just say it's good Apple's trying to be greener. And add that regularly buying new gadgets perhaps isn't the best way to actually be green.
Give us all an Apple Watch that can last a decade and then we'll talk.
Performance and battery: Beat the clock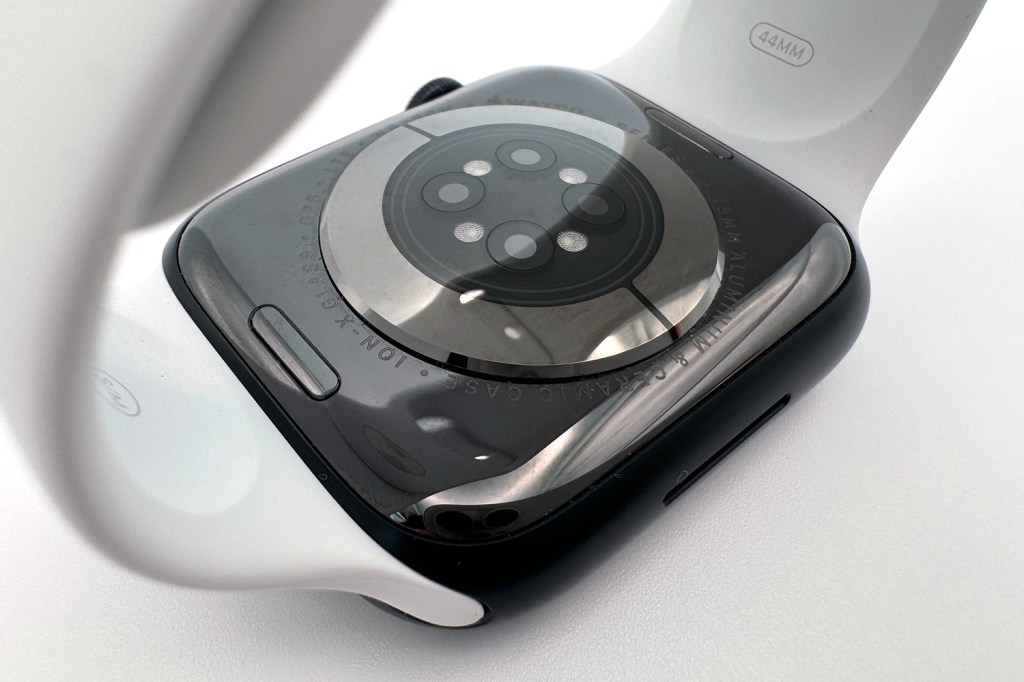 Although Apple incremented the number of its Apple Watch SiP (System in a Package) for the past couple of years, the guts of the system have remained fundamentally unchanged since the Series 6. This year, Apple's talking about the S9, which suggests there's finally something big to say .
In short, it's faster. How much? Apple's keeping quiet on that, but states the CPU has 60% more transistors, the GPU is up to 30% faster, and machine learning tasks can be done in half the time. In daily use, I found this doesn't amount to revolution, but it did make for a snappier experience. And it enables new features I'll get to in the next section of this review.
Elsewhere, storage is up (64GB vs 32GB), which means more on-board media. The device remains tethered to iPhone, though, which is one of my long-running gripes about the thing. Also annoying: the 18 hours 'all day' battery life hasn't gone up, and you can put a serious dent in that with, for example, hour-long swims.
Apple paints the Series 9's battery life matching the Series 8's as positive, given that the device can do more than its predecessor. But it feels disappointing in a world where some rivals don't need you to keep one eye on a charger. That said, during testing I only a couple of times hit low battery mode. That was quite deep into the evening and on atypical days in terms of exercise.
Features and fitness: Keep a close watch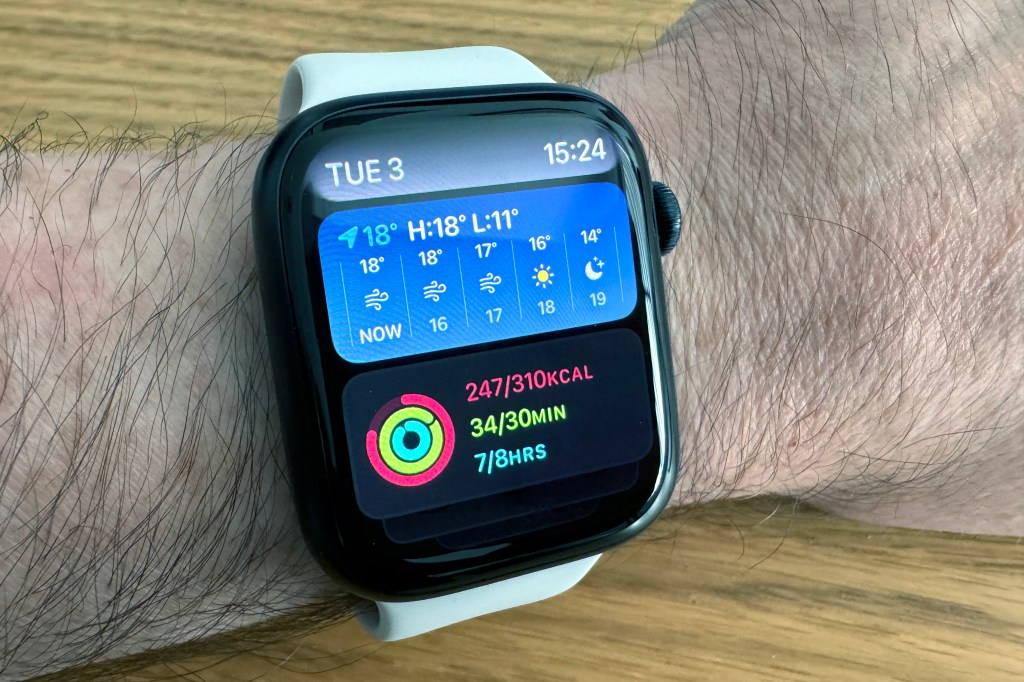 The really good stuff found in previous Apple Watches, such as the many sensors, remains. Apart from some gestures. Apple's messed with those for watchOS 10 and now a bunch of them do different things. Swiping up now shows a Smart Stack of widgets rather than Control Centre, which has been assigned to the Side button. The Dock's gone – as is swiping between faces. You now long-press and switch, like on iPhone. This is great if you used to accidentally switch faces. It's maddening if, like me, you liked to very frequently move between them. Apple really should have provided an option in Settings.
There is also one big and entirely new gesture – one-handed double-tap. It's arguably the most exciting thing about Apple Watch Series 9. Which makes it a pity the feature is not available at launch. I'll update this review once I've actually tried it.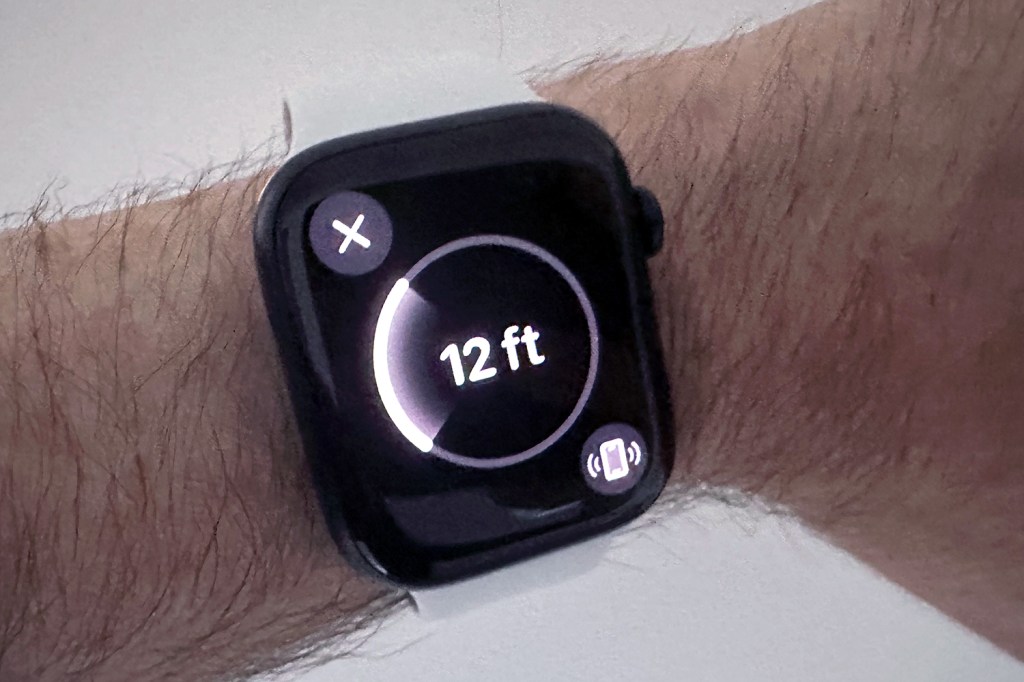 Other than that, the new Ultra Wide chip makes finding an iPhone with the same chip (as in, any iPhone 15) as easy as being directed to an AirTag. On-device Siri claims to make Apple's assistant more responsive too, although face-offs during testing against an Apple Watch Series 8 proved inconclusive.
Apple also mentions HomePod media controls. When you get close to your HomePod, media suggestions should appear at the top of the Smart Stack; or if audio is playing, you'll see a Now Playing controller. The former resolutely refused to happen with my three HomePod Minis (all running the latest OS). The latter worked well – but it did on my Series 8 too. So: shrug.
Apple Watch Series 9 verdict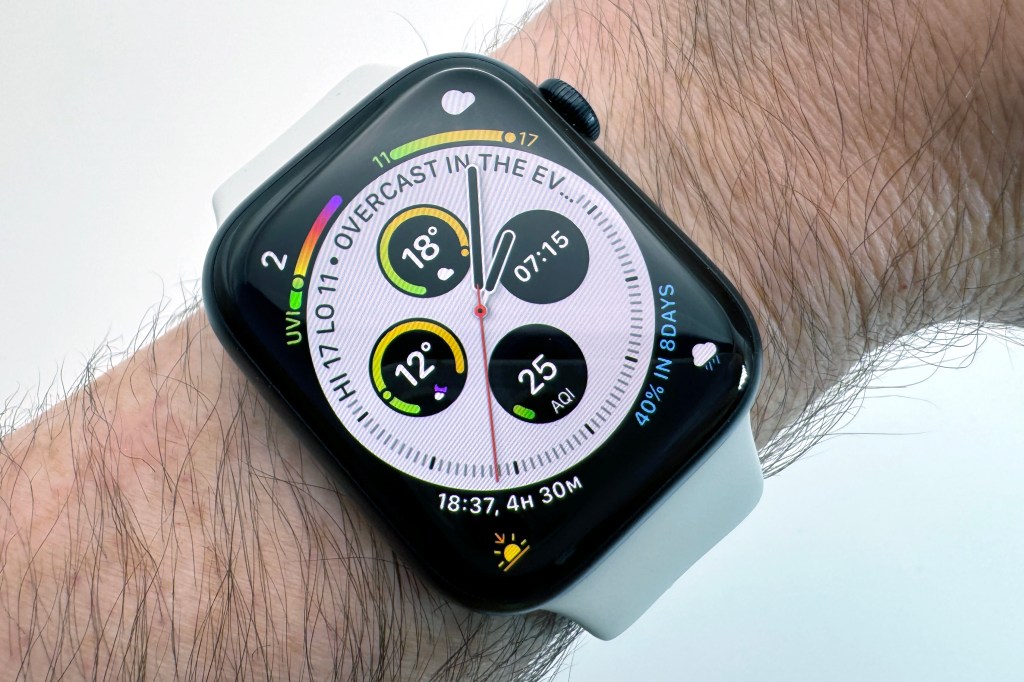 The Apple Watch Series 9 is a top-tier smartwatch. It's usable and capable. It looks good. There are plenty of apps and even some games that are worth installing. And it has added oomph from the new SiP that should give it a year of extra life over the unchanged Apple Watch SE, when it comes to properly meaningful use and updates.
What it isn't: a top-tier update. Mostly because there's little to say. One-handed double-tap might move the needle. However, I find it hard to believe many people will flock to a device for a gesture, even if it would mean their other hand could remain busy dealing with a TV remote, a cup of coffee, or a comically large doughnut.
Last year, Stuff 'man in the big chair' Dan Grabham called the Apple Watch Series 8 a "very worthy upgrade" from a Series 4 or earlier, but suggested anyone with a more recent device wouldn't find it worth moving up. It's a similar picture today. If you're new to Apple Watch, the Series 9 is an excellent place to start. If you've a Series 8 or Series 7, I'd say forget it. And if you've a 6 or 5 that's working well, maybe hang on and see whether X marks the spot where Apple Watch gets more radical change.
In short, then: newcomers should grab this greener Apple Watch. Anyone with a fully working Apple Watch under four years old should probably stay put. I imagine the environmentally friendlier modern Apple will be happy with that advice.
Stuff Says…
Another year of gentle tick-tock iteration. But for newcomers, the speedier S9 chip will give this watch longevity over the SE, and one-handed double-tap shows promise.
Pros
Brighter display
More powerful SiP
Your bands still fit
Double-tap should be great…
Cons
… But it's not there at launch
Battery life no better
No big reason to upgrade
Still requires an iPhone
Apple Watch Series 9 technical specifications
| | |
| --- | --- |
| Processor | S9 SiP with 64‑bit dual-core processor |
| Display | Retina display, 396×484 pixels (45mm), 352×430 pixels (41mm) |
| Storage | 64GB |
| Connectivity | 4G LTE (cellular models), Bluetooth 5.3 |
| Rating | 50m waterproof (WR50), IP6X (dustproof) |
| Size | 45x38x10.7mm (45mm), 41x34x10.7mm (41mm) |
| Weight | 38.7–51.5g (45mm), 32.1–42.3g (41mm) |