Apple Watch Series 7 review
Apple's yearly update has given the Apple Watch Series 7 a bigger display amid other refinements – but is it worth upgrading?
We're now well into the groove of the Apple Watch getting an update each and every year, but with that comes a challenge – is Apple really able to add enough new stuff to a wearable each year? This year, there is a key change though, with larger sizes available this time around; 41 and 45mm.
The key new feature is a larger display, but there are some other welcome enhancements, too such as a slightly rounder design and numerous software improvements in watchOS 8 with new buttons, text input options and bigger text to make things easier to use with the larger display – there are also new watch faces of course.
However, other than the display tech, the internals are very similar to what's gone before but that still means there are numerous great features such as ECG and blood oxygen monitoring as well as dust and waterproofing up to 50 metres.
Design
The Series 7 display is around 20 percent larger than Series 6 largely because of a new display tech that binds the touch sensor to the OLED panel. The bezels are also considerably thinner than on older models. It is noticeable if you've had an older Apple Watch.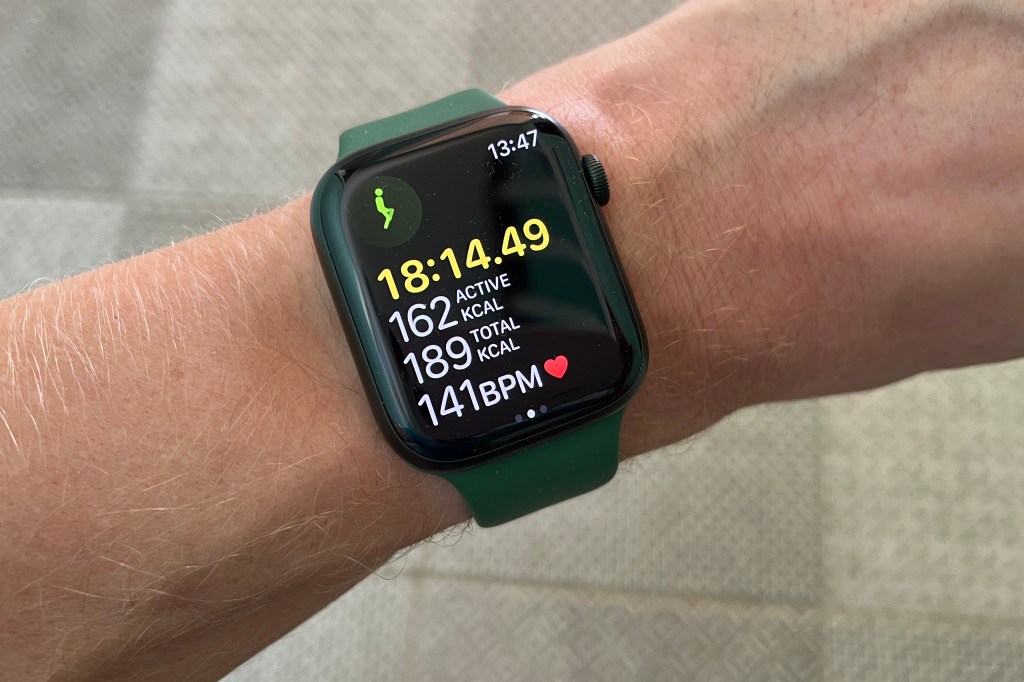 The watch is now available in more aluminium colours – midnight, starlight, green, blue and a new version of the red that was previously available. We've had the green one for review and it's surprisingly dark in appearance, not far off space grey.
Apple says the front glass (it calls it 'front crystal') is more crack resistant than before and bends slightly differently at the edges giving much more of a wraparound effect rather than just a flat screen on your wrist. Certainly, we found Series 7 to be pretty durable during sports and other tests.
Software and specs
Numerous elements of the watchOS interface have been souped up to fit the new display. Mail is one app that looks way better now. There's a full QWERTY keyboard that can now pop up should you wish. It works pretty well and is OK for tapping a mega quick missive. But you won't be typing long WhatsApps on it.
The Series 7 comes with a USB-C charging cable (no plug, natch) that powers it up in as little as 45 minutes (to 80 percent). It's very likely you'll still charge it overnight of course, but even so it's nice to have.
The Series 7 replaces the Apple Watch Series 6 entirely in the Apple Watch range. As cheaper options, the highly-capable Watch SE remains available, which is essentially a repackaged Series 5. Then there's the much cheaper Series 3 which Apple has kept hanging around for now. The SE remains a good buy in our book.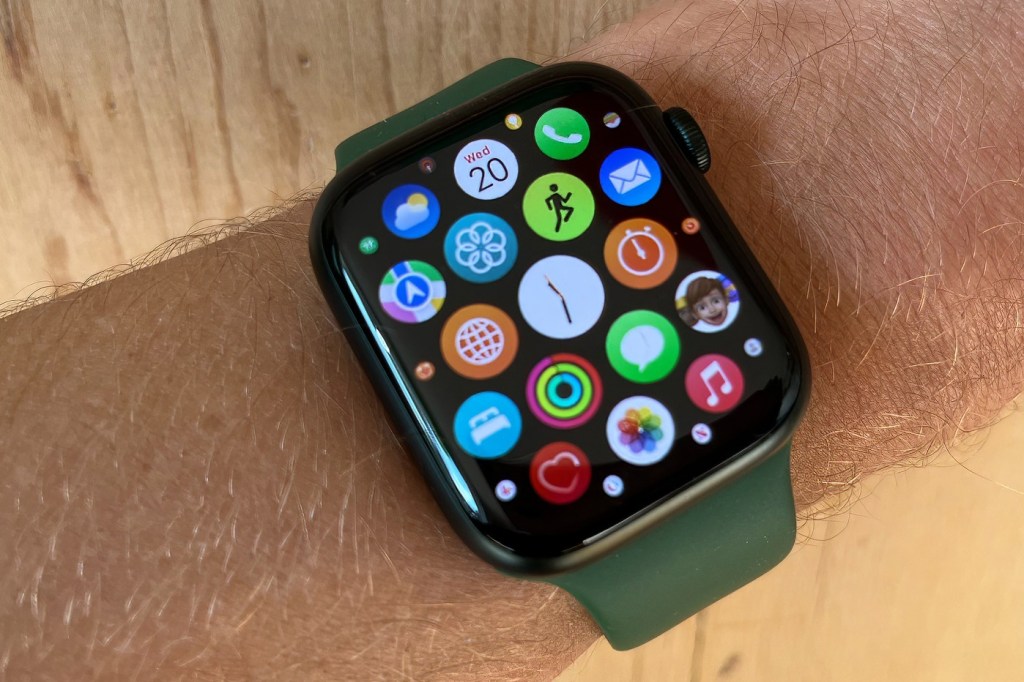 Other thoughts
The screen seems a lot bigger than our old Series 5 – it's probably not quite enough to recommend an upgrade from that though, but if you've got a Series 3, it'll feel remarkably different. We love the way the screen wraps around the edges
The green on our review watch casing is darker than we'd expected – we know of someone that has returned a green model like this because it's almost black. It's certainly very different to the green iPad Air we've got at at home.
The brighter display is great in sunlight but we found it was way too bright in a dark room – we found ourselves dousing the light by flicking on the Theatre Mode so the display went off. This could be an issue if you use the Apple Watch to track sleep – we don't as a general rule.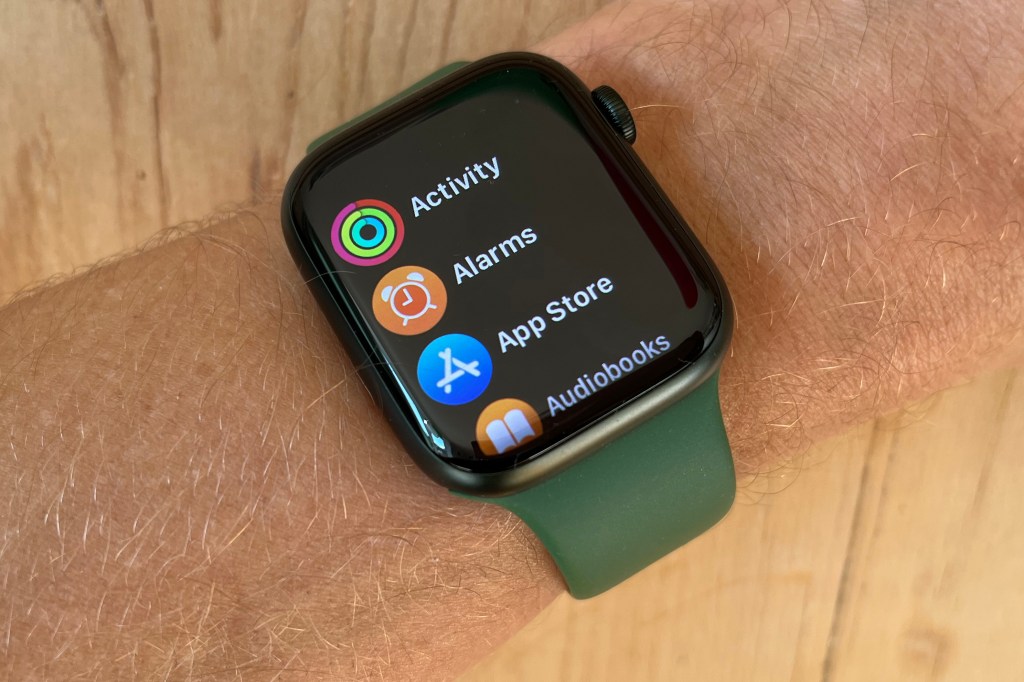 Verdict
If you've got an Apple Watch Series 3 or even earlier, upgrading to this will be like walking into a lighting shop from a dark, misty winter evening. As a wearable it can't be beaten and does so much, especially if you're into fitness (and it works so well if you jump into Apple's Fitness+ service). It's still totally dependent on you having an iPhone, of course.
The only argument against buying one is if you're minded to opt for the also-excellent but much cheaper Apple Watch SE, which is based on the also-discontinued Series 5.
Stuff Says…
The Apple Watch cements its place at the top of the wearable tree, but it's not worth upgrading from Series 5 or 6.
Good Stuff
New size is very welcome
Brilliantly bright display
New colour cases
So many watch face options
Bad Stuff
Watch SE better value for many
Fast charging requires specific cable
Battery life could be better
Tech specs
Display
41/45mm LTPO OLED always-on Retina display
Software
watchOS 8
Processor
S7 SIP 64-bit dual-core
Dimensions
41 and 45mm, 32g (aluminium), 42g (stainless steel)
Connectivity
Wi-Fi, U1, Bluetooth 5.0
Sensors
Blood oxygen, ECG, optical heart rate, accelerometer
gyroscope, altimeter, GPS, compass, ambient light