Apple iPad Air 5th generation review (2022): a top-quality package
Air we go again - Apple's latest-gen iPad Air is here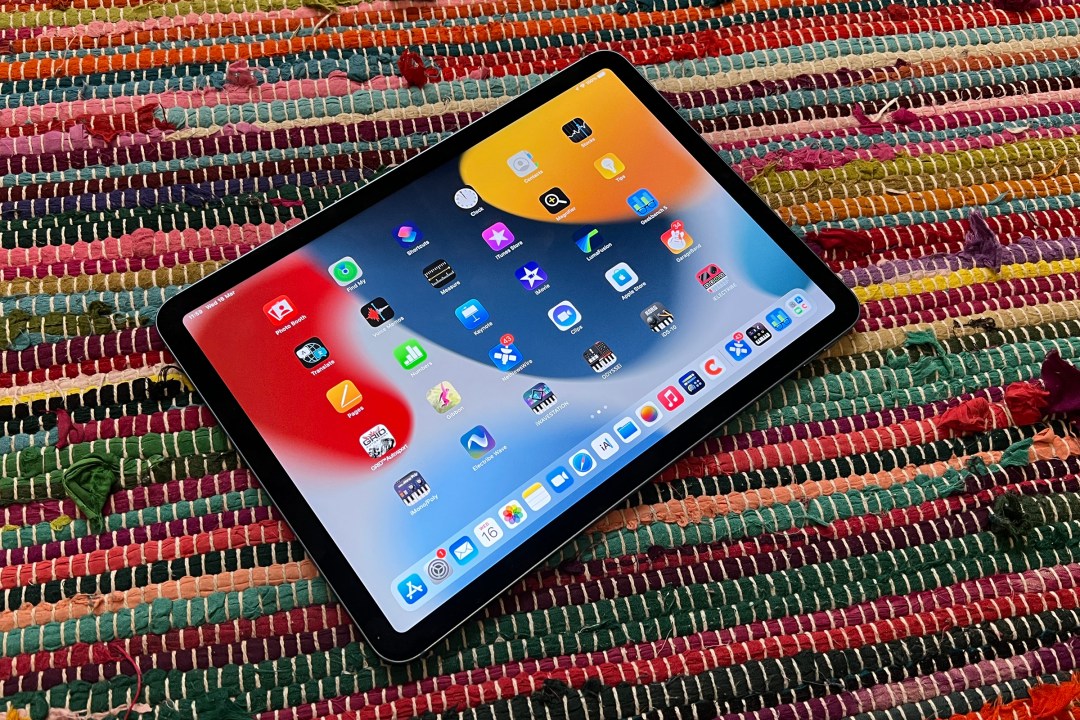 When we reviewed it 18 months ago we loved the 4th-gen iPad Air, which was like getting an iPad Pro on the cheap. Since then, the iPad Pro further cemented its lead, the iPad Mini turned into an iPad Air that's been through a hot wash – but with added features – and even the standard iPad got a selfie camera system to embarrass the Air's. Ouch.
Now the iPad Air is back. Hold the latest model in your mitts and you'd be forgiven for confusing it with its predecessor. But appearances can be deceptive, because this latest Air isn't just more of the same, and it packs a real punch. Let's dig in.
Design: Copy and paste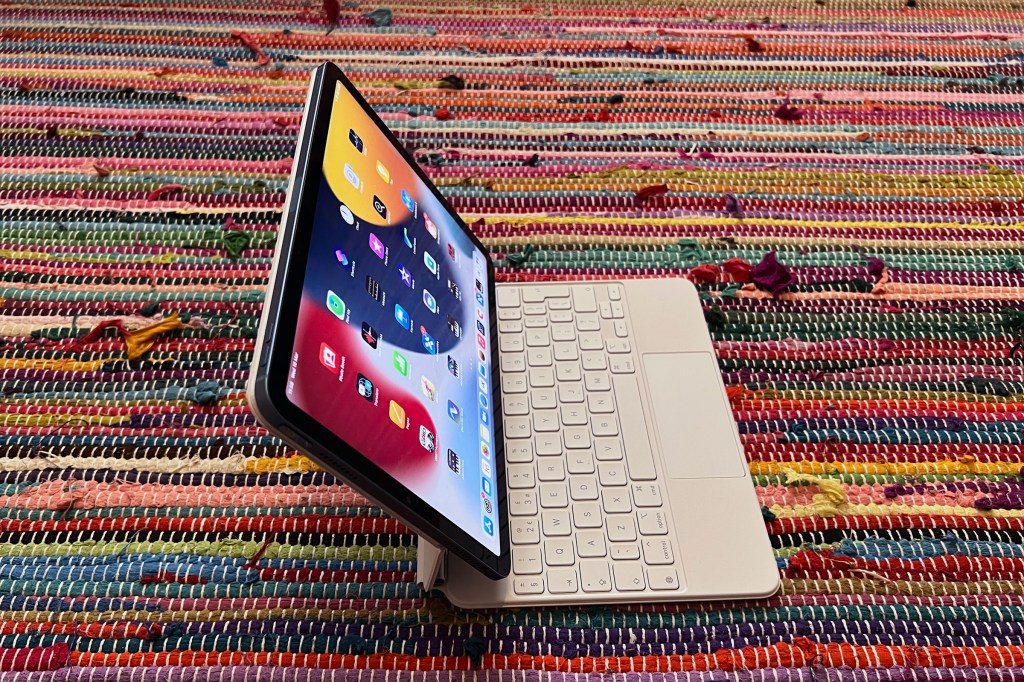 Outwardly, you'd not pick the 5th-gen Air out of a line-up otherwise containing last year's model. Fortunately, this tablet's design was sleek and modern in 2020, and it hasn't really dated.
It's good in the hand. At 461g (462g with cellular), the Air is fractionally lighter than the iPad Pro and iPad, and the construction is solid. On the front, Apple's confident enough to omit a logo, and so it's all screen, surrounded by a black bezel.
There's no change to the 10.9in display. It's bright, laminated (and so doesn't turn into a mirror) and has great colour repro. You don't get ProMotion, so scrolling isn't quite as smooth as on the Pro. And if your eyes clock jelly scrolling after folks pointed it out on the iPad Mini, you might spot some in landscape. (Don't look for it, though; it affects all 60Hz displays and can't be unseen.)
Audio output from the stereo speakers is impressive in landscape. In portrait, it's a bit odd, with the system flipping right-hand output to the top and left-hand output to the bottom. An option for a mono mix in portrait would have been welcome.
Performance: M1 of the pros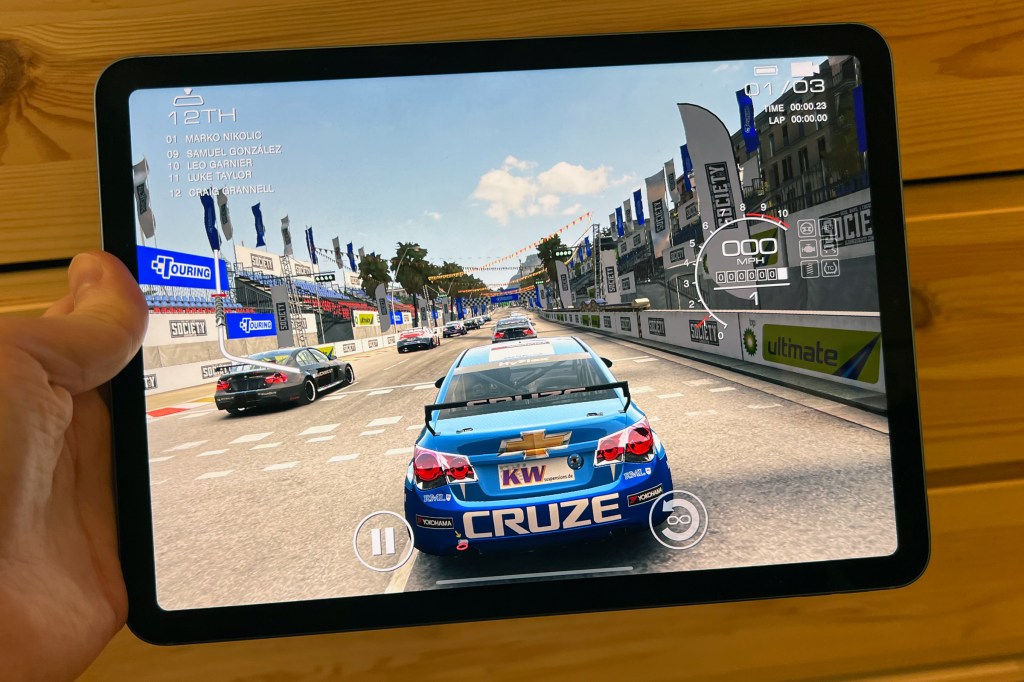 We expected Apple to have this Air match the Mini with an A15, and leave clear space between it and the Pro's M1. Instead, the iPad Air is now based around the same chip that's found in the iPad Pro – and also a bunch of Macs.
For a mid-range Apple tablet – or any tablet at this price point – this provides serious clout. With 8GB of RAM also stuffed inside, you won't want for power with any task you're likely to perform on this tablet, be that office drudgery, gaming, or creative work in the likes of Procreate, LumaFusion, Affinity Designer, or Korg Gadget.
During testing, the Air deftly dealt with everything we threw at it. And even if your needs are more moderate, a chip with this much raw power means your investment will be safe for years, with the tablet remaining responsive when new apps and OS updates arrive.
Cameras: Under the spotlight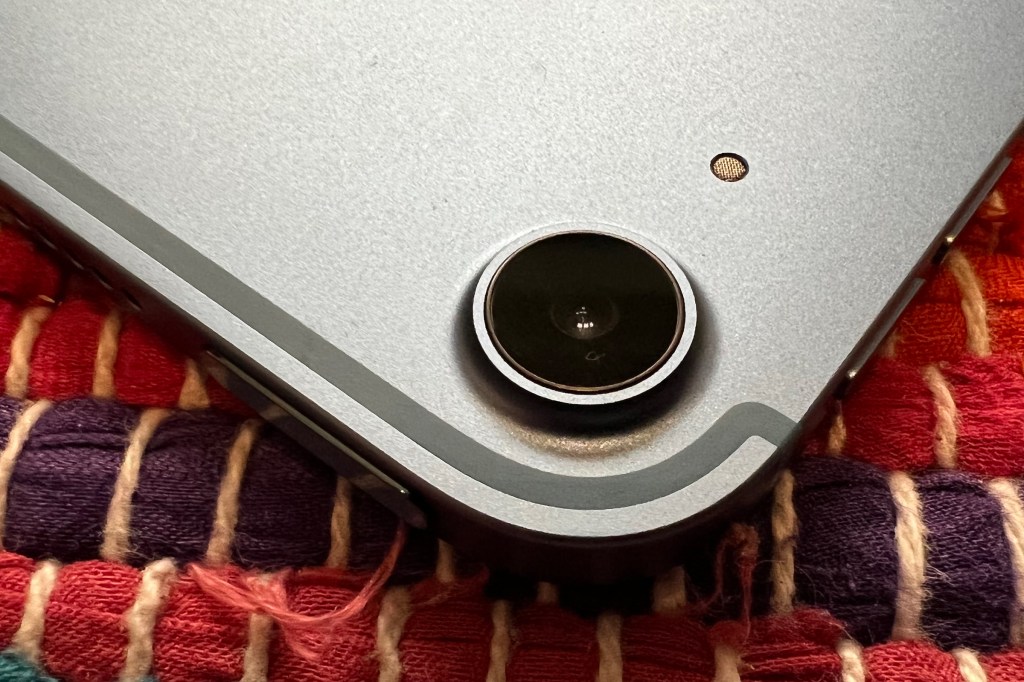 The rear camera is nothing fancy in the modern scheme of things: a 12MP snapper that aligns with the wide camera on the Pro and Mini and is also essentially what you get with an iPhone 11. There's no ultra wide, no LiDAR, and no True Tone flash.
It's capable, mind. If you're the sort of person who marches about taking photos with a tablet, you'll get solid results from the Air, and can shoot 4K video as well.
What's around front is more interesting. Like the rest of the iPad line, the Air now has a 12MP ultra wide selfie cam, which supports Apple's fancy Centre Stage tech that can (optionally) follow you around when you're on video calls. Even if you disable that, you'll be happy with the noticeable boost in quality over the previous generation's 7MP equivalent; you don't get the Pro's TrueDepth functionality though, so won't be snapping advanced bokeh selfies with your Air.
Connectivity: The need for speed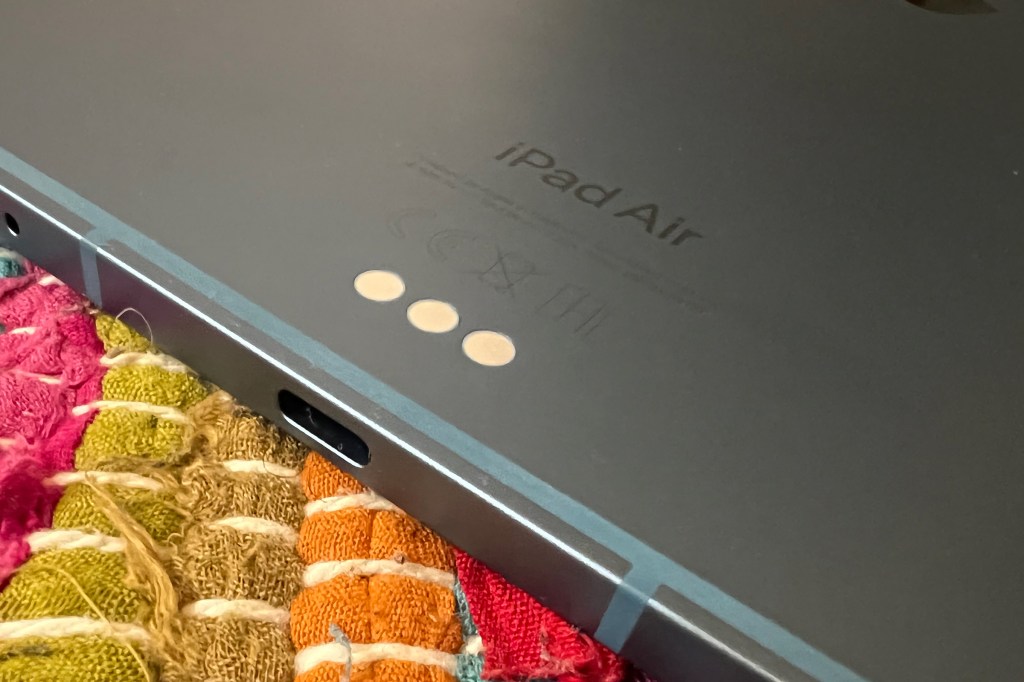 Connectivity isn't sexy, unless you've got a thing for 5G towers, perhaps to counteract all the nutcases trying to tear them down. But in a modern world packed with impatience, we do want everything to be faster – and the Air duly obliges.
The least surprising new feature is 5G – although note that going for a cellular unit raids your wallet to the tune of 150 quid. All models get latest-generation Wi-Fi support, though, and Apple also lobbed revamped USB-C into the mix. This doesn't match the iPad Pro's Thunderbolt port, but nonetheless speeds up data transfer to connected devices – handy if you have a 64GB Air and regularly offload large media files to an external drive.
Ecosystem: You couldn't Mac it up
The iPad app ecosystem is deeply impressive. It marries convenience, focus and ambition, although you might need a keyboard and an Apple Pencil to make the most of your device, depending on what you're trying to achieve. Android has nothing to compare. But also, while people scoff at the idea of an iPad as a desktop replacement, for specific use cases it can effectively boost productivity and reduce reliance on more traditional machines.
Holes remain in iPadOS. File management has improved, but we find that slow compared to a desktop OS. Multitasking is less awkward but comes across like a work in progress. And although Apple should be rightly pleased with Universal Control, where you can seamlessly drag content between an iPad and a Mac, that does require you own a Mac.
If you want to use your iPad Air with an external display, for a larger canvas and ergonomic reasons – something the hardware is easily capable of – Apple's software cynically makes the experience sub-optimal, even with its shiny new Studio Display. A pity.
Random observations
When you rotate the Air, the volume controls switch, which irks. This is optional on the Pro (Settings > Sound > Fixed Position Volume Controls) but not on the Air.
64GB for the entry-level unit feels miserly in an era where Apple banged on about its entire iPhone 13 line starting at 128GB.
The Magic Keyboard for iPad remains superb – and the Air snaps to it and connects instantly. Although in this 11in incarnation, do be mindful you might bang your fingers against the tablet's bottom edge when tapping away at the number row.
Touch ID remains a solid means to confirm your ID on an iPad and is more reliable than Face ID in portrait on the iPad Pro.
Verdict: Apple iPad Air 5th generation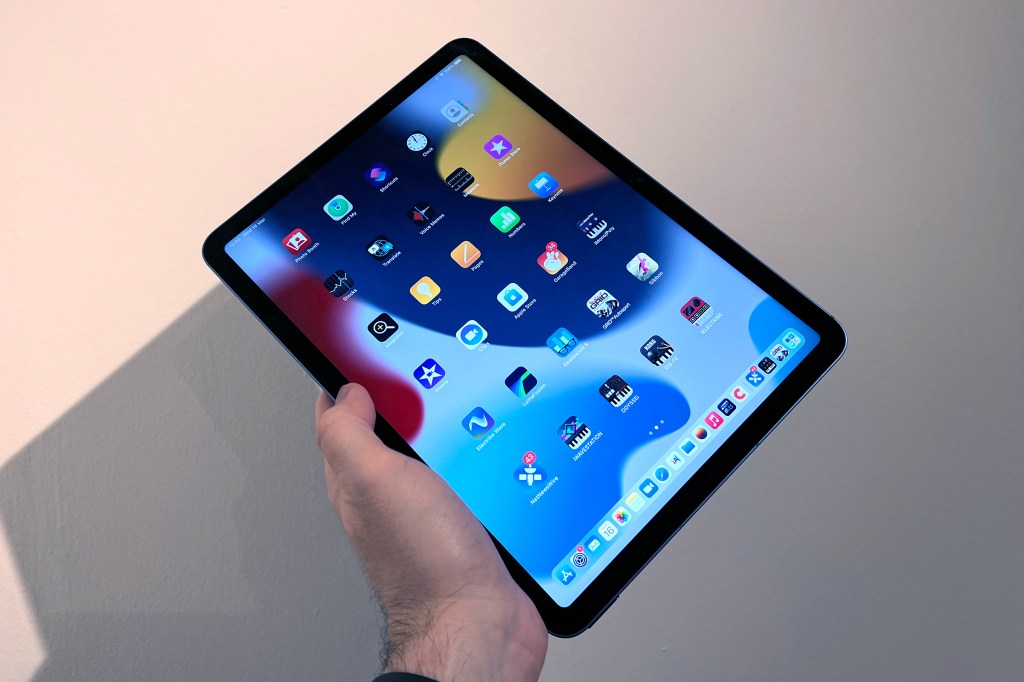 The new Air catches up where it needed to – Centre Stage; 5G – and blazes ahead with that unexpected M1. It's powerful, smart, sleek and great to use.
If your onboard storage needs are relatively low – with you streaming, having the system intelligently offload games, and saving files to the cloud – the 64GB model represents good value. Where things become more complicated is when you opt for 256GB. At that point, you're 30 quid away from the 11in iPad Pro – albeit with half the storage. But the Pro nets you ProMotion, Thunderbolt, a LiDAR and four-speaker audio. At that point, we'd go Pro.
At 64GB, though – or if you prize storage over all else and go for that 256GB model – the Air won't disappoint. It's a top-notch tablet, supported by an ecosystem that makes it highly versatile for an increasingly wide range of users.
Stuff Says…
ProMotion and more storage would have been nice, but this new Air is a top-quality package – not least because of that M1 chip.
Good Stuff
Powerful M1 chip
Excellent build quality
Vastly improved front camera
Rich app and hardware ecosystem
Bad Stuff
Only 64GB entry-level storage
Poor external display support