Amazon Echo Spot review
For her next trick, Alexa takes on the form of a cracking smart alarm clock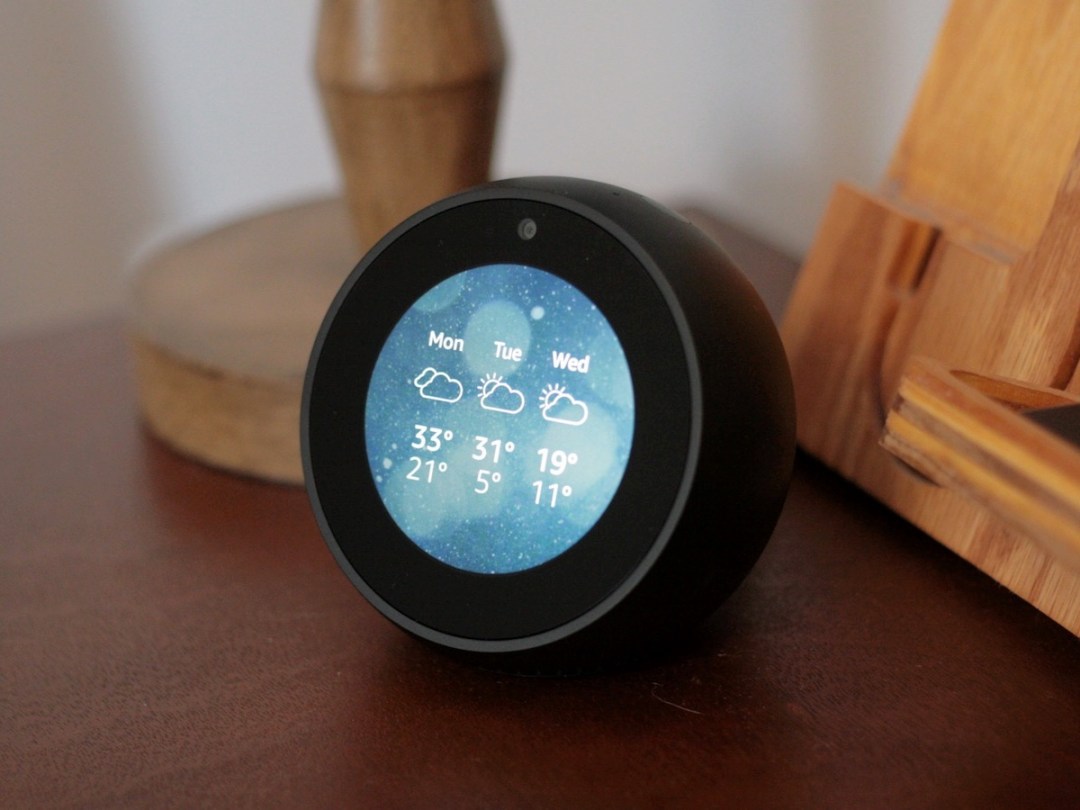 Adding a screen to a voice assistant speaker? Now that's a novel idea – even if the Amazon Echo Show didn't make it a particularly useful (or attractive) one. 
Not yet, at least. We struggled to find enough worthwhile uses for the Show's display, especially now that YouTube access is gone thanks to a dust-up with Google.
But now Amazon is back with a second attempt, one that's like the Echo Dot is to the standard Echo. The Echo Spot is smaller, cheaper, and much more appealing in a few key ways.
Granted, it's not quite in impulse-buy territory at £120, but this smart alarm clock makes a much stronger impression than the larger, bulkier Echo Show.
DESIGN: HITS THE SPOT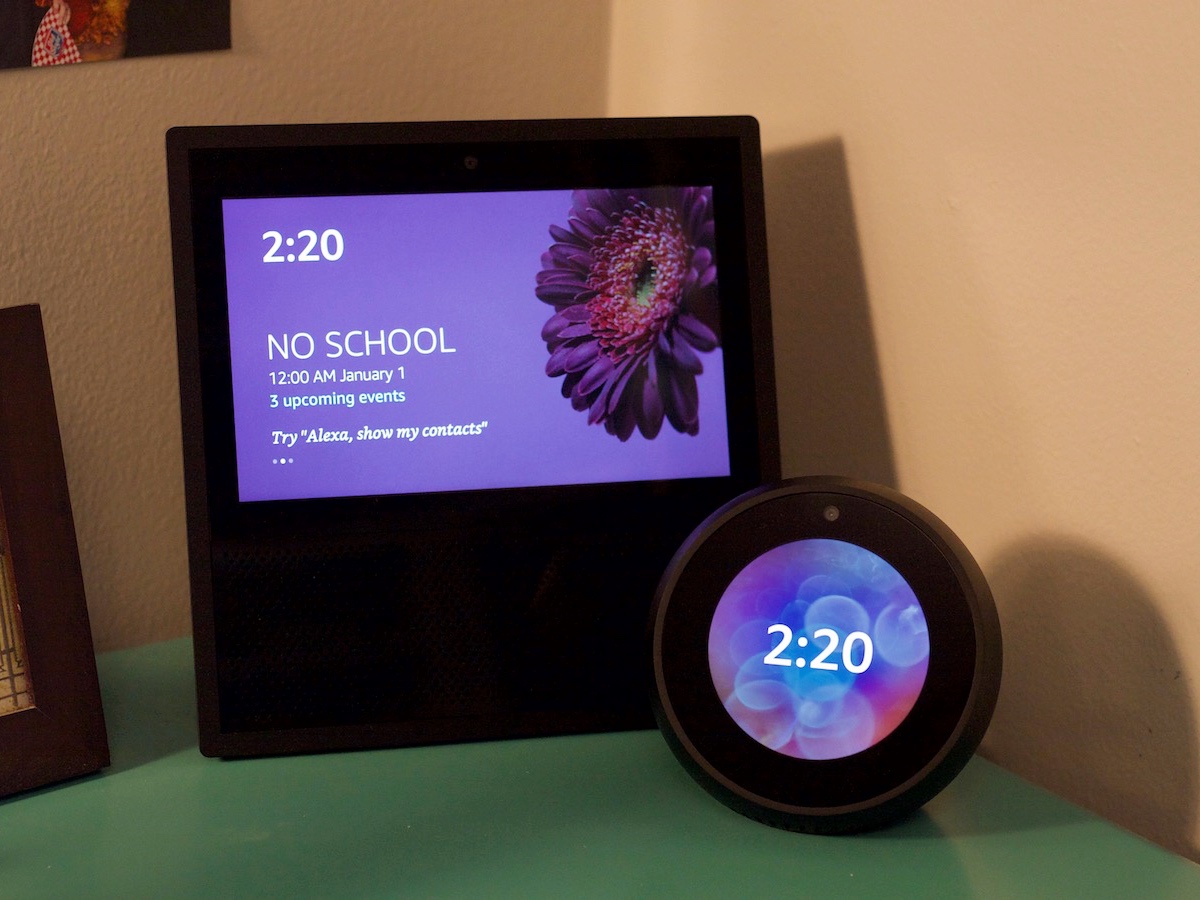 A lot of that comes down to design. The Echo Show's large, boxy shape remains one of the least-appealing things about that device, but thankfully, Amazon didn't stick with that same aesthetic for its next screen-centric assistant.
The Echo Spot's main influence is immediately obvious: it's a ball-shaped alarm clock, albeit with a circular LCD screen on the front. Amazon smartly went simple with the Echo Spot, which is understated and can blend more easily into a space than the awkward Echo Show.
It doesn't look super-premium, but the ultra-minimal design is a lot more refined than we usually see from Amazon devices. It's available in white or black, and in either case the compact size makes it an ideal fit for your bedside table. Or anywhere else you'd like to put it – the Spot won't look out of place on a desk or kitchen counter.
We still prefer the black model, because the screen bezel matches the outer shell – go for the white one and you have to make do with a two-tone colour scheme that won't be to all tastes.
The main attraction is on the front: a crisp and bright, 2.5in circular display, which is sort of like a super-sized smartwatch screen. It has to work with the same kind of space limitations, even if there's a little more expansiveness to play with. It doesn't have a super-high resolution, but it's fine for the kinds of jobs you'll be asking Alexa to perform.
Viewing angles are pretty good, which is perfect if your bed is higher or lower than your bedside table, and touch response is excellent, so tapping in your Wi-Fi password doesn't become a chore.
Of course, Alexa is a voice assistant, so the screen is just one part of the overall equation. But at least here, it feels a bit more purpose-driven.
FEATURES: TICK TOCK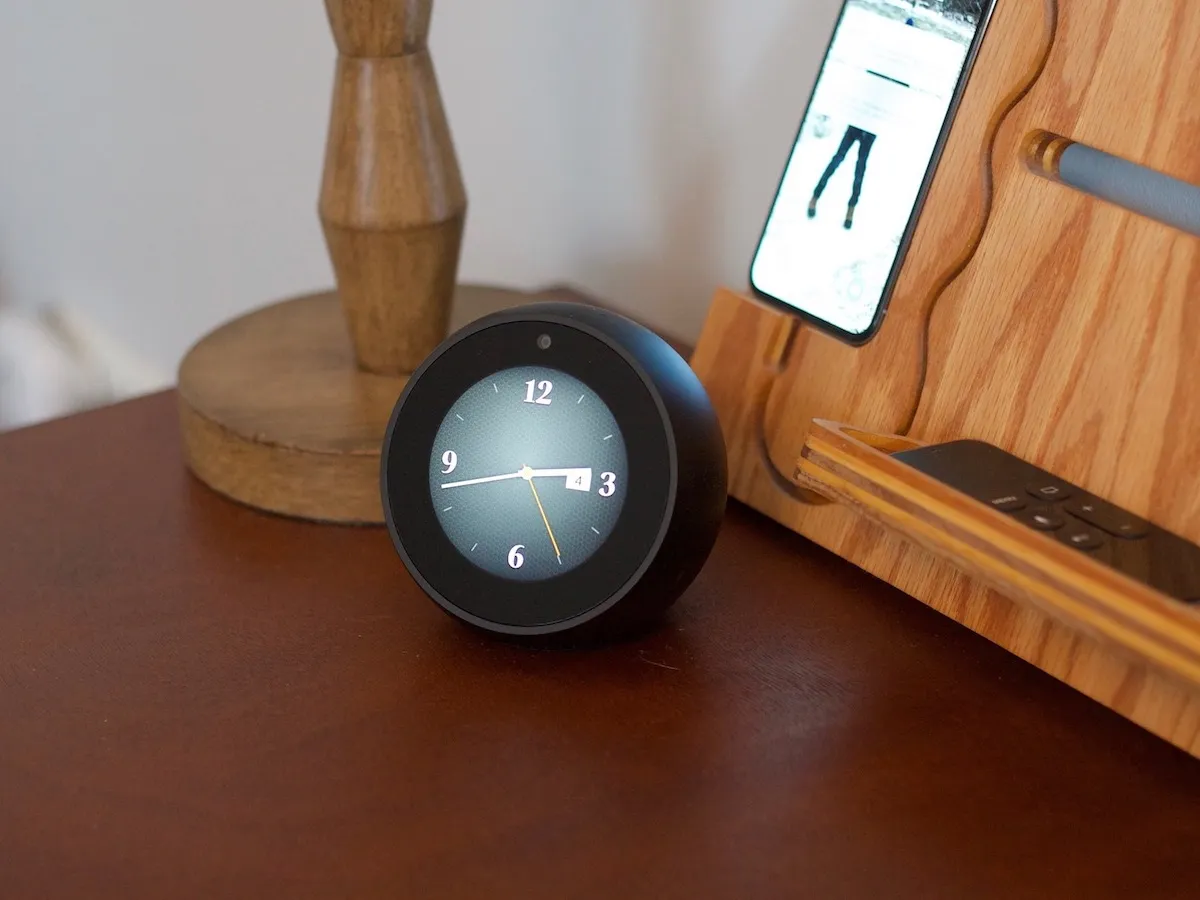 Why? Because the Echo Spot is a clock. Left on default settings, it'll cycle through some headlines, the weather, and any alerts you might have – but primarily, it'll show you the time. And it's very good at doing that.
You can choose between a handful of analog and digital face options, and even customize a clock face with a photo (via the Amazon Alexa smartphone app). And at nighttime, it'll automatically dim and simply show the time on a black backdrop.
You can also ask Alexa to set alarms and have her play music from your Amazon library to wake you up, plus she can set quick timers as needed. With the screen, you'll also be able to watch videos at your bedside – but much like watching videos on a smartwatch, it's not the most ideal experience.
It's great for watching Amazon's flash briefings, for example, which show you a quick news blast of the day's top stories, because what you're hearing is arguably more important than what it's showing. Pulling up a movie trailer or watching Amazon Video content, on the other hand? Surely you've got several other gadgets for such a thing.
Given the circular dimensions, the widescreen Star Wars: The Last Jedi trailer only filled about half of the display. You can tap to fill the screen, but then you've cropped off half of the video. It'll do in a pinch, but if you're buying a smart speaker with a screen, chances are good that you're already packing some gadgets in your home – stick with your phone, tablet, laptop, or TV for any serious video needs.
Even with the screen, Alexa remains the most compelling part of the Echo Spot experience, and she works the same as she does on a standard Echo. Beyond requesting alarms and timers, you can ask for sports scores and movie times, stream music via Spotify and other services, create a grocery list, get the weather, control compatible smart home devices, and even hear a joke or a story. Games are easier to follow now, with Jeopardy displaying clues to each question.
Just like the Echo Show, however, the screen still doesn't feel like an integral part of the Alexa experience. It's nice to be able to flip through movie listings when you ask for times, see ingredients and instructions for recipes in the AllRecipes skill, and view the items you're ordering from Amazon. And the smart home perks can be incredibly handy, especially pulling up a video feed from a connected camera.
But for the most part, Alexa still acts like an aural assistant first, and the visual benefits are small and used sparingly.
CALLING: BEDSIDE CHAT?
Video calling is the one big exception to that rule – assuming you're cool with the idea of having a camera peering at your bed.
Wait, you're not keen on that? Surprise, surprise. Thankfully, Amazon saw this hang-up coming from a mile away, and there's a small button on the top of the Echo Spot that turns off the camera and microphones with a touch. Just like that. You'll probably want to do that before disrobing, or spending a little quality time with your partner.
If you'd rather disable the camera permanently, you can do that within the settings. You won't be able to use adaptive brightness, if so, but that's a small trade-off for a sense of personal security.
As with the Echo Show, the Echo Spot can be used for video calls between Show and Spot devices, as well as with anyone using the Alexa iOS and Android apps. That's handy for quick check-ins between rooms of your house, for example, or keeping tabs on family – especially if you bought a Show or Spot for a parent or relative. You can also do audio calls with non-screen Echo devices.
Given that it's locked to Amazon's ecosystem, you're probably better off sticking with FaceTime, Skype, Messenger, or any other video chat platform of choice on your phone. But what's here works well: the video is clear enough, and you can even see yourself in a small window on the small screen. If you're laying in a bed or sitting at your desk and want to have a quick chat, it's a useful option to have.
That said, Amazon's 'Drop In' feature is still a bit unnerving. It lets any of your trusted contacts get a view into your space without you needing to press a button to accept the call, and you can do the same going the other way. When a call comes in the video feed is blurred for a few seconds, but otherwise you'd have to actively reject the call to stop it connecting.
Amazon says that it's great for checking in on relatives or seeing what a small child or pet is up to when you're elsewhere, but given that most people are likely to use the Echo Spot next to their bed, the idea of a friend or family member taking a glimpse could give you the heebie-jeebies.
We'll pass on that, thanks. But it's your call to make.
Audio: good enough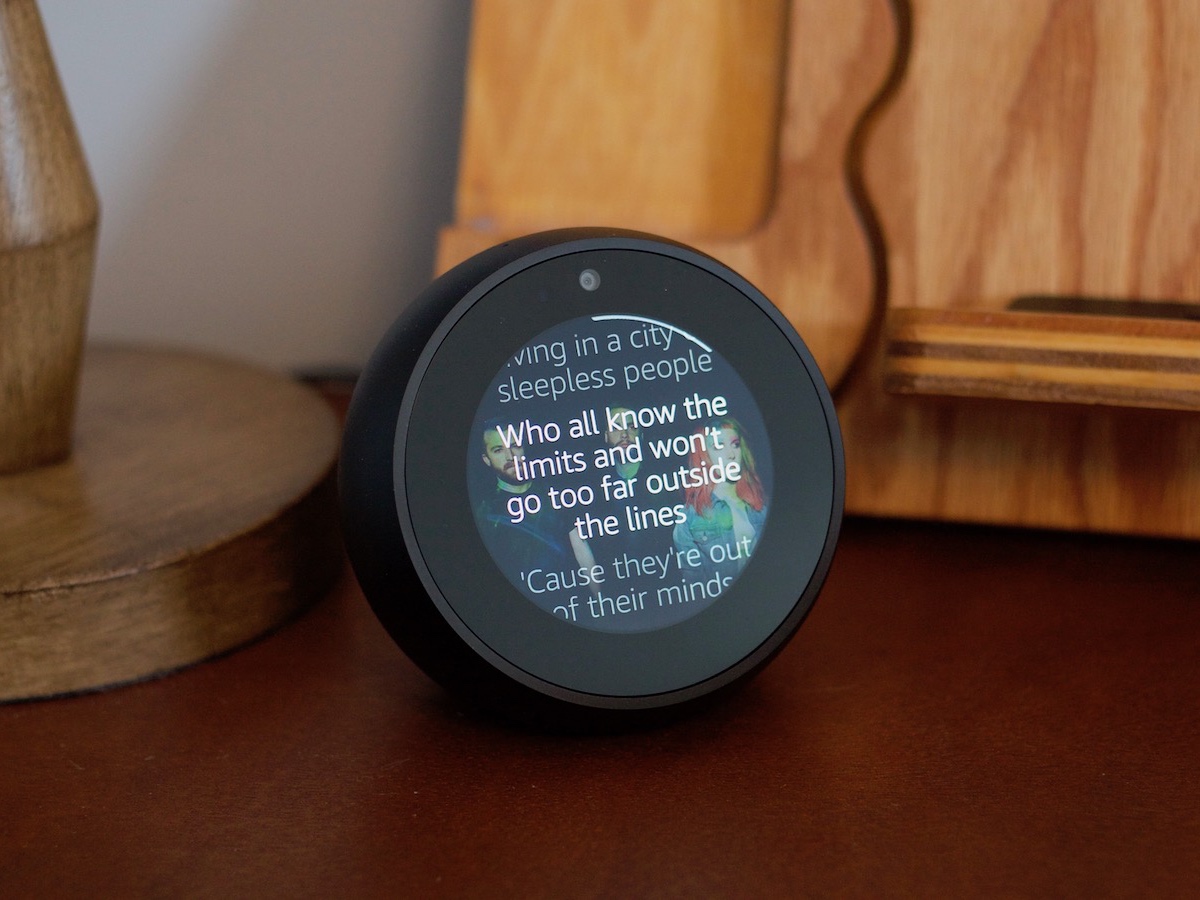 The Echo Spot isn't packing big, booming sound – but that's expected given its small, dense stature. Luckily, its 1.4in speaker is a fair bit more capable than the Echo Dot's 0.6in speaker, although it lacks bass and the sound gets fuzzy if you go higher than halfway on the volume.
We wouldn't recommend trying to fill your flat with music from the Echo Spot, but it'll do fine for pumping a little music into a bedroom, office, or small apartment. Really, convenience is the name of the game with the Echo Spot. It's perfect for calling up some tunes when you're not near your hi-fi or more capable speakers in your home.
Having it on my bedside, I've found the Echo Spot useful for playing a little music while hanging with my son in his room across the hallway, since I normally might just play music through my phone's speakers. The ability to call up tunes via Spotify or Amazon Music is great, with the artwork displayed on the screen, plus Amazon songs will scroll through lyrics while you listen.
Multi-room is onboard as well, letting you stream music to all the Echo devices in your house, or to specific groups of speakers at once. You have to set up these groups through the Alexa app, and can't have a speaker in more than one group at a time – it's a bit more restrictive than say, a Sonos One, but it gets the job done.
And it's connectable, too. I use Bluetooth pairing to fling tracks from Apple Music on my iPhone X to the Echo Spot, although it sadly just shows a big Bluetooth icon on the screen instead of artwork. If you'd rather use some external speakers for better sound than what the Echo Spot can muster on its own, Amazon added a handy perk that even the pricier Echo Show lacks: a 3.5mm audio line-out port. You can use Bluetooth for that, too.
The Echo Spot has three fewer far-field microphones than the seven found in the Echo and Echo Dot, but it seemed just as effective in picking up my requests as any other Echo. Granted, I was usually much closer to the Echo Spot than I would be any other Echo, so you probably won't have any issues getting Alexa's attention. Background noise isn't a problem, either, with the Spot detecting my speech over the sound of a newby microwave, and over audio coming from my TV.
Amazon Echo Spot verdict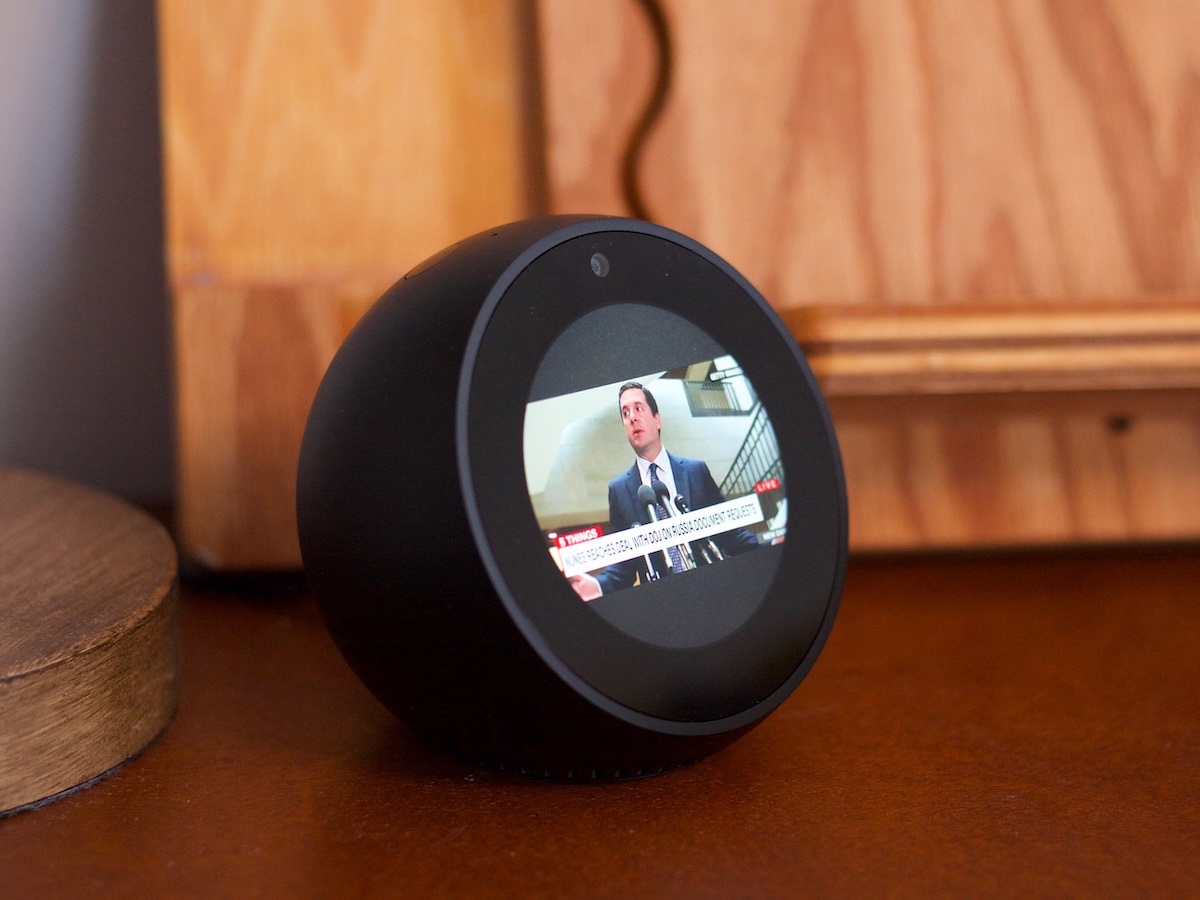 We're still not 100% sold on a screen being a critical part of the Echo experience, but the Echo Spot feels significantly more focused and purpose-driven than the slightly aimless Echo Show – especially with a £80 difference in price.
The smaller sized screen feels more useful here, but it also doesn't need to do as much to justify its presence. It's an effective bedside clock and ideal for alarms, timers, or playing music, and while Alexa still doesn't have a lot of critical skills that have visual components, that doesn't sting here as much as it does with the larger, pricier Echo Show.
If you're new to Alexa, you're probably better off starting with the cheap Echo Dot or the baseline 2nd-generation Echo. But if you're looking to add another Echo to your home, especially one away from your main living area, or you really think you'll the most use from an Echo in your bedroom, then the Spot is well worth considering. It's shipping today in the UK, directly from Amazon.
Stuff Says…
Alexa's sleek alarm clock form finds the purpose that the Echo Show lacks
Good Stuff
Sleek, compact design
Alexa with all her powers
Great as a bedside clock
Bad Stuff
Only modest sound quality
Not many useful visual skills yet
Bedroom camera can be unsettling