Amazon Echo Show review
Alexa takes on a new, but not fully convincing, form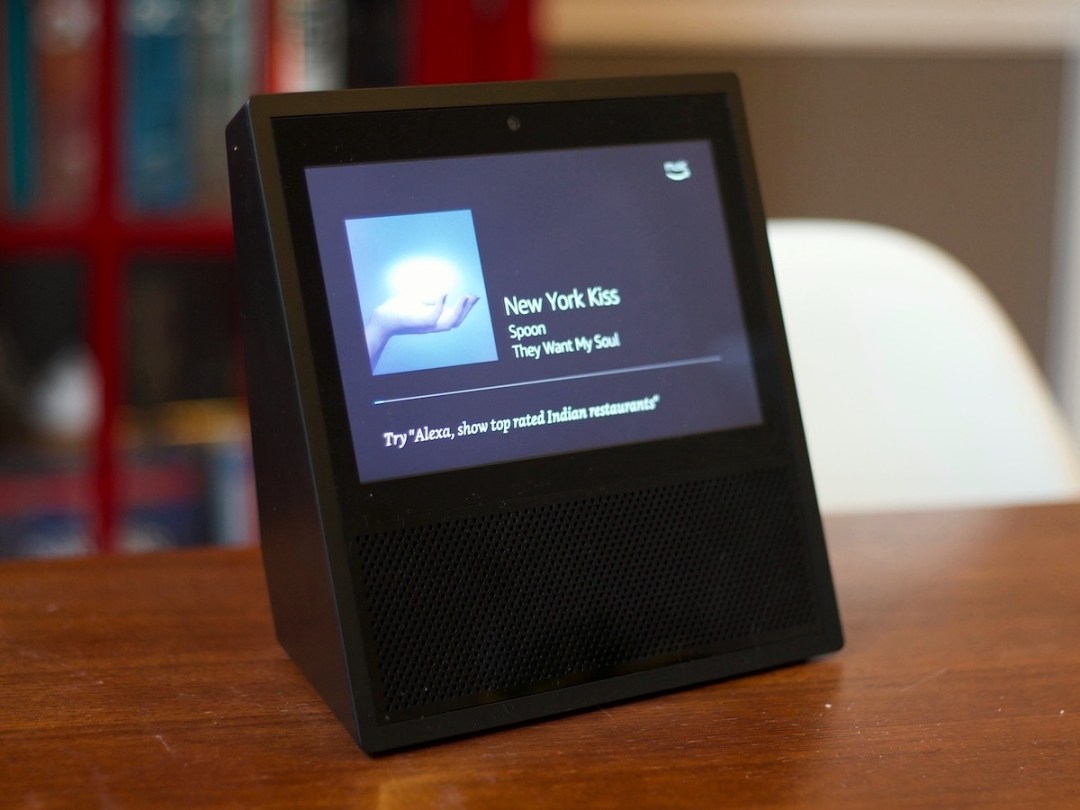 Voice assistants were invented to free us from screens, right?
Well, kind of. Leaving aside Amazon's ulterior motive for making Alexa your A.I bestie, their real benefit is freeing you from your smartphone's screen (and its dozens of fiddly apps).
That's why, after creating a gadget that many of us didn't know we needed with the Echo, Amazon has given Alexa the power of contextual info with her very own screen. 
The new Amazon Echo Show gives you another way to bring Alexa into your flat, this time with the benefit of a seven-inch screen inside a boxier shape. The Echo Show is still primarily voice-controlled, but the touchscreen now unlocks some added abilities, especially when it comes to smart home devices and streaming media.
But while we get the theory behind the Echo Show, does Alexa really benefit from a screen?
Amazon has built a forward-thinking gadget with lots of potential, but right now, its critical functionality is pretty limited, particularly in the UK…
Design: A flabby slab
We might pick the Google Home in a beauty contest, but we still quite like the original Echo's design. While not as inconspicuous as Google's option, the Echo's tube-like design looks ultra-refined, and the little light-up ring on the top is a perfect way to get some subtle visual feedback that Alexa is listening.
Unfortunately, the Echo Show doesn't live up to that high bar. Simply put, it's a chunky slab, with a boxy black or white frame holding up the 7in touchscreen display and stereo speakers below. It's very angular and not exactly built to blend into your space. That makes sense given the screen, but it just doesn't have the same kind of clever shape or polish as the regular Echo.
You won't find any buttons on the front – just a trio on the top to mute the microphone or adjust the volume. And there's only one cord out the back, which goes to your power outlet, since the Echo connects wirelessly to your Wi-Fi to enable Alexa and all of her wonderful cloud-powered skills.
At 1024×600, the Echo Show's 7in screen isn't particularly impressive. It's probably lower-resolution than the phone in your pocket or the tablet on your coffee table, but the difference is that you're unlikely to use it much while it's right up in your face. At a glance from a few feet away, the screen proves completely readable and nicely bright.
Of course, it's not the screen itself that matters so much as how it's used – and that's where the Echo Show underwhelms a bit.
Skills: Little to see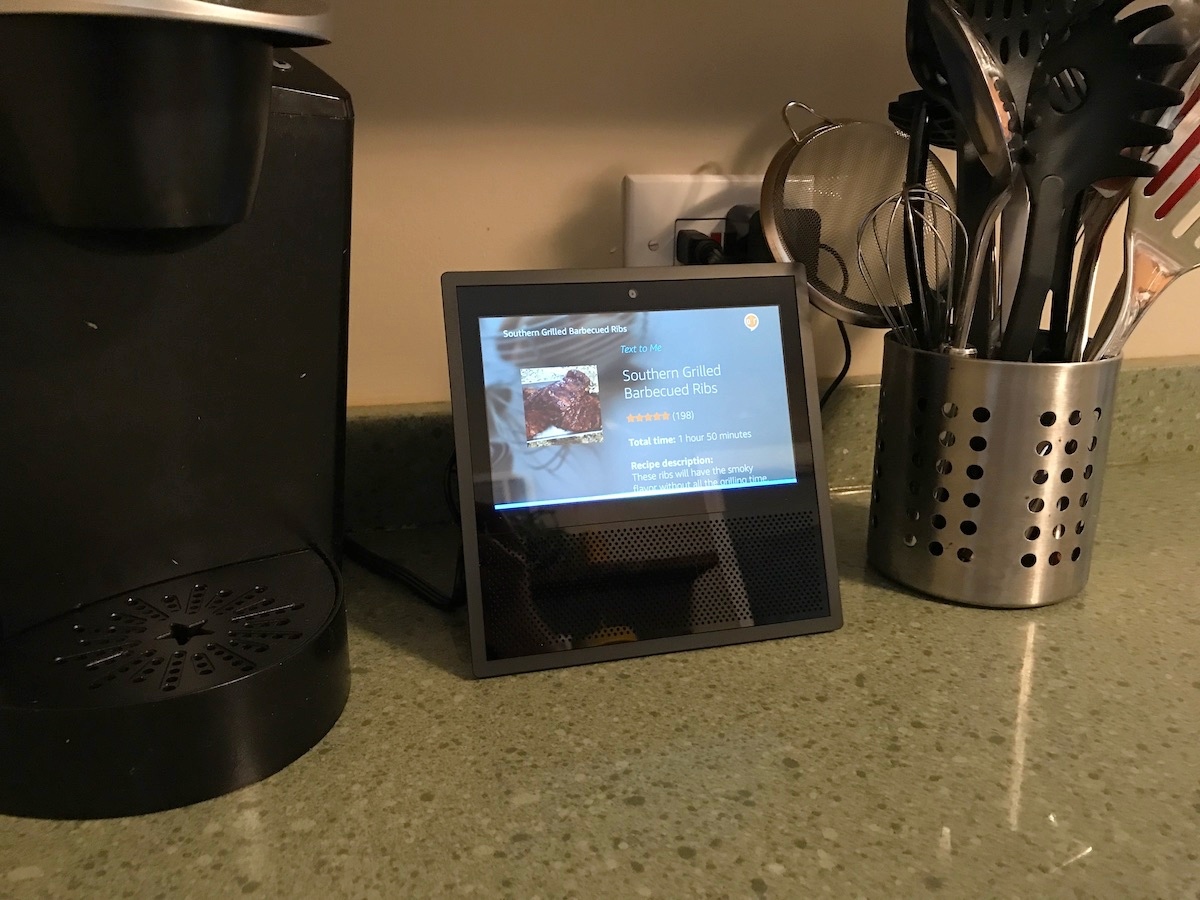 What value does a screen have for a spoken assistant? Unsurprisingly, it's pretty minimal for now. A few existing skills have a visual flourish to them, but the added benefit varies depending on the ability.
For example, seeing scrolling lyrics on the screen when listening to music from Amazon Music is a nice perk. Being able to see the item you want when ordering physical goods from its vast catalogue? Well, that's a massive improvement over having Alexa describe them to you. And being able to pull up an image of something from the internet is nice, whether it's a photo of a biscuit, a beetle (or a Beatle), or anything else your little one's asked you.
Alexa also takes a stronger role here as the centre of your smart home, thanks to its ability to put video camera feeds on the screen. If you have a compatible connected camera on the premises (for example, Nest), you can ask Alexa to put the feed in front of you. That's great whether you want to see who's at the front door from your security cam, or need a view of the cot from your baby monitor.
But there are big holes. Right now, you can't watch YouTube on the device, due to an increasingly nasty dispute with Google. That's a huge miss when you consider that YouTube is basically a video-based Wikipedia that's perfect for its 7in screen.
Movie trailers and videos from Amazon's own video services can be watched on it, but whether you'd often want to do so is a different matter; I'd far rather watch longer videos on pretty much any other screen I own, whether it's the expanse of my TV or the flexibility of my phone or tablet.
The Echo Show also lacks an accessible web browser, so you can't pull up a webpage or see maps for directions. This would be okay if its skills filled in the gaps, but right now hardly any make use of the screen. Unlike in the US, neither Allrecipes or Food Network are available, and the Jamie Oliver skill simply emails recipes to you rather than showing video instructions.
It's the same across other skills. For example, if you ask Alexa for the Bartender skill to learn how to make drinks, you still won't see anything other than the words she's reading. And there's no on-screen panel for something like Philips Hue lights; just the usual voice commands.
The amount of visual content for skills may change over time, but right now, in the UK particularly, the Echo Show doesn't make consistent, compelling use of the display. It's a minor accompaniment to the usual spoken back-and-forth.
Calls: getting some face time
That is, unless you're eager for a new way to place video calls. You can use that 5MP camera on the front to snap selfies, or as a digital photo booth for your next party – but its real purpose is to enable video calling.
You can log some face time with anyone else with an Echo Show, as well as anyone using the Alexa mobile app – and you can switch to audio-only calls, as well, or send voice messages via Alexa. Video quality is merely decent (not as good as an iPad), but there's very little audio lag.
This functionality is now available for the Echo, Echo Plus and Echo Dot too, so anyone can get in on the fun… assuming you have an Echo or the Alexa app. The Echo Show can't patch you through Skype or Facebook Messenger, or use any other service other than Amazon's own.
And then there's something else that's a bit odd: the new 'Drop In' feature, which lets a trusted contact initiate a video call without your manual acceptance. In other words, your friend or family member can patch right into a video feed of your flat… even if you're dancing nude to blaring tunes and don't hear the alert. Luckily, you have to opt in to the feature with each contact, so you won't get random callers peeping on you.
Amazon points out reasonable use cases for such a feature, such as checking in on elderly family members or peeking on a baby from another room – yet there's still so much room for things to go awry, and for people to have access to sights and sounds they really shouldn't have access to. It's a little creepy, but that's your call to make.
Audio: Decent at best
Like the audio-only Echo devices, the Echo Show can stream more than just Amazon's own music offerings: you can tap into Spotify and TuneIn, for example. And if you want to stream audio from your phone or another via Bluetooth, go right ahead – pairing is a breeze. The opposite is also true, as you can stream music from the Echo Show to external Bluetooth speakers.
And you might want to consider that, because the sound quality on the Echo Show is a bit underwhelming. That surprised us, since we were expecting an upgrade over the standard Echo. After all, the Echo has a 2.5in woofer/0.6in tweeter pair within, while the Echo Show has two full 2in speakers pumping out hits.
But in practice, the audio sounds overly confined. The bass has a nice kick, but once you hit the upper half of the volume scale, the output becomes muddled and loses a lot of clarity. It sounds like a small, cheap, portable speaker, and that's with the Echo Show flinging all of its audio forward too. Meanwhile, the original Echo comes out ahead on sound quality and manages to fill a room with its 360-degree design. The new Echo Plus, meanwhile, is streets ahead of both.
At lower volumes, the Echo Show is totally solid – and besides, we never expected it to replace a Sonos or even moderately decent external speakers. But it's still surprising to have the playback be a step down from the standard, screen-less Echo devices.
At least Alexa has no problem hearing you – the far-field, eight-microphone array can pick up your instructions pretty consistently even while listening to music.
And Alexa is no less effective in this form; she'll still flub your requests from time to time, but she can pull up skills, take notes, tell you useless facts, control your smart home devices, order physical goods, and so much more. The visual component hasn't sullied her abilities, but it also hasn't added that much.
Amazon Echo Show verdict
The Echo Show's screen should become more useful in time as third-party skill makers harness its added abilities – but for now, Amazon hasn't yet proven that a home voice assistant really needs a screen attached.
There are no truly new or amazing features here; simply a sampling of familiar phone and tablet abilities put into a central device that you won't shuffle around your flat. It could be a great hub for your connected home if you have cameras, and the video calling feature might appeal to a small subset of Jetsons fans, but otherwise the Echo Show lacks killer apps.
As a piece of hardware, both the design and sound quality take a hit in favour of the screen, which offers a mixed bag of meaningful enhancement to this spoken helper. It does more, sure, but we're not convinced that it's that much of an upgrade over the Echo, given that it costs £199.99 to the Echo's £89.99. Nor, for that matter, does it trump the £139.99 Echo Plus, with its superior sound quality and built-in smart home hub.
In time, the Echo Show may prove its value over the screen-less Echo devices, and you might be swayed now to future-proof your investment by spending big on this ritzy new model. But if you already have enough smart screens in your home, there's little need to add another. Stick to the new 2nd gen Echo or Echo Dot for now.
Stuff Says…
The Echo Show has potential, but it's mostly unrealised so far
Good Stuff
Effective smart home hub
Alexa is still a helpful ally
There's potential to tap
Bad Stuff
Needs a lot more visual apps
Underwhelming speakers
Clunky design