YouTube launches movie rentals
Google brings its spat with Apple to iTunes' turf with paid streaming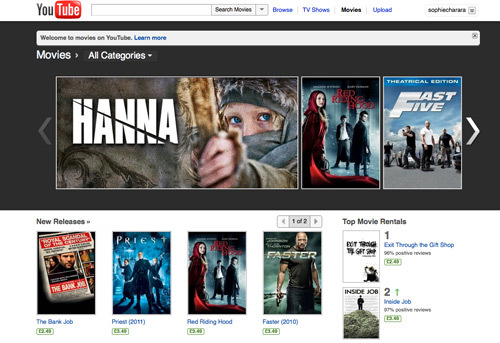 Don't you love it when tech giants like Google gently patronise us? Like YouTube saying that people in the UK probably enjoy watching films because the first "motion picture" was developed on celluloid here. Aren't we quaint? Following on from launches in the US and Canada, we can now stream over 1000 films on YouTube Movies. Expect the usual Hollywood blockbuster fare plus some British classics like Monty Python and Lock, Stock.. thrown into the mix to show that they understand us. We could moan about stereotypes but actually it's quite a nice touch.
Like iTunes, you're given a 30 day period and once you start viewing the film you've got 48 hours to finish streaming it, should you get distracted. Most films are priced at £2.49, or £3.49 for some new releases.
Hover over the title and you'll get the plot, cast and Rotten Tomatoes rating. Warning to YouTube film buffs: we got quite a few green splodges on the first batch of available rentals.
Also
Android Ice Cream Sandwich incoming
Xbox 360 gets LOVEFiLM, BBC and YouTube
25 best time travel movies ever