Why VW putting Amazon's Alexa behind the wheel of your next car is a big deal
It won't be long before Alexa is bringing the car around, like a 21st century Jeeves
Pretty soon, Amazon's Alexa isn't just going to help you with the cooking or control your light bulbs – she's getting behind the wheel, thanks to Volkswagen.
The car company has teamed up with Amazon to add the AI assistant to its fleet, letting you chat away with your virtual helper even when you're not around your Echo or Echo Dot speaker.
Instead, you'll be able to do searches, set reminders, and control your smart home kit when you're driving, using the microphones and mobile data connection built into upcoming VW cars. Neat.
It will work both ways, too. You'll be able to ask what your fuel levels are from the comfort of your sofa, or send route destinations to your car before you even leave the house, so you're good to go as soon as you start the engine.
In the future, you could even be able to ask Alexa to bring the autonomous car out of its parking space, so it'll be outside the front of your house when it's time to drive. Which is seriously cool.
SHOW ME SOME I.D.
There's no set date for Alexa's arrival, but you can bet she'll show up in the upcoming I.D.
The first VW built from-the-ground-up for electric motors is set to launch in 2020, but it's already taking shape – so much that we actually got up close and personal with one at this year's CES.
VW is promising the all-electric family car will give us the sci-fi future we've been dreaming about, with a 350+ mile range, fast charging, and a fully autonomous driving mode.
The company finally gave us a little more info on what to expect in terms of tech this week, revealing plans for downloadable performance upgrades, app-controlled speed restrictions for your kids and plans to order cars straight to your door using apps and voice controls – which is where Alexa comes in.
A lot of this is technically possible right now with VW's Car-Net app, but it'll all be a lot smoother when you don't need your phone to do any of it – just your voice.
VW isn't ditching the old school centre console just yet in favour of voice commands, but it is giving it a serious make-over, with an augmented reality heads-up display and 3D dashboard.
SCI-FI SCENARIO
The Digital Cockpit uses the same kind of glasses-free 3D tech you'd find on a Nintendo 3DS, only scaled up in size and sunk into a car dashboard.
It'll bring important information like speed limits, upcoming obstacles and driving directions to the front, but leave things like maps at the back, instantly grabbing your attention. It all looked pin-sharp when I tried it out – a far cry from a low-res Nintendo handheld. The depth effects really work, too – pulling your attention straight away, right when it's needed.
It also uses eye-tracking to project graphics onto your windscreen, a bit like Microsoft's Hololens AR headset – only without the headset. VW reckons that by blending information into your surroundings, it's easier to see and understand it, without being distracting.
There's room for the steering wheel to sink into the dashboard, too – that's when the I.D.'s self-driving 'ears' pop up and you're free to put your feet up.
This is real proof-of-concept stuff at the moment, but after giving it a try, I can't wait for it to make it into production alongside the I.D.
AI OVERLOAD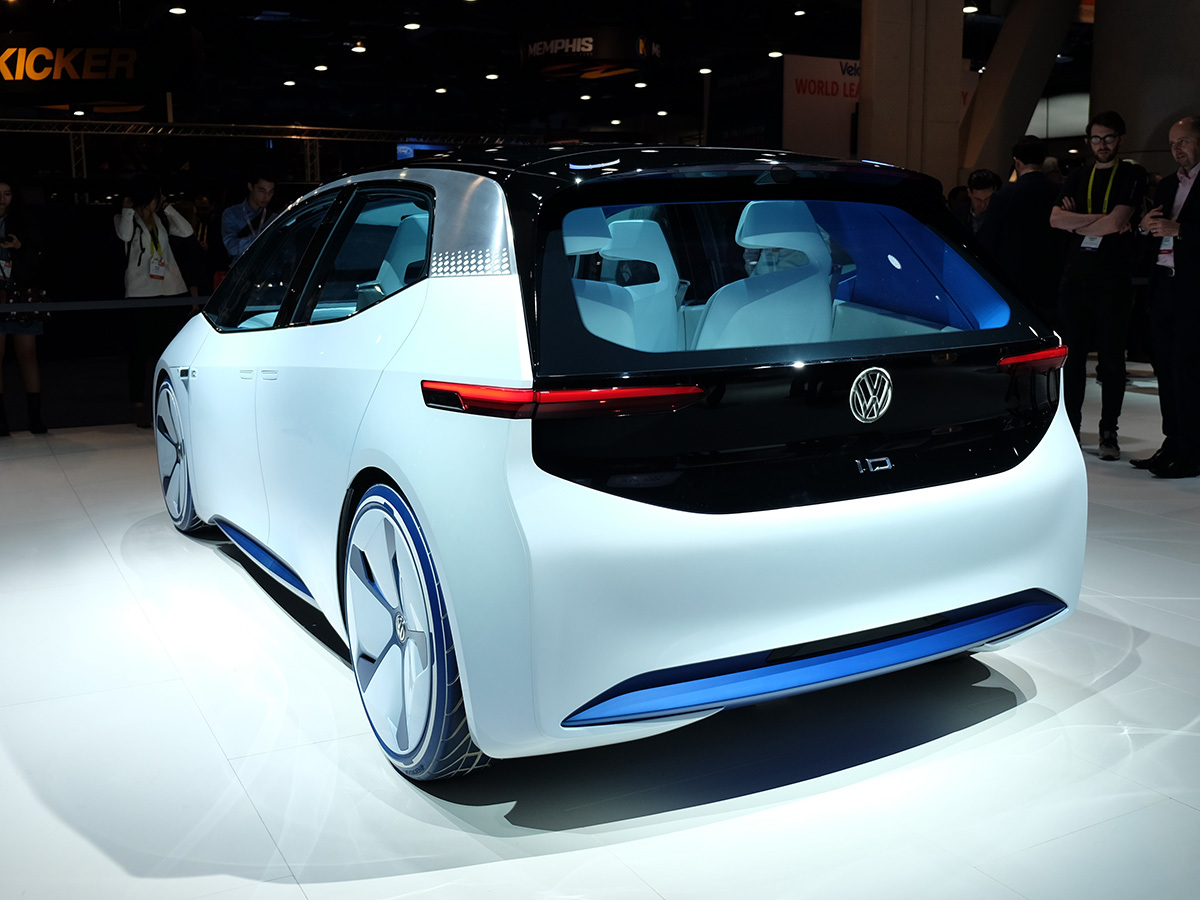 VW isn't the only car company to buddy up with an AI helper, either. BMW has hitched its wagon to Microsoft and Cortana, while Hyundai is going gaga for the Google Assistant.
Which one is going to come out on top? It's tough to say right now, as none of these voice assistants are ready to hit the road just yet, but Alexa has a huge lead thanks to an ever-growing list of Skills.
It plays nicely with loads more smart home devices than her rivals, too – so VW might be onto a winner. Here's hoping we won't be waiting until next year's CES for an update.